The Skechers GOrun Razor+ Hyper is super light, cushioned, super stable, low to the ground, breathable, and durable. It's fast and responsive and everything you want in a speed shoe. It has lost a tad of race DNA from the 3, but it's gained in friendly demeanor that makes it better for training. However, if you want to put down a PR, I think it can help. Is this the unicorn? Skechers you had me at hello, but damn you've reeled me in with the Razor!
Pros
Breathable
Great lockdown
Nice laces
Light
Responsive
Cushioned
Durable outsole
Design
Skechers GOrun Razor+ review
The GORun Razor + Hyper from Skechers comes in many names. Jamison calls it the 4. Ginger Runner calls it the 3+. Seth calls it the Razor +. It's quite confusing, but it should be just 4 since it comes after the 3, but I think it's officially just the Razor + Hyper.
Anyway, this shoe is best for speed training and tempo day. It's got a go-fast, go-light design with no frills. Simply gets it done all while allowing an enjoyable ride.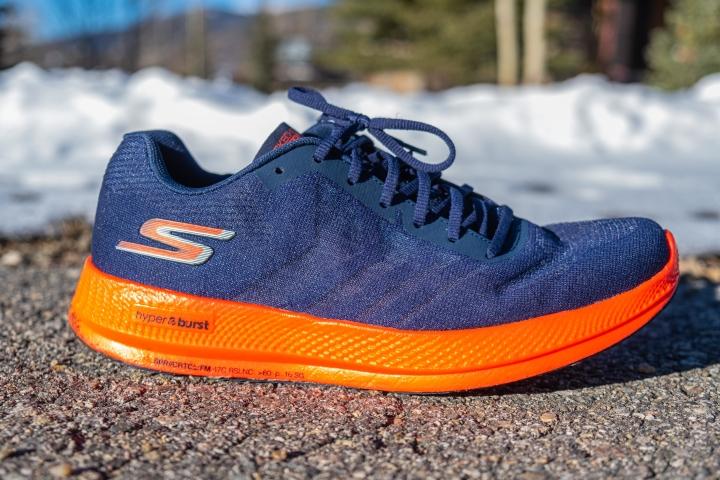 Updates
Less logo
A little less aggressive in the upper and midsole
Gained a little weight
Slightly more aimed
Breathable, secure upper
The shoe's polyester upper has great lockdown and now they've made it a touch stretchier, generating comfort and more room. Mind you, this is not a plush shoe; it's austere in its build and it's lost some overlaid structure — the 3 along with the ridiculous logo — all major positives in my book.
Also, the Razor is super breathable which was an issue I had with another Skechers — the Maxroad 4+ which has a similar construction in the upper.
Minimally padded tongue
The tongue is very minimally padded, and very short. It doesn't rise much past the top of the laces.
Lacing system
The laces are simple, lightweight flat laces. They do provide great lockdown, but much like the Maxroad, it's one gripe that the laces don't cross the top of your foot enough times. And because of this, the lockdown was a bit harder to dial in.
Comfortable heel counter
It has some form and is around soft to medium. It also has a nice, deep heel cup with a very minimally padded ankle collar. Just enough comfort in the right places.
Responsive midsole of the Razor+
Hyper Burst! When I first tried it, I was blown away, and even till now, I am still blown away by it.
It's light, responsive, cushioned, and consistent throughout the stride. It's simply awesome!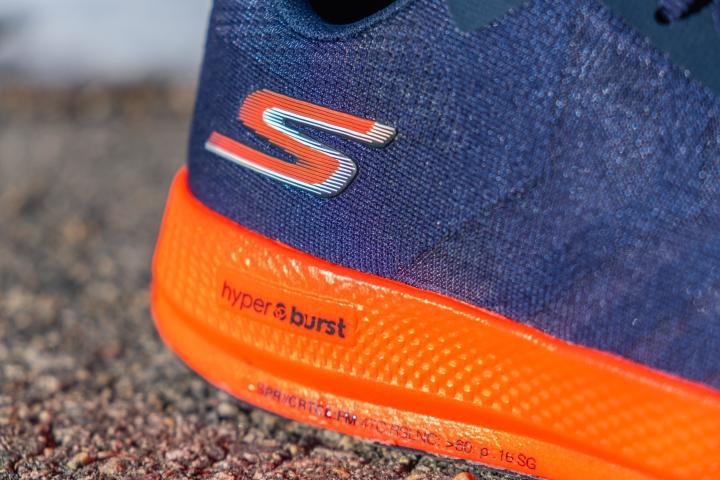 It has gained a bit of cushioning from the Razor 3 Hyper without losing that pop and explosive toe-off. On the one hand, the Mstrike rocker really enables a nice, smooth transition. And, there's no plate, so maybe we don't really need plates in our shoes?
Superb outsole
The Goodyear outsole kicks ass! Skechers beefed up the outsole a bit from the 3 with some added rubber under the medial edge which is a great upgrade. And although gaining a little weight, I think it's a worthwhile change.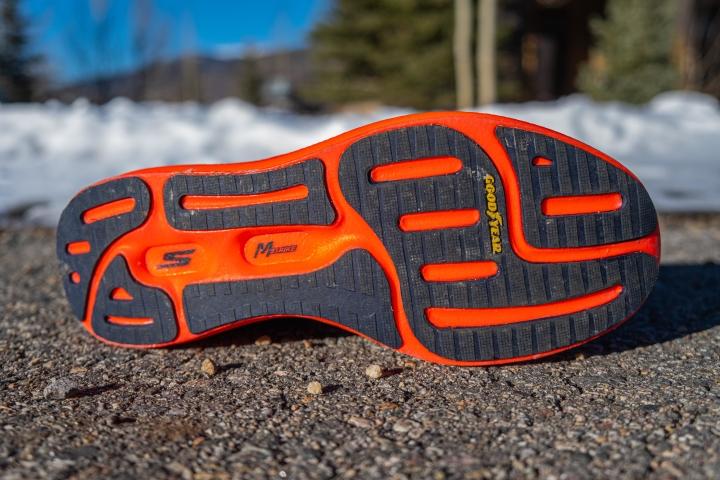 Tongue
It could've been gusseted.
A little narrow
The shoe felt a little narrow in the midfoot during my first few runs, but it's broken in nicely. The upper also somewhat forms to the foot, but it's quite restrictive. So, those with really wide feet may not dig it.
Comfort
Love this midsole! The ride, the transitions, the landing — it all feels fantastic! And the updated upper stretches enough for comfort but not enough to compromise lockdown.
Weight of the Razor+
Skechers claims that the GOrun Razor+ Hyper weighs 6.4 oz, but in men's size 9 weighs 6.9 oz on my scale. Either way, this is amazing as it's under 7 oz. For the women's version, it is reported to be at 4.9 oz.
Drop/stack
4 mm drop
27 mm heel stack
Overall, I love how close to the ground this feels.
Great durability
The Hyper Burst is the real deal. Add in the Goodyear rubber, super tough, abrasion-resistant polyester rubber, the durability is great overall.
Lovely design
I've fallen in love! The shoe has a very minimal upper design and then comes the pop of the loud red midsole. I simply, love it!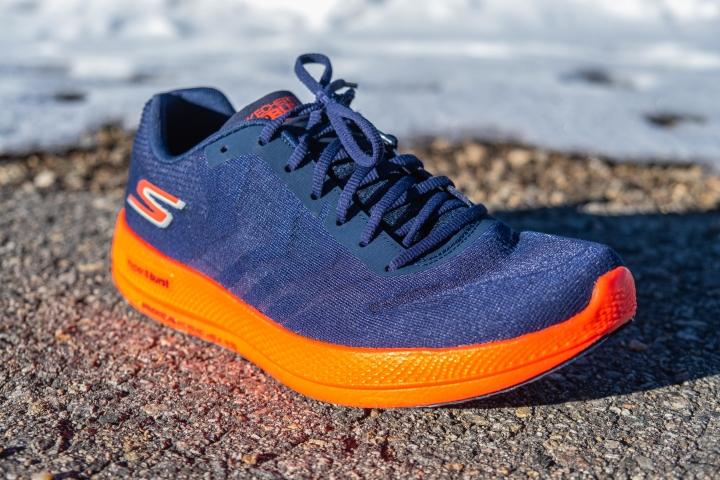 Maybe if Skechers got rid of the "S" logo, then the shoe would be perfect. They may even be worthy of around-town status, which is a lofty status.
Price
I think you are getting a lot of shoe. Well, in this case, virtually no shoe at 6.9 ounces, but for $140, there's value here for sure.