Verdict from 11 experts and 30 user reviews
7 reasons to buy
Light: All reviewers are astonished by the ultra light weight of the Razor+. Despite being a cushioned daily trainer, its weighs within the range of competition shoes.
Cushioning: Runners adore the HyperBurst midsole for being "soft" and "lively, bouncy, dynamic, fun" at the same time.
Versatility: The shoe feels fast on tempo runs, soft on easy runs, and supportive on long distances.
Breathability: The see-through mesh provides superb airflow, as stated by some wearers.
Fit: Plenty of compliments are given to the mesh upper that molds to the foot and locks it down.
Traction: With added Goodyear rubber outsole, at least two experts feel more surefooted on wet and dirty surfaces.
Style: The stripped-down and muted aesthetics of the trainer has gained many fans.
3 reasons not to buy
Toebox: Quite a few users warn about the narrower toebox which can be constricting for wider feet.
Outsole durability: Expert reviewers agree that the rubber doesn't look as promising as in most daily trainers. They expect around 400 miles from the outsole.
Insole: A few testers report that the shoe doesn't come with a removable insole, contrary to the brand's statement on the official website.
Bottom line
Following the success of the GOrun Razor 3 Hyper race shoe, the brand wanted to pack all of its favored features in a training-ready model. The star of the show being its soft yet energetic HyperBurst cushioning.
The Skechers GOrun Razor+ is an incomparably lightweight, low-drop daily trainer that can do anything: easy 5Ks, fast tempo runs, and marathon distances. It has also made its way into the 'all-time favorites' for some avid runners.
Tip: see the best running shoes.
Our reviews
The GORun Razor + Hyper from Skechers comes in many names. Jamison calls it the 4. Ginger Runner calls it the 3+. Seth calls it the Razor +. It's quite confusing, but it should be just 4 since it comes after the 3, but I think it's officially just the Razor + Hyper.
Anyway, this shoe is best for speed training and tempo day. It's got a go-fast, go-light design with no frills. Simply gets it done all while allowing an enjoyable ride.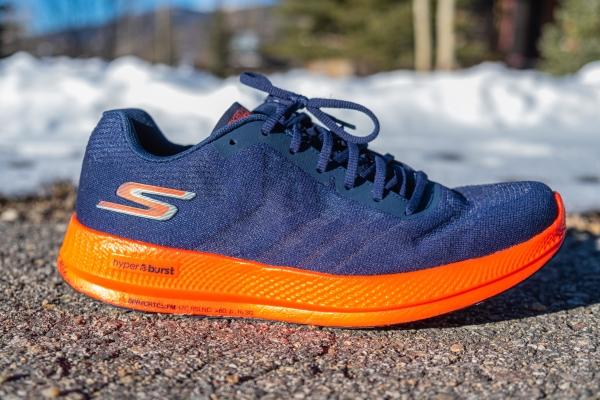 Updates
Less logo
A little less aggressive in the upper and midsole
Gained a little weight
Slightly more aimed
Pros
Upper
The shoe's polyester upper has great lockdown and now they've made it a touch stretchier, generating comfort and more room. Mind you, this is not a plush shoe; it's austere in its build and it's lost some overlaid structure — the 3 along with the ridiculous logo — all major positives in my book.
Also, the Razor is super breathable which was an issue I had with another Skechers — the Maxroad 4+ which has a similar construction in the upper.
Tongue
The tongue is very minimally padded, and very short. It doesn't rise much past the top of the laces.
Lacing system
The laces are simple, lightweight flat laces. They do provide great lockdown, but much like the Maxroad, it's one gripe that the laces don't cross the top of your foot enough times. And because of this, the lockdown was a bit harder to dial in.
Heel Counter
It has some form and is around soft to medium. It also has a nice, deep heel cup with a very minimally padded ankle collar. Just enough comfort in the right places.
Midsole
Hyper Burst! When I first tried it, I was blown away, and even till now, I am still blown away by it.
It's light, responsive, cushioned, and consistent throughout the stride. It's simply awesome!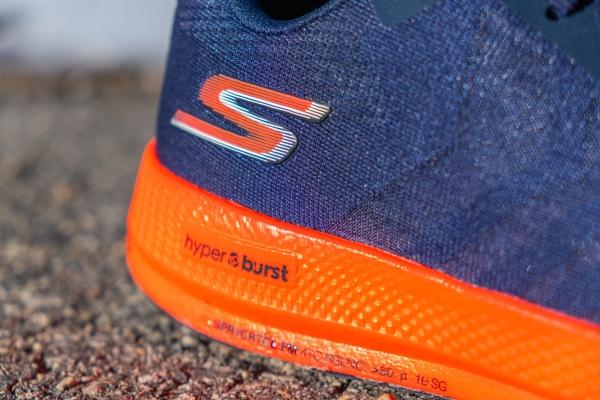 It has gained a bit of cushioning from the Razor 3 Hyper without losing that pop and explosive toe-off. On the one hand, the Mstrike rocker really enables a nice, smooth transition. And, there's no plate, so maybe we don't really need plates in our shoes?
Outsole
The Goodyear outsole kicks ass! Skechers beefed up the outsole a bit from the 3 with some added rubber under the medial edge which is a great upgrade. And although gaining a little weight, I think it's a worthwhile change.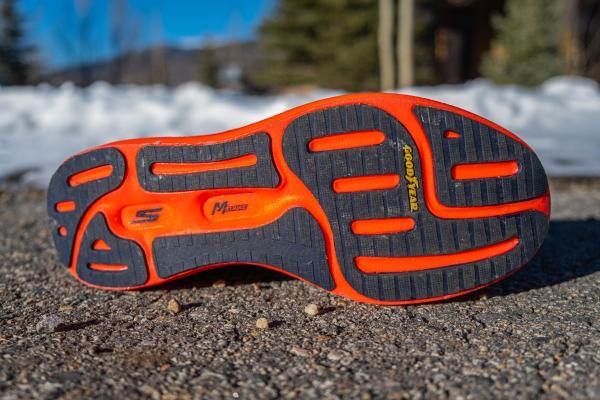 Cons
Tongue
It could've been gusseted.
Heel counter
Heel tab. That's it, almost nothing to complain about here.
Specifics
Fit
The shoe felt a little narrow in the midfoot during my first few runs, but it's broken in nicely. The upper also somewhat forms to the foot, but it's quite restrictive. So, those with really wide feet may not dig it.
Comfort
Love this midsole! The ride, the transitions, the landing — it all feels fantastic! And the updated upper stretches enough for comfort but not enough to compromise lockdown.
Weight
Skechers claims that the GOrun Razor+ Hyper weighs 6.4 oz, but in men's size 9 weighs 6.9 oz on my scale. Either way, this is amazing as it's under 7 oz. For the women's version, it is reported to be at 4.9 oz.
Drop/stack
4 mm drop
27 mm heel stack
Overall, I love how close to the ground this feels.
Durability
The Hyper Burst is the real deal. Add in the Goodyear rubber, super tough, abrasion-resistant polyester rubber, the durability is great overall.
Looks
I've fallen in love! The shoe has a very minimal upper design and then comes the pop of the loud red midsole. I simply, love it!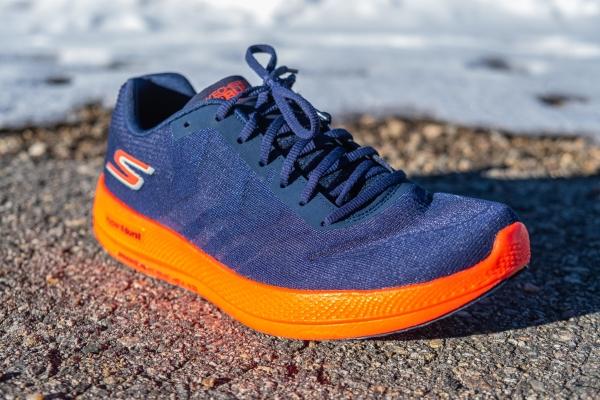 Maybe if Skechers got rid of the "S" logo, then the shoe would be perfect. They may even be worthy of around-town status, which is a lofty status.
Price
I think you are getting a lot of shoe. Well, in this case, virtually no shoe at 6.9 ounces, but for $140, there's value here for sure.
Overall conclusion
The Skechers GOrun Razor+ Hyper is super light, cushioned, super stable, low to the ground, breathable, and durable. It's fast and responsive and everything you want in a speed shoe.
It has lost a tad of race DNA from the 3, but it's gained in friendly demeanor that makes it better for training. However, if you want to put down a PR, I think it can help.
Is this the unicorn? Skechers you had me at hello, but damn you've reeled me in with the Razor!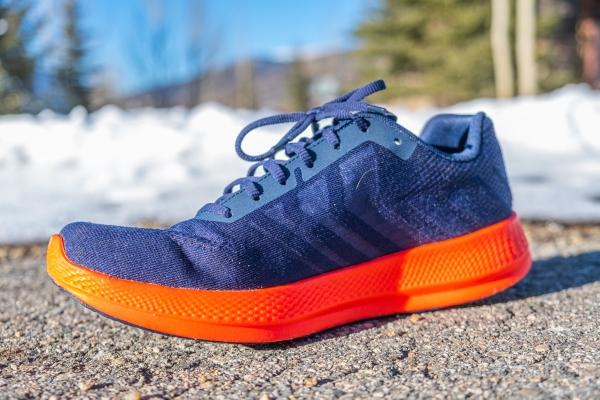 Skechers GOrun Razor+: a light and lively daily trainer
Also referred to as Skechers GOrun Razor 3+, it is a daily training shoe from Skechers that builds on the GOrun Razor 3 Hyper race shoe. With its stunning weight of 6.4 oz (181 g), the shoe bridges the gap between racing flats and training shoes. It is a true all-arounder that can handle many tasks:
easy days
tempo
race day
any distance up to a marathon
It is also a neutral running shoe. So, if you need a lightweight trainer with pronation control, try Skechers GOrun Forza 4 Hyper.
Benefits of the Razor+
Top-of-the-line HyperBurst midsole: the brand's lightest and most resilient foam
Goodyear rubber outsole: added durability and traction
A see-through mesh upper: light and highly breathable
Low drop (4 mm) gives more potential to improve cadence and benefits mid- and forefoot strikers
Skechers GOrun Razor+ vs. GOrun Razor 3
Although the the GOrun Razor+ is designed as a training version of the Razor 3 Hyper, the two still share a very similar feel and ride. But here are a few tweaks that justify the existence of the Razor+:
Slightly softer Hyper Burst midsole foam with a tad more heel cushion
Added Goodyear rubber makes the outsole more lasting and slip-resistant
Simpler and sleeker design, no SPEED logo
More relaxed fit
How GOrun Razor+ compares
Corescore: 56-59
1 shoes (0.1% of shoes)
Corescore: 60-63
7 shoes (0.72% of shoes)
Corescore: 64-67
17 shoes (2% of shoes)
Corescore: 68-71
23 shoes (2% of shoes)
Corescore: 72-75
72 shoes (7% of shoes)
Corescore: 76-78
118 shoes (12% of shoes)
Corescore: 79-82
251 shoes (26% of shoes)
Corescore: 83-86
250 shoes (26% of shoes)
Corescore: 87-90
196 shoes (20% of shoes)
Corescore: 91-95
33 shoes (3% of shoes)
Price: $40 - $65
75 shoes (8% of shoes)
Price: $66 - $91
218 shoes (23% of shoes)
Price: $92 - $117
183 shoes (19% of shoes)
Price: $118 - $143
259 shoes (27% of shoes)
Price: $144 - $169
129 shoes (13% of shoes)
Price: $170 - $195
55 shoes (6% of shoes)
Price: $196 - $221
34 shoes (4% of shoes)
Price: $222 - $247
4 shoes (0.41% of shoes)
Price: $248 - $273
8 shoes (0.83% of shoes)
Price: $274 - $300
3 shoes (0.31% of shoes)
Weight: 2.8oz - 4oz
3 shoes (0.36% of shoes)
Weight: 4.1oz - 5.2oz
8 shoes (0.97% of shoes)
Weight: 5.3oz - 6.5oz
36 shoes (4% of shoes)
Weight: 6.6oz - 7.7oz
74 shoes (9% of shoes)
Weight: 7.8oz - 9oz
210 shoes (26% of shoes)
Weight: 9.1oz - 10.3oz
238 shoes (29% of shoes)
Weight: 10.4oz - 11.5oz
166 shoes (20% of shoes)
Weight: 11.6oz - 12.8oz
60 shoes (7% of shoes)
Weight: 12.9oz - 14oz
22 shoes (3% of shoes)
Weight: 14.1oz - 15.3oz
4 shoes (0.49% of shoes)
Weight: 15.4oz - 15.4oz
1 shoes (0.12% of shoes)