Our reviews
The Skechers GORun Forza 4 Hyper is among Skechers' lightweight stability trainers. Whether you're a light pronator or neutral runner, this running shoe is a great choice.
Featuring a couple of updates, this shoe has more cushioning, an updated upper, and a trimmed-down weight. Keep on reading if you want to find out more about this shoe.
Upper
Sporting a new mono mesh upper, the GORun Forza 4 Hyper feels very light and stretchy (but not sloppy in any way). It's a lot more breathable than the previous model, however, I still think Skechers can improve on this. Ultimately, I'm not dissatisfied with it either.
A plus for me is the pull tab on the heel. I just get so happy whenever it's added to a shoe!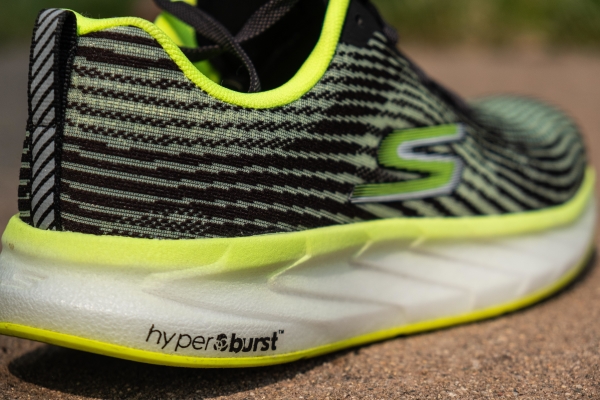 Looks
I'm not in love with the shoe's look—it's loud but not in the way that I like. However, it's highly reflective, so that's a plus for me.
Tongue
The tongue is only lightly padded and is oddly attached to the outside edge of the upper. Sure, this keeps it right in place, but it just didn't feel natural at first. It also didn't allow me to have the tongue repositioned right where I wanted it to be.
Lacing system
It's simple and it works! Despite the laces only crossing the foot three times, I still had sufficient lockdown.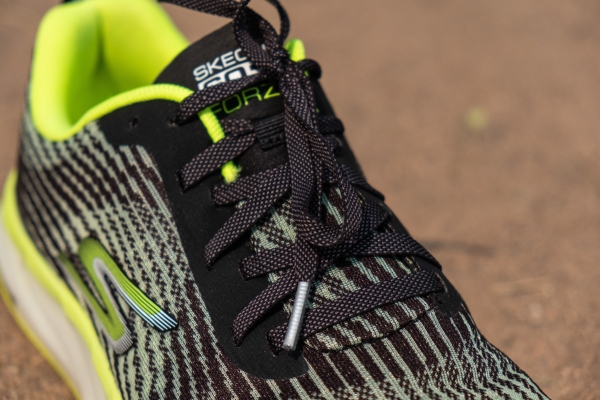 Skechers has this odd lacing system that I didn't notice right away on the Maxroad, but each lacing hole has two holes that the lace weaves through—maybe to help with locking down the upper in just the minimal crossovers, it doesn't affect anything—but relacing these can be more of a pain in the butt than a traditional system.
Heel counter
The heel counter is very stiff. I also experienced some slippage, so I guess I really supposed to cinch down the laces.
Midsole
I'm a big fan of the Hyper Burst cushioning. I like how instead of adding some hard plastic underfoot, the GORun Forza 4 Hyper features a dual-density midsole, combining the Hyper Burst with Ultraflight medial support.
It just firms up the inside edge of the midsole and it feels like how all stability shoes should be designed. However, this can feel a little firm but this does not come at the expense of responsiveness.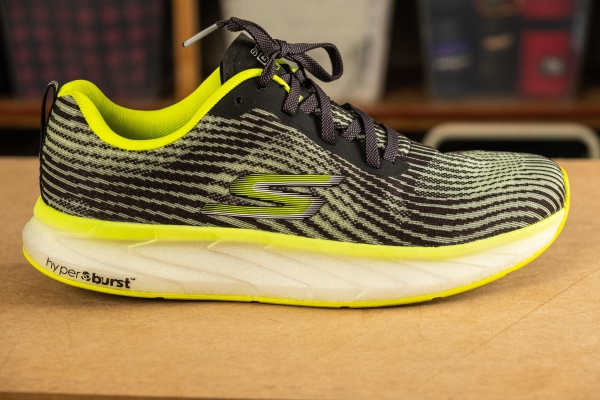 The M-Strike also highlights a smooth cruise and it feels very efficient. The rocker, on the one hand, rolls smoothly, promoting midfoot and forefoot striking.
Comfort
The shoe may have run a little warm, but otherwise still very comfortable. Because of the dual-density midsole, it can feel stiff but it's not as obstrusive as other stability shoes.
Even though I don't normally need a stability shoe, I enjoyed running in this and actually will continue to run in it on days when I feel my feet need a little assistance maybe for recovery days.
Durability
I think Skechers is really doing a great job with the Hyper Burst and I think it should last.
Outsole
It is not super grippy but I didn't experience any slips either. I also think this outsole will last.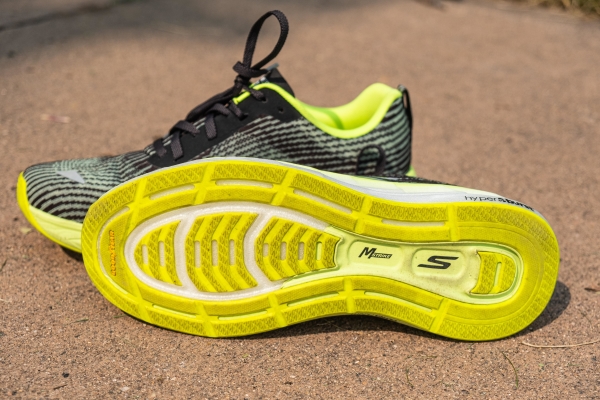 Conclusion
If you're in need of a touch of stability, this Skechers runner does the trick. My grips are fairly minimal in this shoe, but I really liked running in it. It has a more lively ride than typical stability shoes and has more support than neutral shoes.
Ultimately, I think it can work well with a variety of runners.
This was my first experience of running in Skechers shoes. To be honest, I have heard that Skechers has made some interesting competitive running shoes as of late, so I was interested to give them a shot!
The Go Run Forza 4 Hyper definitely has a modern look and feel, and man, these shoes are light, weighing just over 9oz.
The shoes pictured here are the black/lime color scheme, which is just fine (the only other color option is gray/blue).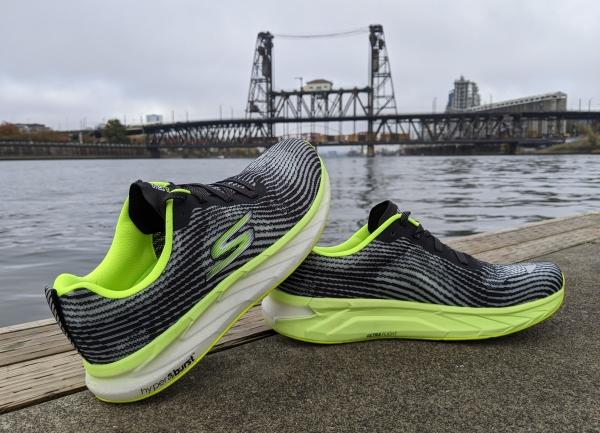 The shoes are firm to the touch, especially in the midsole reminding the runner of the stability design inspiration (we'll get to that in a second), with a nicely constructed upper and outsole. Overall, I was excited to get them on the road and put in some miles!
Upper
As I previously mentioned, the upper is really well constructed! Skechers boasts a Hyper Mono Mesh upper which contributes to the lightweight feel and has a striped presentation, which I think looks pretty sharp.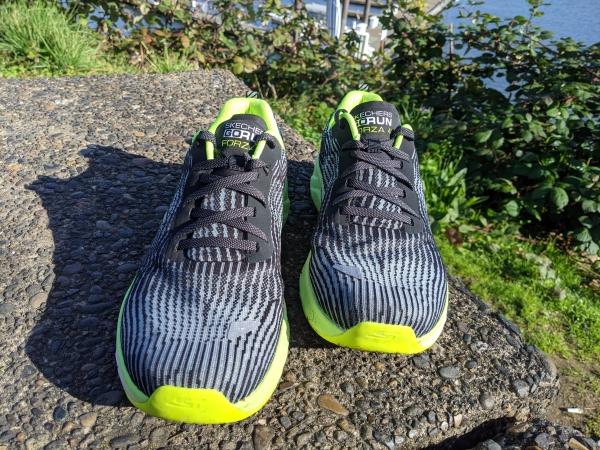 The heel collar is comfortable and at an appropriate height and shape; although I did experience a little bit of unwanted room in the heel from time to time, especially with steep downhills. I like the laces and the semi-stitched, low-profile tongue.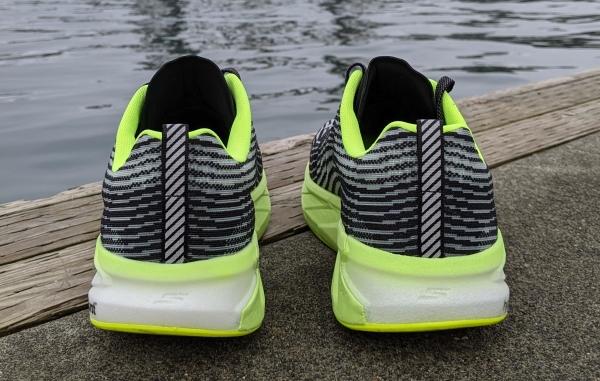 I do have a few reservations about the upper, however. First, within the first few miles, I noticed my toes were getting beat up pretty badly. I tried to lace up with a heel lock, and while that helped a little, I still ended up with some nasty blisters.
There seems to be plenty of room in the toe box when slipping on the shoes for a fit, but one observation is that the material at the interior base of the toe box is a pretty hard plastic-like layer, which I'm sure helping create a durable upper, but perhaps at the expense of comfort.
The other picky aesthetic detail that I would change would be the shape of the reflective triangle on the toe box.
While I am all about safety with reflective material, it looks out of place, more of an afterthought than anything. Maybe a Skechers "S" would be a better reflective option above the big toe.
Overall, I do feel that the upper is well made; I just wish my feet felt a bit more comfortable, especially with distances over six miles or so.
Midsole
The midsole of the Go Run Forza 4 Hyper is really what sets this shoe apart from others. As I noted previously, this is a stability running shoe which helps correct some overpronation and other running form imperfections.
While I run and train in a variety of running shoe styles, I do enjoy some stability for my flat feet, especially when it comes to logging in high mileage road runs.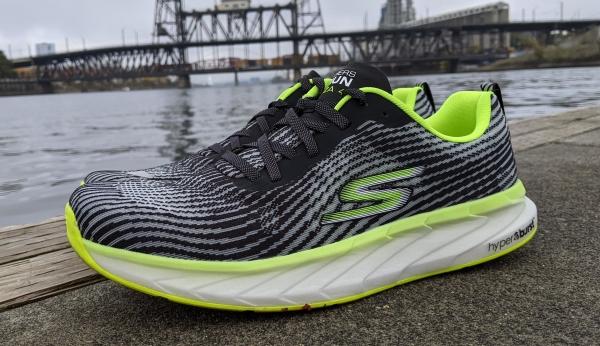 Skechers boasts an "Ultra lightweight Hyper Burst™ and ULTRA FLIGHT® dual density midsole cushioning" which allows for a lot of cushion and support with little weight. They also advertise a "mid-foot strike zone that promotes efficiency in each stride."
To be honest, this is a really firm midsole feel; it reminds me of some of the latest models of shoes with the carbon fiber plate--it's that firm! Because of this firmness, we get the good and the bad.
The good: your foot should experience a pretty consistent, uniform experience with each stride, which is what the stability genre is all about.
The bad: the midsole does not allow for much of a feel for the ground beneath one's foot when running, and with it, not a ton of responsiveness.
This shoe has some moderate stack height (26mm forefoot; 32mm heel--6mm heel drop) which is pretty standard for a lot of road shoes in this market, which is comfortable, but I do miss feeling the ground beneath my strides.
Outsole
The outsole is pretty standard for a road running shoe with "Goodyear® rubber traction."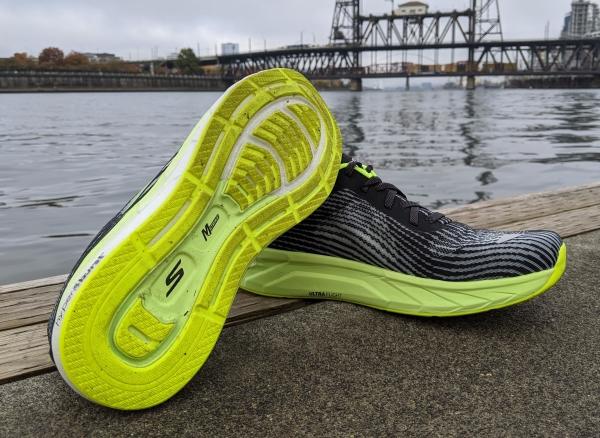 I was able to run in a variety of weather conditions and felt pretty good about the outsole's response in all of them. There has been minimal wear and tear; I expect these outsoles to last a while!
Performance
After putting in some road and gravel miles, I find the Go Run Forza 4 Hyper to have some neat lightweight stability innovations, but not a ton of comfort for long distances.
I was hoping this shoe could become one of the regular training shoes to grind out the longer pavement miles, but alas, it might be better served with shorter runs.
Perhaps for my own sake, I'll look at more of a neutral running shoe model next time to see if that offers a bit more comfort and feel of the ground.
As I mentioned before, the upper has some nice features, the midsole is certainly stable, especially in the forefoot, and the outsole is durable.
I'm impressed with Skechers contributions to the running scene with this addition, and I look forward to seeing what might be coming down the road!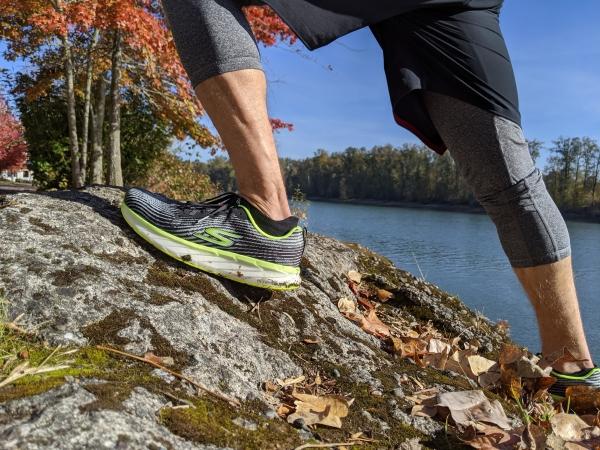 I was thrilled to receive this pair of Skechers. I ran with the Forza 3 before and thought they were great.
After much waiting, there is finally the Forza 4 with many upgrades.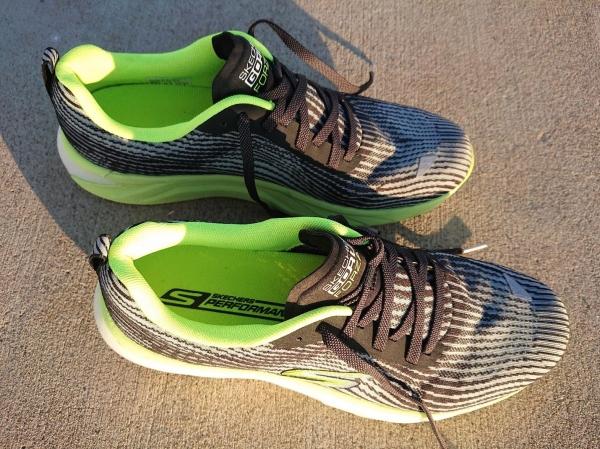 These shoes did fit great from the moment I tried them on. The shoes feel pretty light and good enough for racing. They are advertised at 9.0 ounces for size 9.
I feel I could run in these shoes all day without pain. There is not a high arch to bother you, but there is support.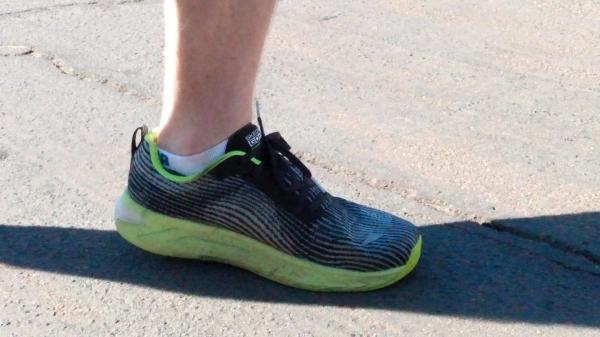 Upper
The upper part of the shoe is comfortable. The material is breathable and soft, but not so soft that your foot moves all around inside the shoe.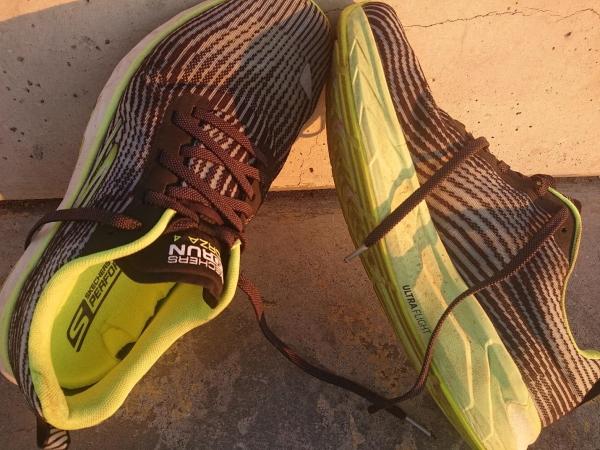 The heel is hard, and your foot will not slide up and down. On the front sides of the shoe, there is some extra protection.
This can help the shoe keep its shape, and for protection. It can also keep your foot in place and your toes from going over the edge of the shoe.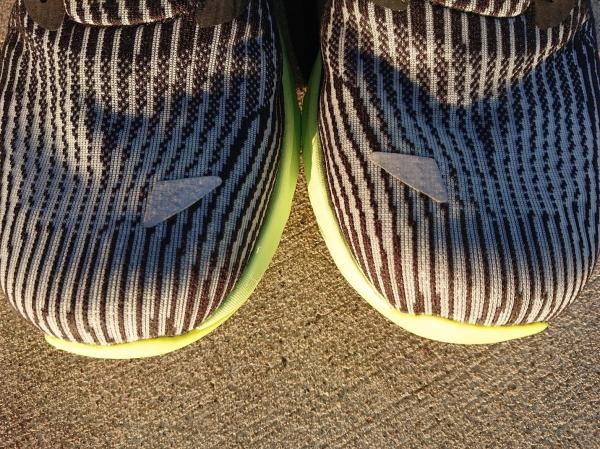 However, this protection does restrict your toes from moving around comfortably. On one of my long runs, I did notice some rubbing on the outside of my toe. This could lead to a blister.
The toe box is a little smaller than comparable shoes. If the shoe is a little tight, you might want to go up a size. Or another way to put that is to go a size up on the Forza 4 if you have wide feet.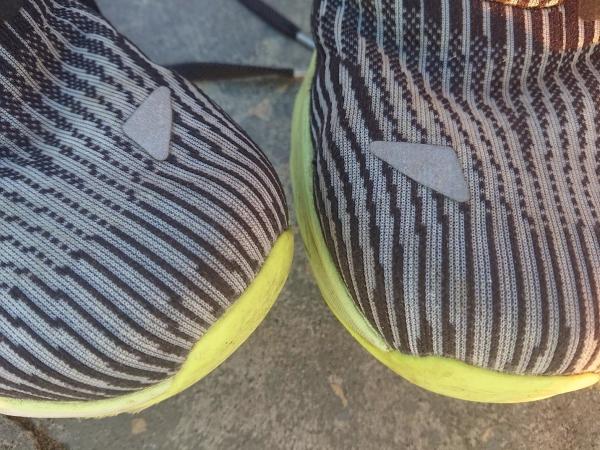 The upper part seems to be more durable than their previous model. I actually developed a hole in my Forza 3 shoes through wear and tear, but I do not see that happening in these Forza 4 shoes.
These may not be as comfortable, but they have more protection.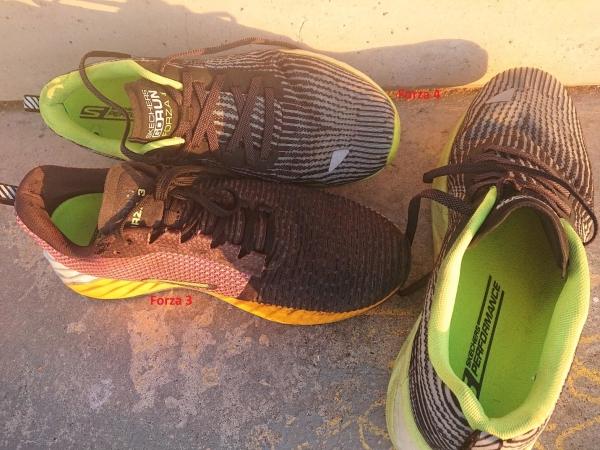 Another nice feature is that the shoes are reflective. This is great if you ever run at night.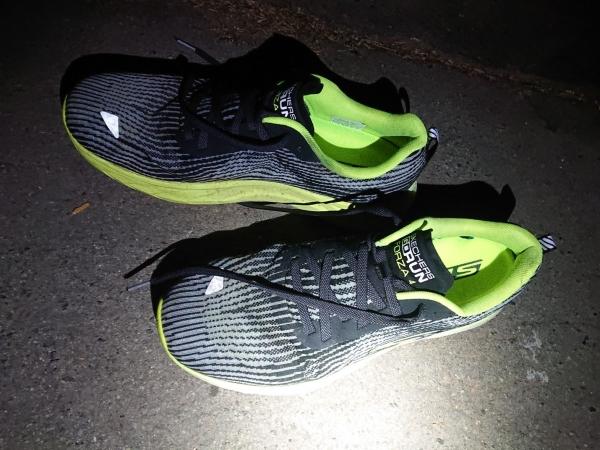 Midsole
The Forza 4 cushion feels great. The shoes feel like they can protect your feet stepping over anything.
These shoes gave me a comfortable run for many miles. I have not noticed the cushion going away, but it may after hundreds of miles.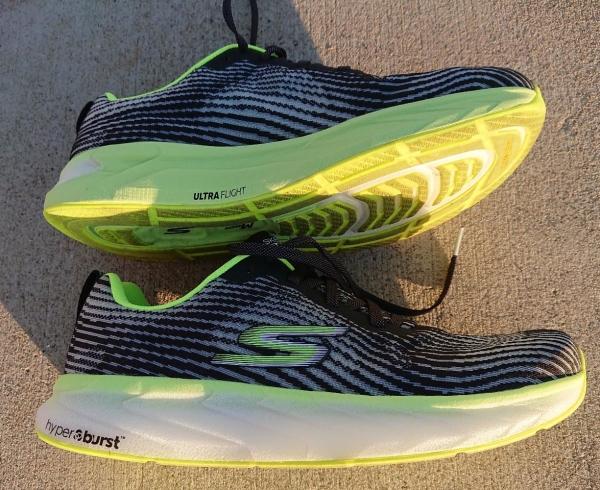 The midsole looks soft, but it seems pretty sturdy. Your feet stay in place in the shoe, even though the bottom on the inside is not very sticky.
However, the insole in the shoe can come loose and slide. Mine slid back after a run, as you may see below. However, one good thing is that these shoes would be great to use custom insoles (if you have them).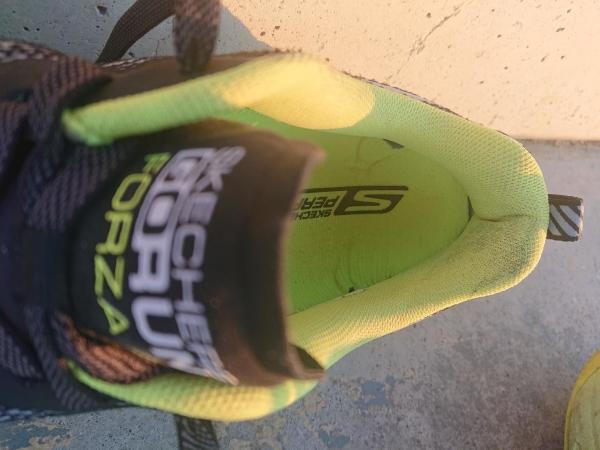 These are stability shoes. These shoes actually seem to have more stability than the previous model. I usually run in neutral running shoes.
However, I have no issues with the Forza models from Skechers. It could be because of the soft cushion. I am also sure these shoes will help someone who over-pronates.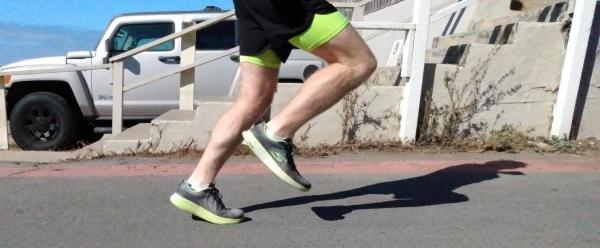 The shoes can flex, but not so much. The heel doesn't really flex, and the front flexes only a little.
The stiffness can really give you a push to run fast. The shoes are noticeably responsive while running. You cannot twist them very much, which can also add to a stable run.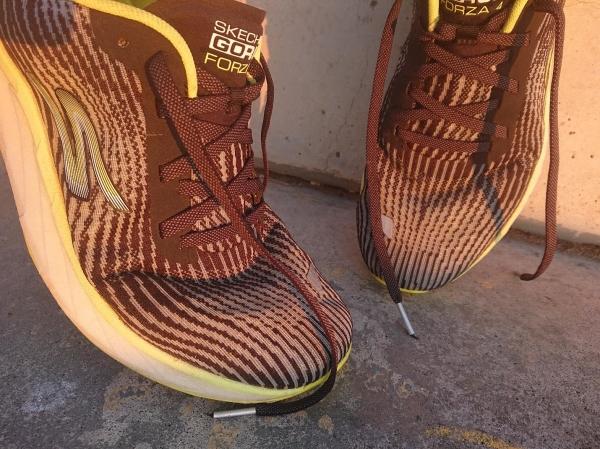 Outsole
The shoes do have traction, even though it looks pretty smooth. The shoes are for the road, and they do grip well.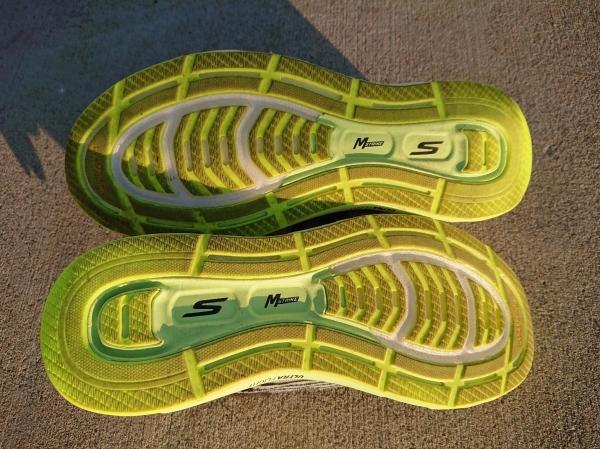 The Forza 4 shoes have more traction in the rain than their predecessors. I couldn't get the shoes to slip, except on a smooth wet metal surface.
I did run a little on trails with these shoes, and they worked just fine. I am not sure how they would work in the mud, though. If you really want shoes for the trail, this is probably not the best.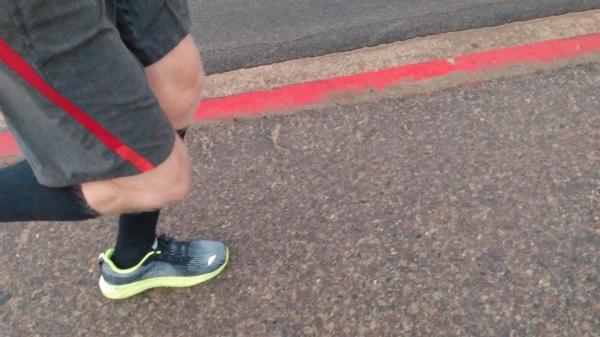 The bottom of the shoe, the sole, is smooth but tough. There are few spots where dangerous rocks or twigs can get through.
The bottom thread can last a long time, but maybe not as long as the older model. You can see in a picture below the Forza 4 after over 40 miles and the Forza 3 after over 400 miles.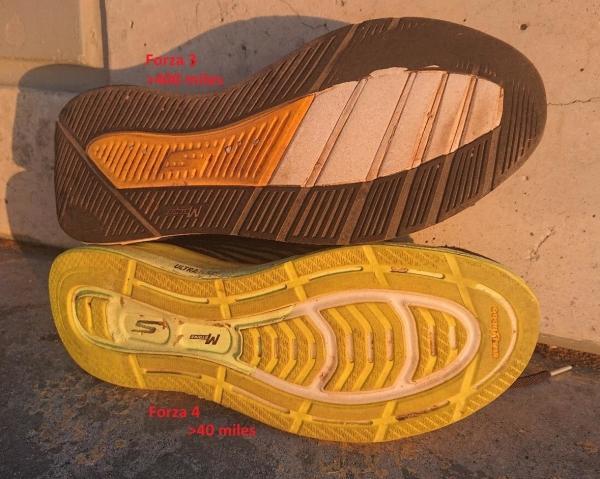 Pros
Comfortable
Long-lasting support
Cons
Conclusion
The Forza 4 is a great shoe for long-distance running. They feel light enough to race in, and they have great support. They should last a long time.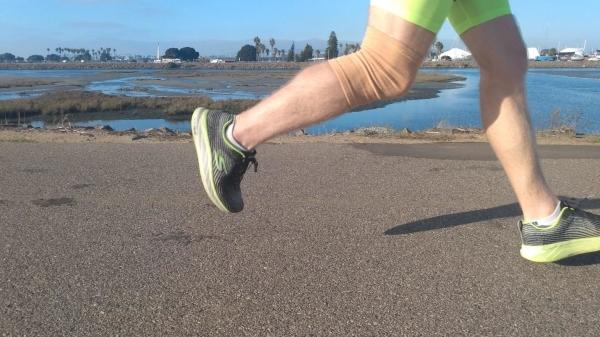 Now to compare the Forza 4 with their predecessor, Forza 3, is big. There are many changes from one model to the next. The Forza 4 shoes have better traction, more stability, and better protection to last longer.
However, they may not feel as comfortable, and you could even develop a blister. Also, you may run through the tread faster with the Forza 4 than the Forza 3.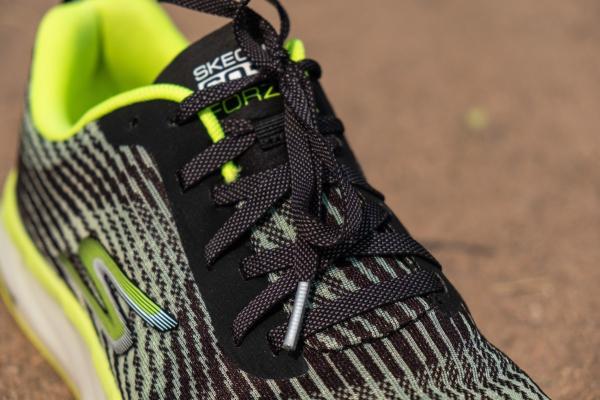 Overall, these shoes give you the support for long runs. The shoe is made to last. And if you liked the Forza 3, I would check the Forza 4 out.
Skechers GOrun Forza 4 Hyper: The brand's lightest stability shoe
Stability running shoes tend to be heavy (9 to 10 oz on average) due to all that heap of add-ons that help to prevent overpronation. However, Skechers have found a way to introduce an arch support shoe at 8.6 oz all while keeping an efficient stability level. Meet the GOrun Forza 4 Hyper.
GOrun Forza 4 vs 3: Support gets lighter
The Forza is a runners' go-to stability shoe from Skechers. A new feature to this iteration is the Hyper Burst midsole, along with it comes a few tweaks that have garners the following benefits:
Featherlight bounce and stability. Aside from the Hyper Burst foam, the GOrun Forza 4 also makes use of the Ultra Flight cushioning tech. This foam goes in the midfoot area for lightweight and responsive medial support.
Lighter makeup. Despite being loaded with several of the brand's technologies, this version still maintains less bulk than its predecessor. It weighs in at 8.6 oz while the previous model weighs 9.2 oz. That's a huge difference!
More support. The new polyester-and-mesh upper makes for a thicker coverage, but it isn't a cause for alarm. This combination of materials makes the shoe more structured, thus securing the foot even better. A tradeoff to the stockier upper composition, however, is the shoe's limited breathability.
Upped traction and durability. The Forza 4 offers a more minimal outsole made from Goodyear rubber. This new detail contributes to the lightweight overall structure of the shoe but not at the expense of traction and durability.
Who is it for?
Although it's one of Skecher's stability shoes, the GOrun Forza gives better support for mild overpronation. Ultimately, runners with severe overpronation might still need custom orthotics or just go for motion control shoes to have the optimal level of support and stability.
Compare popularity
Interactive
Compare the popularity of another shoe to Skechers GOrun Forza 4 Hyper:
Skechers GOrun Forza 4 Hyper video reviews