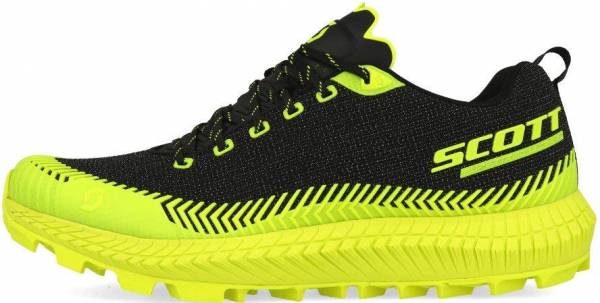 The Scott Supertrac Ultra RC was well-liked by those who have tried this. This trail running companion was apparently great for regular trail adventures and extreme conditions. The reliability of its materials stood out as it performed well on hard and soft terrains. The in-shoe experience was also given praise as it was deemed highly comfortable. On the other hand, a handful of people noticed some slippage when traversing areas that had wet rocks.
---
Verdict from 5 experts and 17 user reviews
5 reasons to buy
People who have tried the Scott Supertrac Ultra RC stated that they liked the general quality of the materials.
Consumers felt that the durability of this running shoe was dependable.
The upper unit was lauded for being able to provide breathable coverage and water-repellence.
The outsole's grip capacity on mud was considered to be highly efficient; people liked that their movements on soft soil were confident.
Some reviewers claimed that the in-shoe feel of the Supertrac Ultra RC was comfortable from the get-go. They didn't need a break-in period.
1 reason not to buy
The outsole wasn't as efficient on wet rocks as some testers experienced slippage.
Bottom line
The Scott Supertrac Ultra RC was well-liked by those who have tried this. This trail running companion was apparently great for regular trail adventures and extreme conditions. The reliability of its materials stood out as it performed well on hard and soft terrains. The in-shoe experience was also given praise as it was deemed highly comfortable. On the other hand, a handful of people noticed some slippage when traversing areas that had wet rocks.
Best price from 50 shops
We earn affiliate commissions at no extra cost to you when you buy through us.
76% say it's true to size.



Our reviews
If gaining exceptional protection and grip for long runs over rough trails is worth a little extra weight, then the Scott Supertrac Ultra RC is a great option for you, although other competing trail shoes may have their advantages.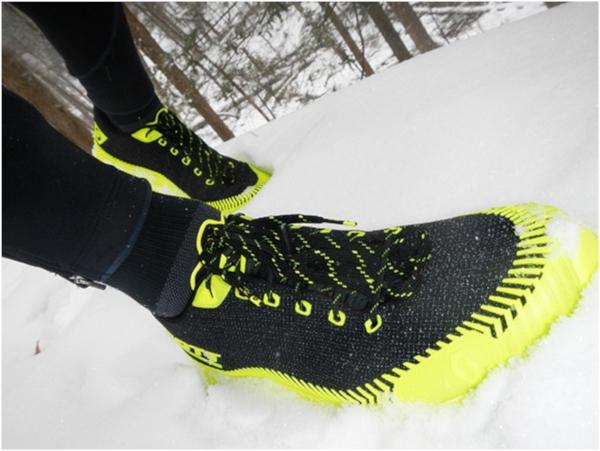 Who Supertrac Ultra RC is perfect for
Putting on a pair of ScottSupertrac Ultra RCs makes your feet feel like they're armored tanks, ready to imperturbably roll over any terrain, no matter how rough. The Supertrac's design even looks like a tracked vehicle chugging over gravel and mud.
The Supertrac Ultra RC will decidedly keep your feet gripping the ground and protected from any debris, over any number of miles, in any weather, on any surface. Unfortunately, the tank metaphor is also applicable to the shoe's one major downside - it's heavy.
All that remarkable protection from toothy outsole lugs, a thick layer of midsole foam, and heavy-duty overlays all add heft, and a pair of men's size 9 weighs in at 11.9 oz, a bit more Humvee than sports car compared to some lighter trail shoes from competing brands.
This extra weight is especially noticeable on ultra-distance runs (the shoe's intended purpose) where the fatiguing effects of every extra fraction of an ounce are felt exponentially as the miles add up.
Therefore, the Supertrac Ultra RC will work great for ultra-distance runners going out in terrain that is treacherous enough to warrant lugging a few extra ounces of weight every step of the way. This tradeoff will be especially worthwhile for runs through wet conditions, given the shoe's impressive water-resistant upper and deep outsole lugs.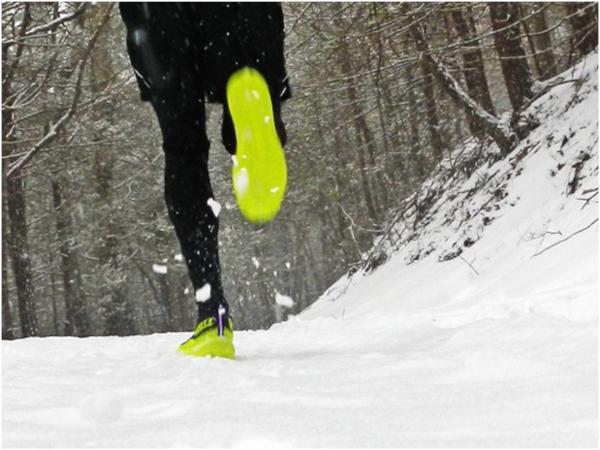 Upper
For the Supertrac Ultra, Scott opted to use a proprietary upper material from a high-tech and innovative Swiss textile company, Schoeller, to provide an upper that is essentially a single piece of water-resistant, flexible fabric. The result is a perfectly form-fitting upper that feels snug like a sock.
The one-piece design will accommodate a wide range of foot shapes and feels stretchy, light, and breathable. At the same time, the upper is highly water repulsive, and impressively, my feet were kept pretty dry running miles through knee-deep snow, crossing through creeks, and schlepping in mud and slush.
The upper is also very durable, with a ripstop weave that showed no wear after being scraped by rocks and branches along the trails. I found Scott's Schoeller material was more flexible, more breathable, and more comfortable than Gore-Tex uppers (the running shoe industry's gold standard) such as the Gore-Tex upper found on the Salomon Speedcross 5 CS.
While Gore-Tex is completely waterproof and the Schoeller material is only water resistant, I found the Supertrac Ultra's upper had better breathability, flexibility, and quicker draining than what I've experienced with Gore-Tex trail shoes. Running in the Supertrac Ultra RC, I found my feet got a little wet in rain and snow, but I never found the shoe get waterlogged or uncomfortable.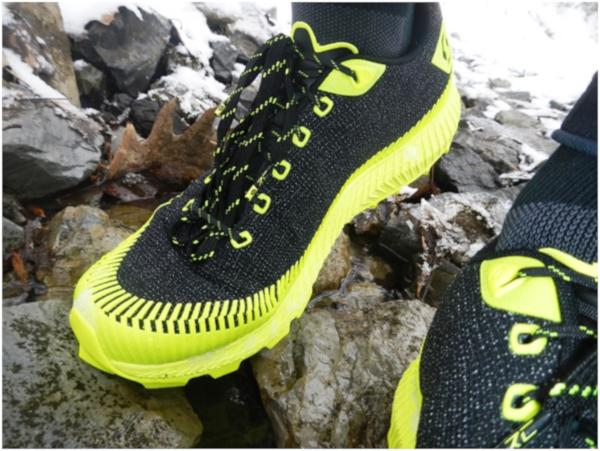 Beyond the Schoeller material, the Supertrac Ultra upper's design demonstrates remarkable attention to detail, like strategically-placed eyelets on the tongue that keep it from sliding down on the foot. Running double-digit miles through slush, mud, and puddles, the tongue never slipped around.
Also, Scott opted to use flat, stretchy laces that keep the shoe perfectly snug mile after mile. These laces weave through reinforced eyelets that prevent tearing on the upper when you pull the laces tight.
Scott also added a rigid heel counter to the upper to give more hindfoot protection. Although I like the feel of having the heel so strongly locked down in the shoe, I did find the stiffness and padding of the heel counter caused some abrasion around the Achilles tendon.
In terms of design, a solid heel counter also adds a bit of extra weight. I personally prefer the semi-rigid heel counter on shoes like the Salomon S-Lab Ultra, but depending on heel shape, level of pronation, and personal preference, others might disagree.
My one major complaint about the upper is that situated on top of the soft, flexible Schoeller material is a rigid plastic overlay that encircles the foot in a band just above the midsole. It's a good idea in principle, aimed at protecting the edges of the foot from rocks and other hazards that might come just up from the ground.
However, in practice, this overlay's material is too hard and abrasive on the foot, especially in the toe box. It will be especially problematic for runners with bunions, Morton's toe, or other foot protrusions. The abrasiveness softens up a bit after about 50 miles of wear, but it still remains an irritant.
There are also a couple of cosmetic plastic overlays on the upper's heel that show off the Scott logo but add even more unnecessary weight to the shoe. A thinner, softer layer of injected TPU material like that used in the Salomon S/Lab Ultra would be a more flexible and lighter weight alternative for the upper's overlays that would still provide adequate foot protection.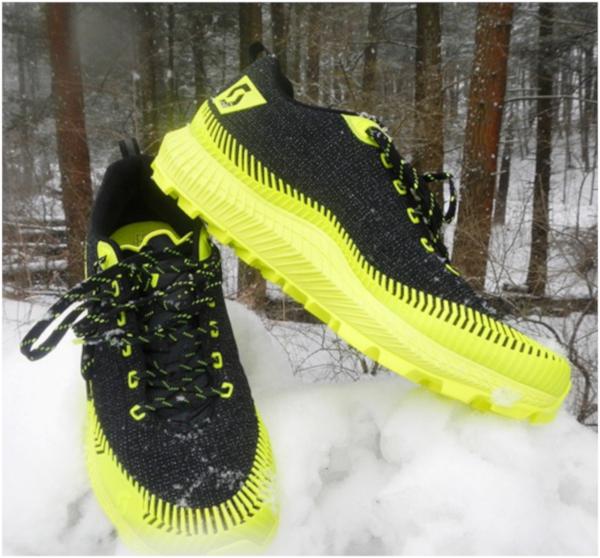 Midsole
The midsole of the Supertrac Ultra RChas a perfect feel - not too soft and not too firm with enough cushioning to keep legs feeling fresh over ultra-distance run while protecting the bottom of your feet from anything short of a beartrap that you might step on along the trails.
I personally much prefer the Supertrac Ultra RC's moderate level of midsole cushioning over maximalist competitors with Princess and the Pea stack heights like the Hoka One One Speedgoat or the Altra Olympus because the Supertrac's lower ride still provides some feel for the ground and gives more confidence running on uneven, technical terrain.
In addition, the midsole's design features a slight curve, a rigid midfoot, and a flexible forefoot that work together to encourage a smooth heel-toe or midfoot-toe transition. It is a similar feel (although slightly less aggressive) to the heel-toe transition of Hoka One One's Meta-Rocker midsoles.
On the trails, I prefer the less aggressive curvature of the Supertrac Ultra RC's midsole geometry to the Hoka Meta-Rockersincethe Scott's curvature keeps the foot stable and planted while moving over technical terrain but still easily cruises over smooth ground.
By comparison, the more accentuated curvature of the Meta-Rocker feels like a pair of Skechers Shape-Ups: not exactly what you want when running over jagged rocks.
A final plus on the Scott's midsole is its removable sock liner that allows the shoe to accommodate supportive inserts for overpronators or those who use orthotics. This is a nice feature that opens up the Supertrac Ultra RC to a wider audience of runners.
Outsole
The shoe's outsole is exceptional. Scott worked with the Technical University of Munich to develop deep, multidirectional, but also relatively flat lugs that provide traction over a wide range of surfaces from mud to pavement.
I found the shoe did slightly better on wet, soft surfaces than hard, dry surfaces, but found myself running perfectly comfortably over all kinds of terrains and conditions including snowpack, ice, mud, wet and dry rock, sand, crushed gravel, boardwalk planks, metal bridge gratings, concrete, and asphalt. The multidirectional lugs gave good grip moving in all directions: linearly forward, but also side to side when leaping from rock to rock.
Unfortunately, to get back to the tank tread metaphor, while theSupertrac Ultra's big chunky outsole provides exceptional traction, it does come with added weight. The outsole rubber is typically the densest and therefore the heaviest material used in running shoes, and quickly packs on the ounces with every bit of extra material used.
All of this outsole material leaves the shoe feeling overweight, and I would gladly trade a little bit of grip for an ounce of weight loss. Over ultra-distance runs, every little bit of weight saved is felt, especially as the miles start adding up. All in all, though, it's a terrific outsole.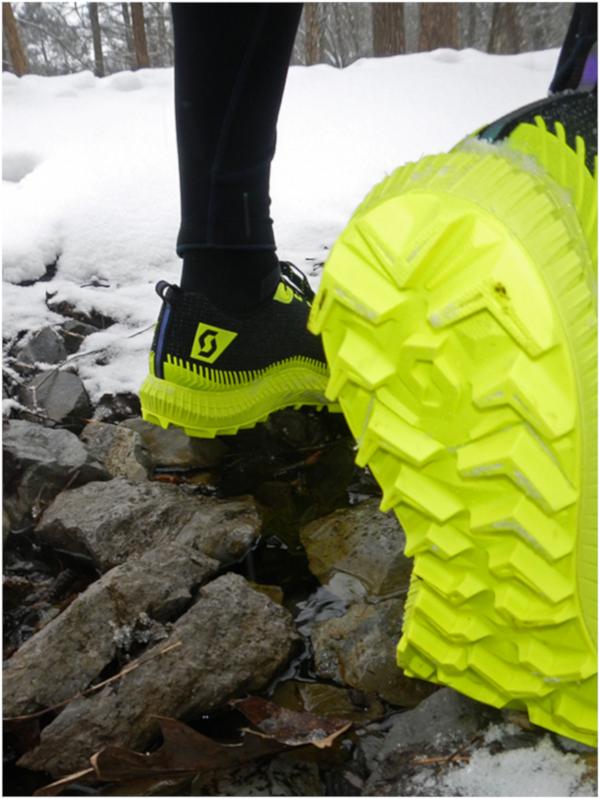 A look at the competition
Despite marketing to a small niche of ultra-distance trail runners, the Scott Supertrac Ultra RC has several tough competitors. The first set of competitors come from Hoka One One, such as the Speedgoat 3 or the Evo Mafate.
Both of these shoes are lighter than the Scott: 10.3 oz for the Speedboat and 9.6 oz for the Evo Mafate versus the Supertrac Ultra RC's relatively bloated 11.9 oz.
But as discussed, this added weight comes with extra protection. With the Scott feeling bulletproof while both the Mafate and Speedgoat have been criticized for less-than-sufficient foot protection from their uppers, and issues with durability.
It's a clear tradeoff. If you will be running in especially rough conditions, then the Scott is worth the extra weight. If you're not running in a jungle during monsoon and don't mind feeling like you have mattresses under your feet, then the weight saving and extra cushioning of the Hoka's may be a good bet.
Altra Olympus 3.0 and the Lone Peak 4.0 are two other competitors. Like the Hokas, both of these Altras are lighter than the Scott at 11.5 oz and 10.7 oz respectfully. But again, both of these Altras have noticeably less protective and less durable uppers and feature significantly less grippy outsoles.
I also find the slightly curved midsole of the Scott to have a much smoother toe-off than Altra's relatively plank-like shape. Again, it's a very clear tradeoff: If you want a lighter shoe, go with the Lone Peak.
If you want more protection and durability, go with the Scott. That said, if you're a hardcore zero-drop fan (the Supertrac is an 8mm heel-toe drop) or have wider feet, Altra is clearly your go-to option.
The most serious competitors to the Supertrac Ultra RC come from Salomon - the Speedcross 5 and the S/Lab Ultra. Both the Scott and the Speedcross are approximately the same price, weight, level of protection in their uppers, and have equivalently grippy outsoles.
Splitting hairs, I find the Speedcross 5 has a slightly nicer upper than the Scott, as Salomon's overlays are made of a lighter and more flexible material that doesn't cause abrasion on the foot like the Supertrac's rigid plastic overlays and hard heel counter.
However, the Scott has a slightly better outsole that performs effectively on both wet ground and hard surfaces like sidewalks, roads, and solid rock, compared to the Speedcross's pointy lugs that do great in wet conditions but can't grip on dry, hard ground and make you feel a bit like a dog sprinting around on hardwood flooring.
I also prefer the slightly more natural feeling 8mm heel-toe drop of the Scott to the 10mm drop of the Speedcross, but here, we're literally splitting hairs.
That leaves the Salomon S/Lab Ultra, which I get the sense Scott designed the Supertrac Ultra RC to compete with directly. If this was the goal, Scott did an impressive job coming close to their mark with a brand-new debut shoe.
Both shoes have similar levels of cushioning, similarly protective and durable uppers, and similarly grippy and versatile outsoles. However, the Scott falls short of the S/Lab Ultra on several counts.
The first and most obvious advantage to the Salomon is its weight, with the S/Lab Ultra 2 weighing in at 10oz, a full 2oz less than the Supertrac Ultra. It might not seem like much, but over ultra-distances, this 16% weight difference is dramatically noticeable.
The second advantage of the Salomon is it's upper: Scott's use of a rigid plastic overlay rubs the foot and adds unnecessary weight, while the Salomon's upper uses a softer injected TPU material that provides sufficient protection while not causing abrasion and remaining lightweight.
Finally, while the midsole stiffness of the Scott is pretty comparable to average trail running shoes, it is slightly stiffer than the pliable S/Lab Ultra. If you prefer a more natural feel where your foot can flex and adapt while running over uneven terrain, then the S/Lab Ultra will offer a more comfortable midsole feel.
There are two points where the Scott has a slight advantage over the Salomon. First is the price, with the Scott on sale at $150 retail, versus the S/Lab Ultra's sort of ridiculous $180 price tag. Second is the outsole of the Scott on wet ground.
On almost all surfaces the outsoles of the two shoes are pretty comparable in terms of grip, with the one exception of slushy, wet, soft ground where the slightly deeper lugs of the Scott have a bit more bite than the Salomon.
That said, the shallow lugs of the Salomon are marginally more comfortable on crushed gravel, solid rock, asphalt, and pavement than the Scott.
All of this considered, unless you are running in especially nasty and wet weather, I would suggest the S/Lab Ultra over the Supertrac Ultra RC. The Salomon's lighter weight, more comfortable upper, and more flexible midsole are worth the investment, especially if you're planning on going out for multi-hour runs on the trails.
With some minor modifications in next year's Supertrac Ultra RC update, namely replacing the upper's plastic overlays with a softer material and shaving down some weight, Scott has the potential to perform far better than its competitors. But for now, with this first iteration, the competition wins out in a lot of key areas.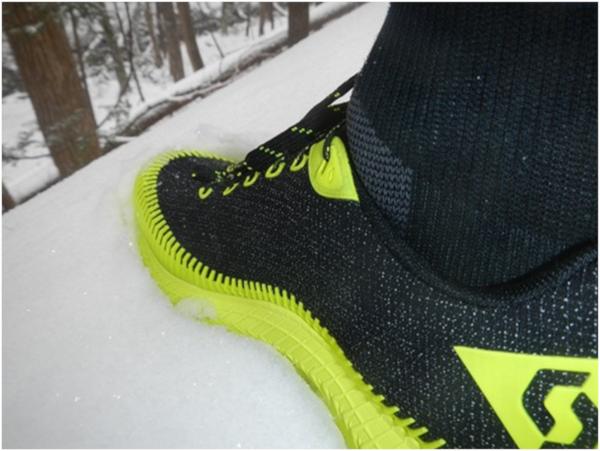 Conclusion
If you need an extraordinarily protective shoe to take on long trail runs in rough conditions, then the Scott Supertrac Ultra RC is a great shoe option for you. Just be aware that its water resistant and protective upper, exceptionally grippy outsole and highly cushioned midsole all come with noticeably more weight than other trail shoes offered by competing brands.
The Supertrac Ultra RC is a new debut from Scott, and first attempts never go perfectly. I suggest keeping your eyes open for the updated version in 2020. Hopefully, Scott will have worked out the kinks in the upper's overlays and will have whittled down the weight to make it a truly groundbreaking ultra-running shoe.
This is a review of the Scott Supertrac Ultra RC. A shoe hailed by its manufacturer as comfortable, durable and providing superb traction for the ultra trail runner. It is the newest model in the Scott RC range, where RC apparently is short for "racing concept" not Remote Control.
Rugged and solid looking trail shoe!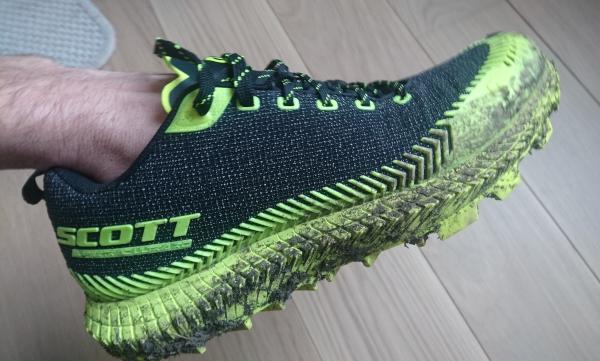 Fit & comfort
The Scott Ultra is unfortunately shaped quite like many other mainstream running shoes. I have said this before, and I'll unhappily say it again. How come so many running shoes are not shaped like the human foot?
Of course, there are as many foot shapes as there are people, but my feet must be particularly unshapely. At least in comparison to those runners and engineers who helped design the Scott Ultra.
Foot shape comparison - insole from Scott Supertrac Ultra RC and the Altra Superior 3.5.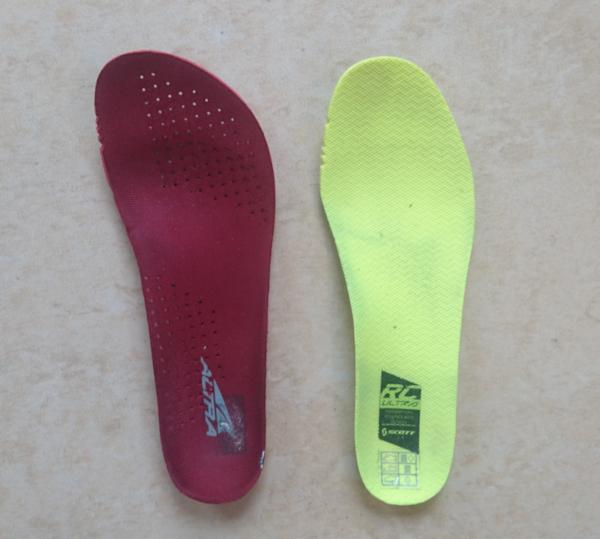 For me, the Scott Ultra fits fine around the back (heel and ankle) and provides a snug and secure feeling. The front of the shoe, however, is narrow and pointy. It squashes my pinky-toes relentlessly, and my big toes are forced inwards.
"Marius the giraffe" displays a series of trail shoes with their heel counters aligned. Front to back: Scott Supertrac Ultra RC, Merrell Bare Access Flex, Altra Superior 3.5, Inov-8 Terraclaw 220, and Inov-8 TerraUltra 260g.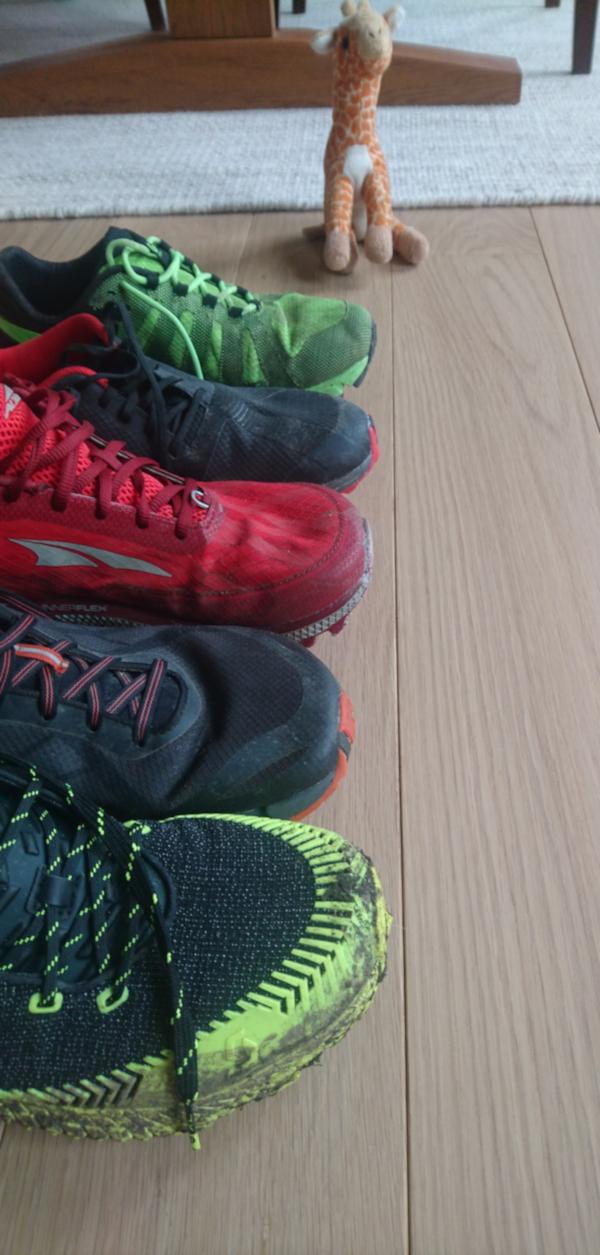 The observant reader may think I got the wrong size shoe. I don't think so, because there is still ample inside-shoe-space in front of my toes.
The Scott Ultra is also longer than most of my other shoes despite being half a shoe-size smaller. My foot is short and wide; the Scott Supertrac Ultra RC is long and narrow - it is a simple as that.
Shape and size comparison of Scott Supertrac Ultra RC (UK 6.5) and Merrell Bare Access Flex (UK 7).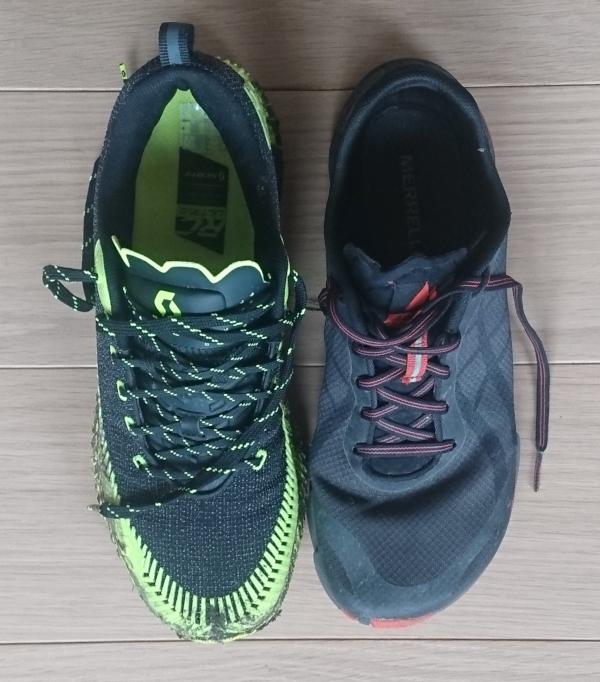 Anyway, I ended up wearing the frontmost laces (two sets of lace holes) completely loose, essentially not using them. This allowed the upper to stretch sideways to accommodate my feet and allowed me to run some 60+ miles over a period of three weeks.
The Scott Ultra did not hurt my feet to the point of injury or blisters during the test period. But I wouldn't want to take them for more than two-hour runs. I also felt I had to space each Scott Ultra run with runs in some of my regular shoes.
Most of the time while running, I thought: aah, they feel solid and have that 'rigid ultra quality' about them. They just need a bit more breaking in. But after some 60+ miles of running, they are still not comfortable, and I doubt they ever will be for me.
Features
The tongue of the Scott Ultra is covered by a plastic shell/plate. I haven't seen this feature before, and I don't really get it.
Yes, it is waterproof and provides some protection for the instep. But I have never had any issues with objects/obstacles hurting my instep.
Furthermore, a flimsy plate of rubbery plastic is not going to save your day should something heavy land on your foot. Perhaps it has its place in an OCR shoe to prevent scraping from obstacles, but I find it unnecessary in an ultra shoe.
The short plastic-covered tongue of the Scott Supertrac Ultra RC.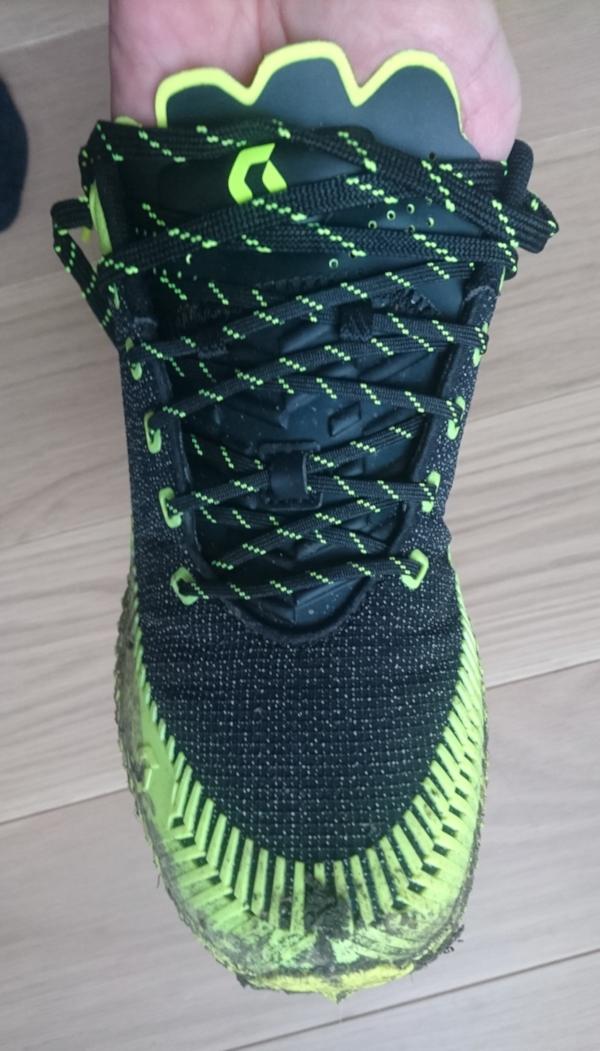 The Scott Supertrac Ultra RC has no gaiter attachment options, and the outsole/lug configuration does not leave room for a string/strap underneath. This means you are stuck with velcro-strap-at-the-back type attachment only (i.e., Dirty Girl).
This is not a deal breaker per se, but something to take into account when you go shoe shopping. If you require solid gaiter performance, Scott Ultra is not your best option.
Staying in the "lacking" department, the Scott Ultra does not provide the extra set of lace-holes required if you need to use the lace-lockdown technique. Not that I have felt the need to, because the Scott Ultra sits quite tight and secure without it. But it would be nice to have the option.
The outwards lateral side of the Scott Ultra. Please notice the loose laces at the front and the missing extra lace holes for lace-lockdown.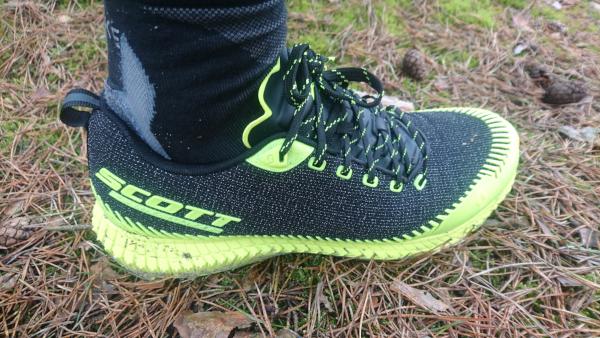 The upper is made of one piece of the so-called Schoeller Dynamic fabric. Avoiding seams is always good, and this revolutionary fabric is supposed to be stretchable (in many dimensions), water repellent and breathable. On the outside, there are welded plastic/KPU rubber overlays.
During the testing, I found that the upper fabric was quite good. It stretched and felt comfortable against my feet (no seams). It was also quite good at keeping out water.
On the other hand, when completely soaked (I foolhardily tried to jump a creek, and did not quite make it) they were also "good" at retaining water afterward. Hence, when it comes to moisture management, the Scott Ultra is not overly different to most other water-repellent ultra shoes.
With regards to the KPU overlays on the upper, they provide a teeny bit of protection. However, it is not going to save your day should something hard to hit your feet — a bit like the plastic overlay on the tongue.
During the test period, I had a few close encounters with rocks and roots that scraped against the sides of my forefoot. I found that the KPU provided very little protection - it simply gave way.
I think the Scott Ultra would have gained in attraction both physically and aesthetically if they had left out the yellow/red upper overlays.
Supertrac signature aggressive outsole has a tendency to lodge mud.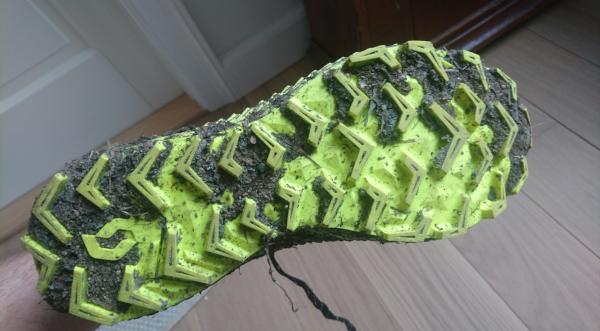 The outsole looks very aggressive, pointy triangular-shaped lugs in opposing direction forefoot and heel. I have run in the Scott Ultra in a wide range of conditions.
They handled most situations very good; from off-trail to road alike. They were at their best in soft/slippery conditions and on sandy beaches/dunes.
On the latter, the Scott Ultra provided grip and "buoyancy" at the same time, which is a rare combination. As may be seen in the image (above) they, unfortunately, have a tendency to lodge mud in-between the lugs.
The Scott Supertrac Ultra RC is excellent for sandy trails - buoyancy and traction combined!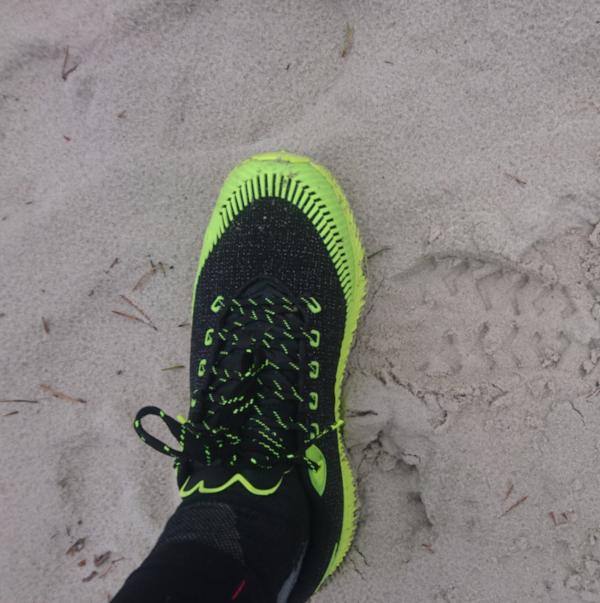 The only places I felt insecure was in bouldery terrain and on bare rocks. The latter especially when interspaced with muddy/wet tracks.
The Scott Ultra is definitely not as good for traction as dedicated fell/OCR shoes. In comparison to other ultra-type-shoes I have tried, I'd say they are pretty average.
Performance
The Scott Ultra sports a high (29mm) stack. A significant (8mm) heel-to-toe drop. A cushioned midsole and ample insole.
This setup leaves your feet with little sense of the track. It may be tarmac, it may be soft forest floor - your feet won't feel any difference. For some runners, this is ideal particularly for tiring ultra scenarios.
For me, it is far from ideal! I like to sense the track and let the changes in terrain and surface provide welcome variation (relief) for my feet and body.
An inward lateral side of the Scott Ultra in nice, soft forest floor conditions. Unfortunately, your feet won't feel it.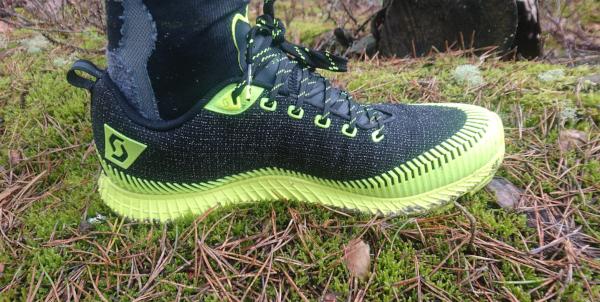 The high stack and rather a narrow midsole/outsole combination make the Scott Ultra prone to ankle twisting. This effect was further enhanced in my case by the need to have my feet splay outside the midsole horizontally.
I felt very insecure in difficult (rocky/bouldery) terrain, and quite a few times I had to slow to walking pace from fear of twisting my ankles.
My pair of Scott Supertrack RC Ultra in size UK 6.5/US 7.5 weighed in at 311 grams right out of the box. This is 50 grams or almost 20% more than the next shoe in my arsenal of 10+ trail running shoes from a range of manufacturers.
I found that I ran 10-20 seconds (5%) slower per kilometer in the Scott Ultra, regardless of terrain/conditions. Please take these numbers as indicative only, as I'm not a pro, and I've only run around 100 km in mine. Alex Nichols and Jo Meek certainly seem able to run superbly (fast) in Scott Ultra shoes.
Let's do some simple maths: With an average step-length of 1 meter, you have to lift your feet some 80.000 times during a 50-miler. Fifty extra grams multiplied by 80.000 steps equals a whopping 4 tonnes of extra lifting.
So if I can shave 50 grams off each shoe by simply choosing a different shoe (ceteris paribus), I'll do it any day. In other words, I need compelling reasons to stick with a heavy shoe. Does the Scott Ultra provide such reasons?
Well, the Scott Ultra is (apart for the obvious misfit with my feet) a reasonably nice shoe. It performs fine in a wide range of conditions. It provides okay traction and ample cushioning.
It is durable, solid and is good at keeping out the elements (water, grit, etc.). However, after some 60+ miles, I still don't recognize those outstanding properties that justify them being heavy.
I'm not saying it is not a nice shoe - it is! I just find them too heavy for what they offer. Plus there are plenty of lighter alternatives out there.
Conclusion
The Scott Supertrac Ultra RC is an okay looking, rugged, durable and solid trail shoe that will handle most types of terrain and give you a firm and cushioned ride.
They are suitable for pretty much any kind of terrain and type of track a trail-ultra typically throws at you. I'd say they are overkill if you just go for the odd mosy around the park. A bit like driving your Range Rover downtown for coffee.
I'm sure you'll get plenty of enjoyment from a pair of Supertrac Ultra RC; provided that you are a narrow-footed Scott fan who likes cushioned running shoes with a solid drop and don't mind a bit of weight. If you get yourself a pair, you'll have acquired a workhorse-type, sturdy and substantial ultra trail shoe.
If you are a natural or low-drop-type runner, I'd recommend you bypass the Scott Ultra for its ample cushioning and 8mm drop. I found that the latter felt a lot more significant than it looks on paper.
Updates to Scott Supertrac Ultra RC
The Scott Supertrac Ultra RC is a member of the global roster of trail running shoes. This product is optimized for ultramarathons as it's configured with a highly aggressive outsole and a barrier-like façade that heightens durability. The signature two-color scheme that's evident in many of Scott Sports' products is present in this shoe, as well.
AeroFoam+ servers as this shoe's midsole. This lightweight yet sturdy compound carries the foot through the gait cycle, aiming for pure comfort and responsiveness. The All-Terrain Traction design philosophy of the external pad brings traction, surface steadiness, and mud-clearing capacities into a cohesive whole.
Size and fit
The standard sizing schemes were used in the making of the Scott Supertrac Ultra RC. Full and half-sizes are available for this shoe. Runners are encouraged to purchase a pair in the sizing schemes to which they're most accustomed.
When it comes to width, the variants are D – Medium for men and B – Medium for women. It accommodates those whose feet have medium-to-low volumes.
Outsole
The outsole unit of this running shoe uses a full-length rubber compound. This layer is tasked with protecting the foam midsole form the debilitating effects of surface contact and continued use. It also provides traction just like the Salomon Speedcross 5.
The All-Terrain Traction is an outsole configuration that involves aggressive yet well-spaced gripping lugs, as well as bonus plinths on the perimeters. These elements work together to ensure high-quality surface grip and balance. The generous spacing between each lug is for the natural sloughing off of mud.
Midsole
AeroFoam+ serves as the midsole unit of the Scott Supertrac Ultra RC. It is a variant of ethylene vinyl acetate. It has a lightweight and flexible construction which allows runners who barely feel the platform underneath the foot. It also has a durable build as it is able to retain its form even after many runs.
eRide is a rocker shape that fundamentally leads the foot smoothly through the gait cycle. Heel strikers can benefit from this curved design as it encourages a smooth landing while midfoot strikers can quickly adapt to the crest of the convex shape (which is right at the middle part of the platform).
The RC Insole is an insert that gives a bit of oomph to the underfoot experience. Its thin profile doesn't hinder the flexibility of the midsole. Also, it can be removed or replaced with a new one if the runner chooses to do so.
Upper
The schoeller®-dynamic is a fabric that is licensed for the Scott Supertrac Ultra RC. This material has been touted to be highly durable yet also breathable and water-repellent. Its versatility also extends to its capacity to stretch and follow the shape and motion of the human foot as it goes through the gait cycle.
A generous helping of synthetic print surrounds the bottom part of the upper. This layer is meant to act as a wall that protects against rough surfaces and elements such as trail debris. It also aims to heighten the visual aspect of the shoe as it has a spiky outline and a bright color scheme that contrasts the primary textile.
A traditional lacing system is used for this running shoe. Flat laces zigzag across the instep, looping through discreet eyelets that are reinforced by printed overlays. This fit-adjustment scheme tightens and loosens the coverage to suit the preference of the wearer.
The lightly padded tongue and collar support the instep, the ankles, and the Achilles tendon. These parts of the façade are also meant to avert accidental shoe removals.
A lace anchor prevents the tongue unit from sliding to the side of the shoe and causing discomfort to the foot.
A fabric loop is stitched onto the back of the shoe. This pull-tab mechanism assists the runner when it comes to putting on and taking off the shoe by widening the opening and facilitating the push-and-pull movement of the donning-and-removal process.
Rankings
How Scott Supertrac Ultra RC ranks compared to all other shoes
Popularity
The current trend of Scott Supertrac Ultra RC.