I received the Scott Supertrac RC as a test mule for logging in some good trail miles. Even though the shoes were given to me, I give only honest opinion.
I feel that Scott will not be able to improve upon their shoes without the feedback that they have requested.
Initial Impression
Holy smokes these shoes are yellow and this picture doesn't even do them justice for the intensity that they provide!
At first thought, they didn't look like they were going to provide enough support for long trail runs. Then I put the shoes on and to my amazement, they fit really good and hugged my arches very well!
The toe box was roomy and I felt like it's adequate enough that I wouldn't be losing any toenails. The tongue had padding and had holes in it for breathability and the laces run interesting.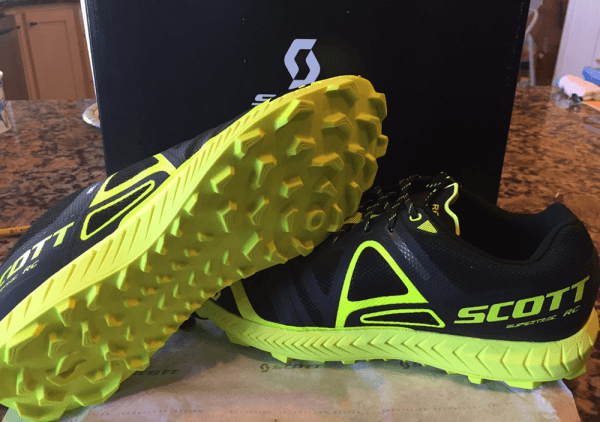 First Run
My first run in the Supertrac RC came a day after the shoes arrived. By then, we had received 18 inches of snow so why not give these new shoes a chance.
I was initially impressed with the amount of grip that these shoes have. The shoes didn't get clogged with snow and the run went nicely.
I never felt that the shoes didn't have enough support when trying to make directional changes. All in all the run went well.
Second Run
After the shoes had dried out, I drove 2 hours to lower elevation to run over some lava basalt fields. The area is tough, still being at 5K feet of elevation but the rocks are sharp and move out from underneath you without any warning.
The basalt fields will shred a pair of shoes. While I did receive some tread tearing and a few nicks in the upper I was pleased with the amount of toe protection and how well the shoes held up.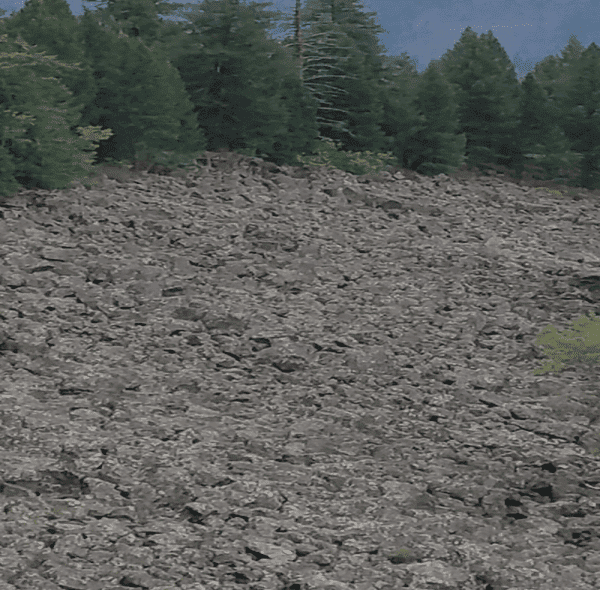 Performance
After 50 miles of running, I started to get creasing in the arch support area, along with some puckering, of the midsole.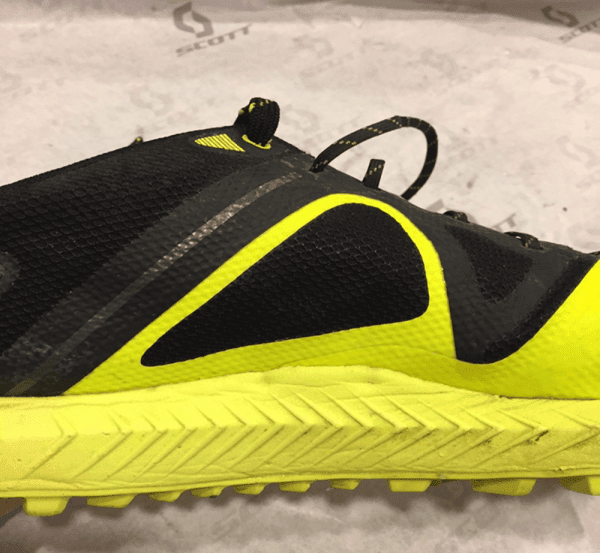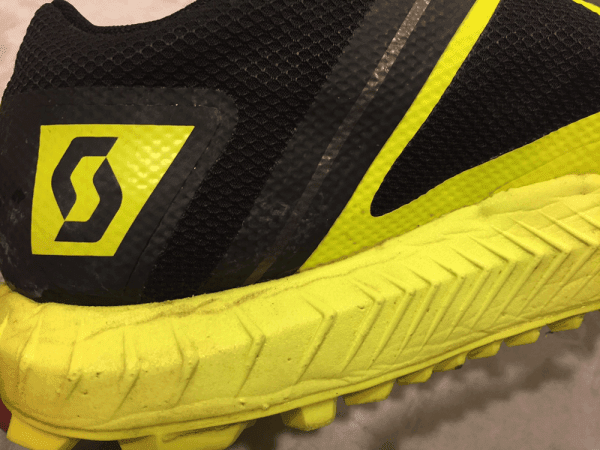 On Water
The shoes are nice in cold climates but they don't breath very well.
I would imagine that if I were to run an ultra in these shoes I would have a quite a few blisters from the lack of breathability.
You would think that a shoe with a low amount of air transfer would more than likely stay dry at creek crossings, however, these shoes took on water like a camel filling a hump. I don't mind this too much if they dried out fast but they don't, this made me second guess crossing water of any sort.
How about the padded tongue, does it help in any way? I didn't find there to be any benefit to the tongue, I didn't feel extra padding and the tongue would always slide sideways toward the outside of each leg.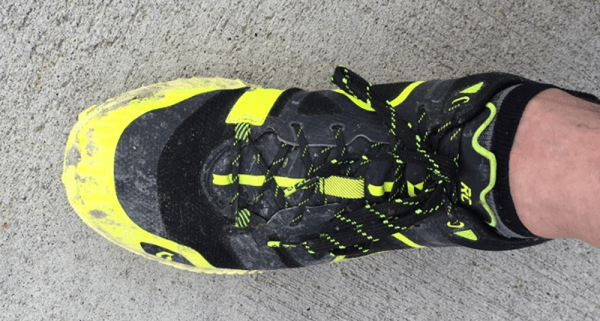 On Mud
Water crossing was horrible but how about mud?
If the mud was simply slick these shoes have no problem handling it but if it's thick mud, the lugs on the traction fill up quickly. I went through some rather sticky mud that caked onto these shoes and made it feel like each shoe had gained a couple pounds.
When I looked at them, sure enough, they were completely filled with mud with an extra 3-4 inches of mud hanging to the sides of each shoe. I happened to be running with my two sons and their shoes (road shoes) fared far worse.
While their shoes filled with mud they didn't pick up as much but they also lost their footing well before I did. A few miles after getting out of the mud and the self-cleaning lugs had done just that.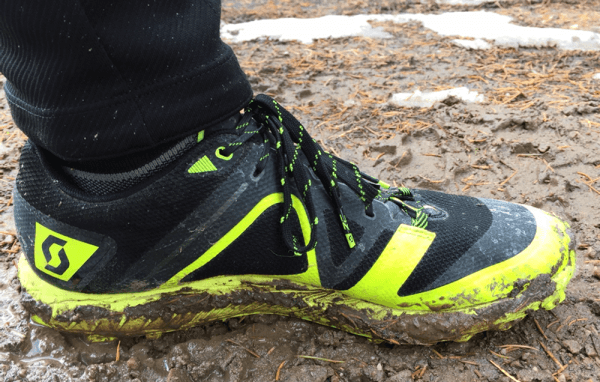 On Snow and Ice
The Scott Supertrac RC excel in snow and ice, plain and simple.
The shoes don't breath real well so my toes stayed warm and at times sweaty. The grip is phenomenal and I honestly never lost my footing. I had a friend shot this video after a run.
It's on a frozen dirt road decent but I had to show the confidence that you can have when running in these shoes in slick conditions.
On Track
While these shoes are not the fastest or lightest shoe, I was amazed that it handled the track very well.
I wouldn't recommend doing your speed workouts in these but if you accidentally pack them on your way out by mistake you'll be OK. I was impressed with how well they handled and they didn't feel clunky and I was able to do some sub 5:30 mile repeats in them.
Aesthetics
If aesthetics are a concern for you, notice that the midsole has faded while the outer material has held its color. I personally don't care about what the shoe looks like as long as it performs.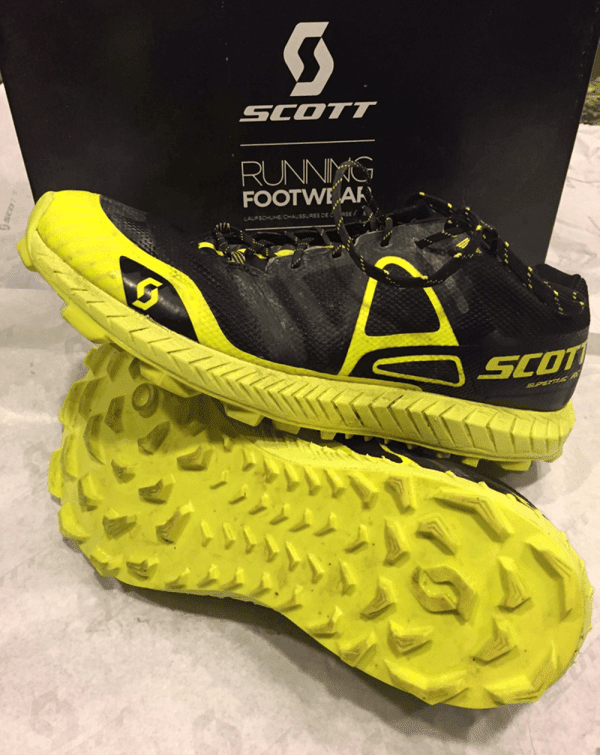 Pros
Grippy tread
Great fit & roomy toe box
Good support (even with the breaking down of the midsole)
Keeps your feet warm
Tough outer
Cons
Water crossings (just try to avoid them)
The tongue slides to the outside & irritates my foot
Fading color on the midsole
Doesn't breath well
Overall Impression
Overall, the Scott Supertrac RC has a tough upper with good protection and support with amazing traction.
Does the title "Great Scott" fit here? It's probably more like "Good Scott".
This could use some improvements in shedding mud faster, making the shoe water impenetrable or at least allow the water to drain fast and dry out. If I lived in a warm climate or need a summer shoe this one would be out. However, I will be buying another pair of these shoes for my winter mountain trail runs.
I like them as much as my Salomons and they are far superior to the Brooks Cascadia that I use to train in.