Our reviews
I received the Scott Supertrac RC as a test mule for logging in some good trail miles. Even though the shoes were given to me, I give only honest opinion.
I feel that Scott will not be able to improve upon their shoes without the feedback that they have requested.
Initial Impression
Holy smokes these shoes are yellow and this picture doesn't even do them justice for the intensity that they provide!
At first thought, they didn't look like they were going to provide enough support for long trail runs. Then I put the shoes on and to my amazement, they fit really good and hugged my arches very well!
The toe box was roomy and I felt like it's adequate enough that I wouldn't be losing any toenails. The tongue had padding and had holes in it for breathability and the laces run interesting.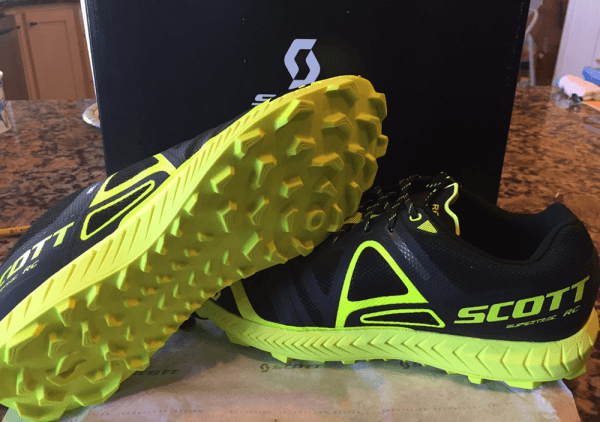 First Run
My first run in the Supertrac RC came a day after the shoes arrived. By then, we had received 18 inches of snow so why not give these new shoes a chance.
I was initially impressed with the amount of grip that these shoes have. The shoes didn't get clogged with snow and the run went nicely.
I never felt that the shoes didn't have enough support when trying to make directional changes. All in all the run went well.
Second Run
After the shoes had dried out, I drove 2 hours to lower elevation to run over some lava basalt fields. The area is tough, still being at 5K feet of elevation but the rocks are sharp and move out from underneath you without any warning.
The basalt fields will shred a pair of shoes. While I did receive some tread tearing and a few nicks in the upper I was pleased with the amount of toe protection and how well the shoes held up.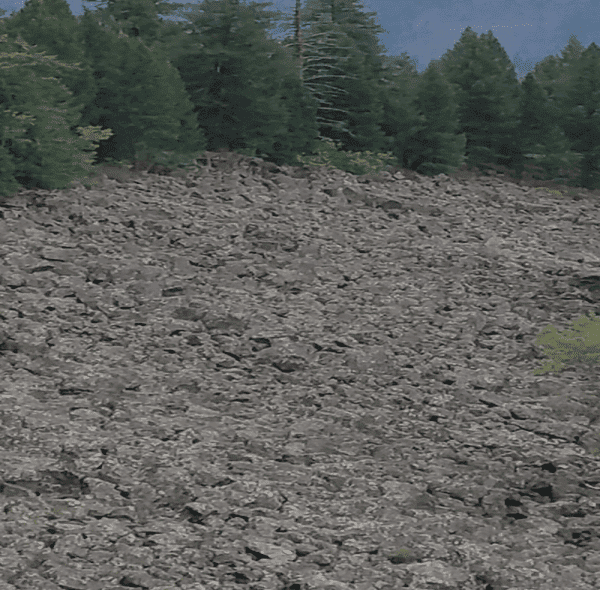 Performance
After 50 miles of running, I started to get creasing in the arch support area, along with some puckering, of the midsole.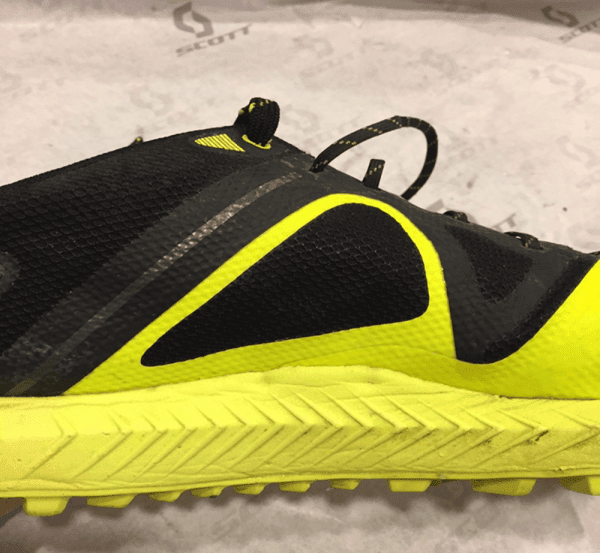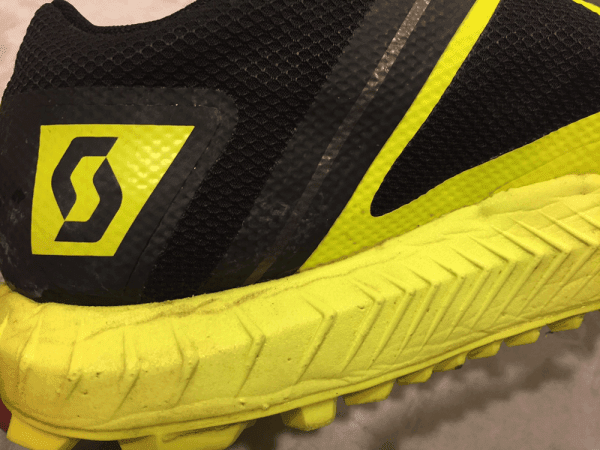 On Water
The shoes are nice in cold climates but they don't breath very well.
I would imagine that if I were to run an ultra in these shoes I would have a quite a few blisters from the lack of breathability.
You would think that a shoe with a low amount of air transfer would more than likely stay dry at creek crossings, however, these shoes took on water like a camel filling a hump. I don't mind this too much if they dried out fast but they don't, this made me second guess crossing water of any sort.
How about the padded tongue, does it help in any way? I didn't find there to be any benefit to the tongue, I didn't feel extra padding and the tongue would always slide sideways toward the outside of each leg.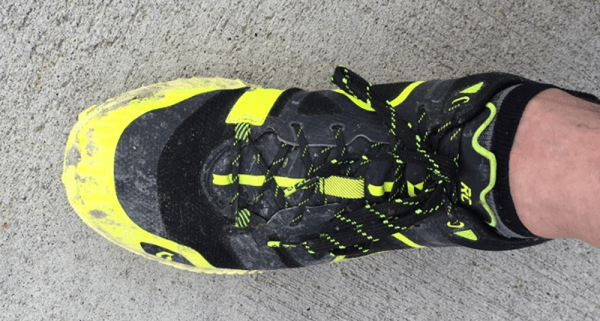 On Mud
Water crossing was horrible but how about mud?
If the mud was simply slick these shoes have no problem handling it but if it's thick mud, the lugs on the traction fill up quickly. I went through some rather sticky mud that caked onto these shoes and made it feel like each shoe had gained a couple pounds.
When I looked at them, sure enough, they were completely filled with mud with an extra 3-4 inches of mud hanging to the sides of each shoe. I happened to be running with my two sons and their shoes (road shoes) fared far worse.
While their shoes filled with mud they didn't pick up as much but they also lost their footing well before I did. A few miles after getting out of the mud and the self-cleaning lugs had done just that.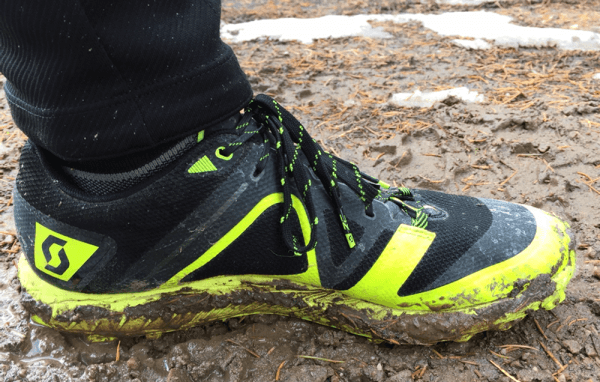 On Snow and Ice
The Scott Supertrac RC excel in snow and ice, plain and simple.
The shoes don't breath real well so my toes stayed warm and at times sweaty. The grip is phenomenal and I honestly never lost my footing. I had a friend shot this video after a run.
It's on a frozen dirt road decent but I had to show the confidence that you can have when running in these shoes in slick conditions.
On Track
While these shoes are not the fastest or lightest shoe, I was amazed that it handled the track very well.
I wouldn't recommend doing your speed workouts in these but if you accidentally pack them on your way out by mistake you'll be OK. I was impressed with how well they handled and they didn't feel clunky and I was able to do some sub 5:30 mile repeats in them.
Aesthetics
If aesthetics are a concern for you, notice that the midsole has faded while the outer material has held its color. I personally don't care about what the shoe looks like as long as it performs.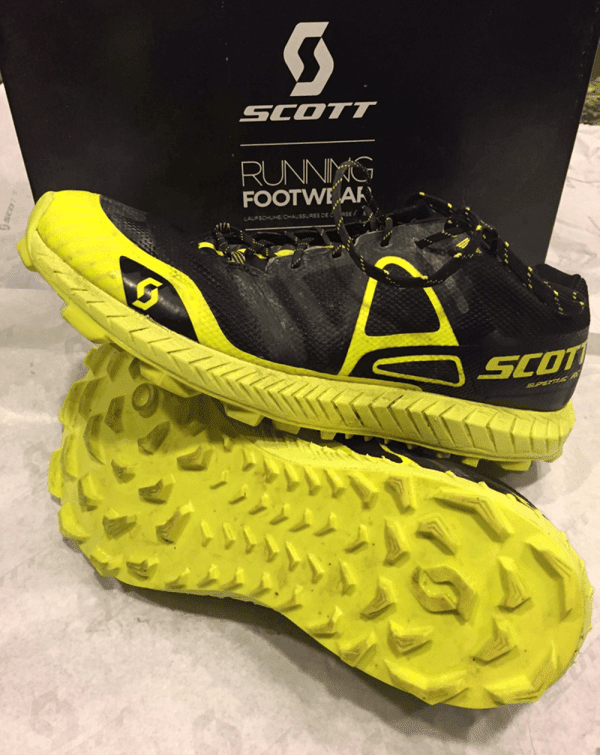 Pros
Grippy tread
Great fit & roomy toe box
Good support (even with the breaking down of the midsole)
Keeps your feet warm
Tough outer
Cons
Water crossings (just try to avoid them)
The tongue slides to the outside & irritates my foot
Fading color on the midsole
Doesn't breath well
Overall Impression
Overall, the Scott Supertrac RC has a tough upper with good protection and support with amazing traction.
Does the title "Great Scott" fit here? It's probably more like "Good Scott".
This could use some improvements in shedding mud faster, making the shoe water impenetrable or at least allow the water to drain fast and dry out. If I lived in a warm climate or need a summer shoe this one would be out. However, I will be buying another pair of these shoes for my winter mountain trail runs.
I like them as much as my Salomons and they are far superior to the Brooks Cascadia that I use to train in.
trail racing flat with a sturdy, semi-breathable upper, a responsive midsole and a super aggressive outsole.
The Supertrac RC is a very versatile shoe, it is cushioned enough for longer runs, and fast enough for short races. The outsole destroys loose mud, big rocks, and everything in between. This is a great choice for a shoe if you want to PR on your next trail race.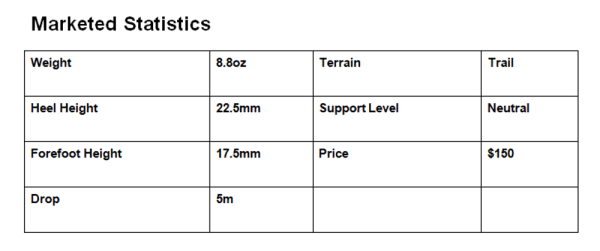 Upper
Upper Material
The Supertrac RC has a very sturdy upper.
It is made of a stiff, semi-breathable material. The upper feel almost indestructible. While I was running a race with hiking poles, I planted my sharp pole tip right on top of my foot. The upper was not damaged at all, yet my foot started bleeding.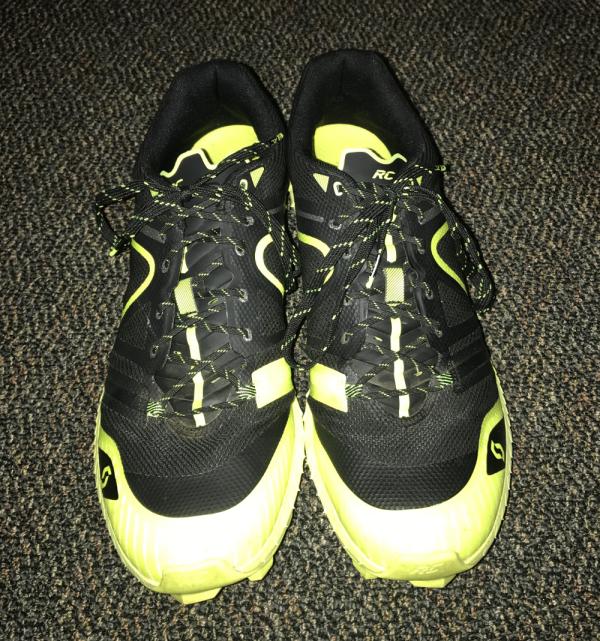 The thick, stiff upper material kept my feet dry in the mud. No trail debris ever made it into this shoe.
The upper is smooth on the inside of the shoe. The upper material is so stiff, that when you are toeing off, the upper bunches up at the place where the shoe bends. This is a little irritating to my feet, but it is not too bad.
Heel Cup
The Supertrac RC has a substantial plastic heel cup. The heel cup provides support and helps with the fit of the shoe. The heel collar is well padded.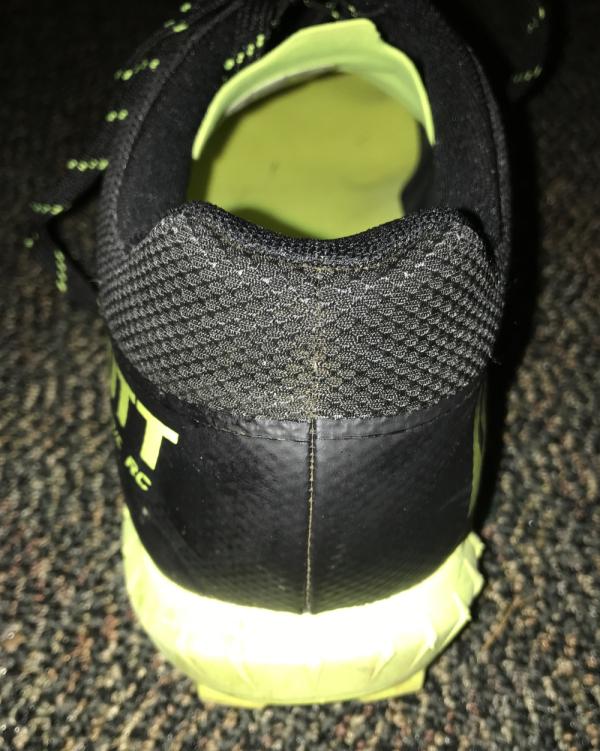 This made the shoe comfortable even when the laces were tied very tightly. The heel area is lined with a synthetic moisture wicking material, to keep your feet dry as they sweat.
Tongue & Laces
The Supertrac RC has thin flat laces. They do not stretch at all. This makes the fit of the shoe less adaptive.
I find that I have to tie the laces very tightly to get a secure fit. The Supertrac RC has a thin plastic tongue. This tongue is not padded enough, considering that I have to tie the laces so tightly.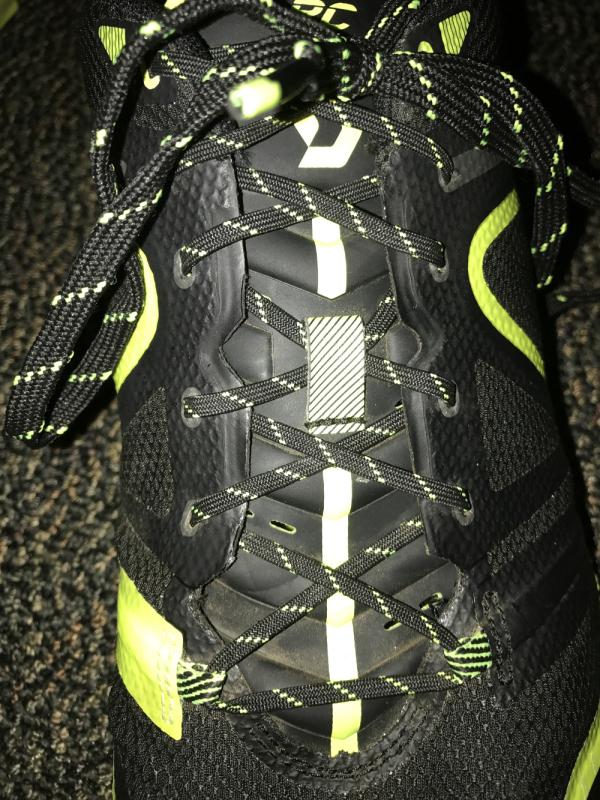 Insole
The Supertrac RC has a very strange insole.
The material sticks to your feet, which is good while you're running, but it makes sliding your foot into the shoe rather challenging. I always bunch up the insole while putting on the shoe.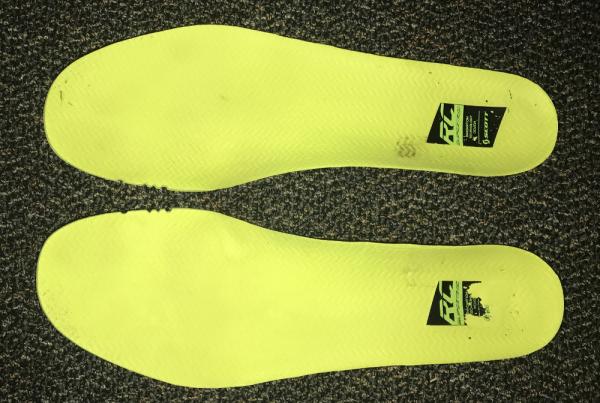 Fit
The Supertrac RC has a straight fit.
The shoe has a little bit of a narrow platform, however, this is favorable when you are trying to go fast. The toe box has a wider than average fit. I really liked this feature because it allows my big toe to stay straight so that I could more powerfully push off.
The midfoot and heel areas have a narrower fit. This makes the shoe feel more secure, so I can fly down technical downhills without slipping.
Toe Bumper
My favorite part of any trail shoe is the toe bumper.
The Supertrac RC has a toe bumper that is made from a small piece of the outsole rubber and a large plastic toe cap. The toe bumper is very sturdy. My feet can barely feel it when I kick a brick wall or a stone on the trail.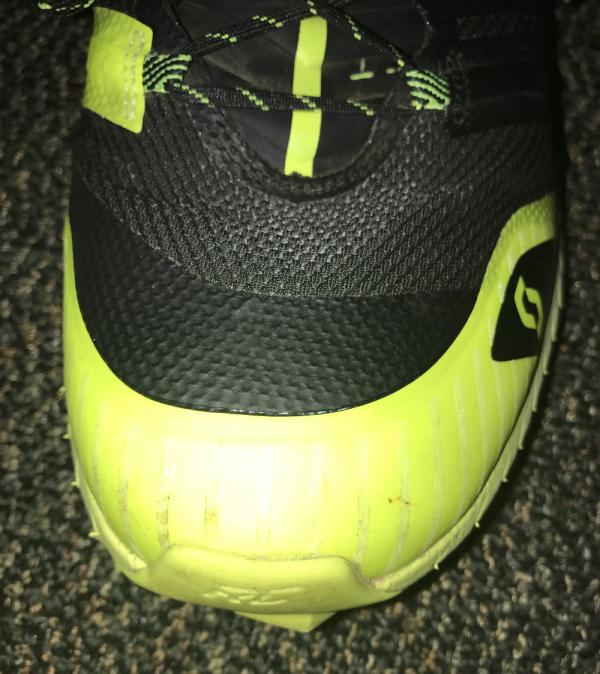 Midsole
Midsole Material
Underneath the weird insole, is a very hard Strobel board, and a layer of responsive foam.
The Supertrac RC has firm cushioning. The cushioning dampens the feel of rocks and roots that you step on, but it does not provide as much cushioning as I would like. I would like the shoe better if the midsole was slightly softer.
That being said, the midsole material does make you go faster. It increases your turnover, and it does not drain energy from you.
The shoe is neither stiff nor flexible. It is somewhere in between. The shoe is not stiff enough to give you a noticeable pop at the toe-off stage of the gait cycle, but it is also too stiff to promote natural running.
Strobel board
A Strobel board is a hard piece of plastic between the midsole foam and the sockliner. The Strobel board stops your foot from sinking into the midsole cushioning.
The Strobel board effectively moves the epicenter of the midsole compression from just underneath your foot, to just above the outsole. The Strobel board causes your foot and lower leg muscles to work harder, but as a result, you go faster.
Removing the Strobel board makes the shoe more comfortable, because your feet and lower legs do not have to work as hard, but you can't sustain as fast of a pace.
Drop
The Supertrac RC has a 5-millimeter heel to toe offset. This makes the shoe better for midfoot and forefoot strikers.
The shoe does have enough cushioning to accommodate heel strikers, but it is definitely more comfortable if you forefoot strike. Lower offset shoes have slower transitions from heel strike to toe-off.
That being said, this is still a fast shoe that a heel striker could race in.
Outsole
The outsole is the best part of the Supertrac RC is the outsole.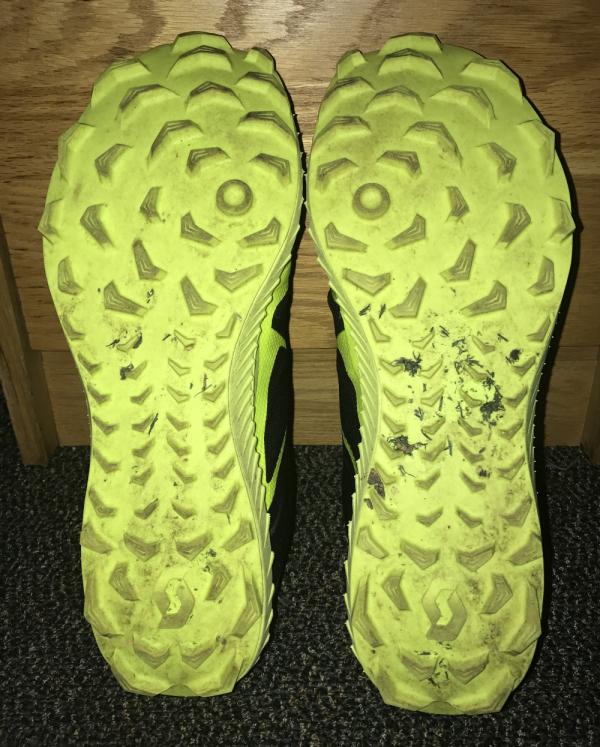 The entire outsole is covered in a layer of sticky rubber.
Protruding from this sheet of rubber are widely spaced, long and aggressive, multi-directional lugs. These lugs provide great traction on all types of trails, while both ascending, and descending.
The forefoot lugs form concentric circles, with the inversion center located right under the ball of your foot. This makes the shoe better for neutral runners.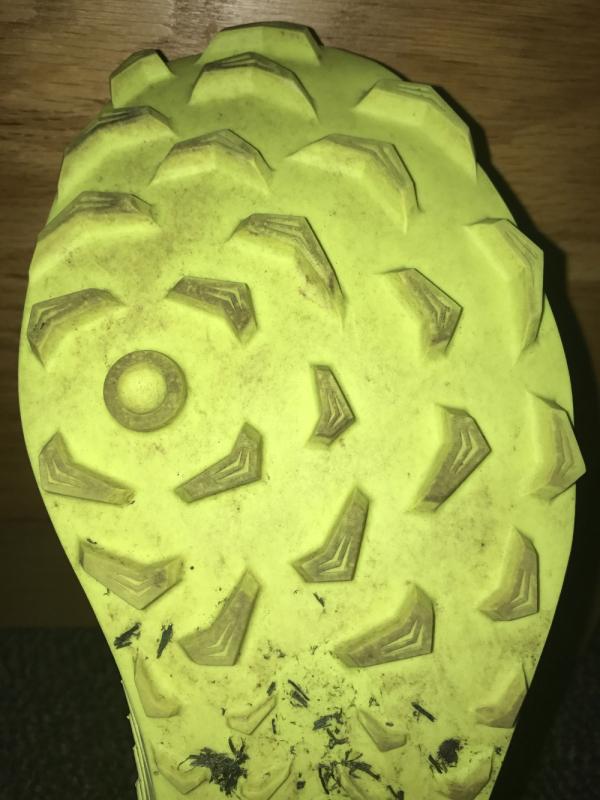 Neutral runners will apply the most pressure on the ground underneath the ball of their foot, which makes the lug design the most effective because the lugs circulate around the ball of your foot.
The outsole is very durable. In my 80 miles of testing, there are minimal signs of wear.
Rock Plate
There is no rock guard on the outsole of this shoe, however, the thick rubber outsole, and the midsole foam absorb the impacts from all sharp objects. A rock plate would just add weight to this shoe.
Best Uses
trail running shoe for any uptempo work.
I pretty much would suggest it for anything but slow jogging. I would recommend this shoe for any race distance up to 50 miles. I would prefer a little bit more cushion for a 100-mile race.
The Supertrac RC is more geared towards forefoot strikers, but any type of neutral runner can enjoy running in this shoe.
This shoe can handle any trail, from groomed trails to the most technical of trails. I do not recommend this shoe for roads. The outsole is too aggressive, which makes it uncomfortable on roads. Roads also wear down the lugs too quickly.
Sizing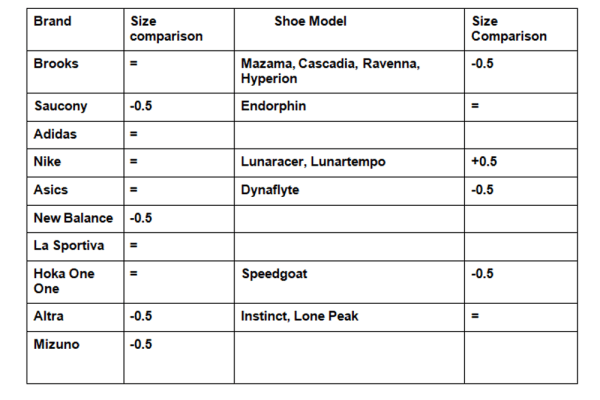 -0.5 indicates that you should buy 0.5 sizes smaller in a different shoe; +0.5 indicates that you should buy 0.5 sizes larger in a different shoe; = indicates that you should buy the same size in both shoes.
Comparisons
The Speed Instinct 2 and Supertrac RC weigh about the same amount. Both shoes have about the same stack height, however, the Speed Instinct has softer midsole foam, and therefore a more cushioned ride.
Both shoes are fast trail racing shoes.
The Speed instinct is fast because of the firmer forefoot, and stiff ride. The Supertrac RC has much more aggressive lugs and therefore has better traction. The Speed Instinct has a more comfortable upper.
The Helios SR is about an ounce lighter than the Supertrac RC. Both shoes are equally fast. The Helios SR is more minimal and more flexible; The Supertrac RC is slightly higher profile but has a faster ride.
The Helios SR has a more comfortable, snug upper. The Helios SR is better for shorter races, whereas the Supertrac RC is better for longer races.
The Mazama is a very stiff and fast shoe.The Mazama has minimal cushioning, so it is only good for shorter distances.
The Mazama weighs about half an ounce more than the Supertrac RC. Both shoes have equally protective uppers and have equally strong traction. The toe bumper on the Mazama is even more sturdy than the toe bumper on the Supertrac RC.
The Supertrac RC is a higher profile version of the Kinabalu RC.
The Supertrac RC has more midsole cushioning, and more aggressive lugs. The Kinabalu RC is actually an ounce heavier than the Supertrac RC. For that reason, I much prefer the Supertrac RC. Why carry extra weight without extra protection?
Conclusion
trail racing shoe.
It has an amazing outsole, decent cushioning, and a sturdy upper that needs some improvement. I take off points because the upper is a little bit uncomfortable, and not breathable. The midsole could also be improved to have a little bit of a softer ride.
Overall, the Supertrac RC is versatile trail racing shoe, capable of crushing any PR from the 5k to 50 miles.
Yes. You read that right. The new Scott does exactly that.
The Supertrac RC is specifically designed for those extreme trails that require superior grip. We'll now closely examine how it performed when I put them on and my honest feedback of what it does good and what it can improve.
The Looks
Scott has introduced the RC line of gear which stands for "Racing Concept" and it reflects on the color schemes.
The shoes themselves are in black with fluorescent green accents highlighting and inspired by their interpretation of racing. The color schemes could attract views on the extreme from people who love it so much and those who completely hate it. I for one loved the color schemes.
Scott has approached it with some thought I must say. These shoes are usually worn for runs in the wilderness and demand high visibility. The shoes provide you exactly that. The Scott branding is very bold and runs on the lateral side along the ankle-heel cushion.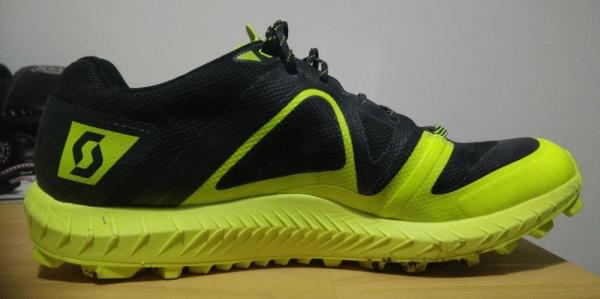 The Specs & Fit
Scott's Supertrac RC, like it's sibling the Kinabalu RC has a 5-6mm heel to toe drop and it's usually in the range of a racing flat. It augurs well for those runners who are midfoot strikers. This helps correct your technique for trail runs where you need maximum contact to the surface for the maximum grip.
It weighs around 250 gms (similar to the Kinabalu) for my size 10. The shoe also is also true to its size and you don't have to go half a size upper like one of those Japanese brands.
I was happy with the fit of the Supertrac RC.
The toe box has been designed to perfection. It wasn't too narrow to restrict your feet's expansion during your runs or it wasn't too wide that you hit every rock while cornering and being dangerous during your runs.
The Construction - Upper
The Supertrac RC is Scott's flagship shoe. The construction is very similar to the Kinabalu.
Scott has used some high-quality materials here. The upper is made from a very sturdy mesh-like material construction with no seams. It gives a nice huggling fit over your feet.
The Supertrac RC's vamp has a green stripe running across where the lacing starts. Scott has put in their "Race-specific" tongue here which is kind of fixed at the bottom and it's kind of flange-y in design.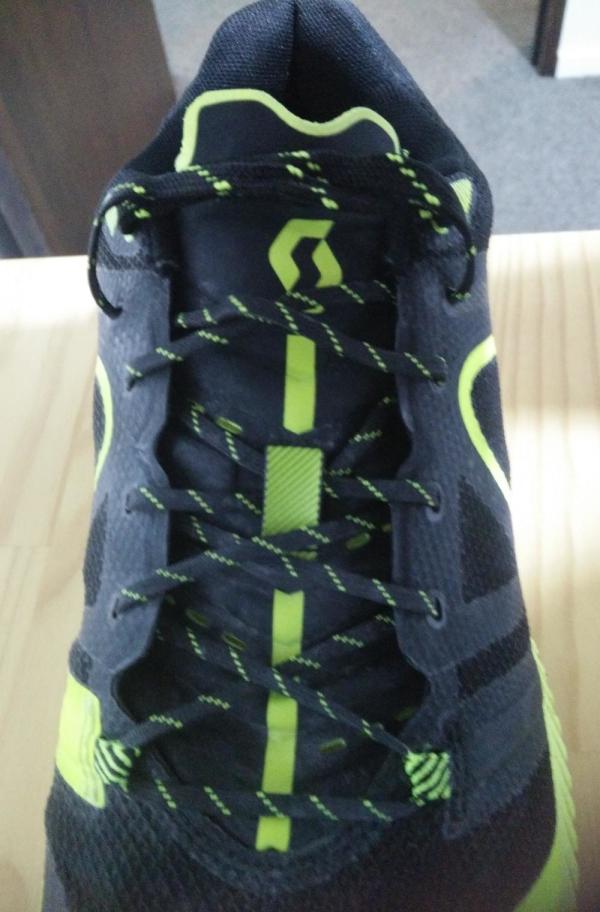 Scott has added some padding intermittently on the tongue to provide some cushioning on your feet and it somewhat works. I didn't feel any undue pressure on my feet.
The laces are striped as well to complement the theme and it maintained the tightness satisfactorily over all my runs. Also, Scott has added some reinforcement around the lacing holes which provides more resilience.
The toe cap is super sturdy and provided great protection for my toes during all my runs.
It has some kind of reinforcement in the fluorescent green and protects you from all those bruising that you may experience from running on rocks. I've put some 50-60 miles on them and the construction has remained fairly rock-solid.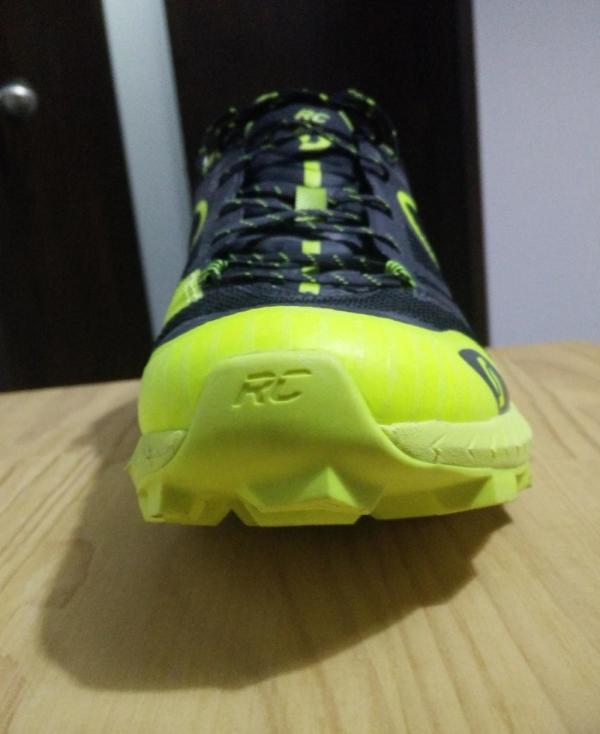 The Feel - Midsole
It looks like Scott may have used the same e-Ride midsole from the Kinabalu. The Aerofoam material provides decent cushioning and great responsiveness required for all trail running.
It's certainly not a cloud-like cushioning you'd expect from the Lunarlon midsole of Nike shoes. You clearly wouldn't need a cushioning like that on a trail running shoe.
What Scott Supertrac RC's midsole does provide, is a great cushioned shoe with all the responsiveness you need for those aggressive turns and pressure you'd exert on those tight turns and corners. The Aerofoam midsole's firmness also gives you great lateral stability.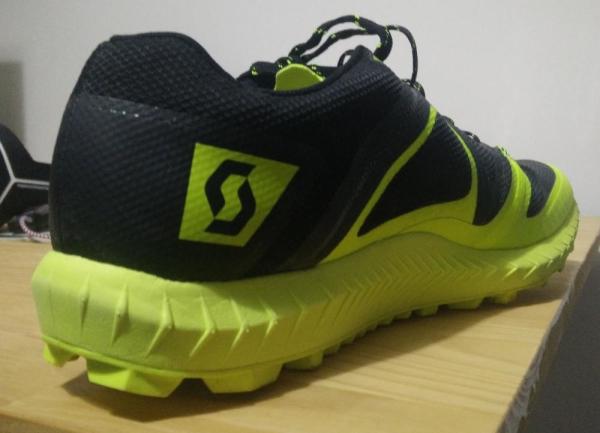 The contoured shape or bowing of the shoe provides a good platform for midfoot striking and encourages you to involuntarily carry on that way. This helps you achieve maximum contact with the trail surface.
The insole inserts from Scott are nothing spectacular and are the usual affair found in other shoes.

The Performance - Outsole
Now, we're talking. This is where Scott has put all that money and research into.
Scott has partnered with the Technical University of Munich to develop the outsole. TUM has helped Scott with the design of the lugs and it's positioning. I'm not sure if there's been so much research that has gone into designing the outsole.
It is an out and out extreme trail running shoe designed with altitude running and rocks in mind. The shoe provides unbelievable traction on those steep runs along hill slopes.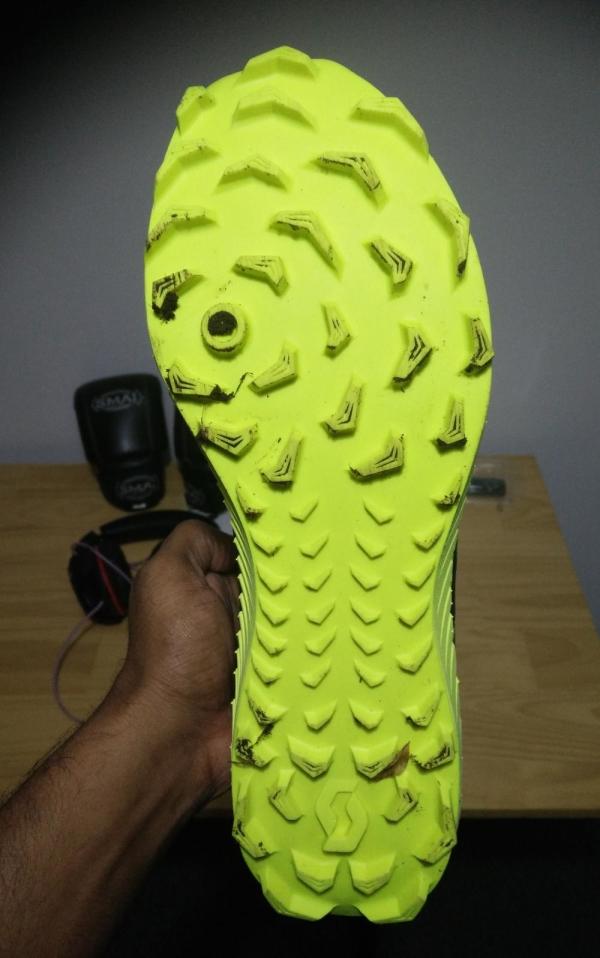 The design is quite evident from the picture. What Scott has managed to achieve is to have a control point for traction around the sesamoid bone which is very logical as that's where you're most likely to pivot from during all your trail runs.
The supporting lugs are places around this pivot point pointing in all directions. What this enables is providing superior grip under some very challenging conditions.
On my run up Mt Karioi in New Zealand, the grip was extremely useful in negotiating some tough conditions such as wet rocks where you'll need that trust of getting a sure-footing and not losing your balance.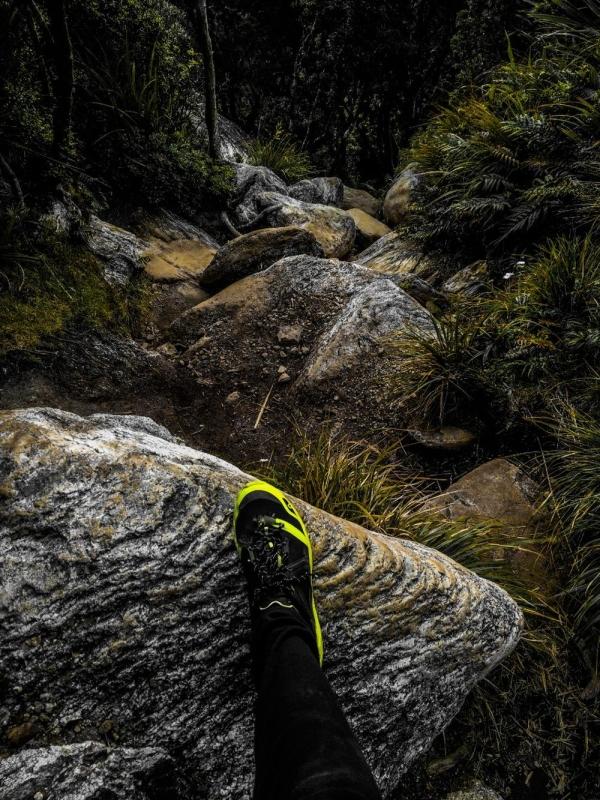 The Supertrac RC handled the terrain extremely well. It motivated me to run faster without worrying too much about slippages.
The other feature of the outsole is Scott's Rock Protection Plate incorporated within the outsole material. This offers plenty of protection against sharp rocks injuring you during your runs. In saying that, don't expect the Supertrac RC to compliment you on roads or on some light trails. These shoes are designed with extreme terrains in mind.
If you're looking at shoes for running those light trails with some flat surface along the way, look at something like the Scott Kinabalu or Vasque Vertical Velocity.
Likes
Great traction on those extreme terrains
5mm drop, perfect for a racing shoe
Solid toe-guard
No seam mesh construction upper
Breathable upper – quick drying material
Responsive midsole
Rock plate outsole – protection from sharp objects
All-around durability
Bright color schemes
Dislikes
Not versatile
Might be slightly pricey for a few
The Verdict
The Scott Supertrac RC is built for the trail-junkie in you.
It is built for negotiating those tough hill climbs, skiddy and skree slopes, wet surfaces and any other terrain you throw at it. It not only handles them well, but it does it with so much ease. It's good to see all that money and research that Scott has put into designing the shoes have come to fruition.
The midsole offers great responsive running and provides a good landing and toe-off support. The upper construction is solid, breathable and looks good. There's plenty of protection around the shoes to prevent from all those nicks and bruises.
These shoes are not for the average Joe who's running those backyard urban trails. You'd be better off with the Kinabalu here.
This is for the serious Sam who wants to explore the unexplored. Scott has designed a revolutionary shoe here and all you have to do is to scorch those trails and worry about nothing else.
I got these shoes from Scott for testing purposes. Which is very fortunate for me. Out of the box, my first impression was - wow, these are some cool looking shoes!
Great job for the design, as far as I am concerned.
The Scott Supertrac RC out of the box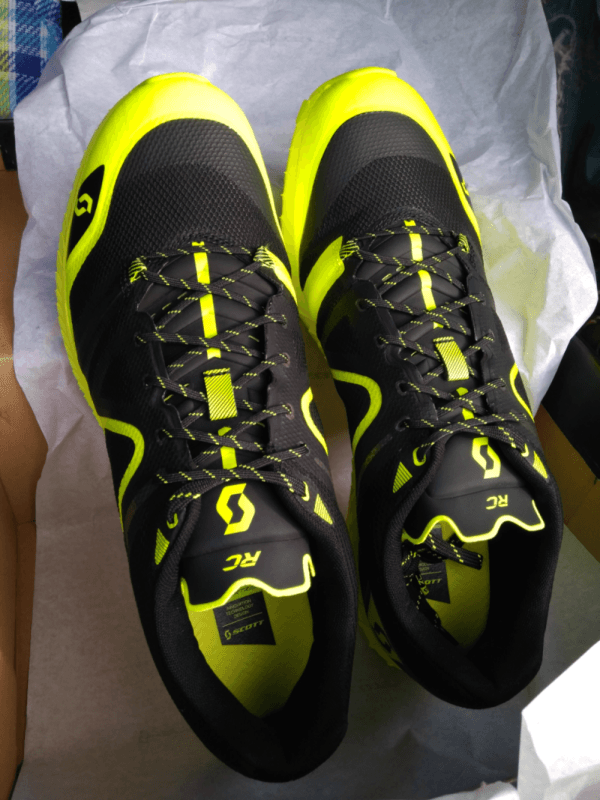 Comfort & Fit
My feet are wider, I was afraid that these could be another too tight shoes. As for sizing, I chose the same size as for the Salomon and Hoka shoes. The fit is good, there's enough room for my toes. While the rest can be tightened to be comfortably snug.
The tongue is very thin and I was unsure how it will behave in practice. Surprisingly, it is very comfortable and allows for good tightening of the shoe.
Sometimes during the run, it escapes slightly left or right, but it is hardly felt.
You can see that tongue is thin and ribbed. Surprisingly comfortable.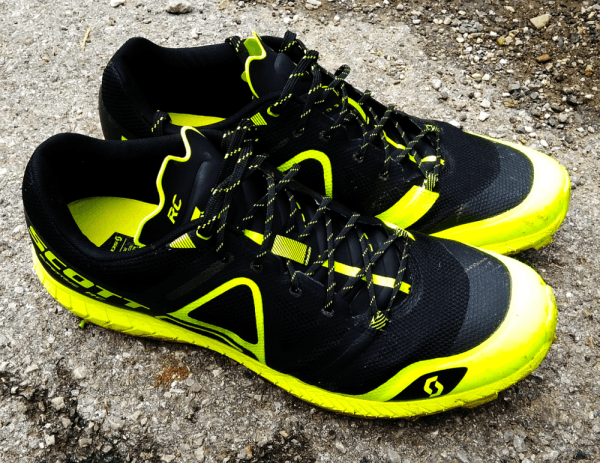 One small issue for me is the protruded support for the foot arch. I have normal arches so this could be really felt at first. Fortunately no blisters or injuries.
After some kilometers, I don't feel it anymore. However, I would definitely not recommend this shoe to someone with flat feet.
Sole is a bit on the stiffer side. Sole is not flexible but I do like that in some shoes, especially those shoes for the more difficult terrains.The shoe can be tightened so tightly that there is no foot movement at all, while still maintaining sufficient foot comfort, making them great for technical terrain.
The insole is relatively thin, but for me it is good.
Drop is 5mm which is perfect for me, but for some people, it could require a certain adjustment period.
Shoe weight is 250g which is great for such sturdy shoe.
Scott Supertrac RC Outsole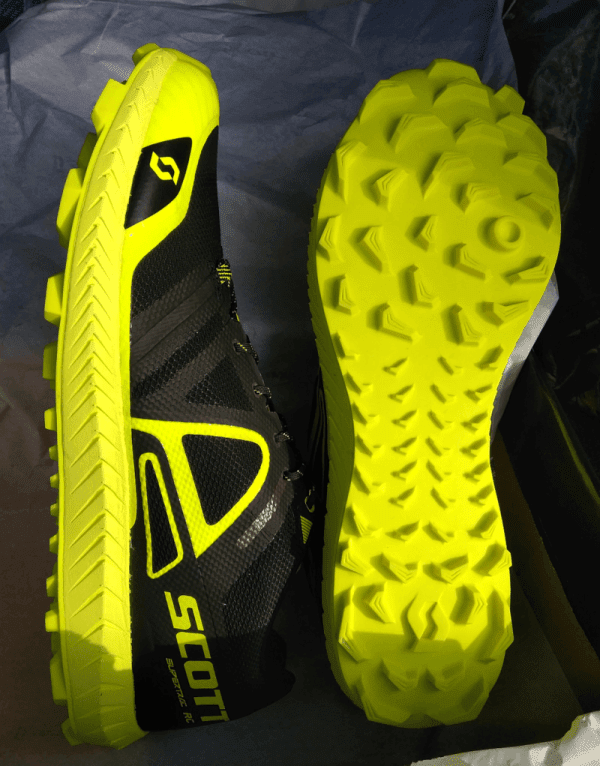 Sole
Sole has unusual radial placement of the lugs, which enables good grip in all directions.
Everyone in orienteering knows how difficult it is to run or walk on terrains with big lateral slope. Even on some trails that can be an issue. With such grip and shoe stability, that is not an issue at all.
Lugs are not extremely deep but they are sufficient for mud and wet ground. Sole is on the softer side, so I would not use it extensively on hard surfaces (asphalt or concrete).
After some happy running on the mud.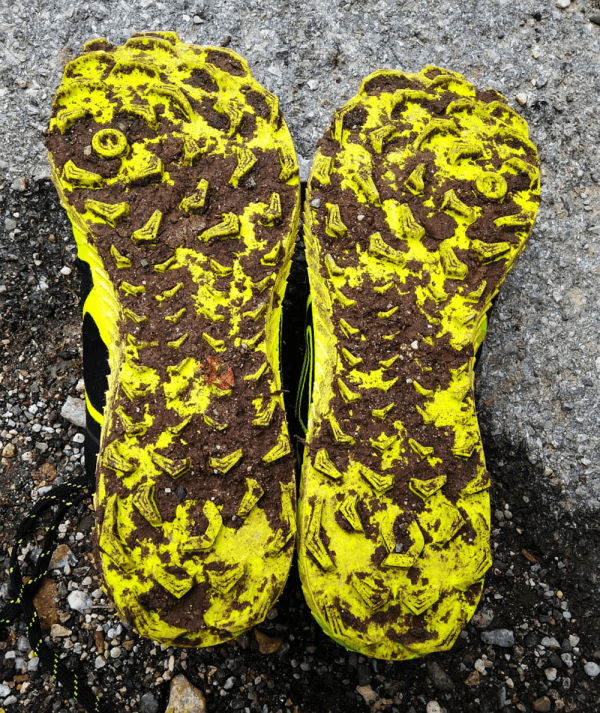 Supertrac RC Development
Scott says this about the sole radial grip design:
The Supertrac RC's Radial Traction outsole was developed in collaboration with high profile SCOTT Running athletes of the Technical University of Munich.
"Traction is directly related to the kinematics of runner's movements. So the shape of the cleats gives an idea about the final traction behavior and grip of the footwear," according to professor Veit Senner of the Technical University of Munich.
Here's the official video about the sole development of these shoes.
Upper
Upper seems to be of high quality and durable material, made from one piece, without seams which could tear.
So far no traces of damage even after some quite difficult terrains, thorns, rocks and dried branches. Very important for me is the toe protection and here it works well. Even after hitting some obstacles, there were no pains in my toes.
Good toe protection on trails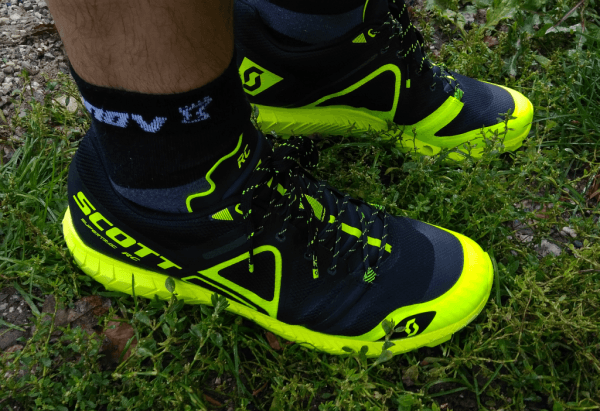 Performance
The name of these shoes suggests superb traction + racing. And the name is perfectly chosen! They have hit the spot with these shoes.
Not a "one shoe fits all roles" if you are looking for that, they are quite specialized. The grip is fantastic and shoes are very stable in all conditions!
With most of the shoe models, I have problems with the issued laces which tend to untie themselves unless I use special knots or replace them completely with elastic laces ( an example of good ones are Ultimate Performance and Ronhill).
Well, not these laces. Once tied they stay tied.
There is no much point using those shoes on milder terrain, there are more comfortable shoes with more durable soles to be used for such purposes. Water drainage is ok, after wading through few streams in the mountain, they got dry quickly enough to avoid blisters and other issues.
I have used them mostly for trekking on the local mountain, sometimes in the night, off-road/off-trail which includes mud, streams, leaves, slippery slopes, lateral slopes, wet stones, jumping over fallen trees, climbing on all fours, fighting nettles and thorns etc.
Except for my old Scott Supertrac RC.
They will not be used for other purposes, so hopefully, they will endure one fall/winter season. There will not be so much mileage but there will be a lot of abuse and extreme conditions.
This review will be updated in the spring of 2018.
Night orienteering and Haribo gummy candy.. can life be better?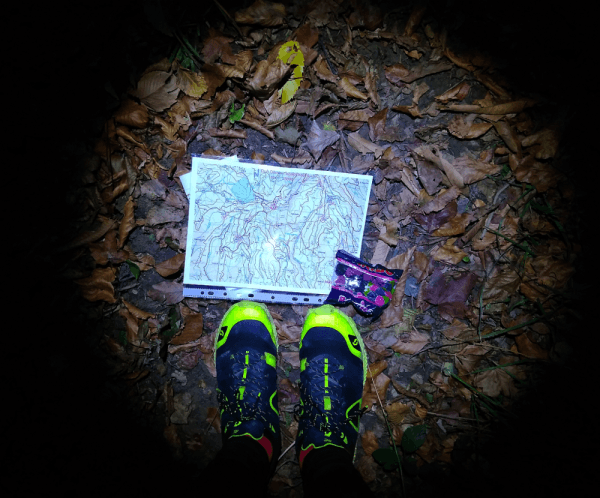 Yes, it can be better, when you find the control point after getting lost. :)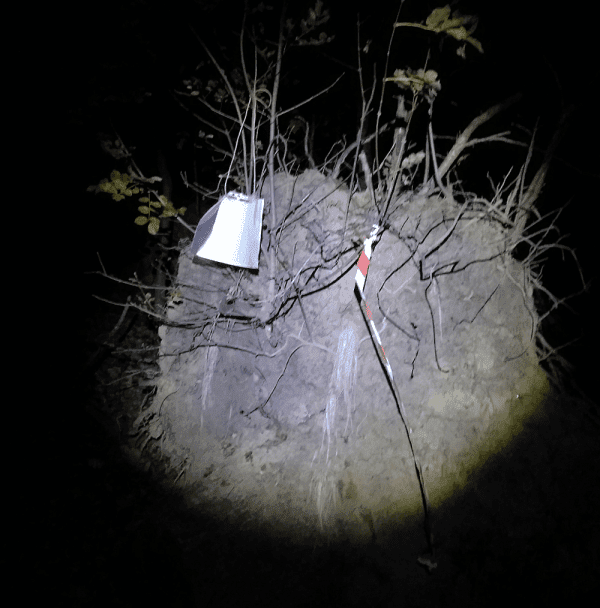 Ready for another night adventure.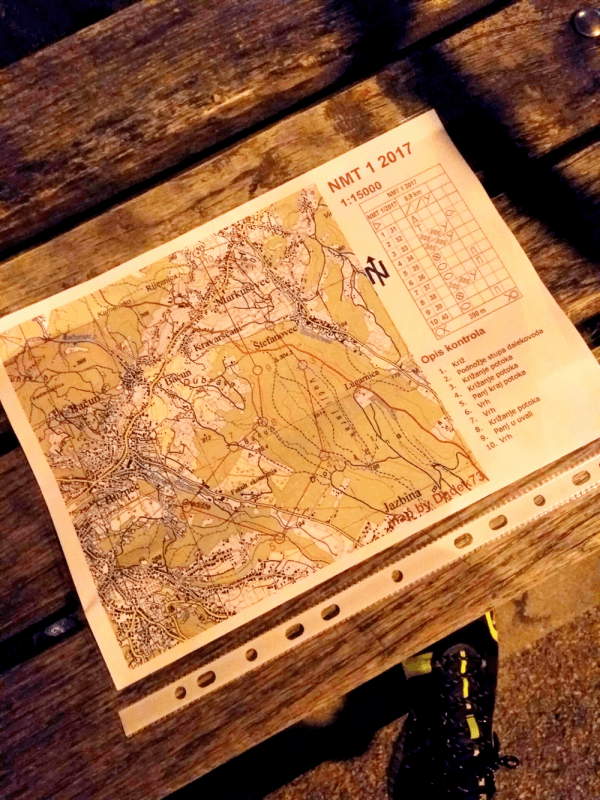 Pluses
Visual design
Radial lug placement and great grip
Very stable, good for lateral slope
Can be properly tightened while maintaining comfort
Minuses
Arch support area could be problematic for people with flatter feet
Maybe too stiff/not flexible enough for the long runs
The softer sole material will probably not last very long
Overall great shoes if the minuses don't bother you.
Conclusion
If you are looking for good racing shoes for technical trails and orienteering, spartan races and tough mudders, these could be ideal for you. Perhaps they are too stiff for very long runs, but for shorter workouts and races they should be the edge you need.
They should be a good solution for the most difficult terrains. It only remains that I test them on the snow when it falls.
I was fortunate to stumble upon them after searching for a long time for the worthy replacement for the discontinued Merrell All Out Peaks. Maybe it is because of my weight but for me, it is surprisingly difficult to find good technical shoes. Most of them have either stability or grip issues.
If Scott has envisioned these shoes as racing shoes for the shorter trails, orienteering, and spartan racing, they did a very good job in that!
I can only recommend these shoes for all off-trail and difficult terrain lovers, I am very happy with them.
I was first drawn to the Scott Supertrac RC by its unique design and its reputation for being a fast, flat shoe for racing. My first impression was that the tread was extremely aggressive and perfectly suited for rugged terrain. However, the shoes did feel stiff and I knew a break in period was required.
I am most impressed by the shoe's versatility. I have used these shoes in a variety of races, ranging from a 4-mile obstacle race to a 40-mile ultra-marathon.
The comfortable Scott Supertrac RC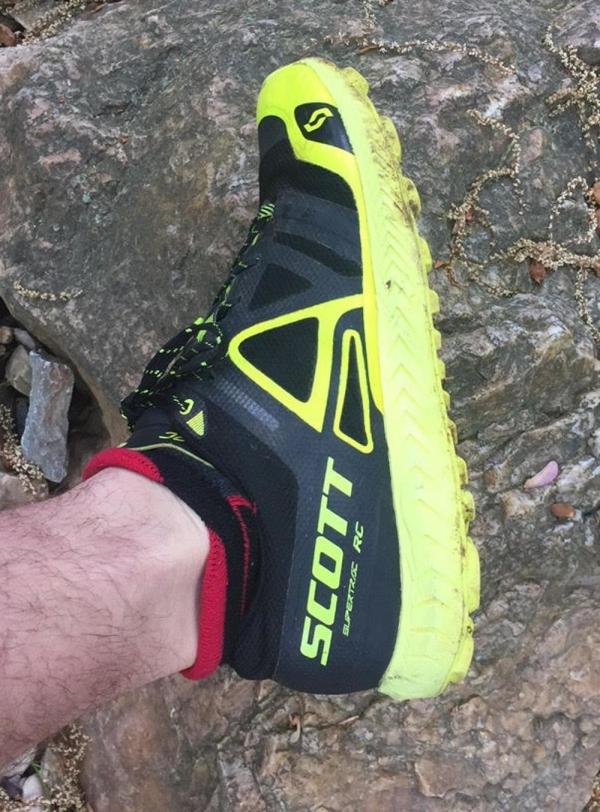 Specifications & Fit
The Supertrac weigh around 8.8 ounces or 250 grams and the shoe has 5mm heel to toe drop. In my opinion, one of the most important components of a shoe is the space inside the toe box. I prefer a wider toe box, as I have wider than normal feet, and the Supertrac are definitely spacious enough.
The upper material of the shoe is comprised of a mesh material, which allows for comfort and breathability. The lower portion of the shoe is comprised of an aero foam for structure and durability.
The lugs have a radial 360 traction design and are made of wet traction rubber, which offers traction in all directions compared to most shoes which only offer forward traction.
Breathable upper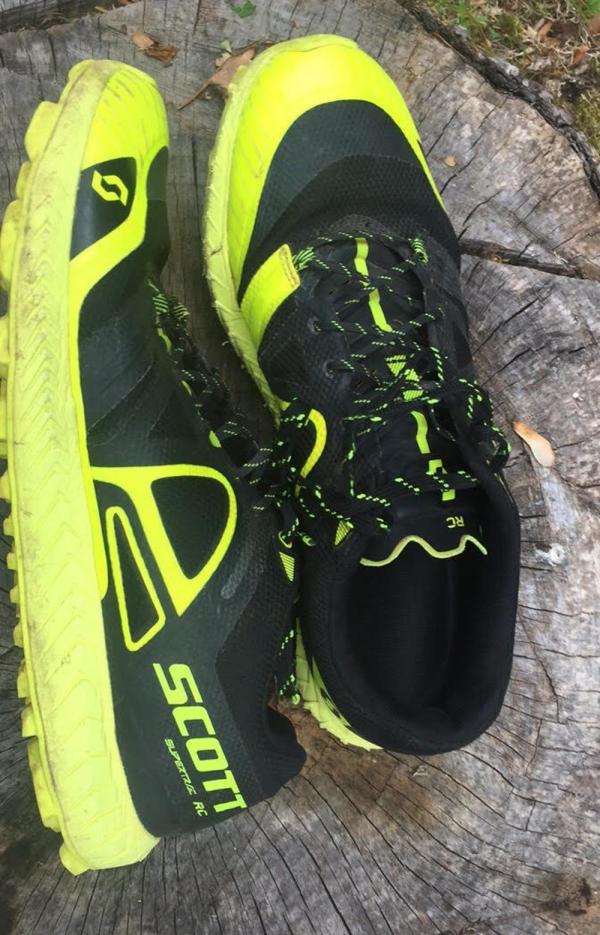 Laces & Shoe Tongue
The laces of the shoes are thin and compact. They do not stretch, but are still highly durable and stay secure when tied.
The tongue of the shoe is extremely thin due to the form-fitting performance but it does move to the side while running, which can sometimes expose your socks to debris. The tongue of the shoe also has 1cm incisions to help with ventilation.
Laces & tongue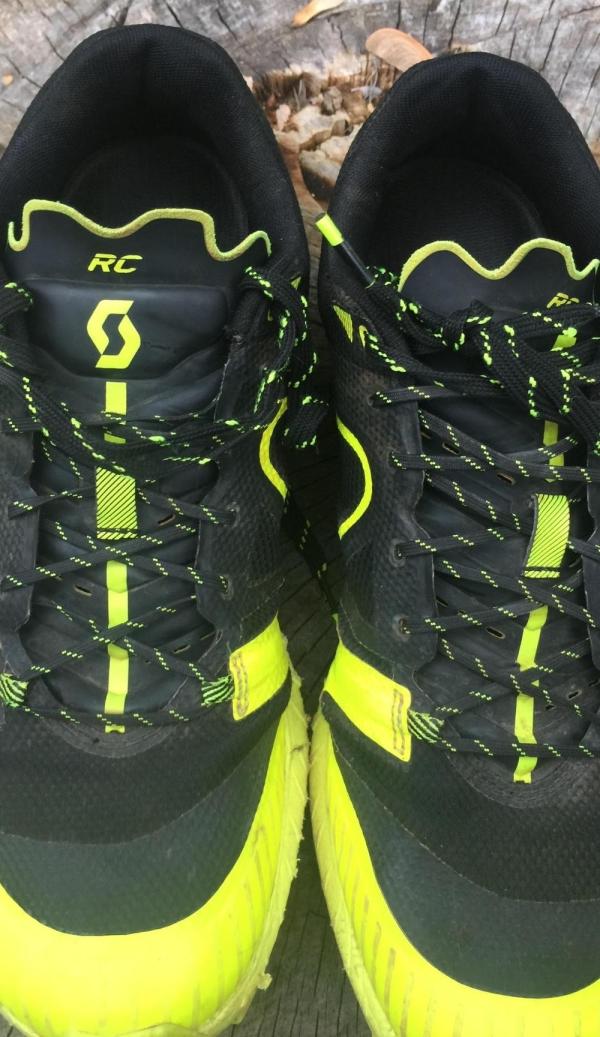 Insole
The insole of the shoe can be controversial for some people.
The insole is made of a material that has incredible grip and does not allow your sock to slide while running. However, it has been known too to cause your sock to bunch up while attempting to put your foot in the shoe which can be slightly frustrating.
Personally, I have had a problem with the insole due to blistering in my arches while running for long durations. I currently use a different insole and I now have no issues.
The insole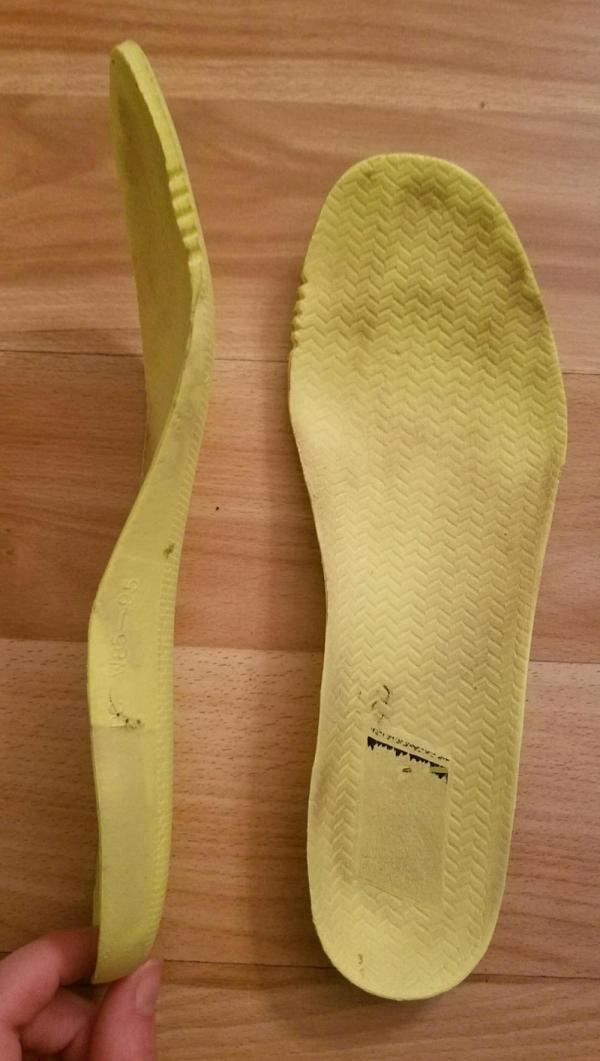 Heel Cup
The heel of the shoe is moderately cushioned and surprisingly keeps debris out quite well. Another great feature is the moisture wick material that keeps your feet dry as you sweat.
Cushioned heel area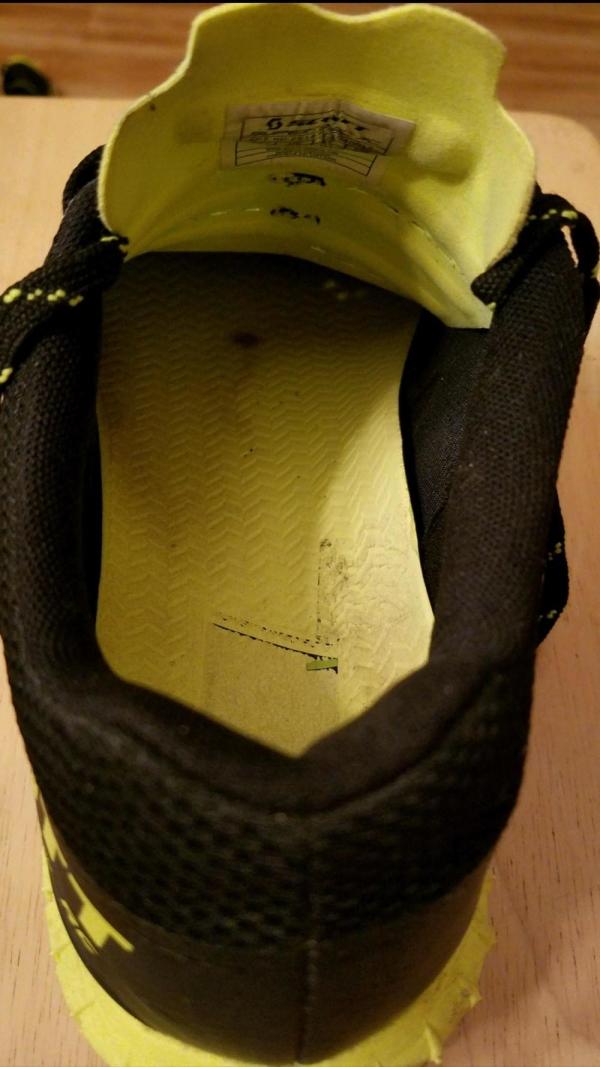 Traction & Outsole
By far the best part of the shoe is the traction they have on a multitude of terrain types, particularly technical trails, and rocky slopes. The rubber lugs are extremely durable and show no wear after 150+ miles of running.
The lugs are designed to be proficient for neutral runners, with the forefront lugs forming a 360 pattern under the ball of the foot.
The lugs forming a 360 pattern under the ball of the foot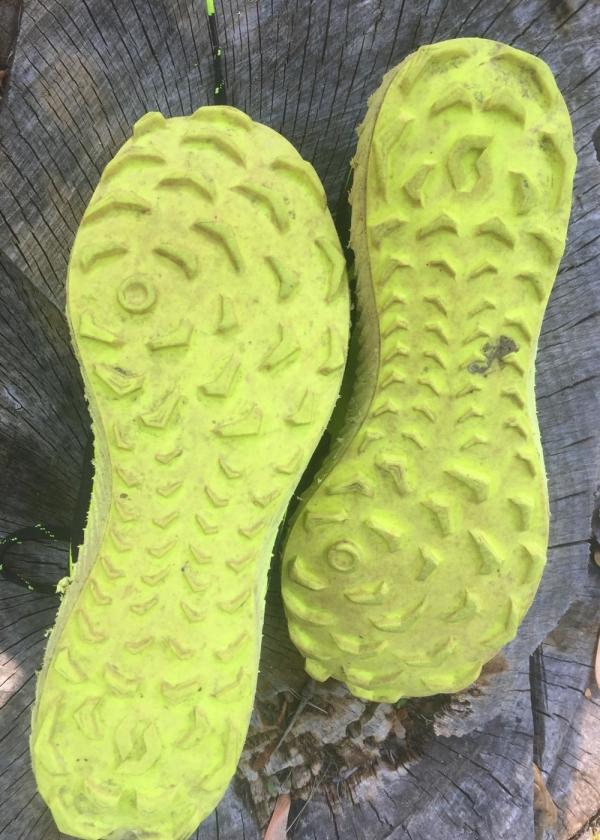 Performance
I have found this shoe to perform the best on technical trails, as well as in obstacle races with wet and muddy conditions. The rubber lugs are great, even in some of the most difficult trail conditions.
I use this shoe primarily as a racing and training shoe due to its durability and comfort during long distance races. Although, I would not use this shoe in a race longer than 50 miles because there are better options that offer more padding for longer races.
The 4-mile Spartan race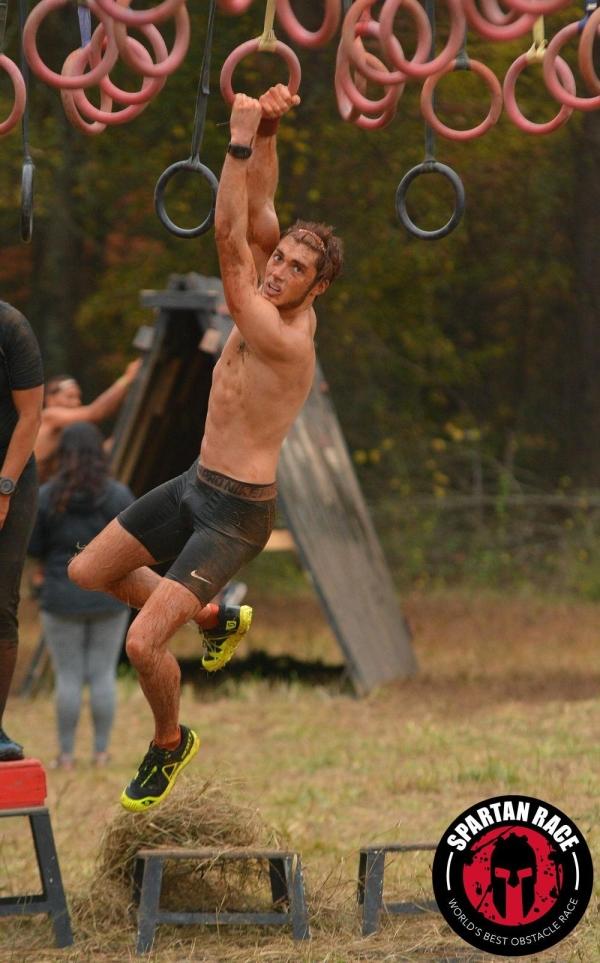 The material of the shoe allows for quick drainage and the heel cup does a decent job of keeping debris out.
I have not found a better shoe that performs well in all types of terrain and remains comfortable after 150+ miles of use. I also surprisingly found that the shoe works reasonably well for hiking in snowy conditions.
The 40-mile ultra marathon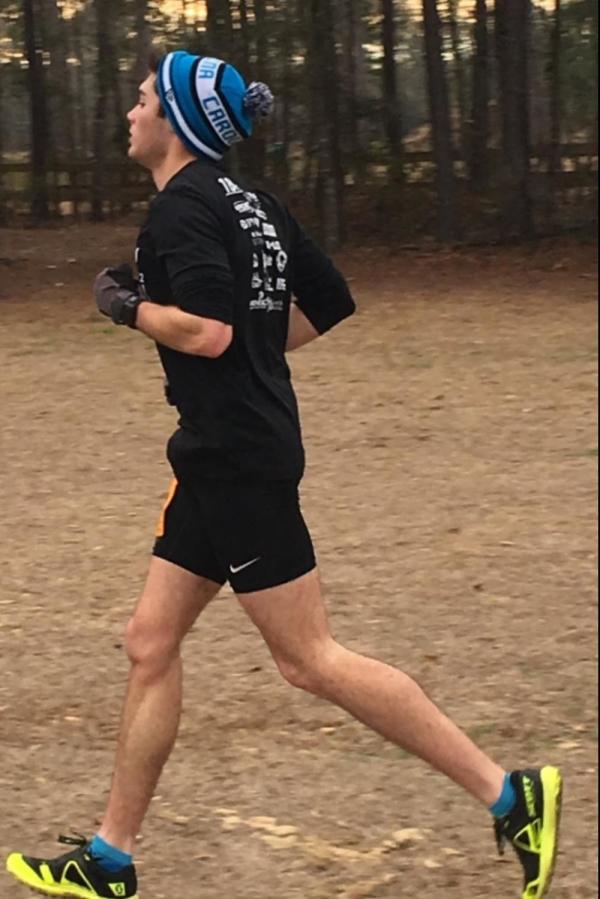 Pros
Excellent traction on all terrain
360 radial lugs under the ball of the foot
Durability
Breathable material
Cons
Rubbing of arch
Stiff and require a break in period
Blisters can form on tip of toes
The grip of the insole can make it difficult to put foot in
Overall, this is an amazing shoe but does have its blemishes. However, most of them have disappeared after a break in period. For me, it only took around 10 to 15 miles to break them in.
Conclusion
The Scott Supertrac RC is a phenomenal shoe for anyone who runs often and is looking for the perfect combination of traction and comfort. However, if you are looking to purchase this shoe, be mindful of the break-in period required.
I have tested this shoe in a ton of different types of races and terrain and it has always exceeded my expectations. Its versatility makes it one of my go-to shoes and it is usually my first recommendations for someone looking for a comfortable durable shoe that is suitable for rugged terrain.
I will talk about my first Scott shoe, the Supertrac RC, that I used for short distances in trail run a few times.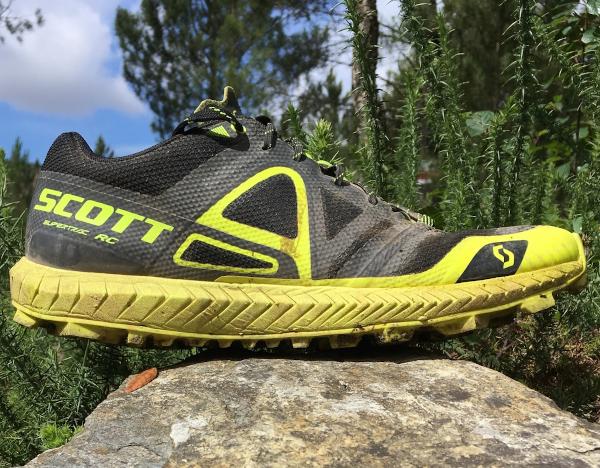 Design
I like the design, but this is a personal taste. It's not a minimalist design, but it's close to that. It has a good contrast of colors. I always prefer the outsole and midsole in the same color.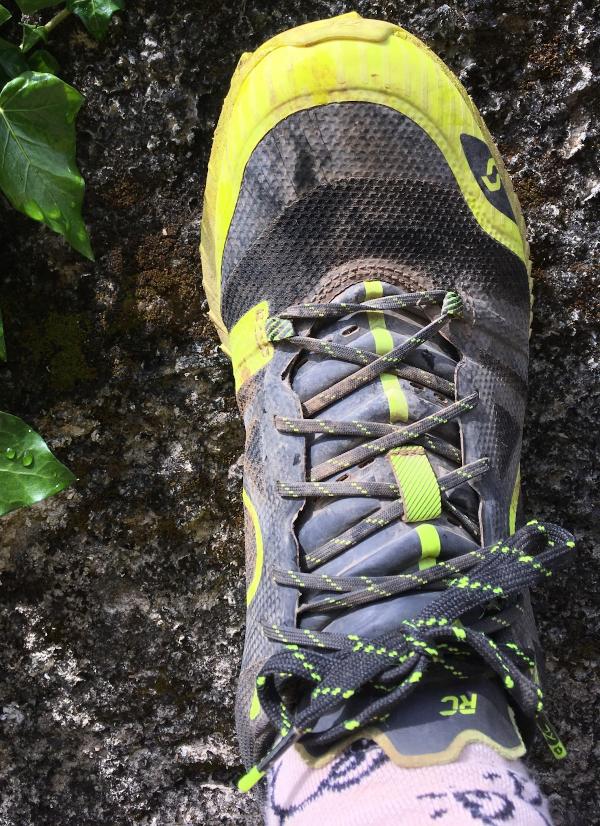 The upper part pattern panels are well-designed. These panels promote flexibility and structure as needed in this type of shoes. The outsole design gives you total control under your feet.
Comfort
Supertrac RC is a neutral type of running shoes. I have a problem with underpronation, but these shoes worked fine for me.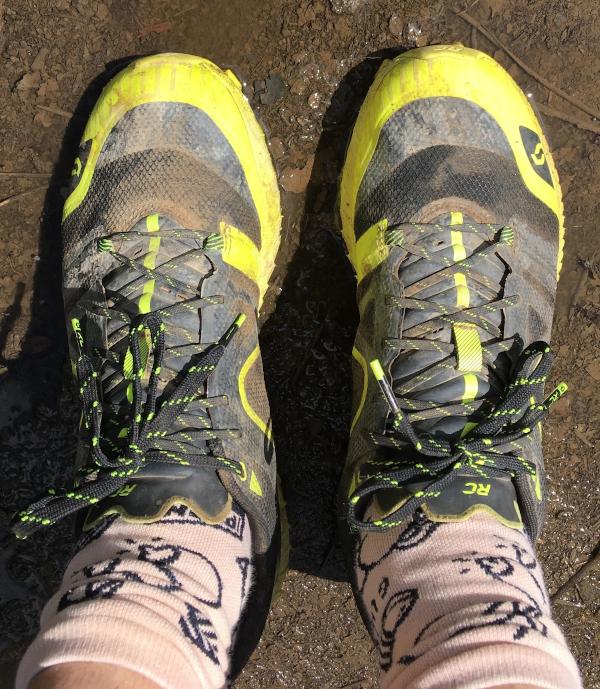 The EVA did all the job for cushion and responsiveness. The upper is seamless, making it comfortable to wear.
Sole/Midsole/Insole
The sole is almost perfect. The design lugs allow great grip in almost all surfaces, whether on rocks, grass, or mud. However, it has less grip on wet rocks.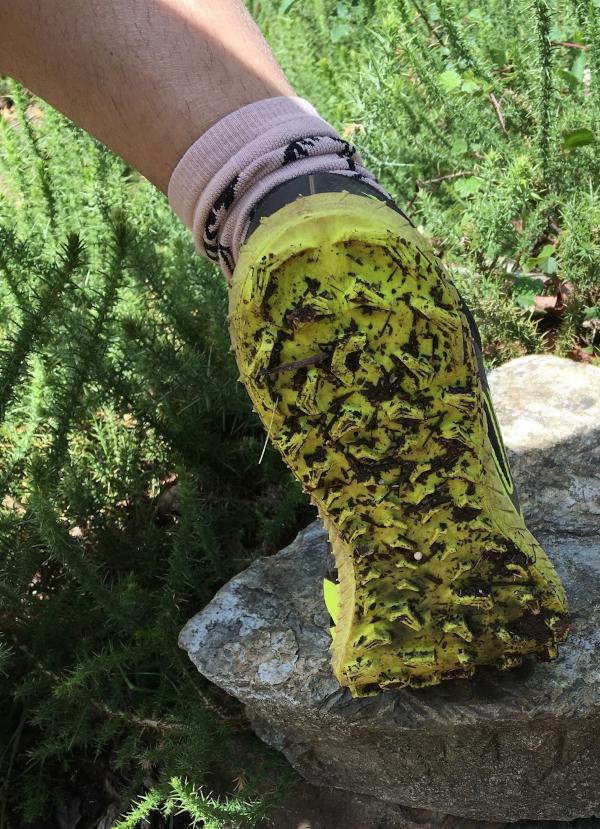 The design cleats that Scott calls 'Radial 360' permits great agility of movements in multiple directions without losing control.
The midsole has such a great cushion, and when I say great, I mean not too hard nor too soft. Its cushioning is perfect for me because it is firm enough and very responsive to the impacts.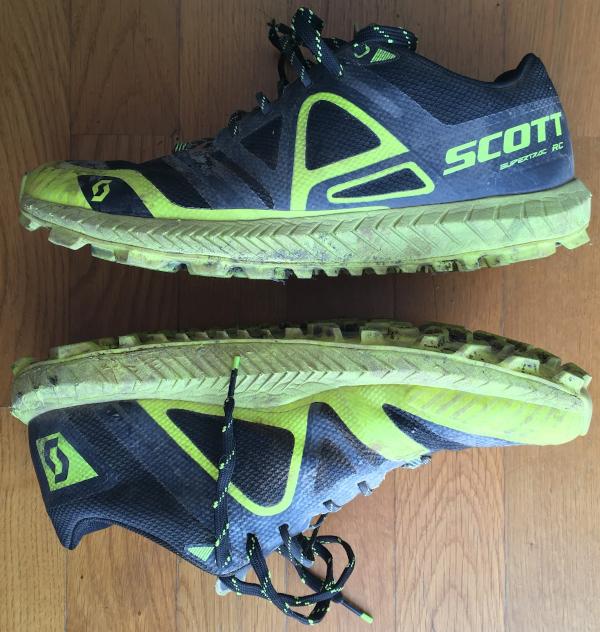 The 5mm heel-toe drop let me run in my natural stride way. I prefer less drop or 0mm drop shoes, but this worked fine for me.
It's not the most flexible shoe on the market, but I still like it, and it works fine with my short runs.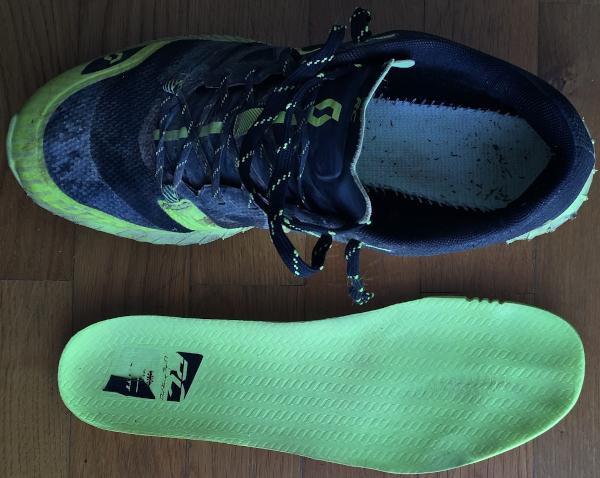 The insole has a good combination of thickness and behavior, offering great comfort and decent responsiveness.
Upper
This upper was breathable enough for me. It is strong enough to withstand all types of treatment it can receive.
The flat laces system worked fine. It created a nice distribution of tension over the instep. Also, I don't feel compression points. However, there is that one time that they get a little loose.
The form-fitting tongue is not as padded as normal trail running shoes. Nonetheless, I prefer this type of tongues, although it might not work for all the runners.
During the run, the tongue slides just a few millimeters, so that was not a problem at all. Even without a gusset tongue, the trail debris doesn't enter the shoe.
The shoes fit snug on my feet, providing total control when running. Also, the heel cup is semi-firm, which I prefer than a stiff one. Meanwhile, the toe box has adequately good wiggle-room.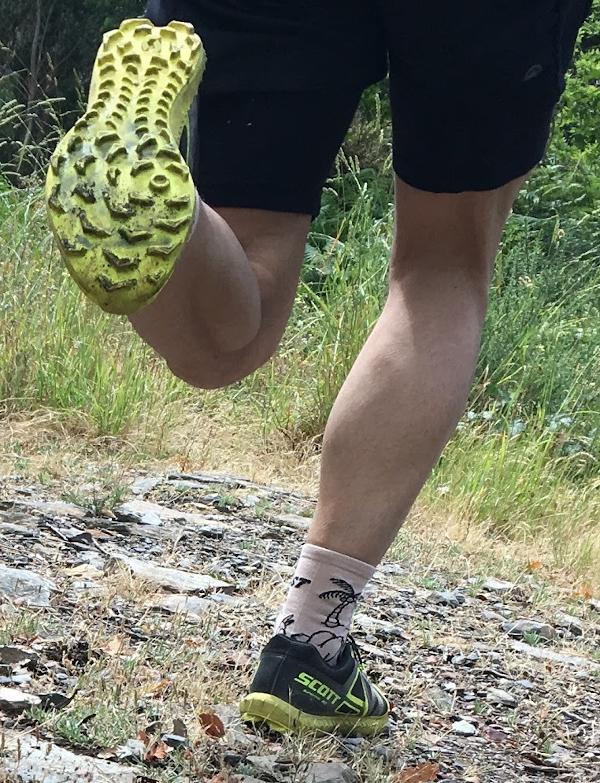 The Supertrac RC does hold the foot in place nice and tight, preventing from slipping around on technical terrains. You'll never lose the control. Overall, the upper was perfect.
Conclusion
Supertrac RC will be my shoes for a long period in my short trail running races (5k and 10k). I'm an agile trail runner, and this is an ideal shoe for me. The shoe is designed for agility.
But, it is also nice for those who are looking for a technical shoe with good balance between cushioning and impressive grip.
I'm a casual runner, so I don't race to win but for fun. And, with these shoes, I felt like after all the fun, I can also win if I want to try.
When you go run with this on, you can do almost everything without rules. That is exactly why I call them "No Rules Great Scott".
Pros
Great traction in almost all surfaces
Feeling total control under the feet
Breathable and structured mesh
No seam construction—comfy
Properly tightened while maintaining comfort
Cons
Less traction on wet rocks
A little expensive
Grip of the insole when taking off the foot
Updates to Scott Supertrac RC
The radial lug design, along with the Wet Traction Rubber on the outsole, provides the perfect blend of traction and durability. Resultantly, the shoe performs efficiently even on muddy or wet surfaces.
The Aerofoam injected midsole is responsible for the much popular 'walking on the clouds' feel in the shoe. It ensures an optimal combination of springiness and comfort for the user during the runs.
For maintaining a healthy environment of ventilation and keeping the runner's feet dry and cool throughout the ride, the Scott Supertrac RC uses the open mesh structure in the upper. The material feels silken against the skin.
The upper is strengthened using the synthetic overlays which increase the durability of the shoe and assist in maintaining a snug fit around the foot.
The Race Specific Tongue prevents the pressure points stress from causing impact forces on the runner's foot by distributing it evenly throughout its surface and maintaining an irritant-free run.
The lightweight Racing Insoles are very breathable and they further improve the environment inside the shoe for the wearer by ensuring proper inflow and outflow of air.
The Scott Supertrac RC houses the race-specific last for a fast and efficient performance.
Size and fit
The Scott Supertrac RC stays true to its length and width. It comes in the standard running length for men and women and the standard medium width of D for men and B for women, respectively. The shoe is most suitable for the individuals who do not have wide feet.
Outsole
The shoe utilizes the Radial Lug Design at two main focal points on the outsole: the first is beneath the forefoot region, and the other is in the heel section. The strategic design of the lugs results in the amount of traction needed for moving on the trails in various directions.
The Wet Traction Rubber, as the name implies, is a high-quality abrasion resistant rubber placed on the shoe's outsole for the desired grip on tricky surfaces and an excellent performance on the trails. The outsole of this shoe is as reliable as the outsole of the Speedcross 5 from Salomon.
Midsole
In its midsole, the Scott Supertrac RC utilizes the Aerofoam+ injected material. The foam material is flexible, durable and highly responsive. The Aerofoam technology provides the much sought-after 'bouncy' feel in the midsole and a very high energy return which keeps the runner motivated throughout the run.
The lightweight Racing Insoles are designed intelligently to further increase cushioning. It's lightweight, so it won't weigh down the shoe.
Upper
The shoe utilizes the 'Open Mesh' structure in its upper for maximum breathability and a healthy environment inside the shoe. The material feels soft against the skin and saves the user from uncomfortable chafing or rubbing of feet.
To add reinforcement to the upper, the shoe uses the seamless overlays. These layers provide additional comfort and protection to the foot.
The strategic shape of the Race Specific Tongue shields the runner's foot from the pressure points, thereby maintaining an irritation-free and comfortably dry fit for the user throughout the run.
The race-specific RC last is designed to heighten the ergonomic fit of the shoe. Its snug design allows the underfoot platform and the upper to embrace the form of the wearer's foot, ensuring consistency in fit and performance.
Compare popularity
Interactive
Compare the popularity of another shoe to Scott Supertrac RC:
Scott Supertrac RC video reviews