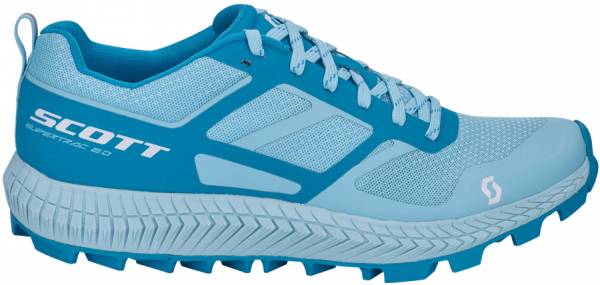 Made for running on technical trails, the Scott Supertrac 2.0 is a highly durable shoe that delivers excellent protection and comfort. It is equipped with premium materials designed to cope with the demands of challenging terrains. This neutral shoe works best for runners with normal gaits or those who do not overpronate (when the foot excessively rolls inward).
---
Verdict from 9 experts and 11 user reviews
5 reasons to buy
Traction: The Scott Supertrac 2.0 grips well on both dry and wet surfaces, based on reviews.
Versatility: Several wearers confirm that it is suitable for multi-terrain runs.
Upper: The breathable top gains praise from multiple runners.
Midsole: Many users say that it offers just the right amount of cushioning.
Support: A buyer claims that this running shoe helps promote good posture.
2 reasons not to buy
Forefoot: A couple of purchasers mention that the toe box is a little narrow.
Platform: The shoe is not flexible, according to a few runners.
Bottom line
Made for running on technical trails, the Scott Supertrac 2.0 is a highly durable shoe that delivers excellent protection and comfort. It is equipped with premium materials designed to cope with the demands of challenging terrains. This
neutral shoe
works best for runners with normal gaits or those who do not overpronate (when the foot excessively rolls inward).
Best price from 50 shops
We earn affiliate commissions at no extra cost to you when you buy through us.
38% say it's too small, 62% say it's true to size.





Our reviews
Although Scott may be better known for their off-road bikes and ski equipment, they do produce a small but carefully curated range of running shoes. The focus, unsurprisingly given their off-road roots, is on trail shoes.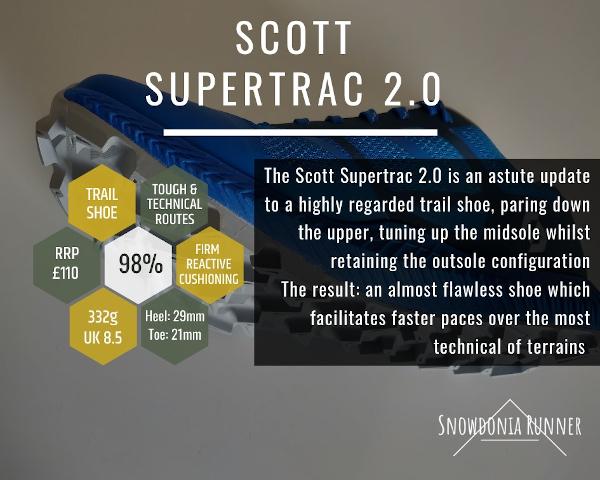 In my book, they consistently produce some of the best outsoles around, even giving Inov-8 a run for their money.
The trail range is broadly divided into two: the Supertrac and the Kinabalu. The Supertrac 2.0 is a heavier protective shoe whilst the Supertrac is lighter and more race orientated.
Both share a fairly similar chevron lug pattern, with the Supertrac being the more aggressive. Just to complicate matters, there was also once a Kinabalu Supertrac, and as far as I can tell, it is this that has evolved into the Supertrac 2.0.
I was a fan of the original Supertrac. Still, Scott has managed to make it even better, thankfully not by adding lots of superfluous pseudo-technology or trying to replicate a road shoe for the trails.
Instead, the Supertrac 2.0 has been stripped back to the essentials whilst retaining all the best elements. Meanwhile, the bottom unit's geometry has been improved to tune up the ride.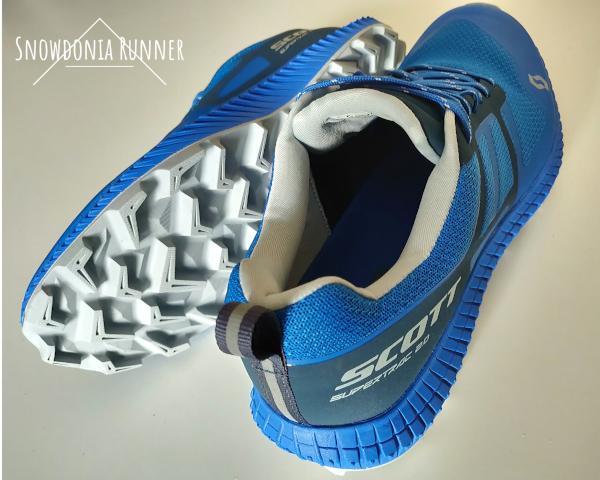 In short, this is the gold standard of how to do an update and has resulted in nothing short of world-class off-road shoe.
Upper
At 332g, the weight is decent for such a well-protected robust and durable shoe, but there are comparable lighter options available; if the Supertrac 2.0 could shed 20-30g, it would be very hard to beat.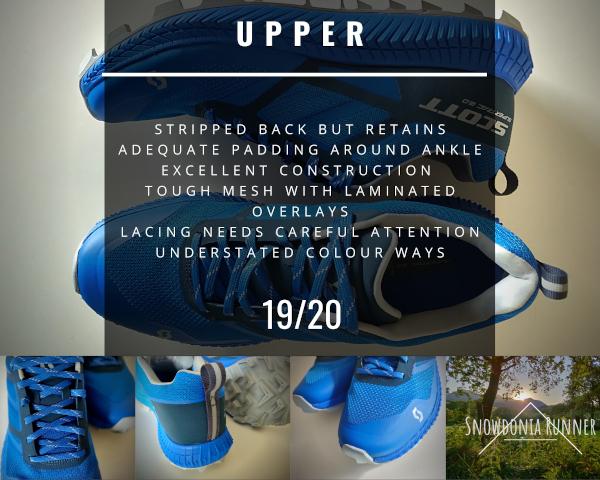 The upper is no-sew mesh with well-placed laminated overlays. There's a rand made from a rubberised type material running around the shoe, so although it isn't waterproof, it's sufficiently impermeable for most conditions.
For an additional price, there is a Gore-Tex version. But frankly, if you're sloshing through streams, I never really see the point when the water will seep into the top anyway.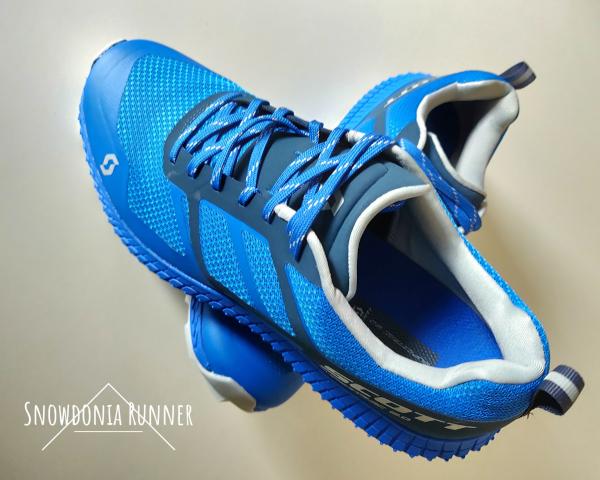 The styling becomes more subtle and understated, moving away from the 'radical' 90's mountain bike appearance to 80's space lego. However, despite the update, the Supertrac 2.0 isn't a shoe that is going to cross over into casual wear. It's purely a mountain shoe and all the better for it.
The upper is a little stiff out of the box, so it's sensible to go for a couple of short runs before heading out on longer distances. Once broken, the upper is superb.
Fit
Once again the new update has an emphasis on performance, the Kinabalu Supertrac was certainly a comfier shoe better suited to slower paces and easier runs. But, now this is a shoe that wants you to push the pace.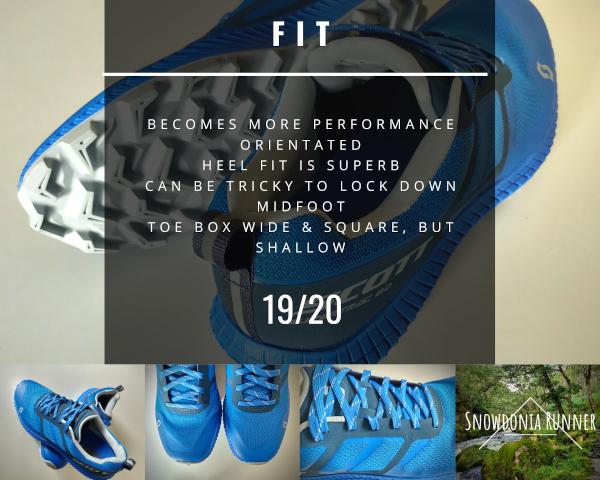 The Supertrac 2.0 has been streamlined and stripped back removing the extraneous padding. And, as a result, it feels much less roomy and bulky.
This won't be to everyone's taste. Those new to trail running may prefer a more forgiving fit and a softer upper. Meanwhile, for more regular and experienced trail runners, the fit will be welcomed and is much improved.
Not for the last time, it draws a comparison to some of the best Inov-8 shoes, particularly the X-Talon Ultra 260. However, the heel fit is even better with no slippage on even the most testing descents.
The padding around the ankle cuff will seem modest compared to some, but it is adequate. The cuff sits low under the ankle, and the Achilles support is notched and well-placed
The midfoot a little tricky to lockdown due to the lacing set up. I think this could be addressed by bringing the eyelet stays closer together over the top of the foot.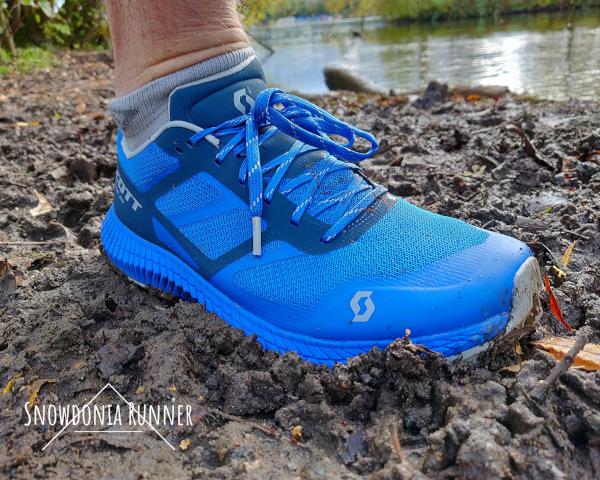 Also, the positioning of the lace lop in the tongue is too high, which pulls one lacing row further up towards the ankle. Nevertheless, a bit of adjustment helps to mitigate this, and thankfully, the laces are ideal.
The toe box is pretty much perfect for this type of shoe. It's wide enough for longer outings but without losing that performance fit.
Mid & outsole
The Supertrac 2.0 upper may be superb, but the mid and outsole unit is really something special.
Scott has sensibly made few changes to the outsole, keeping the excellent widely spaced aggressive chevron-like arrangement of the lugs. This is similar to that seen on a tractor tyre, surely a good sign if you are looking for plenty of traction.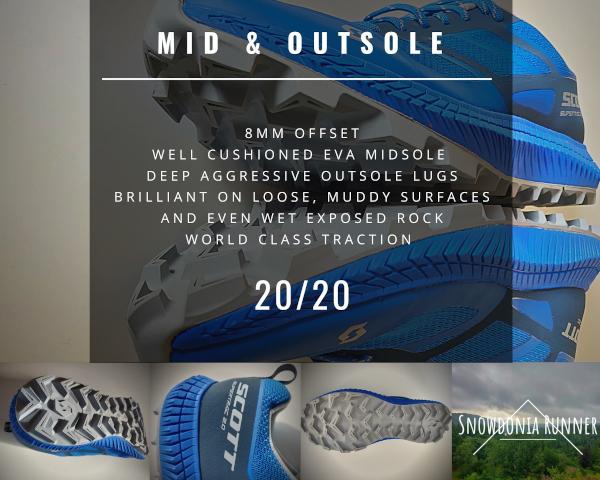 The deep lugs are reasonably slim, making them best suited to soft or looser surfaces. If you want to mix up road and trail during the same run, you might prefer a shoe with broader-based lugs.
That said, if the outsole rubber is anything like the Kinabalu Supertrac, it will stand up pretty well to stretches of tarmac.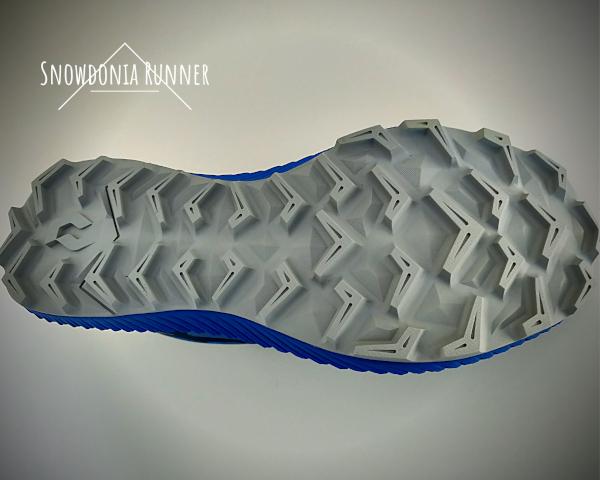 There's no rock plate for you southern softies, but if that terrifies you, the shoe is plenty firm, and the lugs are deep enough to withstand all but the most determined rocks.
Don't be misled by the apparent depth of the midsole; A fair proportion of this is sidewall. The stated stack heights are 28mm heel and 21mm.
The lasting is broad enough to avoid the side walls rubbing in on the edges of the foot. The insole is thick and made to last, and the strobel board/ lasting is a taut, fibrous mesh resulting in a "firm" step in.
Despite being a stiffer built, there is still good flexibility where it counts particularly around the MTP joints with adequate torsional flexibility. This makes the Supertrac 2.0 stiff enough for rockier surfaces without sacrificing too much agility.
Ride
The grip is excellent on any loose surface, soft grass, or mud. And, given the narrow lugs surprisingly capable on an exposed wet rock. You might feel the lugs flex a little on harder surfaces but not enough to be unstable.
My previous experience with the Supertrac outsole is that it is perfect in snow and especially good along the camber of a hill.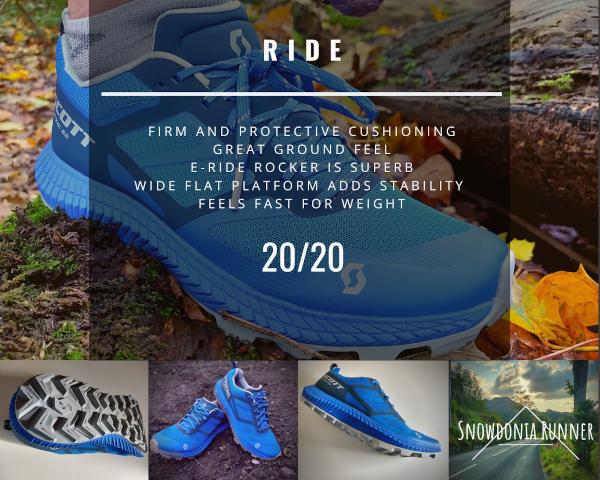 The outsole sheds mud well. But, although it's more of an annoyance than a problem, the vertical ridges along the midsole seem to serve little purpose other than to collect mud, which they do, a lot.
The standout update is the eRide. In a lot of shoes, a rocker arrangement or aggressive toe spring is scarcely noticeable.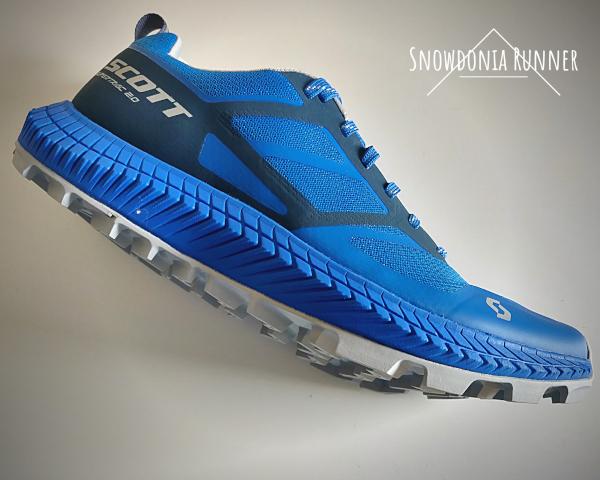 Scott has really nailed it in the Supertrac 2.0. The rocker is superb on firm surfaces and especially good uphill when it aids a rapid transition to toe-off. If anything, the eRide had me running faster than I intended, not a bad complaint to make.
The lasting is wide and straight, and the reasonably firm heel counter make this a stable shoe without the need for any extra stability gimmicks.
The EVA Aerofoam+ midsole is great and compliments the eRide perfectly. Although it couldn't be described as soft, it provides firm, protective cushioning enough cushioning for longer runs of 2-3 hours or more without any issues.
The Supertrac 2.0 feels efficient and reactive, especially at moderate paces and above.
Conclusion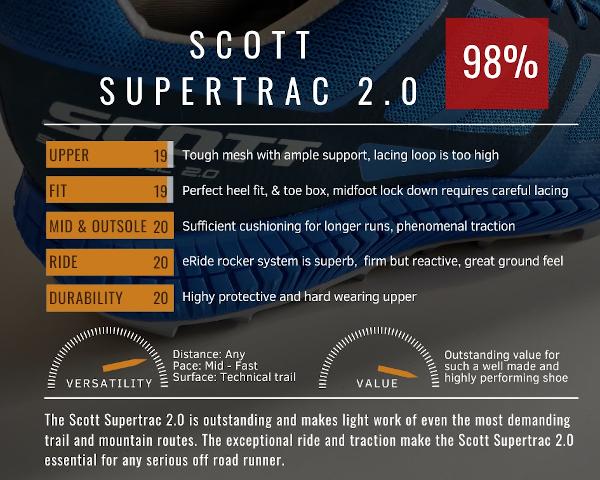 Based on previous experience and the mileage already put on the Supertrac 2.0, this is expected to be a very durable shoe providing the road mileage is minimal.
The Scott Supertrac 2.0 should prove a very versatile shoe for all but the fastest runners who may prefer to opt for a lighter shoe for racing.
Some runners may be tempted to pass over the Supertrac 2.0 as it lacks some of the cushy underfoot appeal of other shoes. Please don't. This is a truly superb shoe. At £110 it isn't cheap but represents excellent value for money.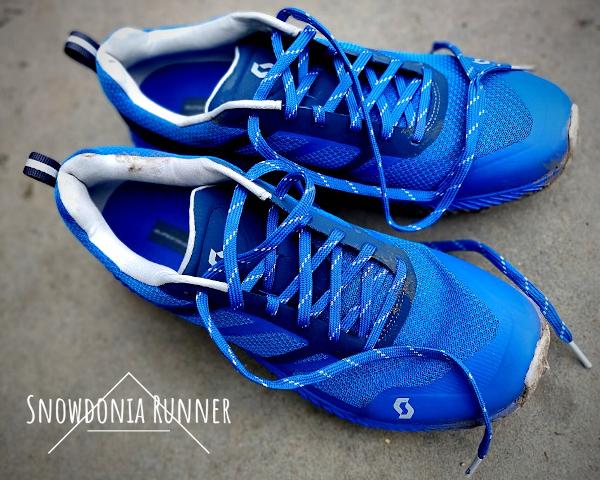 As the score reflects the Supertrac 2.0 is almost faultless, the newly stripped back upper, eRide rocker and top-class grip combine to create the perfect bad weather trail shoe.
I'm a tall, medium build (slowly growing into my 'dad' belly), fore-midfoot striker and I train mostly in barefoot/minimal shoes. But I'll try anything once!
On this occasion, the 'anything once' shoes are the Supertrac 2.0 from Scott. Now I know what you're thinking, Scott make running shoes? OK so maybe I'm just a bit behind the times but when I was a bit younger (maybe more than a bit) I'd only heard of Scott for their bicycles. For what it's worth, they make very good bicycles!
Needless to say, I was so intrigued by the prospect of trying out some Scott shoes that I couldn't say no to the opportunity.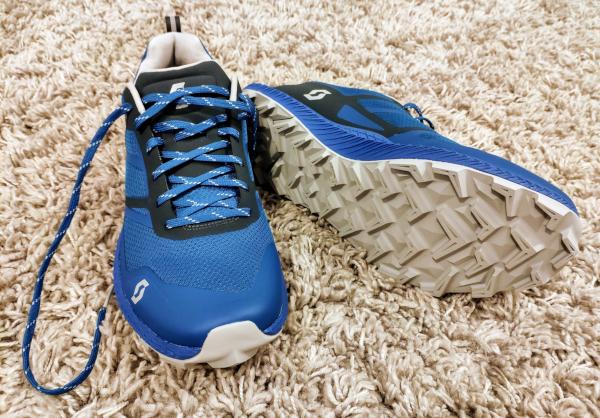 Now unfortunately where I live there aren't any mountains, but we've got plenty of rugged hills and rocky trails. So I was excited to put Scott's statement to the test.
Tech Specs
Range of use - Mountain
Upper - Mesh/Thermoplastic Polyurethanes
Lower - Ethylene Vinyl Acetate/Rubber
Heel - 29mm
Forefoot - 21mm
Heel to forefoot drop - 8mm
Features
All-terrain traction
Full rubber outsole
AeroFoam+
eRIDE Midsole
Performance footbed
Thermoplastic polyurethane support cage
Toe guard
Form-fitting Tongue (locking system)
Approx. weight - 310 g
Weighed weight (12 UK, 13 US, 46 EU) - 377 g
Design overview
Grabbing the Supertrac 2.0 out of the box I was immediately compelled to flip them over and check out the grip. Now, this isn't to say that there's nothing else to like about these rugged trail shoes but the sole is pretty undeniably the most awesome thing about them.
The Supertrac 2.0 comes in 3 colours schemes. Black/Red, Blue/Dark Blue or Orange/Maroon. Can you guess which pair I got?
The overall design of these is pretty standard on the face of it but we'll dig a little deeper to see what does and doesn't work with them.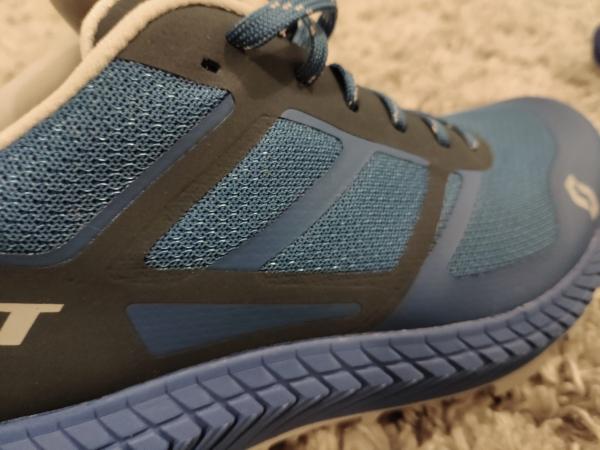 Upper
What you have here is what I'd call the industry-standard style upper for a running shoe these days, synthetic upper with overlays and a toe bumper of sorts.
I'd probably go a bit further to say if you were blindfolded you'd struggle to tell the Supertrac 2.0 apart from 80% of the other trail running shoes available today (by the upper alone that is).
I'm not saying the upper is bad, it's just a bit unimaginative from where I'm sitting.
The upper breathes reasonably well considering the thickness of the layers and it's a very warm shoe to wear as well. One side effect of these things is a lack of flexibility.
I found my feet felt quite cramped in these trail shoes quite quickly. I'm not sure how much fun they'd be to run in when warmer weather arrives (which could be never in the UK).
Laces
They're flat which is alright but I definitely would have preferred some nice chunky round ones.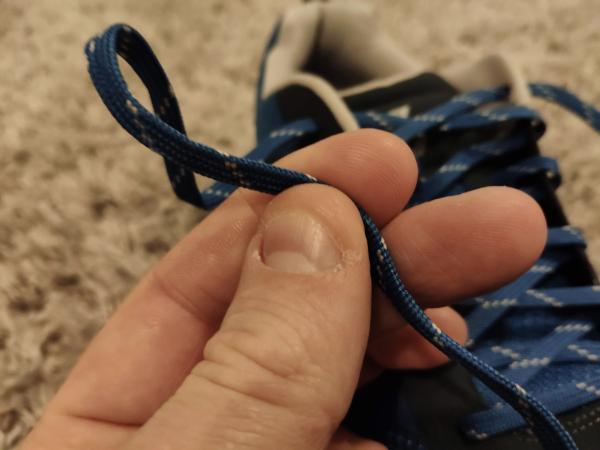 Heel counter
Unfortunately, Scott decided to stick with a traditional heel counter with the Supertrac 2.0. I do and always will hate heel counters in shoes. This shoe would be 100 times better with a nice soft, supple, yet secure heel.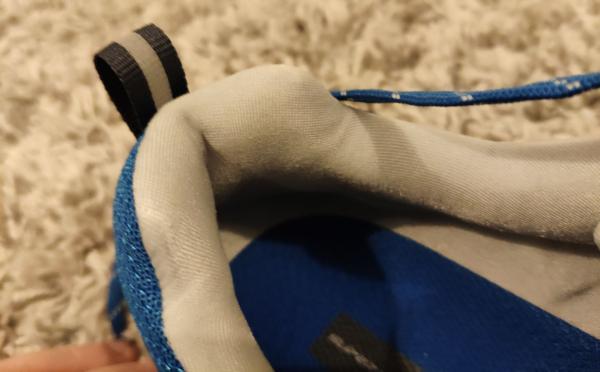 Collar
The collar on these chunky trail shoes is itself chunky. I mean it's also very comfy but my goodness it's very, very chunky!
But! It does a great job of holding my feet in place at the same time as being soft and very comfy (did I say that already?).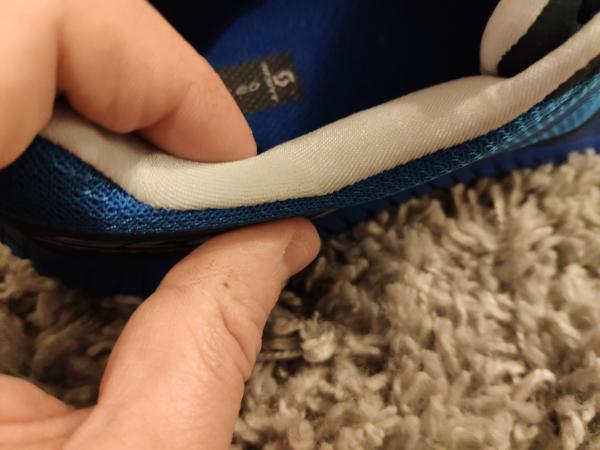 Another thing I really like about the collar is that it's like a mini pillow around my feet. It's a genuinely satisfying feeling.
Tongue
The Supertrac 2.0's tongue is reasonably thick but not too much so that it's over the top. It does a good job of stopping any lace 'pinch' on the top of my feet and to be honest I didn't really notice it being there too much either.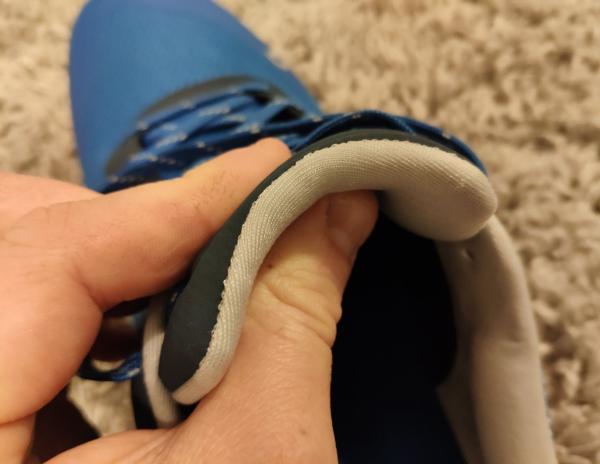 There's no webs or anything on the tongue to stop anything getting down into the shoes from the outside world which is a bit disappointing.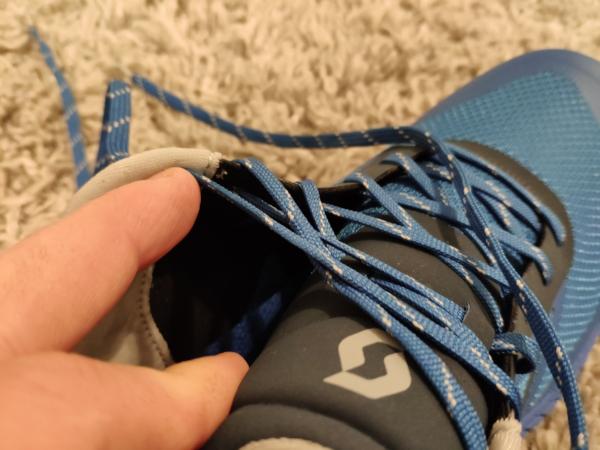 Safety
Toe bumper/extra thick toe overlay. I'm not sure if this actually does anything but I'm sure it can't be a bad thing. Luckily I haven't kicked anything hard recently!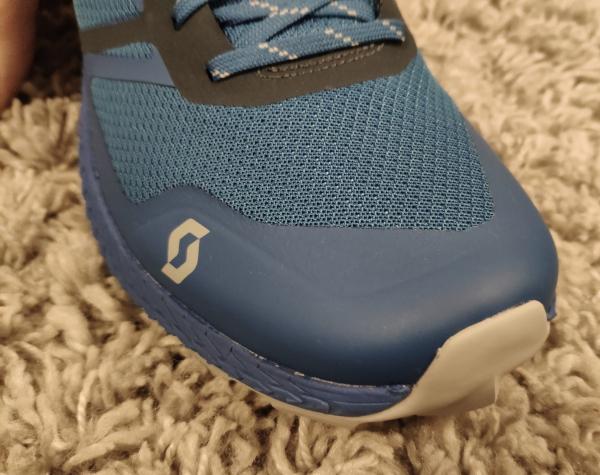 Sole
Now we're getting on to the really interesting part, the stand out feature of the Supertrac 2.0. Aside from being one of the thickest, most dense soles in history, there is a little more going on with this rugged, mountain shoe than being thick.
Scott has put a few different technologies into their sole.
Here's what they say in the midsole:
eRIDE
Scott say:
The unique rocker shape creates a stable mid-stance, promoting the faster and more efficient running style that runners strive for. Regardless of running gait, eRide works with the body to promote a more dynamic running position, reducing heel strike impacts and increasing running efficiency.
I'm not sure exactly what this means but I think it's basically saying that they've shaped the sole in such a way that it promotes a more midfoot style running form. That coupled with the relatively low heel to toe drop means that running in these actually feels pretty efficient.
AeroFoam+
Scott say:
AeroFoam+ focusses on a cushioned but stable ride and is used in most of our trail running shoes. It is durable with dynamic rebound to offer protection while maintaining an efficient stride.
This is the foam tech that Scott have used in these trail beasts. I have no previous experience of Scott shoes but I was pleasantly surprised with the responsiveness of the foam in the Supertrac 2.0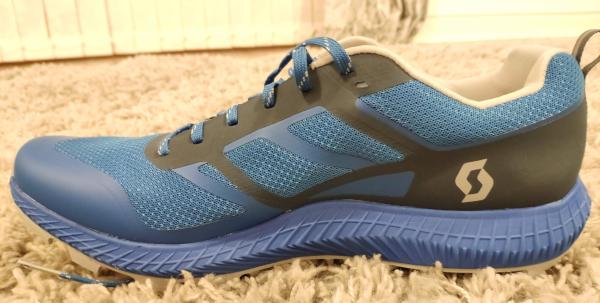 Support
Support is always a bit of a 'sore' point for me with many running shoes. I think most have way too much and not enough companies have realised that less really is more.
Scott hasn't gone over the top in the way of support. I didn't feel the arch of the shoe digging into the bottom of my foot and generally, I felt as though my feet were able to relax inside the Supertrac.
What I would say is that because the sole is too thick there's absolutely no chance of ever gaining any sort of 'feed-back' stability. This is what I'd say you get from more minimal shoes.
Because you're able to feel the ground, your feet are able to adjust and support themselves. The other side effect of this is that they get stronger in the right areas and then they're able to do their job better and better.
Flexibility
I mean just look at them! These were not built to be flexible. They actually remind me of my younger days as a swimmer.
I was never the most flexible, more of a beat the water into submission kind of lad. I mean it worked quite well but that's not the point.
My coach used to take great joy in telling me that I was about as flexible as a scaffold board. If you're not sure what a scaffold board is or how flexible it might be. It's about as flexible as a reinforced plank of wood can be…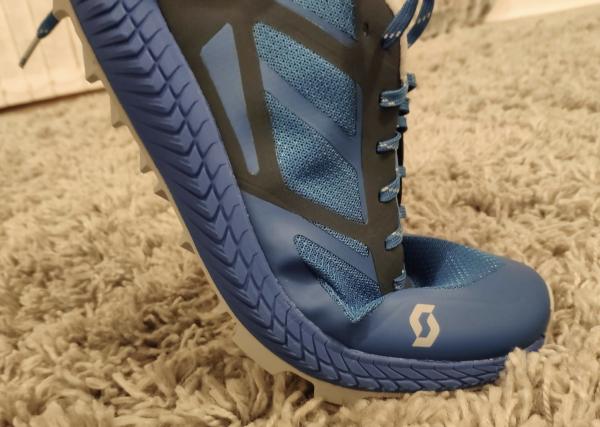 Now I would like to say that although the Supertrac 2.0 is not very flexible in the hand I didn't actually find them overly restrictive when wearing them.
In fact, in some ways, I think their inability to bend may have even been helpful for propulsion reasons.
Tread & grip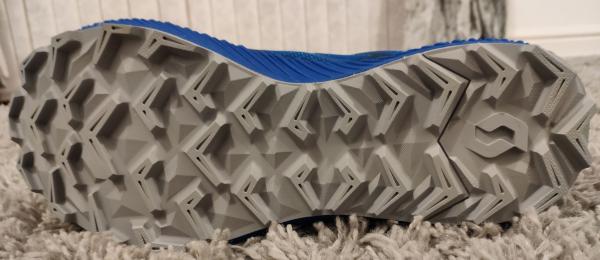 The outsole on the Supertrac 2.0 has an interesting design using a technology called All Terrain Traction. Now although the name is quite uninspiring it pretty much sums the tread up.
Scott say:
All Terrain Traction creates traction in deep mud and technical terrain. Ideal for ultra marathons.
The strategic lug configuration creates superior forward and breaking traction in deep mud as well as dry technical terrain which is the variety of terrains one will encounter in a mountain 100-mile race. Strategically orientated chevrons all around the forefoot provide extra stability when the body needs extra support after long hours of racing.
I've seen plenty of chevron style treads before but never one like this. So I was very interested to see how it would perform. They weren't wrong when they said 'superior traction'.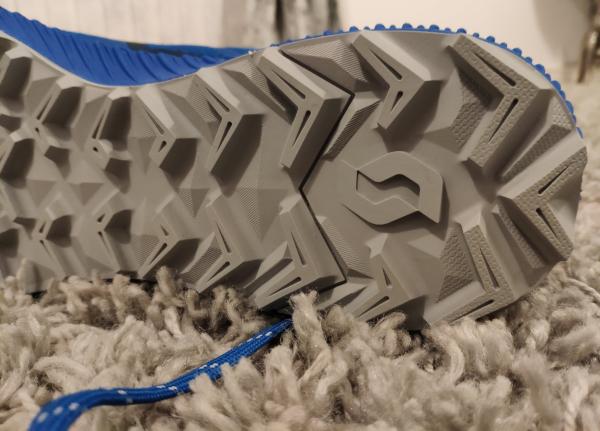 Fit & comfort
Not too bad. Definitely 'room' for improvement though. The size 11 UK (46 EU) pair that I had fit true to size and weren't overly restrictive for my feet. If you've got wide feet you may want to think again, however.
Toebox
This is the one real area that these could be improved upon. After a few miles my feet felt quite cramped in the toe area. Definitely not going to be a good shoe for people with big ol toes!
Heel
Even though there's a darn heel counter that's where the negatives end. It's really comfortable and does a good job at holding my feet in securely. I want to complain more but I actually can't!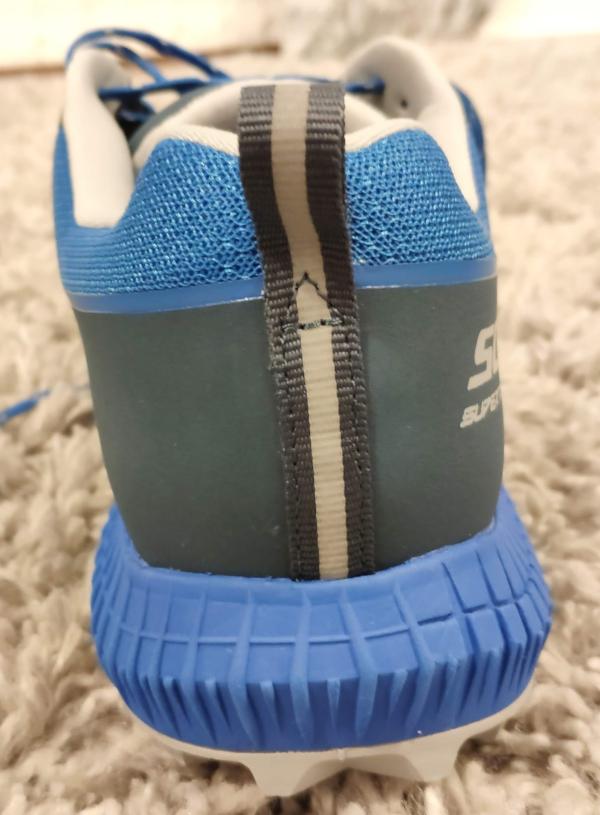 Performance
For a relatively hefty running shoe, the Supertrac 2.0 feels light on and even lighter once you get moving. The extra stiff sole comes to life in a way that doesn't seem possible.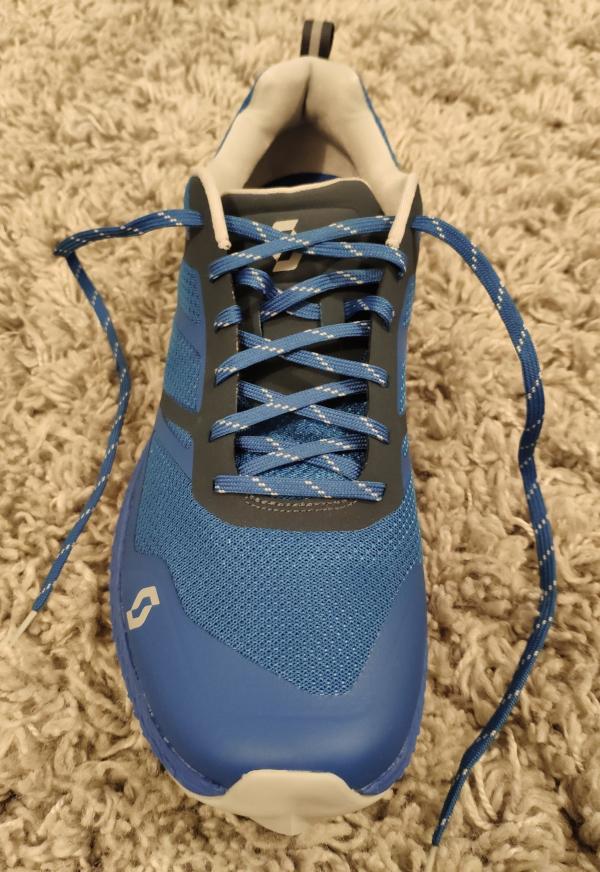 I haven't been killing any big runs for a while now but the ones a I have done I have thoroughly enjoyed in these shoes.
I'd say for most people they'll be great for any distance and even faster off-road runs. But if you like a lot of toe space you're going to find them a bit uncomfortable for anything over a few miles. Perhaps even less if you have really wide feet.
On-road
Because of the brilliant outside design running on the road (to the trail) is surprisingly good. Slightly lacking in traction but hey. These weren't really meant for the road so anything is positive eh?
Off-road
Really impressive off the beaten track. They grip admirably on and in wet and dry mud, on rocks, roots and gravel. They're also pretty fantastic across wet sand. I'd say they're not quite at the grip level of the X-Talon from Inov8 but they're not far off. I also LOVE the versatility of the grip design. Inspired!
The good
Mega grip
Comfortable upper
Multiple terrain use
Surprisingly spritely sole
The bad
Small toe box
Heavy
Laces could be better
Design could be more funky.
Dear Scott
If you just made the toe box a bit wider this shoe would be right up there with the best but unfortunately that does let them down.
Also, you're selling the Supertrac 2.0 short by calling it a mountain shoe, it's got the DNA to be so much more than that!
Bottomline
If you're looking for a shoe to smash trail runs of any sort then look no further than the Scott Supertrac 2.0. These things are seriously good on so many levels!
But… If you have wide feet and need room, or you prefer more minimal shoes then these aren't going to suit you.
I received this shoe from Scott after a long bout of illness so had them standing around for a while. After itching to get out in them, I had three runs before a stupendous ankle injury!
I ended up wearing these to walk in during my recovery and have had them a long while trying them out on the Shropshire hills and Yorkshire fells.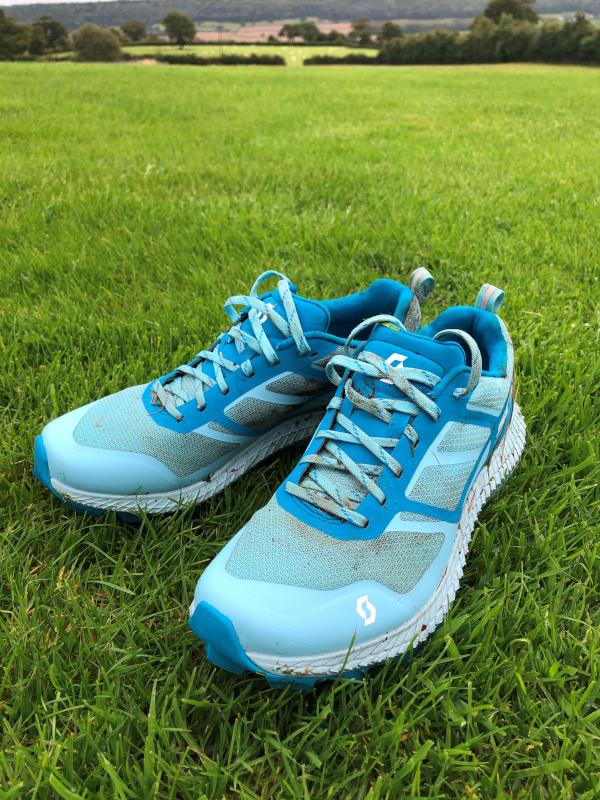 Scott has developed this shoe on their first-generation Supertrac and Supertrac RC.
Upper
The upper of the shoe is made mesh and thermoplastic polyurethanes, I found the upper to be very durable and well-made. From the amount of running I did during testing, I didn't find any part of the upper coming away at the midsole.
I'd say that the shoe was made for wide feet as the space for the tongue of the shoe was quite wide and was somewhat hard to tighten up. The tongue had a loop in for the lace to go through to keep the tongue in place. That loop got in the way when wanting to tighten the shoes.
On a long run before a technical descent, I decided to re-lace the shoes and unthread the laces from the loop to see how tightly they could be laced.
For that one descent, the tongue stayed in place, and the shoe tightened enough for my narrow feet. But, from then on, the tongue moved around, making the shoe more uncomfortable and likely to have hot spots.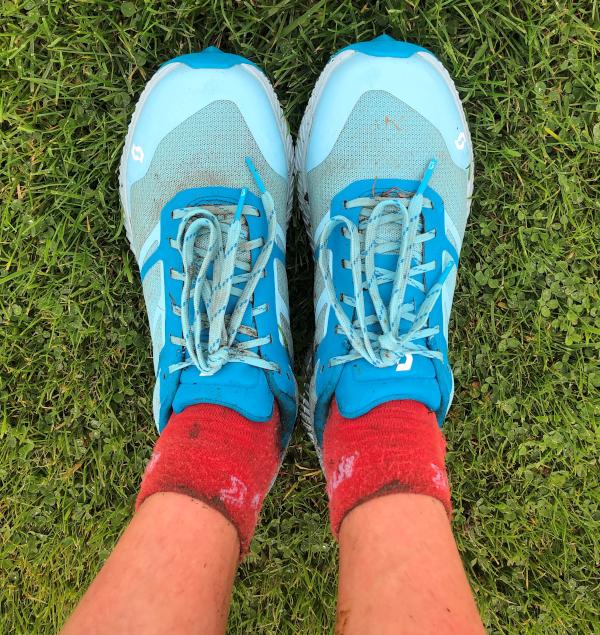 The thermoplastic protection comes up to just above the ends of the toes, which is useful for when going through shallow puddles in keeping the feet dry. But, it does take on water when going through streams and deeper puddles.
This takes a while to drain, so it increases the weight of the shoe noticeably. This is not a great feeling when late on in your run when legs are feeling heavy as it is!
The shoe also has a toe guard, which does help when running over trails and hitting rocks with the front of your foot. The toe box is of average width with adequate space for movement during runs.
The ankle cushioning is very comfortable, and I had no problems with any hotspots. The cushioning and heel cup both do a great job at holding my heel in place.
Midsole
The midsole offers an e-ride rocker, which is designed to allow the runner to have a more efficient gate and prevents heel strike. I did find this midsole quite hard, but it was undeniably stable.
Scott also uses its signature aero foam midsole in this shoe. This technology is known to be durable. There were no marks on it and minimal creasing after my usage.
If you are a runner who likes a flexible shoe this shoe, the Supertrac 2.0 wouldn't be for you. If you want support on long runs and a very small amount of movement in the foot, this shoe is a great contender.
Outsole
Scott uses their performance footbed on the Supertrac 2.0. On the Supertrac RC, the sole lugs are strategically placed in a 360 pattern to help with traction around corners.
This shoe has lugs facing only forward. This placement decreases the traction in any other plane than forward, meaning that any fast cornering isn't very controlled.
The lugs are deep with a full rubber outsole which aids with durability but is extremely slippery on wet rock and any lichen-covered surfaces.
This shoe also picked up moss and mud underfoot, which covered the lugs resulting in a complete lack of traction on two occasions. This outsole has such a large amount of cushioning. It protects the foot very well from trail conditions such as roots and rocks.
Design/appearance
The shoe's appearance is very aesthetically pleasing and is also comfortable for a day out walking. The light colour I reviewed was susceptible to stain but has kept its colour quite well over the time of testing.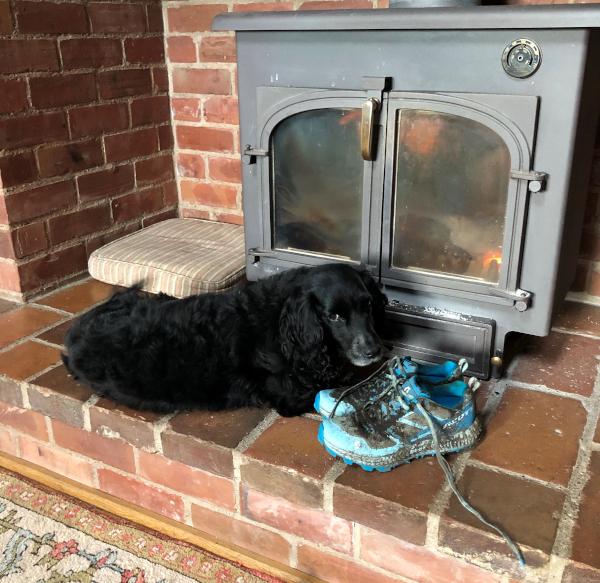 Scott hasn't tried anything drastic with the appearance of this shoe, and the safe bet has paid off with a good looking shoe.
Performance
The durability and cushioning of the shoe are commendable, but the dismal traction and lack of tightening for narrow feet let the shoe down somewhat.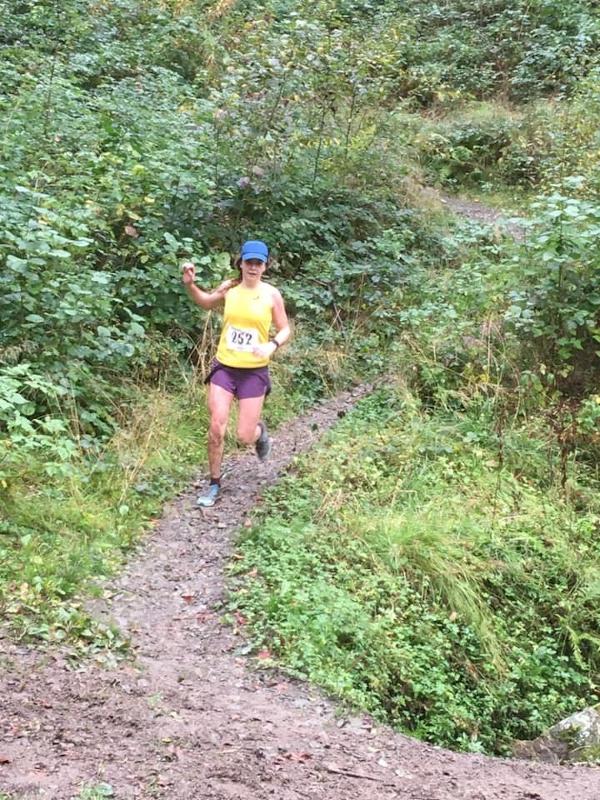 The shoe has a large amount of cushioning with a 29mm heel and an 8mm drop. This height decreases ankle stability and makes it harder to 'dance' down technical descents with full confidence.
Breathability
The shoe is breathable but is definitely not made specifically for summer climates as the textile on the upper is quite thick.
I tried out these shoes during a British winter. I found they kept my feet warm enough and were good in the cold when the ground was dry enough for the rubber outsole to keep the feet dry.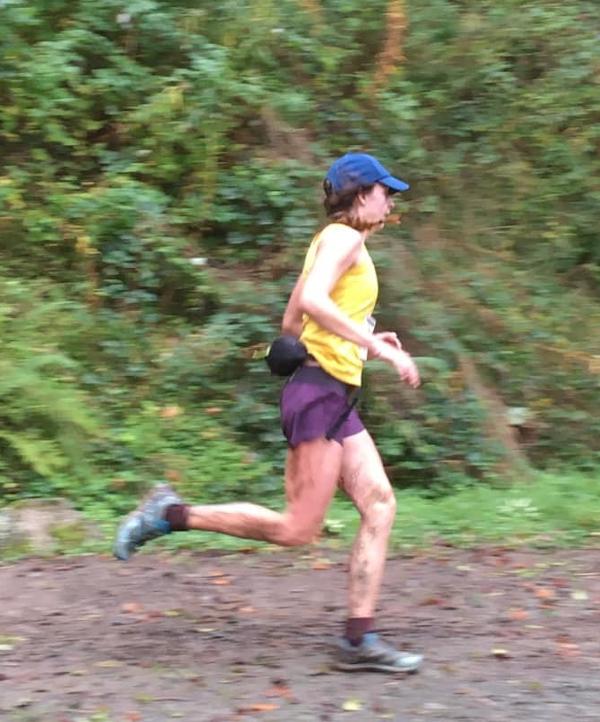 Even on less wet but muddy runs, mud still stained my socks as generally expected!
Flexibility
This shoe is made for ultra trail running and prioritises comfort over flexibility. As I stated before, I would not recommend this shoe for someone who prefers flexibility over stability.
Cushioning
This shoe is very cushioned and would serve well as a shoe to use for recovery runs on trails for this reason. The cushioning is also very durable and protects the foot from sharp rocks underfoot.
Responsiveness
This shoe is responsive but definitely needs work put in to get the response. If on a slow run, the shoes can feel quite big and unresponsive.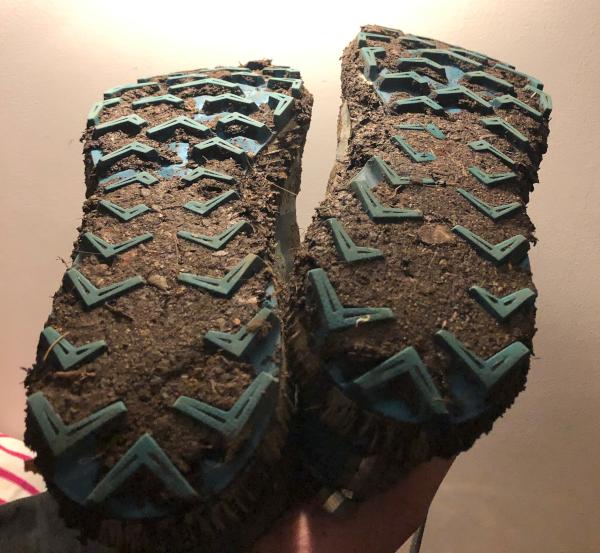 Traction
The outsole is not up there with the likes of the VJ Iroc or the Hoka Evo Jawz in terms of wet rock but is definitely more than enough on light to moderate trail.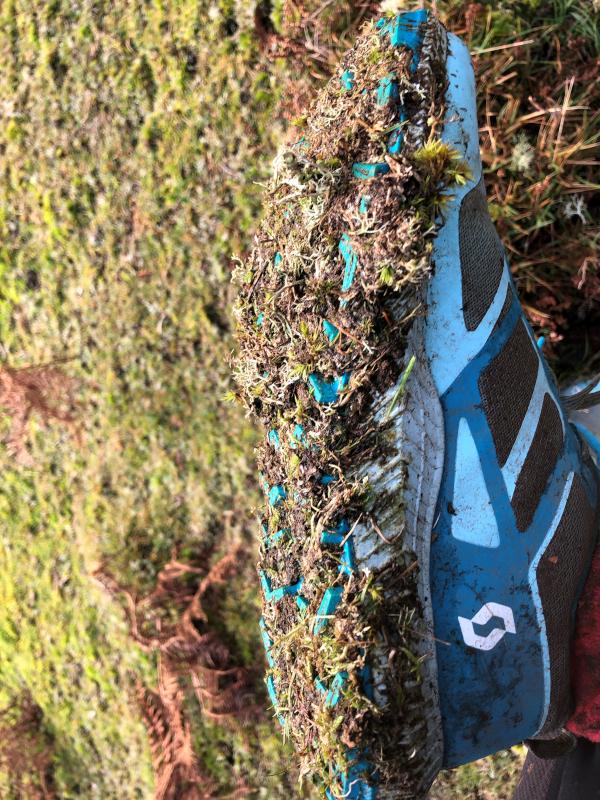 Durability
This shoe has fared extremely well during testing with no signs of wear on any part of the shoe. With this in mind, I think the shoe would be perfect for ultra distance and any long run training.
Conclusion
This shoe is perfect for anyone wanting a cushioned, stable, and durable shoe for long days out on the hills. Traction is favourable towards medium to light trail rather than aggressive fell.
Regardless, it will definitely give you enough traction for a variety of services as long as you are nimble yourself on technical terrain.
This shoe isn't great for racing due to its thick midsole as it's harder to dance down the fells at speed with the bulk. The rubber bumper on the upper is excellent for keeping your feet dry on damp days.
However, the outsole lets the shoe down when running over wet rock.
The Scott Supertrac 2.0 is a mountain focused trail shoe that offers incredible traction on both mud and rock. The deep lugs keep you moving even on the toughest terrain.
It gives you the confidence to corner at pace or hit a hill with everything you have. But, if you're starting from the road rather than the car park of a trail, don't expect a plush ride.
The Supertracs are light on cushioning and support but do provide protection from rugged terrain and the elements—just make sure to wear them in before hitting a long trail.
Upper
The Scott Supertrac 2.0 has an attractive and protective upper. They provide sections that are waterproof and others that are resistant to water, which makes running through puddles or rain more enjoyable than most shoes.
There is a tightness to the upper. It takes some time to break this down and bend the shoes in until then. Your foot will feel restricted at first, but once you get past this, they start to feel a lot more comfortable.
Ankle support is one area that these shoes lack. It can be quite easy to misjudge a branch or rock at speed and end up with a twist or a bit of pain in your ankle.
Midsole
The Supertrac 2.0s don't provide much in the way of support. But, once worn in, they do give just enough cushioning to last on mid-distance run.
I wouldn't wear these over a half marathon distance as I don't feel they provide enough for those longer distances.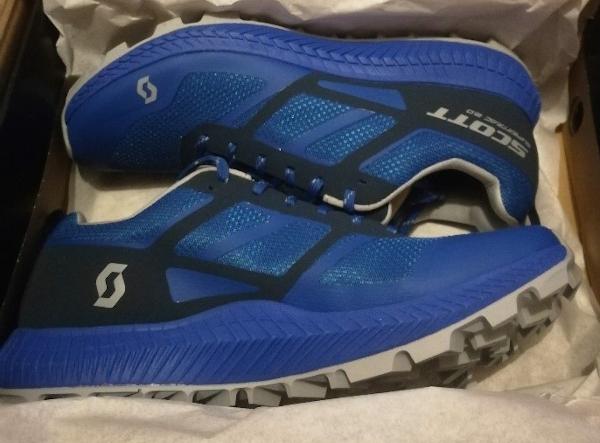 During my first and second wear, I did experience a hot spot on my arch, which ended up causing quite a large blister. After wearing these more and wearing thicker socks, this is no longer an issue but is something to watch out for during the embedding phase.
Fit
Initially, these felt a bit tight. I always get 9.5 UK in running shoes, and I was concerned that these would cause some issues after covering a few runs.
Thankfully, with thicker socks, they started to loosen up. They now feel fitted but not tight, given a snug feel.
Outsole
The intensity of the lugs on the bottom and front of these trail shoes are great. They are deep and rugged, giving a true feeling of grip across any trail. In my runs, I've been able to trust the grip fully, whether it be at a fast parkrun with lots of twists and turns or up and down rocky hills.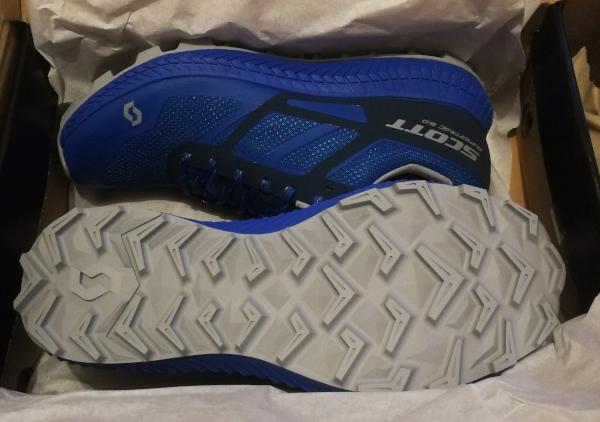 The sole is thick enough and provides enough protection to ensure that anything you may come across won't affect your feet. Sharp rocks or branches are no match for the bottom of these.
And, if you happen to hit a root, the front lug and protection ensure you don't end up stubbing your toes.
One challenge is, depending on the mud, these can pick up and hold onto a large amount, making them heavy. And those faster times, this isn't a showstopper but can cause some annoyance depending on the terrain you cover.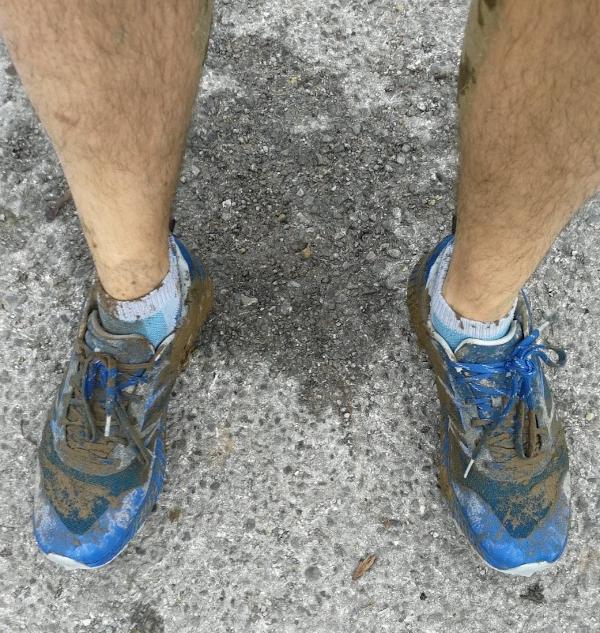 Pros
Easy to clean
Deep lugs for excellent traction
Water-resistant and waterproof parts of upper
Tongue kept in place by dual lace holes
Extremely protective bottom and front
Cons
Takes time to wear in
Harsh on concrete
Can collect mud making them heavy
Hot spots on arches due to tightness
Not much support for pronation
Minimal cushioning for those longer runs
Conclusion
If you're looking to tackle trails, either through a forest or up a mountain, these shoes will deliver the grip you need to trust every push off and drive forwards without feeling like you're stuck in one spot or on a slip and slide as you turn each corner.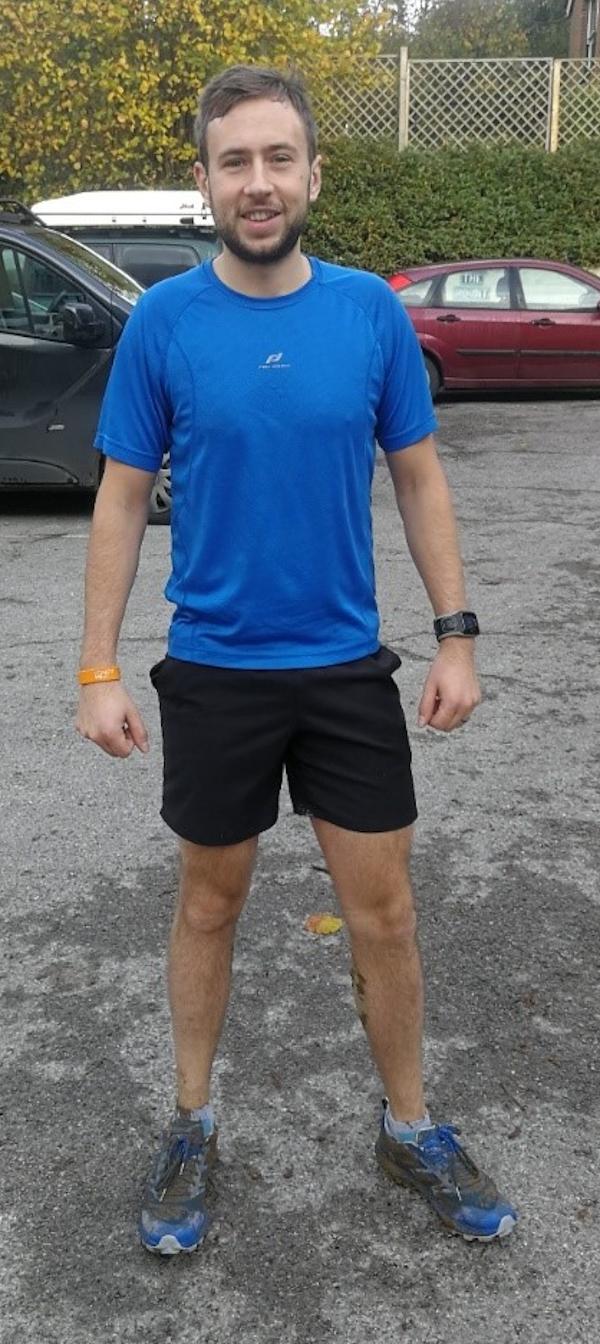 If you are more likely to have a mix of trail and road in your run, then these wouldn't be my first choice. Many crossover shoes would work better for this.
These shoes are perfect for a winter parkrun (you can see the state of them after one below), giving unparalleled grip over shorter distances.
I wouldn't travel much further than a half marathon, but if it's all trail for you, without too much road in between, these are a solid option. However, these are not the best on the market at this price point.
Overall, it is a solid shorter distance trail shoe for rock or forests, but they wouldn't be my first choice when selecting a pair.
The Scott Supertrac 2.0 is a tough, reliable trail shoe that handles almost anything you might throw at it (or under it) but fails to excel in any particular niche.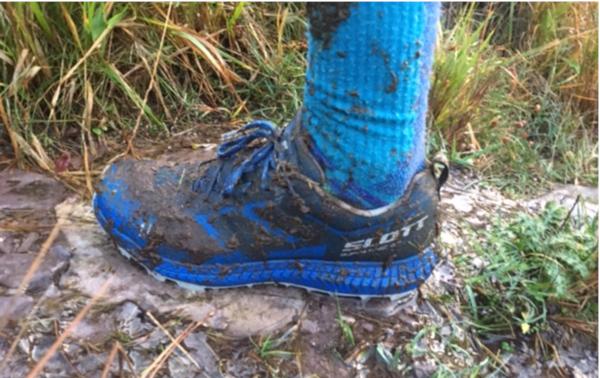 Best for
Daily running and training on a mixture of surfaces. A solid all-rounder with good protection and comfort.
Struggles on
Deep muddy terrain, very technical terrain, and longer distance effort. It's certainly not an ultra-distance shoe for me.
Comfort
Right out of the box, the Scott Supertrac 2.0 feels quite solid, stiff, and slightly heavy.
At 320g, it is certainly on the upper end of the weight scale. If you compare it to the Hoka Speedgoat 3 (292g), the ON Cloudventure Peak (260g), and the exceptionally light Salomon Slab Sense 7 (205g), which all lay claims to leading the field on traction and performance.
I opted to go for a half size bigger than my regular shoes after researching online and reading that the shoe tends to be on the small size. However, I would say that was my mistake as these were on the big size for me. They are true to size compared to Salomon, ON, Hoka, Nike, etc.
Immediately after putting on the Scott Supertrac 2.0, they felt quite stiff and somewhat rigid (not crushing or painful), but far from the flexible, springy feel of the Cloudventure Peak, Salomon Slab Sense 7 and Hoka Speedgoat 3.
Out on the trails (including some tarmac/asphalt transition sections), the Scott Supertrac 2.0 felt more comfortable. The stiffness of the sole absolutely delivered protection on the very rocky sections.
However, this protection does take away the feel of the trail, which I will talk about later in relation to performance. On the longest run (25 miles) I have done in the Scott Supertrac 2.0, I did start to feel hot spots on the soles of my feet.
The run ended up being 33 miles, and no blistering occurred. However, there was some other muscle and tissue soreness which would discourage me from taking these on longer runs in the future.
Upper
The upper of the Scott Supertrac 2.0 is a robust woven construction with a couple of laminated synthetic overlays. This gives the shoe a very solid structure, and it is still 100% blemish-free after over 110km through mud, rocks, briars, etc.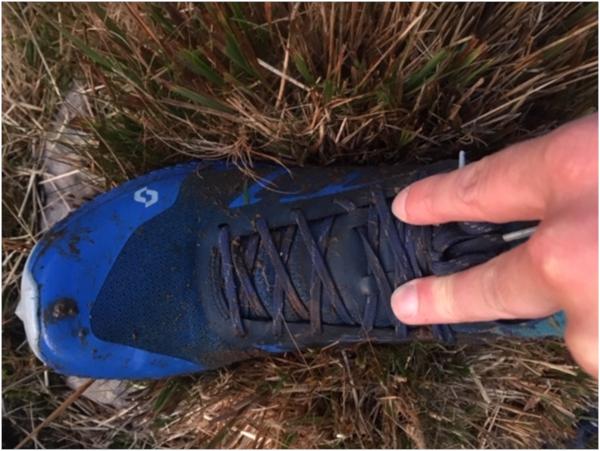 I expect that this upper will last! The lacing system worked well, and the laces showed no signs of working loose. However, I do have a few issues with the tongue.
The tongue has 2 openings for the laces to secure it in place (I can only recall seeing one on any other shoe). While I think it did help to hold it in place well, it seemed to be cut too high in relation to the lace eyelets, which was pulling the laces off their natural line.
My thoughts would be that over time; this could result in the tongue openings/tearing. The other thing the tongue does not have is any "gusseting" that would be a feature of most shoes at the performance level.
On all runs, I found sand and tiny grit (but no pebbles or small rocks) did get into the shoe and mashed into the insole that I imagine came in either through the exposed woven sections of the upper or along the tongue.
Insole
The insole in the Scott Supertrac 2.0 is fairly standard. There's enough foam for a bit of added comfort, and it stays put when in motion. It's all you really want from an insole, in my opinion.
Sole
The Scott Supertrac 2.0 has a very aggressive lug design with nice deep valleys in between to clear mud and water efficiently. However, the biggest thing I found was the stiffness of the sole.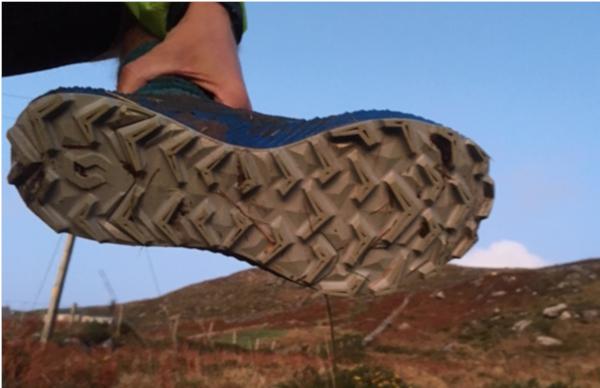 If you like feeling the trail and a really responsive shoe, then this is not the shoe of you. It does a fantastic job protecting from sharp stones etc.
However, it definitely slowed me down on the more technical sections as I felt disconnected from the ground contact. The shoe has an 8mm drop that is on the higher side of most shoes in the same market.
Durability
The Scott Supertrac 2.0 shows all the signs of being a very durable and tough shoe that will stand up to a real beating time and time again. The materials and the construction seem to be solid, and I would be surprised to see much wear on these after 300-400 miles.
They have covered just under 75 miles, and so far, with a wash to take off the mud, they would look almost box fresh again (bar the insoles with the muck and sand ground into them).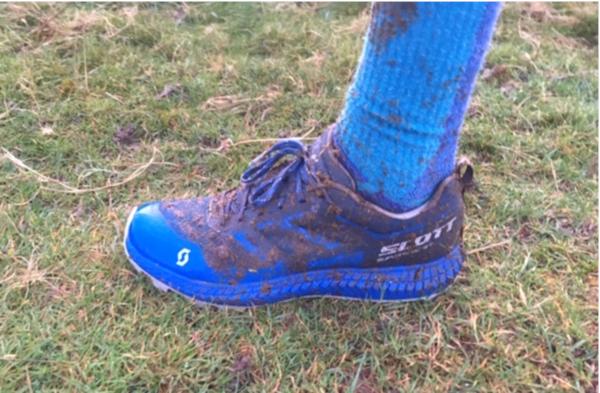 Design
The design is quite standard; the only thing I think was missing was the gusseted tongue or something to keep the grit and stand at bay in that area.
I have the blue version of Scott Supertrac 2.0, which is a nice simple low-key shoe. I like this and tend to avoid the loud colours and rainbow mixes. I suppose I think drawing attention to my feet or myself might bring the expectation that I can move fast (spoiler alert).
Performance
The Scott Supertrac 2.0 performs very well on a mix of surfaces and handles the road quite comfortably. The big thing for me is that the sole is too stiff and the shoe, in general, is too hard and protective.
It takes away the feel of the trail and compromises the ability to run fast downhill. In contrast, if you want a shoe with fantastic all-round foot protection and feel does not matter, then the Scott Supertrac 2.0 would be a top pick.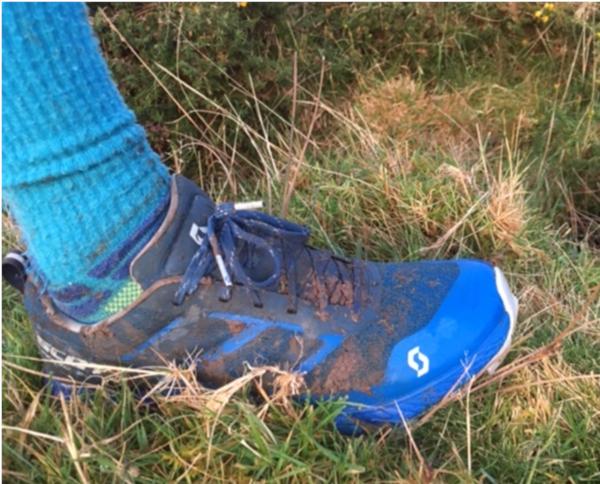 Breathability
Without the luxury of being able to take the Scott Supertrac 2.0 out in any hot (or even slightly warm) conditions, it is tough to give a firsthand rating on how breathable the shoe is.
However, the woven sections are quite robust, and the laminated sections will certainly prevent heat and moisture from escaping, so I imagine they would struggle to breathe in hotter conditions.
Flexibility
I believe everybody has a differing opinion and preference when it comes to flexibility. So if a slipper which folds in half is a 10 and a carbon ski boot is a 0, I would say the Scott Supertrac 2.0 is a 5.
For comparison, I would rate the Salomon Slab Sense 7 SG at 7, the ON Cloudventure Peak at 8, and the Speedgoat 3 at 6. The Scott Supertrac 2.0 Is just too stiff for my liking.
Cushioning
It is tough to know if the stiffness of the shoe detracts from the cushioning. However, the Scott Supertrac is a comfortable shoe, and the quality of the finish on the cuts, fabric, bonding, and stitching looks to the top-notch.
The sole does provide good cushioning also with the AeroFoam+ and eRide technologies, and I experience little to no joint and muscle pain.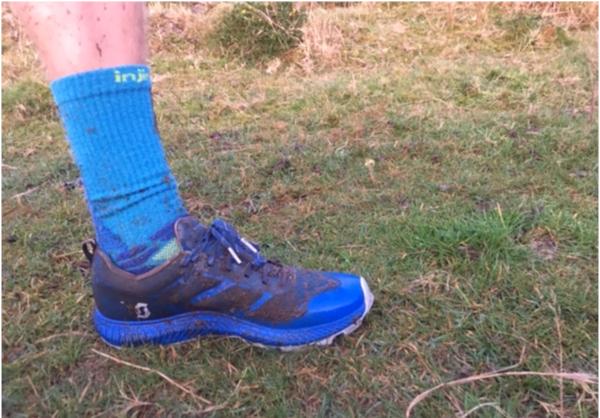 Responsiveness
Again, the stiffness is taking away the ground contact, which makes the Scott Supertrac 2.0 feel awkward and sluggish at times. It's far from the dynamism you would like to feel in an exceptionally responsive shoe.
Traction
The Scott Supertrac 2.0 can certainly boast exceptionally good traction. During the test runs, I experienced fantastic grip over terrain varying from sandy clay to muddy trails, puddles, stream crossings, rocks, bog, and road.
The Traction rubber combined with the tread pattern seems to take almost everything in its stride. The only sliding I had was on loose scree, and every shoe will slide on that!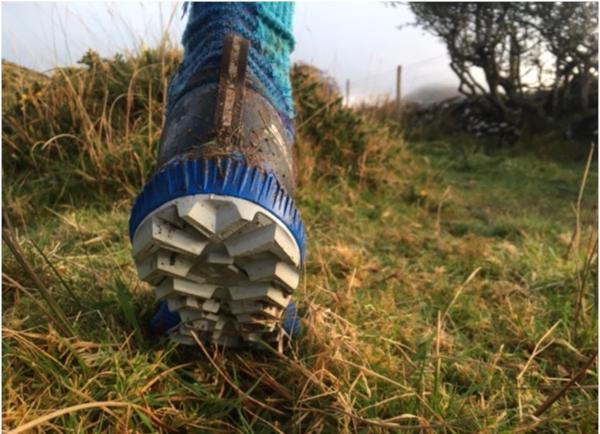 Overall
The Scott Supertrac 2.0 is a shoe that I can see myself wearing again over middle distances (15-20 miles), particularly for slow-paced training efforts.
However, I feel that there are better shoes available in the same price bracket that deliver a better performance. The Scott Supertrac 2.0, in my opinion, is too heavy for shorter runs.
If you like stiff shoes with solid protection, the Scott Supertrac 2.0 is worth consideration.
There are a lot of different shoes for trail running. As an asphalt runner myself, this area is definitely out of my comfort zone. I've never imagined I will run in a forest. But, things are about to change.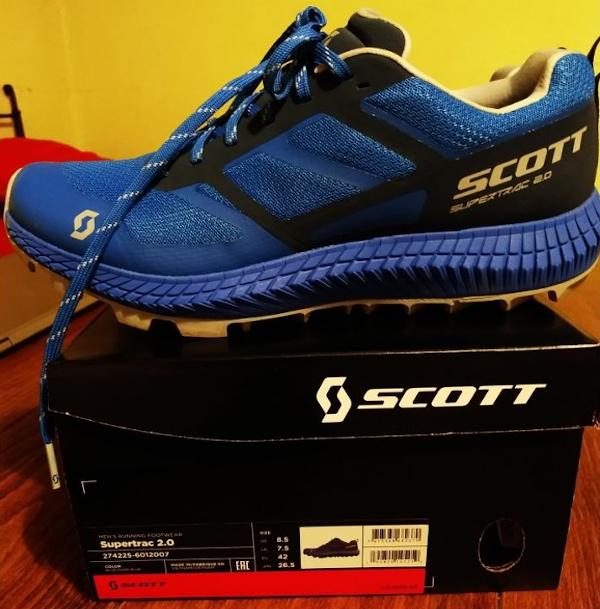 With no further delay, let us dive into details of the Scott Supertrac 2.0!
Appearance 8/10
The first thing you see when taking the shoes out of the box is the perfect sky-blue color. This is love at first sight. Then, you are surprised that there are no stitches, and the outsole is made entirely of rubber.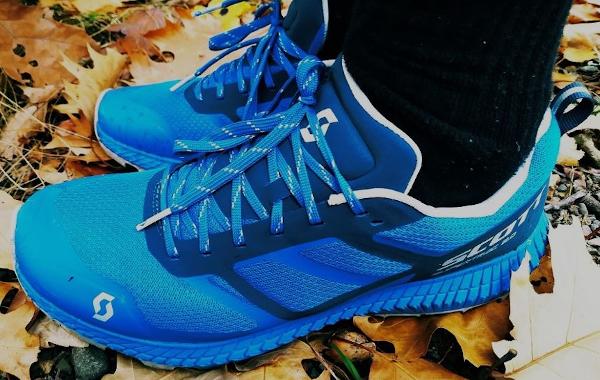 Besides the cool-looking color and the lack of stitches, they just have that look. You know, the one that wins you from the beginning.
I like that, unlike some rivals, they are not rainbow-like—just one color with some accents of dark blue.
Comfort 10/10
My favorite part: when you put them on, you just want to go out. Well, that is what I did. I did not mind that it was after work (workday evening) and was anxious to sleep.
After 10 km in the nearby forest, I started waiting for that 25 km Sunday up the mountain. Those shoes just fit perfectly to the foot. The tongue is "form-fitting", which means that it adapts to the upper part of the foot.
From the beginning, there is something strange in the middle part of the foot. But after some time, you realize that they have special support on the midpart, called eRide.
This eRide is a unique ricker shape that promotes a faster and more efficient running style.
The longest ride I had with them was 25 km. I was not able to find lots of mud (I tried), so excuse me for the clean shoes on the picture.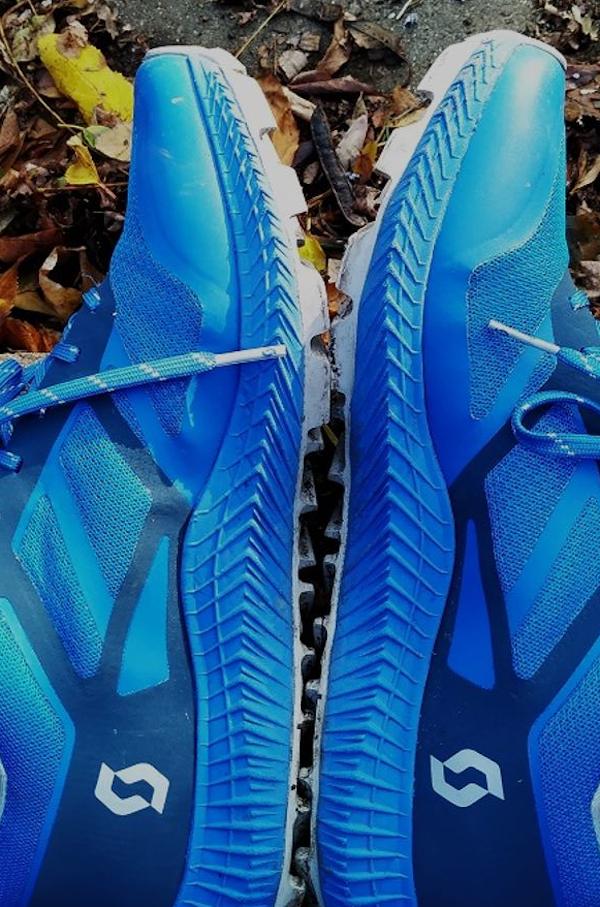 Anyway, they felt just great. My feet did not get tired and felt pretty comfortable during those two hours. With all that cushioning, you expect them to be heavy. We will speak about that a little later.
The cushioning (I love cushioning) by my humble opinion is as good as can be. Since I had to try them, I took the liberty and did some asphalt running. I know—they are not intended for that.
But, I wanted to do some extra mile for you guys. So, I did some (kind of) a speed run (10 km in 40 mins) on asphalt.
I had all the traction I will ever need, and if you ever run out of shoes, you can use them for your next Boston marathon.
Sole and durability 9.5/10
As I said before, the midsole is a rock shape "eRide" and is specially designed for increased running efficiency. Actually, the feeling is pretty good, and it supports the inner middle part of the foot.
Some facts:
The height on the forefoot is 29 mm, and 21 mm on the back, thus having a drop of 8 mm. They are approximately 320 grams.
Here is a comparison table of some of the rivals:
Might not be the lightest, but they feel just great. After all, this is not a 100 m sprint! They are built to endure harsh terrain, rocks, mud, and whatever stands between them and the podium!
Upper 8/10
The upper part is a breathable mesh with a combination of water-resistant material. Did I say there are no stitches? It looks very good, and it feels even better.
Just keep in mind that it is not suitable for cold time. Here I have something else to add. It can be seen in the next picture.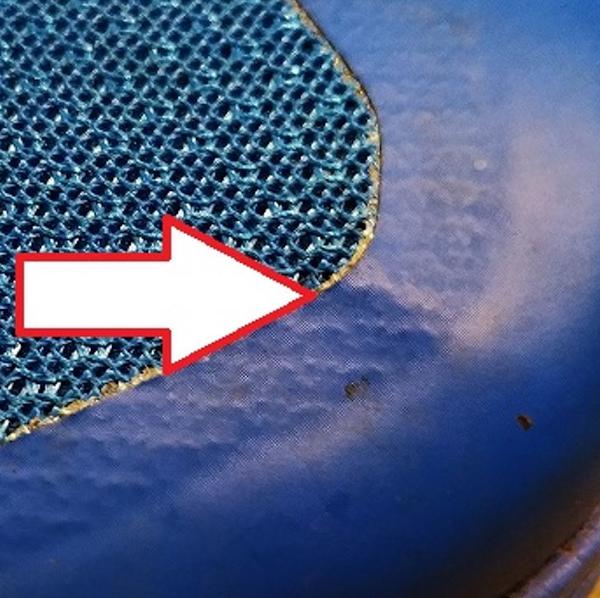 I really do not know how this has happened, but it looks very ugly! Also, can you spot the difference between the front upper nose on the left and right shoe? It is also not very pretty!
Outsole 8.5/10
The outer sole is "All Terrain Traction outsole" that is traction rubber with some pretty big lugs. It consists of special AeroFoam+. Also, the lugs are split, so these provide better traction.
There is just one thing: Notice the difference between the left and the right shoe in the following picture? Should it be like this? I think not!

Here is the outer look after 160 km.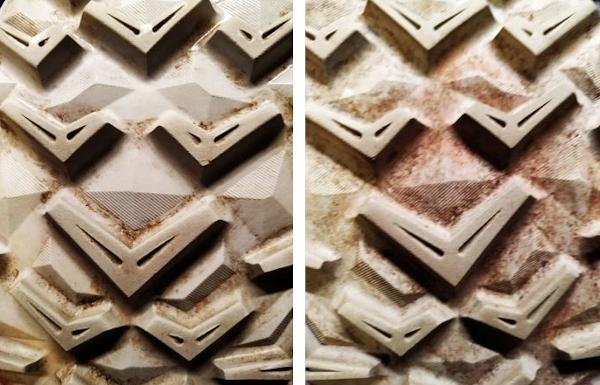 You can spot the tearing after the asphalt run. So, have this in mind if you decide to use them out of the forest! Another thing, the lugs might be very useful in the mud, but cleaning is pretty difficult.
Performance 9/10
They are the best choice for any mountain/hill race. Still, you can run on asphalt as well. I recommend them for any distance of a trail running (short, middle distance, or an ultra), but they are simply not built for the top speed.
Going sub 4 min/km is not a good idea. You still have the track, but they are not built, for that.
Conclusion
This pair of shoes went far beyond my expectations. They are perfect for your trail activity, nevermind a marathon, ultra, or just joking around for quick 5 km in the forest.
Scott Supertrac 2.0 are rugged, protective mountain running shoes. You have all the traction you will ever need, plus a lot more. Those shoes will never let you down.
It is specifically designed to handle the best the trail run life can throw at you. Still, your feet will feel as good as new.
Do not be afraid to go into the mud. But if you got dirty, you could clean the shoes pretty easy. You just need a wet tissue. That, however, does not apply for the outsole.
However, if you want to run on a rainy Sunday on a marathon race or a 5km for under 20 mins, I definitely recommend that you take the Scott Supertrac 2.0!
You can easily run fast with them, and you will not slip even if it is raining cats and dogs.
I thought to give them 97 points out of 100, but those little defects are simply ruining everything. Instead, I will give them 92 points!
Updates to Scott Supertrac 2.0
The Scott Supertrac 2.0 features premium racing technologies that provide runners with a supportive platform for their trail running adventures. This running shoe features a new insole for smoother landings and transitions.
The second edition of the Scott Supertrac utilizes a lighter and more breathable upper mesh that is designed to provide a comfortable fit. The no-sew construction also helps prevent rubbing and irritations.
In the outsole of the shoe is the All-Terrain Traction rubber. This highly durable material has a configuration that helps the runner stay in control of every step.
The Supertrac 2.0 now offers an 8 mm drop, which is higher compared to its predecessor.
Size and fit
Featuring a form-fitting tongue and traditional lacing system, the Scott Supertrac 2.0 guarantees a comfortable running experience. This running gear was designed using the standard shoe measurement to accommodate the usual choices of runners when it comes to size. However, it is advisable to fit the shoe first to ensure the right fit.
Outsole
The All-Terrain Traction outsole is incorporated in this trail running shoe. The extremely durable rubber outsole is designed to retain all of its properties for a long period of time.
Completing the outsole is the strategic lug configuration that provides superior traction not only in dry technical terrain but also in deep mud. The lugs are designed to dig into the ground and offer additional support by providing a firm base to take off from.
The strategically oriented chevrons positioned all around the forefoot are designed to provide support and stability during long-distance running.
Midsole
The eRide rocker shape midsole helps increase the running efficiency by converting heavy impacts into rebounds, helping the runner save energy to go further. This component encourages a more dynamic running position while providing a good amount of cushioning and protection.
Engineered EVA is also an important component of the midsole. This material is responsible for providing a soft and responsive ride. It is designed to absorb shocks and bumps from uneven terrain. EVA foam is also present in the Altra Torin 3.0 and New Balance FuelCell Rebel.
Scott Supertrac 2.0 also features a higher drop at 8mm which is designed to constantly push the runner in a more forward-leaning position.
Upper
A breathable and lightweight mesh is used in the upper of the Supertrac 2.0. It keeps the foot cool and moisture-free by allowing the air to constantly flow in and out of the shoe. The upper is constructed with a no-sew design to prevent irritation caused by rubbing and chafing. The sides of the upper are also protected by a firmer material that instantly absorbs heavy forces and bumps.
For a more comfortable and secured fit, the traditional lacing system is used. It allows the runner to adjust the fit around the heel collar and midfoot section.
The Scott running shoe also features a form-fitting tongue that provides additional comfort and protection to the foot.
Popularity
The current trend of Scott Supertrac 2.0.