First and foremost, I would like to thank RunRepeat for giving me the opportunity to test the Kinabalu RC.
The Scott Kinabalu RC is a versatile multi-terrain racing shoe launched by Scott for 2017. After clocking more than 150 miles in it on various terrains, here's my verdict for the Scott Kinabalu RC.
First Impressions
The shoe once taken out of the box will give you the impression that Scott knows trail running like the back of their palm. And they do.
The shoe feels sturdy and light, requirements for a trail racing shoe. The fluorescent green color provides a great contrast to the black upper. Scott has probably done this to improve visibility while running in the wilderness.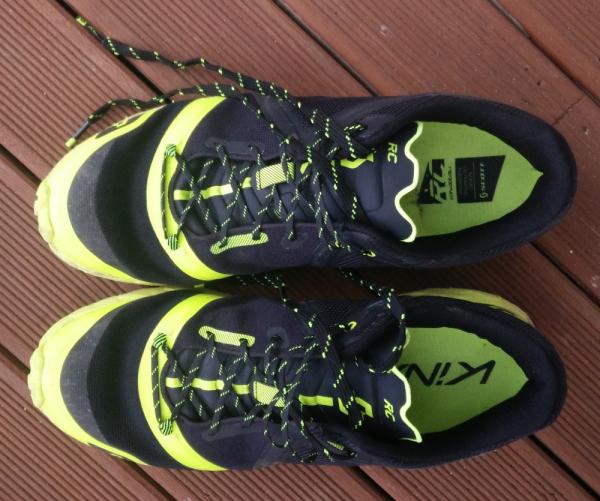 Physical Attributes - Heel to toe drop and Weight
The Kinabalus have a heel to toe drop of 5mm. The shoe will be familiar with those who run in Vasque Vertical Velocity like me or similar shoes. It's very typical of racing flats with a low heel to drop.
This is great for trail-running where you are bound to strike with midfoot for that additional grip and due to the undulating surfaces.
The shoe also weighs close to 250gms for my size 10 which is pretty impressive for a trail-running racer which cannot compromise on the outsole. Kudos to Scott here.
Fit & Upper
The Kinabalus RCs are true to size and fits snug on my feet. The toe box was adequately wide and had plenty of wiggle-room. The heel cup was firm while adequately cushioned.
The upper is made from a very sturdy mesh-like material construction with no seams.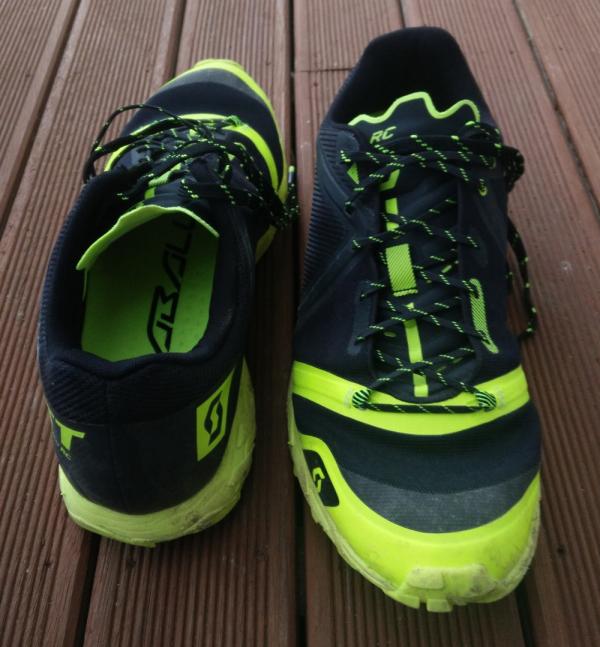 The material is adequately breathable and has prominent SCOTT branding all over it. It gave a super snug fit over my feet.
The Kinabalu's vamp has a green stripe running across where the lacing starts. Scott has added some reinforcement in the lacing holes and it's very thoughtful. There's also reinforcement around the toe box to provide some impact reduction when you may hit rocks unintentionally. Again, very thoughtful from Scott.
The Kinabalus have a racing-specific tongue that's fixed to the vamp. There are strips of padding on the tongue and for me, it was comfortable even when I tightened the laces really tight.
I didn't feel any undue pressure on my feet. The laces weren't very stretchy. But it didn't matter as they stayed tight throughout my runs and didn't have to re-tie them very often.
The toe cap is super sturdy and provided great protection for my toes during all my runs. Even after more than 150 miles, the toe cap has not shown any signs of wear apart from scuffs.
Scott has provided an utterly premium quality shoes here in terms of design and materials.
Midsole
Scott has debuted its "Aerofoam Infinity" rubber midsole this year and it feels super comfortable and responsive.
It offers a very responsive ride on a multitude of surfaces. The e-ride foam is meant to promote midfoot striking and it works wonderfully well.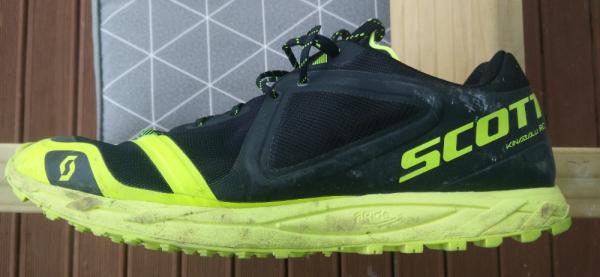 Scott has nailed the balance between cushioning and responsiveness extremely well.
It was not too firm to put you off on the hard trails while not being too plush while compensating for the responsiveness. I was able to consistently beat the time I set in my Vasque Vertical velocity.
The midsole offers some flexibility, while not being very flexible. But Scott counters this by offering a contoured midsole arching away from the running surface. This aids the excellent transition from landing to toe-off.
Outsole
This is it. This is Kinabalu's USP.
The outsole is made from what Scott calls it's "Wet Traction Rubber". This gives you supreme traction and control on a variety of surfaces and makes it truly versatile.
The Scott Kinabalus handle everything your trail throws at it effortlessly. The Wet traction rubber gave me the confidence to run even on rocks after it had rained. It looks like Scott has done some great research while designing the outsole.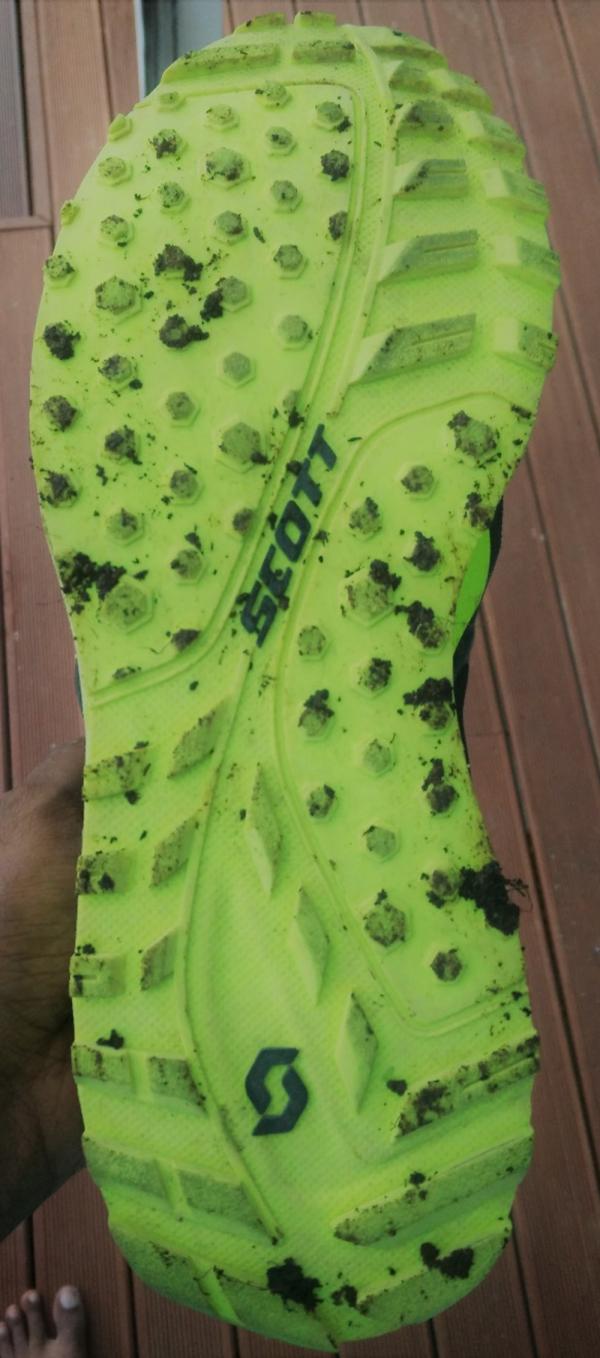 There's some good grip under the midfoot which is more pronounced and it works great especially over rocky terrain.
The other feature of the outsole is Scott's Rock Protection Plate incorporated within the outsole material. This offers protection against sharp rocks injuring you during your runs.
This combination of outsole and midsole complements very well providing you a comfortable and ride.
The outsole is also very durable. It has held up very well after so many miles and all the abuses it has taken. I'm very confident that there are plenty more miles left in it.
Performance
As described in the previous sections, the Kinabalus offer great performance on a variety of surfaces.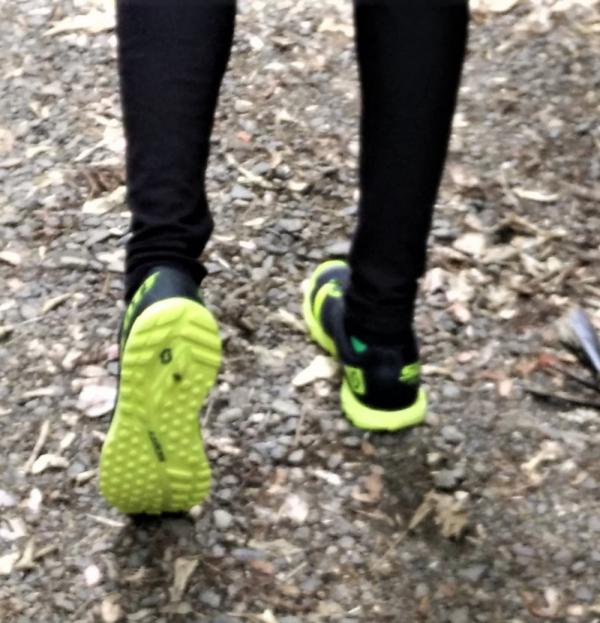 I found the Kinabalus performed the best on gravel where the shoes offered great traction but didn't get stuck on the surface overly impeding your speed.
I was able to run comfortably as the shoe was very responsive while attenuating any impacts on your feet due to the irregular surface. I didn't have to worry about any pokey items on the trail.
The shoe also performed well on the marshy and clayey surface where the midfoot part of the outsole offered great traction laterally.
The shoes were surprisingly quick to dry and it was very helpful during my runs in the trail where I stepped into puddles of water. I was also able to ascend quicker on surfaces – thanks to the responsive cushioning in the Kinabalus.
Pros
Great traction on a variety of surfaces – wet and dry
Versatility
5mm drop, perfect for a racing shoe
No seam mesh construction upper
Breathable upper – quick drying material
Responsive midsole
Rock plate outsole – protection from sharp objects
All-around durability
Bright color schemes
Cons
Not too flexible
Might be slightly pricey for a few
Only one color option available
Conclusion & Final Verdict
Scott's Kinabalu RC is a serious contender for anyone looking for a trail running shoe. A lot of research has gone into this shoe and it shows the moment you slip your feet into it, tie the laces and land your feet hard the first time.
For someone like me who has been doing trails for only a year, the Kinabalus have invigorated the interest in me to venture into unexplored trails. The Kinabalus provided me the confidence to try out new terrains and I was pleased every time I put them on.
Every single aspect of the shoe has been thoughtfully designed by Scott.
Right from the upper that provides a great fit, a roomy toe box, a dark-bright color combination, durable toe cap, down to the responsive midsole with the perfect 5mm heel to toe drop right down to the outsole which has already been praised adequately all under 250gms, the Kinabalus are pure goodness.
Although some of you might be put off by its price, Scott makes a strong justification for it.
Go on, try them on once and you'll never get them off your feet!