Verdict from 6.8 hours of research from the internet
7 reasons to buy
Some runners mentioned that he Scott Kinabalu RC was one of the best running shoes they have ever purchased.
Several reviewers agreed that this shoe was suitably lightweight and durable.
This shoe was not only ideal for trail running, but also for long walks, according to a buyer.
A good number of testers were pleased with the shoe's new foam cushioning.
According to some reviewers, the shoe was optimized for trail running activities.
Few consumers commented that the shoe performed better when compared to previous models.
One of the buyers said that the shoe worked superbly on wet surfaces.
3 reasons not to buy
According to some runners, the shoe was expensive.
Some testers mentioned that they had issues with the outsole durability.
Few testers commented that the shoe does not have a breathable upper.
Bottom line
A good number of testers agreed that the Scott Kinabalu RC was a durable and lightweight option for trail running. They were pleased with its performance and responsiveness. Some runners also mentioned that the updated foam cushioning was great. Although there were testers who commented that the shoe didn't have an affordable price, some reviewers still recommended it because it provided enough traction on wet and dry terrains.
Tip: see the best running shoes.
Our reviews
Kinabalu RC is one of the "race concept" shoes from Scott and, akin to the S/LAB series from Salomon, represents the best of the best, using state-of-art materials and designed in close collaboration with elite athletes – and, as might be expected, pricing to match.
The distinct black & yellow RC colorway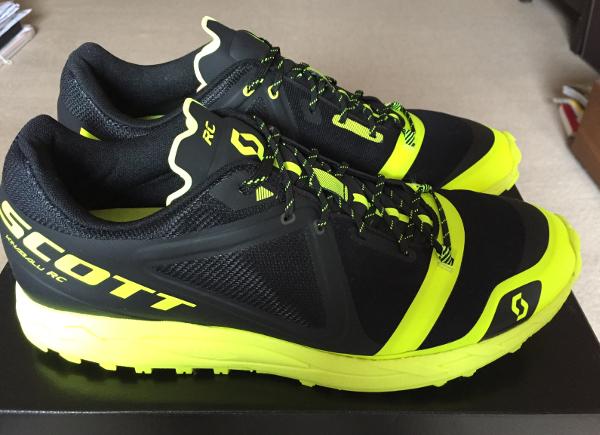 Other than Kinabalu RC, which is the model for trail racing, the line-up includes Supertrac RC for mountain running, Palani RC for road racing, and the recently added Supertrac Ultra RC for longer distances on trail.
The Kinabalu RC & the Supertrac RC
When asked to select a Scott shoe to test and review by RunRepeat, I chose Kinabalu RC. And then immediately regretted it. You see, a bit of after-the-fact online research (anyone done that?) threw up numerous reviews (and kudos) for Supertrac RC, while hardly any insight of any kind for Kinabalu RC. Surely the masses must know something I didn't?
Then I remembered why I opted for Kinabalu RC in the first place, over Supertrac RC. I wanted a trail shoe, not a mountain shoe. And I wanted one with rock protection plate, which Supertrac RC didn't have. Despite the online (and by extension running community's) bias towards Supertrac RC, on paper there's actually very little to separate the two:
Kinabalu RC weighs 270 g and 22.5 cm stack at heel with a 5mm drop, while Supertrac RC is a tad lighter at 250 g but also 22.5 cm at heel and 5 mm drop. Both feature no-sew construction, Race Specific Tongue, and Wet Traction Rubber (capitalization by Scott). And both only come in the cool black & yellow colorway that is the hallmark of the RC series.
Perhaps then, other than the aforementioned rock plate, the biggest difference between the two comes down to the outsole; Supertrac RC features the much-vaunted radial lug design which offers multi-directional traction while Kinabalu RC's outsole is a more modest set of lugs typical of conventional trail shoes.
I was OK with that – after all, the intended use was for summer trails in and around south of England, when the winter mud would long have dried off, where the technical terrain is hard to come by, and there are certainly no mountains in sight.
The Shoe
Out of the box, the shoes felt light and, for the lack of better word, "rigid." By that, I mean a noticeable absence of any soft edges or materials.
The upper is made of canvas-like weave fabric rather than mesh, and there is liberal use of overlays. It is a "no-sew" upper, and certainly looked and felt like it, although the "rigidity" meant I wouldn't ever dream of going sockless in them.
The tongue is similarly thin, "plastic-y," ungusseted, and hard. As I was to later discover during road testing, the tongue design is probably my least favorite feature of the shoe. Ironically, Scott makes a big deal of the tongue, which they call race Specific.
The tongue and insole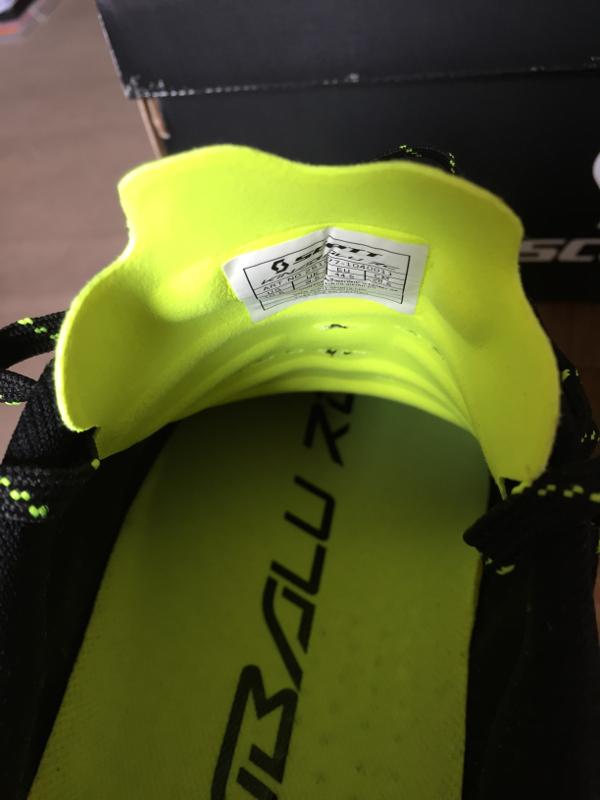 I also had mixed feelings about the insole, which was made of very light foam and very thin. It looked and felt as if it might run a little hot, something which nagged in back of my mind the whole time I was running in the shoe. Again, read on for the verdict.
OK, let's continue to get the "Dislikes" out of the way. The toe cap, when the shoe is in your hands or on your feet in your living room, looks robust enough, but on actual trails, I found the protection a bit lacking. Basically, the toe cap is little more than an extra thick section of the overlay. More on that later too.
Wishing for a bit more protection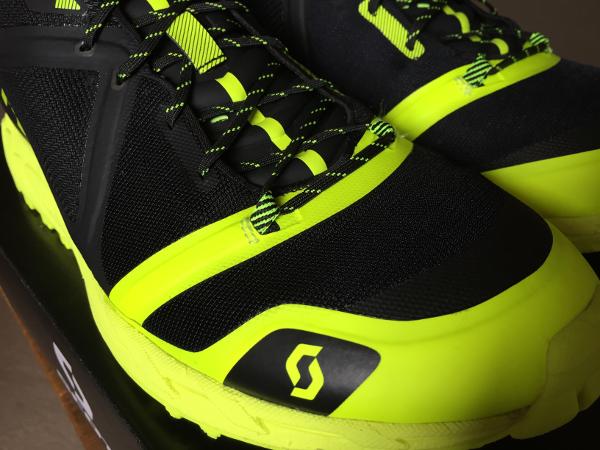 I wasn't a huge fan of the laces either. They're slim and stiff, which is in keeping with the overall theme of the shoe, but at the same time quite "plain," which I find a bit disappointing for a premium shoe. But this admittedly is a minor point, and the laces did their job adequately well enough.
Good looking but let down slightly by laces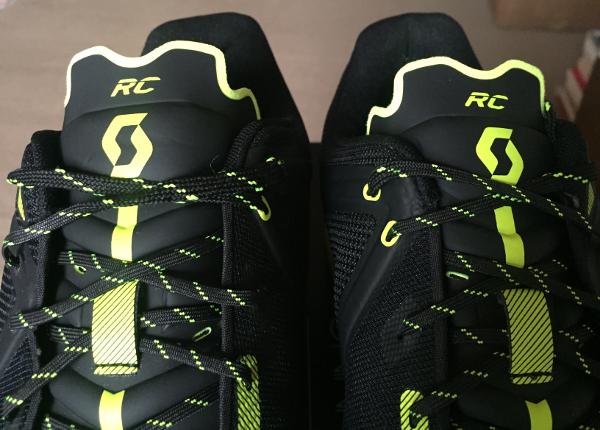 Now, a major "Like" - the hallmark eRide rocker midsole.
I had previously had the chance to run in Palani (reviewed here), the non-RC version of Scott's road racing shoe and the eRide had been my favorite aspect of the shoe, so I was happy to see it featured again on Kinabalu RC. Combined with the AeroFoam Infinity midsole material, the ride was plush yet responsive and just a joy on hard-pack trails.
Incidentally, this is also where Kinabalu RC differs with Supertrac RC, since Supertrac RC uses AeroFoam+, the difference being that the Infinity is a bit more forgiving and better tuned for road and harder surfaces.
AeroFoam Infinity + eRide = pure joy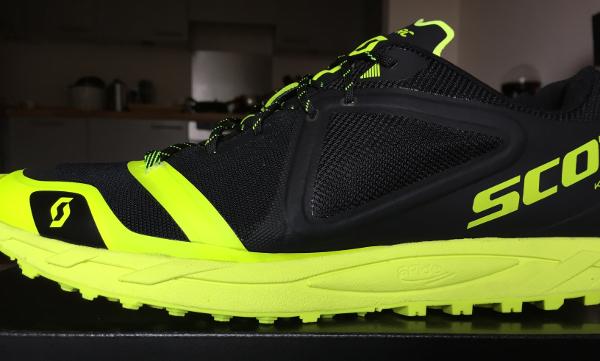 As the reader might have surmised by this point, the shoe is designed for racing (i.e. running relatively fast) on hard-packed, runnable rolling trails that are not too technical, and the minimal nature of the upper reflects this.
This is also evidenced by the outsole and the lugs which can only be described as "underwhelming" but not in any kind of negative sense, only in comparison with the aggressive outsole on shoes such as Salomon Speedcross 4 or even Supertrac RC.
I'd say the outsole lugs were reminiscent of other lightweight trail runners including Brooks PureGrit, New Balance Leadville, and Salomon Sense Ride.
Moderately lugged but super sticky outsole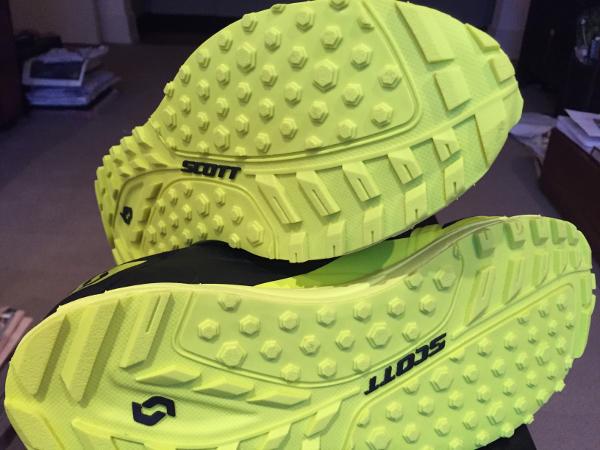 The Fit
On feet, the shoes felt snug. Not narrow particularly, but snug. In fact, the shoes might have been a ½ size too small for me! But this was puzzling since with Palani I had gone with the same US 10.5 (UK 9.5, EUR 44.5, JPN 28.5) and found the shoes, if anything, too roomy.
I could only conclude that the RC last ran a bit shorter and with overall less volume. This is to an extent understandable since Kinabalu RC were essentially racing flats for trails and racing flats, for the most part, tend to fit more snug.
But the good news was that in combination with thinner socks I was able to run comfortably in the shoes, so road testing (or trail testing rather) would not be an issue. But, if I could, I would have gone for ½ size up to put any lingering doubts to bed.
Trail testing on North Downs Way 50
As is my preference, I like to test new shoes in a race situation, whether a road marathon or a trail ultra, since I feel exposing the shoes to the rigors and demands of a race situation is the best way to learn about them.
Of course, this approach does carry risks, since the latter stages of a, say, 100-miler is not the ideal time to discover you and your shoes don't really get on after all, but such is the inherent hazard of a shoe-reviewer! (I do, of course, have several runs in a shoe prior to the race to make sure any disaster is unlikely!)
The race I had in mind for Kinabalu RC was the North Downs Way 50, a 50-mile trail ultra in the South of England which takes in rolling hard-packs, roads, chalk paths, exposed flint, steep steps, and is truly a mixed terrain. The trail does not drain particularly well and in Winter and times of heavy rain can be a real quagmire, but England had been seeing a spell of dry weather so any mud was unlikely.
And I felt relatively at ease with the decision since I had run 15 miles in the shoes pretty much out of the box with no major issues and done a couple more runs of similar lengths since then.
Now – back to that tongue.
During runs, I found the thin tongue had a tendency to slide (and I find all tongue slides tend to be to the lateral side, and this no exception). Being ungusseted, it also offered no barrier whatsoever against any debris finding its way into the shoe. The tongue being askew didn't really hinder my race to be honest but I did have to stop a couple of times to shake loose debris out.
As suspected, the fairly minimal toe protection proved inadequate, particularly during latter stages of the race, when my fatigued gait would stir up stones only for the foot to kick it during follow through, accompanied by yelps of pain (although to be honest, pain is relative at mile 40!).
Caught taking a photo of the photographer on NDW50
But, overall, the verdict was very positive. Contrary to earlier fears the insole did not run too hot, nor did I suffer any blisters, although an insole with a little more cushioning would have been preferred. Perhaps if the shoe didn't run so small, I might have been able to wear thicker socks or even swapped out the insoles for another.
And, I'm happy and relieved to report, despite the toes continually bumping up against the front due to small sizing, I am still the proud owner of all 10 toenails!
Despite many initial misgivings with the shoe (tongue, lace, toe protection, insole, sizing), in practice Kinabalu RC proved excellent at what they are designed for – that is, racing on rolling hard-pack trail. The upper held up well and did its job, eRide combined with AeroFoam Infinity midsole provided an excellent ride through the miles, and the outsole was grippy and more than adequate.
In fact, the outsole was a revelation. Made of what Scott calls Wet Traction Rubber, I found the grip phenomenal even in the dry. With sections of North Downs covered in dried-out mud following recent drought, I found myself at times tripping over the shoe, such as the traction of the outsole.
I of course quickly got used to the sensation, but it certainly was unnerving. I can also attest that the outsole lives up to its name on wet rocks. I wouldn't, however, go anywhere near mud in these!
An issue with most sticky rubber is that they tend to wear down quickly, but I found with Kinabalu RC no more wear than other shoes, possibly due to the close-packed nature of the lugs.
Outsole still like new after 100 miles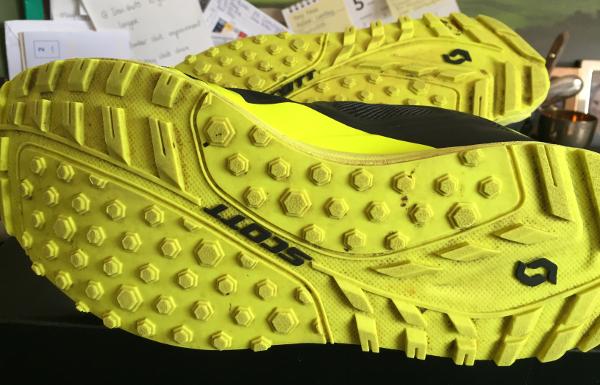 On reflection, I think my many misgivings with regards to the tongue, lace, and insole, among others, may simply be due to unfamiliarity. This was my first Race Concept offering from Scott and as can be seen from Palani, Scott is a company not afraid to introduce innovations and to do things differently.
In actual use, most notably during a "testing" 50-mile trail ultra, Kinabalu RC came through in flying colors, so the innovations do work, or at least don't hinder function and performance.
So impressed am I with Kinabalu RC that I'm looking to buy a new pair, this time ½ size larger!
Likes
eRide rocker midsole
Colorway
Grip/traction
Rock plate
Light and fast
Dislikes
Non-gusseted and thin tongue
Narrow fit in forefoot
Sizing off
Insufficient toe protection
Postscript
Just a final comment in resizing. At the time of completing this review, Scott had introduced a new addition to the Race Concept line-up, the Supertrac Ultra RC.
Impressed with Kinabalu RC, I managed to get a pair of Supertrac Ultra RC, and the right size for me is, you guessed it, a ½ size larger than what I had in Kinabalu RC, so a US 11 (UK 10, EUR 45, JPN 29.0). I am US 10.5 in most shoes. Advice is to size up!
For the record, I got these shoes from Scott Kinabalu RC doesn't look as cool.
But they do seem like well built and sturdy shoes.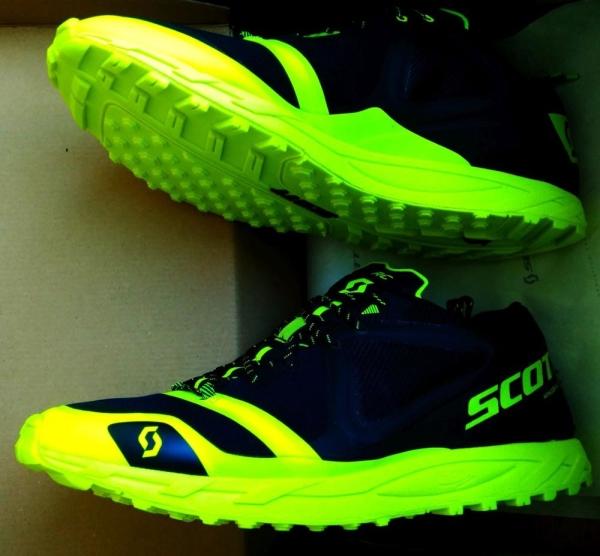 Comfort & Fit
Being of wider feet, I often have trouble with shoe fitting. Fortunately, these are a good fit. As a guideline, I have the same size of Scott as I have in Hoka and Salomon.
The tongue is very thin, which I thought will be problematic, but it is perfectly fine. The only fault is that tongue tends to slip to the side during running though it is not felt.
Compared to Scott Supertrac RC, these have much smaller arch support, which adds to the comfort for my flatter feet. Insoles are thin but comfortable.
Check out my review of the Supertrac RC here.
But there is one quite serious issue… during trail workouts with steep downhills, my big toe knuckle got blisters at this marked point of the shoe, probably due to the reinforced part which puts extra pressure on that point.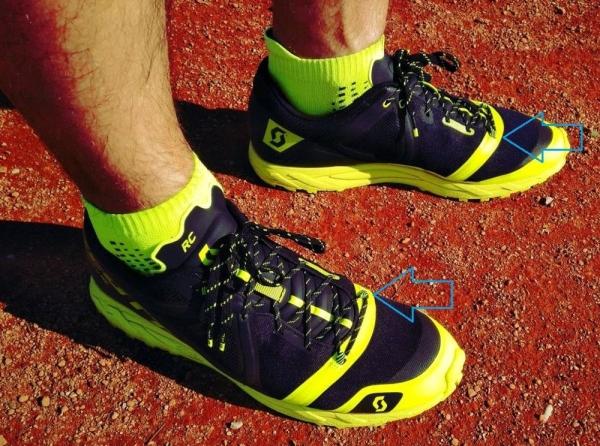 I got this only 2 times on harder terrain. Not an issue for flats, milder trails and lesser descents, but worth mentioning.
Here you can see tongue slipping to the side…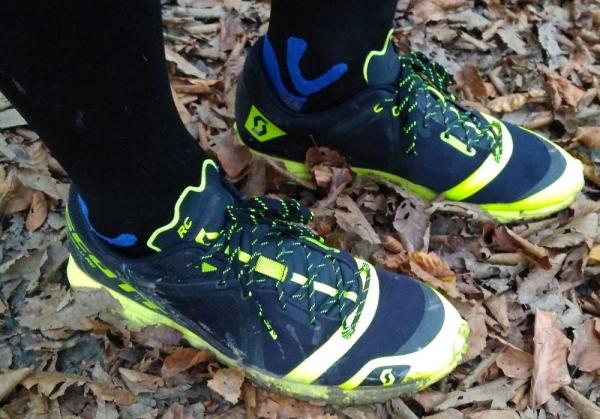 Sole & Upper
Soles have a mild pattern. It performs well on hard surfaces and milder trail. But softer and muddy trail? Not so good. Which is okay because they are intended as mild trail and mixed terrain shoes.
There are other better shoes for the hardcore terrain, like big brother Scott Supertrac RC.
Upper looks to be made from one piece (unless seams are covered with plastic bits). It seems to be extremely solid and durable.
Maybe an overkill for shoes which will be used on milder terrain, because some breathability was sacrificed. So they are not ideal for warm weather.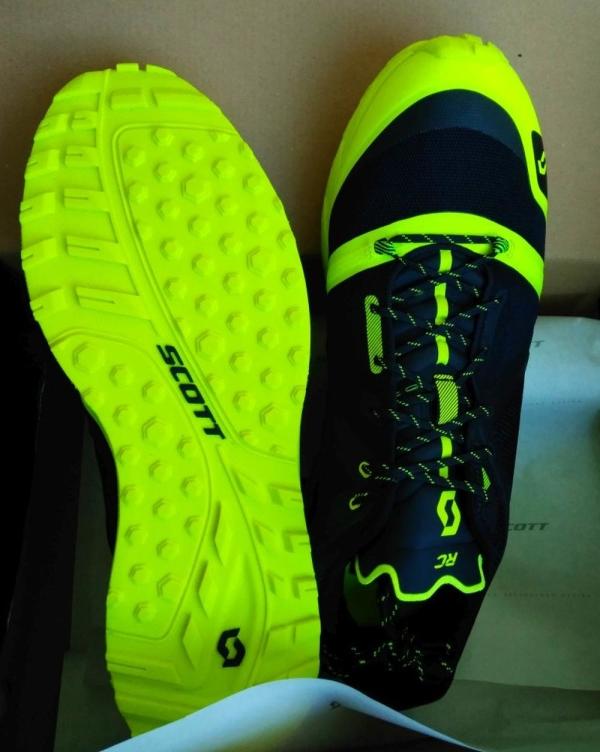 Performance
I have used these shoes for various purposes
Trail running
Asphalt running
Track running
House to trail and back running (mixed surface)
General hiking
Walking around in the city
They remind me somewhat of the Hoka Challenger ATR. They work really well on asphalt and (normal) trail. So they can be used on asphalt and mixed surface runs without the usual trail shoe hassles and issues (trail shoes on asphalt tend to be uncomfortable and make loud noises with fast sole degradation).
During the winter time (between 5 and -10 degrees C), I had some issues because sole became noticeably stiffer during the run compared to the warmer weather.
I tried one slightly muddy trail run with them and as I expected it is a no go for such trail. The positive thing about the sole is that rocks and roots are not felt under the feet.
Toe protection is not superb, but it is adequate for normal trails. They are a bit stiffer than most shoes. To me, that is a good thing because I can run on trails with less worries.
But would I use them for very long runs? No.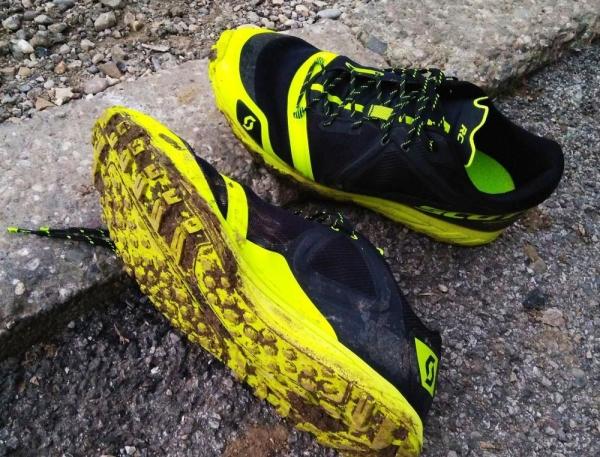 Pros
Upper is quite durable
Comfortable on wider feet
Good for mixed surfaces
Cons
Lack of breathability
Design (subjective thing…)
Can cause blisters on steep descents
Somewhat stiffer than the average shoe
Conclusion
If you are looking for one shoe to fulfill various purposes, the Scott Kinabalu RC could fit you just fine. There are advantages to having one pair of such shoes in your arsenal.
To me, the design is not very appealing, but if it works for you, they can also be very nice walking and hiking shoes, without using them for running.
If you are looking for some hardcore trail shoes, look at Scott Supertrac RC which are superb in all trail aspects.
First and foremost, I would like to thank RunRepeat for giving me the opportunity to test the Kinabalu RC.
The Scott for 2017. After clocking more than 150 miles in it on various terrains, here's my verdict for the Scott Kinabalu RC.
First Impressions
The shoe once taken out of the box will give you the impression that Scott knows trail running like the back of their palm. And they do.
The shoe feels sturdy and light, requirements for a trail racing shoe. The fluorescent green color provides a great contrast to the black upper. Scott has probably done this to improve visibility while running in the wilderness.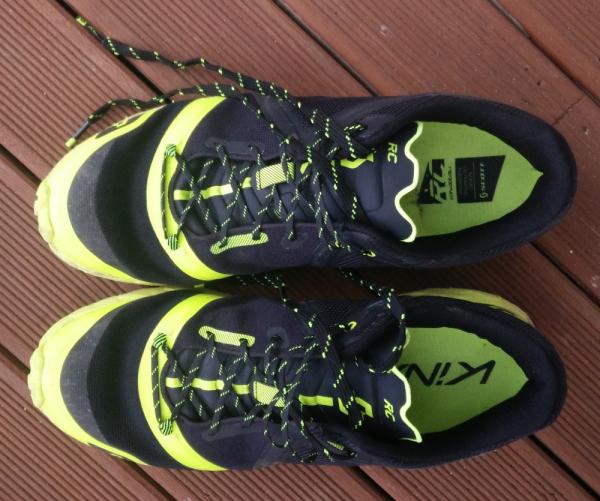 Physical Attributes - Heel to toe drop and Weight
The Kinabalus have a heel to toe drop of 5mm. The shoe will be familiar with those who run in Vasque Vertical Velocity like me or similar shoes. It's very typical of racing flats with a low heel to drop.
This is great for trail-running where you are bound to strike with midfoot for that additional grip and due to the undulating surfaces.
The shoe also weighs close to 250gms for my size 10 which is pretty impressive for a trail-running racer which cannot compromise on the outsole. Kudos to Scott here.
Fit & Upper
The Kinabalus RCs are true to size and fits snug on my feet. The toe box was adequately wide and had plenty of wiggle-room. The heel cup was firm while adequately cushioned.
The upper is made from a very sturdy mesh-like material construction with no seams.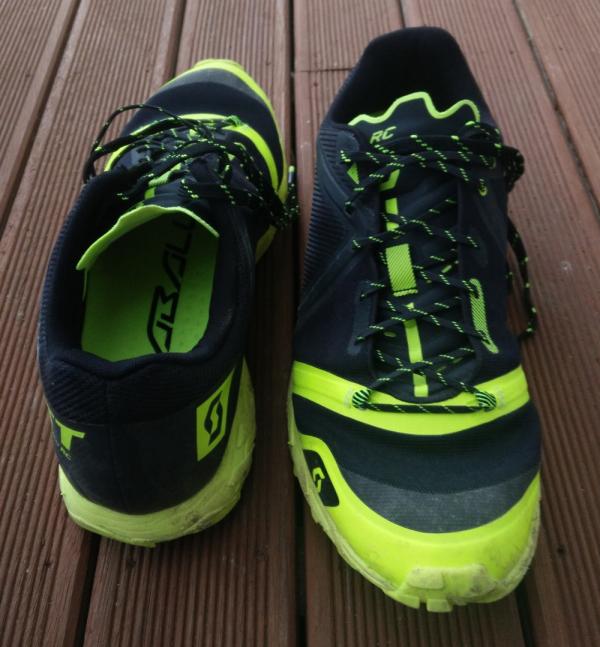 The material is adequately breathable and has prominent SCOTT branding all over it. It gave a super snug fit over my feet.
The Kinabalu's vamp has a green stripe running across where the lacing starts. Scott has added some reinforcement in the lacing holes and it's very thoughtful. There's also reinforcement around the toe box to provide some impact reduction when you may hit rocks unintentionally. Again, very thoughtful from Scott.
The Kinabalus have a racing-specific tongue that's fixed to the vamp. There are strips of padding on the tongue and for me, it was comfortable even when I tightened the laces really tight.
I didn't feel any undue pressure on my feet. The laces weren't very stretchy. But it didn't matter as they stayed tight throughout my runs and didn't have to re-tie them very often.
The toe cap is super sturdy and provided great protection for my toes during all my runs. Even after more than 150 miles, the toe cap has not shown any signs of wear apart from scuffs.
Scott has provided an utterly premium quality shoes here in terms of design and materials.
Midsole
Scott has debuted its "Aerofoam Infinity" rubber midsole this year and it feels super comfortable and responsive.
It offers a very responsive ride on a multitude of surfaces. The e-ride foam is meant to promote midfoot striking and it works wonderfully well.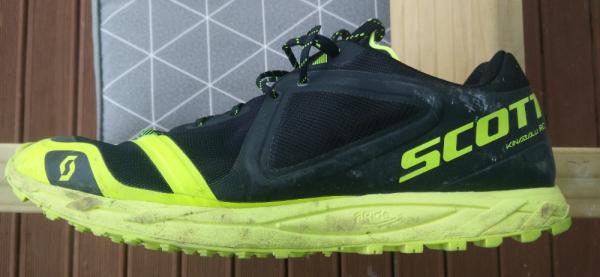 Scott has nailed the balance between cushioning and responsiveness extremely well.
It was not too firm to put you off on the hard trails while not being too plush while compensating for the responsiveness. I was able to consistently beat the time I set in my Vasque Vertical velocity.
The midsole offers some flexibility, while not being very flexible. But Scott counters this by offering a contoured midsole arching away from the running surface. This aids the excellent transition from landing to toe-off.
Outsole
This is it. This is Kinabalu's USP.
The outsole is made from what Scott calls it's "Wet Traction Rubber". This gives you supreme traction and control on a variety of surfaces and makes it truly versatile.
The Scott Kinabalus handle everything your trail throws at it effortlessly. The Wet traction rubber gave me the confidence to run even on rocks after it had rained. It looks like Scott has done some great research while designing the outsole.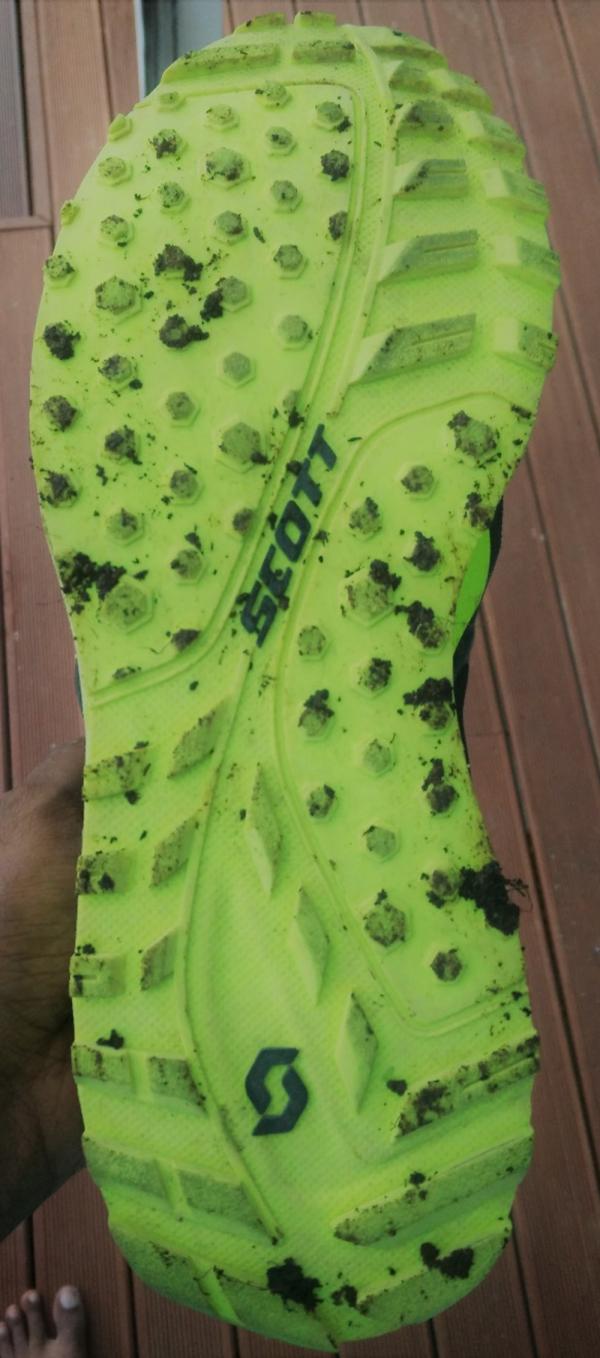 There's some good grip under the midfoot which is more pronounced and it works great especially over rocky terrain.
The other feature of the outsole is Scott's Rock Protection Plate incorporated within the outsole material. This offers protection against sharp rocks injuring you during your runs.
This combination of outsole and midsole complements very well providing you a comfortable and ride.
The outsole is also very durable. It has held up very well after so many miles and all the abuses it has taken. I'm very confident that there are plenty more miles left in it.
Performance
As described in the previous sections, the Kinabalus offer great performance on a variety of surfaces.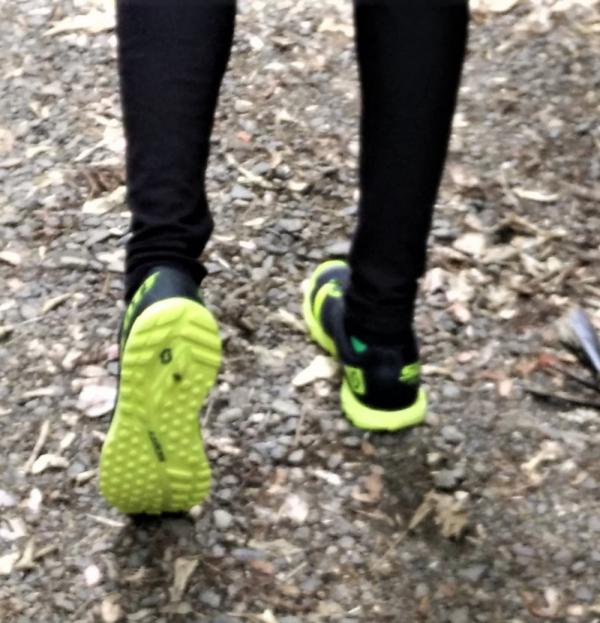 I found the Kinabalus performed the best on gravel where the shoes offered great traction but didn't get stuck on the surface overly impeding your speed.
I was able to run comfortably as the shoe was very responsive while attenuating any impacts on your feet due to the irregular surface. I didn't have to worry about any pokey items on the trail.
The shoe also performed well on the marshy and clayey surface where the midfoot part of the outsole offered great traction laterally.
The shoes were surprisingly quick to dry and it was very helpful during my runs in the trail where I stepped into puddles of water. I was also able to ascend quicker on surfaces – thanks to the responsive cushioning in the Kinabalus.
Pros
Great traction on a variety of surfaces – wet and dry
Versatility
5mm drop, perfect for a racing shoe
No seam mesh construction upper
Breathable upper – quick drying material
Responsive midsole
Rock plate outsole – protection from sharp objects
All-around durability
Bright color schemes
Cons
Not too flexible
Might be slightly pricey for a few
Only one color option available
Conclusion & Final Verdict
trail running shoe. A lot of research has gone into this shoe and it shows the moment you slip your feet into it, tie the laces and land your feet hard the first time.
For someone like me who has been doing trails for only a year, the Kinabalus have invigorated the interest in me to venture into unexplored trails. The Kinabalus provided me the confidence to try out new terrains and I was pleased every time I put them on.
Every single aspect of the shoe has been thoughtfully designed by Scott.
Right from the upper that provides a great fit, a roomy toe box, a dark-bright color combination, durable toe cap, down to the responsive midsole with the perfect 5mm heel to toe drop right down to the outsole which has already been praised adequately all under 250gms, the Kinabalus are pure goodness.
Although some of you might be put off by its price, Scott makes a strong justification for it.
Go on, try them on once and you'll never get them off your feet!
The Scott Kinabalu RC is a trail running shoe that features a Seamless Mesh upper. This provides enough support to the runner's foot while also targeting a more agreeable coverage.
It has a Wet Traction Rubber sole that provides a good grip on all kinds of surfaces.
It features a Rock Plate for added protection and AeroFoam for cushioning and springiness to the steps.
The Scott Kinabalu RC has a standard running who length when it comes to sizing. This is best for runners who prefer a durable shoe that does not compromise its weight. The available width for the men's version is D – Medium; the women's version has a width of B – Medium.
The Scot Kinabalu RC has Wet Traction Rubber. It is a high-abrasion and lightweight compound that is important in providing versatile traction. This kind of sole adds enough grip on the surfaces, especially on wet ground.
It has a Rock Protection Plate. This adds protection to the runner's foot against debris-filled, and rocky, surfaces. It is designed to withstand any abrasive elements that are found on the trails.
The Scott Kinabalu RC has an injected midsole which has better rebound properties. This is called AeroFoam Infinity. This is combined with a wear-resistant compound and lightweight material that provides plush cushioning and added durability. This cushioning is designed to last longer even after several miles of running activities.
The midsole of this shoe also has the eRide rocker shape which creates a smoother transition through the gait cycle. This converts impact energy to forward-motion and is important in promoting a more efficient and faster running style.
It has Racing Insoles that are designed to be breathable and lightweight. This enhances the overall comfort of the Scott Kinabalu RC. The insoles match the natural contour of the runner's foot.
The Scott Kinabalu RC has the Closed Mesh material and a no-sew construction, which offer proper breathability while keeping debris and other hazardous materials out of the shoe. It uses a one-piece design that provides added protection and support.
It has seamless overlays that keep the upper area free from friction or irritation.
It has a Race Specific Tongue which allows a more secure fit. This is well-padded to protect the runner's foot from pressure points. This is significant in maintaining a cool and dry feel.
It has an RC Last that is designed for a quicker and faster running pace. This race-specific last represents the anatomical form of the runner's foot to promote proper and snug fit.
Size and fit
True to size
based on 5 user votes
How Kinabalu RC compares
Corescore: 58-61
1 shoes (0.26% of shoes)
Corescore: 62-65
0 shoes (0% of shoes)
Corescore: 66-69
5 shoes (1% of shoes)
Corescore: 70-73
13 shoes (3% of shoes)
Corescore: 74-78
37 shoes (10% of shoes)
Corescore: 79-82
55 shoes (15% of shoes)
Corescore: 83-86
77 shoes (20% of shoes)
Corescore: 87-90
117 shoes (31% of shoes)
Corescore: 91-94
65 shoes (17% of shoes)
Corescore: 95-98
8 shoes (2% of shoes)
Corescore: 99-99
1 shoes (0.26% of shoes)
Price: $60 - $78
23 shoes (6% of shoes)
Price: $79 - $97
28 shoes (7% of shoes)
Price: $98 - $116
63 shoes (17% of shoes)
Price: $117 - $135
111 shoes (29% of shoes)
Price: $136 - $154
76 shoes (20% of shoes)
Price: $155 - $173
47 shoes (12% of shoes)
Price: $174 - $192
21 shoes (6% of shoes)
Price: $193 - $211
5 shoes (1% of shoes)
Price: $212 - $230
3 shoes (0.79% of shoes)
Price: $231 - $250
2 shoes (0.53% of shoes)
All shoes average:
10.4oz
Weight: 5oz - 6.8oz
7 shoes (2% of shoes)
Weight: 6.9oz - 8.7oz
56 shoes (16% of shoes)
Weight: 8.8oz - 10.6oz
149 shoes (41% of shoes)
Weight: 10.7oz - 12.5oz
115 shoes (32% of shoes)
Weight: 12.6oz - 14.4oz
25 shoes (7% of shoes)
Weight: 14.5oz - 16.3oz
4 shoes (1% of shoes)
Weight: 16.4oz - 18.2oz
2 shoes (0.56% of shoes)
Weight: 18.3oz - 20.1oz
0 shoes (0% of shoes)
Weight: 20.2oz - 22oz
0 shoes (0% of shoes)
Weight: 22.1oz - 24oz
2 shoes (0.56% of shoes)