Who should buy the Scarpa Mescalito
The Mescalito is an excellent Scarpa shoe, thanks to its combination of positive traits and capabilities. It is a solid option if you:
Prefer an approach shoe that promises lasting protection against the ruggedness of the terrain with its reinforced construction.
Prefer an approach shoe that has the ability to stick to most outdoor surfaces
Prefer an approach shoe that provides walking comfort on level terrain.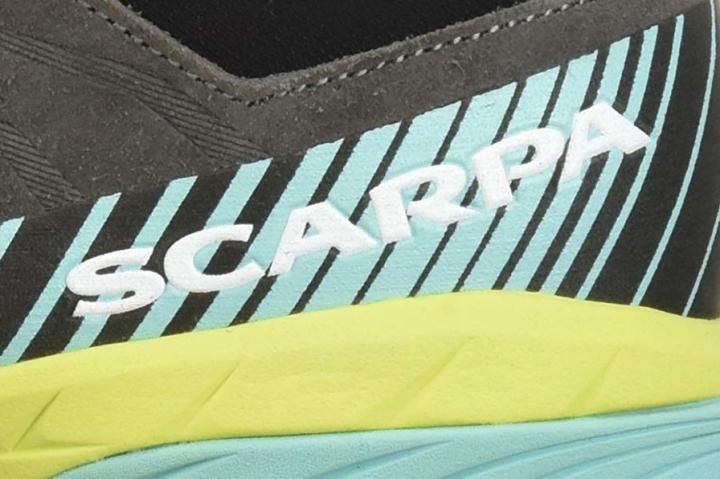 Excellent grip performance
Owners can travel across a variety of terrain with adequate grip performance on the Mescalito's Vibram Litebase outsole. The name its developers gave it—Litebase—is the design technology that makes it as light as possible (being about 40 to 50% thinner than a regular outsole).
Slip-resistant
Since it is based on Vibram's Megagrip compound, which is made of rubber, it provides enough slip resistance with every step—whether the surface is dry or wet.
Excellent surface traction
Blocky protrusions (a.k.a lugs) are scattered all around it for a better hold of the ground, especially on slopes and loose soil. The front end of this sticky layer that is made extra smooth lets wearers latch on to boulders and similar features with added traction.
Comfortable cushioning
The Scarpa Mescalito's heavy-duty midsole is made of EVA or ethylene-vinyl acetate. It has a partly soft, partly rigid construction (dual-density) that delivers a combination of cushioning and footing balance.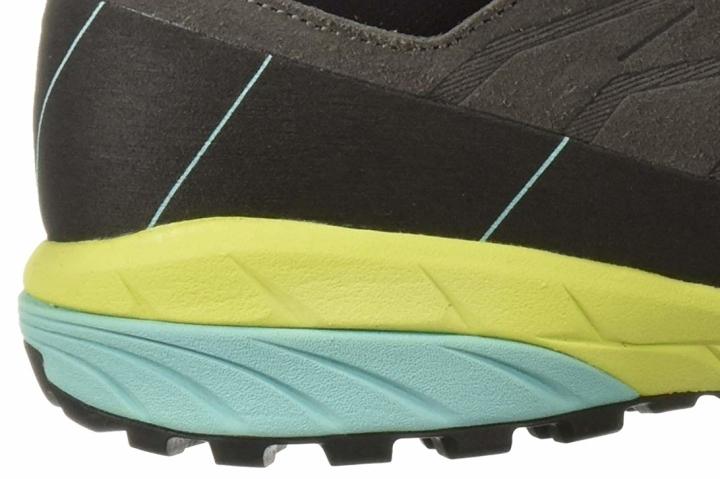 Provides stability over rough terrain
It comes with a stiff insert made of TPU or thermoplastic polyurethane for additional stability over rough terrain. Right atop it sits a cushy footbed for added underfoot comfort and support.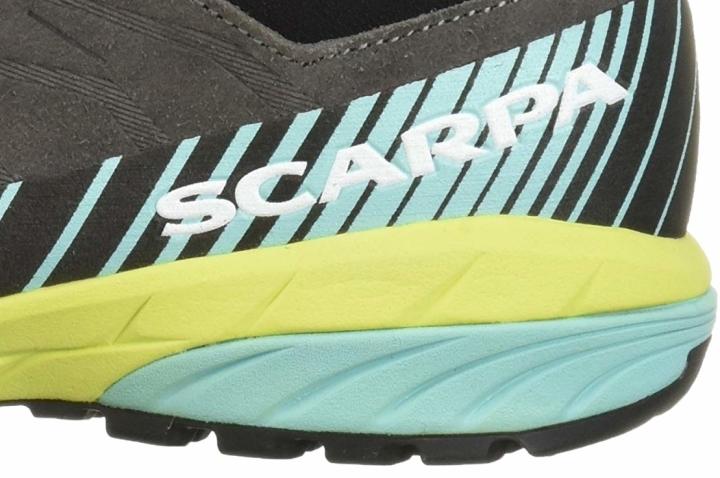 Comfy in-shoe feel
This Scarpa approach shoe envelops the foot in its 1.8-mm thick water-resistant suede leather upper. Its liner, which grants a comfy in-shoe feel, is made of recycled polyester. This liner works with the footgear's stretch fabric tongue and collar that gives users an even more comfortable ride in the lead-up to their climbing destination.
Provides protection from destructive terrain hazards
It has a hard-wearing polyurethane rand around its base and a rubber cap reinforcing its front end for 360-degree protection from destructive terrain hazards.
Easy to wear
Making on and off as easy as possible, Scarpa designers attached a pull loop to the shoe's heel. The Mescalito's to-toe lace-up closure features round lace holes, most of which are non-plated. Configured through these eyelets by default is a synthetic lace.
Scarpa Mescalito vs. Zodiac
The Mescalito is one of Scarpa's high-quality shoes built for the approach. That being said, so is the Zodiac. Choosing which one to get between the two requires knowledge of the aspects that set them apart. The following list will detail the things that differentiate the two.
Price tag. The Scarpa Zodiac takes the cake in this round. Yes, the competing approach shoe is cheaper than the Mescalito by approximately $45.
Weight. Consumers who are quite particular with freedom of movement on the trail might side with the Scarpa Mescalito in this category. Indeed, the featured shoe is lighter than the Zodiac by about 60 g.
Outsole technology. The Mescalito, as previously discussed, sports the Vibram Litebase outsole. Its rival, on the other hand, is armed with a grippy layer called Drumlin (also by Vibram). The one in the featured approach shoe provides traction without the unnecessary heaviness, while the one in the Zodiac puts more emphasis on downhill security with its aggressive heel brake.
Lining. While both Scarpa kicks in this head-to-head are lined on the inside for extra comfort, only the one in the Zodiac keeps the foot comfortably warm. Yes, the Zodiac is engineered with a breathable fabric courtesy of 37.5, which as the brand's name suggests, keeps the temperature of the shoe's interior at 37.5 degrees Celsius.
Compare popularity
Interactive
Compare the popularity of another shoe to Scarpa Mescalito: