The Xodus 11 from Saucony is a truly versatile trail shoe. It can adapt to its environment — whether it be on very technical terrain or tamed surfaces, it's a shoe that can do it all. If you're looking to log serious miles on multiple terrains, the Saucony Xodus 11 is a shoe to consider.
Pros
Protective rock plate
Excellent stability
Incredibly grippy
Secure fit
Roomy toe box
Balance of cushion and ground feel
Cons
Collects mud
Lacks breathability
Heavy
Who should buy the Saucony Xodus 11
The Saucony Xodus 11 is for you if you are after the following:
a trail shoe that can do long distances up to 50K
a trail running shoe ideal for moderate-pace long-distance running is what you are after
a shoe that bites well on various surfaces like dry and wet trails, technical trails, off-trail surfaces, rocky surfaces, snow, slush, muddy grounds, road sections, steep downhills, extreme uphills, and singletracks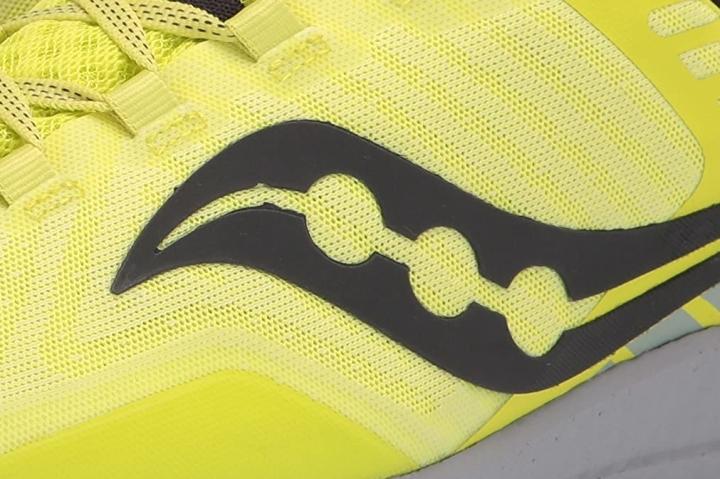 Who should NOT buy the shoe
If you prefer lighter trail shoes and intend to run in warm climates, consider Saucony Peregrine 12 (2.3 oz / 65 g lighter than the Xodus 11) or the Xodus Ultra (1.6 oz / 45 g lighter).
The Saucony Xodus 11's protection and grip
These are the defining features of the Xodus 11 from Saucony. Thanks to the shoe's very cushioned design and grippy lugs, you won't run out of protection and surefootedness in your runs.
The shoe's grip has been incredible, according to the runners. It has taken them through mud, slippery rocks, roots, steep hills, and even stream crossings with flying colors. So much so that it's confidence-inspiring.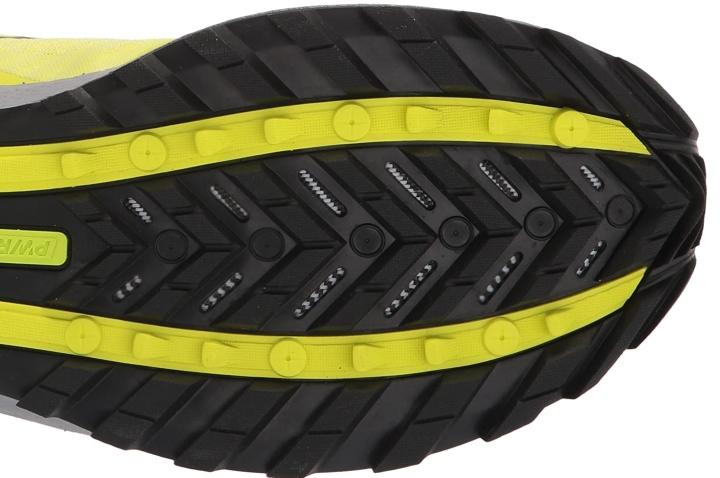 Because of its rock plate, experts report the Xodus 11 mutes out "every rock and root" on the trail and are a real lifesaver. This is without dampening the ground feel too much.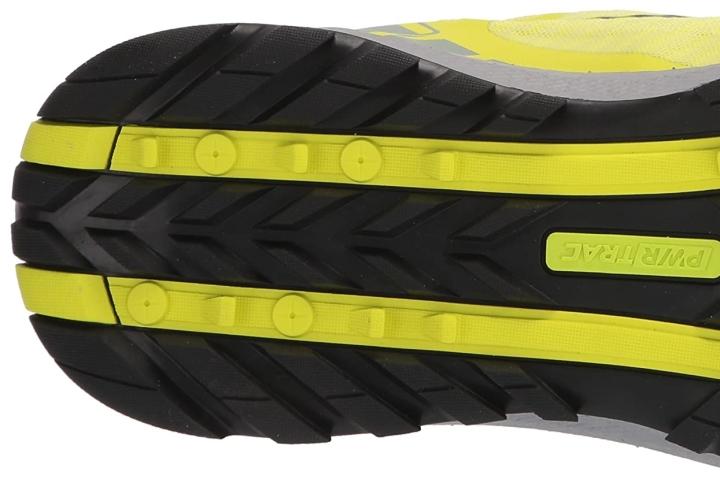 Stable platform of the Xodus 11
You might think that this comes at the expense of ground feel, but that's not the case with the Saucony Xodus 11 at all. It's sufficiently low-to-the-ground for good proprioception and has some give for flexibility too. The shoe felt stable on uneven terrain as well as "dips and bumps."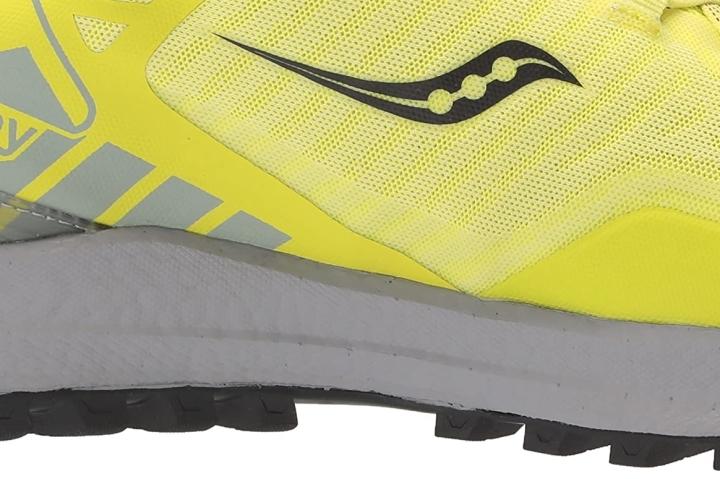 It's also very stable, thanks to the shoe's broad base, 4mm drop, and grippy outsole.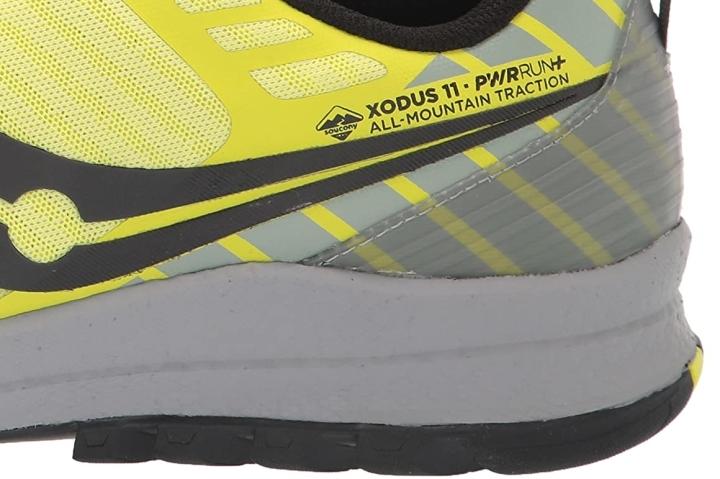 As for the cushioning, a runner describes it as a "nice balance between firm and cushy." Another mentions that it gives a "springy sensation ...while still being relatively soft." Someone finds the shoe so comfortable that they want to wear it outside of trail running as well.
Those who have completed a 50K run in the shoe claim that they "never thought about [their] feet one time."
Roomy and secure
The Saucony Xodus 11 sports a spacious toe box that allows room for swelling.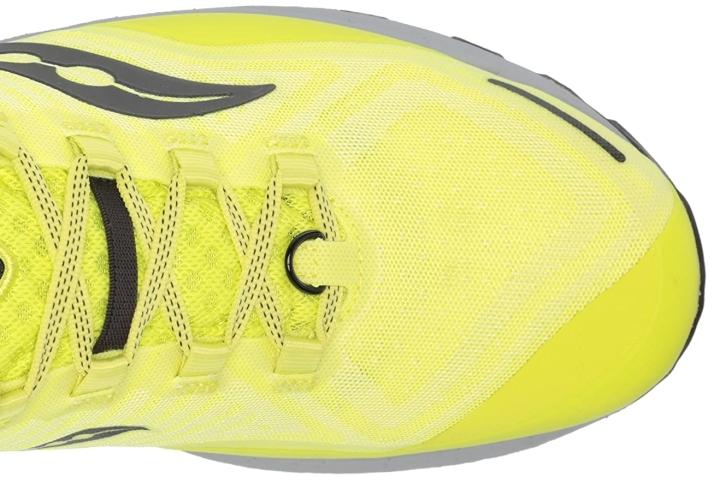 Reviewers also agree that the heel and midfoot of Saucony Xodus 11 are very secure.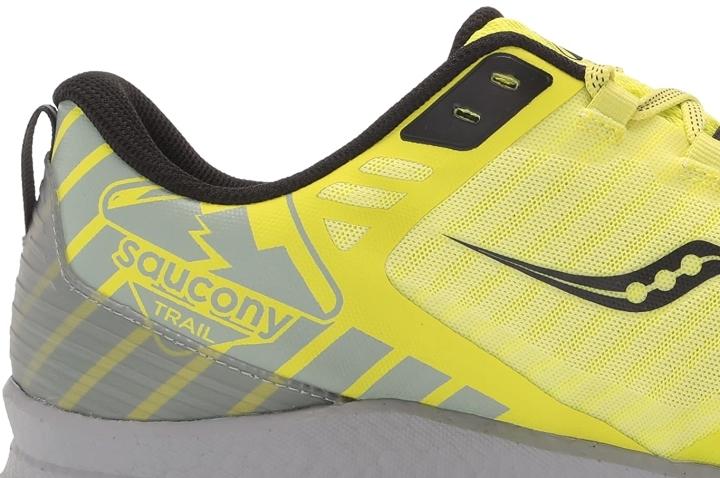 A little toasty
Some of those who have worn the shoe in the warm summer weather report that the Xodus 11 doesn't breathe so well.
Saucony Xodus 11 vs. 10
If you're to inspect the Xodus 10 and 11 side by side, you won't really see any difference. That's because they're almost the same, except for the retooled upper. From a high-abrasion mesh, Saucony Xodus 11 moves to an engineered mesh that provides better breathability.