Verdict from 8 experts and 54 user reviews
6 reasons to buy
Weight: Many experts commend the Saucony Switchback 2 for its light build.
Closure: A lot of reviewers hail the BOA Fit System of the shoe for allowing convenient fastening.
Flexibility: The midsole goes with the motions of the foot, observed several runners.
Responsive: According to various testers, this trail shoe has sufficient bounce.
Toe box: Athletes describe the toe box as "comfortable" for its roomy construction.
Grip: Even on rocky paths, the running shoe maintains surefooted strides, shared multiple users.
2 reasons not to buy
Snugness: Some commenters say that the foot entry is very tight, it's very hard to get on.
Breathability: A few critics dislike the upper, claiming that it had their feet soaked in sweat.
Bottom line
Lightweight, grippy, and snappy—the Saucony Switchback 2 is everything you need for a comfortable and fast trail run. Featuring new and improved, race-ready components, the running shoe maximizes ground feel for better response and lightness for speed. More than that, it offers a more convenient lockdown with its BOA Fit System and slip-on design.
Tip: see the best running shoes.
Our reviews
A lightweight minimalist trail runner from Saucony, the Switchback 2 incorporates the BOA Fit System for a sock-like, convenient closure with lots of ground feel.
Updates from the first version
The lacing structure was moved
Midsole was upgraded
Added rock guard
Lost some weight
Upper
The highlight of the Saucony Switchback 2 is its BOA Fit System. It's pretty brilliant! I love how it locks your foot in place better than normal laces.
It has also been moved to the side of the shoe. It's got a Mono panel which is actually a modified tri-panel top flap giving it great lockdown.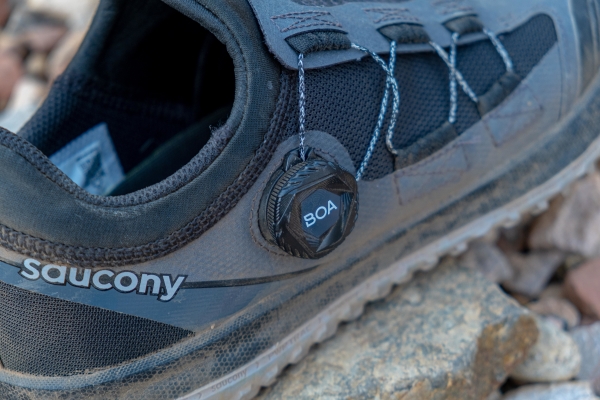 However, I do have my gripe about the BOA closure system. Because of the sock-like wrap it provides, it's hard to put on.
Another downside for me is the upper material that's not quite breathable and it does not drain moisture well either.
A nice touch to the shoe is its toe bumper. It makes the shoe more durable.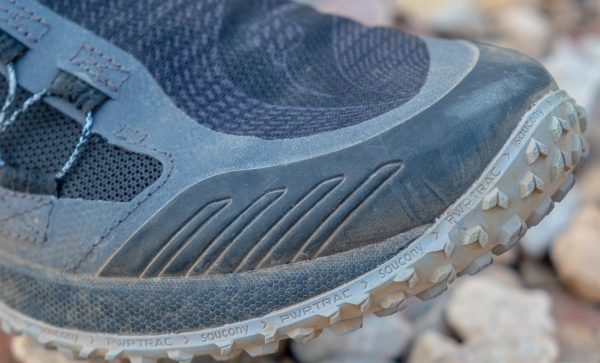 The heel counter, meanwhile, is super soft. It almost has no support. However, the BOA system is there to maintain a zero-slip fit.
Midsole
Contrary to the first version's EVERUN foam, the PWRRUN+ midsole is much lighter. To add protection, there's a rock guard nylon plate, which I think is a necessity for minimalist shoes.
Another hitch from this shoe is that because its midsole is very minimal, it does not deliver a plush ride. This shoe is really intended for minimalist runners who know how to run in that style.
Heel strikers should also be mindful. With this shoe, runners should really pay attention to footstrike and placement.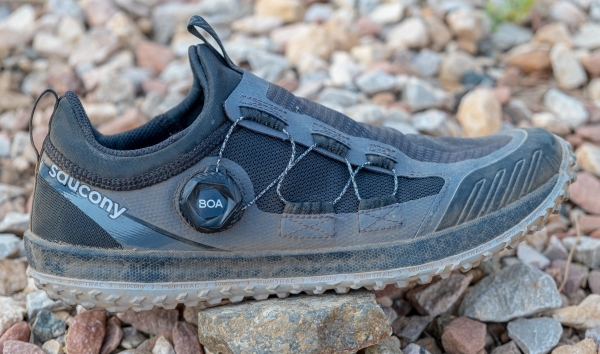 Although there's plenty of ground feel, the rock plate does its work by providing flexibility while supplying sufficient protection on rocky trails as long as you're paying attention.
Outsole
The outsole of the Switchback is composed of PWRTRAC technology. You can actually see through the outsole the braided rock plate.
I was quite skeptical about the 3mm lugs, which seemed quite insignificant, but they really have a solid grip. This is especially true for mild to medium trails. But it does not have the same grip on the more technical trails.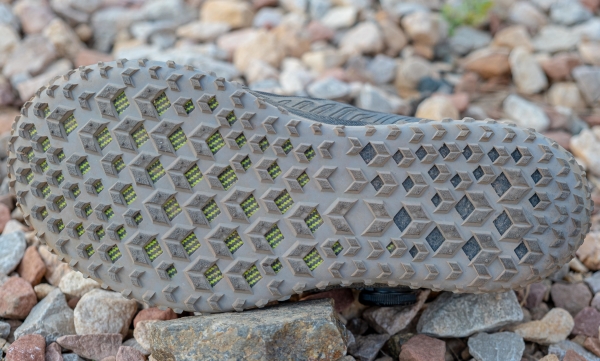 Fit
As expected from a minimalist shoe, the Saucony Switchback 2 has a sock-like fit. It actually feels low-volume enough that having no socks is probably the way to go.
Because of the BOA Fit System, it snugs down easily and nicely. Not to mention, there's plenty of room in the toe box.
Weight
It's lightweight as it should be, but it's not that light for what it is. Compared to the Torrent which is much more substantial of a shoe, we are talking 5 grams!
Durability
The shoe may hold up, but your feet and legs may not. You really need to be careful in a shoe like this—take it easy and pick your way through the technical stuff. Charging down steep technical terrain is not the same as in a pair of Hokas or other shoes with very intentional protection.
Looks
It's unique, and I really dig it. However, it does look like a cycling shoe more than a running shoe.
If you liked the shoes in 2012, then you'll like how this looks. It's a well-updated throwback to the minimalist era.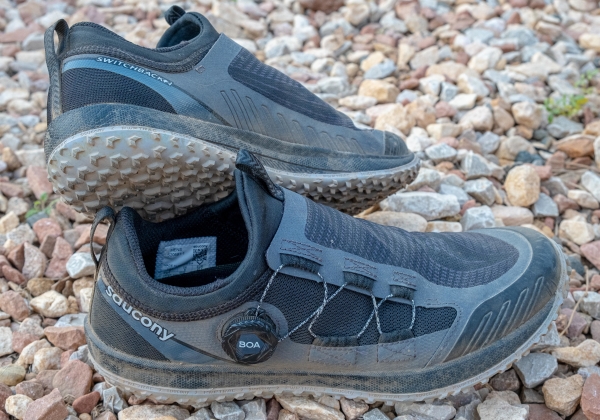 Price
For a shoe with BOA, I think $140 is a decent price but it's not a lot of shoe you're getting either. With its breathability and draining issues, I feel it's a little steep.
Overall conclusion
It's fast and nimble. It's minimalist so you feel the ground. Honestly, these are things I used to really love and they still hold a place in my heart, but that doesn't mean this shoe is for everyone.
Be sure to check out Born to Run before you head out on the trails with these bad boys, just to get pumped up about minimalist running and the benefits they proclaim, while your calves and arches feel that sweet sweet burn.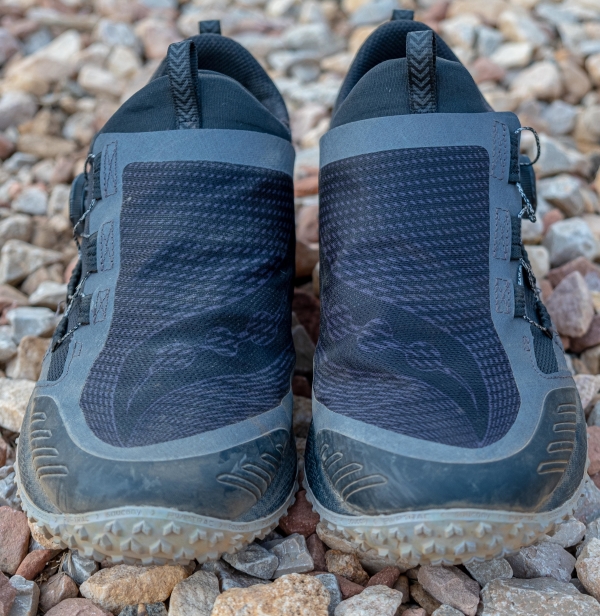 You need to pay attention in these shoes to your foot placement, and I remember that about my old shoes like this, and I don't think I want to pay that much attention to it anymore, to be honest.
I think they are great minimalist shoes but not everyone needs or wants minimalist shoes. But for me, I think they will work well as training shoes on shorter, less technical days to help strengthen my feet, but I think my days of longer runs in shoes like this may be in my past.
A tight fit, a weird lacing system, and a water-absorbent upper make this versatile trail shoe fall short of excellence.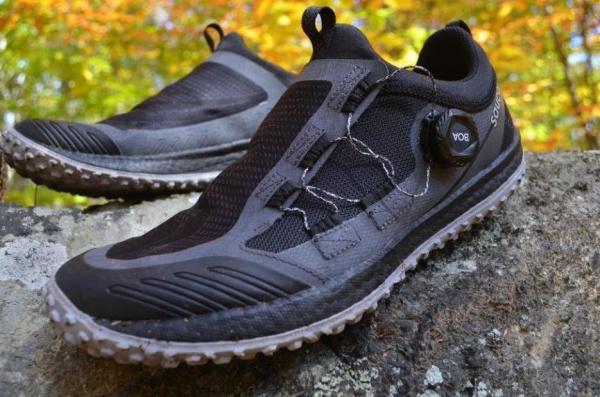 Who the Saucony Switchback is perfect for
Is it a bedroom slipper? Is it a component from a new Space-X's spacesuit? No!
It's the Switchback 2: the weird love child of a neoprene wetsuit and a mountain bike tire. It's weird, it's wild, and it's A-OK. Some parts of this shoe are good, some parts are bad, and some are just bizarre.
The result is a great go-fast trail shoe that's a mere 8.8 oz for a men's size 9. Its outsole looks like a mountain bike tire tread and isn't perfect, but it works well on a mix of terrains.
With its narrow forefoot and toe box, the Switchback 2 won't fit well for every foot type. However, if you like feeling locked into your trail shoes, then the Switchback 2 will fit nicely.
The midsole is springy, responsive, flexible, and offers good ground feel. The shoe's 4mm heel-toe drop will work well for pretty much everyone, save those who need additional stability features or those with lower leg mobility issues.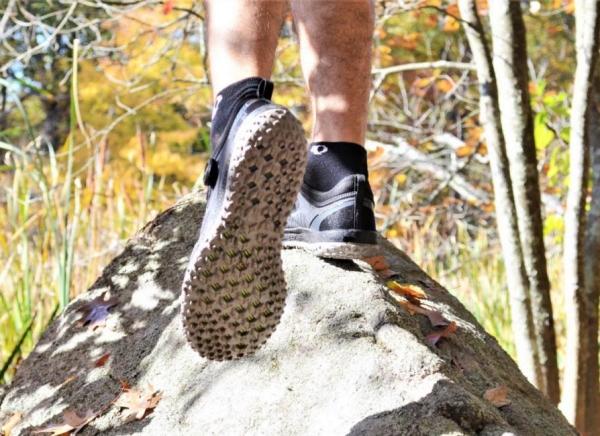 These positive aspects make the Switchback 2 a good all-around trail shoe, but the shoe's more bizarre features leave it falling short of its potential.
First, it's odd upper is very constrictive, like the bootie of a neoprene wetsuit. That leaves the Switchback 2 with sizing that is way off.
I suggest ordering a half to a full size up from your regular shoe size, and even then, it will probably still feel a bit too tight in the forefoot and toe box. Second, the funky upper is shockingly water-absorbent due to a thick piece of mesh that wraps over the midfoot.
Water-resistance and draining are critical for a trail shoe, so the Switchback 2's spongy mesh material up top is a disappointing lapse. Third, the Switchback 2 has a weird Boa lacing system that prevents you from customizing the fit as effectively as regular laces.
The Boa laces have this giant Price-is-Right big wheel device that you turn to tighten them. That large chunk of plastic puts pressure on the midfoot's lateral side and scrapes against rocks when running on technical terrain.
The lacing system isn't horrible; it's just kind of annoying. I've written more on all these shortfalls in the "Upper" section below.
So, if you're looking for a good all-around trail shoe with a snug fit and want to try something unique, then the Switchback 2 might be a good option. You'll find more details on the Switchback 2 from top to bottom in the "Upper," "Midsole," and "Outsole" sections below.
However, if the Switchback 2's oddities are sounding like a turn off, then check out my one-on-one comparisons with similar trail shoes from Salomon, Inov-8, Brooks, and Altra in "The Competition" section at the bottom.
In-depth review, from top to bottom
Upper
The upper on the Switchback 2 is good. It is softer and more form-fitting than the upper on the Salomon Sense Pro 4.
It wraps the foot better and is more secure than the Altra Superior 4. And it is overlay free to prevent blistering, unlike the Inov-8 Terraultra G260 with its abrasive toe bumper.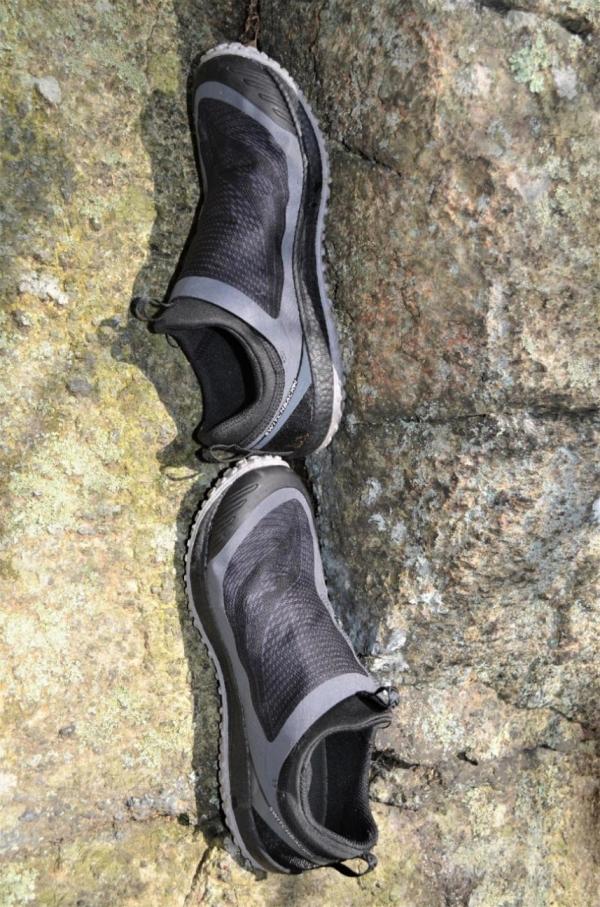 In fact, the Switchback 2's upper feels perfect, right out of the box. However, after a few miles on the trail, you start to notice several shortcomings.
First, it's too tight, especially in the toe box and the forefoot. Especially for distance runs, I would have appreciated a wider cut that allows toes and metatarsals to splay out naturally.
Second, I'm not too fond of the Boa lacing system on the upper - a wheel, a ratchet, and a piece of cording positioned asymmetrically over the midfoot's lateral side.
I appreciate Saucony's willingness to experiment and innovate, but this addition makes the shoe worse, not better. With the Boa laces, you only have one point to tighten the shoe. You can't adjust the snugness throughout the shoe and can only clamp down on the midfoot.
Unlike traditional laces, with the Boa laces, if you want additional snugness in the forefoot, or to lock down the heel, then you're out of luck.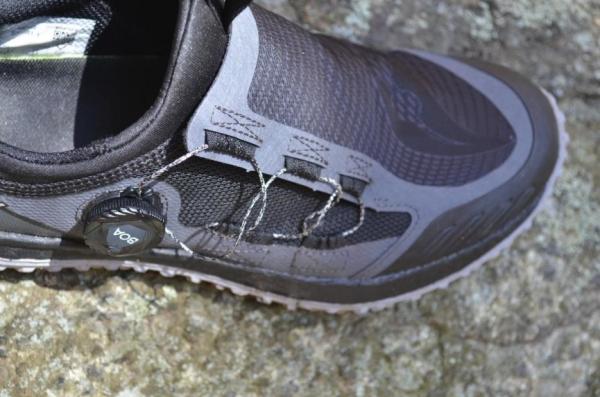 The big clunky plastic wheel presses down on the lateral side of the midfoot and causes uncomfortable pressure on the cuboid and the fourth and fifth metatarsals while running.
You save about an eighth of a second not having to tie your laces, but frankly, I'd give up the fraction of a second for a better fit with regular old laces.
The last problem on the Switchback 2's upper is its lack of water resistance. The upper has a thick mesh material that stretches over the top, which gives it a nice soft slipper-like feel.
That's great if you're just walking around but problematic when you come across puddles, streams, or rain. When encountering moisture, the shoe takes on water and holds it.
It isn't awful, but not good at draining water compared to other competing trail shoes. I'd love to see a future update with a similar upper design, but with a wider cut, regular laces, and a thinner water-resistant material like the Matryx upper on the Hoka Evo Speedgoat or the Schoeller material on the Scott Supertrac Ultra.
Midsole
The midsole of the Switchback 2 is excellent and maybe the most impressive component of the shoe.
The stack height is enough to give good cushioning even on rocky terrain. Yet, it is also low enough that you have plenty of ground feel and flexibility.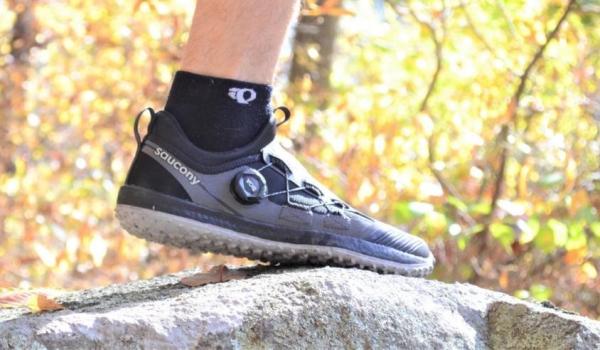 The foam is springy and responsive that kept my feet and joints feeling happy after 10+ miles. The 4mm drop is low, so the lower leg and feet can flex naturally.
And finally, the TPU foam material is also great for a range of different running climates, since unlike traditional EVA foams, it'll maintain its cushioning even in cold, sub-zero temperatures.
All in all, I much prefer the midsole of the Switchback 2 to other competing shoes. It is softer, more flexible, more responsive, and has better ground feel than the Salomon Sense Pro and the Inov-8 Terraultra G260.
Outsole
The outsole on the Switchback 2 is pretty good on most dry surfaces. It's not one of the best outsoles out there, but it's certainly not bad.
You'll run confidently on rock, dirt, grass, and road. The outsole isn't optimal on wet surfaces, especially smooth rocks where it slips around a bit.
It isn't horrible on wet ground, but it is not quite as grippy as Vibram outsoles or the graphene outsoles from Inov-8.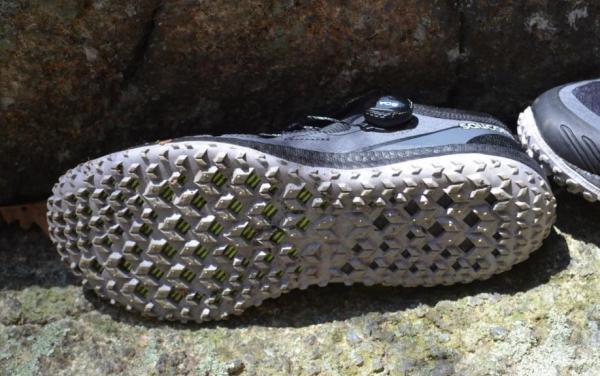 I also worry about the durability of the outsole. The many little chevron lugs at the bottom are so small that they started to wear down after just 20 miles of use.
Given that they're already fading (and I didn't run on super abrasive technical trails either), I'm not confident they'll hold up well on long runs.
The advantage of this flimsiness is that the outsole is thin and therefore very flexible. That lets the shoe contour to uneven terrain, allowing the foot to flex naturally and improves ground feel.
The competition
So, the Switchback 2 isn't perfect. How does it stack up against the competition?
The closest competitors are probably the Salomon Sense Pro 4 and the Brooks Puregrit 8. All three are right around the same weight: 8.8 oz for the Switchback 2, 9.3 oz for the Puregrit 8, and 9 oz for the Sense Pro 4.
All three have good versatile outsoles that are good, but not great. They all have the same minimal 4mm heel-toe drop.
They are all narrow in fit, especially in the forefoot and toe box. The Salomon and the Saucony both have typical lacing systems.
However, the Sense Pro 4 has a clear advantage in terms of water drainage: it has a thin, breathable, hydrophobic upper that sheds water much better than the thick padding on the upper of the Switchback 2 or the woven upper on the Puregrit 8.
The Sense Pro 4 also has a better fit in the heel. In contrast, the Puregrit has a slippery heel, and the Switchback's Boa lacing system prevents you from being able to lock down the heel the way you could in a shoe with traditional laces.
On the other hand, the Switchback 2 has the best midsole of these three competitors. The Switchback 2's foam is more springy, responsive, flexible, and offers better ground feel than the relatively firm and rigid midsoles of the Sense Pro and the Puregrit.
So, all considered, even with its oddities, I like the Switchback 2 better than the offerings from Salomon and Brooks.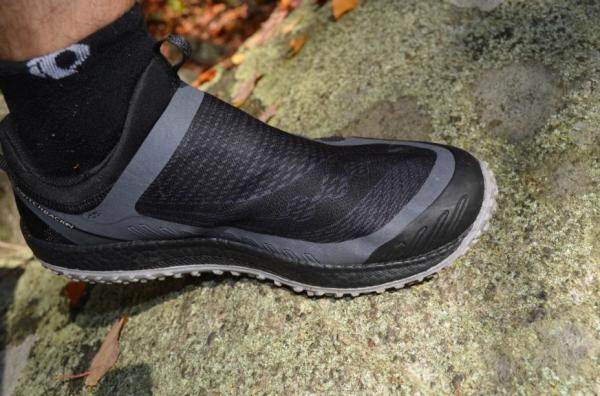 However, depending on the runner, I might still suggest two other trail options over the Switchback 2. One option to consider is the new Inov-8 Terraultra G270.
While it is a smidgen heavier at 9.5 oz, the G270 doesn't have the Switchback 2's problematic quirks. The G270's outsole is perfectly grippy, even on wet surfaces.
It also has a better fit in the upper, regular laces that aren't an annoyance, and the upper is made of materials that drain water quickly. Even for half an ounce of extra weight, I personally much prefer the G270.
Another competitor to consider is the Altra Superior 4.5. The Superior has an almost identical weight to the Switchback at 8.9 oz, a similar low drop at 0mm, a similar thin midsole, and a similar versatile outsole.
However, the Superior 4.5 doesn't have the uncomfortably constrictive toe box of the Switchback 2, allowing toes and metatarsals to splay out naturally on the trail.
Personally, I much prefer the more accommodating fit of the Superior, but some runners with narrower feet or those who like feeling locked into their shoes may go for the Switchback.
Conclusion
The Switchback 2 is a surprising shoe. It has more than its share of oddities, from a funky Boa lacing system to an upper that feels like a mix of a compression sock and your child's bedroom slippers.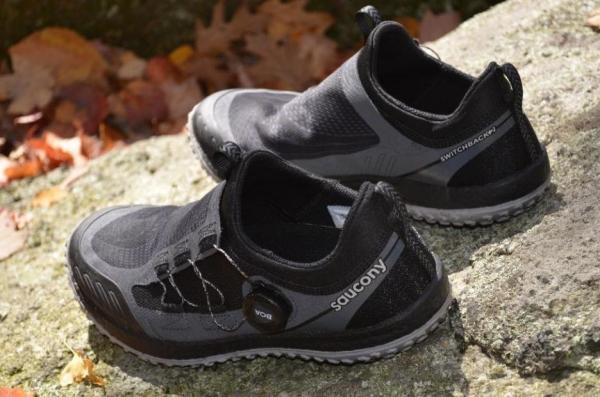 Don't get me wrong; the Switchback 2 is a good go-fast trail shoe for running on a diverse range of surfaces. However, it is a few tweaks away from being a truly excellent trail shoe.
Hopefully, Saucony will revise the fitting and the quirks in the upper, so the Switchback 3 will be outstanding. In the meantime, there are competing shoes from Inov-8 and Altra that I'd suggest over the Switchback 2.
For trail runners looking to get to their destination fast, the lightweight Switchback 2 is a race-ready machine that delivers more of what you need — a long distance cushioning placed into a nimble, grippy, and dialed-in package.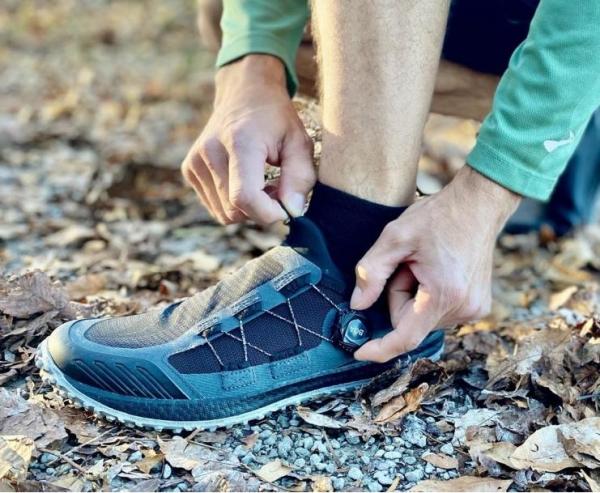 First impression & design
The Switchback 2 consists of some key components that all trail seekers would greatly appreciate. It isn't hard to notice the aesthetically pleasing materials that resemble Gortex and other weather-resistant qualities.
The black and gray color scheme looks great, whereas a lighter color option would not be ideal for trail terrain. The BOA Fit Systems runs laterally and is a nice modern touch to the old lacing system and further enhances this shoe's minimalistic design.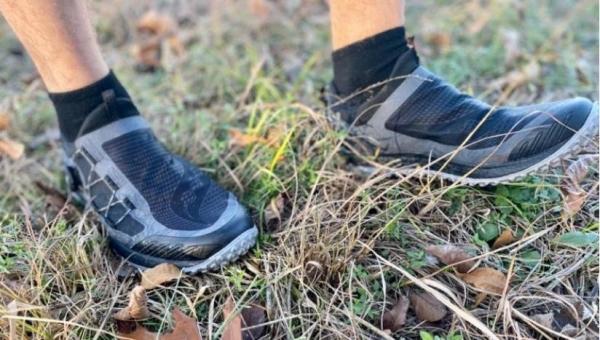 The Switchback 2 maximizes grip with lugs slightly extending just above the outsole.
With its single rubber outsole structure and low stack height, it makes me believe this shoe will be suited for the minimalist trail runner looking for a neutral shoe that allows the runner to feel the ground underneath the foot.
Find out from my review if the Switchback 2 holds up to these expectations.
Upper
Saucony uses a very durable woven upper material. Light and strong with a wrap-effect once the shoe is tightened down using the BOA Fit System.
The BOA system replaces the traditional laces with a wired system tightened simply by turning the single knob on each shoe. This system allows the runner to dial in the upper's tightness to his/her liking.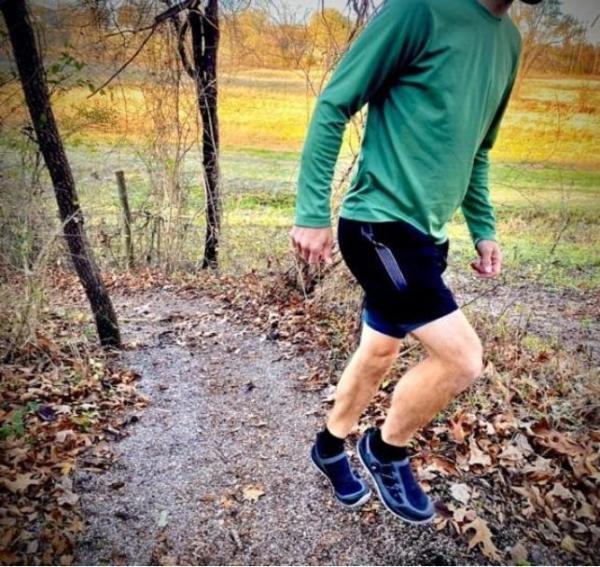 Although the running industry is late accepting this device over the lacing system, BOA proves to be an effective and simple method to deliver a precise and accurate fit for each foot.
The upper does not contain a tongue but rather a sock-like bootie material that is lightweight and provides a true sock-like fit underneath. It's lightweight, strong, and durable for a sock-like feel.
Midsole
Saucony's PWRRUN+ midsole cushioning is the real deal! I say that after many experiences in different trail shoes that are subpar in the response category.
The PWRRUN+, however, really does give back what energy you put in the shoe. It is also plenty flexible, offering a spring-like effect.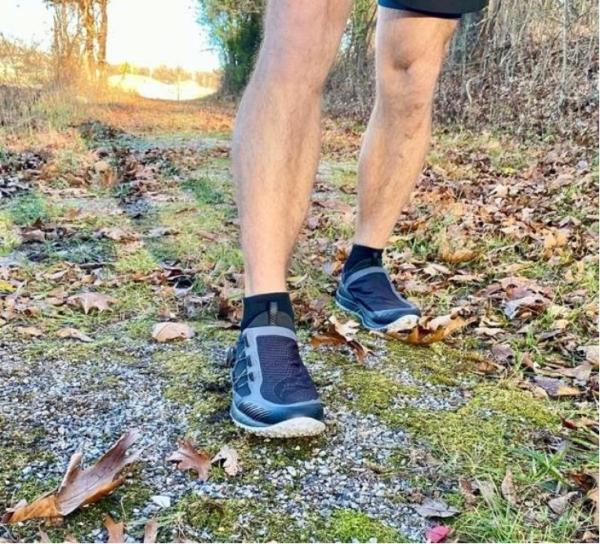 This cushioning technology is very consistent when packing on the miles. You simply know what you're getting from the shoe with every step taken.
The PWRRUN+ energy return, combined with the low-profile stack height, makes you feel the ground with added protection.
Performance & durability
The durable upper material was done right by guarding the foot against the elements. It also allows the foot to breathe even though ventilation units were not present. The lightness of the materials used is what allows the foot to remain ventilated.
The lugs on the outsole measure up to only about 3 mm but offers enough grip on wet surfaces. The low height of the lugs placed in a segmented pattern would be best suited for groomed trails.
Avoid the mud as this pattern will catch quite a bit and remain underneath the shoe for some time. Muddy terrain and more technical trails would be better suited for a spread-out lug design such as the Salomon Speedcross or Hoka Evo Jawz, for example.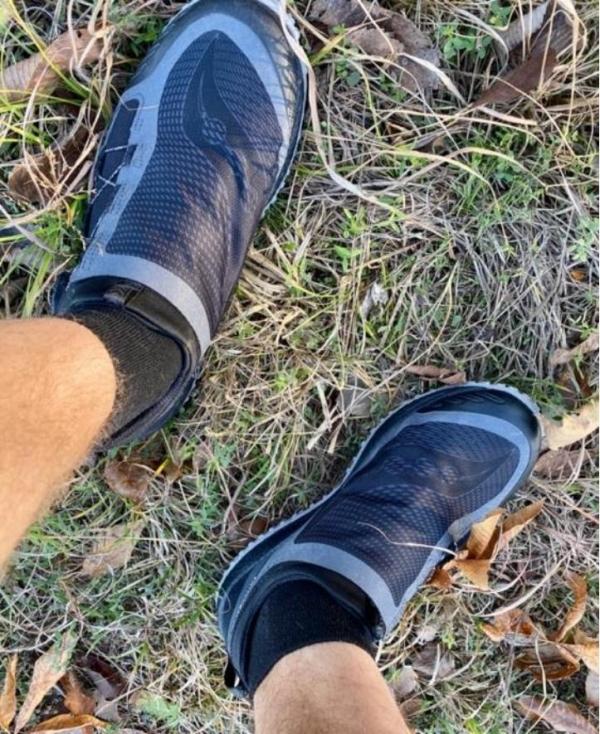 The fit was on the tighter side of my normal Men's 9.5, but this might be due to the overall sock-like design Saucony is going for with this shoe.
My 9.5 fits tight even without locking down the BOA wiring system. Therefore, I would recommend trying a half size up to see if you can get more use out of this BOA system by tightening more over the foot for a custom fit.
Overall ride quality was fantastic with the Switchback 2. They deliver in these essential areas: grip, fit, function, and durability.
I remained confident in taking harder sections of my local trails. The rubber lugs held traction well, and the lightness of the materials allowed me to keep a great cadence over hilly sections.
Toes were spread out in the toe box area, and my heels never slipped out of the heel counter. The cushion allowed my legs to feel better than usual at the end of a trail session.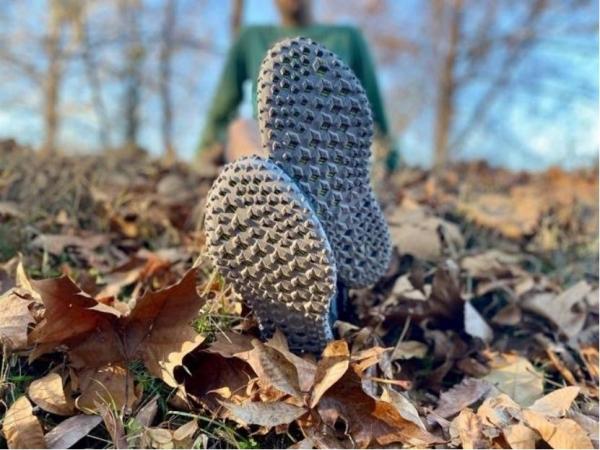 It's always nice not having that "beat up" leg feeling after your run. Debris had no match against the TPU rock plate integrated into the shoe.
This thin layer added protection from trail projections while still remaining flexible. Honestly, I hardly noticed there was even a plate until I could physically see this in the outsole's forefoot area.
It amazes me how Saucony can integrate so many advanced shoe features while still remaining minimal in its overall design – something not all brands can do.
Verdict
The Switchback 2 is a light and responsive true trail shoe suited for all-mountain terrain. I rate this shoe in terms of fit, feel, and performance.
Shorter distance trail events under 50K and any trail training run would work great with this shoe. Modern shoe technology meets minimalism is what comes to mind when reflecting on my experience in the Switchback 2.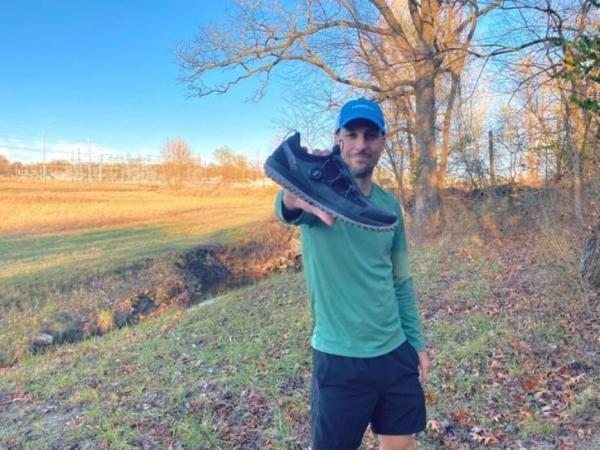 In this brand's running shoe, the thing to look forward to is the cushioning that delivers superb energy return without the maximalist height that so many brands are trending towards these days.
Any runner looking for response and ground feel at the same time will not find a better shoe. I recommend you try the Saucony Switchback 2 in your next shoe rotation!
Saucony Switchback 2: A minimalist road and trail option
Another minimalist model from Saucony, the Switchback 2 is a great runner than can take you from the road to the trails. Whether you're out for a light trail run or picking up the pace, this is one of the best trail running options in the market. It provides just the right amount of protection, grip, and ground feel to let you cruise with control on moderate and mellow terrains.
Switchback 2 vs. 1
Here are some of the key updates made to the second version of the Switchback series:
Added protection and durability. A mud guard has been added to the upper to add some shield from the harsh ground elements. Protection is also enhanced with the help of the Rock plate sandwiched in the midsole.
Lighter foam with more flexibility. The PWWRUN+ cushioning has much less weight than the original's EVERUN midsole. It also allows for more foot flexion with its pliable qualities.
Repositioned BOA closure. Instead of having a lace-like arrangement in the middle, the BOA Fit System is now placed on the side. This design not only improves convenience in lockdown but also gives that sock-like wrap.
What is it for?
Short runs on smooth trails (non-technical trails)
Can work on snowy road
Low-mileage road runs
How Switchback 2 compares
Corescore: 55-58
1 shoes (0.3% of shoes)
Corescore: 59-62
2 shoes (0.6% of shoes)
Corescore: 63-66
3 shoes (0.9% of shoes)
Corescore: 67-70
8 shoes (2% of shoes)
Corescore: 71-74
15 shoes (4% of shoes)
Corescore: 75-77
25 shoes (7% of shoes)
Corescore: 78-81
75 shoes (22% of shoes)
Corescore: 82-85
102 shoes (30% of shoes)
Corescore: 86-89
77 shoes (23% of shoes)
Corescore: 90-94
27 shoes (8% of shoes)
Price: $60 - $78
20 shoes (6% of shoes)
Price: $79 - $97
25 shoes (7% of shoes)
Price: $98 - $116
56 shoes (17% of shoes)
Price: $117 - $135
98 shoes (29% of shoes)
Price: $136 - $154
65 shoes (19% of shoes)
Price: $155 - $173
45 shoes (13% of shoes)
Price: $174 - $192
17 shoes (5% of shoes)
Price: $193 - $211
5 shoes (1% of shoes)
Price: $212 - $230
2 shoes (0.6% of shoes)
Price: $231 - $250
2 shoes (0.6% of shoes)
All shoes average:
10.4oz
Weight: 6.3oz - 8oz
35 shoes (11% of shoes)
Weight: 8.1oz - 9.7oz
75 shoes (24% of shoes)
Weight: 9.8oz - 11.5oz
132 shoes (42% of shoes)
Weight: 11.6oz - 13.3oz
61 shoes (19% of shoes)
Weight: 13.4oz - 15.1oz
9 shoes (3% of shoes)
Weight: 15.2oz - 16.8oz
3 shoes (0.94% of shoes)
Weight: 16.9oz - 18.6oz
1 shoes (0.31% of shoes)
Weight: 18.7oz - 20.4oz
0 shoes (0% of shoes)
Weight: 20.5oz - 22.1oz
0 shoes (0% of shoes)
Weight: 22.2oz - 23.9oz
1 shoes (0.31% of shoes)
Weight: 24oz - 24oz
1 shoes (0.31% of shoes)