Advertised Weight: 9.4 oz (size not specified)
Real Weight: 10.1 oz (Men's 9.5)
Drop: 4 mm
Tagline: "This ride doesn't fear the off-road, taking serious grip of every terrain."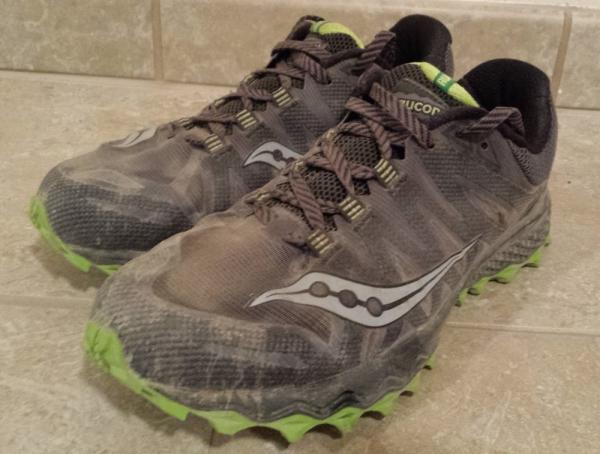 Fit
The fit of the Saucony Peregrine 7 is spot on.
Sizing is true, and the shoe manages to feel roomy and snug at the same time. You feel as if you can move around a little in the shoe if you wanted to, but at the same time, it's not going anywhere.
As with the recent trend, the toe box is roomy, but Saucony didn't bend over backward and overdo it. Unless you have an anatomical problem, these shoes will fit you well.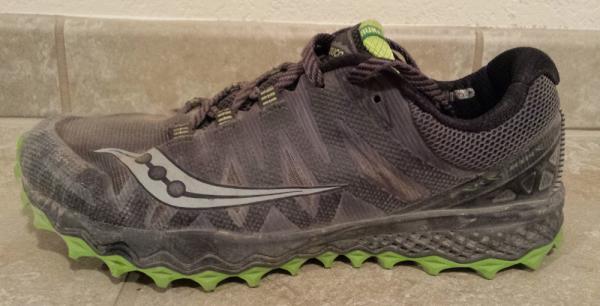 The heel cup can look aggressive at first glance, but the inside of it is mostly made of thick, soft padding.
If you're worried about your achilles tendon getting rubbed the wrong way, put your fears to rest. The heel cup manages to perfect the balance between keeping your foot in place and allowing natural motion without bothering your achilles.
Upper
It's good enough, but I've seen better. Saucony overdid it with the plastic/nylon overlays, to the point of sacrificing breathability.
It would be better to make the gaps between the overlays larger, perhaps much larger, and leave more of the upper as mesh. Chances are fit wouldn't be sacrificed, and your feet would be cooler and drier.
That said, the upper contributes to a good fit, and it's not the least breathable shoe I've seen. Also, the shoelaces do the job. Seemingly a minor thing, unless they don't work well. These ones do.
Tread
Of the dozen-or-so trail shoes I've gone through, the Peregrine 7 has the best tread. A seemingly simple design, it works well.
Rather than "strategically" placing different lugs in different areas, these simply put similar lugs everywhere, mostly evenly spaced and sized.
That leads to a predictable grip on any surface, regardless of where you've shifted your weight with any given step.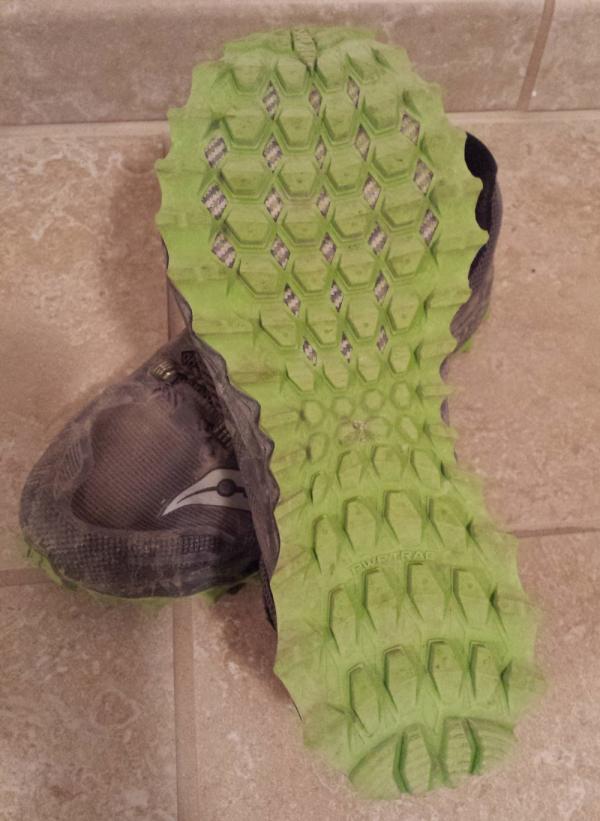 These perform admirably on any off-road surface, including dirt, gravel, mud, sand, wood chips, and baby heads. When you're running in these, you can keep your head up a lot more often.
On top of that, their performance on road is on par with most door-to-trail shoes. If there's a shoe out there with tread that works well on a larger variety of surfaces, I haven't seen it.
Cushion
These have more cushion than I expected, about as much as a general-purpose all-around shoe.
That was sort of a good thing and a bad thing, because I was expecting this to be more of a light, fast trail shoe (more on that later). I was definitely happy with it recently, during an ultramarathon, when my feet held up better than I thought was possible.
Like almost any other running shoe, Saucony claims its proprietary foam is better than the industry standard (does anyone use this mysterious industry standard that's inferior to every shoe?), but I've found it to feel good-but-not-great, nothing unusual.
But that's not necessarily a bad thing. They do their job well, and they pull it off without the feeling that you're sinking into the cushioning. Some shoes have so much cushion it's like running in sand, but these are more like running on a carpet.
Ride
Most trail shoes I've had before didn't have a true rock plate, but these do, which is surprising for a somewhat light, speedy shoe.
On a 100 km race that was even rockier than expected, this was appreciated! It took a while before I realized I didn't have to avoid rocks like normal, or that I could run with confidence over some surfaces that would normally require me to slow down and pick my way through.
The Peregrine 7 feels rugged when they should and feel supple when they should. They're nimble enough to go fast and comfortable enough to go forever.
I can't imagine a trail run for which they'd be ill-suited, and they'd probably do surprisingly well in a road marathon.
Design/Looks
I'm a fan!
Dark colors always work well, and while I usually think the outsole is the most important place to use dark colors, I like the neon green outsole of these. Every time you pick up your feet, there's a flash of color.
After 200 km, the outsole is still brightly colored; I was worried it was going to turn into a puke green as soon as it got dirty.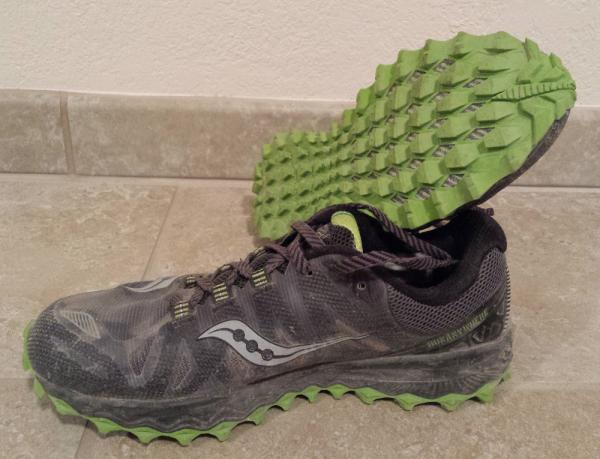 Speaking of getting dirty, the charcoal color of the upper only looks better once you've rubbed some dirt on it, like that friend that looks better after a few days without shaving.
Safety
One thing I appreciate is the reflectivity on these shoes.
For trail shoes, that's not always necessary - there aren't a lot of cars on trails, and you're less likely to be running on uneven trails through the woods after dark, compared to using road shoes to run on predictable sidewalks and roads.
Even so, Saucony put plenty of reflective material on these, particularly on the rear, where it's most needed.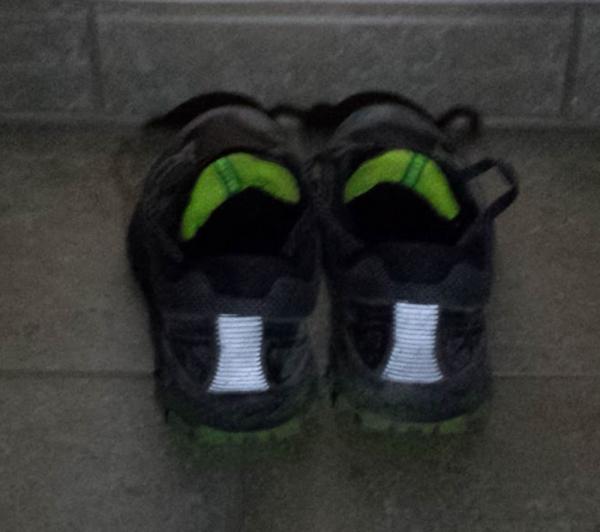 Overall Impression
Here's where I'm going to whine about something.
The Saucony Peregrine 7 by far has the largest discrepancy I've seen between advertised weight and actual weight.
It's typical to see a discrepancy of 0.2-0.3 oz (probably because the advertised weight is based on a size smaller than my men's 9.5), but 0.7 oz...that's more than twice as much as a typical error, and it's nearly a full ounce. It's certainly enough to notice and to make a noticeable difference in your pace.
That said, these shoes still deliver a lot for a 10.1 oz shoe. As I mentioned, these have an amount of cushion that I didn't expect and wound up appreciating, and there's no arguing about how well these perform on all terrain, where a lighter shoe would probably sacrifice ability.
If these weighed the exact same but were more accurately advertised, I'd be praising how much was packed into its size. But when you expect a lighter, faster shoe, and you get something else, it's disappointing, even when what you got was still awesome. I'd buy them again.
If Saucony wanted to get closer to the advertised weight, they could probably accomplish that by using less overlays on the upper, which would also be an improvement by making the shoe more breathable.
And the lugs could probably be a tiny bit shallower and essentially accomplish the same thing while shaving off another fraction of an ounce per shoe. Or they could simply post a more accurate weight and keep their customers happier.
OK, enough about the weight.
These are arguably the best trail shoes I've ever had, striking a perfect balance between ruggedness and a smooth ride, between lightweight speed and all-day comfort, between technical scrambling and burning up the flats.
Only one pair in memory compares, and while those had an incredibly comfortable fit and were freakishly fast, they wouldn't hold up as well in more rugged conditions, nor in ultra distance (which isn't to say I didn't successfully use them for that purpose a few times).
By comparison, the Peregrine 7 would cost you a few seconds per mile in the easy parts, but would more than make up for it when the going gets tough, and at the end of the day, you'll feel better, too.
If you're looking for good trail shoes for any race, starting at 10 km, up to god-knows-what distance, over any imaginable surface, this is your shoe. If you simply want one good pair of trail shoes and can't decide which, this is a great pick.
I'm still docking a few points for the weight discrepancy, not because it's too heavy for what it does, but only because I don't like being misled.
Pros
Good fit
Excellent versatile tread
Perfect ride
Appropriate amount of cushion for any distance
Cons
Too much overlay sacrifices some breathability
Discrepancy between advertised and real weight
Best Use
ANYTHING off-road
Marathons
Ultras
PRs