Verdict from 13 experts and +100 user reviews
12 reasons to buy
Many wearers enjoyed the breathable upper unit of the Saucony Peregrine 7.
A reviewer noticed that the padding in the heel collar was thicker than the previous version's, and that it was shaped in a way that allowed it to hold the foot better.
Ground feedback is noticeable despite the presence of the very aggressive lugs, based on the comments of some reviewers.
Several testers appreciated the inclusion of protective components such as the rubber toe tip and the rock plate; they felt shielded from the harsh surfaces and objects.
A reviewer praised the upper unit's TPU exoskeleton because it locked down the midfoot section of his foot incredibly well.
Several reviewers wrote that the external heel counter was efficient when it came to supporting and protecting the rear of the foot.
The mid-sole was fast and responsive, according to a number of purchasers.
A handful of runners lauded the seamless upper construction as it prevented them from getting hotspots or blisters.
The addition of the Everun top sole gives the shoe more bounce.
Several runners and expert reviewers loved the fact that the heel counter is no longer as rigid and as unforgiving as the one found in the earlier model.
The roomier toe box was appreciated by a handful of runners.
A moderate number of runners really liked the upper's ability to keep off debris.
1 reasons not to buy
The toe bumper was soft and it wasn't very efficient at protecting the front of the foot, according to a tester.
Bottom line
Many consumers considered the Saucony Peregrine 7 to be a worthy update to the popular series of trail shoes. They welcomed its design, its protective elements, as well as its strong features. Though some had some concerns with the effectiveness of some of its components, it was still generally lauded by neutral runners for its superb performance on the unpredictable terrains.
Tip: see the best trail running shoes.
Our reviews
Advertised Weight: 9.4 oz (size not specified)
Real Weight: 10.1 oz (Men's 9.5)
Drop: 4 mm
Tagline: "This ride doesn't fear the off-road, taking serious grip of every terrain."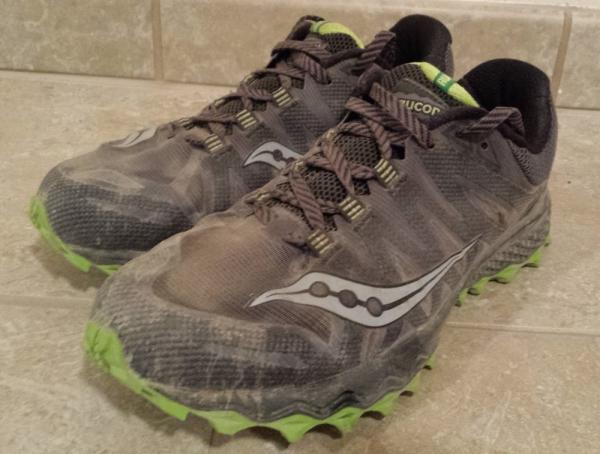 Fit
The fit of the Saucony Peregrine 7 is spot on.
Sizing is true, and the shoe manages to feel roomy and snug at the same time. You feel as if you can move around a little in the shoe if you wanted to, but at the same time, it's not going anywhere.
As with the recent trend, the toe box is roomy, but Saucony didn't bend over backward and overdo it. Unless you have an anatomical problem, these shoes will fit you well.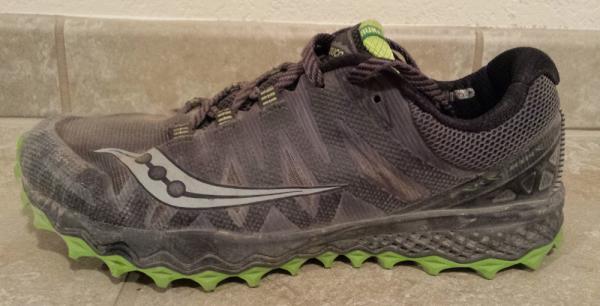 The heel cup can look aggressive at first glance, but the inside of it is mostly made of thick, soft padding.
If you're worried about your achilles tendon getting rubbed the wrong way, put your fears to rest. The heel cup manages to perfect the balance between keeping your foot in place and allowing natural motion without bothering your achilles.
Upper
It's good enough, but I've seen better. Saucony overdid it with the plastic/nylon overlays, to the point of sacrificing breathability.
It would be better to make the gaps between the overlays larger, perhaps much larger, and leave more of the upper as mesh. Chances are fit wouldn't be sacrificed, and your feet would be cooler and drier.
That said, the upper contributes to a good fit, and it's not the least breathable shoe I've seen. Also, the shoelaces do the job. Seemingly a minor thing, unless they don't work well. These ones do.
Tread
Of the dozen-or-so the Peregrine 7 has the best tread. A seemingly simple design, it works well.
Rather than "strategically" placing different lugs in different areas, these simply put similar lugs everywhere, mostly evenly spaced and sized.
That leads to a predictable grip on any surface, regardless of where you've shifted your weight with any given step.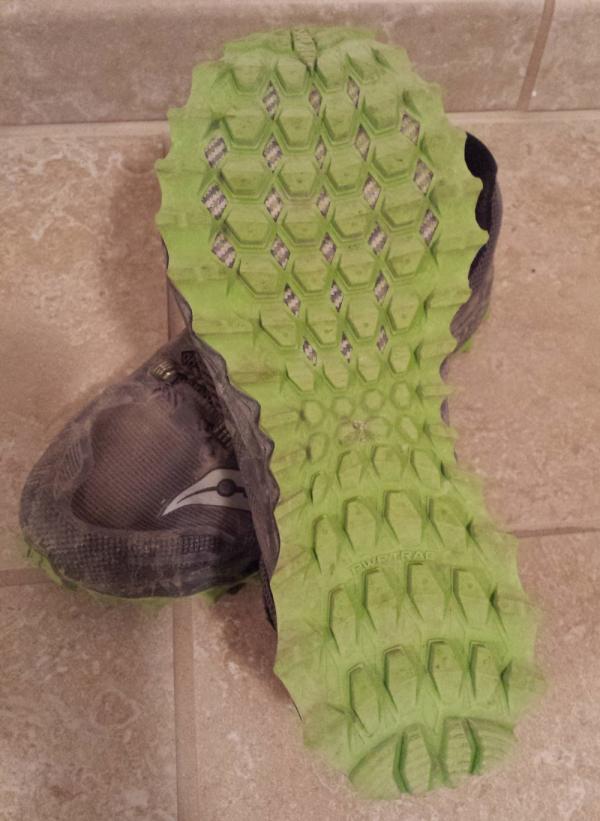 These perform admirably on any off-road surface, including dirt, gravel, mud, sand, wood chips, and baby heads. When you're running in these, you can keep your head up a lot more often.
On top of that, their performance on road is on par with most door-to-trail shoes. If there's a shoe out there with tread that works well on a larger variety of surfaces, I haven't seen it.
Cushion
These have more cushion than I expected, about as much as a general-purpose all-around shoe.
That was sort of a good thing and a bad thing, because I was expecting this to be more of a light, fast trail shoe (more on that later). I was definitely happy with it recently, during an ultramarathon, when my feet held up better than I thought was possible.
Like almost any other running shoe, Saucony claims its proprietary foam is better than the industry standard (does anyone use this mysterious industry standard that's inferior to every shoe?), but I've found it to feel good-but-not-great, nothing unusual.
But that's not necessarily a bad thing. They do their job well, and they pull it off without the feeling that you're sinking into the cushioning. Some shoes have so much cushion it's like running in sand, but these are more like running on a carpet.
Ride
Most trail shoes I've had before didn't have a true rock plate, but these do, which is surprising for a somewhat light, speedy shoe.
On a 100 km race that was even rockier than expected, this was appreciated! It took a while before I realized I didn't have to avoid rocks like normal, or that I could run with confidence over some surfaces that would normally require me to slow down and pick my way through.
The Peregrine 7 feels rugged when they should and feel supple when they should. They're nimble enough to go fast and comfortable enough to go forever.
I can't imagine a trail run for which they'd be ill-suited, and they'd probably do surprisingly well in a road marathon.
Design/Looks
I'm a fan!
Dark colors always work well, and while I usually think the outsole is the most important place to use dark colors, I like the neon green outsole of these. Every time you pick up your feet, there's a flash of color.
After 200 km, the outsole is still brightly colored; I was worried it was going to turn into a puke green as soon as it got dirty.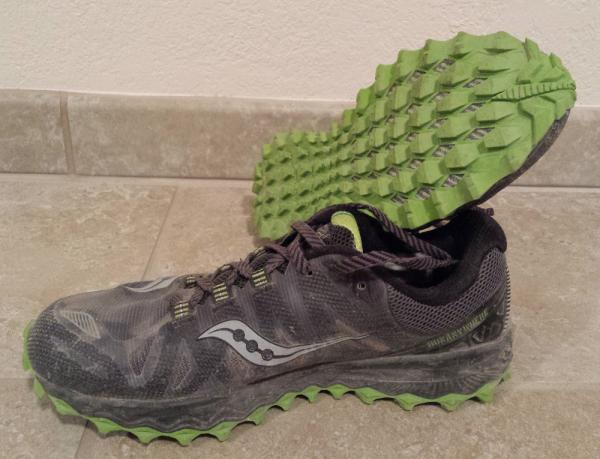 Speaking of getting dirty, the charcoal color of the upper only looks better once you've rubbed some dirt on it, like that friend that looks better after a few days without shaving.
Safety
One thing I appreciate is the reflectivity on these shoes.
For trail shoes, that's not always necessary - there aren't a lot of cars on trails, and you're less likely to be running on uneven trails through the woods after dark, compared to using road shoes to run on predictable sidewalks and roads.
Even so, Saucony put plenty of reflective material on these, particularly on the rear, where it's most needed.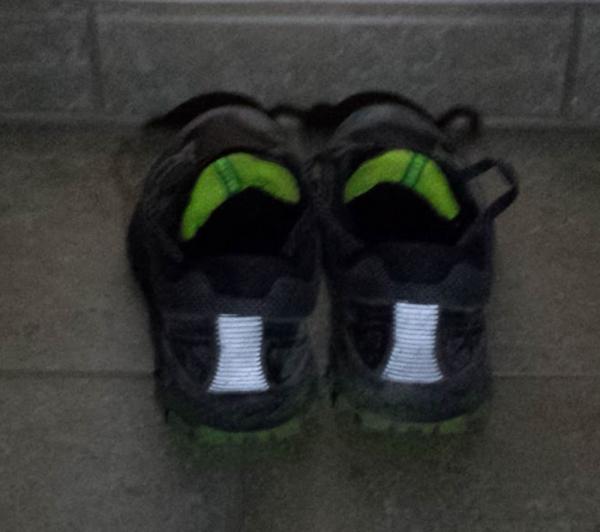 Overall Impression
Here's where I'm going to whine about something.
The Saucony Peregrine 7 by far has the largest discrepancy I've seen between advertised weight and actual weight.
It's typical to see a discrepancy of 0.2-0.3 oz (probably because the advertised weight is based on a size smaller than my men's 9.5), but 0.7 oz...that's more than twice as much as a typical error, and it's nearly a full ounce. It's certainly enough to notice and to make a noticeable difference in your pace.
That said, these shoes still deliver a lot for a 10.1 oz shoe. As I mentioned, these have an amount of cushion that I didn't expect and wound up appreciating, and there's no arguing about how well these perform on all terrain, where a lighter shoe would probably sacrifice ability.
If these weighed the exact same but were more accurately advertised, I'd be praising how much was packed into its size. But when you expect a lighter, faster shoe, and you get something else, it's disappointing, even when what you got was still awesome. I'd buy them again.
If Saucony wanted to get closer to the advertised weight, they could probably accomplish that by using less overlays on the upper, which would also be an improvement by making the shoe more breathable.
And the lugs could probably be a tiny bit shallower and essentially accomplish the same thing while shaving off another fraction of an ounce per shoe. Or they could simply post a more accurate weight and keep their customers happier.
OK, enough about the weight.
These are arguably the best trail shoes I've ever had, striking a perfect balance between ruggedness and a smooth ride, between lightweight speed and all-day comfort, between technical scrambling and burning up the flats.
Only one pair in memory compares, and while those had an incredibly comfortable fit and were freakishly fast, they wouldn't hold up as well in more rugged conditions, nor in ultra distance (which isn't to say I didn't successfully use them for that purpose a few times).
By comparison, the Peregrine 7 would cost you a few seconds per mile in the easy parts, but would more than make up for it when the going gets tough, and at the end of the day, you'll feel better, too.
If you're looking for good trail shoes for any race, starting at 10 km, up to god-knows-what distance, over any imaginable surface, this is your shoe. If you simply want one good pair of trail shoes and can't decide which, this is a great pick.
I'm still docking a few points for the weight discrepancy, not because it's too heavy for what it does, but only because I don't like being misled.
Pros
Good fit
Excellent versatile tread
Perfect ride
Appropriate amount of cushion for any distance
Cons
Too much overlay sacrifices some breathability
Discrepancy between advertised and real weight
Best Use
ANYTHING off-road
Marathons
Ultras
PRs
The Peregrine 7 is a comfortable, versatile choice for trail runners in most conditions. If you have trouble finding a comfortable shoe with a wide toe box, this shoe is perfect.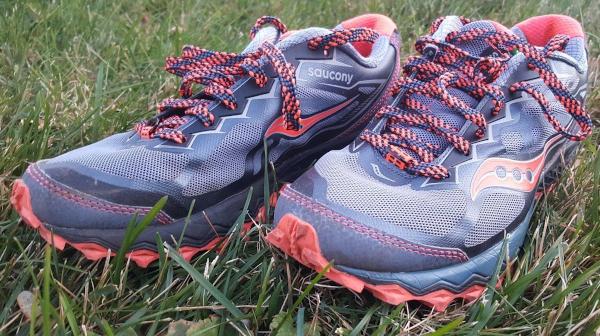 As I have a very wide toe and had gone up a ½ size recently, I found it challenging to find a comfortable shoe based on the geometry of my feet.
If you have a narrow foot, however, this might not be the best trail running shoe for you. Beyond comfort, its many features had me fall in love with it.
Performing best on rooty, semi-wet terrain, this trail shoe has amazing grip thanks to its PWRTRAC outsole.
Because of its super grippy sole, I would not recommend using this shoe on pavement or other hard surfaces. This will wear out the large nubs quickly. Dedicating this shoe as a trail-only shoe, the sole will last through 10s of miles of running.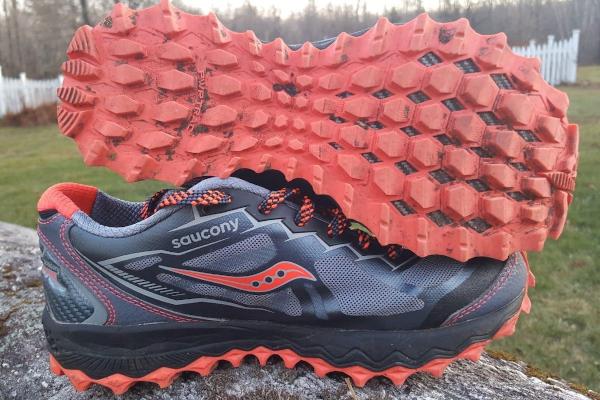 I had found that because the sole has such deep wells between each nub, it does pick up a lot of mud and dirt. Make sure, after a dirty run, you bang these off well. Or I have found that carrying an old bag to place them in works great so my other belongings don't get dirty.
As a trail shoe, it can perform on grave terrain, but I find that the heavy amount of flex, which is extremely comfortable when your 10 miles deep, does not provide a lot of ankle support.
If you have strong ankles, this is not a problem. But others may consider this when purchasing this product. I love the flex, and my ankle strength is not an issue.
I also appreciate the flex because it makes the shoes easier to pack and mold into a bag, whereas some other stiffer shoes would give me more difficulty.
For hot climates, the breathability is quite good. Moreover, true to its description, it does dry quickly. However, it is not waterproof, so if you plan to run through mud, it will get wet.
After some muddy runs, the nubby sole does kick up a lot of muck, but it's worth it for no slippage. Washing the shoe by hand to remove mud was easy, and it looks just like new again.
Plus, it will dry fast if you want to do a run before work and another in the evening. I gently washed the shoes in the sink after a muddy run in the morning, and by the time I was out of work, they were ready to go again.
Regardless, because of the nature of this shoe (e.g. not waterproof), I would not recommend running in winter conditions such as ice and snow.
The weight of this shoe is slightly lighter than some other trail shoes and because of its versatility, much lighter than most hiking shoes. This makes it a great dual-purpose product if you are not looking for ankle support.
Being light in weight also makes this a great choice to pack if you plan to do some trail running while traveling.
When I bought this shoe, there were only a couple of color options. I opted for the grey and bright orange. When I am out in the woods, I prefer to wear bright colors to be seen well, especially if I'm in an area that may have hunters.
This is something you may want to consider for your safety, but not many people think of color options playing a part in this.
Overall, I absolutely love this shoe for trail running. With strong ankles, I find myself choosing this shoe for various trail runs as well as warm day hikes around my area or abroad.
Good to know
Made for varied trails, the Saucony Peregrine 7 offers protection and fast performance on a variety of off-road terrains. Its façade has a smooth and non-bulky look that's still evokes durability and quality construction. The color schemes aren't too flashy, but they're enough to show off the modern design of this update.
The upper unit of this trail shoe features a tightly-knit mesh material, as well as durable synthetic fabrics, to provide a strong and protective wrap for the foot of the wearer. A web-like overlay system made with thin yet sturdy materials assist in hugging the foot and giving a snug fit. A moisture-managing collar lining keeps the interior environment dry.
The Saucony Peregrine 7 offers a variety of protective components in order to keep harsh debris and potentially injurious surfaces from causing discomfort to the foot. They're placed between the mid-sole and the outsole, and they aptly act as shields against such hazards on the trails.
The underfoot cushioning systems that are present in this running shoe are efficient when it comes to providing responsive performance on the trails. The full-length platform carries the foot responsibly, keeping it comfortable and secure with each step. The springiness makes every heel-to-toe transition more agreeable.
The outsole unit features a durable rubber compound that's meant to protect the rest of the platform from wear and tear. It doesn't wear off easily, as well. Multidirectional gripping lugs serve as clamps that cling onto the ground, basically delivering traction on a variety of terrain.
The sizing schemes for the Saucony Peregrine 7 agree to the regular preferences of runners. The available width for the men and women's versions is medium. It is able to accommodate those who have medium sized feet. Its semi-curved shape mimics the natural shape of the human foot.
The outsole unit of the Saucony Peregrine 7 makes use of the PWRTRAC material, which is a rubber compound that's long-lasting and aggressive against the unpredictable terrain. It covers the mid-sole foam and protects it from the abrasive nature of the trails. It also delivers traction. The PWRTRAC material is also utilized in the outsole of the Peregrin 8 running shoe.
Multidirectional gripping lugs with hexagonal shapes significantly enhance the traction by acting as claws that cling onto the surfaces. They also make upward and downward traversals much easier because of their aggressive structure and composition.
The first layer of the mid-sole cushioning system makes use of the SSL EVA or the Saucony SuperLite Ethylene vinyl acetate, which is a lightweight foam that's responsive and durable. It provides long-lasting cushioning to the foot of the wearer, thus aiming to make the running experience as comfortable as possible.
The EVERUN Full-length Topsole ensures springy steps because of its highly responsive nature. With every step, it returns energy to the runner, essentially making the running gait energized and enabled.
In between the mid-sole and outsole, placed in the midfoot section, is an External Bedrock Outsole or EBO that's meant to protect the underside of the foot from rocks and other trail debris.
A nylon fiber mesh rock plate is placed in the forefoot section. This lightweight material shields the foot from the unpredictable objects on the trails.
The Premium Sock Liner provides additional cushioning to the underfoot. Made with Ortholite technology, it is also able to provide breathable, anti-microbial support.
The upper unit of the Saucony Peregrine 7 features a tightly-knitted mesh. This material coves the foot protectively, keeping debris and other objects from causing damage to the shoe and the wearer. The tight construction also ensures longevity of the upper unit.An external webbing called the TPU Skeleton holds the dimensions of the foot securely, thus rendering a fit that's snug, precise and comfortable.
The Flex Film Overlays are made of a thin film that's fused with the upper fabrics without the use of stitches and unnecessary seams.
The Gusset Tongue prevents small objects from invading the interior environment of the shoe.
A moisture-staving collar lining is present in the Saucony Peregrine 7. Called the RUNDRY, it aptly keeps the interior foot-chamber dry and free from moisture throughout the running experience.
An external heel counter assists in keeping the foot in place. It holds the rear of the foot and secures it, preventing unintentional shoe-removals. A rubberized toe tip protects the forefoot area from rocks and surfaces.
Rankings
How Saucony Peregrine 7 ranks compared to all other shoes
Popularity
The current trend of Saucony Peregrine 7.