A max-cushioned, max-stability shoe from Saucony, the Hurricane is a premium choice for runners with flat feet and overpronation. It is the kind of shoe that will keep you feeling fresh after the longest runs thanks to its plush cushioning and comfort. On top of that, the shoe justifies its higher price tag by being one of the most durable trainers.
Pros
Great for long distances
Unrivaled comfort
Laces are a game changer
Midsole foam lives up to its billing
Cons
I love these shoes, I really can't find any legitimate cons!
Saucony Hurricane 22 review
The Saucony Hurricane 22's are a shoe for long distance runners, and boy, do they love to go long!
Being completely objective, these shoes aren't perfect. I don't think any are!?! With that said, hand on my heart, and hand in my wallet, I would buy these all over again without a second thought.
Yes, I would love them to be cheaper, but I honestly believe that these shoes are worth £140 based upon the incredible durability that they have displayed to date. The little flaws that may stop some from buying these are all about form over function.
I'm all about function over form, and these are currently my favourite shoes. I look forward to running in them and seeing them makes me think about squeezing in an extra run, even when I know that I shouldn't.
For the purposes of this review, I have covered 129km/80 miles over 5 runs.
As Saucony waves goodbye to the ISO series of shoes, and with it the Everun midsole, a new dawn has broken bringing with it improvements to FORMFIT and the introduction of PWRRUN+, a midsole foam claiming to be 28% lighter than its predecessor. With that, there are always going to be big hopes pinned on these shoes.
The plush comfort of Saucony uppers
The upper on the Hurricane's has been designed to do a job well, I can barely find a fault. It isn't a truly beautiful shoe, but that isn't the point of these; it is all about the fit and comfort.
These shoes are phenomenal in terms of their fit and comfort. The only downside to the upper on these is that there are only two colourways! If you don't like grey or black (I really like the grey), then you may well miss out.
As you would expect with a Saucony shoe, the heel collar is large and plush and wraps itself around your achilles like a perfect hug would embrace you. The sock liner is well designed; no erroneous stitching to rub and cause blisters here!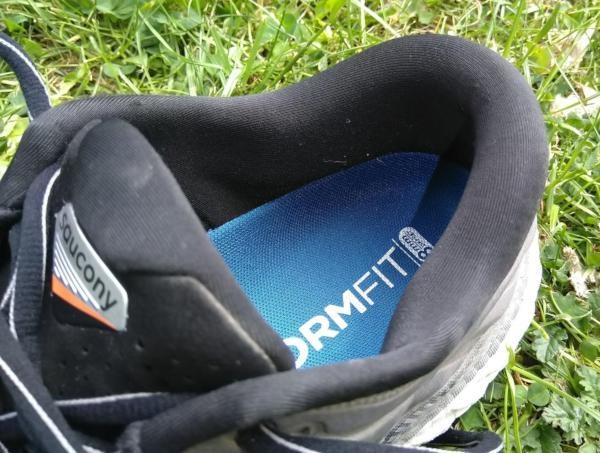 The weak link in the upper portion of the shoe is the insole. There is very little substance here and the foam is thin and flimsy.
I have noticed that on my longer tempo runs that my arches ache a little from a lack of support. This alone is not something that makes me regret purchasing the Hurricane's, but it does take the shine off of what I feel is otherwise an excellent shoe.

One of the revelations of purchasing this shoe is the laces. I never knew that they could make so much difference. Saucony has garnished the Hurricane's with what feels like a slightly elasticated lace.
This means that the first couple of times, I was over tightening my shoes, but now that I've gotten to grips with the laces, they are perfect.
Even as your feet swell on a long run, the laces accommodate the growth and prevent 'hotspots' from occurring. Absolute genius!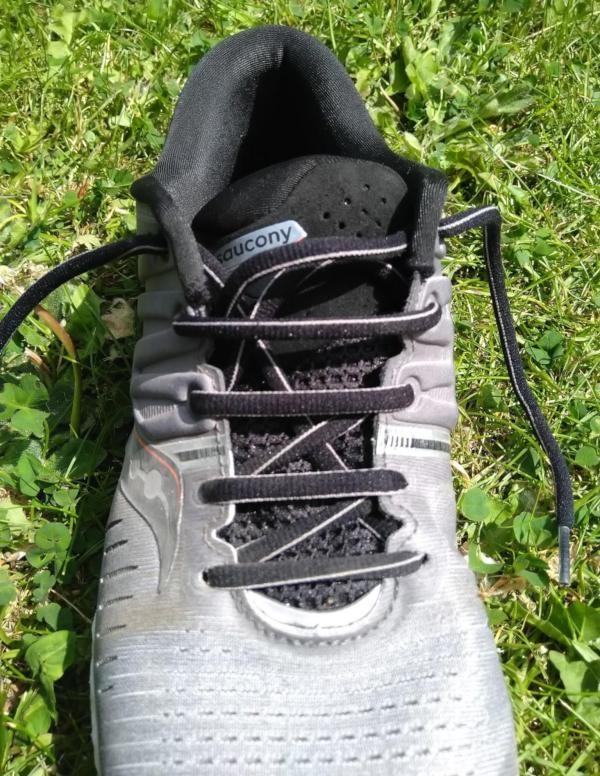 The breathability of the upper is as good as any other shoe that I've worn; on a long hot run, my feet got warm, as you'd expect, but there was only a light amount of sweating, which was great!
The insole isn't particularly noteworthy, other than to mention that it does allow some heat to dissipate.
Hurricane keeps fresh for miles
On first look at the midsole, the clean flat finish has gone and a mild rippled effect has been brought in. This is reminiscent of the Adidas Boost midsoles, and not unwelcome.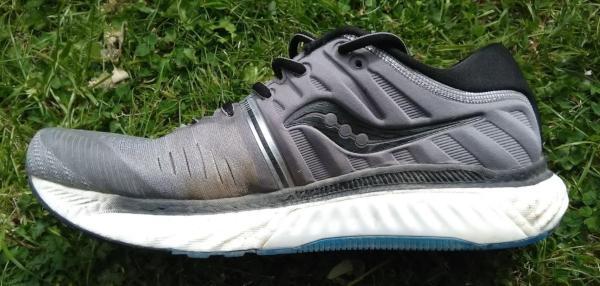 As one would expect with a support shoe, there is a large block/frame/bar running under the arch of your foot ensuring that no unwanted roll occurs through each foot strike. The support element of these shoes works well.
I have maxed out on a 44km run (27 miles) and felt no ill effects. In fact, when I arrived back from this particular run, I still felt good!
My legs had been perfectly cushioned all the way around the run, without having the energy sapped out of them (as you would expect from a spongy/sloppy midsole). And neither were my legs beaten and sore as if I had been running with an overly firm shoe.
I admit that the extra 'heft' of a long-distance shoe such as this does show in the depth of the midsole, and the weight of the shoe, but for those looking to put in the bigger miles on a regular basis, neither of these should concern you.
It's a tough one
Both the midsole and the outsole work really well together offering a high level of flexibility and deliver a great transition as your foot works its way through the gait cycle.
Even though there is great flexibility within these shoes, it is important to reiterate that this in no way comes at the cost of support.
Having alluded to the fact that these shoes are on the heavier/maximal end of the scale, it may be expected that the Hurricane's lack the same level of response as an out and out race shoe, but they don't!
Along with many other runners, I want to run a sub three-hour marathon, and in these early days I can see these being the shoes to do it in. I have run blocks of training runs at a pace quicker than is required to break three and they felt good!!
The rubber between you and the road needs to hold you firm, and this does. Be it road or a compacted dirt path by the side of a river, these shoes grip well. As a shoe in good weather, traction is never going to be an issue.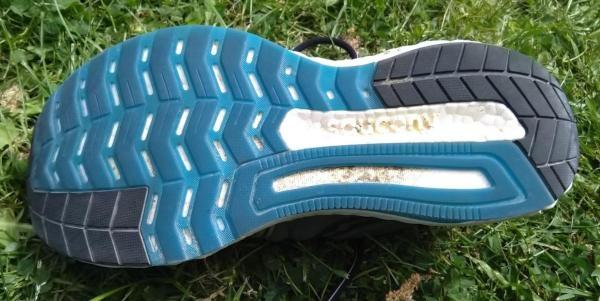 When it comes to durability, runners want to know if a pair of shoes are a solid investment. The Hurricane's come with a fairly hefty price tag (almost as hefty as the midsole appears), but that's sort of the point.
If you believe in the mantra 'you get what you pay for' then you are getting a high mileage, durable shoe that will look after both your feet and legs for mile after mile.