It is a mid-light
daily trainer
but could be used in racing for those who need extra support. It is primarily for use on the road but is just as effective on simple trails. It's a pretty solid shoe and features an outsole, midsole, and upper sole protection. It
provides moderate to light stability
that is unique to the Guide series of running shoes. I have been delighted with it so far!
Pros
True to size
Stable
Supportive
Durable
Excellent grip
Comfortable
Secure fit
Sleek design
Saucony Guide ISO 2 review
The Saucony Guide ISO 2 is one of Saucony's older most reliable stability shoes for overpronators. It is now available for £60 since the Saucony Guide 13 recently came out in November 2019.
The Guide ISO 2 is pretty stable
Most of the Guide ISO 2's stability comes from the midsole part of the shoe. You will notice in the picture below the white strip that runs directly below the arch. This offers great support for overpronators as this part of the shoe is firmer.
And, if your arch rolls over as your foot strikes the floor, the shoe will naturally aid in keeping your foot striking the floor straight, and this will help to prevent injuries from a poor running form.
The midsole also contains PWRFOAM, which is tasked with converting energy from the landing phase into kinetic energy that the foot can energize during lift-off.
Considering it's a pretty stable shoe, it's also light, weighing in at 292g for men and 255g for women.
As soon as I tried these shoes on, I noticed a difference in my running mechanics (this was conducted on a treadmill with a specialized team of running experts). Instantly, my overpronation stopped, and my foot strike was better.
It provides excellent traction over surfaces
The outsole part of the shoe is covered with a rubber compound called XT-900. This layer protects against wear and tear and provides excellent traction over surfaces.
It also contains a layer of IBR+. This is particularly important as this is what gives the shoe the sponge-like feeling whilst running over any terrain.
As you can see from the picture below, the tread of the shoe is designed in zig-zag grooves, which give a smooth transition to the toe-off phase of the gait cycle.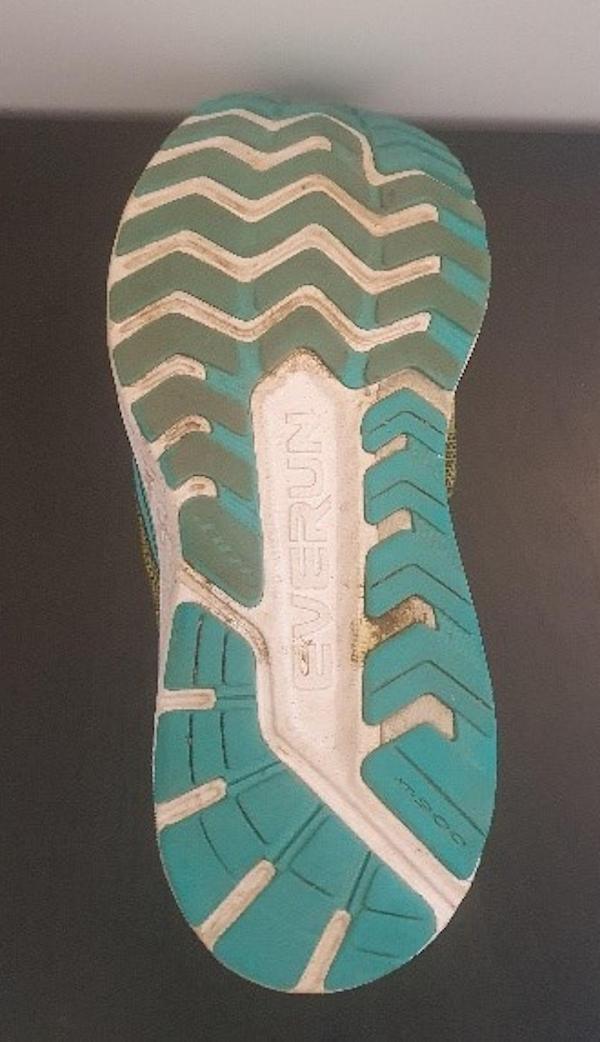 I have used my Guide ISO 2 for over 450 miles now, and the soles are still in great condition!
The shoe that hugs your feet
The upper unit of the Guide ISO 2 contains an ISOFIT foot-hugging technology (this was my favourite part of the shoe). Not only did the shoe correct my running mechanics, but it also felt remarkably comfortable.
The stretchy mesh and overlays really helped to make my feet feel secure and to give me the confidence I needed whilst running over more harsh terrain.
I found the support around the ankle area was strong enough to feel confident but not overly harsh that I found it uncomfortable. Whilst the shoe offers good overall support, it does not over constrict your foot's movement.
It offers a nice toe box, which works well for me, and I have avoided any blisters even on my longer runs of marathon distance. Pictured below is another example of how durable the shoe is.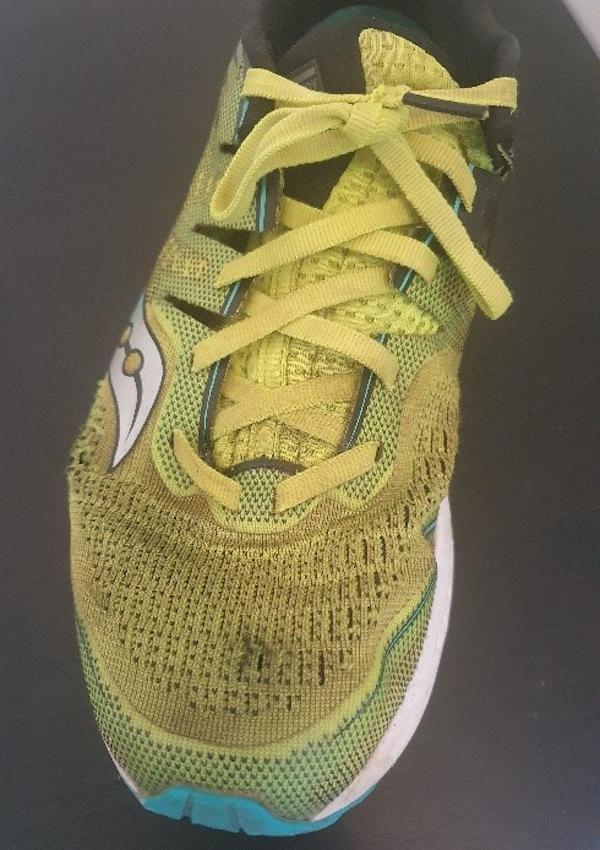 This picture has been taken after over 450 miles of running in the shoe, and as you can see, only minimum damage is done to the mesh part of the shoe.
It's still solid and has not lost its shape
Another thing I really like about the Guide ISO 2 is the comfy heel fit you get. It is sturdy and well fitted but did not require any breaking in.
I can think of lots of shoes I've had to break in and ended up getting lots of sore, blistered skin on my heel. I didn't get this with this shoe. I literally went straight into a few shorter runs to test it and was easily able to start back with the longer distances right away.
Even after running plenty of miles in this shoe and being a bit lazy by putting it back on without untying the laces (we all do it), it's still solid and not lost its shape as some others do.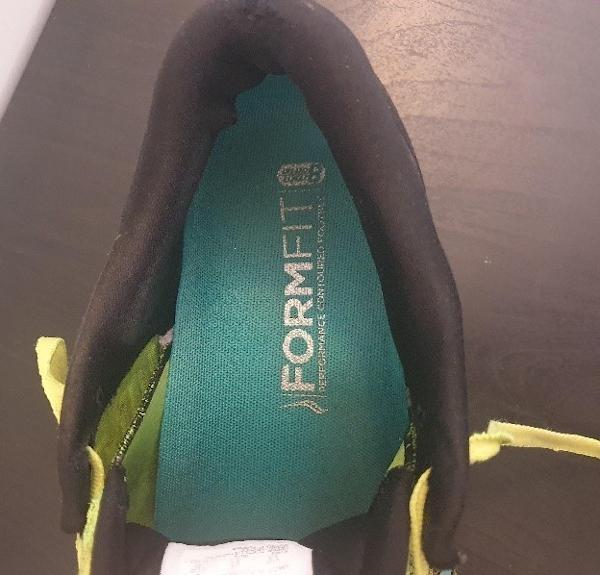 Aesthetics: It's a thumbs up from me!
Saucony's quirky colour range continues with the Guide ISO 2. I was drawn to this shoe out of most of the others in the running shop I went to.
The sleek design of the upper mesh makes the shoe appear aesthetically pleasing.
Conclusion
So far, for me, this shoe has been perfect. It's been comfortable even up to marathon distance. It's been reliable whilst running on road and some light trails.
I have yet to have a blister caused by the shoe. I did get one a few months back.
It's been my favourite shoe for a long time, and I generally think I have got every pennyworth out of the shoe so far (I did get a good deal).
I should really retire this shoe soon as I am approaching the 450-mile mark, but I'd like to see how far I can take it before I feel it needs to be changed.
I already have my eye on its successor, and if its anything like this shoe, I'll be well impressed!