If you are looking for a supportive and well-cushioned shoe, you don't need to look further.
I tried these shoes when I was looking for two main things: A supportive shoe for mild pronation and good cushioning for high mileage on hard surfaces, especially in the forefoot area, where I had developed some issues. With Guide 10, Saucony has done a great job of producing a very light shoe.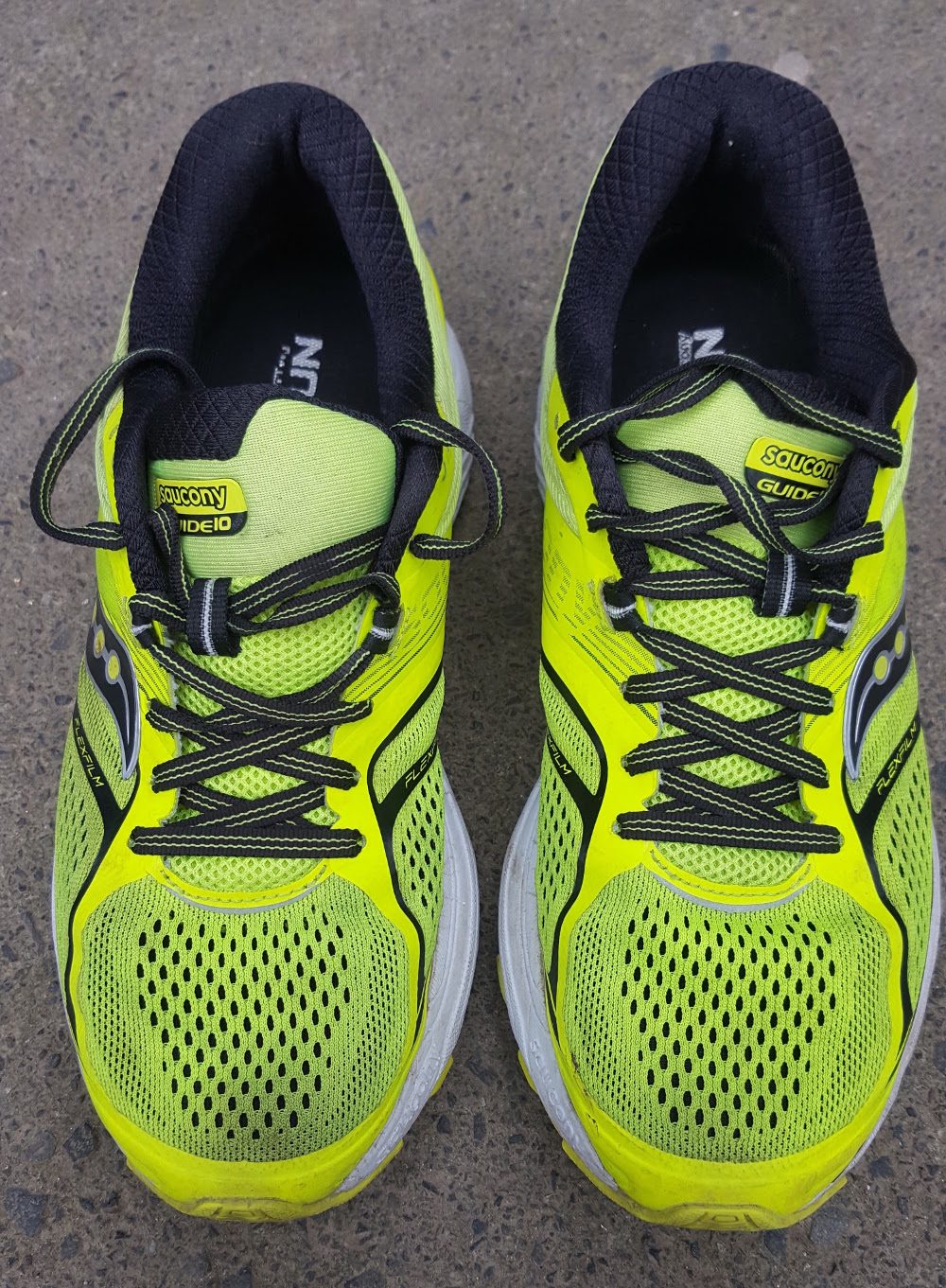 Upper & Comfortability
I really loved these shoes from the instant I first tried them on in a shop.
They do not have a large toe box like Mizunos, but the toe box is much better than Nike's (I cannot even move my toes when wearing Nike). I was feeling so comfortable wearing Guide 10, that I (unwisely) decided to embark a long run in these without first breaking them in with a few easy miles.
I didn't need to transition into these before running in them; I just felt comfortable in them from the outset.
While you often need to run dozens of miles in other shoes before you can have confidence they are not going to cause blisters after a long run, it's not the case with these.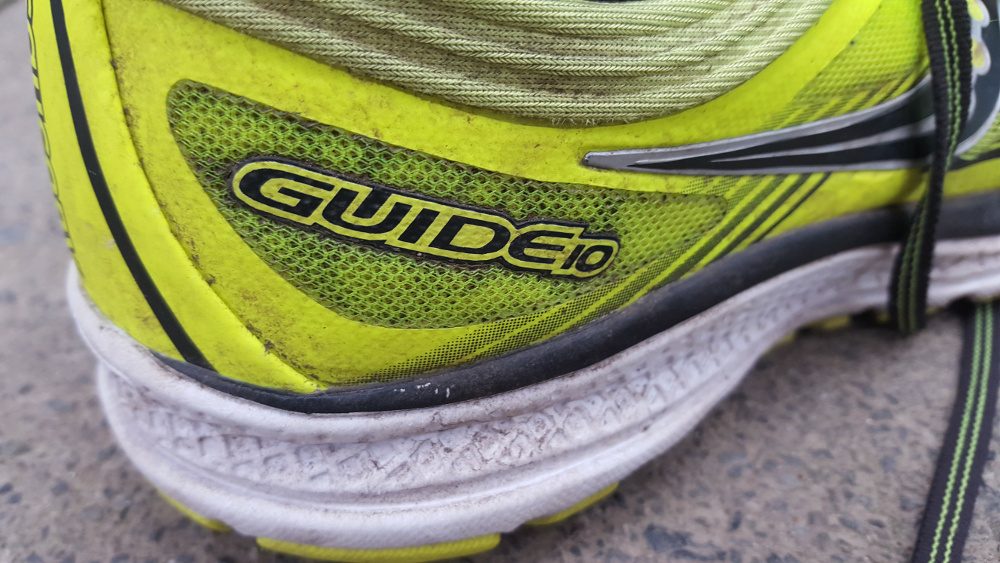 Guide 10 is a supportive shoe that is very light; it weighs only 283g (size UK 8, EU 42).
Manufacturers like Asics haven't managed to produce such a lightweight shoe, even their flagship Metarun model is heavier than the Guide 10, yet it comes with a price tag that is almost double that of the Guide 10.
Midsole & Cushioning
Since Guide 9, Saucony has put an extra layer of foam between the foot and midsole. This gives the shoe extra cushioning, something that is very welcome for runners like me who run most of their miles, if not all, on hard surfaces like asphalt.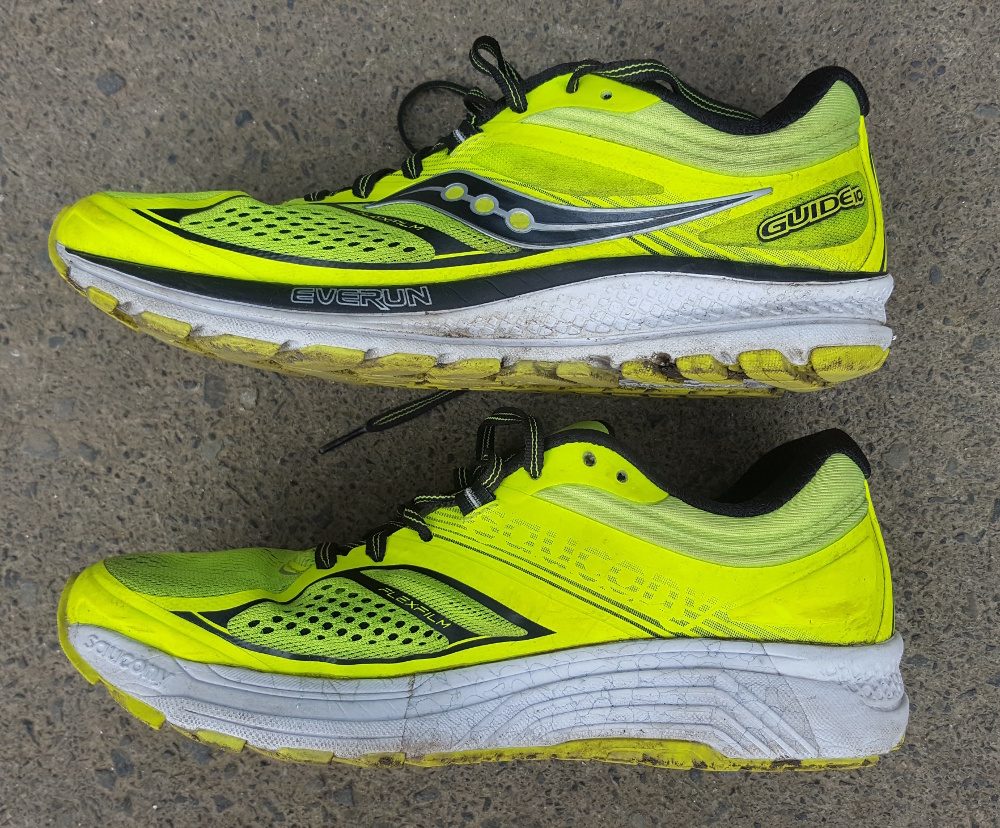 Outsole & Durability
Generally, the shoe has an excellent durability.
Even after hundreds of miles, it is still responsive, especially in the forefoot compartment. Good responsiveness in the forefoot department makes it a very good shoe for road racing, although I don't think it was explicitly developed for this purpose.
The pictures have been taken after roughly 400 miles, mostly on asphalt. As you can see, the outsole has not deteriorated and it still good enough for runs on terrain, or trails.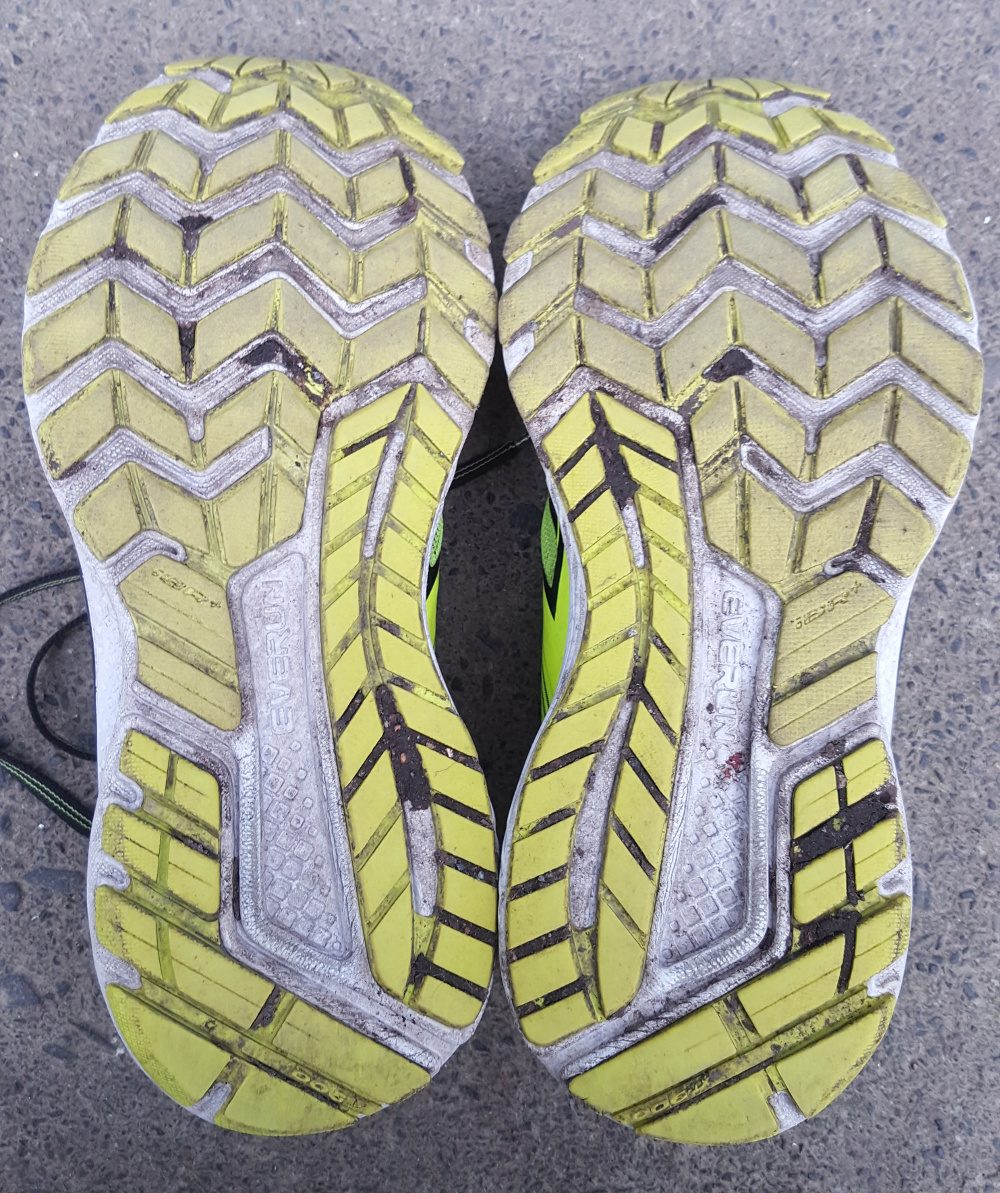 I ran a marathon after 330 miles of training in these shoes without any issues. After 300 miles, a lot of other shoes do not provide enough cushioning or are not as responsive, both of which are, indeed, essentials for a long road race such as a marathon.
Variation
The shoes come in different colors.
My preference is the citron version; however, you can sometimes find the blue and grey version at a lower price.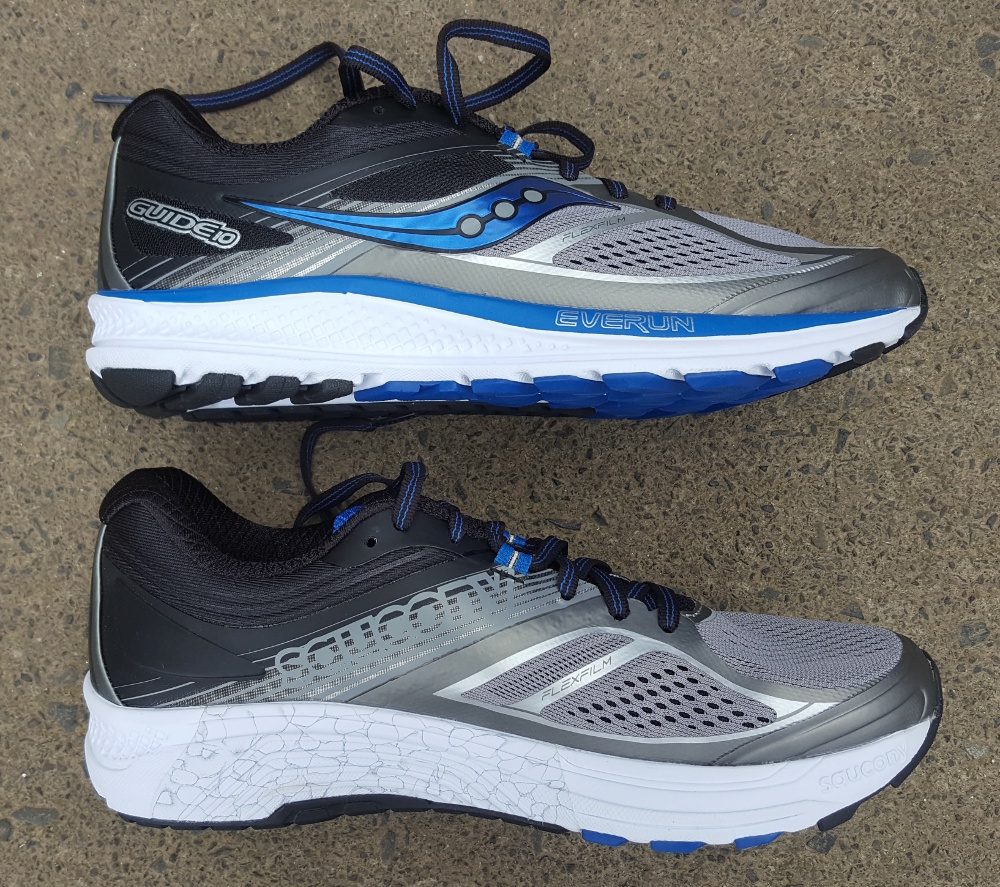 What I Like
Cushioning and responsiveness, even in the forefoot area
General comfort
Light stable shoe
Citron version
Almost low drop
Well worth the money
What I Do Not Like
When wet, I get the feeling they are not cushioning as much
Relatively 'high' shoe with 19mm of forefoot stack height
Conclusion
I very rarely fall in love with a shoe. But this time, after just 100 miles, I knew I was going to run for a long time wearing these shoes.
In fact, as soon as I found a good deal, I bought another pair (the blue and grey on the picture), even though the pair I was already using (citron in the picture) were still in good condition.
It is very hard to find forefoot cushioning as long lasting as that of the Guide 10 in another shoe, especially of this weight and flexibility.
The shape is comfortable overall, and the outsole is suitable for different kinds of surfaces, from asphalt to grass and terrain. Definitely, a shoe to consider if you are looking for a moderate supportive and cushioning trainer.