The Saucony Echelon 8 is a superb choice for longer-distance runners who need a highly-cushioned neutral shoe that can accommodate orthotics. It offers the cushioning, support, and durability necessary for the dedicated road-runner. Those who need a shoe with the types of features provided in the Saucony Echelon 8 will find lots to love.
Pros
True to size
Secure fit
Orthotic-friendly design
Comfy, breathable upper
Stable
Bouncy with good energy return
No break-in period
Durable
Cons
Not for uptempo runs
Slippery on wet surfaces
A bit expensive for beginners
Bulky
Saucony Echelon 8 review
The Saucony Echelon 8 is a highly-cushioned neutral running shoe that is ideal for longer-distance (4+ mile) runs. This model provides stable support, ample cushioning, and a roomy fit. The Echelon 8 is able to accommodate a variety of types of aftermarket insoles that can support the foot during a run. These shoes are competitive with other distance-oriented, supportive, and highly-cushioned traditional neutral running models such as the ASICS Cumulus and Brooks Ghost.
Who should buy it
The shoe is recommended for road runners:
seeking a highly-cushioned shoe for longer distances (4+ miles)
who need a shoe that is able to accommodate a medical orthotic or aftermarket insole of any kind
with wider feet who need a shoe that doesn't cause cramping or discomfort during a run
Who should NOT buy it
Consider other models if you are looking for a shoe that is :
How I tested the Saucony Echelon 8
I tested the Saucony Echelon 8 on a series of moderate-paced road runs ranging in distance from 4 to 6 miles. These runs involved some very hilly terrain. Given the season, I also encountered a lot of fallen leaves as well as some wet weather on my runs.
The Saucony Echelon 8 fits true to size
This Saucony model fits true to size and width. I am basically a standard 9/9.5 medium width on a Brannock device, and the Saucony Echelon 8 fits just as I would expect in a 9.5.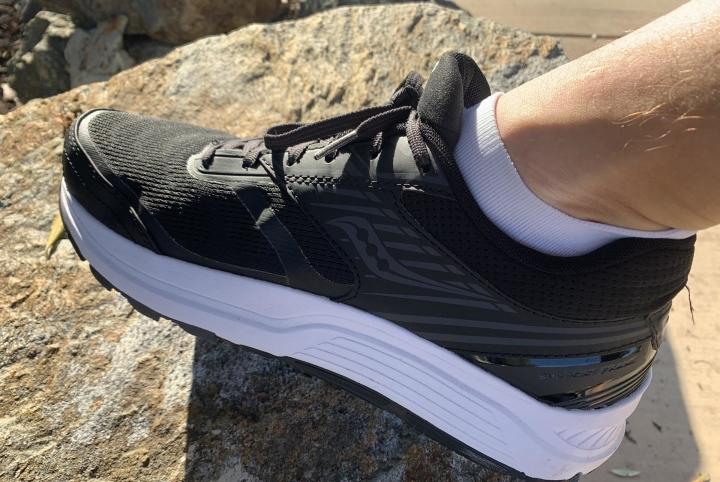 The shoes are quite roomy (more on this in the next section) with a generous, wide cut. For me, this worked well since my feet are on the wider side of average and I find many running shoes to be too narrow. However, this fit may not work for those whose feet run on the narrow side.
Orthotic-friendly design
This Saucony model is specifically can accommodate an aftermarket insole or orthotic device. The stock insole slides out of the shoe very easily, revealing a footbed with extra depth/width and a relatively low heel-to-toe drop (8mm) that seats an orthotic device very nicely.
The outsoles of the shoes are also straight rather than curved in the medial arch area, which holds the orthotics in place during motion. As a long-time wearer of orthotics per podiatrist's orders, I found this feature to be very helpful. I was able to insert my orthotics easily and found that they did not shift around in the shoes during my runs.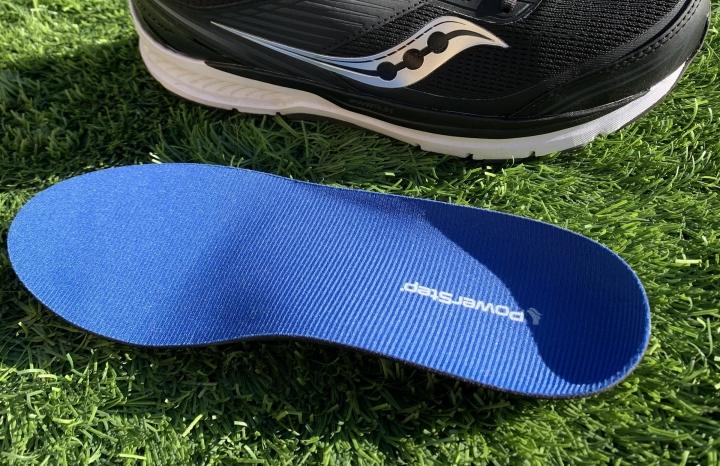 Although I have tried other models that easily accommodate my orthotics (for example, the ASICS Cumulus series), I have never before found a shoe that is designed specifically for people who use aftermarket insoles. I very highly recommend this shoe model to anyone else with this specific need.
Secure, snug foothold
Despite the wide and roomy fit of the Saucony Echelon 8, I found that the shoes still provided a secure fit during my runs. The lacing area allowed for a snug closure, and the padded heel cup helped my feet to stay in place during the gait cycle.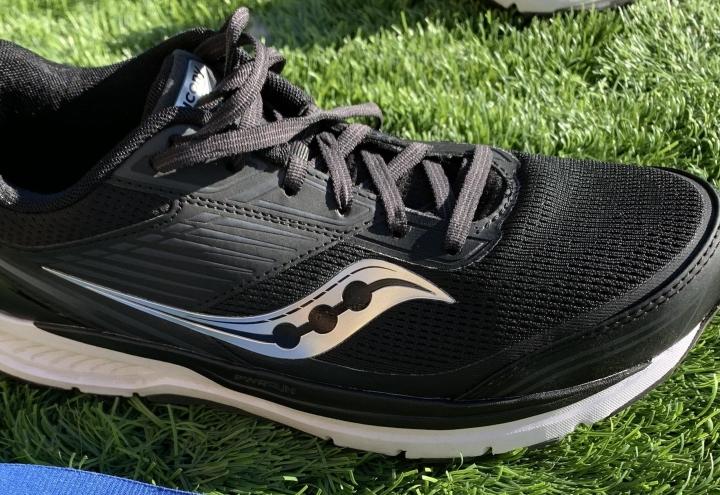 Ultra-breathable, comfortable upper
The upper of this Saucony model is perforated and very breathable. It allows air to pass over the foot during running. My feet never felt the least bit overheated during any of my runs in this model. The upper of this shoe also felt comfortable and did not cause any chafing.
Supportive external heel counter
The Saucony Echelon 8 boasts a rigid external heel counter which adds some firmness to the heel cup. I found this heel counter to be very effective at providing rearfoot stability and preventing unwanted heel slippage during the gait cycle. It seemed firm enough to hold my heels in place but not so firm as to cause chafing.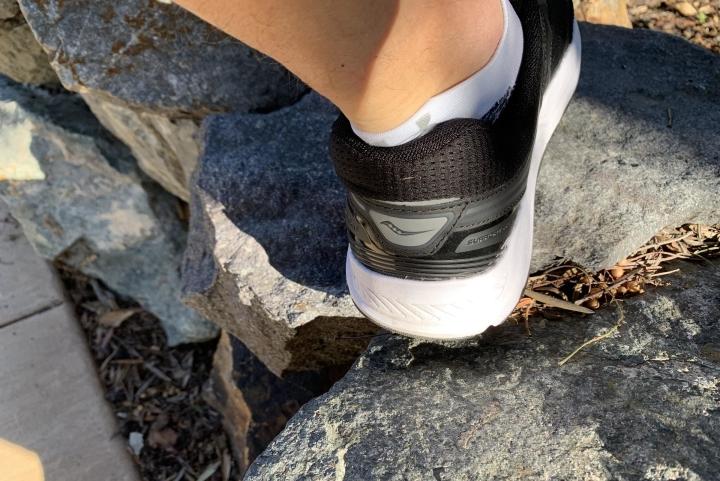 Echelon 8 has ample cushioning for longer runs
The PWRRUN cushioning used in the Saucony Echelon 8 felt bouncy with a great deal of energy return throughout the full duration of my runs. This cushioning greatly reduced the "pounding" feel of road-running. At no point did my feet feel sore or tired during any of my runs in this model. The feel of this shoe is comparable to some of the ultra-cushioned models that are offered by a variety of brands but without as much stack height or bulk.
The outsole provides decent grip and great stability
The tread pattern on the outsole of this running shoe provides sufficient grip for road running in dry conditions. I did note that the tread seemed just a little slippery when I ran in wet conditions. Perhaps deeper lugging could be beneficial in future iterations of the Echelon model. Note that the pattern of this outsole is able to grip roads and treadmills, not offroad terrain.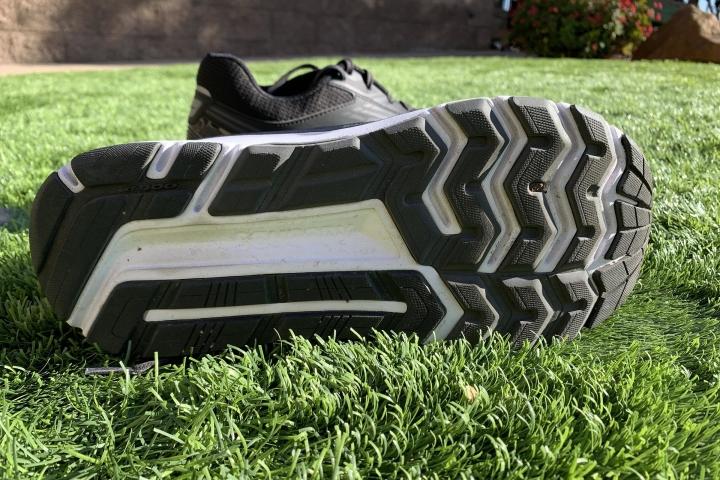 Additionally, the outsole of this model is pretty wide, creating a feeling of stability during the gait cycle. I greatly enjoyed this feature during all of my runs in the Echelons. They made my feet feel very secure when hitting the ground, with no unwanted wobbling in the shoes.
Echelon 8 required no break-in period
This running shoe needed no break-in at all. There were no parts of the shoe that needed to "wear in" for greater comfort. I simply laced them up and went for a 5-mile run right away without issue!
The Saucony Echelon 8 appears durable
Although I have only owned the Saucony Echelon 8 for a few weeks, the shoes have held up very well so far and appear to be extremely durable. The materials have not come unstitched despite multiple runs. The outsoles did not appear overly broken down despite use on rough pavement. I expect that this pair will last me for quite some time.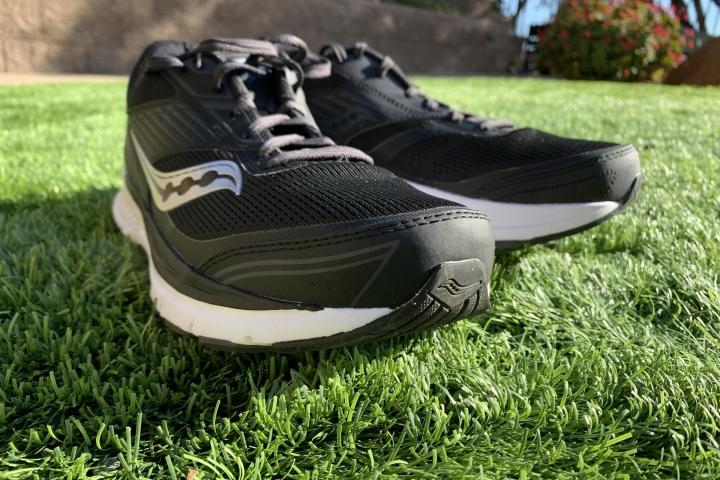 A price not for entry-level runners
The Saucony Echelon 8 is a fairly pricey running shoe, retailing for about $140. For regular runners (especially those who need to use an orthotic device), this price tag will probably be worthwhile. However, I do not recommend this shoe model for entry-level runners or those who will be running shorter distances. There are far more affordable shoes aimed at those markets, such as the excellent ASICS Contend or Saucony Cohesion.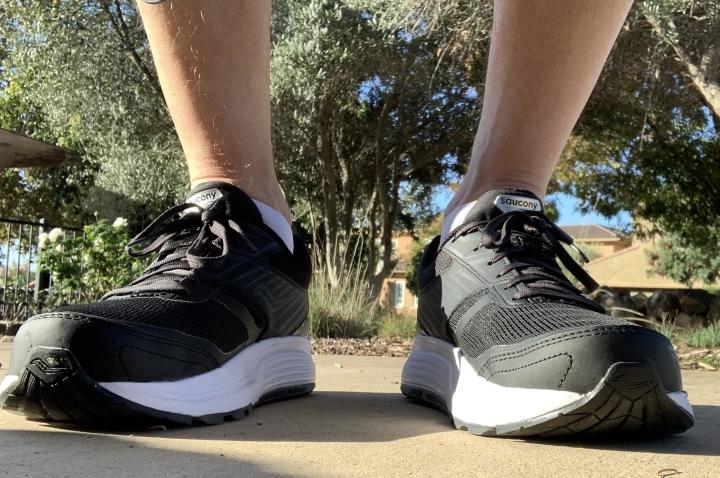 Bulky style
The Saucony Echelon 8 is a bulky shoe. It is not a sleek or streamlined-looking model. These shoes are great for those who need orthotic support and a wide, stable base, rather than for the fashion-conscious. Those looking for a shoe that can be worn with jeans in a casual setting may want to look elsewhere. This is very much a performance-oriented shoe that fills a specific niche.