The Salomon Vaya impressed me from the very first mile. I won't hesitate to reach for it next time I head out for a hike or a backpacking trip. For backpacking on steep, technical trails, I'll consider a different insole. I doubt I'll ever go back to a heavy, traditional hiking boot for summer adventures. Also, if you don't need the ankle support, you can opt for the Vaya Low GTX to go even lighter.
Pros
Grippy
Durable outsole
Flexible
Comfy
Smart-looking shoe
Lightweight
Reasonable price
Cons
Not 100% waterproof
Break-in period
Long laces
Lacks breathability
Salomon Vaya Mid GTX review
I was in the market for a new summer hiking boot. Something that would offer some ankle support but still be nice and nimble.
I am a former field biologist; it used to be my job to hike different wild places, collecting data for scientific institutions. I've therefore gotten through numerous hiking boots, and I've tried at least 12 different brands.
I usually opt for a pretty traditional boot. But I've recently started cutting the weight of my backpacking gear. This led me to realize how heavy my boots were. Did I really need a boot that weighs about 2 percent of my body weight? The Vaya answered: no.
I love trail and road running shoes from Salomon. When I heard that Salomon has applied its technology to hiking boots, I was intrigued. And I'm not disappointed!
The women's Salomon Vaya Mid GTX is a lightweight hiking boot with a 9mm heel-to-toe drop. The Vaya is easy on your feet and your budget, priced at the same level as many higher-end trail running shoes (RRP at time of writing: $160).
I took this shoe on a few different summer hikes and backpacking trips over various terrains. I walked through streams and meadows, over rock slabs, and clambered up and down mountainsides.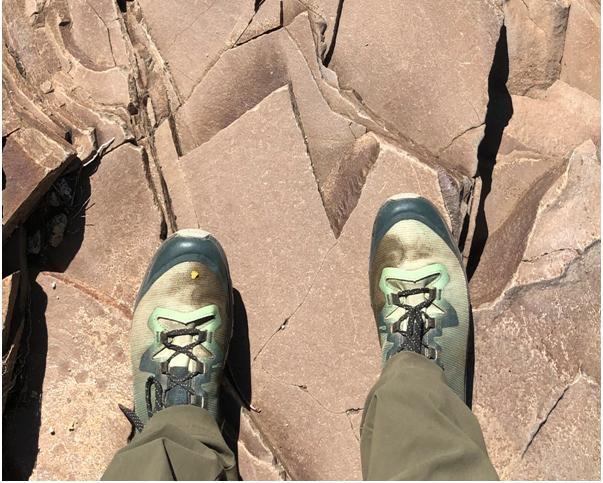 Tough, grippy outsole
The Vaya's rubber Contagrip tread performs well and seems durable. This shoe stays exactly where you place it and performs beautifully on steep terrain. I was also thankful for it on wobbly log river crossings!
The tough tread provides a reliable grip on many different surfaces. The lugs do not attract a lot of debris.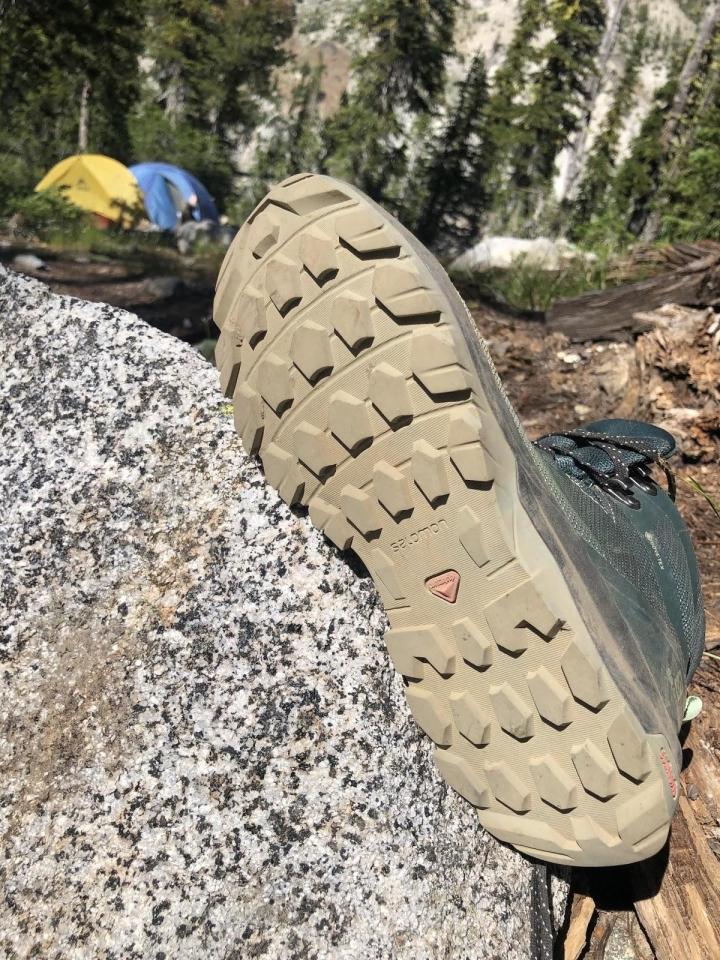 Comfy, flexible midsole
The midsole is beautifully constructed to allow the forefoot to flex. On sections of granite on one backpacking trip, I would have preferred more cushioning, but generally, this is a very comfortable shoe.
The Ortholite insole is pretty standard and does not add much to the shoe.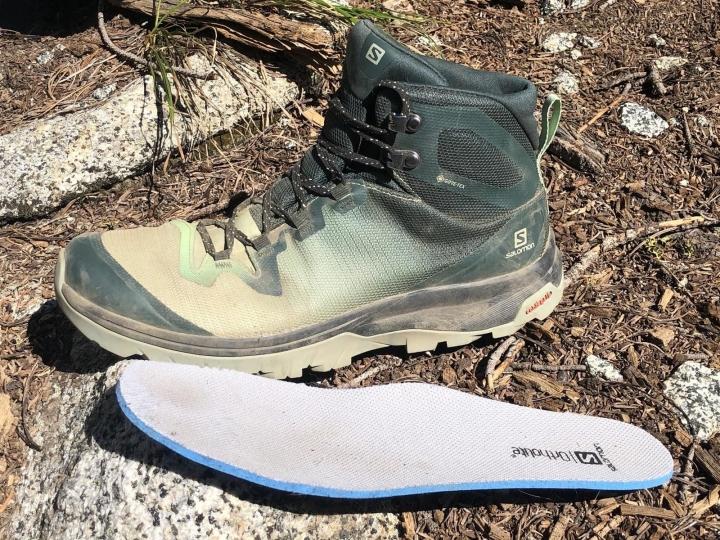 It will not protect you quite like a traditional hiking boot, but it also won't weigh you down on the trail...that feels like a reasonable trade-off.
I may add a thicker insole for those adventures where my feet might benefit from a slightly softer landing. On long descents on rocky trails, wearing 25lbs of gear on my back, I felt the ground a little more than I wanted.
Not fully waterproof
The welded upper offers a smooth, flexible, but secure fit. Salomon calls this a waterproof boot, I would call it water-resistant. It did hold up through quick stream crossings but is not fully waterproof.
Anything beyond a brief, shallow dip, and I ended up with soggy socks. It takes a surprisingly long time to dry out and is not as breathable as I had expected.
Thanks to a Gore-Tex membrane, the Vaya is waterproof up to where the laces begin.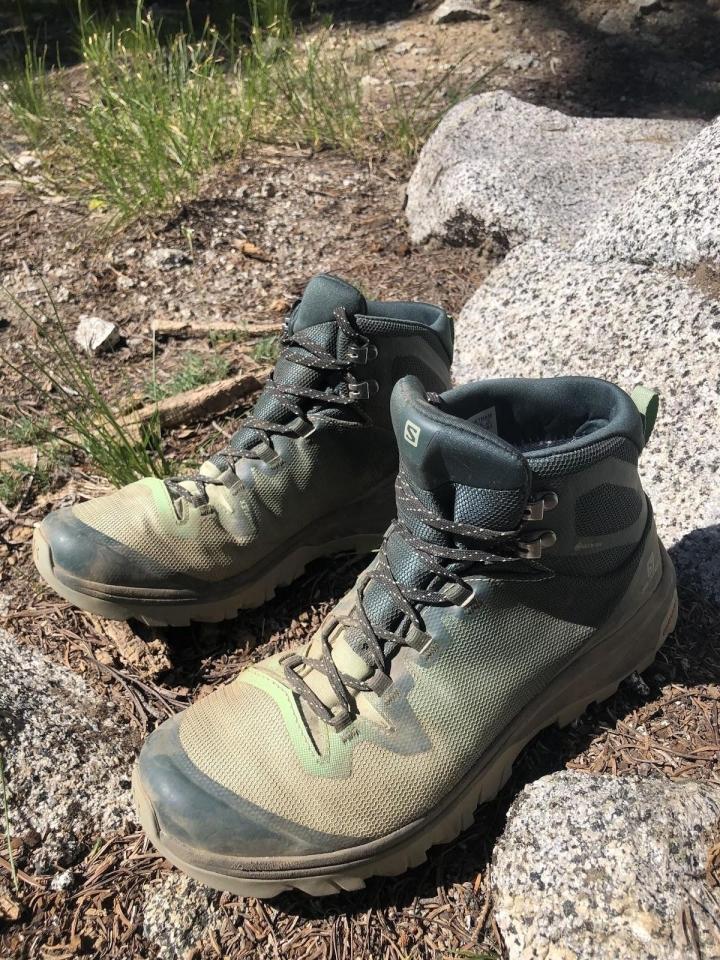 The Vaya heel counter is so flexible that I'm not sure it serves much of a purpose, other than keeping debris out, perhaps. For me, it was super comfortable, with no rubbing.
Indeed, this shoe has little to no break-in period, it's flexible from the get-go. Not a blister in sight (and I'm pretty prone to those). The outside of both ankle bones felt a little irritated after the first 3 miles, but this improved quickly.
The extremely soft heel counter and heel tab make for easy foot entry and removal.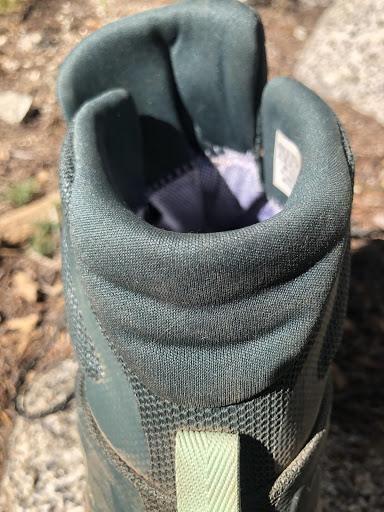 The laces are stupidly long, I don't understand why.
They are flat and do stay tied, but you have to spend a while tying them out of the way.
I don't love the Vaya laces. They do stay secure, but are excessively long, requiring triple tying to keep the wearer from tripping on them.

A unique, modern boot
I love the aesthetics of the Vaya. It is a unique, modern boot that still looks perfectly at home in the wilderness.
The pale green of the forefoot lends itself to staining easily, but as it's a hiking boot, I don't consider this a big problem! After my first hike, that bright pale green has become slightly muted.
This is a smart-looking shoe that I expect to have broad appeal. There are two colorways available. Shown here is the ombre Green Gables/Spruce Stone option.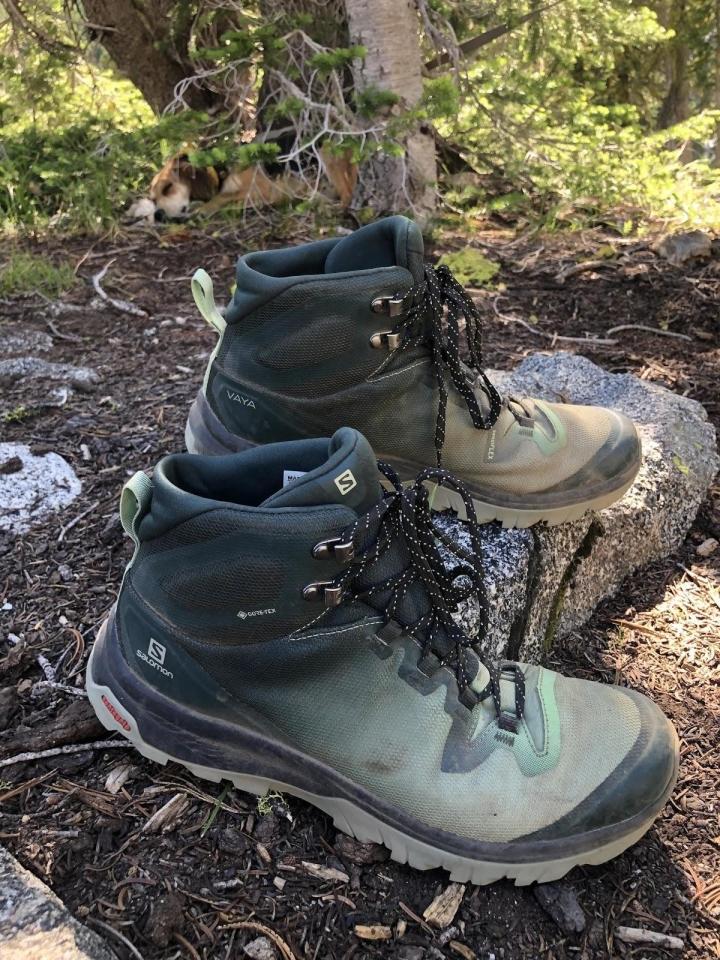 Conclusion
The low weight (0.73lb or 330g per pair of women's size 7, according to Salomon) of the Vaya might make it feel somewhat insubstantial to those who are accustomed to a heftier shoe.
Yet it feels high-quality and durable. Its weight and midsole design (where Salomon's running shoe technology shines) means I can go fast yet remain stable. I love the Vaya Mid GTX!
I can safely hike at a fast pace in the Vaya. This shoe helped me to keep up with my dogs!