Verdict from 11 experts and +100 user reviews
5 reasons to buy
According to some who have tried the Salomon Ultra Pro, the shoe was comfortable.
Many runners appreciated the shoe's lacing system; it was fast and easy to wear.
A lot of buyers loved its perfect fit.
One of the users said that the Salomon Ultra Pro was good looking.
The footwear was true to size, according to some reviews.
1 reasons not to buy
Several runners commented that the tongue unit was thin. It caused a little pain when running.
Bottom line
The Salomon Ultra Pro made a lot of purchasers contented and happy because of its fantastic lacing system and style. Aside from the design, they loved the shoe's fit and sizing. Although some of them have problems with the thin tongue unit, other still recommend the footwear because of the comfort it provides. Overall, this trail shoe from Salomon is an excellent option for those who are looking for a comfortable and visually-appealing running shoe.
Tip: see the best trail running shoes.
Our reviews
I have had a few false starts with Salomon shoes over the years, having struggled with sizing, fit, and feel amongst other things. I tried the Speedcross 4 a while back and really didn't like it at all—too stacked, too narrow.
I have a pair of their hiking boots and have owned a few other pairs of their shoes, which I have found to be durable and comfortable. So, I was more than prepared to give their range of trail shoes another try.
There is an extensive list to choose from. It can be a little confusing unless you know exactly what you want and are prepared to put some time into researching them, so that's what I did.
I chose the Salomon Ultra Pro as my plans for the year ahead involve several longer races (up to the 50km mark). Hence, I know that I am going to have to put in lots of time on feet to get where I need to be.
My preference is for trail running, and I was looking for a protective trail shoe that was capable of high mileage without being overbuilt. The Ultra Pro seemed to tick all the boxes for me.
Salomon says the Ultra Pro 'provides long-distance comfort, protection, and support to help your feet as they fatigue, as well as ample grip for any surface.' Sounds good, right? Well, it did to me.
Initially, I went up half a size due to my previous experience, and to allow for foot swelling during longer runs. I found that this shoe is particularly roomy compared to other Salomon offerings. I returned them for my standard UK10, which was a good fit with plenty of room to spare.
Salomon gets a bad rap for making narrow shoes, but that certainly isn't the case with the Ultra Pro, which is designed for distance and with a broad range of runners in mind.
Generous toe box and welded overlays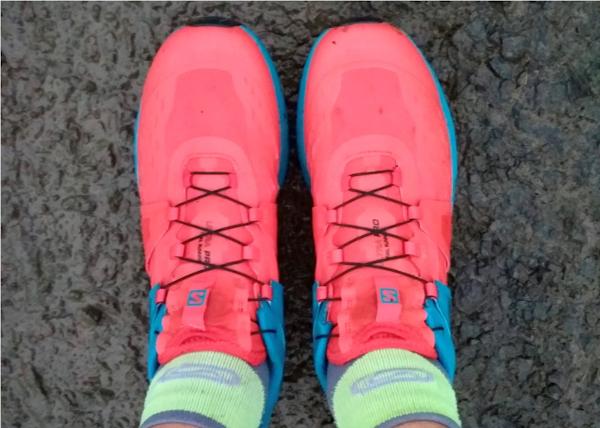 Out of the box, the shoe is particularly vibrant in the Cherry Tomato/Fjord Blue combo I purchased. It definitely stands out from the crowd if that's your thing.
The 3D stretch air mesh upper is overlaid extensively with rubber, which runs into the heavier weight toe bumper and suggests that this should be a protective and durable shoe.
It's a well-coordinated, neat design and doesn't look as aggressive or as obviously bulky and rugged as some offerings from other manufacturers.
The generous toe box allied with the mesh upper provides plenty of room for your foot to expand as you run. The twin Sensi Fit wings on either side of the upper draw in the internal EndoFit sleeve, which allows for a precision fit without putting pressure across the bridge of your foot.
The flexibility and ease of adjustment allow you to really fine-tune the fit, which is impressive.
Salomon gives you wings!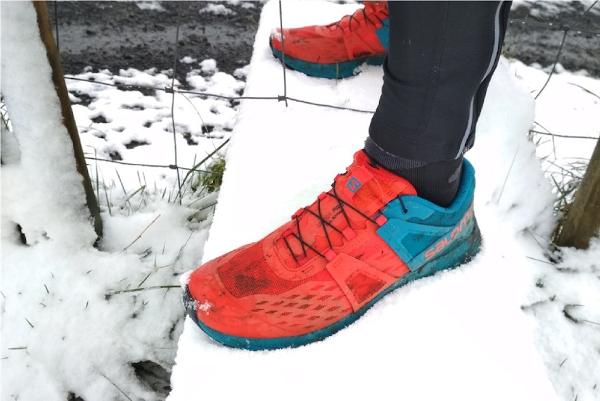 I struggled initially with the Quicklace but hadn't had much previous experience of it. After a few uses, it wasn't a problem to achieve a well-balanced and secure fit. Regardless, I'm still not really a fan and don't feel it provides anything better than standard lacing.
The Quicklace is secured and stowed through the top of the tongue (a change from Salomon's usual lace garage which is accessed from below), which is easy to access and store the mechanism.
It is a cinch to adjust on the go, but the process of extracting and stowing the slider and excess lace cancels out whatever time you save on the actual adjustment and securing. Great when your hands are cold though—mine often are!
I noted a sensation of heel lift when I first tried on and secured the shoe but didn't have any issues at all when running. The heel counter is sturdy and does its job well.
On foot, the Ultra Pro feels good; there is a generous sole, which, although wide and well-cushioned, feels well planted. It isn't the softest-feeling shoe. Actually, it felt a bit firm on the first outing, but never harsh.
As time has gone on and the shoe has broken in, it feels great—on the firmer side but comfortable and supportive. If you value ground feel, it's perhaps not the shoe for you. It's somewhat like an ATV, cruising over rough ground with a minimum of fuss and ample protection.
The 5mm Contagrip MA lugs on the outsole are small but plentiful and provided good traction on the hard-packed stone trails I usually run on. The grip on flat and moderately sloping grass is very acceptable, but I didn't feel hugely confident on anything more extreme.
Obviously, very heavy ground is catered for in other Salomon models like the Speedcross range, so it would be unfair to criticize the Ultra Pro too much for its limitations in the mud.
I live about 4 miles from my local trails with a combination of a flat grass path and road to get there when I choose to run it.
On the road the Ultra Pro performs really well; the small, plentiful lugs feel like a substantial, slightly too stiff road shoe. As good as you could expect from a trail offering and certainly the best I have experienced.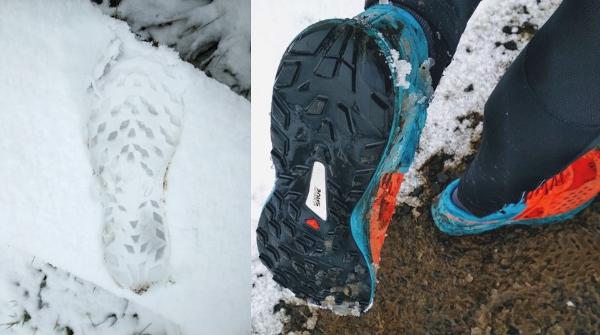 I can't really comment on breathability as I have only used the Ultra Pro during the Irish winter when that is NEVER an issue. I have been impressed with its ability to keep water out though.
On a wet day, my foot has been damp, but the upper doesn't become sodden and leave your feet soaked through thanks to the substantial toe bumper and rubber overlays.
During one particularly adventurous outing, I ran through some very boggy ground (basically a stream) where the water was in over the top of the shoe. Although my foot and the Ultra Pro was soaked, I didn't ever feel uncomfortable as I have with other shoes in a similar scenario.
The roomy toe box allowed enough room for my wet sock to expand without rubbing. I was very pleased with that.
Toe bumper keeping out the snow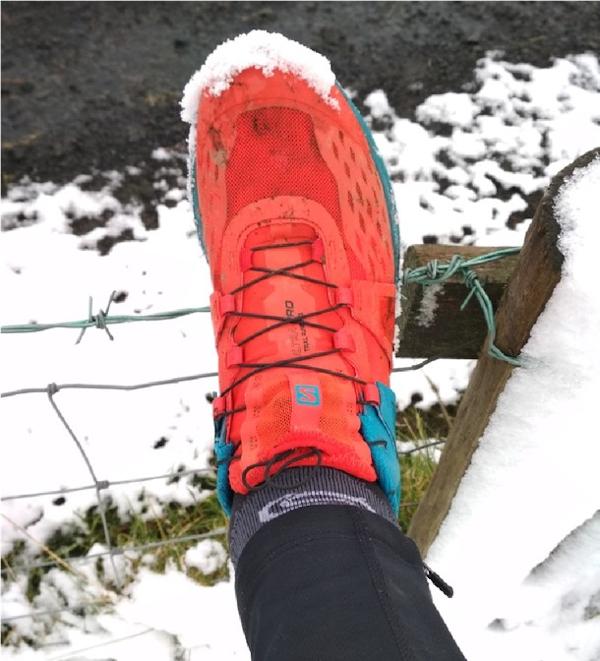 I had some issues early on with the Ultra Pro: I found my foot twisting in it, meaning the outer toes rubbed against the toe box and upper causing blisters.
I took the Ortholite insoles out to find that there is quite a substantial arch support, which I figured was throwing my foot and causing the annoyance. I replaced the insole with a more neutral, flatter one and found that it solved the problem.
A 20km run and no issues later and the Ultra Pro was back in the rotation. I'm a little disappointed that I had to find a solution to this as I have never had any major issues with arch supports in a shoe before. Maybe it's just the way Salomon builds their shoes.
My only other gripe is the tongue which didn't provide much cushioning from the Quicklace or the lace grommets. This could be problematic especially since the shoe is geared towards long-distance running. A more cushioned tongue is definitely required.
In terms of durability, I'd be very confident that the Ultra Pro will last well. The upper achieves something tricky in that it is soft and pliable yet robust. I am always concerned that this type of overlaid construction will come apart, and the shoe will suffer over time.
I see no signs of this being the case, and I have put them through quite a lot of punishment so far. The sole seems to be pretty durable as well. There is some minor wear in the places I normally see on my shoes, but if anything, it is lasting better than most, which is impressive.
Overall the Ultra Pro does what I bought it for. It gets me round long trail runs in comfort with some room to spare. If you are a fan of Salomon and are looking for something for big distances, I'd recommend it.
I run in it, and it does what I need it to, but I just don't feel like it's the one for me. I find it a bit dead and lacking in feel, and it just doesn't give me everything that I want from a shoe.
The issues I have had with it would be bearable if they were isolated, but the sum of them leaves me somewhat disappointed. My expectations are always high—as consumers and runners, I don't think we should have to compromise.
A trail shoe can be protective, have all-day comfort, and still feel lively, but I just don't feel the Salomon Ultra Pro achieves it all.
It's a solid shoe for long, slow running but with a few tweaks it could be wonderful, and maybe in the next iteration, it will be. Fingers crossed.
Scoring
-1 for Tongue related irritation
-1 for insole related fitment issues
Good to know
The Salomon Ultra Pro is crafted to be a trail running shoe. It was intended for those who have neutral foot motion. It features the 3D Stretch Air Mesh upper that offers proper ventilation throughout the runs.
The TPU Energy Save forefoot insert is utilized in the shoe. It aims to give additional stability and shock absorption.
Exceptional cushioning is delivered by the Dual-density compressed EVA midsole. This material aims to provide additional durability to the platform as well.
Integrated into the footwear is the non-marking Contagrip with 5mm lugs outsole. The primary focus of this material is to deliver exceptional grip and durability on a wide variety of surfaces.
The outsole of the Salomon Ultra Pro features the Premium Wet Traction Contagrip. It has 5 mm lugs that are adequately deep for loose dirt or off the trail running.
The rubber compound is integrated into the shoe. The material holds onto rocks even when the surface is wet. It is described to be durable that can last up to 80+ miles on mostly rough and rocky terrains.
The Dual Density EVA midsole is featured in the Salomon Ultra Pro. The material is well- cushioned and durable. As a result, a more comfortable and efficient ride will be experienced by the user.
Additional support is offered by the Ortholite footbed. This material is essential in providing anatomical underfoot comfort. As a result, the runner will have a more enjoyable ride without thinking of possible pain and discomfort, especially on long-distance runs.
Integrated into the Salomon Ultra Pro is the TPU Energy Save forefoot insert. The primary focus of this material is to provide additional shock absorption and stability to the foot.
The Salomon Ultra Pro is designed to have a 3D Stretch Air Mesh upper. It is considered a work of art because it makes the foot feel comfortable and supportive. This well-ventilated upper material is essential in keeping the foot cool and fresh while tackling the trails.
Along with the 3D Stretch Mesh upper, the external overlays are integrated into the shoe. These overlays provide a snugger fit without exerting excessive pressure.
The Salomon Ultra Pro's toe bumper works well with the welded overlays. This component of the shoe further offers additional protection and support.
Just like in the popular Salomon Sense Ride 3, lying on the upper area of this shoe is the Seamless SENSIFIT. This technology wraps the foot for a more secure and comfortable fit. The SENSIFIT features the floating wings. The purpose of which is to make it easier to adjust the forefoot and midfoot support as the foot needs to change and move throughout a long event.
To give better performance in running, the QUICKLACE system is utilized. With the addition of exceptional fit over short and long-distance runs on tough trails, it makes running easier with easy adjustments, giving security to the position of the foot.
The thin tongue and padded collar are utilized in the Salomon Ultra Pro. This component of the footwear provides additional comfort.
Rankings
How Salomon Ultra Pro ranks compared to all other shoes
Popularity
The current trend of Salomon Ultra Pro.