Verdict from 1 expert and 100+ user reviews
6 reasons to buy
Many runners have observed that the outsole did a fantastic job, especially on muddy trails.
A reviewer stated that the shoe provided excellent grip on all trail surfaces.
The upper was very effective in guarding debris out as well as retaining foot dryness, according to a tester.
Most users experienced a comfortable wear that did not require a break-in period.
Several wearers said the Speedcross Vario 2 was a durable trail-running shoe.
The shoe presented a snug fit resulting in a pleasant and smooth ride, one runner expressed.
2 reasons not to buy
A few consumers noticed the insole was not secure and kept moving out of place.
The lugs on the outsole were not on the same level of efficiency as other Salomon trail running shoes, as mentioned by a reviewer.
Bottom line
The Speedcross Vario 2 has delivered an impressive performance, according to many runners, with its technologies working together to yield multiple benefits to the user. However, despite the remarkable features, there were some who thought improvements are needed. Overall, the Speedcross Vario 2 has proven to be a reliable trail shoe.
Tip: see the best trail running shoes.
Our reviews
A trail shoe is a different proposition to a regular road shoe. You want to be reassured in its sturdiness and durability, but you don't want to feel like you're running around in clogs—tough gig!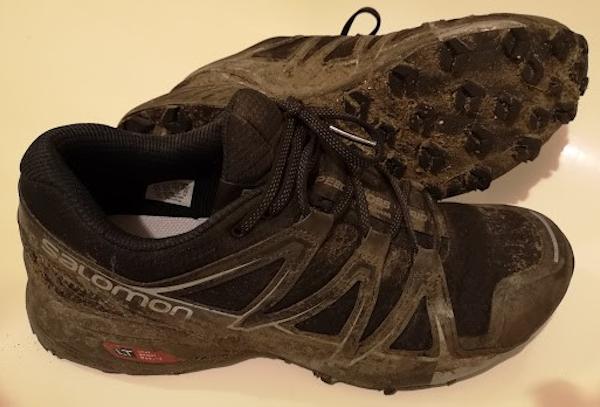 Opening and fit
Unboxing the Speedcross Vario 2's, I found them sturdy but not too heavy. They feel rigid but not overly unwieldy and not noticeably heavier than a well-cushioned pair of road shoes.
Interestingly, these Vario 2 versions of the popular Speedcross come with laces while the standard versions have a bungee pull.
After speaking with other users, I learned that the bungee pull could be frustrating with cold hands and slippy conditions—fairly typical after a trail run. I have to say, it makes sense, and I do like the lacing option of the Vario 2.
In terms of sizing, these shoes are pretty true to size. I take a size 10 and have slightly wider feet. I find them a little snug width and lengthwise in the toe box compared to some of my road shoes, but not to an uncomfortable level.
Upper and midsole
The laces are well-spaced across the length of the shoe so that you can get a comfortable fit. The Ortholite inner is made to wick moisture and keep the foot comfortable while also being water-resistant from the outside.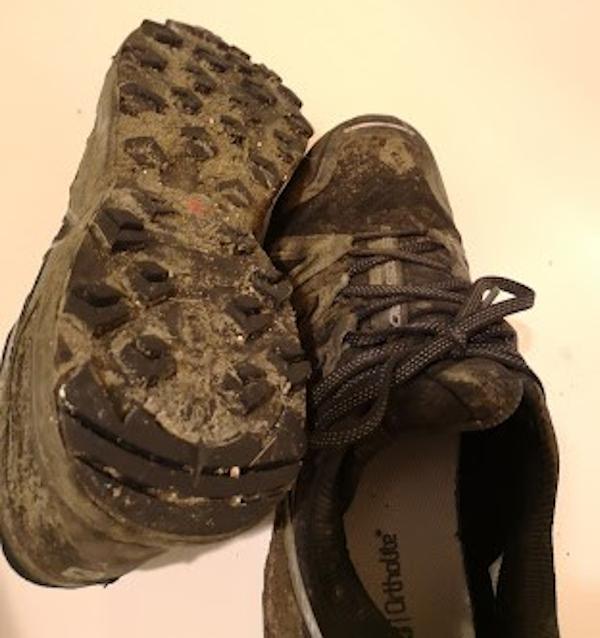 The midsole is injected EVA foam and relatively thin compared to some more cushioned runners.
Outsole
This is where the Vario 2 derives its character. A lighter, smoother' more friction-based sole' is what connects you to the ground in these.
Pronounced lugs and a hard-wearing Contagrip sole make the shoe look rugged and ready for muddy stuff.
Performance
Lacing up and first run, the shoes were excellent. They felt reasonably light, not much heavier than a road shoe.
I'd bought them for a cross country race that day, so I had no time to break them in. I've since competed in several other events and run in them socially, and they sit well with me.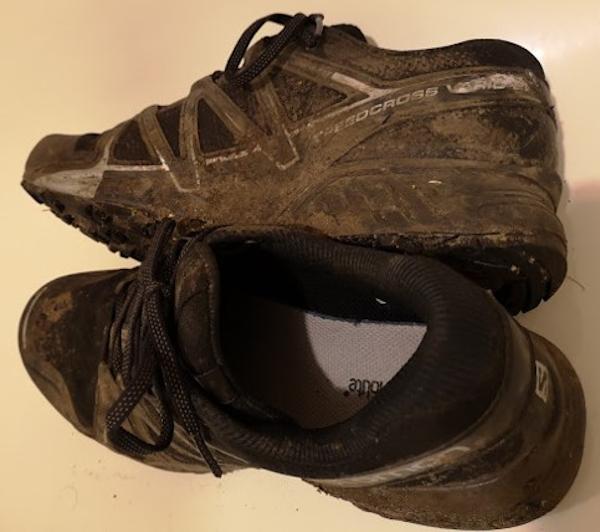 The big thing with trails shoes is the extent of the compromise to comfort and speed resulting from the adaptation to perform on slippery terrain. The Vario 2's have minimal cushioning, so these feel quite hard, particularly on firm ground.
However, these are less pliable than road shoes, so these do not give much in terms of energy return. What they do provide is superb traction across terrains, wet grass, mud, leaves, rocks—you name it! These are shoes that can take you anywhere.
In one section of a cross country course, I could fly past people uphill wearing spikes because there was a paved section next to a muddy path. I could run normally on the running section whilst those in spikes had to persevere through the slower stickier mud.
This ability to deliver performance on harder surfaces was a key performance aim of the Vario 2. And while you wouldn't go too far because of the firm insole, they will carry you well on hard, firm surfaces as well as on trails.
When it has been cold and wet, these shoes protected my feet well. I did feel them getting a bit damp, but that was later on in a wet cross country race, so it's hardly surprising.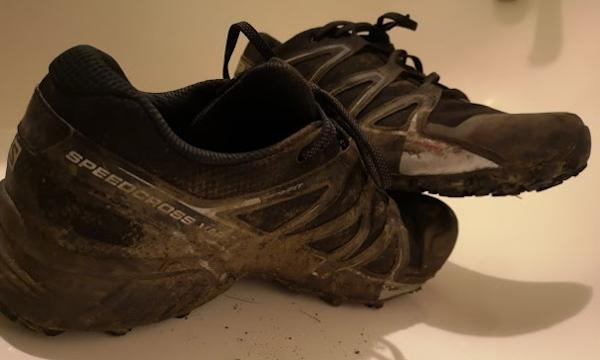 The only slight negative was, with medium thickness running socks and wider feet, the toe box did feel a little on the small side, particularly when running fast and downhill.
Also, the tongue position could be a little uncomfortable if it rolled around the right side. In reality, these are minimal intrusions, and once I was running, they settled fine and didn't bother me.
To summarise, the Salomon Speedcross is an excellent trail shoe. Its flexibility is the key appeal as it inspires confidence across a range of terrain and is equally effective on harder surfaces.
Compared to road shoes, they are a little less comfortable and take a little getting used to, but that initial investment reaps the rewards when the terrain gets tricky.
These are not stylish shoes, but they are functional and brilliant at it.
Good to know
This shoe is a trail-running shoe designed to excel in muddy, wet, and dirty terrains. It is ideal for runners who have high arches or a neutral gait cycle.
The upper is comprised of the Anti-Debris Mesh that acts as a deterrent against debris and other objects. Sensifit™ overlays support the mesh by giving a secure fit all around the foot.
Lightweight Muscle compound complements the injected EVA foam in the midsole; these components work together to bring cushioning and shock absorption. Underneath the midsole is a Wet Traction Contagrip® outsole supplying grip on wet and slippery surfaces.
The Salomon Speedcross Vario 2 possesses a standard running shoe length and is designed to fit runners with a low to medium foot volume. Width profiles are available in medium for both men's and women's versions.
This shoe makes use of Salomon's own Premium Wet Traction Contagrip®, an outsole material that is a mix of various compounds resulting in an optimal level of grip and tackiness, especially on wet and slippery running conditions. The lugs are broader and shallower compared to the shoe's predecessor, but it still has the signature siping for additional traction and flexibility.
Covering the length of the outsole is a protective film called Mud Guard, and it works by shedding mud and soil quickly, thus maintaining the base of the shoe clean.
The midsole uses a full-length injected EVA foam which offers an adequate amount of underfoot cushioning. It also has shock-absorbing properties, as well as a high energy return for a smooth transition.
Blended with the EVA foam is the brand's signature Lightweight Muscle, a cushioning compound that offers additional shock absorption. It also ensures a soft and comfortable ride even when running on rough trails.
Sitting on top of the midsole is a Die-Cut Ortholite® sock liner. It's made from foam that creates a cool and dry foot environment for the foot. It is also designed to be durable.
Making use of a mid-feather construction, the upper of the Speedcross Vario 2 consists of the Anti-Debris Mesh. It acts as a protective unit that prevents potentially damaging elements from entering the shoe and possibly injuring the foot. It is naturally breathable; thus, an airy and dry in-shoe environment is still promoted.
Same as in the popular Salomon Sense Ride 2, this shoe uses the Sensifit™ overlays which wrap the foot firmly for a secure and a virtually-customized hold. It aims to give a precise fit.
Rankings
How Salomon Speedcross Vario 2 ranks compared to all other shoes
Popularity
The current trend of Salomon Speedcross Vario 2.