Verdict from 5.7 hours of research from the internet
7 reasons to buy
Water-repellent upper coverage worked impressively in keeping the feet dry, according to some reviews.
A few number of runners high-appreciated the shoe's superb grip on rough terrains.
Several runners found the Speedcross 4 CS durable.
Based on the observations of few runners, the shoe is comfortable to wear.
The shoe's cushioning gained positive remarks from some runners.
The shoe is surprisingly lightweight, based on some comments.
One runner mentioned that the Speedcross 4 CS felt more secure than the older version.
3 reasons not to buy
The Salomon Speedcross 4 CS is expensive.
Some runners noticed that the shoe is less breathable because of the anti-debris mesh.
One runner mentioned that the shoe was unstable due to high heel height.
Bottom line
The Salomon Speedcross 4 CS is a reliable trail running shoe that is designed for neutral foot movement. Comes with a water-repellent upper coverage, this shoe keeps the foot dry even on wet conditions. It offers great cushioning, breathability, and protection needed while running on technical trails.
Tip: see the best running shoes.
Our reviews
Within my last search for trail running shoes, I had set high requirements.
As I am an all season runner living in the quite harsh climate in North Eastern Europe, my next shoes have to be good enough to get me through rain, mud and even snow.
Research was done, got several models in my try-out list, tried a bunch of pairs in different sport shoe stores, yet my eye and feet were caught by Salomon Speedcross 4 CS.
So far I have run around 200km and walked few long walks on different surfaces and the Speedcross has satisfied me so far.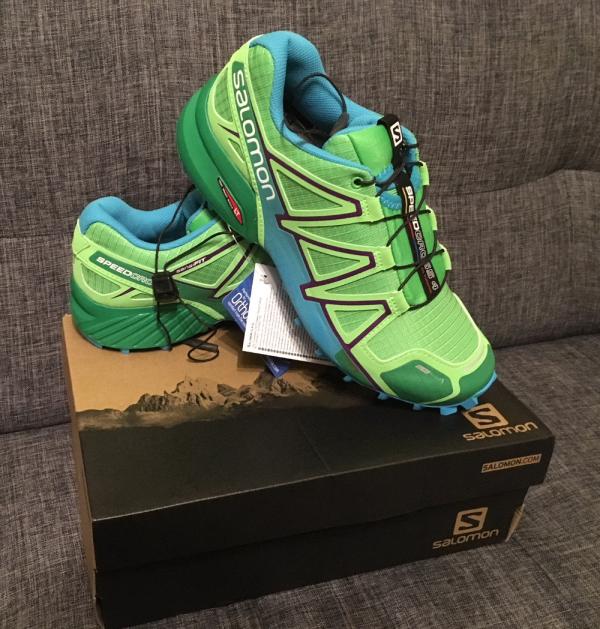 Fit for Winter
Dealing with cold winter was one of the main aspects I took in mind when choosing shoes.
The weather has not yet plummeted to very low minuses as true winter has not arrived yet, but at -10C my feet felt warm and comfortable while running. During walks up to 20km at -5C, my feet felt good as well.
Water-repellent coverage comes in handy as well – at all times. Occasionally it rains during my runs (yes - rain, this year's winter is more like an autumn) or I run through wet surfaces and my feet is still dry, maintaining warmth.
During a long walk, I slipped in a half-frozen mud pit but the Speedcross 4CS saved my feet from walking the next 2 hours soaked or frozen.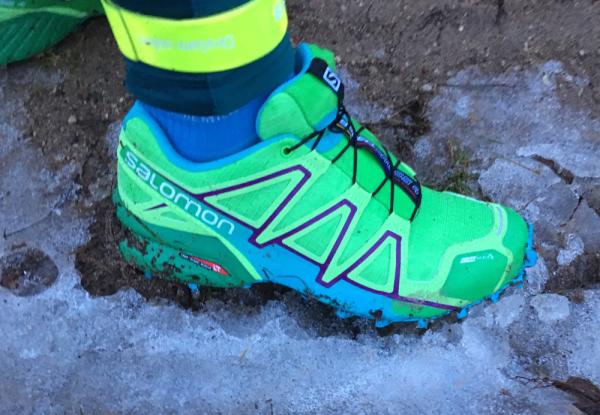 During daily runs, I chose socks of different thickness to see whether the Speedcross can still be warm even with thinner, non-water resistant socks. The results pretty much the same and even with regular socks, my feet felt considerably well.
In the aspect of keeping feet dry and warm, these shoes are suitable for winter and autumn conditions (even in the North).
Sizing and Fit
Salomon sizing needs to be considered.
It's recommended to go up 1/2 or 2/3 larger than your regular size. For my standard 38 (EU) size, I chose 38 2/3 which fits me well.
I always need quite a bit of time to break in a new shoe. With these shoes time was admirably short – after three short runs (5-8km) my feet were ready for long runs without sticking any safety tape on my heels or toes.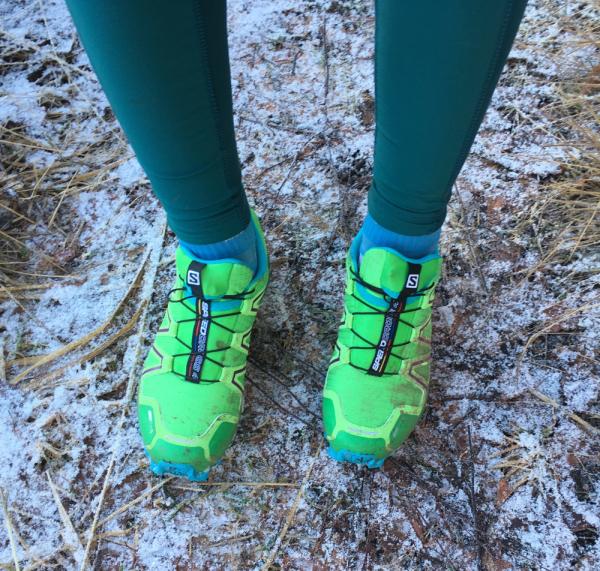 Stability & Comfort
The running shoes. That is something to consider, especially if you run with thin-soled shoes on daily basis.
It took me a few runs to get used to the placement of heel, toes, and arch (heel-toe drop – 10mm).
Shoes are very light (female – 260g), but the sole is quite firm.
For some, the sole might be too firm, especially for runners who run 15km and more on their training. Some of my running tracks are covered with rocks, therefore stiffness of sole suits me well, especially the mudguard that keeps toes safe.
Shoes are narrow, well cushioned with neutral arch support – that adds on stability and comfort.
All in all, the Speedcross is very comfortable and stable.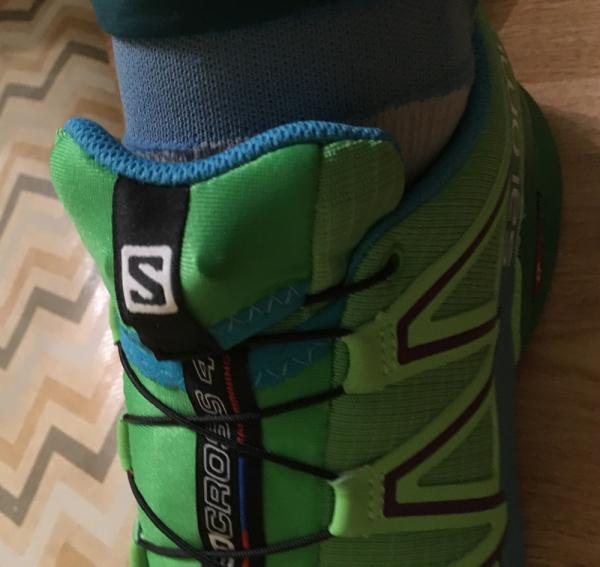 Fit for Different Surfaces
Here is a short summary based on my runs so far.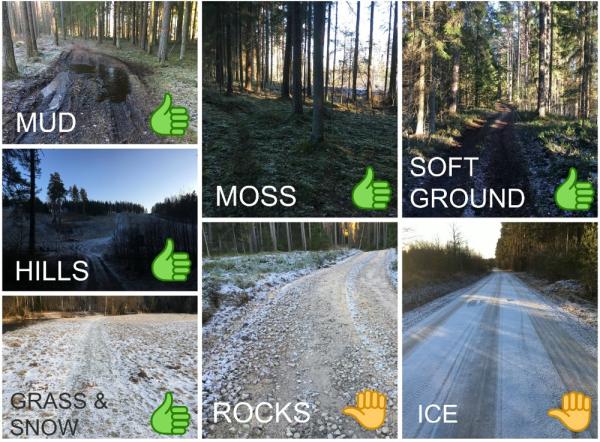 The Speedcross has a nice grip on soft ground, perfect on hilly trails & mud, and dry snow is fairly easy game. I would say, it's average on surfaces covered with larger and sharper rocks – stability & traction decreases, but still can run okay.
Ice is another story. Sure, the shoes slip on bare ice, yet the rubber sole reduces slipping a bit.
On the other hand, I have never worn anything that makes walking or running on the ice super safe, so, creators of these shoes still has done a good job.
Pros
Suitable for all seasons & different weather conditions
Warm enough for winter
Decent grip
Quicklace system & pocket for storing clip and lace when fixed
Lightweight
Water resistant
Good fit
Stability on different surfaces
Easy to clean
Nice design & wide variety of colors
Cons
Specific sizing – for good fit needs larger size than standard
Quite pricey
Conclusion
As for winter shoes, it's a definite go! The Speedcross 4 CS has everything you need to run or take a long walk during harsh weather.
Price is not completely friendly, so you have to be clear which Salomon size is right for you. I would recommend checking for best deals online.
The shoes look neat – a nice touch to running outfit and gives you something nice to look at when you are running.
There are times as a running shoe geek, especially as a trail runner when the terrain and shoe of choice come together in a perfect match. Such moments are not always attained but when they are, provide a moment outdoors full of joy and help enhance an already blessed situation.
Salomon Speedcross, now in 4th iteration, is a shoe created with a specific terrain in mind; rugged, technical, rocky, muddy, and sometimes snowy, most likely with a hefty dose of elevation thrown in. As such, it is an easy shoe to match with a given terrain (or at least easier).
My relationship with the Speedcross, however, is a little more complicated.
I had previously owned Speedcross 3 and put over 100 miles in them over one season. Notably, the mileage was achieved in just 4 runs, with 20 miles the shortest and 30 miles the longest outing.
As one might surmise, they are comfortable over the long distances. All the runs were also during the English Winter, a time when the trails are wet and muddy. The shoes were perfect for the conditions with their aggressive lugs.
And then the upper ripped. The rips appeared on both shoes, on the medial side, where the foot flexes. I got in touch with the retailer. They sent me not a replacement pair as I had hoped but a refund, no questions asked.
It helps I suppose that Salomon provides a 2-year warranty on their shoes (excluding, of course, normal wear and tear) but it was disappointing nonetheless to have such rugged and robust looking shoes fail so early, especially when they had been working so well for me.
The failed upper on Speedcross 3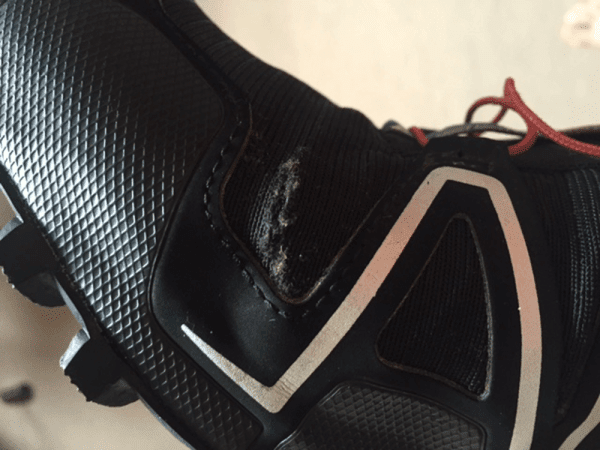 That was over a year ago. The shoes were gone but not forgotten and as Winter approached again I thought back to the enjoyment I got out of them while they lasted.
So when Salomon introduced the Speedcross 4, I felt I had to give them another go, this time hoping for a longer-lasting relationship.
Enter the Speedcross 4 CS
They are, of course, not the same shoe, but a variation on the theme.
While preserving the essence of the previous model, the new version was lighter and had slightly different lug configuration.
While still aggressive, the lugs were slightly wider and more spaced apart than in the previous version, reducing the likelihood of tripping up on the lugs and for better mud-shedding.
I also opted for the "CS" version, which incorporates the ClimaShield membrane for enhanced water resistance. But many of the same features from the earlier version remain, including the SpeedLace, plush tongue and heel cup, Ortholite insoles, lightweight Muscle midsole, and the 10 mm drop.
Loving the bright colorway!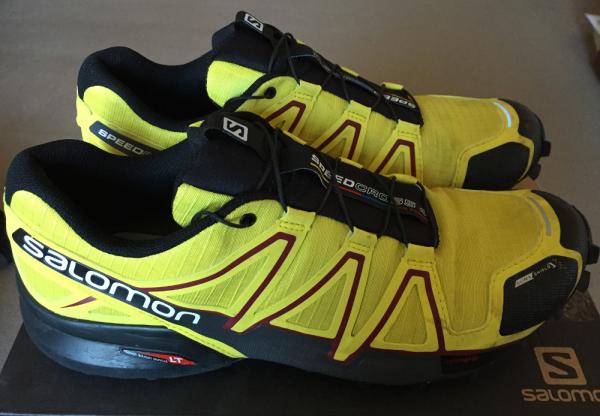 On the feet, the feeling was familiar, a snug and secure yet comfortable fit.
While some observers cite the narrowness of the shoes, both in versions 3 and 4, as someone with wider than average feet, I didn't find them too restrictive. In fact, with the shoes likely to be employed more often than not on technical terrain, I preferred the snug fit which helps minimize the feeling of "sloppiness" when precise footing is called for.
With about 1/3 of the upper sheathed in a durable synthetic overlay, the shoes offer ample protection from the wet and mud. I did, however, find the CS membrane noticeably less breathable than the normal upper, so made a mental note to save these for outings in the proper cold and wet weather.
Aggressive lugs – only little wear shown after 50 rugged miles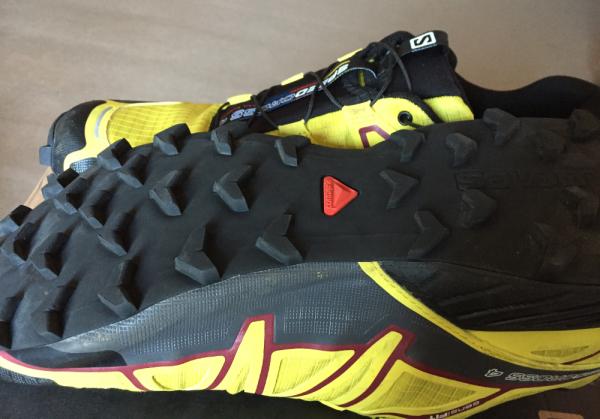 Tested in Chamonix
I took them out to the trails in and around the town of Chamonix in the French Alps.
On arrival, we were greeted with a dump of snow which provided perfect conditions for taking them out. The feet eventually got wet in the ankle-deep snow, but perhaps later than if I didn't have the CS membrane.
We made our way up a steep dry riverbed to hit one of the traversing trails and ran to Le Brevent, one of the many ski-lifts in the area. There were no surprises with the shoes – the grip was surely and feet protection tank-like.
The only unexpected element was that the wet Ortholite insole tended to slip under the heel and bunch up mid-foot. I had heard of this happening to others with the Speedcross 3, but this was my first experience with it.
To be sure, it was annoying, but not a deal-breaker, since it appeared to happen only when the shoes were soaked through and during sharp descents, and only in the right foot in my case.
Ortholite sockliner is comfortable but bunched up when wet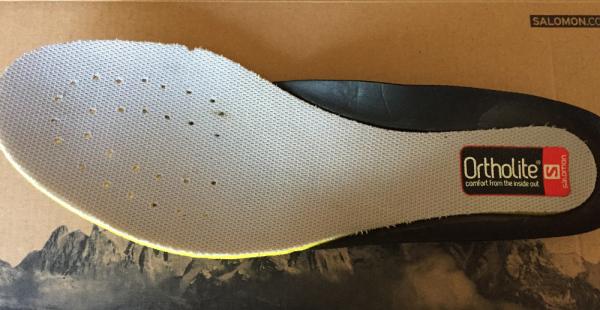 Following that initial 8 mile test run, the next day was a longer outing of 17 miles, taking in the Mont Blanc Half Marathon route up to La Flegere and back to Chamonix along a varied course which included tarmac out of town, groomed dirt track up to Argentiere, grassy fields into Montroc and the long undulating rocky traverse along the "balcon" up to the ski-lift.
Again, the shoes felt and performed great across the varied terrain and I felt pleased with the shoe choice. Despite the absence of a rock plate as such, the feet felt well-protected thanks to the robust 20/30mm stack height along with the aggressive lugs.
Along the Mont Blanc Half Marathon route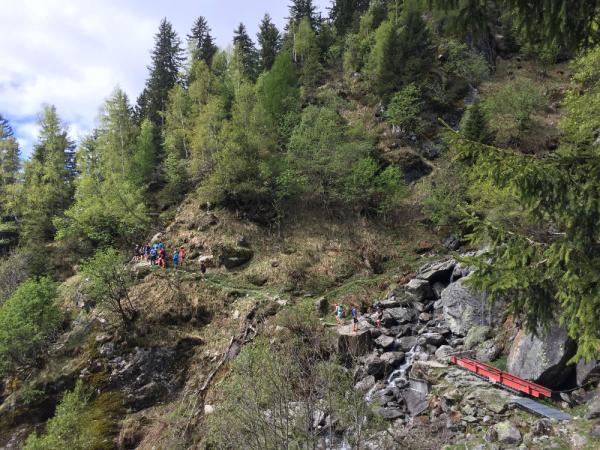 On the third and final day of our short visit to Chamonix, we tackled the Vertical Kilometer route. The VK is essentially a 4 km track straight up the mountain to Le Brevent from Chamonix town center, and for the average athlete like myself is more of a 90-minute slog than the 30-40 minute sprint it is for the elites.
The terrain would be the most technical that we'd come across on this trip and included some sections near the top which required scrambling and use of steps and handholds.
The shoes, on this occasion, felt a tad over-engineered and not as nimble, but this was to be expected given the nature of the route.
It basically confirmed my previously established view that the shoes were ideal for the longer runs when you're expected to move at a more moderate pace, as in a mountain ultra.
Seoul Trails
With a trip to Seoul planned for early December and along with that the chance to run sections of the 157-km long circular route around Korea's capital city known as the Seoul Trail, there was only one shoe really which was a contender for the hilly terrain and wintry weather conditions.
While all of the mountains which surround Seoul and through which the trail passes are less than 1000m high, this is more than made up for its undulating nature, with a typical 10-mile route throwing up around 1000m in accumulated ascent. Not too different from what one might expect in the Alps!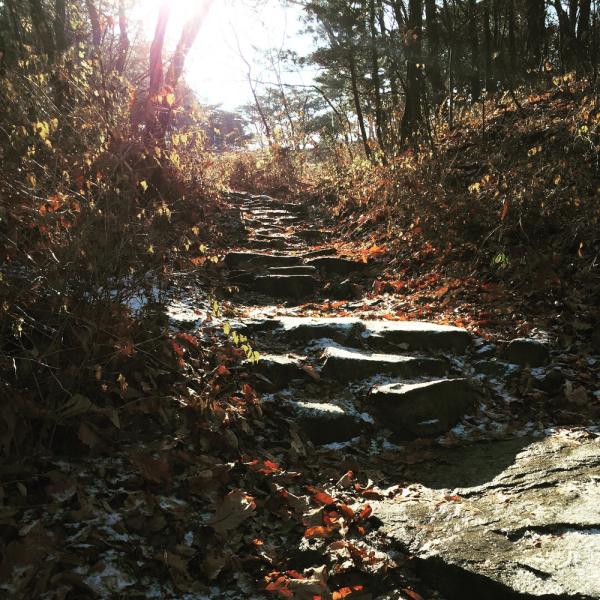 Over two days I covered about a quarter of the circular route, over terrain which included once again tarmac to the trailheads, wooden steps, snow-covered exposed granite, dirt tracks, and straw-matted stretches. Again, the shoes performed admirably, and I vowed to return at some future point to tackle the rest of the Seoul Trail.
Mention must be made of the impressive grip on wet rocks and traction in dirt, mud, and snow. The foothold was so secure that at no time was I wary of slipping or taking a tumble.
While Vibram's Mega Grip compound used on many trail shoes, including on certain models from The North Face and Hoka is widely considered the best for traction, I found Salomon's Contagrip just as impressive.
As mountain and trail runners know, good grip is priceless in terms of the reassurance and safety it provides.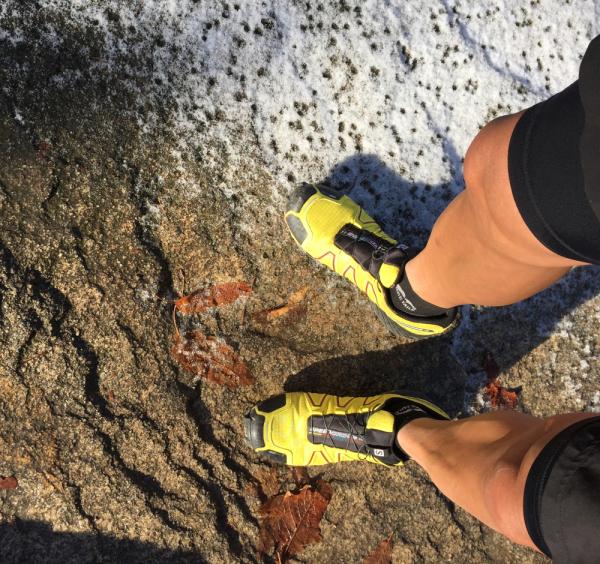 Concluding Thoughts
After having covered over 100 miles on them over a wide range of terrain, I feel (again) that the Speedcross are best suited for longer runs on technical (but not too technical as in the vertical km) mountain trails, dry or wet.
Its robust build provides ample protection for toes and feet, while a snug fit along with sticky grip is reassuring and allows one to focus fully on the trails with no distractions.
I would, however, look elsewhere if looking to go fast or over super-technical routes which require scrambling, as the shoes simply do not supply the kind of flexibility and responsiveness such circumstances demand.
While the slippage of the insole when wet was an annoyance, it hasn't happened since that time in Chamonix when the snow was ankle-deep, and it won't be that often that I'll be running in conditions where the shoes are likely to be soaking wet.
Having said that, I do have a couple of ultras coming up in the wet and cold (and mud) in January and February, and already know that I'll be using these for them, even with the possibility of the insole slippage. As mentioned earlier, it's not a deal-breaker.
In all likelihood though, the shoes will be put away come Spring, because the CS membrane will probably be too hot on the feet once the ambient temperature warms up. By then I'd likely have put over 250 miles on them and will have an update on how the upper on the 4th iteration holds up relative to that on Speedcross 3.
But for general Winter running, I need look no further.
The Salomon Speedcross 4 CS comes with an updated outsole. The fourth generation Speedcross lugs are more aggressive than the previous version. It digs in deep on soft surfaces and provides excellent traction on technical trails.
The fit of the Speedcross 4 CS is very identical to the previous versions. The upper wraps the foot comfortably and securely. The padding in the right areas offers exceptional comfort for the foot. It runs true to size and it is available in medium widths for both men's and women's versions.
Similar to the well known Salomon Speedcross 5, the outsole of this shoe uses the brand's notable Wet Traction Contagrip that provides exceptional grip on wet and slippery surfaces. The 5mm aggressive lugs are designed to deliver maximum traction on wet and technical terrain.
Salomon Speedcross 4 CS just like its base model, the Salomon Speedcross 4, it uses an injected EVA compound that extended in the entire midsole. The full-length EVA offers reliable underfoot cushioning. This works perfectly with the LT muscle that helps in absorbing shock during impact. The resilient cushioning delivers a more responsive ride.
The Speedcross 4 CS features the ClimaShield membrane, a quick-drying material that keeps the foot cool and dry in wet conditions. This works well with the anti-debris mesh upper that keeps dirt and debris out while keeping the coverage breathable. Great protection against dirt is also maximized through the shoe's mud guard system that fends off clay and mud while running on muddy trail.
With the aid of the Sensifit technology, the shoe provides a snug fit. The shoe has a gusseted tongue that keeps debris out, and lace pockets that tucked laces up and out of the way. The padded tongue and collar provides added comfort and enhanced performance. Lastly, the OrthoLite Sockliner offers moisture-managing properties for moisture and odor control while giving additional underfoot protection.
How Speedcross 4 CS compares
Corescore: 58-61
1 shoes (0.26% of shoes)
Corescore: 62-65
1 shoes (0.26% of shoes)
Corescore: 66-69
6 shoes (2% of shoes)
Corescore: 70-73
12 shoes (3% of shoes)
Corescore: 74-78
37 shoes (10% of shoes)
Corescore: 79-82
55 shoes (14% of shoes)
Corescore: 83-86
66 shoes (17% of shoes)
Corescore: 87-90
122 shoes (32% of shoes)
Corescore: 91-94
76 shoes (20% of shoes)
Corescore: 95-98
7 shoes (2% of shoes)
Corescore: 99-99
1 shoes (0.26% of shoes)
Price: $60 - $78
23 shoes (6% of shoes)
Price: $79 - $97
29 shoes (8% of shoes)
Price: $98 - $116
64 shoes (17% of shoes)
Price: $117 - $135
112 shoes (29% of shoes)
Price: $136 - $154
77 shoes (20% of shoes)
Price: $155 - $173
48 shoes (13% of shoes)
Price: $174 - $192
21 shoes (5% of shoes)
Price: $193 - $211
5 shoes (1% of shoes)
Price: $212 - $230
3 shoes (0.78% of shoes)
Price: $231 - $250
2 shoes (0.52% of shoes)
All shoes average:
10.4oz
Weight: 5oz - 6.8oz
7 shoes (2% of shoes)
Weight: 6.9oz - 8.7oz
56 shoes (15% of shoes)
Weight: 8.8oz - 10.6oz
152 shoes (42% of shoes)
Weight: 10.7oz - 12.5oz
116 shoes (32% of shoes)
Weight: 12.6oz - 14.4oz
25 shoes (7% of shoes)
Weight: 14.5oz - 16.3oz
4 shoes (1% of shoes)
Weight: 16.4oz - 18.2oz
2 shoes (0.55% of shoes)
Weight: 18.3oz - 20.1oz
0 shoes (0% of shoes)
Weight: 20.2oz - 22oz
0 shoes (0% of shoes)
Weight: 22.1oz - 24oz
2 shoes (0.55% of shoes)