Overall, with the perfect combination of features and technologies incorporated into the Saucony Sonic 3 Balance, the majority of the consumers were appreciative, proud, and satisfied. The 3rd installment of the shoe collected positive feedback from the wearers. The right blend of cushioning, wide toe box, and excellent fit have enabled runners to perform excellently and successfully. It's lightweight structure and durability are proofs of its superb construction. The Saucony Sonic 3 Balance is the right choice for runners with neutral foot mechanisms who want to take their running performance to the next level.
---
Verdict from 7 experts and 100+ user reviews
8 reasons to buy
The majority of the users commented that the Saucony Sonic Balance 3 is comfortable.
Several testers agreed that the shoe is well-cushioned.
According to those who have tried it, the running footwear is lightweight in structure.
Based on reviews, the shoe is responsive.
The shoe has a wide toe box, as noted by many buyers.
It is durable upper, according to those who have bought it.
The shoe is best used for half marathons as well as road and trail running activities.
A lot of consumers loved its perfect fit.
2 reasons not to buy
One of the users commented that the Salomon Sonic 3 Balance took a few runs to break in.
It was not breathable, a few testers noted.
Bottom line
Overall, with the perfect combination of features and technologies incorporated into the Saucony Sonic 3 Balance, the majority of the consumers were appreciative, proud, and satisfied. The 3rd installment of the shoe collected positive feedback from the wearers. The right blend of cushioning, wide toe box, and excellent fit have enabled runners to perform excellently and successfully. It's lightweight structure and durability are proofs of its superb construction. The Saucony Sonic 3 Balance is the right choice for runners with neutral foot mechanisms who want to take their running performance to the next level.
Best price from 50 shops
We earn affiliate commissions at no extra cost to you when you buy through us.
76% say it's true to size.



Our reviews
The Salomon Sonic 3 Balance is flying under the radar for quite some time now. Being released in late February 2020 with its siblings (the Accelerate and the Confidence), there are still very few reviews around.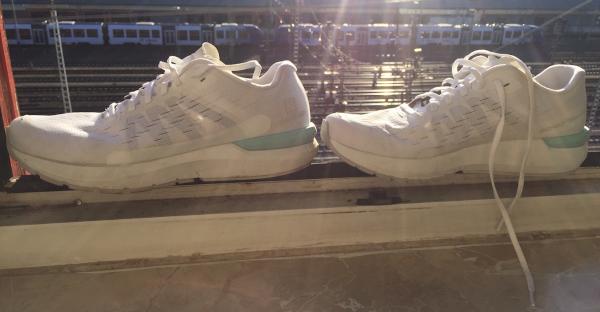 With all the carbon fiber plated shoes coming out and shoe brands re-inventing and re-interpreting classic designs of running shoes, the regular daily trainer seems just to fall beneath the table.
I bought the shoe as a daily trainer and workhorse, going into my first full marathon training block and looking for something durable, can-do-it-all, comfy, all in all, solid shoe. So, did I get what I expected?
Here are at least the specs I got:
Stack height: 28 mm heel / 20 mm forefoot (8mm drop)
Weight: 306 g / 10.7 oz (US M10.5/EU 44 2/3)
First impressions and fit
My first impression of the shoes was reserved. Out of the box, they didn't blow me away—mostly aesthetic wise.
The white color scheme is okayish, but with the midsole buffer, it loosely reminds me of toothpaste or a dentist. I don't know; sometimes, I feel like they just look like orthopedic shoes.
Still, I went true to size—buying the 10.5 I have in almost every other running shoe (Altra, Hoka, Asics, Nike, Reebok), and they fit nicely. Saying this, I would recommend going true to size with the Salomon Sonic likewise.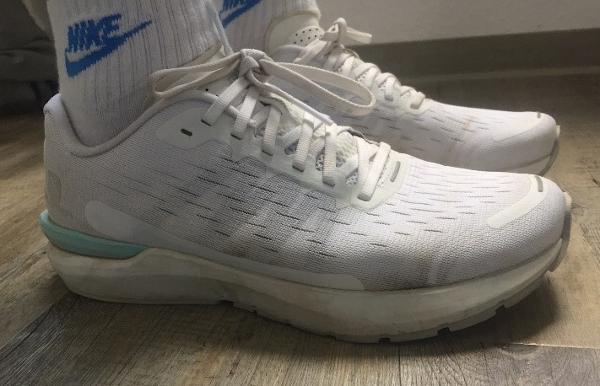 The overall fit is between snug and comfortable for me. Luckily, Salomon got rid of the hard-rubbing toe cap, which caused some issues for me with the 2nd version of the shoe. I mean there still is something there, but it's not irritating anymore.
Through the midfoot, I get a nice lockdown. The tongue is seemed in nicely against the upper and doesn't move around and what I really appreciated was the heel counter, which secures my foot very well and is soft and comfortable at the same time.
For my slightly wide feet, the toe box is almost a little narrow in width but gives some room in upward splay.
The upper
I really enjoyed the engineered mesh upper of the Salomon Sonic 3 Balance. The SensiFit™-technology secures the midfoot perfectly. The tongue doesn't move around at all. I liked the tongue a lot in this shoe.
It is not overbuilt, fits nice and is well secured—Salomon ads this as OrthoLite®, Slow-Recovery-Foam—and I think they did an excellent job there.
In the forefoot, the material is somewhat forgiving, and the toe box breaks in just a little for the extra toe-splay.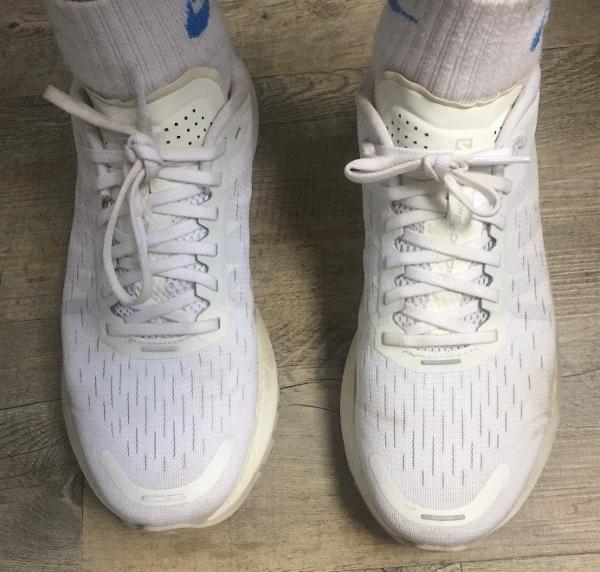 Overall, the upper gives me a nice snug feeling and is still breathable. Only downside in the white colorway—it gets dirty pretty fast even in dry conditions because it soaks up dust like a vacuum cleaner.
Anyway, this doesn't lead to any performance issues—so I think this can be overseen.
The midsole
Salomon uses the Optivibe midsole for more shock absorption and a well-balanced ride. I must say that the shock absorption really shines on long runs, recovery days, and easier workouts—when I am picking up the pace, it becomes kind of irrelevant.
Overall, nothing mind-blowing, a solid midsole, built for miles after miles without breaking down prematurely. They could've probably done a better job than settling for the turquoise colorway—but really no complaints here.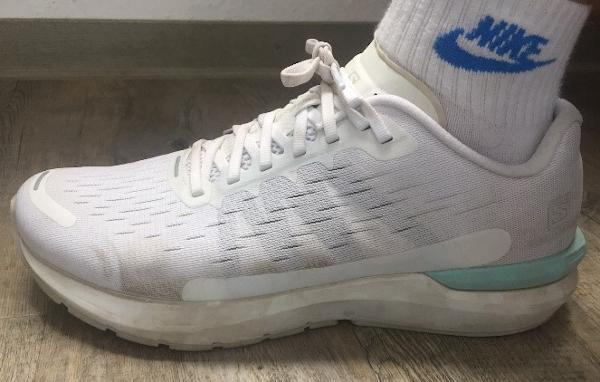 So, nothing to get too excited about—if I had to describe the midsole in just one word, it would be "solid". If I needed some more words, I'll just browse the world wide web for synonyms and add them to the list.
The outsole
The key-technology here is Geometric Decoupling™. It's supposed to create a more natural, flexible transition from landing to toe-off and through the gait cycle.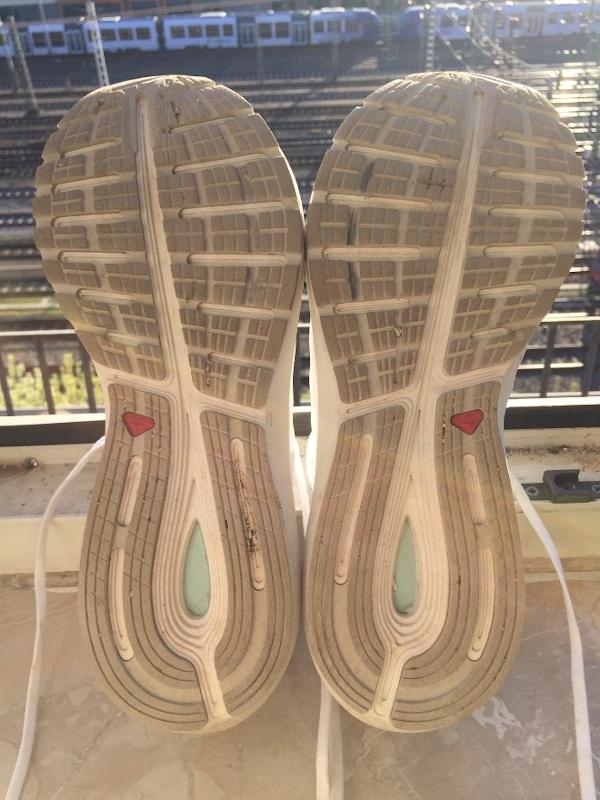 The outsole rubber is made of Salomons Contagrip—offering a lot of durability and protection along with nice traction. It really is something you don't need to worry about with this shoe—the built-quality of the outsole is good and provides you with a long-lasting material.
Ride, durability, performance
The ride in the shoe is very nice. They are comfortable enough for long runs and snug enough for picking up the pace, going around sharp corners and provide plenty of traction on easy trails, leading to a very pleasing ride.
The shoes are quite versatile, offering protection and a nice fit and perform very well so far. I had little to no issues with the material and enjoyed the ride and believe they will hold up exceptionally well for several hundred kilometers more.
Places where I see most abrasion or tear so far is, surprisingly, not at the rear of the foot but rather along the decoupling line in the forefoot area.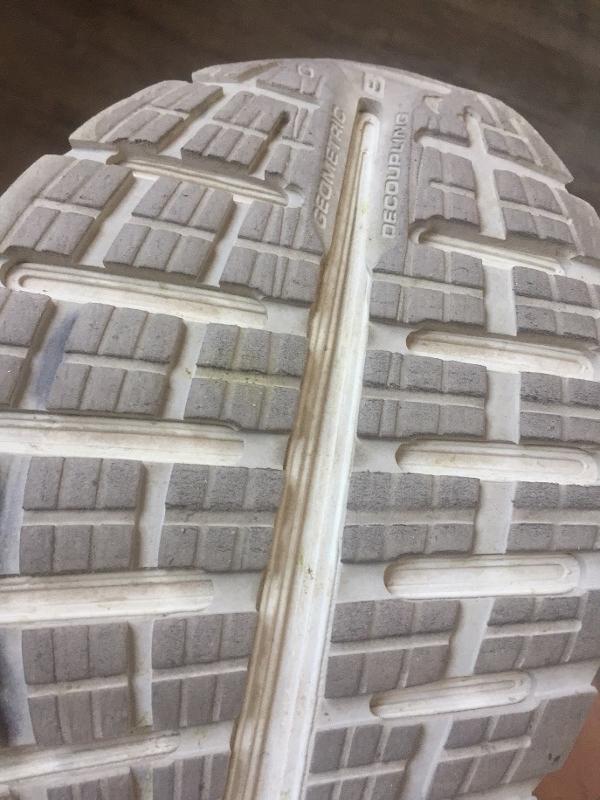 They are not overly cushioned or super light and not too exciting at all, but they are well-engineered and most of all, balanced for varying needs, especially if your shoe rotation is small.
Therefore, I can recommend the Salomon Sonic Balance 3 as daily trainer and workhorse for high mileage, really letting you worry about everything else but the shoes when you put them on to run.
Dislikes
Only small things here. The laces could be a tad longer if you need to go for a runner's loop—I had no issues with that whatsoever because the SensiFit™ and heel counter hold my foot in place right away, tying them regular.
Secondly, aesthetics—I kind of adapted to the white color—the others didn't strike me as more promising, so I am okay with that, and it doesn't affect performance.
Lastly, I feel like they could be a little lighter—compared to other shoes in my rotation they come in on the heavier side with 305g—outweighing all contenders significantly. But perhaps that's why there is a lighter version of the Sonic with the Accelerate.
| | |
| --- | --- |
| Shoe model | ~weight [g] |
| Hoka Tracer 2 | 230 |
| Reebok Floatride Energy | 270 |
| Asics Dynaflyte 3 | 275 |
| Altra Escalante 2.0 | 280 |
| Hoka Challenger ATR 5 | 285 |
| Salomon Sonic Balance 3 | 305 |
Final thoughts
With the Salomon Sonic Balance 3, you absolutely get a through and through solid shoe. You can take them for endless miles without worrying about them wearing down.
I really enjoyed the stable yet natural and smooth ride. Especially the lockdown is incredible—I felt no time cramped in the shoes but never had a feeling of sliding around in them.
I believe a lot of runners will enjoy the Sonic Series from Salomon since they are offering well-built shoes for every runners' preferences.
Without having tested the Accelerate yet, I would probably recommend the Balance for runners who are more marathon oriented and the Accelerate for runners who look more towards the half-marathon distance.
Sure thing: Salomon built a perfectly unexciting, solid, reliable, daily trainer that will last and stay by your side.
The new Sonic 3 lineup from Salomon features three new shoes. These are Accelerate, Confidence, and Balance.
Accelerate is designed to be a lightweight racer and speed work shoe. The Confidence is intended to be a max cushion daily trainer. Lastly, the Balance is designed to be a multipurpose shoe.
All three shoes look extremely similar and have minor tweaks to achieve their intended purposes. I chose the Balance because I was looking for a shoe to serve multiple purposes in my rotation.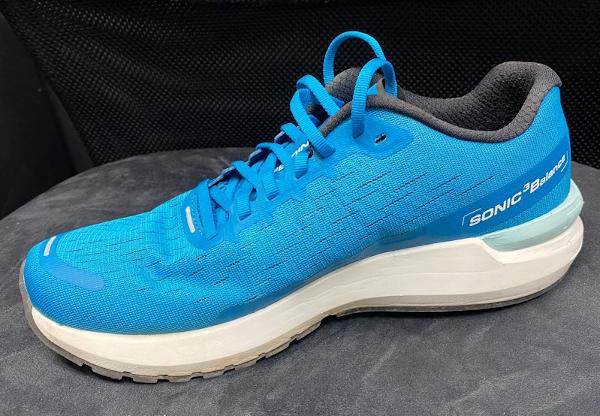 The Sonic 3 Balance has an 8mm heel-to-toe drop and comes in at 8.8oz or 252 grams. The main features of the shoe are Geometric Decoupling, which provides a more efficient heel-to-toe transition.
Another main feature is the Optivibe, which is a combination of two different foams to help propel while reducing vibration.
The Balance from Salomon also features an engineered mesh upper, a flat OrthoLite Impressions tongue, and an OrthoLite insole to provide extra cushioning.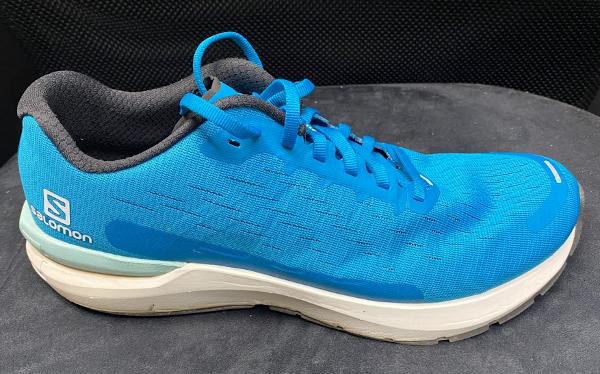 Fit
I find the fit to be pretty close to perfect for my feet. I have an average size foot.
I typically do not like Nikes and some Hokas because they are too narrow and/or do not have enough room in the toe box. However, I do not need to purchase any shoes in a wide variant either.
The Sonic 3 Balance from Salomon provides enough space in the toe box and does not pinch down on the sides of my midfoot.
The Sensifit upper is lightly structured without a bunch of unnecessary overlays, which allows it to contour to your foot and secure it in place.
The engineered mesh upper is very flexible and does not add a bunch of weight. The tongue is flat and lays perfectly across the top of the midfoot, allowing the lacing system to secure your foot very well.
The heel collar is padded enough to be comfortable and fit snuggly around the Achilles without being too padded and sloppy.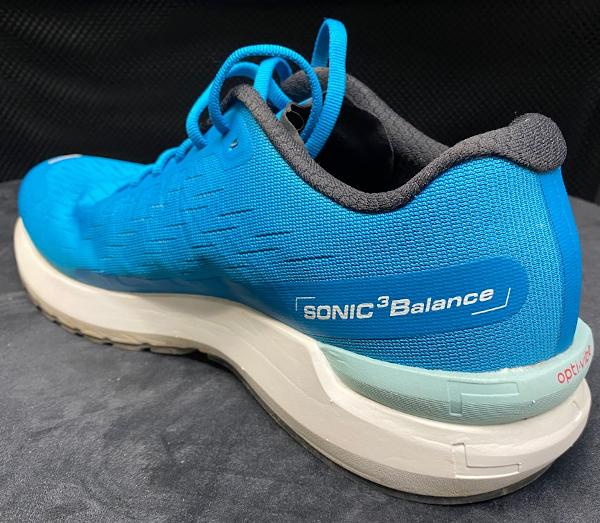 I have put about 70 miles on these shoes in the past two weeks, and I have not experienced any hot spots, blisters, or any other adverse effects from running in them every day.
Materials
The engineered mesh upper has been very supportive but also very flexible and breathable. In my experience, uppers can often sacrifice breathability for support and vice versa.
Salomon has found a pretty good balance between the two. The outsole of the shoe is pretty balanced as well but slightly leans towards the side of heavy.
The Sonic 3 Balance features a durable rubber outsole, which seems to be providing a really good amount of protection, but with that protection comes added weight.
However, the rubber outsole covers almost the entire bottom, but the shoe somehow stays under 9oz. The two foams used in the Optivibe heel are my favorite feature of this shoe. They combined really well to make an excellent ride.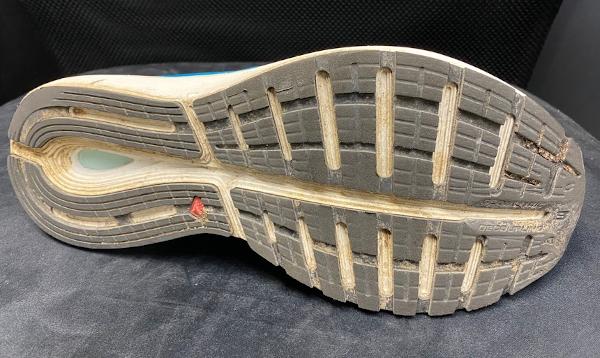 The midsole is responsive, yet cushioned and you can actually feel the vibration reduction if you are a heel or midfoot striker.
Salomon has put a lot of quality materials into the new Sonic 3 lineup, and it feels like a premium shoe right out of the box.
Conclusion
So far, I have been using these shoes for progression runs, hill repeats, middle distance and long runs. I have other shoes better designed for speed work, but the Sonic 3 Balance has fit really nicely into my rotation.
These shoes work really well as a pair to keep in the trunk of your car because they serve so many purposes. I have used them on the roads, greenways, gravel, and even dirt paths.
They are extremely comfortable and really help reduce the fatigue on my feet and legs.
I've never had a pair of Salomon road shoes before these, so I cannot compare them to previous versions, but they feel like a lightweight Brooks Ghost with a more responsive midsole.
I typically like to wait until 100 miles to do a full review so I can comment on the durability expectations, but everything about the Sonic 3 Balance seems really solid.
In my opinion, this is the type of shoe that I can see myself getting multiple pairs in different colorways.
Updates to Salomon Sonic 3 Balance
The Salomon Sonic 3 Balance is a neutral running shoe that offers a balance of style and performance. This running partner features a brand new midsole called Optivibe™ technology, which provides a more responsive and energetic ride compared to its predecessors. The addition of the Optivibe™ midsole also helps reduce vibrations to deliver a smooth running experience.
This lightweight running shoe utilizes an engineered mesh fabric for breathable coverage. The mesh is a flexible and lightweight material that offers a high level of comfort and flexibility. The Internal SensiFit™ construction is also integrated into the upper for a secure and snug in-shoe fit.
Size and fit
Several components affect the fit of the Salomon Sonic 3 Balance. This includes the Internal SensiFit™ feature that wraps the foot for a close, secure fit. Other elements include the OrthoLite® Impressions tongue, OrthoLite® insole, and shoelaces, which are used to provide a personalized and snug in-shoe feel.
Outsole
The Contagrip® outsole is incorporated into this road running shoe for maximum grip on both wet and dry surfaces. The Contagrip® rubber is a highly durable material that protects the foot and the rest of the platform from abrasive elements.
Salomon's Geometric Decoupling™ technology is also featured in the Sonic 3 Balance. It is a unique technology that divides the shoe evenly to deliver a balanced platform, reducing the amount of energy produced in each stride. This outsole construction helps promote a quick and efficient heel-to-toe transition.
Midsole
In the midsole unit of the Salomon Sonic 3 Balance is Optivibe™ technology. This cushioning technology is a two-part midsole construction that aims to reduce vibration. One part of the Optivibe™ midsole is designed to dampen, while the other part aids in propulsion. The unique combination of midsole foams increases shock absorption while decreasing muscle fatigue without affecting the overall ride.
A molded OrthoLite® insole is also included in this running shoe for maximum cushioning. Aside from extra comfort, the soft insole also offers added breathability and durability.
Upper
Engineered mesh material is used in the upper unit of the Salomon Sonic 3 Balance. The breathable mesh fabric allows for continuous airflow, keeping the foot dry and cool for an extended period. The mesh structure varies the weave to offer exceptional durability, support, and flexibility, according to the specific needs in different parts of the shoe.
For a snug fit, the Internal SensiFit™ construction is incorporated in the upper of the shoe. This structure is composed of a set of printed overlays and fabric eyelets, which cradles the foot from the midsole section to the lacing system. It offers a road-specific fit that contours to the shape of the foot for dynamic comfort without adding extra weight.
The OrthoLite® Impressions tongue is utilized for long-lasting comfort. The tongue uses a slow recovery foam that is made with 50% bio-oil content. This foam compresses to take the natural shape of the foot over time to give a personalized fit.
Just like the Asics Gel DS Trainer 24, this Salomon running shoe features the traditional lacing system for a secure and customized fit.
Rankings
How Salomon Sonic 3 Balance ranks compared to all other shoes
Popularity
The current trend of Salomon Sonic 3 Balance.