Verdict from 4 experts and +100 user reviews
5 reasons to buy
Some consumers considered the Salomon Sense Pro 3 to have a weight that is light enough for extended use.
The traction capacity of the outsole unit was lauded by those who have tried this trail running shoe.
Several testers deemed the price to be more affordable than most off-road options.
The lacing system quickly and effectively adjusted the tightness or looseness of the fit, according to a couple of purchasers.
Based on a handful of reviews, the Sense Pro 3 performed well on soft surfaces, particularly muddy paths.
1 reasons not to buy
The high gripping lugs and the lack of torsional flexibility contributed to an unstable underfoot experience, a few reviewers claimed.
Bottom line
The Salomon Sense Pro 3 was well-liked by consumers who appreciated performance and quality in a package that's affordable. The lightness of the build and the preciseness of the fit-adjustment system were highlighted as elements that contributed to a well-rounded running experience. On the other hand, the outsole unit garnered split feedback; while some liked the assured traction, others felt that the lug-pattern resulted in unsteadiness.
Tip: see the best trail running shoes.
Our reviews
I have praised the technology that goes into the uppers of Salomon shoes in the past, and this is no different. I am a huge fan of their Endofit and Sensifit system, always getting a superb lock down.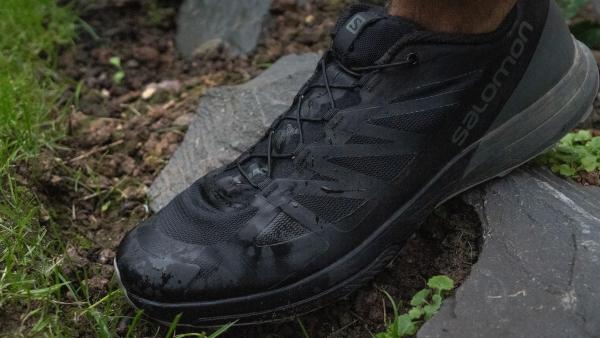 My foot is much narrower than most and whilst the fit of the shoe was amazing for me. This is likely to be very different for others.
It never felt sloppy or loose and I actually thought the toe box was an okay size. It is not big but just worked well with my foot shape.
Salomon also introduced a different tongue, which much softer and more comfortable than other models, but still thin and secure. It felt like a neoprene material, similar to that in the Reebok Nano 8.
I would struggle to have anything bad to say about the upper. Durability is probably its weakness. But, I have seriously put it through its paces and is still pretty good.
The midsole
The shoe is very heavily designed for a forefoot striker, which I loved. It has a very interesting shape, which resembles a track spike, but less extreme. So, if you're not a forefoot striker, be warned!
Given the shoe's shape, it is also clearly designed for shorter distances or races, especially given the ride is on the firmer side. I have run a half marathon in this, and they are amazing!
I did not need extra cushioning. Cushioning is very relative, so it's hard to say if it has lots or little.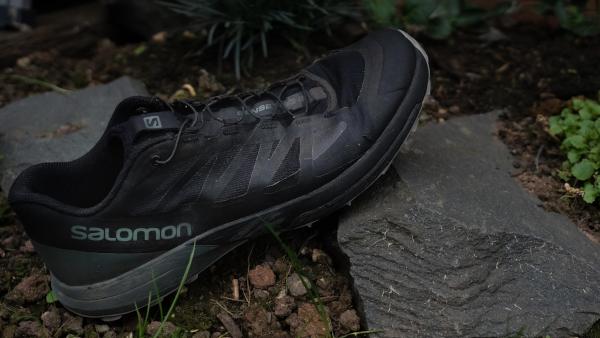 For a barefoot runner, I am sure this would feel plush. However, for an avid Hoka user, these might feel awful!
I would say that the midsole feels a little dead. There is nothing much exciting happening in terms of rebound, but perhaps that makes it work better in certain conditions.
There is also what Salomon call a Profeel Film running between the outsole and midsole. This is essentially a rock plate and stability assistant. I was a big fan but did find it to make the shoe far too stiff.
It's not a problem for racing and faster training runs, but I like to have some flexibility for most training runs so I can feel my foot doing something.
The outsole
Salomon knows how to nail an outsole on trail shoes. This leans slightly more towards the aggressive side with the lugs being longer and a little more well spread.
Despite this, I wouldn't be afraid to take it onto harder packed surfaces. It performs great but you will experience some quicker lug wear.
The conclusion
The Good:
I think you might be able to tell that I love this shoe and have lots of great things to say about it—one of my all-time faves.
I think I could do pretty much everything with this up to a marathon distance (train and race on a wide range of surfaces).
I don't think I have ever felt so good in a pair of running shoes when at full tilt on easy terrain. They just love to go fast with a quick foot strike.
I did even think about doing a road half in these. However, my inner passion to try new shoes got the better of me.
Earlier this year, I qualified for the OCR World Championships in these, perfectly able to tackle the tougher terrain.
The Bad:
As you might expect, not much to say here. Flexibility would be the biggest drawback. Then maybe a boring midsole and a touch of concern for the durability.
Good to know
The Salomon Sense Pro 3 is a running shoe that's designed for those who enjoy adventures on the trails. It features the smooth and sleek design that's prevalent in many of the brand's offerings, yet it has a versatile purpose that can handle both technical and soft terrains. The Premium Wet Traction Contagrip outsole offers traction over puddles or areas with water.
Layers of open mesh make up the external part of this trail companion's upper unit. It is flexible and capable of welcoming environmental air into the foot-chamber. A seamless construction brings an uncluttered façade and an in-shoe hug that's free of hot spots and irritation.
The Salomon Sense Pro 3 has a standard running shoe length. Runners are encouraged to get a pair using their usual sizing expectations. Widthwise, the available options are D – Medium for men and B – Medium for women. This product has a semi-curved shape that mimics the natural outline of the human foot.
The outsole unit of the Salomon Sense Pro 3 features the Premium Wet Traction Contagrip, a full-length rubber compound that is meant to hold into different types of surfaces, including slick ones.
Aggressive gripping lugs are fashioned all over the surface of the outsole. These prominent protrusions are tasked with clamping the ground and allowing the wearer to gain control of movement and steadiness.
The EnergyCell+ is a full-length foam that's made to be responsive. This compound has a bouncy structure that helps in energizing the toe-off and attenuating the impact shock. It doesn't have a weighty profile yet it's built to last.
A thin thermoplastic polyurethane sheet called ProFeel Film is placed between the midsole and the outsole. The purpose of this add-on is to reinforce the platform, preventing sharp objects from piercing the materials and causing injury to the foot.
An Ortholite® sockliner is put on top of the main cushioning system. This removable insert is meant to bring additional support for the underfoot. It has antimicrobial and anti-sweat capabilities that maintain a healthy and dry in-shoe experience.
Quicklace is a non-traditional fit-adjustment method that removes the hassle of doing the usual loop-and-tying that goes with moderating the tightness or looseness of the coverage. This single-pull system is made up of Kevlar cables and a locking tab.
A multilayered open mesh system is used for the external part of this shoe's upper unit. The porous textile allows the foot to breathe, dispersing stuffiness generated during the run.
Same as in the popular Salomon Sense Ride 2, the shoe uses the Sensifit. It is a system of printed overlays that are patterned across the façade of the Salomon Sense Pro 3. These thin prints are meant to strengthen the structure of the upper while also keep the foot in place.
Endofit is an internal sleeve that is soft and seamless. Its job is to hug the foot and prevent it from feeling any hot spots. It also permits sock-less wear as it already has a fabric-like texture that mimics the form of a sock.
Rankings
How Salomon Sense Pro 3 ranks compared to all other shoes
Popularity
The current trend of Salomon Sense Pro 3.