Verdict from 7 experts and 30 user reviews
6 reasons to buy
Drainage

: Most runners mention that the upper of the Salming Off Trail Competition drains water very quickly.
Breathability: A few satisfied testers notice the shoe's breathable upper material.
Traction: Some trail runners appreciate the durable and grippy outsole of the shoe, making it suitable for wet, slippery, and muddy surfaces.
Weight: Several users admire the lightweight design of the running shoe.
Fit: Based on some user reviews, the Salming Off Trail Competition fits nicely from the forefoot to the heel.
Looks:

The shoe has an

appealing design and eye-catching colors, said a few users.
2 reasons not to buy
Comfort: According to a few runners, the lugs under the ball of the feet feels too firm, causing pain and discomfort on long-distance runs.
Cushioning: Based on several expert reviews, the shoe is too firm that it feels like wearing a soccer cleat while running on hard surfaces.
[section_summary]
The Salming Off Trail Competition is a lightweight running shoe meant for obstacle course racing and Swimrun. It has a breathable upper that drains water really well, and reliable traction that doesn't disappoint on muddy and slippery surfaces.
Designed for water and mud, this Salming shoe is not suitable for hard-packed surfaces because of its firm cushioning and deep, well-spaced lugs.
[/section_summary]
Tip: see the best trail running shoes.
Our reviews
Let me first start by saying that the Salming Off Trail Competition color scheme for the shoe is very appealing. I love the dark colors splashed with the bright orange, it's really eye-catching!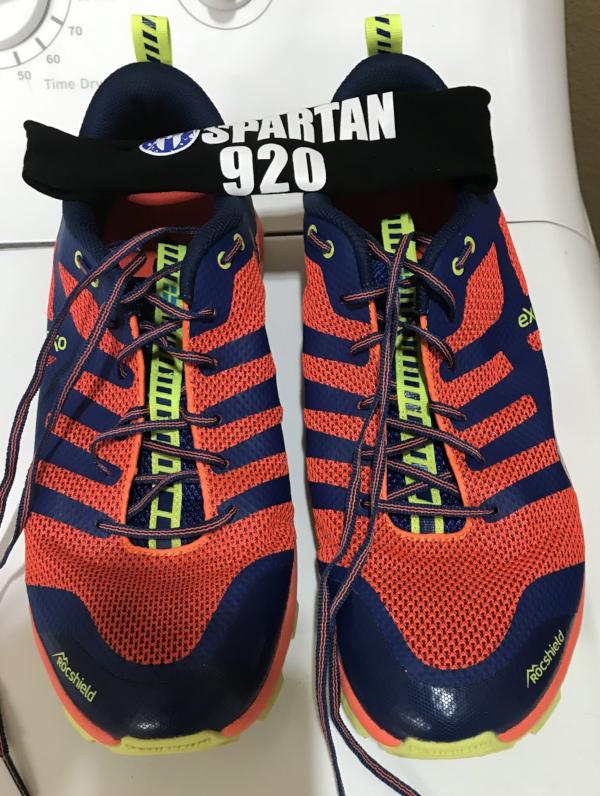 Weight
The shoe's weight is obviously important when it comes to OCR (obstacle course racing); not only for speed purposes but also because no one wants cinder blocks on their feet when trying to run any distance or climbing up and down muddy mountains.
These shoes weigh in at roughly 10oz per shoe so that was an immediate plus.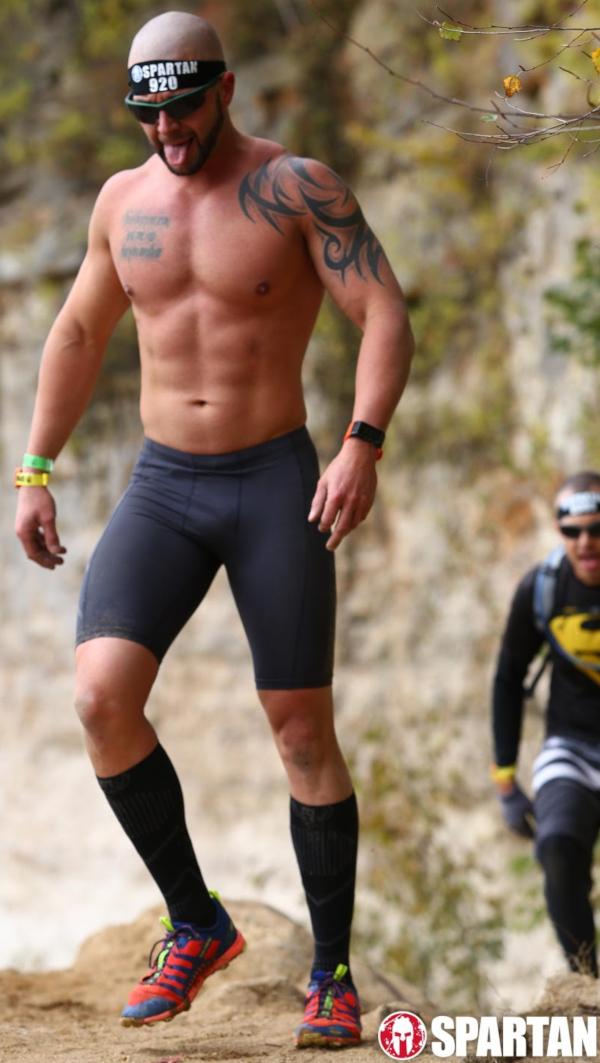 Putting them into the Test
I decided to throw them straight to the wolves and run in The Pittsburgh Super this past weekend for the first time ever wearing them (not the best idea I know) however, I must say I was pleasantly surprised as they were comfortable and felt broken in right from the get go.
They were immediately put to the test as 100 yards in, we hit mud and water. So time to see how these puppies perform under pressure.
Their drainage capability is second only to Reebok All Terrain, but they have their shoes perfected like a sieve. I was pleased to see that roughly 10-15 steps after emerging from the water, my shoes were empty!
There were some steep technical areas that put the lugs to the test and I charged head first into them, after all, if you're going to claim to be an OCR shoe you better be able to handle hills and mud.
The base is a Michelin base with graduated 6mm lugs. Designed specifically to grip in extra muddy conditions so let's see if they put their money where their mouth is...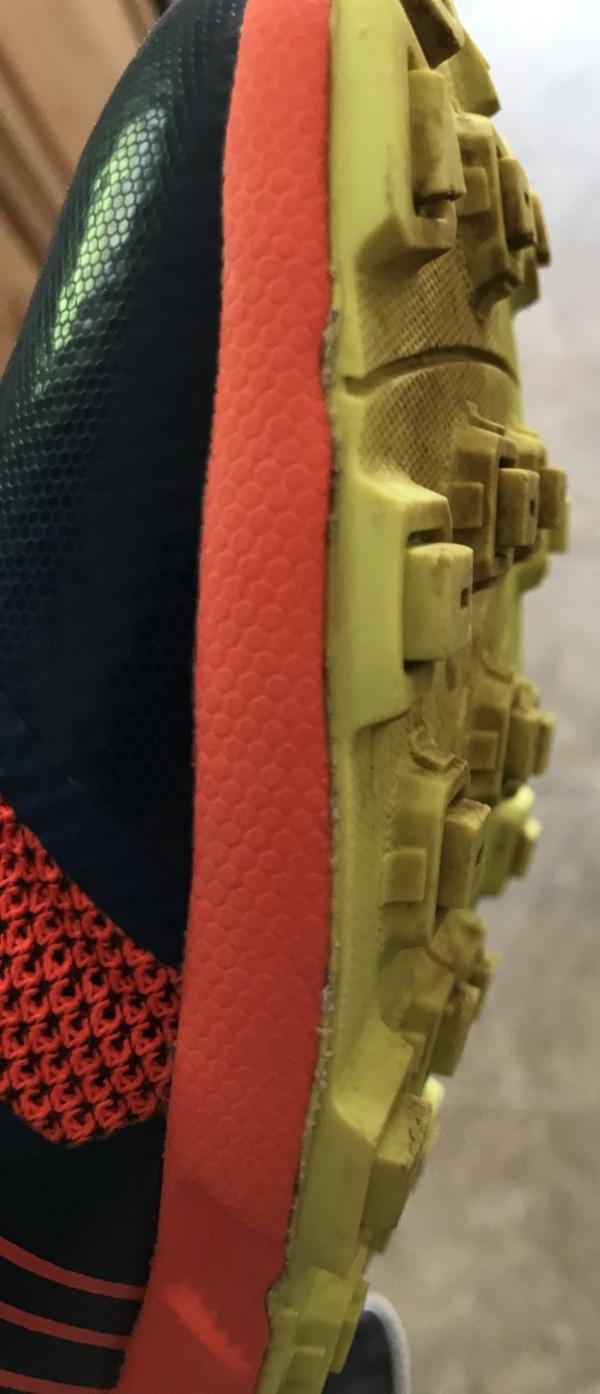 People were slipping and sliding left to right but the Salming Off Trail Competition held true to their names and gripped the ground effortlessly.
It was a walk in the park so to say. Afterward, they shed the mud like they were covered in a protective grease!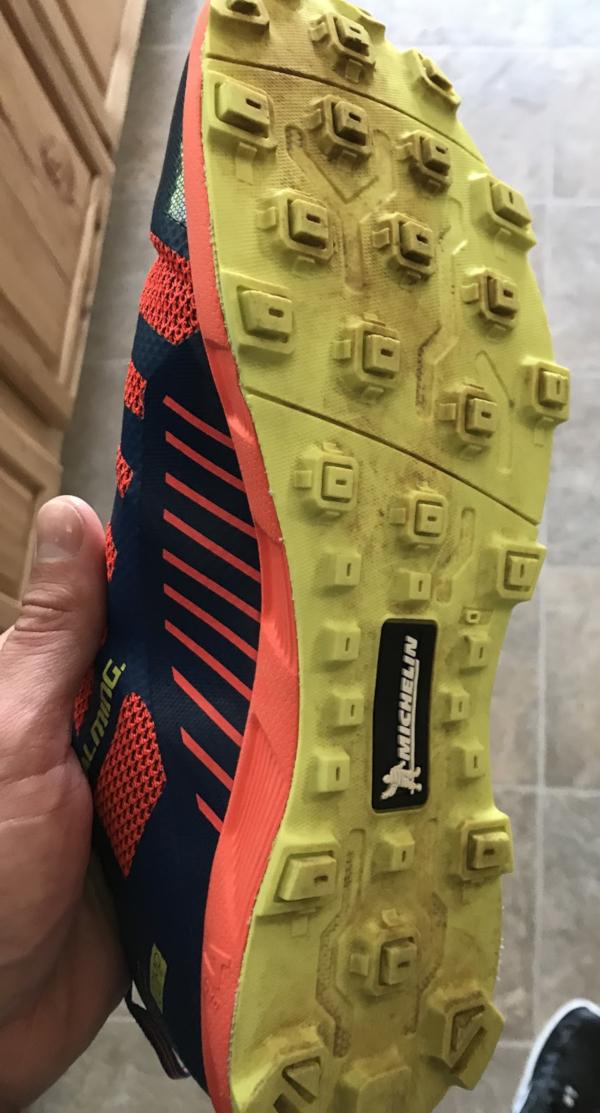 Taking the Good with the Bad
My only complaint with these shoes is that they retained the sand and mud in the toe area.
It's impossible to lose water, sand, and mud so effectively but one can't complain about a little build up right? It's a small price to pay for an excellently made shoe.
Comfort wise, they have minimal padding and arch support as they are a minimalist shoe, but you still couldn't feel the rocks or stumps under your foot.
Sizing was spot on with my normal shoes and after 9 miles, they were just as comfortable as when I first put them on.
Final Thoughts
If you are looking for a lean, mean, standout OCR shoe or just one to go play in the mud or trails, I would highly suggest you give Salming a try!
Rocks, sand, and dirt may get in the way and a small problem with a little less foot room but other than that, the race went out that these shoes are made for OCR. You can still be fast moving and sure-footed up and down the hillsides or mountains.
Good to know
The Salming Off Trail Competition is a racing shoe that's meant for activities such as obstacle course racing and the Swimrun. This product doesn't have an aggressive design, though it has a colorful façade that may catch the eye of onlookers. A two-layer upper offers breathable support and shielding from debris.
Underfoot cushioning is the responsibility of the Runlite midsole compound, which is a full-length foam that carries the foot responsibly through the gait cycle. A sturdy textile called Michelin Fiber Lite sits between the midsole and outsole, reinforcing these areas of the running shoe and keeping them intact. The Michelin OCX – Extreme Outdoor Compound brings responsible traction over soft and hard terrains.
The Salming Off Trail Competition has a standard running shoe length. It is available in full and half sizes. Runners can get a pair using their usual sizing expectations. Widthwise, the available options are D – Medium and B – Medium for men and women, respectively. The semi-curved shape of this product mimics the natural curvature of the human foot.
The outsole unit of the Salming Off Trail Competition utilizes OCX – Extreme Outdoor Compound, which is a highly durable material that is capable of protecting the rest of the underfoot platform from wear and tear. Moreover, it has a grippy nature that clamps the ground effortlessly.
Gripping lugs are patterned across the entire surface of the external pad. These noticeable protrusions are evenly spaced to prevent mud or rocks from getting stuck between the gaps. The edges of the platform's frame have stabilizing posts to keep the foot steady when tackling uneven terrains.
Runlite serves as the midsole unit of the Salming Off Trail Competition. This full-length foam is tasked with mitigating impact shock during the landing phase and leading the foot towards a smooth toe-off.
Between the outsole and midsole is a reedy yet durable fabric called the Michelin Fiber Lite. This technology fundamentally bolsters the structural integrity of the platform, keeping it intact and safe from sagging.
A two-layer mesh is used for the upper unit of the Salming Off Trail Competition. The external layer has an open construction that welcomes air into the foot-chamber; the second sheet offers anti-moisture capacities and a smooth build that prevents hot spots and skin irritation.
An exoskeleton of printed overlays helps the rest of the façade when it comes to providing a snug and secure fit.
The Rocshield technology involves barriers on the forefoot and sides. These fused walls are meant to prevent trail debris, sharp surfaces and other elements from damaging the silhouette of this running shoe.
Rankings
How Salming Off Trail Competition ranks compared to all other shoes
Popularity
The current trend of Salming Off Trail Competition.