Our reviews
I have decided to buy a trail running shoe after I've completed my first trail run on Cappadocia Ultra Trail in 2018. Luckily the trail was not so technical, and my Asics road running shoes did ok for the purpose of the track.
I was planning to buy a Salomon pair, but due to high prices of those, I chose Salewa. First things first, Salewa Ultra Train is not specially built for trail running. It is more of a speed hiking shoe, but it does very well on the trail running as well.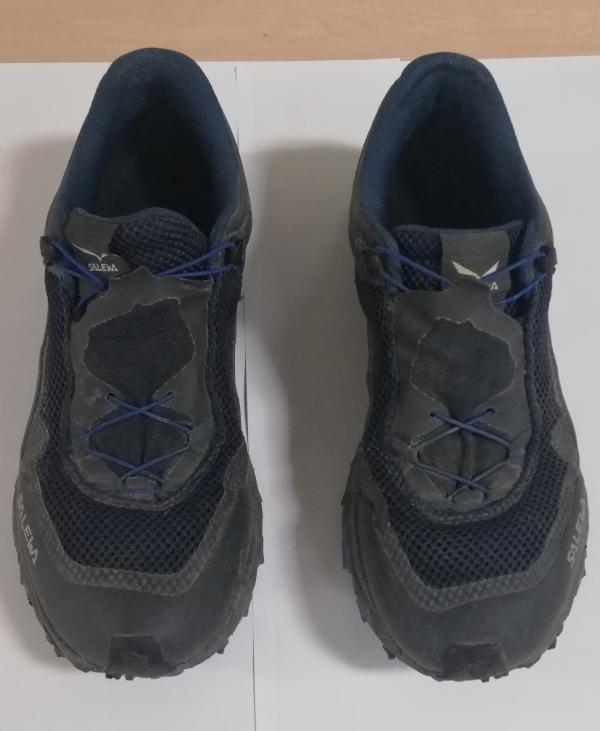 Design
Design of the shoe is incredibly beautiful and wild. When you first look at the shoe with the mesh on the upper foot, the toe protection, and outsole, It gives you the impression that this shoe will get you through the mountains.
Performance
This shoe is not designed for happy runs on the nice and sweet trails. It will give you enough protection and comfort for the run, but if you want to get the maximum of the shoe, you will need to get up to the tough trails.
You have to go to the technical trails with rocky surfaces. I have used the shoe during my runs in the Taurus Mountains and the famous Lycian Way in South Turkey.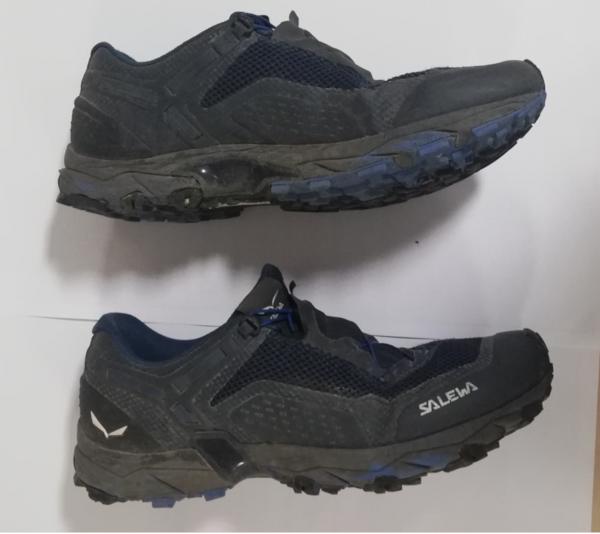 Those trails are full of peaky rocks, slippery rocks and uneven surfaces and Ultra Train 2 gave really good comfort on the tracks. I did not feel a single rock under my foot.
The grip of the shoe on muddy surfaces was amazing as well. It did not keep much of the mud on the outsole. Michelin outsole gives a great performance on regarding handling of the shoe.
It really grips to the rocks or wet surfaces, and it gives secure feeling when you are going downhill. 3F system literally locks your foot in the place. It is not possible for the foot to move in the shoe, which is very secure.
Ventilation of the shoe is incredibly good - thanks to the mesh on the upper part of the shoe. If you have water crossings along your run, you do not need to worry about the wet shoe issues.
If you step into the water with shoes on after 200 300 meters of crossing you will not feel wet shoe. It will drain the water really quick. Regarding negative things about the shoe is that it is not wise to use it on the asphalt terrain.
The midsole is not as soft as usual running shoes. When you run for long distances, it may start to give you some discomfort.
Smart lace system could be improved during run laces can get out of the place you tuck them in so you should be careful when using it.
Durability
The shoe is rock solid. The outsole is really versatile that it did not show wear after wearing the shoe for 180 km.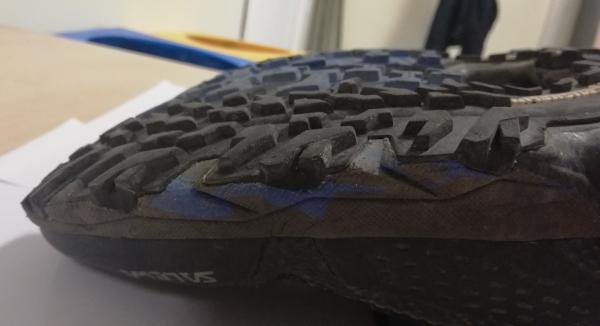 Positives
Makes you feel secure when you go up or downhill
Gives comfort on rocky surfaces
Toe protection is remarkable
Shoe is very durable
It is really stable when running
Ventilation and water drainage is amazing
Great design
Negatives
It is no good for asphalt surfaces
Laces can get out of the place where you tuck them in
Conclusion
If you are going to do some serious trails up on the rocky/technical terrains and you need to be fast, Salewa Ultra Train 2 is the shoe you should count on. It will give you enough stability, mobility, and security in the mountains.
If you are going to be on the low altitudes with some sweet trails, maybe this shoe would not the one you are looking for. After all, it is one tough shoe that is designed for tough and fast terrains.
Updates to Salewa Ultra Train 2
Salewa's Ultra Train 2, the successor to the first-gen Ultra Train, is a supportive vegan footgear built for mountain training and fast hikes alike. Noticeable at first glance is the updated design of its tongue. It is now engineered with a covering (a.k.a stretch gaiter) that protects the shoe's interior from intrusive debris.
The shoe's breathable upper is a huge departure from its predecessor's in terms of design; its mostly mesh shell no longer has the old version's coated fabric overlays. Instead, it has a synthetic rand around its base for abrasion protection.
It inherits two technologies from the first Ultra Train: Motion Guidance and the 3F system. The former enhances footing security and natural movement, while the latter grants improved support, extra flexibility, and an accurate fit.
Size and fit
The Salewa Ultra Train 2 is a low-cut hiking shoe for men and women. Its relatively true-to-size fit is intended for hikers with regular-width feet. It comes in half and full sizes. Users may personalize its fit and get a secure lockdown via the footwear's quick lace-up closure.
Outsole
Giving speed hikers ample slip and skid resistance on the trail is the Ultra Train 2's Michelin outsole, conveniently called Ultra Train. As it is built using Michelin's Outdoor Compound X (OCX), this sticky layer is capable of producing and maintaining sufficient traction on different types of surfaces, whether wet or dry. Its lug geometry is tire-like, offering extra grip over loose soil.
Midsole
A chunky midsole made of EVA is what cushions and stabilizes the foot in the Ultra Train 2. Its thick construction mitigates shock on every landing. Salewa engineers topped it with a removable, moisture-wicking footbed from Ortholite to give trail lovers additional support and comfort underfoot.
Upper
The Salewa Ultra Train 2's low-top upper is made of mesh fabric. Its vulnerable parts are built with synthetic overlays to give it ample protection from scratches and cuts. Hugging its rear region is the Anti-Rock Heel Cup which, given by its name, provides added heel support. For debris protection, Salewa designers furnished its tongue section with a stretch gaiter.
Its lockdown system is comprised of mostly fabric loops and a sturdy cord for a lace. The top-most pair of eyelets are part of the 3F system—using them properly bolsters its heel support.
Compare popularity
Interactive
Compare the popularity of another shoe to Salewa Ultra Train 2:
Salewa Ultra Train 2 video reviews