V-Train - A humble gym giant
This is a review from one expert, and reflects personal opinions. Learn what 698 other training geeks think of this shoe and see colorways at the
Vibram FiveFingers V-Train main page
.
At first glance, the V-Train looks like just a minimalist shoe you would expect from Vibram with unmistakable toe pockets, a low stack sole and a weight of only six ounces.
However, this iteration of the Vibram concept has a lot in store if you are looking for a new challenge in your CrossFit or gym routine. More plastic and padding throughout the shoe adds a lot of structure into lateral movements and stability when lifting weights.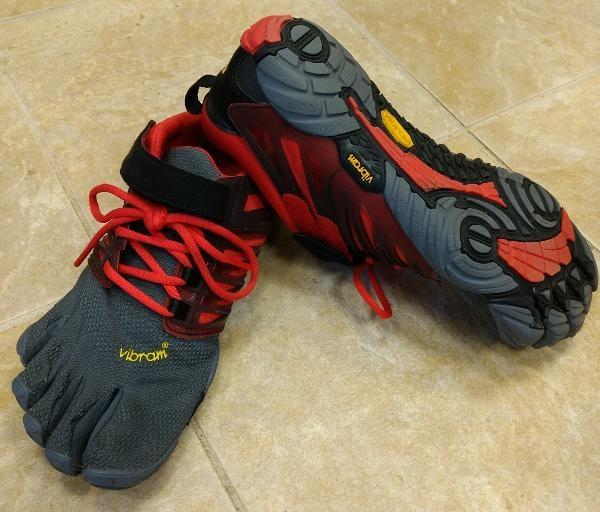 Pros
More substantial minimalist shoe
Support around the ankle is very comfortable
Heavy duty and durable upper resulting to a wider range of gym activities possible
Very solid sole construction
XS Trek provides grip and durability
Cons
Stitching on top of toes suspect (picture at the end)
Only suitable for short to medium distance running
Velcro and lacing system needs tweaking
Longer foot adaptation period required
Reduced ground feel and flexibility compared to other Vibram models
Outsole
The V-Train offers 4mm of XS Trek rubber in movement specific designs for different parts of the foot. The most noticeable are three circles at the rear and forefoot that offer more support for side to side motion. The other main feature is rope climbing lugs under the arch of your foot, which protect your investment from the ravages a rope can wreck on regular rubber or foam.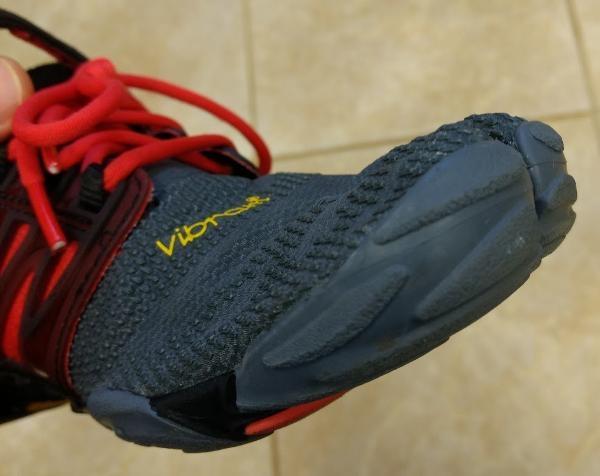 Compared to other shoes in the Vibram lineup, you are offered a lot more durability and protection from forces you will most likely only encounter when in the gym.
The grip is excellent for weightlifting and other functional movements. Proprioception is enhanced due to the thin and flexible nature of the design, though the additional design elements detract from a full barefoot feel.
Midsole
2mm EVA footbed is a courtesy from Vibram so you are not standing on the outsole like in a pair of traditional huaraches. This is all you get in this minimalist shoe. Remarkably simple and very effective.
NZYM antimicrobial liner: Tried researching what this is and learned more about antimicrobial technology in textiles than expected. In theory, they will reduce odors and increase durability, which is important if you are going to wear shoes without socks and run thousands of miles in them.
In practice, the shoes were a bit warm and the insides got a bit stinky for me. Leaving sneaker balls in them and judicious use of natural antibacterial deodorizers seem to keep it from becoming a problem. So I can say good but could be better.
Upper
Here is where the shoe departs from your standard Vibram fare. Most of the front upper near the toes is synthetic. As you transition towards the midfoot, you will find a thick but flexible plastic on top and a thicker sockliner underneath. The burrito tongue inside is secured by a combination system that includes laces and a velcro strap.
The laces and eyelet reinforcement are excellent quality. When combined with the velcro they became bothersome for me. You could take them out if you want to only use the strap, but you are left with parts of the eyelets sticking out. You can also drop the laces down so they don't interfere with the velcro.
There is also a fair bit of padding around the collar and although there is no plastic around the heel, the shoe cups the heel nicely. The breathability is dampened due to the plastic elements and additional cushioning. My feet typically run a bit hot so I found them to be a bit sweaty without any socks.
Uses
For gym workouts, light jogging, warm-ups, plyometrics, calisthenics, etc. Great support and functional movement are the strong points of this shoe. Definitely sturdy enough for LesMills workouts or CrossFit classes.
You get a lot of support for weightlifting from the sole design. The second, third and fourth toe pockets have extra support when you bend your foot for lunges. The tradeoff is the soles do not seem to have great responsiveness for running because of all the stability elements.
As you would expect for a CrossFit design, these shoes are not efficient for running more than half a mile but offered more support when crashing around in the gym. I found them fine for a mile or two, but there are other Vibram trainers like the V-Alpha or road shoes like the V-Run with much better transitions for mileage.
If you are looking for a bit more cushion you could check out Reebok CrossFit Nano 8, but your adding 4mm of drop and nearly 4oz of weight. Somewhat unexpected for a minimalist shoe, I found the extra material for support caused a number of hotspots and pain points when I tested this shoe.
Hotspot #1 was right on the top corner of my big toe knuckle and was from the tip of the hard plastic digging into my foot as it flexed for push-off. Not sure if this was just bad form on my part or too much plastic on Vibram's part, but it prevented me running for longer distances until my foot was accustomed.
Hotspot #2 was at the top of my foot. I suspect that the added rubber underneath combined with the laces, plastic, velcro strap, and tongue was just too much material at that point. I ended up dropping the laces down an eyelet and leaving the velcro strap nominally closed.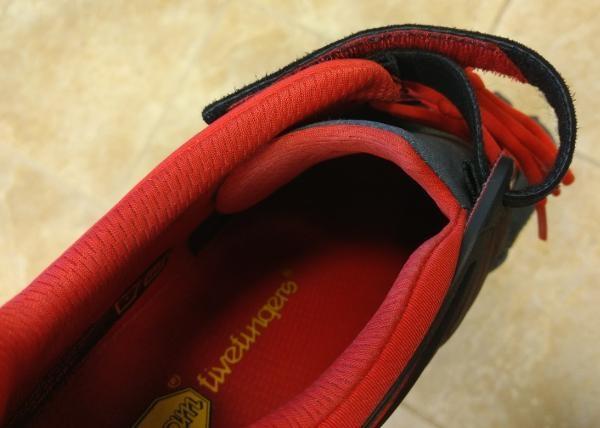 While I see the value in all this extra technology, it feels like overkill. The plastic could have been thinner and still provided support and the velcro strap needs a lower profile.
The sole feels stable for weighted exercises but then interferes with my running gait. Definitely a keep but there is room for improvement to make this a more versatile shoe.
Rating
The shoe solidly delivers for structured gym workouts. The abundance of plastics and coverage of the foot protects well but can cause hotspots. Definitely worth buying for a serious gym and CrossFit enthusiast.
A big factor in a lower score was the stitching coming undone on the top of the shoe. While it did not seem to affect performance and I did a lot more distance running than was probably intended for this shoe, I was a little dismayed when I found this small hole. I'll most likely repair it and keep using the shoe but I felt it too important not to mention in a review.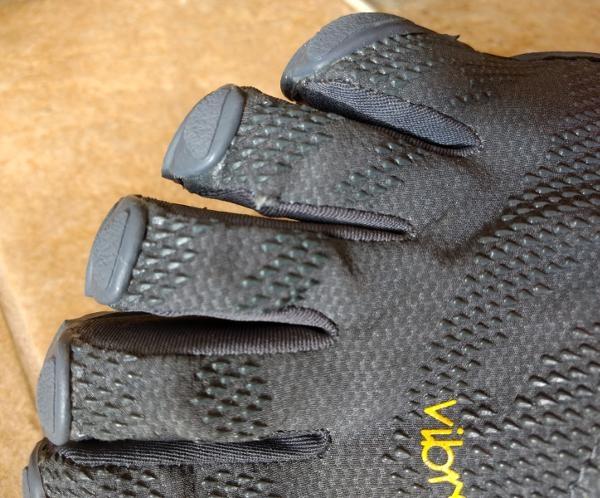 Comparisons with other Vibram models
V-Train vs V-Alpha
As both are trainers, the main difference is the durability and grip. V-Train is XS Trek rubber and has extra features to resist the demands of CrossFit workouts, at the expense of slightly less grip and flexibility. The V-Alpha features Megagrip rubber and offers extensive proprioception and is geared mainly towards outdoor activities.
V-Train vs V-Run
I have both these models and like them for different reasons. V-Run is a much more flexible and responsive shoe for running and light gym workouts and offers a combination of Vibram runners to deliver grip on a wider range of surfaces. The V-Train excels in weighted exercises, offering more protection than most Vibram models with only a slight increase in stiffness in the sole and parts of the upper.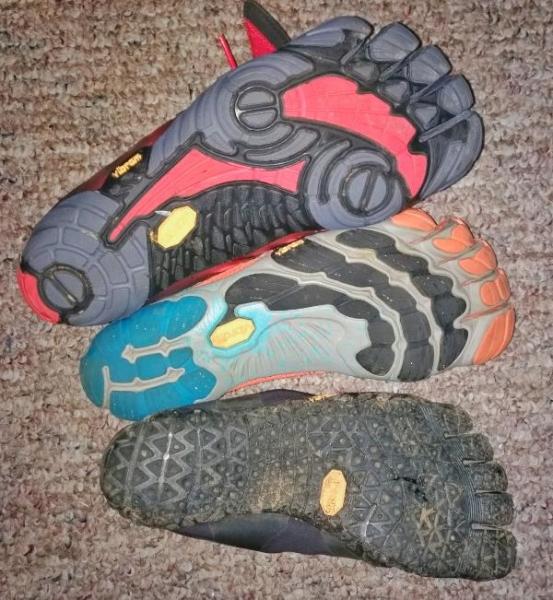 Final thoughts
A fantastic trainer for the gym. Smooth dynamics for a wide range of weight-bearing activities makes this an excellent choice for CrossFit. The aggressive sole and upper provides a lot of protection but it took me a while to learn how to work the shoe properly.
Gym features make this a sub-optimal shoe for long runs. While traction from XS Trek is superb, I found my heel sliding around when on a muddy trail and debris would find their way into the shoe because I had it laced up loosely to keep it comfortable. So, yes, you could use it for a run. But if you have better tools why bother?
Bring separate shoes in the beginning if you expect to be doing a lot of running before or after your class or workout while you get used to the idiosyncrasies of this model. For those who prefer a picture, below is a side-by-side comparison of the V-Train, the V-Run and the V-Alpha so you can get an idea of how the soles compare.