Is the Nike Kyrie 4 the best "combo-guard" shoe?
This is a review from one expert, and reflects personal opinions. Learn what 271 other basketball players think of this shoe and see colorways at the
Nike Kyrie 4 main page
.
By definition, a combo-guard is a term that has evolved to include players who aren't the primary ball handler or the primary shooter on the team. So why call the Nike Kyrie 4 a "combo-guard" shoe?
Everyone on the team can find their size of course, but this shoe meets some special needs for those types of players. It's not a low top, but still light enough to be shifty and at the same time has great cushion/support for someone who runs/jumps equally. Let's dive in.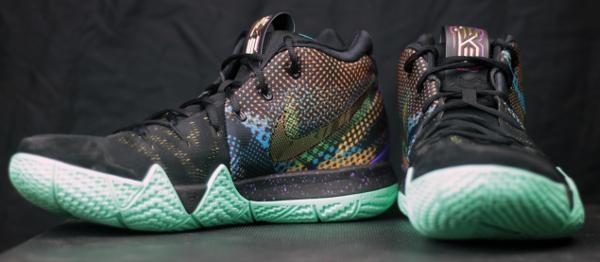 Traction
The Kyrie 4 has flexible traction outsole.
The "Mamba Mentality" pair I have has green outsole which I have to be honest, I was disappointed at first. The pattern and design of the outsole is pretty cool. It's one of a kind how it roles up the outside of the shoe.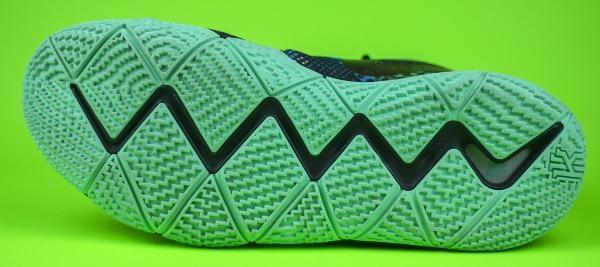 If you look at the bottom, the sole is split with a zig-zag pattern that offers a good break when planting your foot and exploding. I played indoors on an average wood floor and found myself sliding in drills. I've since played on a different court and wiped them, providing better traction.
I honestly only feel comfortable using these shoes for workouts and drills. Also, it'd be great to try this shoe with a different colorway, especially one that may have the clear/translucent outsole.
Fit
The Kyrie 4 feels good and they were easy to put on and lace up. I did not experience a lot of shift inside the shoe in my size. There is some space around the heel that could be tighter but I'm really satisfied with how they feel.
Weight
The weight of the Kyrie 4 is just right. The responsiveness is not affected by me moving quickly. It doesn't feel clunky or anything like that. Weight is a non-issue with this shoe.
Materials
The Kyrie 4's materials have a good design mix and not a lot of transitions so I expect them to last awhile. They are breathable and high quality for sure.
Compared to the Kyrie 1, 2, and 3 I would say these have to be top of the line with some new materials. The toe is well protected which a lot of the time is the first sign of wear.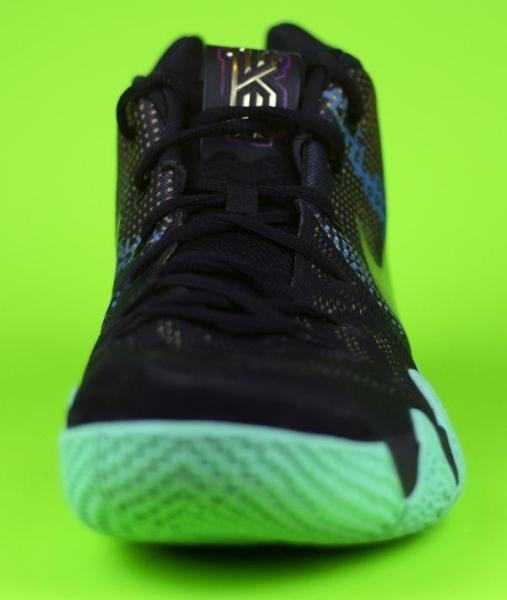 I also like that the shoe aesthetically looks like one piece upper despite how it does transition in the middle of the foot, but you really can't tell.
Cushion
The Kyrie 4 has zoom in the heel of the shoe which felt good. I like the bounce I feel just walking around and planting. Nothing stands out that causes discomfort either.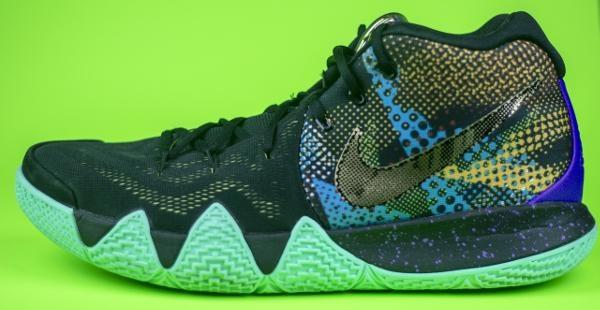 Support
I had no issues with the support of Kyrie 4. My ankle felt locked in where I would not roll it and I still felt like I had plenty of flexibility to cut when doing cone drills. As I mentioned before, there was a little space on either side of my foot by my heel but it did not bother me.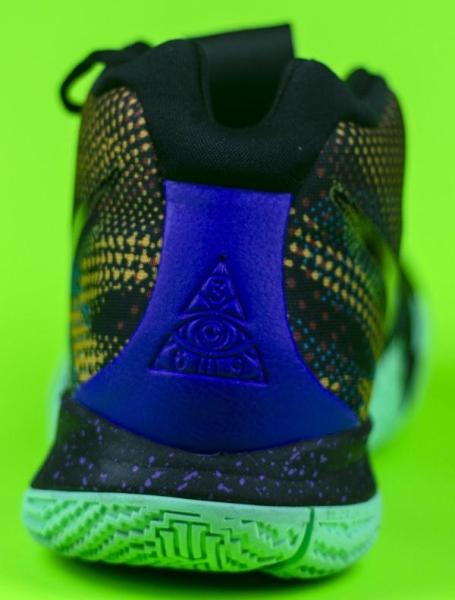 Why did I categorize this shoe for combo-guards?
The Kyrie 4 has some of the best design ideas when you actually look at it up close and then put it on your foot. But the ideal spectrum for this shoe is right in the middle.
While these shoes are definitely shifty enough for Kyrie, his signature shoe might not be the favorite in the rotation for a true point guard. It also may not offer enough cushioning and support required for most players and true "bigs" over 220lbs and eclipsing the 6'7+ range in height, shoe sizes 15 and over.
Don't get me wrong. Anyone in middle school and younger will have all of their demands met with this shoe. Many colorways will go on sale and offer great deals for these shoes. I feel like this shoe has a lot of design answers that I have been looking for.
When I have my first opportunity I will grab another pair. Really hoping another pair can provide that lockdown I need and expect in order for me to really perform moves with confidence.