Nike Epic React Flyknit: Serious runners for the casual runner
This is a review from one expert, and reflects personal opinions. Learn what 1024 other runners think of this shoe and see colorways at the
Nike Epic React Flyknit main page
.
Hello, It's been a while.
I must admit, Nike and I haven't seen eye to eye for some time. Despite having purchased a couple of models very early on as a casual runner, I have not owned a pair of Nike in the last 10 years.
The only pair which I did like and kind of want, was the original Flyknit Racer when released 6 years ago. The high price tag, however, was just one of the things that got in the way.
You see, in my eyes, Nike had an image problem. With their emphasis on marketing and lifestyle, along with the controversial use of sweatshops and continued support of athletes charged with doping, it was all too easy for me to dismiss the brand in favor of those perceived more "runner-centric" such as Brooks, New Balance, and Asics.
As a runner, I wanted running shoes, not lifestyle products.
Well-publicized "stunts" such as the sub-2 hour marathon attempt didn't help. But, beneath all that, I also knew there was also proper innovation and technology at work.
The eye-opening first encounter with the original Flyknit, the marvelous barefoot feel of the minimal Free series, and the buzz – from real runners – surrounding VaporFly 4% were all testament to that.
So here I found myself with Nike's latest "hype-able" offering in my hands – the RunRepeat in partnership with Nike.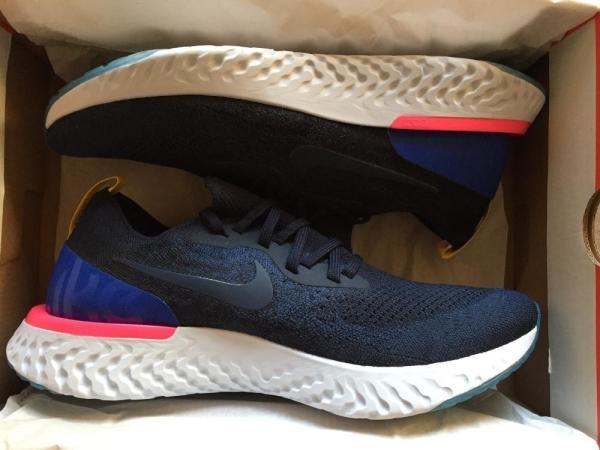 Casual vs Serious Runner
Here is probably a good place to briefly set out my own definition of what makes a runner "casual" and another "serious," reasons for the distinction which will become clear later.
In my eyes, one is a casual runner if one runs mainly for enjoyment and for the benefits it brings to the body and soul. A casual runner "runs to eat" (i.e. cake without the guilt). A runner becomes more serious when mental and physical boundaries are pushed. A serious runner eats – discerningly - in order to run better.
A relevant observation as a running shoe geek: a casual runner will probably if they enter races at all, race in the same daily trainer that they use for everyday runs. A serious runner, on the other hand, is likely to have a set of racing flats specific to the distance being raced.
It is entirely possible for one person to be both casual and serious, depending on where they are in fitness and training. And, importantly, one is not better than the other.
My thesis is that Epic React is indeed a serious running shoe (as opposed to a lifestyle sneaker) but best suited for the casual runner.
Read on and see if you agree.
Narrow Midfoot
When ordering online I went for the usual US10.5 (UK9.5, EUR44.5). After placing the order, however, I saw the words on the official website; "Fits true to size for a snug fit. If you prefer a slightly bigger fit, we recommend ordering a ½ size up."
Oops. Having slightly wider feet than most, I now faced a nervous wait.
Once the shoes arrived and I pulled them on, I feared that they were indeed half size too small. The length seemed OK, as was room in the forefoot, with some wriggle room left for my toes. But the squeeze on the midfoot was crazy, to the point that I almost decided that I couldn't possibly run in these.
And then I remembered back to that time many moons ago when I was trialing the first Flyknit and how the Nike rep had gone through the "performance" of steaming the upper and molding them to my feet.
I decided to trust the Flyknit's ability to stretch and adapt and hoped that a couple of sweaty runs would do their magic in breaking the shoes in.
Superb Design, Airy Upper
To be honest, I actually wasn't thinking I would be running much in these, at least not yet. While Nike's formidable design team has delivered yet again, in my mind I was thinking "summer," "shorts," "casual."
True to preconceptions these looked like lifestyle sneakers designed seemingly to be walked around town in and if they performed half decently as running shoes, well, that would be a bonus.
The design strikes the right balance of subtle and contrast. I loved the College Navy colorway, what with its blue-ish white midsole, pink heel stabilizer, and yellow pull tab all coming together into something very easy on the eye.
Even the heel offset, while unusual and odd, did not detract from the overall look. A quick glance at most other Nike models suggests the flanged heel is a brand feature anyway. The offset heel is just an extreme variation on the theme.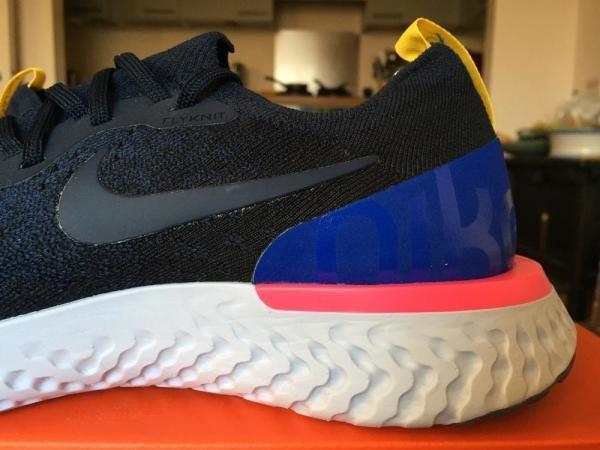 The "tongue" is integrated into the Flyknit upper, adding to the minimal feel. Given the tightness around midfoot, however, laces almost seemed unnecessary and left there only for aesthetics. Or perhaps necessary only for those who had elected for a looser fit and sized up.
A further reason for delaying my run in these was that, with the UK still firmly in Winter's grip, it was almost too cold to be wearing such airy shoes.
The Flyknit upper, while denser midfoot and towards the midsole, were very "breathable" around the toes to the point that one can discern the color of the socks.
The React Midsole
To be sure, much of the hype surrounding the shoe was centered on React, the new proprietary high energy return midsole material for Nike. Not only high energy return, but incredibly light, and long-lasting, to boot. Time would tell with regards to the other claims, but one thing is certain right out of the box – the shoes are remarkably light.
The shoes weigh in at 239gr for size 9 and carry a 10mm offset. The stack height is considerable, at 18mm-28mm. Adidas Ultra Boost, on the other hand, is heavier at 303gr while lower profile at 12mm-22mm.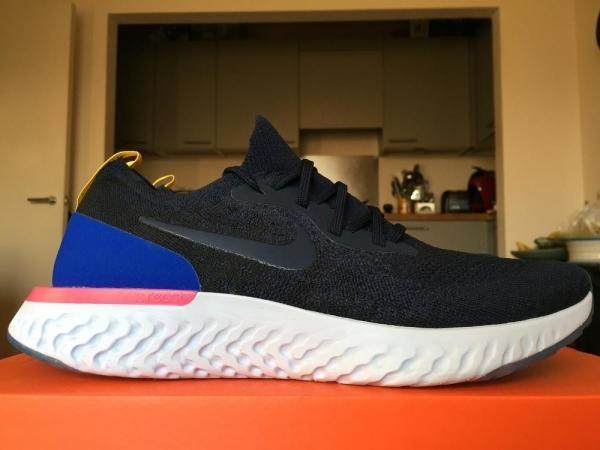 According to Nike, the React foam, which is a rubber based rather than EVA based, is more responsive and durable than their own Lunar foam, while delivering 13% more energy return. While I have no first-hand experience of the Lunar, comparison with Ultra Boost suggests the Boost is a heavier, denser material.
At any rate, as always, the proof is in the ride.
The Run Test
Winter or not, heeding to my task at hand to review the shoes in a timely manner, donning my thinnest pair of socks, I set off on a maiden 10 mile run in the Epic React.
The run was actually one of my social beer runs, involving a 6-mile jog to a designated pub, from where the group would engage in a speed session in the nearby park, returning to the pub for beers. The point is that the run would involve various paces and intensities, providing useful feedback.
I was also mindful of a half marathon coming up and unless convinced otherwise before then, Epic React would be carrying me on race day.
I was pleasantly surprised by the shoes.
"React" is an appropriate name for the midsole material, since it seemed to provide ample energy return, yet with both cushioning and responsiveness which in so many shoes are mutually exclusive. I bounced along comfortably at slower paces and powered through higher speeds.
At higher speeds, particularly when cornering, I was actually grateful for the snug fit. With a looser fit, given the stretchiness of the upper, I had visions of the midfoot spilling out over the midsole.
The shoes are notably narrow midfoot, and the relatively high stack height added to the sense of instability during tight turns.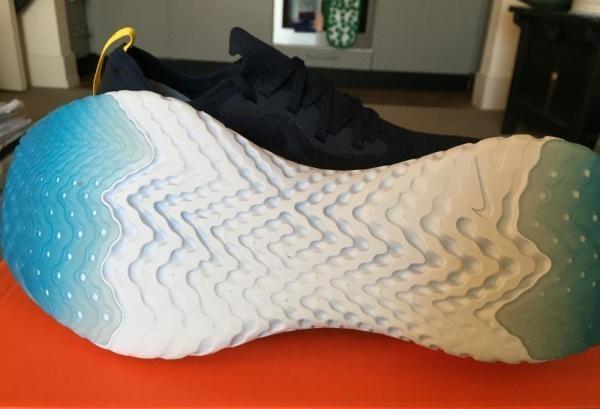 But over this and couple of other subsequent runs, there was nothing to suggest otherwise so Epic React was my choice for the London Landmarks Half Marathon, where I had the responsibility of pacing the 1hr 45mins group.
Now, target time of 1hr 45mins is more than 10 minutes outside of my PB so I wouldn't be going all-out, but it was still pacey enough to make it a decent morning's workout!
Pacing a race can be fairly stressful, what with having to keep an eye on your GPS watch, another on the mile markers along the route - and the two giving you wildly differing information - all the while wearing a back-pack with a large sail-like flag with target time on it so other runners can easily spot who to follow.
It is also an incredibly rewarding experience, as you get to encourage and otherwise help other runners meet their target times and indeed get over the finish line.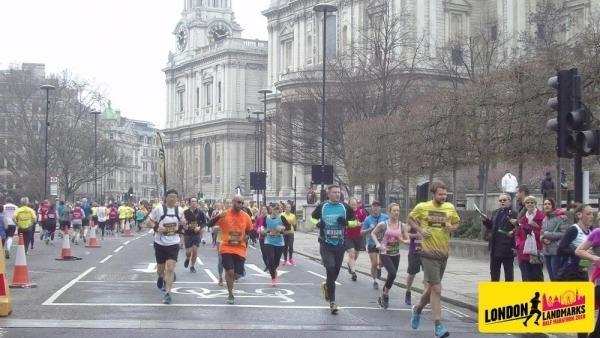 So, I suppose it is to Epic React's credit that the shoe was the last thing I had to think or worry about on race day, as I managed to bring runners home in 1hr 44mins 30secs!
The shoes were comfortable before, during, and after as I negotiated the streets of London and I'd add that, as racing shoes, the half marathon may be the ideal distance for Epic React, but I have no doubt they'd prove just as comfortable over a full marathon too.
The shoes were fine on wet surfaces, although not as reassuring as the Continental outsole on Adidas. But then again, in my experience, nothing surpasses Continental rubber in the wet. Ironically, the exposed midsole seemed to provide more traction on wet tarmac than the rubberized toe and heel.
Conclusion
I was pleasantly surprised by the Nike Epic React. While React foam is not the game changer some would have believed, it does provide excellent energy return which comes through in a cushioned and responsive ride that indeed makes running fun, particularly at slower speeds.
The shoe design, material, and production are executed to perfection and the shoe is versatile in the sense that it looks at home in both casual and race setting. The ample cushioning in the rear half also makes them great for walking in, probably the most comfortable amongst all my other running shoes, so they actually work as lifestyle shoes too.
If to be worn primarily as a lifestyle shoe, I would probably size up by half to accommodate thicker socks and since comfort rather than performance is more important. If to be used primarily for running and racing, I'd be happy to stick to the usual size to get the benefits of foot-hugging fit.
Having run in them about a dozen times, the shoes still require a bit of foot contortion to pull on but, once on, there is plenty of room in the forefoot and no discernible discomfort anywhere.
The only flaw I can think of is the narrowness of the midsole at midfoot which, combined with the stack height, takes away the stability somewhat on uneven ground and while cornering at speed.
As serious running shoes, Epic React has a place as daily and primary running shoes for serious and casual runners alike and for racing 10km up to marathon distances for the casual runner.
The ride feels consistent and smooth at all paces, but excel during the slower jogs, when one is more likely to land on the mid to rear foot. For the serious PB chasers in shorter distances, however, Epic React is no match for racing flats. But, to be fair, that isn't what the shoes were designed for.
After almost 80 miles, the sole is showing some but surprisingly little wear. As is often the case with running shoes, I reckon the outsole will out-last the uppers here.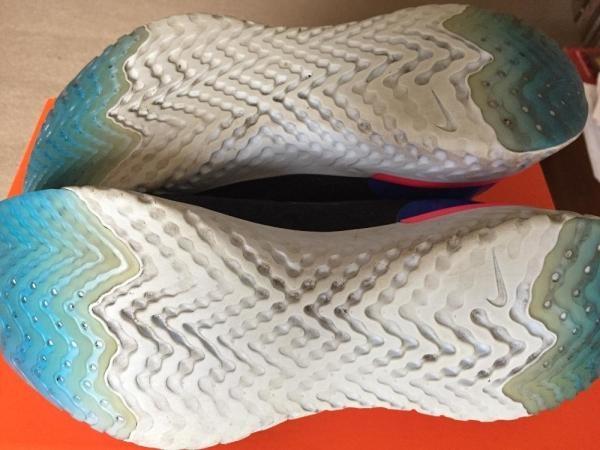 All in all, the experience with Epic React has both reinforced my views towards Nike and shed new light.
The brand does indeed cater to both lifestyle and serious running but with Epic React succeeds in scoring on both counts thanks to great design and materials. Epic React is a serious running shoe first and foremost and that it can also be worn casually is a bonus.
I am now looking for the next pair of Nike to try. Now, that's progress!
Check out the Nike Epic React Flyknit at Nike.com!