Inov-8 F-Lite G 290: Strength, stability, flexibility, and durability in a single shoe
This is a review from one expert, and reflects personal opinions. Learn what 22 other training geeks think of this shoe and see colorways at the
Inov-8 F-Lite G 290 main page
.
The Inov-8 F-Lite G 290 is an incredibly durable fitness shoe which has been designed and built with the toughest gym environment in mind.
It delivers stability and confidence during strength training, together with grip, support, and flexibility for rapid movement in a CrossFit type workout.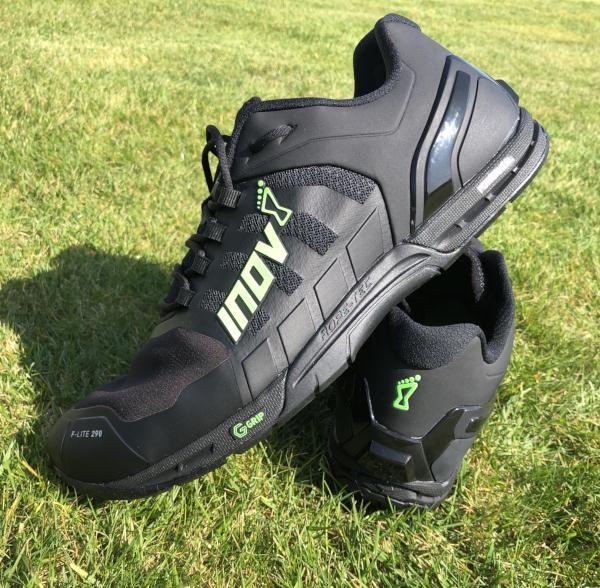 It is a comfortable, great looking shoe, and whilst I wouldn't recommend it for longer running sessions, it'll handle sprint/shuttle sessions with ease, and I'd wear it on an occasional easy run up to 5k.
If your fitness regime is primarily gym based whether that includes lifting weights, circuit training, or a combination of all of it, then the Inov8 F-Lite 290 is a great shoe that will deliver for you time after time.
Pros
Stability with ground-contact feel when lifting
Flexibility during dynamic movements
Excellent all-around gym shoe
Durability
Cons
Poor breathability can lead to feet getting hot
Introduction
Described by Inov8 as "the world's toughest shoe for the world's toughest workouts", the F-Lite G 290 incorporates graphene into its "G Grip" sticky rubber outsole to combine both grip and durability during gym and fitness sessions.
Add to this an upper of breathable mesh infused with a type of Kevlar fiber and an armored toe bumper (think bullet-proof vests), and the F-Lite G 290 has sufficient credentials to make it one seriously tough training shoe.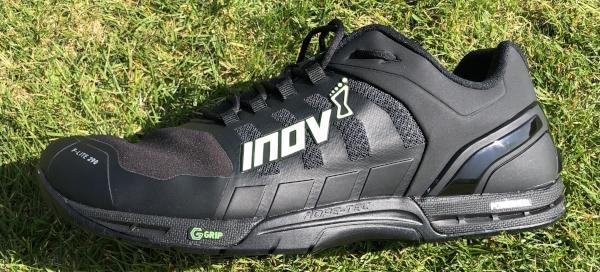 I didn't doubt the robust nature of the shoe but had to wonder how it felt to wear, and whether it was worth the £150 price tag.
Primarily a runner who also do gym/fitness sessions, I'd generally wear an old pair of running shoes for a gym workout, but I was intrigued to find out what a purpose-built shoe would add to my time in the gym.
Inov-8 are my go-to shoe for all off-road running and given the opportunity to try the F-Lite G 290, I was really keen to see how it performed in a gym environment.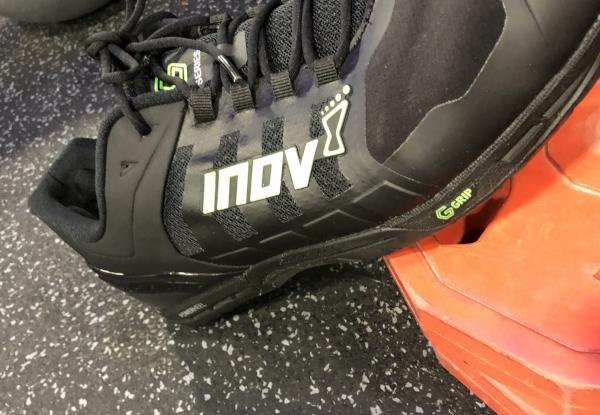 First impressions and appearance
As soon as I took the shoe out of the box, it was clear from my initial look, touch and feel that the F-Lite G 290 lives up to its "toughest shoe for the toughest workout" billing.
I was initially drawn to the heel with its exceptionally robust external heel cup, and then the internal "Heel Lock", the likes of which I'd not seen before.
The toe bumper is substantial and exceptionally durable, whilst the outsole is solid and weighty whilst surprisingly flexible.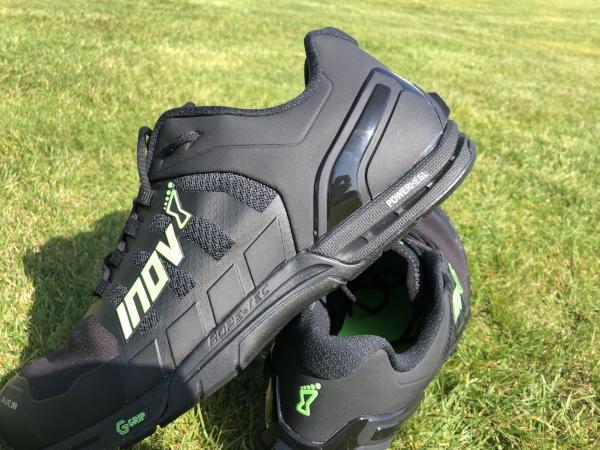 This shoe currently comes in one colorway; black with bright green "Inov-8" and "G Series" branding.
Other features of the shoe are highlighted in key areas, so in addition to the 'Heel Lock", we read of the "Powerheel", "Adapterweb", "Meta Flex" and "Rope-tec".
I must admit that I liked the unapologetic robustness of the shoe. This is markedly different from the running shoes I'm used to wearing, and which are designed to be lightweight, streamlined and cushioned.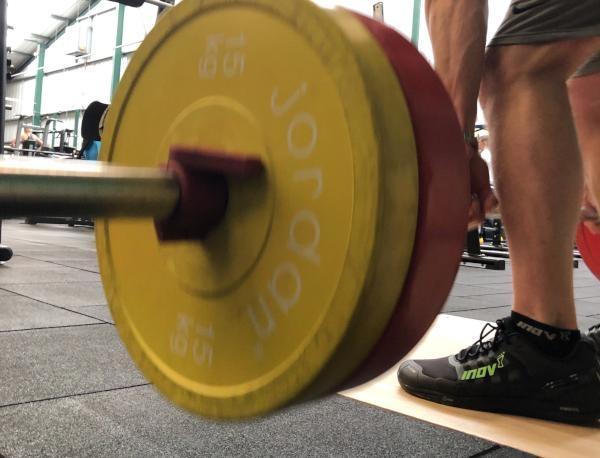 Weight
The Inov-8 F-Lite G 290 is listed at 290g (10.2oz), hence the name. This makes it comparable to a road-running shoe in terms of weight.
As expected, my UK 13 (14.0 US) shoe weighed in heavier than this, but I was surprised to find it tipping the scales at a whopping 418g (14.7oz).
This makes it a much greater increase over the "standard" shoe than my Roclite 290s which came in at 388g in my size.
Fit
Inov-8 shoes are graded in terms of fit on a 1-5 scale, with 1 being the narrowest, and 5 the widest fit (being equivalent to an extra-wide fit on other shoes).
Their fell shoes designed for more technical running are generally designed to offer a narrow, snug fit to allow minimal movement of the foot within the shoe.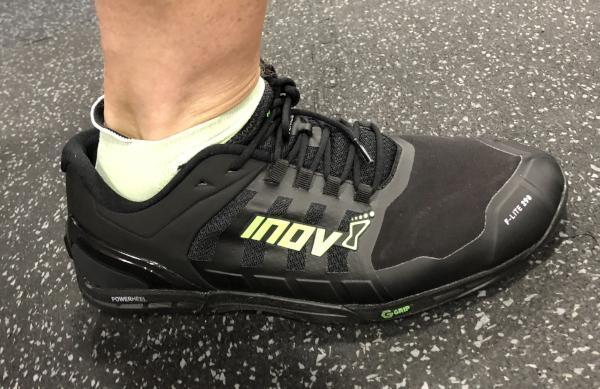 The F-Lite 290 is graded as 4, which I'm sure is comparable to most other fitness shoes. I found that it offered sufficient room across the foot and the toe box feels comfortable without being "baggy".
The length of the shoe was just okay, but left little room at the front. if you're in any way concerned about being "between sizes", I'd recommend sizing up by ½.
For comparison purposes, I tend to size up to a UK 13½ in New Balance, Hoka, and Salomon trail shoes, while using a UK 13 in Brooks, Asics, and my other Inov-8 shoes. In almost all cases, whatever the UK size, it is translated as a US 14 / EU 48/9.
Construction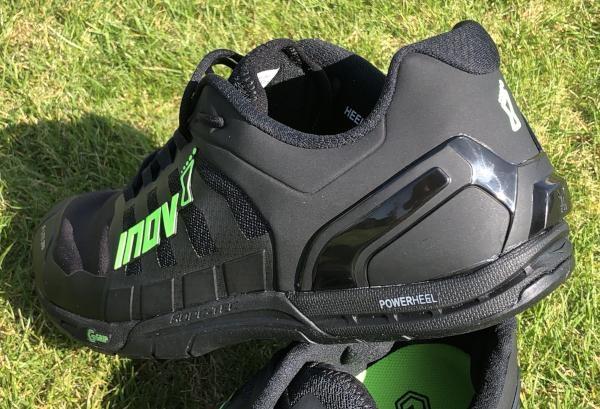 Upper
The upper of the F-Lite G 290 is created from a range of fabrics and materials.
Heel
The heel counter and surround is primarily formed from a type of rigid, polyurethane fabric with an almost rubberized feel.
Whilst this in itself seems to be extremely durable, it is further reinforced with hard plastic overlays, including a plastic "block" at the back of the shoe which bears an image of what appears to be a man doing a handstand.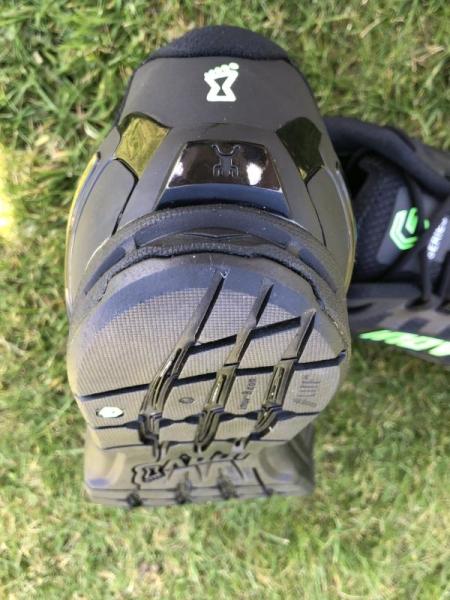 I'm not really sure of the purpose of this "block", other than perhaps to add to the robust, almost futuristic look of the shoe.
Beneath the rubberized fabric and plastic outer, the heel cup itself is similarly reinforced with a rigid plastic to provide an extremely secure and stable fit around the heel.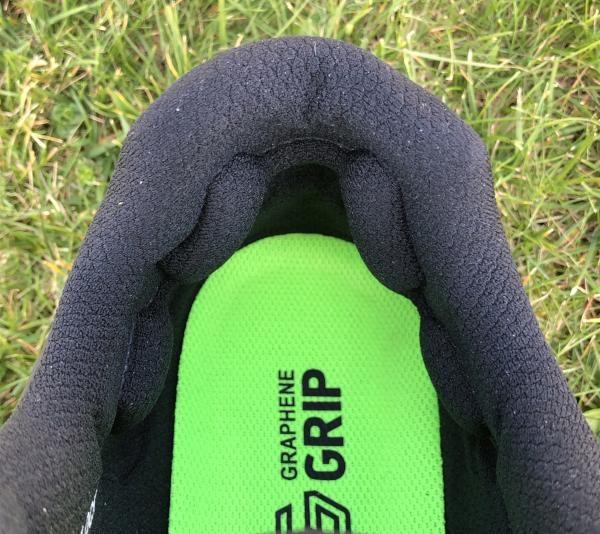 The heel collar and inside of the heel cup is extremely well cushioned, but also incorporates contouring designed to "lock in" the heel during lifting, and when "driving" through the legs in activities such as the sled push.
This contoured cushioning initially suggests an uncomfortable fit, but the way the cushioning has been designed around the contours works effectively to provide the desired lockdown without affecting comfort and movement.
I will address this further in the performance section below.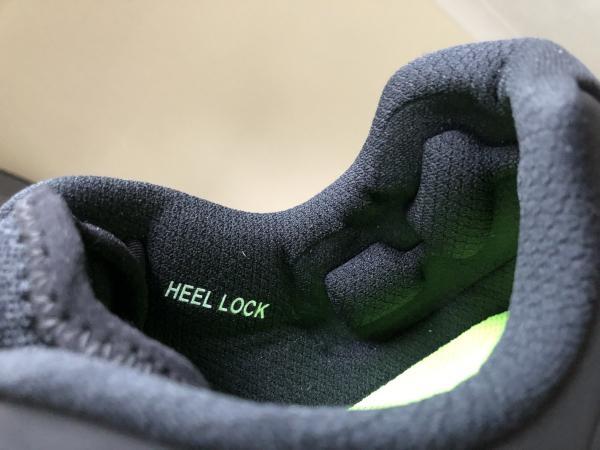 The tongue is also well padded and held in place by a bootie-type liner to provide a comfortable fit.
Saddle and front foot
The saddle of the shoe is made using "Adapterweb" engineered web with overlays for added stability and a secure fit once the shoe is laced up.
This has been effectively used by Inov-8 in many of their off-road shoes such as the Trailroc and Roclite.
In the case of the F-Lite G 290, the Adapterweb is further reinforced with more substantial overlays where the saddle meets the "Rope-tec" section of the outsole/midsole on both inside and outside of the shoe.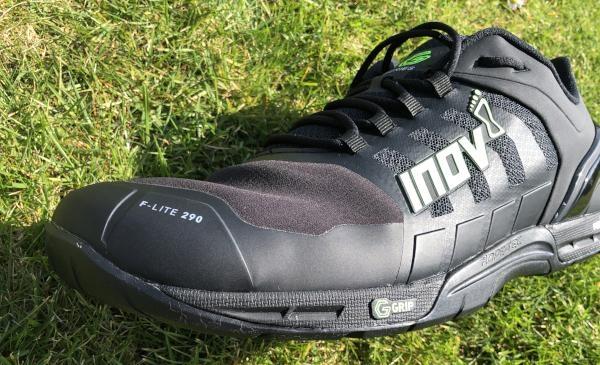 As with many of Inov-8s, the lace loops are formed of fabric loops embedded within the overlays of the Metacradle and provide a secure fit.
Moving forward, the F-Lite G 290 uses an extremely durable Kevlar-reinforced mesh over the front of the shoe.
This almost feels like neoprene and is further reinforced with a substantial toe bumper providing more than adequate protection should you inadvertently kick a misplaced kettlebell.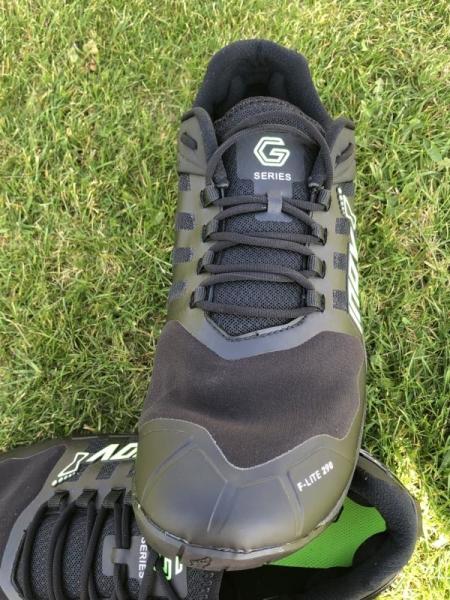 Overall, this is an extremely well-built and robust upper. In some ways, it appears to be somewhat overbuilt, especially with the external plastic around the heel counter.
But in a shoe where weight is less of a factor than durability and protection, I'm sure that the structure of the shoe will be welcomed.
Midsole
Given its purpose, the Inov-8 F-Lite 290 midsole is understandably very different from the substantial foam midsoles used in many modern running shoes.
For stability, it has a shallower footbed than a running shoe with 11mm – 7mm heel-forefoot drop.
When combined with the low-profile outsole, this provides a real ground feel.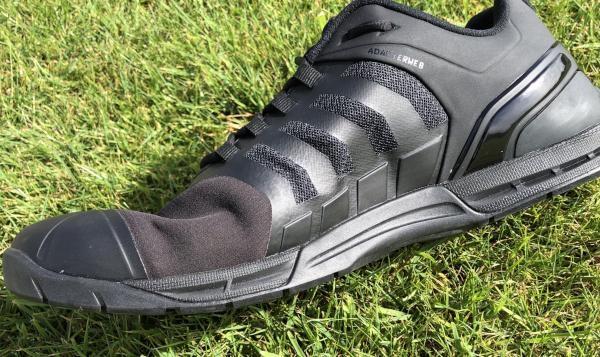 Inov-8 uses their "Exteroflow" midsole for cushioning. This foam compound seeks to absorb shocks from the impact of fitness training sessions without the energy return that one has come to expect from a running focused shoe.
The rear of the midsole incorporates Inov-8's "Powerheel" technology which is apparently 40% firmer than the remainder of the midsole, providing greater stability in the heel.
The Powerheel midsole requires greater compression that is conducive to powerlifting and weight training exercises.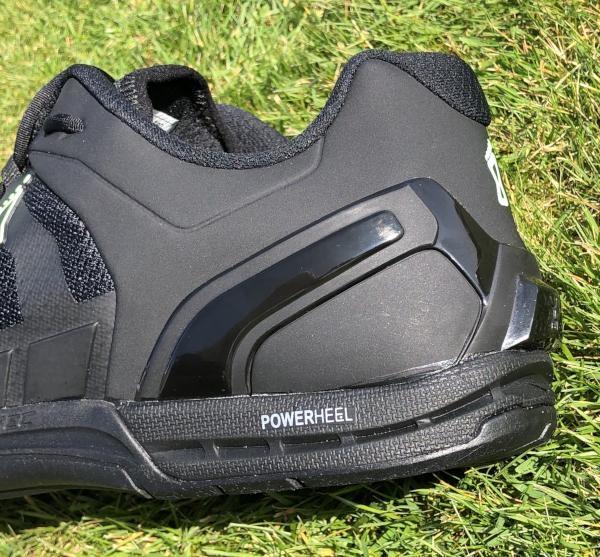 As befits this shoe, the midsole is very much oriented towards fitness and weight training.
It can be used for running shorter distances as well as for shuttles, sprints etc, but I personally wouldn't like to wear it for running further than around 5k.
Outsole
The outsole is where you'll find Inov-8's innovative graphene-infused rubber which is apparently "50% stronger, 50% more elastic and 50% harder wearing".
Incorporated into this outsole is Inov-8's "Sticky Rubber" which I have previously found to offer fantastic grip on fell shoes such as the Trailroc-270.
The outsole is deliberately low-profile to further ensure stability and ground-contact feel, whilst the "Metaflex" grooves do make them exceptionally flexible.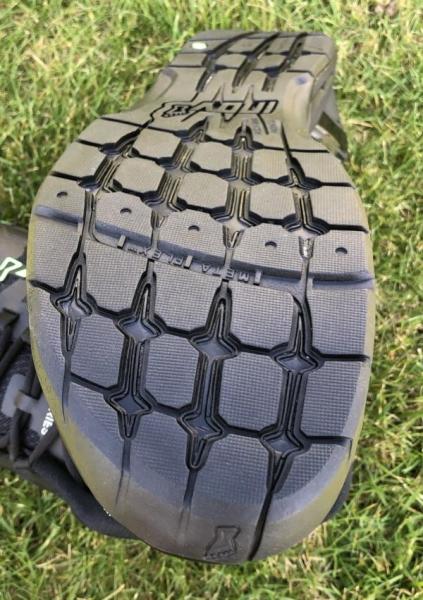 I'd initially expected the sole to be somewhat rigid and was pleasantly surprised to find it responding well to fast movements and change of direction.
A "Ropetec" guard extends from the center of the outsole to provide both grip and protection when climbing ropes.
The outsole does initially feel almost slippery on some surfaces, but once it has been "broken in", you'll find its grip to be excellent on pretty well all surfaces.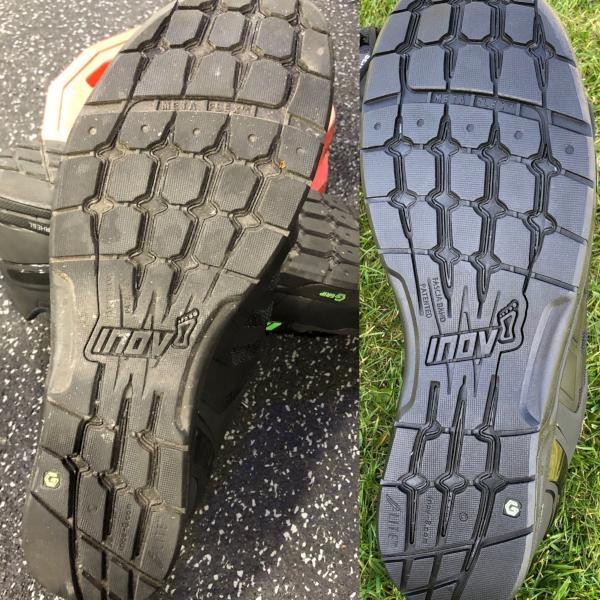 In the images, you can almost see a shiny coating in the new sole which is what causes the initial lack of grip. The "worn in" shoe, however, has a duller looking surface to the sole.
It isn't a lengthy wear-in process; in this case after a couple of miles running on the road.
This is similar in some ways to this season's F1 tires which come out of a pit stop looking shiny. That initial sheen quickly vanishes to reveal a surface offering great traction.
Performance
If you're short of time, then my experience, in brief, is that this is a fantastic fitness shoe.
Use it with confidence throughout the gym, whether for Crossfit, circuit training, lifting, weight training and any other manner of gym-based fitness activities.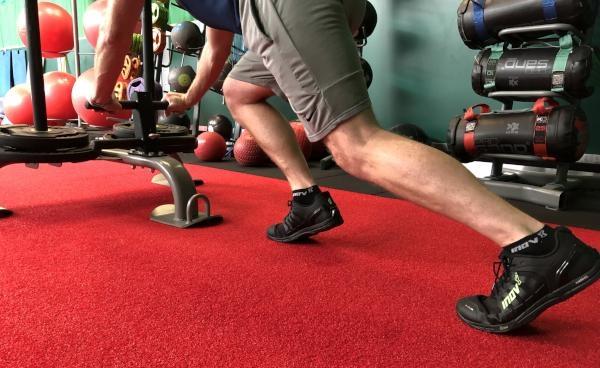 The F-Lite G 290 should outlast almost any other shoe and become ever-more comfortable the more you wear it.
If you decide to do more running, then unless you are used to a minimal shoe, I'd suggest that you invest in a separate running shoe and keep this one for the gym.
Just to clarify that I'm primarily a runner, though I regularly use weight training, indoor rowing, and circuit sessions. I have previously used old running shoes in the gym, and so cannot offer a comparison with other "fitness shoes".
Weight training & lifting
Until I tried the F-Lite G 290, I hadn't realized just how inadequate running shoes are for weight training work.
In this shoe, my foot felt securely planted. The lack of foam in the midsole means that the foot is stable throughout exercises such as squats and deadlifts.
The denser midsole in the heel also ensures minimal compression even with heavier weights.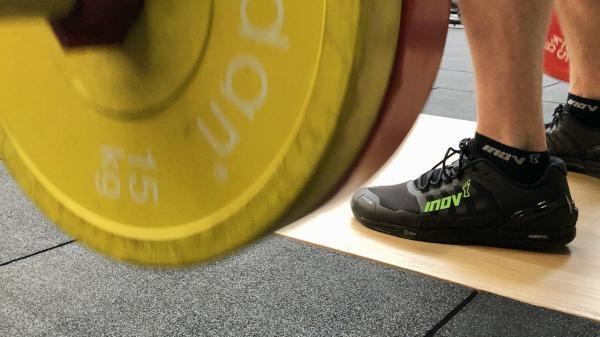 The Metacradle ensures that there is no lateral movement or foot-roll which gives far greater confidence when performing these types of exercises. Because of the heel lock, the heel is not at risk of slipping out of the shoe.
Circuits, dynamic exercises
In this category, I'd include many of the CrossFit type exercises; exercises incorporating weights and movement as well as plyometrics and shuttle runs, etc. The F-Lite G 290 excels in these types of exercises.
The shoe allows the foot to flex and spring off during exercises such as mountain climbers, burpees or plyometric jumps.
The Heel Lock works impressively when performing pushing exercises such as the "sled push" during which it would otherwise be easy for the heel to slip out of the shoe.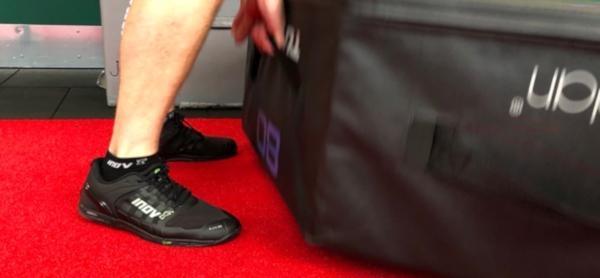 The F-Lite G 290 is more comfortable than I'd expected for rowing where I usually prefer a more lightweight shoe with more room for movement in the heel.
I had no issues in using the shoe for short bursts on the Concept 2, or up to a 5k.
The shoe is once again flexible enough, and the heel lock doesn't affect the comfort or impinge on movement for these shorter sessions, but for longer rows, I'd tend to choose a different shoe.
Running
As mentioned above, this shoe is ideal for short bursts, shuttles and quick movements with a rapid change of direction. In these circumstances, the F-Lite G 290 is probably more suitable than a traditional road-running shoe.
Unless you are used to a minimalist shoe with little cushioning and energy return, I'd suggest that this shoe is not ideal for road-running.
The features that make the F-Lite G 290 an ideal shoe for lifting in the gym render it a difficult companion for the long run.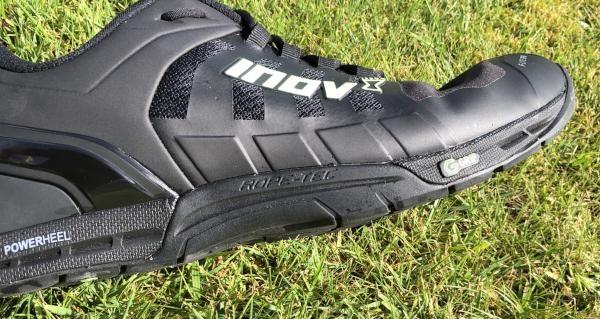 The dense foam in the "Powerheel" doesn't cushion a heel strike and isn't any more responsive as you move through to the push-off. I certainly found it energy-sapping and would unlikely use it regularly for road running.
Nonetheless, this shoe will be far more forgiving on a treadmill than on a road. If most of your running miles are done in the gym, this shoe should work as a real all-rounder
Unsurprisingly for an Inov-8 shoe, it works as an off-road shoe in dry conditions, with the "Sticky Grip" rubber compound within the sole offering excellent traction on rocks.
Durability
It's hardly surprising that I haven't been able to wear out the F-Lite G 290 in the few weeks that I've been training in it.
The shoe boasts a Graphene enhanced rubber outsole, and a Kevlar infused upper together with reinforcement provided by plastic, and tough polyurethane.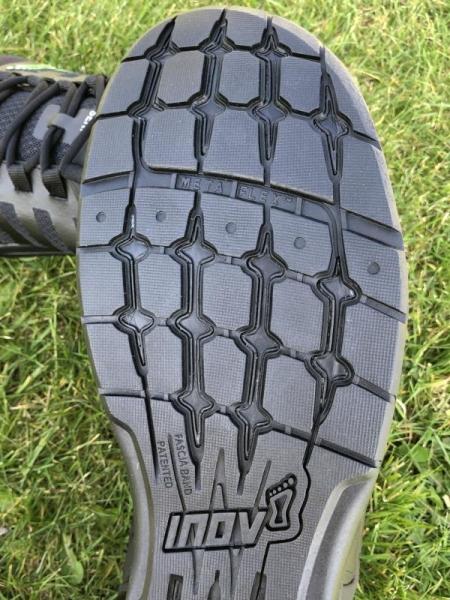 I'd be confident in suggesting that it will outlast most other shoes within a gym environment.
The one potential weakness for wear may be the cushioning around the inside of the heel, but because the Heel Lock holds the heel in place, preventing it from rubbing away the fabric, I'd be surprised if that were an issue.
Summary
The F-Lite G 290 is a fantastically durable fitness shoe which is designed and built for the toughest gym environment.
It delivers stability and confidence whilst lifting together with grip, support, and flexibility for rapid bursts of energy as required.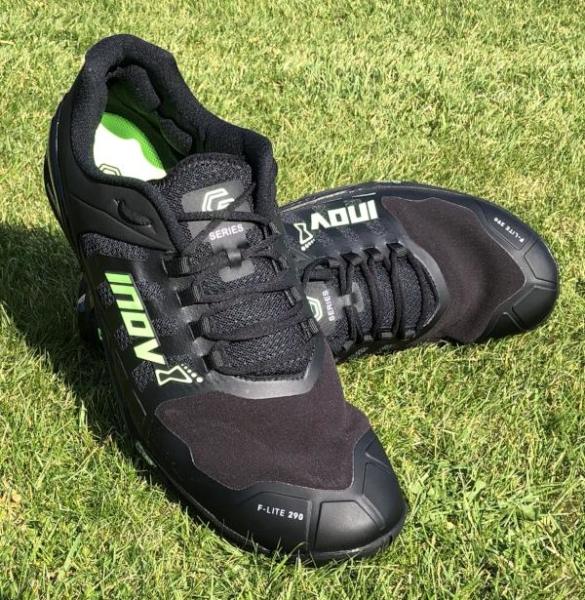 It is a comfortable shoe, although there is very little breathability within the upper (only the Adapterweb saddle is breathable).
This does mean that the foot can get hot during longer workouts or in warm weather.
My rating
This one is a little hard to rate as I cannot compare to other fitness shoes. I have however rated is in terms of quality, and suitability for purpose on a similar rating to running shoes.
If your fitness regime is primarily gym based whether that includes lifting weights, circuit training, or a combination of all of it, then I'd recommend this shoe.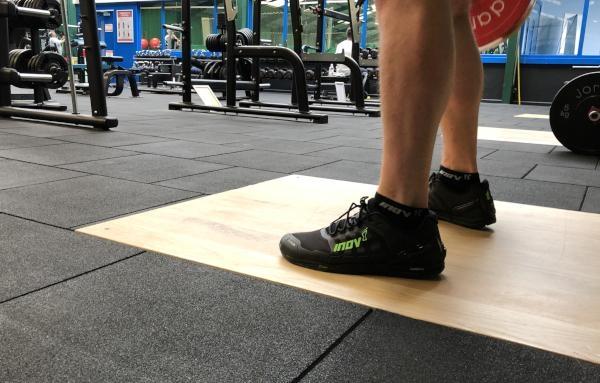 Its already being listed in some stores at £120, so is more affordable than originally, and given its durability, this shoe should prove to be a sound investment.
Whilst this is not really a running shoe, it will serve for shorter runs, especially if you are used to running in a minimalist shoe.
If you are going away for a week during which you're planning gym work, circuit classes and maybe a couple of shorter runs, then this shoe should serve as your one-shoe-fits-all solution.