Inov-8 F-Lite 250: Great shoes for crossfit and gym purposes
This is a review from one expert, and reflects personal opinions. Learn what 360 other training geeks think of this shoe and see colorways at the
Inov-8 F-Lite 250 main page
.
Let's get one thing sorted out first – these shoes are not running shoes.
Understood? Ok :)
The Inov-8 F-Lite 250
If you are into CrossFit and functional training, you have probably tried using "normal" running shoes which are not perfect for that. Alternatively, some use indoor soccer or tennis shoes. Some use Converse All Star shoes.
None of those is a very good solution. You need to run, jump, weightlift, climb, do gymnastic exercises etc, all in one workout. Some people use barefoot shoes which are not a bad choice.
But the need for specialized shoes caused the creation of new type of shoe. I don't know how to call them, so let's call them "functional training shoes".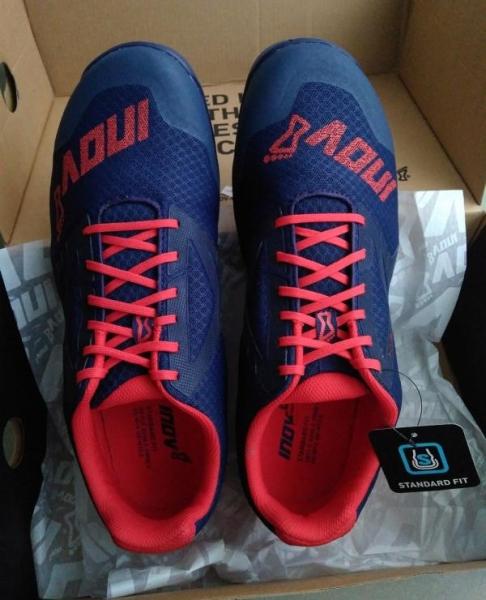 A long time ago Inov-8 was the go-to shoe for CrossFit and similar, while this type of exercise was still not so well known before Reebok has entered the CrossFit game.
I got these Inov-8 F-Lite 252 before Reebok Nano became famous and have used them for something like 300-400 or more CrossFit workouts. They are still in great shape, only the sole has lost the properties and became relatively stiff. Still usable, but not great.
Also, I had some running in them, but they are not too comfortable for running with my weight.
Nowadays you can choose between Inov-8 F-Lite, Reebok, and Nike.
Most of guys and girls I see are wearing some of many Reebok Nano iterations. But more and more are wearing Nike Metcon shoes which are created to be the direct competitor to Reebok Nano. I have tried both of them in store, but they don't suit me so well.
So I decided to get new Inov-8 F-Lite 250. Completely revised design when compared with the old F-Lite lineup. But people at Inov-8 usually know what they are doing, so I was confident they will at least be good if not great.
Comfort & Fit
My feet are wider, I went a half size up with them but I comfortably could have ordered normal size. For comparison, I use Salomon EU 46 2/3, while these would be good in EU 46.
The fit is wide and comfortable, you can tighten the laces properly, fix the foot firmly and still have plenty of toe room. When worn they are quite comfortable, although not very soft. Obviously, they are not made for running and long walks.
Weight is approx 250g which is implied in the shoe name. The drop is 8mm which is not minimalistic but can be useful in the gym for lifting. Many people have an issue with zero drop shoes and weightlifting.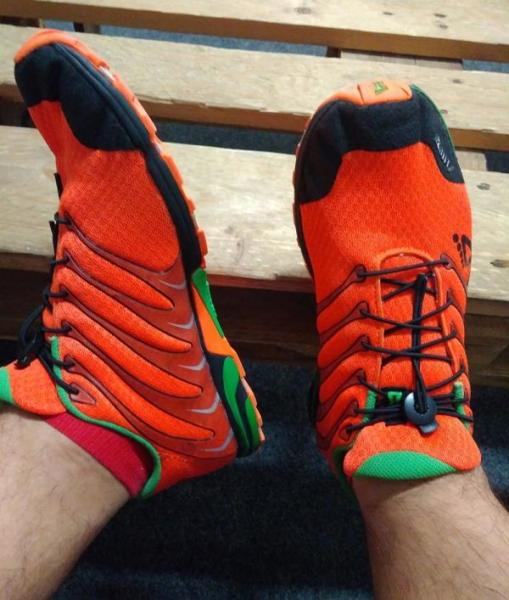 Sole & Upper
Sole is constructed with functional training in mind.
It is flat, with good traction, Inov8 website calls the compound "STICKY" and sticky it is. Reinforced is the arch segment of the sole, for the rope climbing purposes.
Considering that you are supposed to lift weights in them, the heel part of the sole is fortunately hard enough. I have not experienced any issues during the heavy lifts like deadlift and squat. Obviously, the heel is not firm like in specialized lifter shoes, but for me, it is firm enough for carefree lifting.
Sole is also soft enough for the various jumping and dynamic exercises, so no issues there. Inov-8 managed to find the sweet spot with the sole firmness to cover all exercises. Except… well running. But you will not run more than few miles in them in the worst case, so it doesn't matter much.
Upper is made of a seamless material with toe protection. After approx 100 workouts it is still like new.
So I don't expect any durability issues with them. Like the old model, they should last for a long time.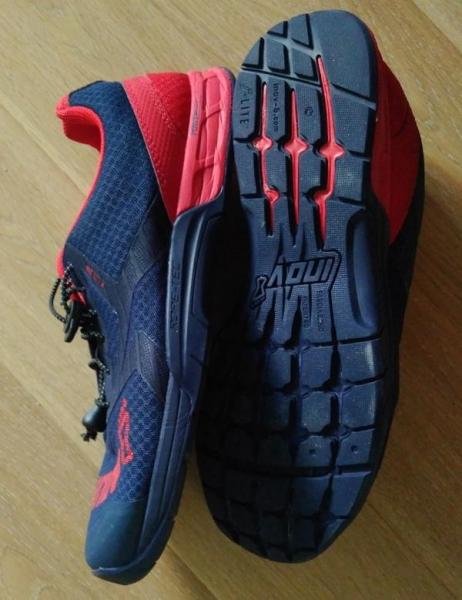 Performance
These shoes are made for functional training, CrossFit, gym and similar. They are NOT made for running.
Taking that into consideration, they perform their job admirably. After a lot of workouts, I did not experience any issues with them, whether the workout is focused on lifting or gymnastics, or running/jumping, or something else.
I have replaced the laces, original ones were not perfect and were too long.
Now I use elastic laces on them, which are for me much more practical and comfortable. But beware, if you use elastic laces then you must tighten them properly for CF workout, otherwise, you could experience foot slippage during the exercises with sudden direction change (shuttle runs and similar).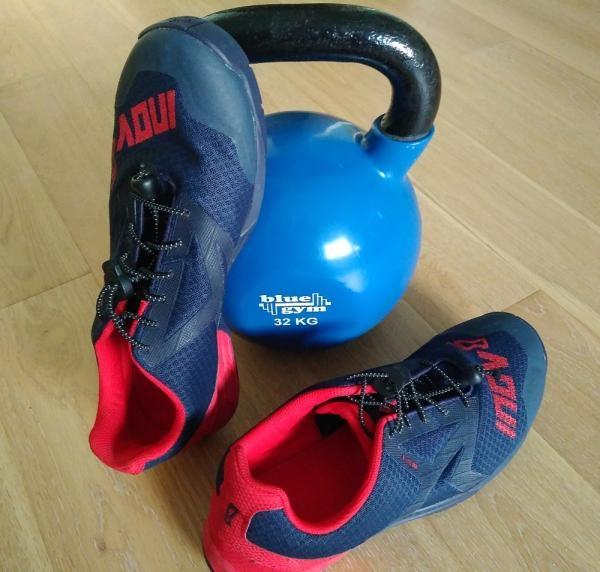 Pluses
Durable construction
Versatile, made for all CrossFit and gym purposes
Firm sole, good for weightlifting
Minuses
Not very good for running distances longer than a kilometer or two
Wider fit could be problematic for people with narrow feet ( there are other F-Lite models with narrow so-called precision fit.)
Conclusion
If you are looking for a good alternative to Inov-8 F-Lite 250. They can usually be found at discounted prices which makes them great value for money.
Unless you are real weightlifter or powerlifter (I mean REAL, not wannabe), you don't need specialized weightlifting shoes. These shoes should be enough for at least 95% of people I see at the gym.