Hoka One One Sky Toa: A unique platypus
This is a review from one expert, and reflects personal opinions. Learn what 29 other hikers think of this shoe and see colorways at the
Hoka One One Sky Toa main page
.
The Hoka One One Toa is a unique platypus that feels like a bizarre mix of hiking boot and trail running shoe, good for very specific niche conditions, but a bit awkward outside that.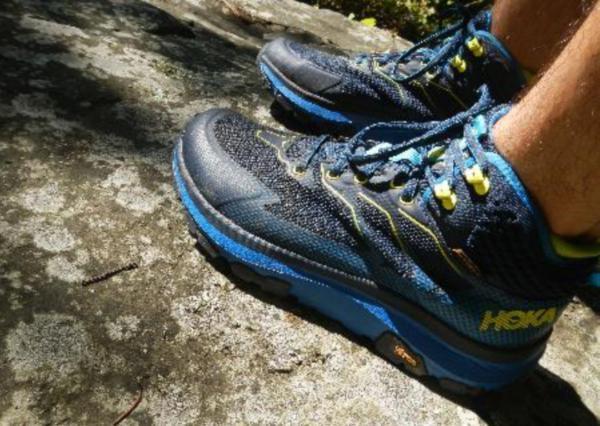 Who the Toa is perfect for
If you're going to do some fastpacking, speed hiking, or even a bit of short-distance trail running through wet conditions where extra ankle protection and waterproofing is a must, the Toa may be a good fit.
The shoe will work well for a wide range of foot shapes, and the very flat midsole is aimed at hikers with a neutral gait (although the Toa will accommodate supportive inserts).
In-depth review, from top to bottom
Hoka calls the Toa a "speed hiker," meant for fastpacking (i.e., hiking, but faster), and aimed to deliver a hiking boot that is "solid and efficiently lightweight."
The result is what feels like an odd mix between a trail running shoe and a genuine hiking boot: cool in concept, but I'm not sure how well it works out in practice.
In almost all cases I can think of, I would prefer to go one way or the other, either with a more protective, durable boot for hiking, or a lighter weight trail running shoe with more ankle mobility and a smoother heel/midfoot-toe transition for moving quickly on the trails (see the "Competition" section).
Like a platypus, the Toa occupies a very narrow niche: I can see a use for it only in a very particular set of conditions, but stray outside those conditions, and it's a bit awkward.
The following sections will go through the Toa in more detail from top to bottom and overview the specific conditions where I think the Toa might be a good choice.
Upper
If you're going out into wet conditions on slippery, technical terrain where extra ankle protection will be valuable, then the Toa's upper is great.
For a fully waterproof shoe, it is remarkably breathable. And for a mid-cut boot that offers great ankle support (a big benefit for those prone to ankle sprains), the Toa's upper has good flexibility with no noticeable pressure on the Achilles tendon or the bones of the lower leg.
That said, opting for a fully waterproof above-the-ankle upper comes with tradeoffs. Waterproofing prevents the upper from breathing quite as well as non-waterproof shoes, traps in heat, and prevents easy draining of water, so when the Toa gets wet on the inside (during deep stream crossings or heavy rain), it doesn't dry out anytime soon.
On warm, dry days, it feels a bit hot and restrictive. I personally tend to prefer water-resistant uppers over fully waterproof uppers since they're lighter, breathe better, and drain water quicker.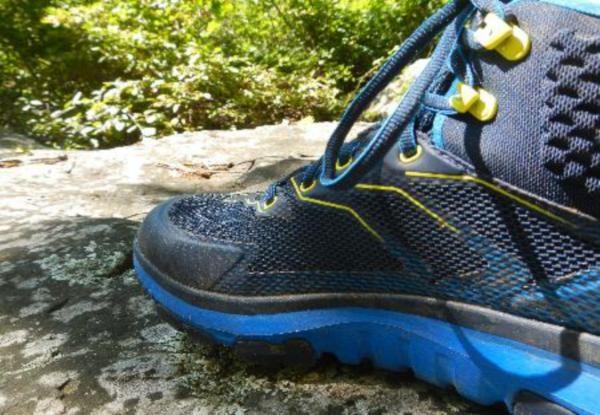 The mid-height ankle protection is another tradeoff. If you'll be moving over slippery, technical terrain where ankle sprains are a real risk or are going to be out on the trails in an area where snakebites, poison ivy, or other natural hazards are a real concern, then the extra ankle protection is well worth it.
However, for most fast packers/speed hikers, the extra rigid material wrapping the ankle will be overkill, constricting movement and trapping in heat.
I can only think of a few rare circumstances where I'd prefer the Toa's above-the-ankle design to the lighter weight below-the-ankle cut of most trail running shoes.
I tend to prefer to have freedom of motion in the ankle, and then slap on a pair of gaiters when the going gets rough than be locked into a mid-cut upper.
My last reservation about the upper is durability and protection. I personally did not have any major issues with early wear and tear, but many reviews on the Hoka Toa's webpage complain of fraying, detaching overlays, and other failures in the upper within just a few miles of walking.
I tend to believe this feedback: Hoka says it did everything possible to cut weight in the shoe, which tends to mean removing structural components on the upper and resulting in a lighter but less durable shoe.
The Toa's upper felt flimsy, especially for a hiking boot, and I can easily imagine it breaking down prematurely. I also didn't feel as well protected against jagged rocks and other trail obstacles as I do in a traditional hiking boot.
Going out in the wilderness, I usually prefer a more durable, reliable upper that I know will hold up for 1,000+ miles and keep my feet nicely protected from hazards, even if this means an extra ounce or two of weight.
Midsole
The midsole of the Toa was a bit of a disappointment. When I think Hoka, I think of the brand's famous maximalist cushioning, but the Toa is more of a traditional stack height with an average amount of cushioning.
I can appreciate Hoka's attempt to offer a wider range of options and produce a shoe that will feel more familiar to traditional hikers (not everyone wants to feel like they have mattresses strapped to their feet), but this puts the Toa in a wider category where other traditional stack height shoes just perform a little better.
The Toa ends up feeling a bit like a slightly worse knockoff of a regular stack height fastpacking shoe like the Altra Lone Peak Mid, rather than the familiar, tried and true maximalist cushioning from Hoka that we've come to know and love.
The midsole of the Toa also feels very flat—I did not feel any arch support or note any design features to ease the heel/midfoot-toe transition. All in all, the midsole felt unremarkable with just enough cushioning to remain comfortable, but nothing exceptional.
Outsole
The most impressive part of the Hoka Toa is the outsole. There's Vibram's "Megagrip" rubber providing great traction over a range of wet and dry conditions.
Unlike the upper, the outsole was also impressively durable, showing very few signs of wear after several long hikes over rough terrain. I took the boot up a mountain in a hard rainstorm with several stream crossings, but never felt like I was losing my footing even when moving at a quick cadence.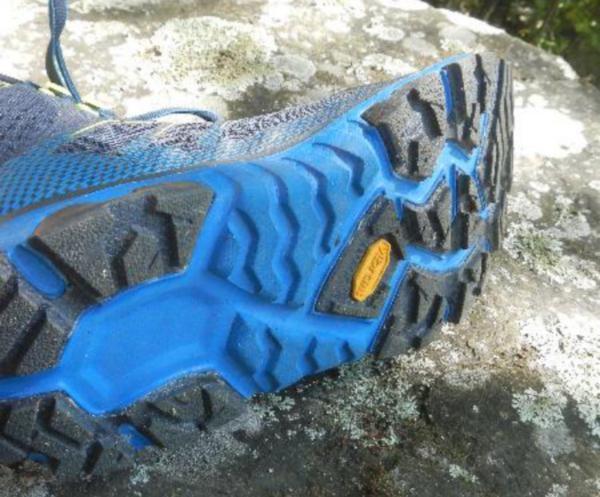 The Competition
The Toa occupies a strange niche between trail running shoes and genuine hiking boot. For all but a very narrow set of conditions, I would suggest competing shoes that are more squarely in the hiking boot or the trail running shoe camp.
One great option more solidly in the trail running shoe category is the Hoka Speedgoat Mid WP, which is also waterproof and offers robust ankle protection, but is lighter (at 12.6 oz, versus the Toa's 14.99 oz in a men's size 9) with more cushioning, and a smoother heel/midfoot-toe transition.
Another option is the Altra Lone Peak 4 Mid RSM: also waterproof with mid-height ankle protection, but lighter than the Toa at 12.9 oz and with fewer complaints of durability issues.
For those doing hiking, I would tend to suggest any number of slightly heavier but more durable and protective boots, such as the Salomon X Ultra 3 Mid GTX.
Conclusion
The Toa will be a good option for a very, very narrow set of conditions.
It's good for speed hikers looking to move fast (somewhere between a brisk walk and a light jog), over technical or hazardous terrain where extra ankle protection and grip are important), and in rainy weather (where waterproofing will be worth the loss in breathability and drainage).
Outside of that narrow band, a more durable hiking boot or a lighter weight trail running shoe will probably be preferable options.