2019 Chicago marathon with Hoka One One Gaviota 2
This is a review from one expert, and reflects personal opinions. Learn what 117 other runners think of this shoe and see colorways at the
Hoka One One Gaviota 2 main page
.
I am a 42-year-old runner, about 170 pounds and 6' 1" tall. I race all distances, from 5ks to marathons, and spend at least half of my year training for an upcoming marathon.
The Gaviota 2 is a supremely cushioned, maximal stability running shoe. The foundation is mega-wide, and my feet felt like they were being sucked into plush, form-fitting, memory-foam cushioned shoes.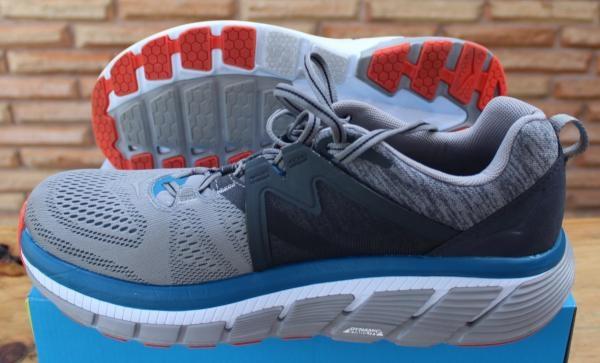 At first, I thought for sure they would be too bulky, too big, and clumsy for running. They seem over-sized.
I received the Gaviota 2 at 6 weeks to go until the Chicago Marathon. So testing these shoes incorporated the last 6-week build up to the marathon, covering my feet in every workout, and included running the Chicago Marathon in them.
Preliminary fit
Shoe length
My feet are size 12 (Brannock). Size 12 in the Gaviota 2 gave me just the right amount of extra space in the toes. Perfect shoe length!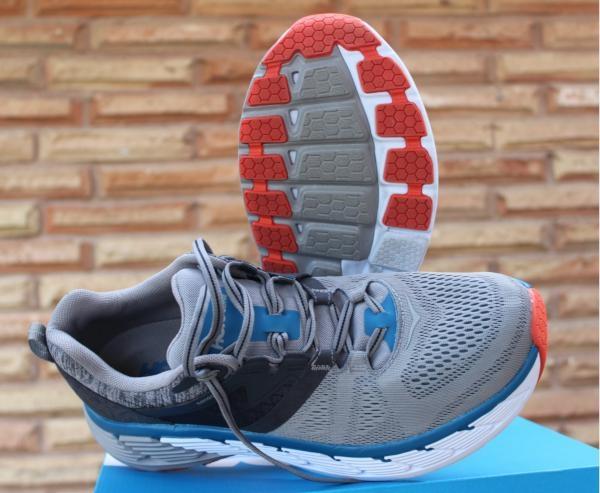 Laces
I use a heel-locking tie just like every other shoe I wear since it keeps my heels cinched down.
The laces seemed to be a little long, even using all of the eyelets. However, I did not have one issue of the laces coming undone, even without double-knotting them.
Toe box
The toe-box would seem to be extra wide considering the super-sized platform. However, the box was not overly spacious.
I had no issues with cramping, but the shoe did seem to fit my foot width exceptionally well.
Heel & arch support
Putting on these shoes was like sinking my feet into customized plush house shoes. The arch support was spot on, and the heel sucked right around the backs of my feet.
I do not know whether this shoe fits anyone else perfectly or not, but it felt customized to my feet after a while.
Upper
Here is where the shoe began to lose points in my review. There is just too much structure on the upper portion; a lot going on.
I don't think the upper portion added to the overall weight too much, but, as you will read later, it tended to complicate matters over the course of runs.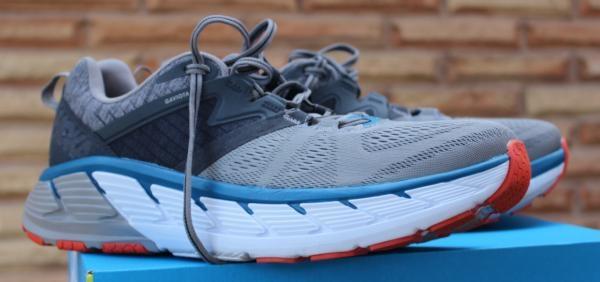 Midsole & outsole
This shoe is exceptionally stiff and seemingly clunky. It is a very large footprint.
The midsole is exceptionally cushioned, and the combination of rubber and foam in the outsole is interesting and soft. I anticipate the outsole will not hold up to the rigor of 500 miles.
Weight
Whatever Hoka did to make this shoe lightweight, they got it right. As clunky and large as this shoe, it is extremely lightweight for a stability shoe (coming in under 11 ounces).
After 370 miles
I gave the Gaviota 2s a full range of testing over the course of the final 6 weeks before the Chicago Marathon.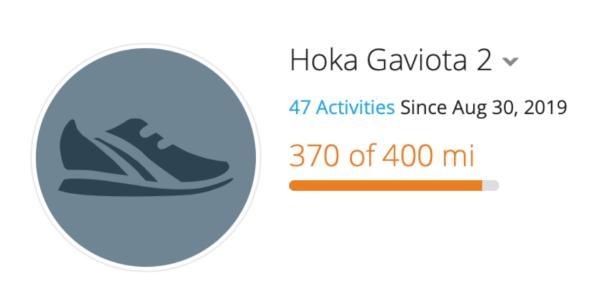 Short runs (3-6 miles) at recovery pace
Track speed work
Fartlek runs on the streets
20+ mile long runs
Marathon
Not only did these shoes become "very" comfortable over the span of their use, but the very large platform also did not really cause me any issues.
I am coming off a bad hip injury earlier this year, and I did not experience any major pain while I was running in these shoes.
With all the good experiences in these shoes, there are a few negative points I must make. The first and most important of which is the upper construction.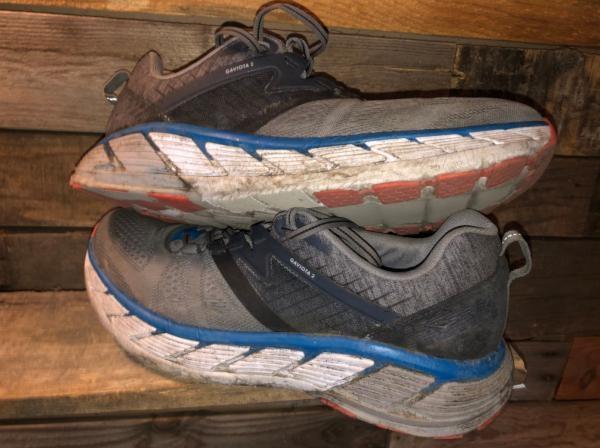 As noted earlier, there's so much going on with the upper. It seems to lack the ability to wick away moisture from the feet. In fact, these shoes do the opposite.
After every single run in these shoes, no matter how short or long, the shoes were wet with moisture and dirt. They seemed to suck it out of the air. These shoes smell terribly after 370 miles.
Secondly, and less importantly, I do not think the outsole construction is up to handling more than 300 miles or so. As you can tell, as I near 400 miles, the outsoles are beyond needing replacing.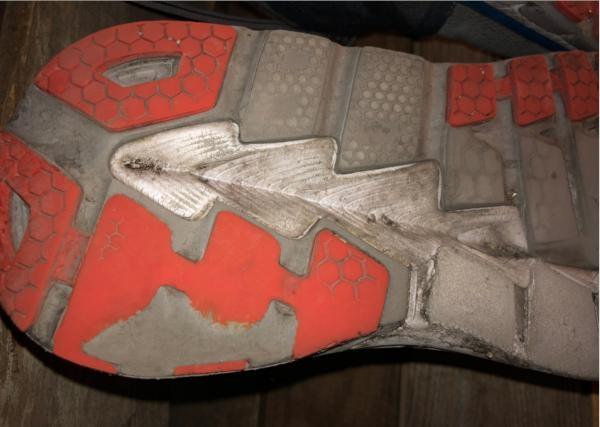 Performance
I had no issues in these shoes when it came to performance. From daily training to marathon racing, I did not feel encumbered by them. Please take note, however, that I did not attempt to run a personal best in the Chicago Marathon. Coming off of an injury, my goal was to get through the training and the race without pain, and I did. If I had been trying to run a PB, I likely would NOT have chosen to run in these shoes.
Expected Lifespan
At 370 miles, my Gaviota 2 are retired. I do not think it wise to continue running in them any longer. The outsoles are pretty worn down, and the midsole seems to be breaking down as well. I would change this shoe out before 350 miles.
Pros
Solid, comfy structure
Great shoe laces
Lightweight
Cons
Non-wicking upper
Short outsole lifespan
Final thoughts
If you are looking for a highly structured, lightweight daily trainer that provides maximum stability, this shoe is for you. If you live in a drier climate with low humidity, you will enjoy them even more.