Columbia Vitesse OutDry - Does it live up to its name?
This is a review from one expert, and reflects personal opinions. Learn what 5 other hikers think of this shoe and see colorways at the
Columbia Vitesse OutDry main page
.
Out of the box, I thought, "am I really going to put these on my feet!" They look great from all angles though I'm not fond of this particular color scheme.
They are relatively lightweight yet there is more longitudinal flex in a pair of climbing boots than these. Not something I am accustomed to in a shoe.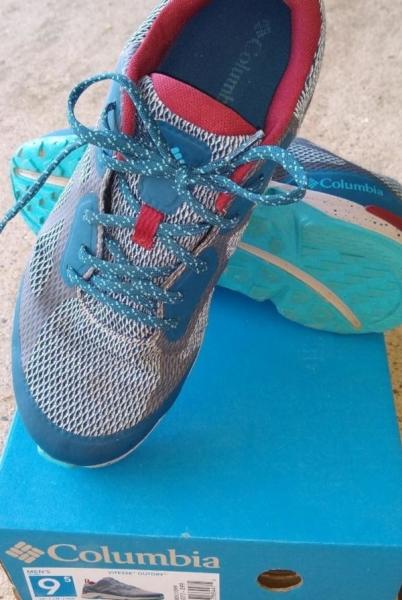 Does this shoe live up to its name? Vitesse means moving fast and OutDry implies the outside of something is dry.
After 65 miles of hiking and one 7-mile run in these shoes, I would consider these shoes a fast hiking shoe and a slower than average running shoe.
But wait, just because they may look like a runner, they really are a hiking shoe. Very light for a hiker as well at 13½ ounces for men's size 9½.
Outside, the skin of my foot did stay dry in heavy rain and slugging through muddy trails on several hikes in the past months. My feet stayed warm on the snowy trails back in March as well.
Hiker Light
The breathable mesh upper and lightweight midsole combine to make a lightweight hiker. It won't weigh you down even though your pack might. The bright blue outsole is mildly aggressive.
Columbia refers to it as Omni-Grip™ Rubber. It provides enough grip with 3mm lugs except for the greasiest up and downhill trails.
Additionally, the lug pattern did not hold debris which contributes to a lighter hiker than some due to the constant shedding of mud.
Is it waterproof?
An emphatic, YES!
Morning hikes across a dewy field, rain-drenched sidewalks, and muddy puddles were no match for the patented OutDry laminated mesh upper and welt between the upper and midsole. The no-sew overlays technology adds rigidity and aesthetics to this shoe.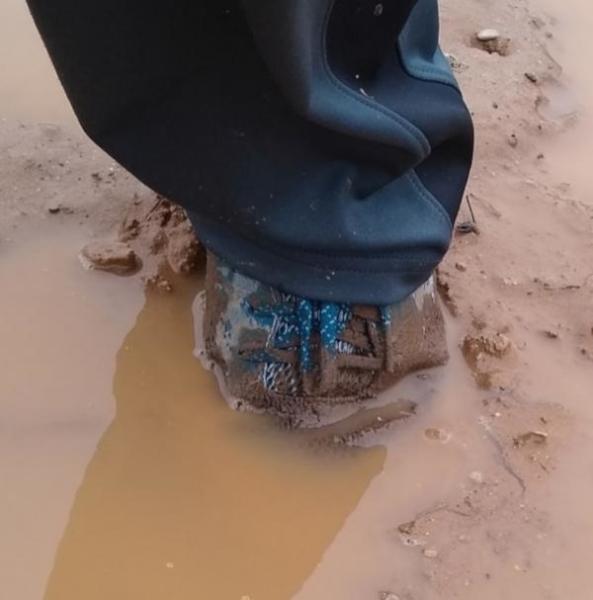 My foot remained dry on every hike whether it was wet or hot. The breathability is the best of the four waterproof shoes that I've owned.
The padded gusseted tongue kept out water that went up passed the middle laces. Therefore, this shoe gives a comfortable feel in all conditions.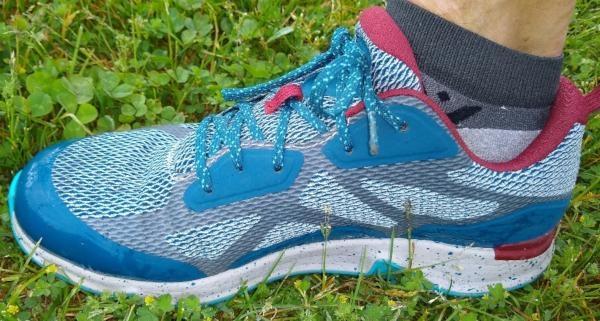 Fit & performance
The overall fit and comfort in cold and wet conditions is amazing, but the everyday feel is equally great.
There were no hot spots, no rubbing on the heel or ankle. I tried to find a type of terrain or length of time that created a tight or rough spot, but alas I could not.
The toe box is roomy but not sloppy and the heel cup forms nicely to my ankle.
The malleolus cutout is deep enough to not rub my ankle, but not so low as to lose that nice cup feel around my ankle. Still not sure why many shoe manufacturers still add a heel cup pull to their shoes. I've tried to use them a few times to no avail.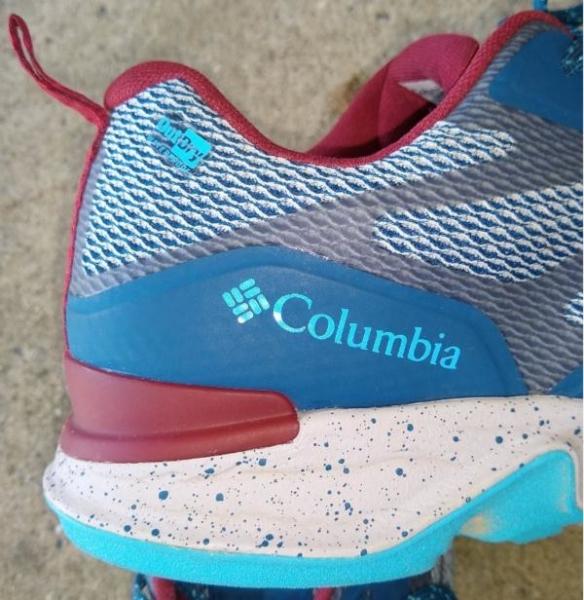 The Vitesse's performance on a long hike is top tier. The stiffness of the midsole gives tons of rock protection and enough cushion to not feel like a boot.
As hard as I try to not compare it to a runner, the thought of its lack of sole flex and minor impact return bothers me. I believe those traits also make it a great hiker.
The flex test
I wanted to follow-up on my thought at the beginning of this review – 'there is more longitudinal flex in a pair of climbing boots.'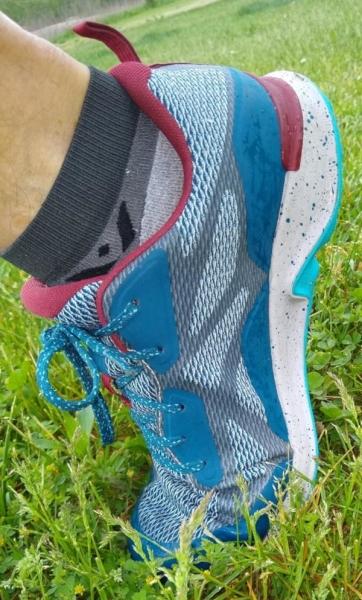 I decided a specialized test was necessary to compare the force needed to flex the toe box of the Vitesse as compared with a few other shoes. Five different shoes were placed on a scale inside a frame. The results were telling and proved my initial thoughts.
On Cloudflyer Waterproof came in at 5 lb 6 oz, the 361 Degree Strata was 7 lb 3 oz, Saucony Peregrine was 7 lb 13 oz, and the Hoka One One Sky Arkali, also a hiking shoe, was close at 12 lb 1 oz, but the Vitesse recorded 12 lb 5 oz!

For a lightweight shoe, the lack of flex was a bit surprising. The stiffness does afford protection on technical trails and spreads out the foot compression, somewhat like a biking shoe.
The pros
The upper is amazing with a just-right toe box, waterproof and breathable material, and stable heel counter.
It has enough cushioning for a long hike and extremely comfortable in all conditions.
The padded tongue and mesh construction hugs your foot all around.
The overlays add to upper stability and aesthetics.
It is stable and secure.
Sizing seems to be right on.
Great value for a well-constructed hiking shoe.
The cons
The lack of cushioning may be a negative for some people, but I like to feel the trail a bit.
The baby blue or Phoenix Blue as Columbia calls it is just not my choice of color for a hiking shoe. I'd prefer black.
Significant flex in a shoe is customary to the point that I need to give it a negative even though I think it adds to the comfort factor on technical or rocky trails.
The wrap-up
The lightweight yet stiff midsole gives a solid feel on all terrain. It has enough body to protect from the sharpest rocks.
It is great as a daily walker as well. Plus the stylish silhouette means these performance hiking shoes look good on the trail and for everyday wear.
They did look great with a pair of jeans. For my final verdict on the Columbia Vitesse OutDry, I really like the comfort and fit. Its durability, protection, lightweight, and water protection are all excellent.