I do triathlon and I do it with Reebok since I started.
When I mentioned that, I accept that Reebok is not famous for super trendy running shoes nor do they merchandise the good ones they have (like my beloved and discontinued One Distance 1.0 or the underdog Sublite Sport).
They don't have good reviews in those terms except the One Guide and the cross "gravel" ones. Therefore, those new models like the ZPrint 3D and the brand new running line from 2017 are like a running awakening with Reebok, or at least it looks like that.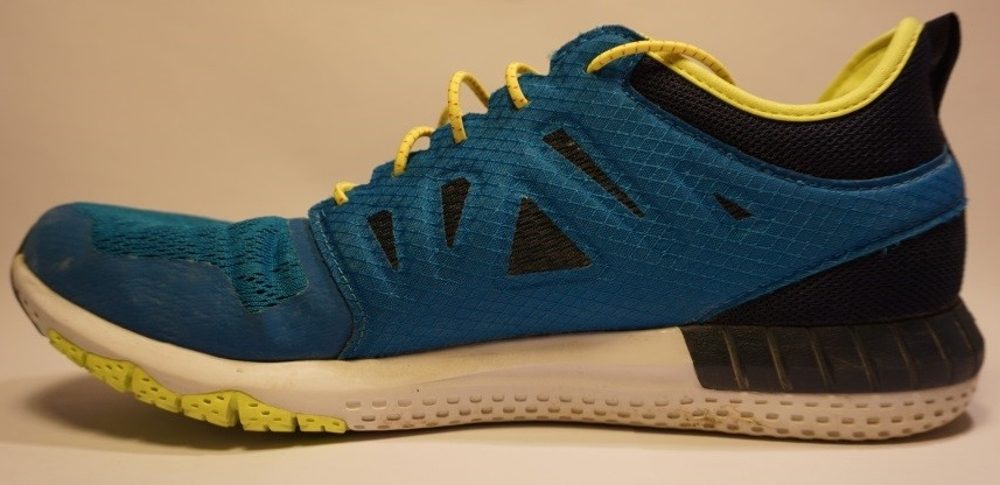 The Look
So, first things first, the look. Those shoes are very good looking or at least through my eyes. They are new, aggressive and the sole is something I have never seen before, so I decided to try them.
I purchased the blue ones in size 41 (Europe), the weight was 270gr and the price at the Reebok Spain web shop was 80€ (at that time).
Before having them I could not decide which one should I take as there are there different models from this shoe, the standard Zprint 3D, the EX model and the WE model, and as I don't know what are the differences. I took the standard one.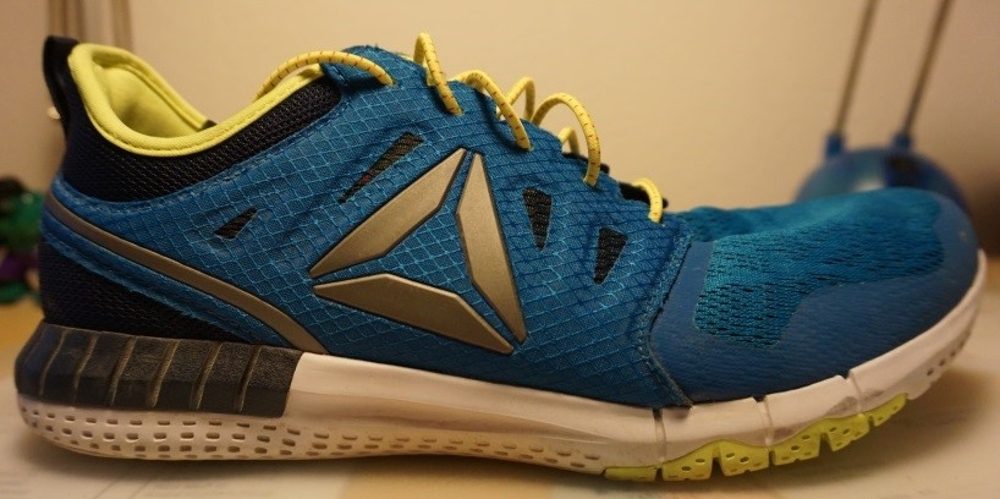 Moreover, as I am a triathlete (or at least I try to), the shoelaces are always changed for elastic ones as is shown in the pics.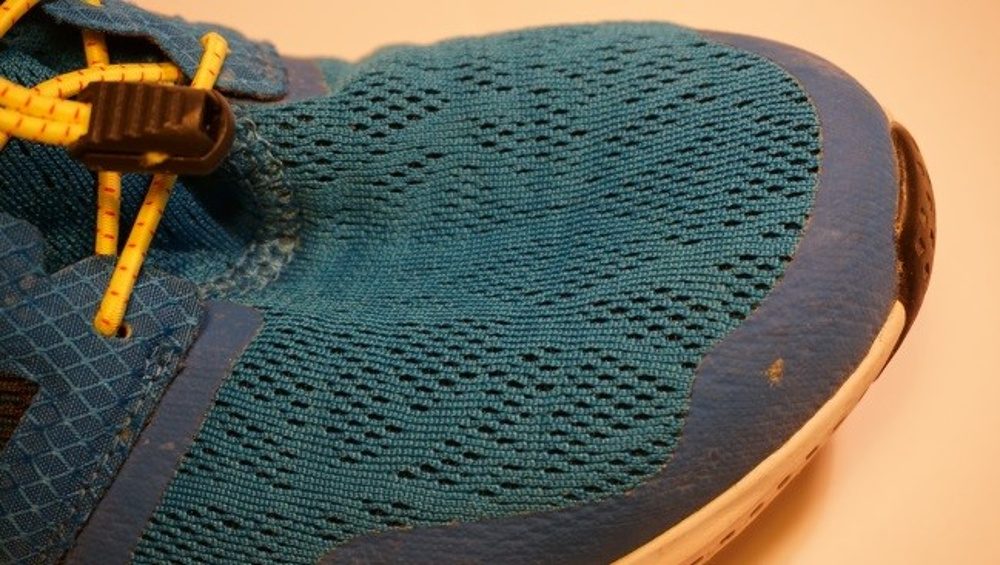 Outsole
The outsole is pretty well made and the mesh is flexible and elastic at the front, it seems it would allow the airflow but we will see afterwards.
The midfoot outsole is more hard and stiff, it would fix your feet automatically. It is based in two parts, one is the tongue/front outsole like a sock-type and the rest is more stiff to bring stability to the whole shoe.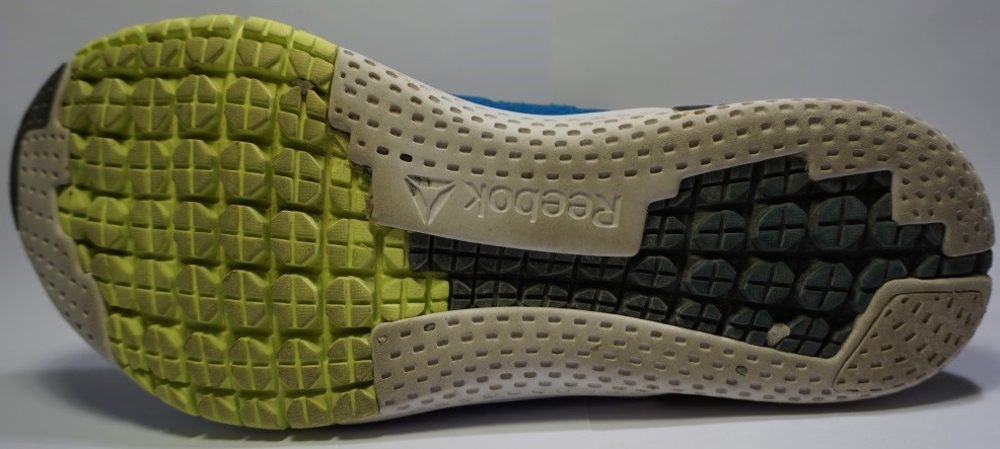 Sole
This sole is quite unique, I cannot remember this type of sole in any model right now but some Flynit models from Nike. Reebok sources detail that is a 3D printing squema.
At first sight it seems hard and stiff but, as we will see afterwards, is more comfortable than our first impression.
Those mini blocks are focused to balance and help at the mid- and front-foot step while running, as is shown in the picture. The mini blocks are not so frequent at the heel, so despite the cushion is ok, is much less than the front part.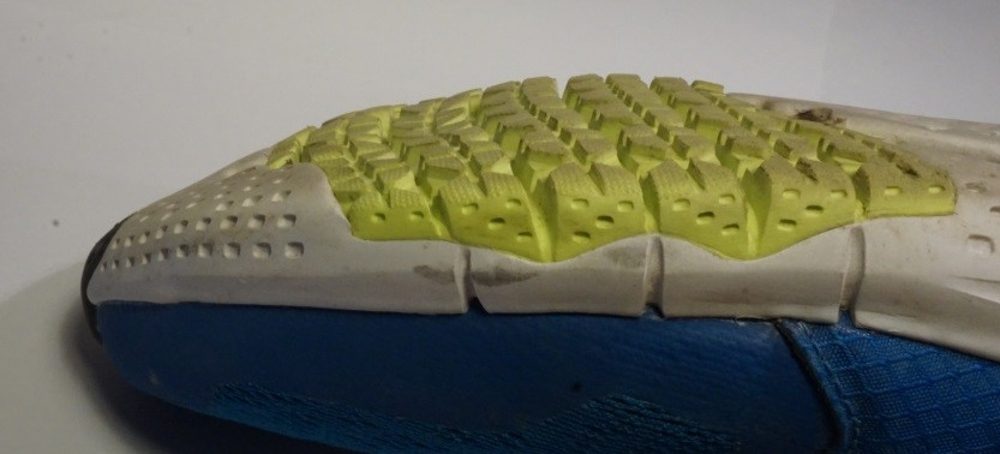 Tongue
We want to dedicate a couple of words to this part as the Zprint 3D shares this sock-fitting mode that trend right now. The point is that in our case, while it is quite comfortable, it is not so suitable for triathlon.
One would have problems when you would introduce the naked and sweaty feet inside the shoes. If the triathlete, as I am, has wide feet, they would be tangled up with the lateral fastening point.
Besides that, a proper outfitting process is recommended if you would like to run with naked feet. This process is recommended to avoid some blister formation at the lateral mid-foot part.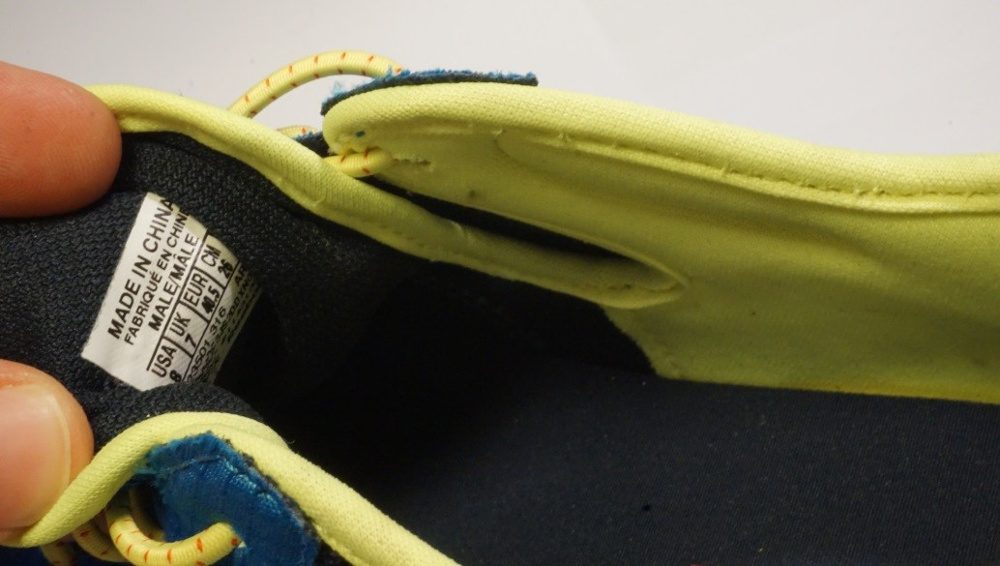 If you are going to run a half-ironman, where you can take time to put the socks on, these shoes could be quite interesting weapons to have in mind. That is, if you keep the running technique till the end.
If you think that you won't have those wide feet problems, we can recommend you to try them as you could fly in sprint and Olympic distances.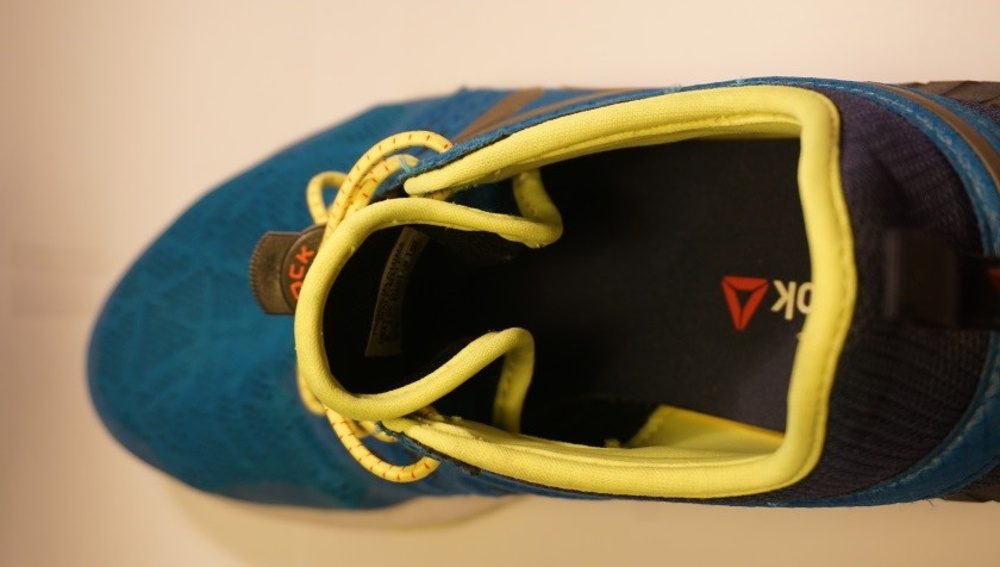 Note: We didn't check yet this model in a real T2 training yet.
Our data and impressions are based in normal runs/races, not yet in real-fire situations.
First kilometers (100kms)
Our first impressions were fulfilled from the very beginning.
The first runs with wide feet were not so comfortable as it is a little narrow and the mid foot section would feel a little stiff at the beginning. As remark, this sensation lasted just a couple of runs, maybe 20-30kms.
After this point, you feel it even. The shoe perfectly adapts to your feet, not only along the feet (front to back) but even lateral (exterior to interior). It is not stiff anymore nor narrow. It feels like a big sock, even on the mid foot part.
Cushioning
The cushion is good and those two different parts that we mention with a picture at the beginning, help you to balance and step on much forward.
Anyway, this cushion is smaller on the heel section and it's not recommended to run with those shoes if you step in at your heels first.
As you see on the picture, the shoe allows the airflow but is not a summer one like the ONE Distance 1.0, point for Reebok. You can run with this shoes all year long. We tested this pair during a Swiss winter (below zero °C) and we expect to do the same in a couple of months during summer.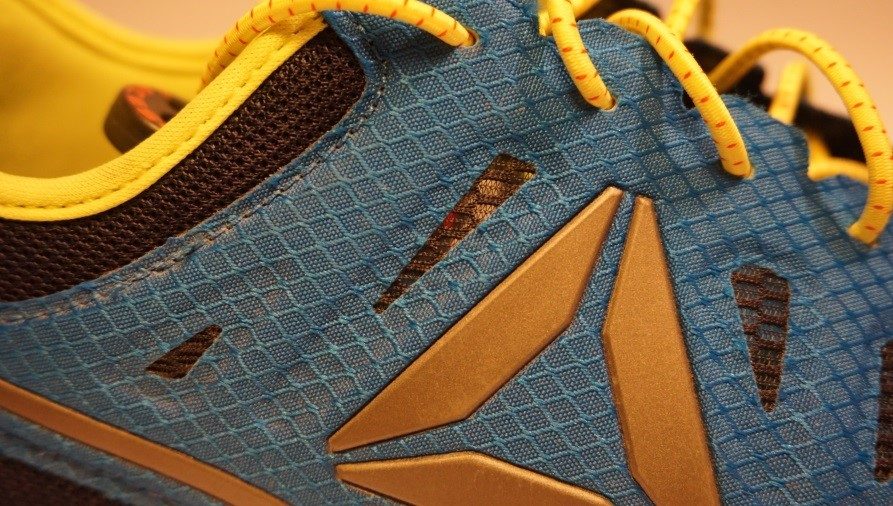 We have done all kind of runs with this shoes, short/long, interval training and wet/dry ones and they react better than expected. The only "but" is that due to the 3D-printed sole, it is filled up with small stones when you run on gravel roads instead of asphalt.
We don't know if that fact would affect the durability as it happens in other shoes like the ones from the company ON for example.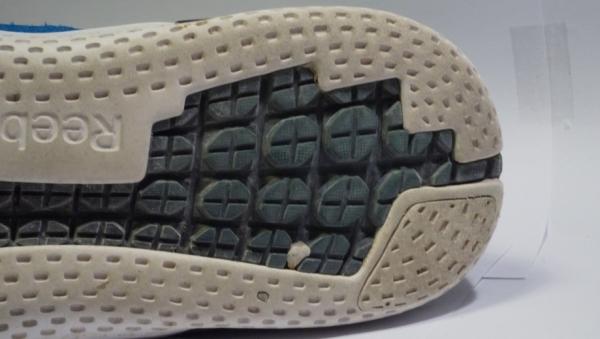 What is it recommended for:
For 5-10km races.
For runners with narrow feet.
What it's NOT recommended for:
For runners with wide feet or those who like to run without socks.
For runners who step in at the heel zone instead of mid-front foot.
Foot Notes:
We would like to add in some comments regarding to how we think this model would even be greater.
First is the option for some reflecting panels or something light-reflecting material. One of the swimbikewrite.com testers suggested that the Reebok logo at the lateral would be an awesome spot to make it brighter.
Second is the recommendation to change the "half sock" fit into a full one like they do with the Hexaeffect or the brand new Floatride. Models that we are very looking forward to test.
Third and personal one: If Reebok would put this sole together with the Sublite sport, I think they would have a winner (at least for me).
I have to say that the One distance 1.0 and Sublite models are my actual triathlon workhorses, the ZPrint 3D remains as my "Sunny Sunday's good looking car".