Who will benefit from running and training in Reebok's Harmony Road running shoe?
See the verdict below.
When I opened the box containing the Reebok Harmony Road shoe my first thought was, "I already have these shoes!"
That's because they look uncannily similar to a pair of Nike Air Structure trainers from a few years back. Not that I run in the Air Structure, a heavy shoe with over-the-top support; it makes for a good walking and doing errands shoe.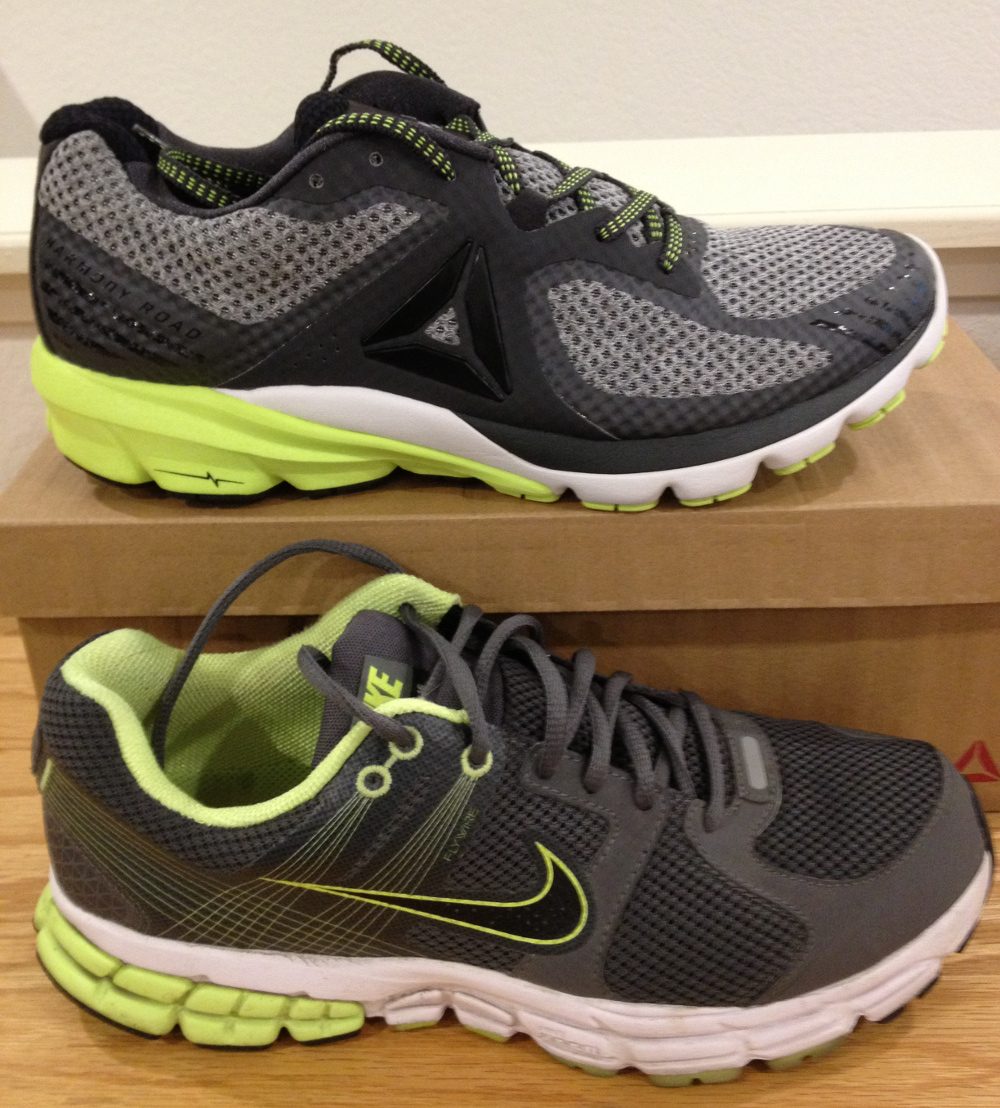 Heel Drop
The Harmony Road sample provided by Reebok weighs 10.7 ounces and has a heel drop of…Wait for it… 13.2 mm.
Wow! These days that's considered awfully high. Some serious heel stompers will think that Christmas has come early.
Cushioning
When I put the Harmony Road on my feet and began to walk, I discovered that this is an ultra-smooth walking shoe. In fact, I doubt that I've ever encountered a more comfortable shoe to walk in, whether the shoe was labeled as a walking or running shoe.
Is the shoe just as comfortable while one's running in it?  Well, the heel plant on the Harmony Road is relatively firm and the ride provides what I would term cushioned firmness.
A few years back I found myself in Palm Springs on a business trip and decided to pick up a pair of New Balance trail shoes to run through local desert paths. The Harmony Road reminded me of how those New Balance trail runners felt.
Upper
The Harmony Road's seamless upper provides plenty of room for the toes, especially the smaller ones. This is not a shoe that requires you to wear super-thin socks so that you can get your feet into it.
And the flat, patterned laces do their job and stay tied.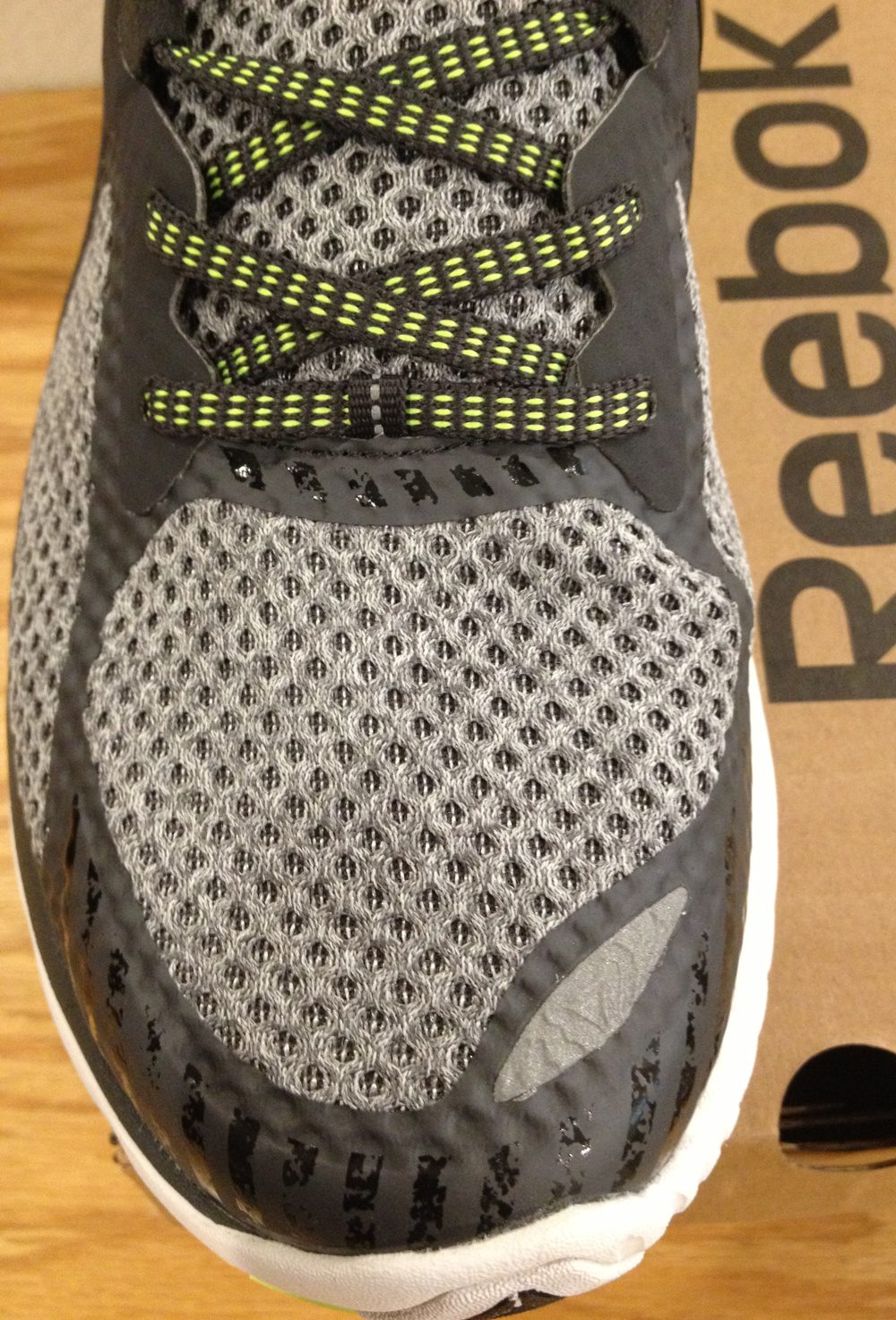 Sole
While the Harmony Road is labeled as a neutral shoe, it is quite stable.
The build quality is evident and the shoe should be exemplary in its durability. (After many miles of pounding on asphalt and concrete in the Harmony Road, there's little apparent wear on the sole.)
There are three visible forefoot flex grooves on the Harmony Road's sole.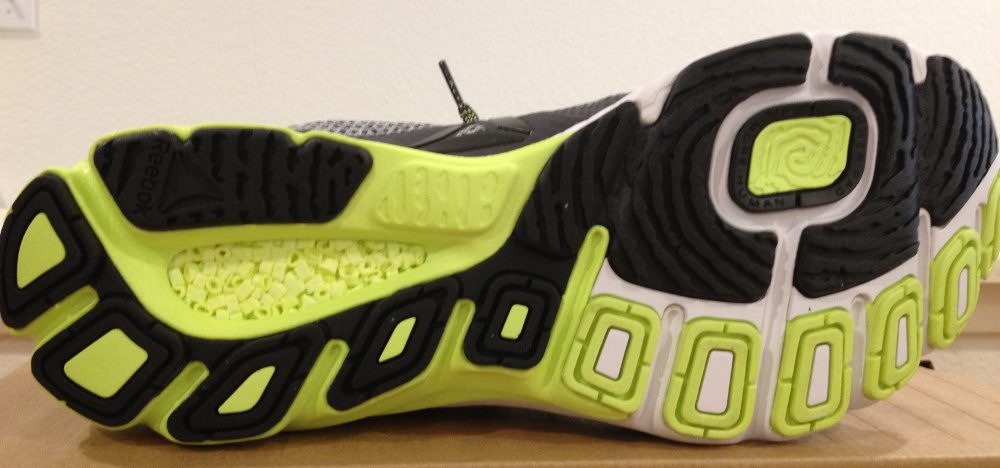 But the actual flexibility upfront is limited. Interestingly, I found the limited flexing to be on a par with the old Nike Air Structure.
Also on the forefoot sole is something that Reebok calls the Power Pad. It's a small rectangular box that states, "Be more human" on it.
I have no idea what it does because I never felt that the Power Pad came into play during runs in the Harmony Road.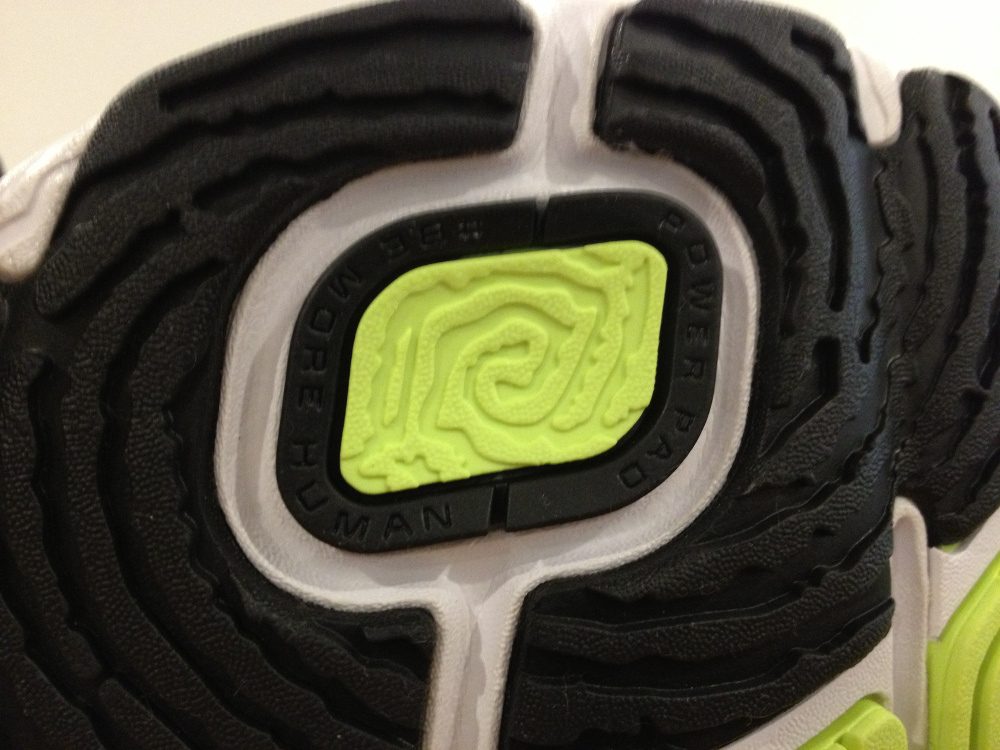 Midsole
The Harmony Road has some unique midsole KooshRide filling developed by 3M.
In theory, this makes the Harmony Road's ride extremely responsive. OK, but I would grade the responsiveness of this shoe as a C+ to B-. There is some spring but not as much as you'd find, for example, on the Saucony Ride 10 (a model I would give a B+ to A- for responsiveness).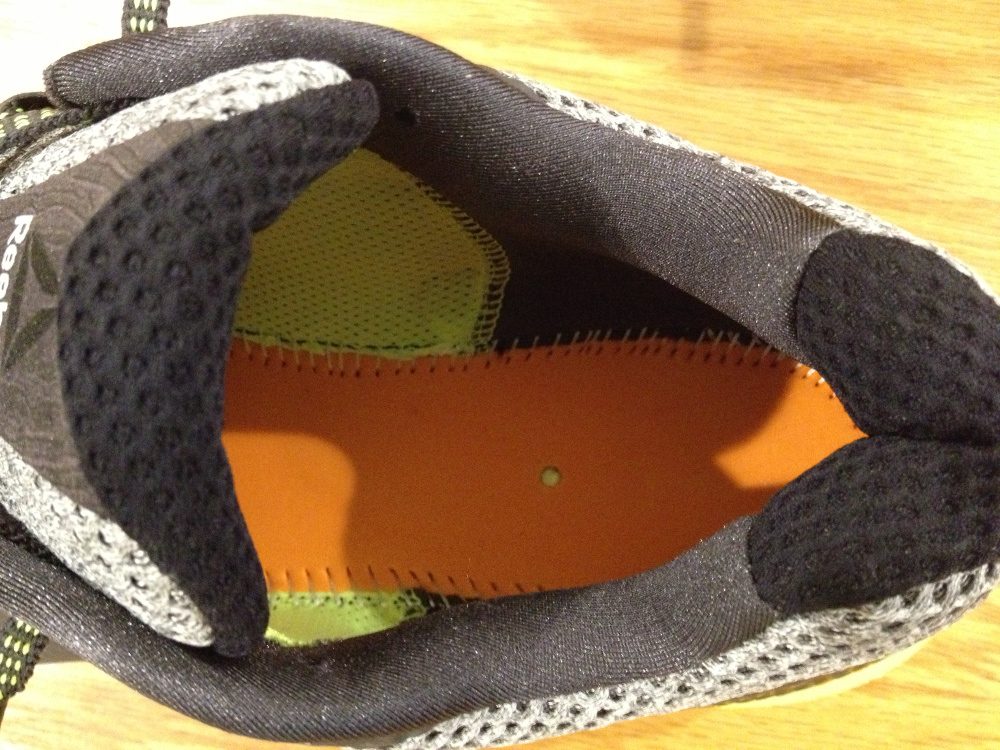 It's possible that one needs to be a bigger, heavier runner to feel the Power Pad in action, and to experience the full measure of "bounce back" from the Harmony Road midsole cushioning.
One highly positive feature of the Harmony Road is that it offers the full range of foot movement as a trainer. You can feel your foot transitioning from heel to mid-foot and onto the forefoot. In this, it offers a nice, relaxing measure of smoothness.
There is no problem in landing on one's heels or mid-foot in the Harmony Road, but the high heel drop level makes it quite problematic for those who land on their toes.
Verdict
The positive and less-than-fully positive aspects of the Harmony Road results in a somewhat mixed verdict. This is not a shoe that one would select for speed training and it's not the shoe for PR attempts.
However, most runners will find times when they need a recovery shoe or a long mileage trainer that protects their feet as they recover from a temporary injury. The Harmony Road is a fine choice in such times.
The Harmony Road is also a good choice for long slow distance training. I think it's just about perfect as a model to use for 7 to 10 mile runs. The shoe is massively protective while not feeling heavy and bulky like a support shoe.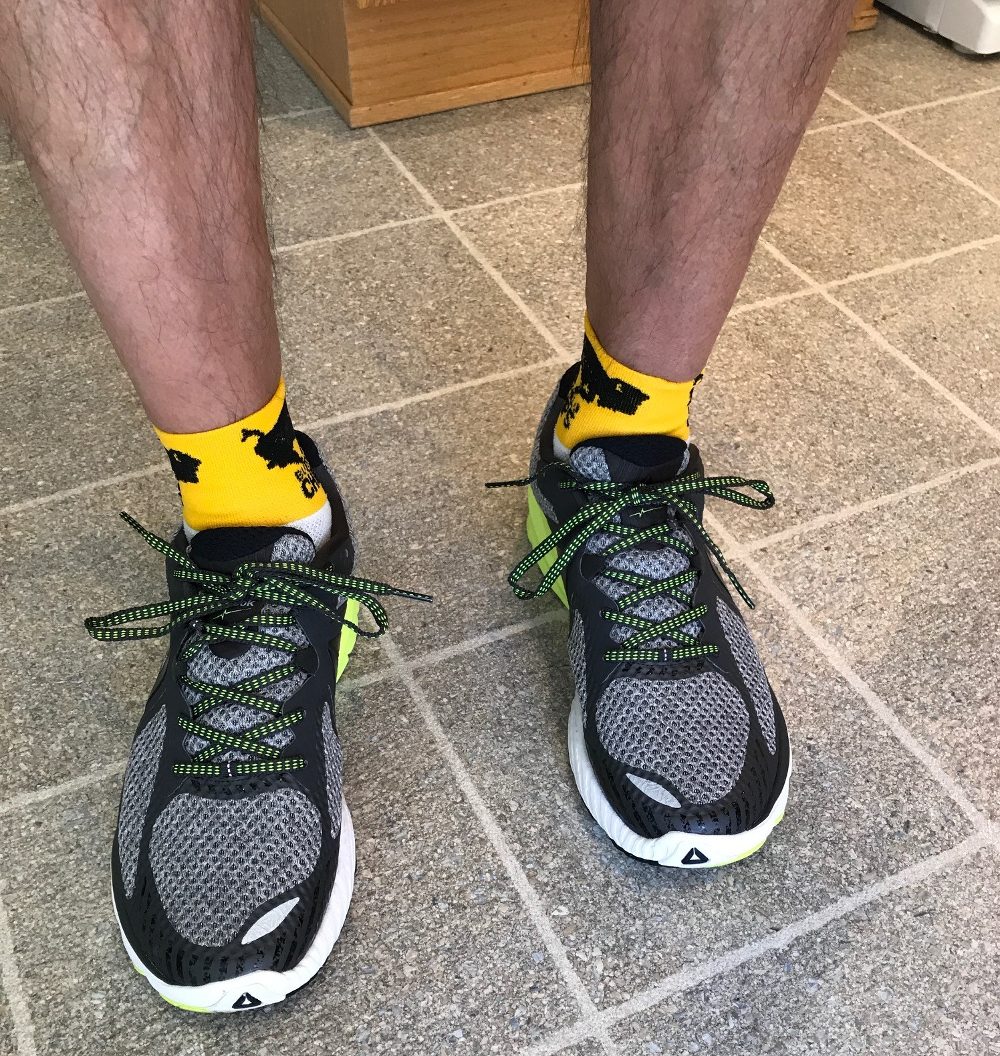 Reebok appears to be on the money when labeling the Harmony Road as "long distance running shoes."
Finally, the Harmony Road is a great choice as the "first shoe" for the novice runner. The shoe's smooth uniform cushioning will build confidence in newbies as they pile on the miles.
This shoe, which retails for $119.99, will be as good for their heads as for their legs and feet.
Well recommended.