If you round the routines in the gym, the Reebok Speed TR will back you every step. From the climbers to the presses, to the squat-rack, treadmills, rowers, and cycles these just work well at any station. No, they are not weight-lifting shoes, or stair climbers, or rowers specifically. But they are great generalists!
Pros
True to size
Snug fit
Superb comfort
Breathable
Very lightweight
Great ground contact
Versatile for various activities
Durable
Cons
Not for wide feet
Break-in period
Lace bite
Reebok Speed TR review
I can recommend this shoe for someone starting out testing the waters of various routines. Throw it in the gym bag, grab it with the dog leash, or lace-up for a 5K, and you will not be disappointed. These have been my go-to when I don't have anything specific and possibly everything planned.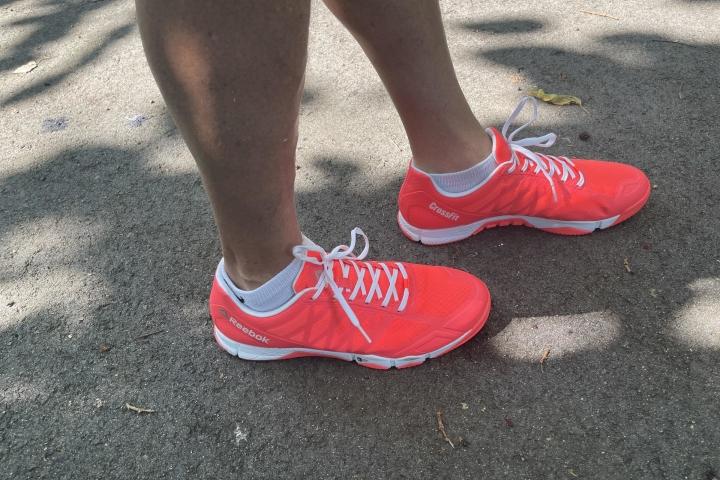 Who should buy it
The Reebok Crossfit Speed TR is great for someone looking for a lightweight cross-training shoe with a minimal upper that gives a snug, glove-like fit.
Who should NOT buy it
The Speed TR is not for you if you need:
The Reebok Speed TR was a surprise in every way
I fully expected this shoe to perform less on the road and more on tasks that had less movement and jarring like walking or the gym. My first experience was on a 5-mile run. Typically I don't run this far with a new shoe, and especially one that is a totally different build than my go-to runners. This was a pleasant surprise that kept me on the road longer than anticipated.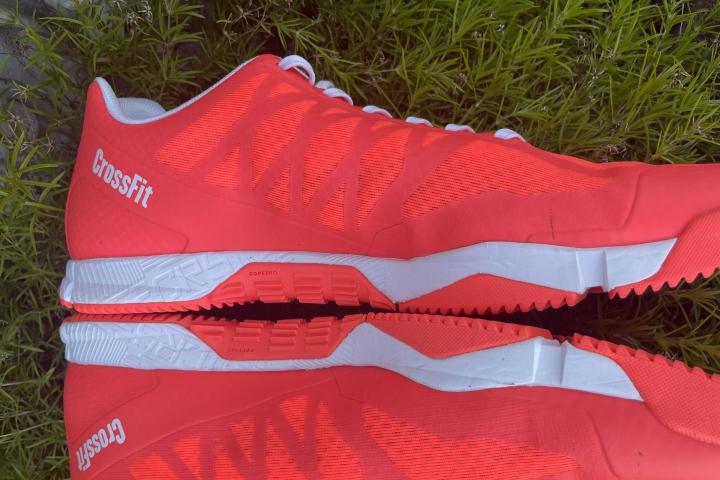 Days that followed had me on a bike for a few revolutions (10 miles or so). While not a true bike shoe, this was very comfortable giving no cause for concern. They felt solid regardless of where I placed my foot on the pedals. The thin uppers allowed ease of air-flow keeping them cool and a "fresh" sensation.
After the breaking of these first two events, a brisk walk found the Reeboks settling in nicely to the cadence. The firmness did ease after a short while and they started to bend more rather than heel/toe at the start. While starting a bit awkward on the walk, they leveled out to be a good fit and feel.
The Reebok Speed TR is light and breezy
I didn't expect these to be as light and airy as they actually are. And they perform even lighter than the scales show. The Speed TR weighs 8.5oz/241g, which is significantly lighter compared to other cross-training shoes (average weight of 10.4oz/296g).
I have raced in minimalist shoes and these were vivid reminders. They give a sense of minimal existence. Some racers perform better at faster paces. The Speed TR's didn't seem to "kick in" but maintained through varying paces and cadences.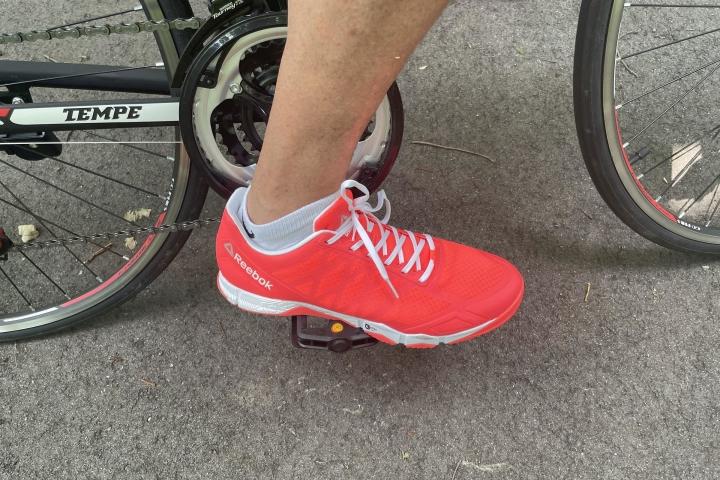 Bike - the breeze was nice through the thin uppers, and the solid, yet thin lowers gave ample support when pushing hills.
Brisk walking - very comfortable and almost non-existent (not calling attention to themselves) performance.
Circuit/Gym - only found weaknesses when more support might be wanted (squats, leg press); the thin build gave an immediate sense of solid grounding with no roll or give that thicker foam might give.
Upper is thin with a lot of flexing
The upper is lightweight, which gives a lot of flexing and give. There were no hints of seams or hotspots that this often can bring regardless of how the foot is moving (walking, riding, etc.). As mentioned, once you get settled into your routine, they do as well and do not beg for attention.
If you have any foot anomalies this could cause some issue as they do fit (me anyway) snuggly. The laces follow suit with thin and light which can dig in though I had no issue especially if you are a tight lacer. And (thank you), they are just the right length!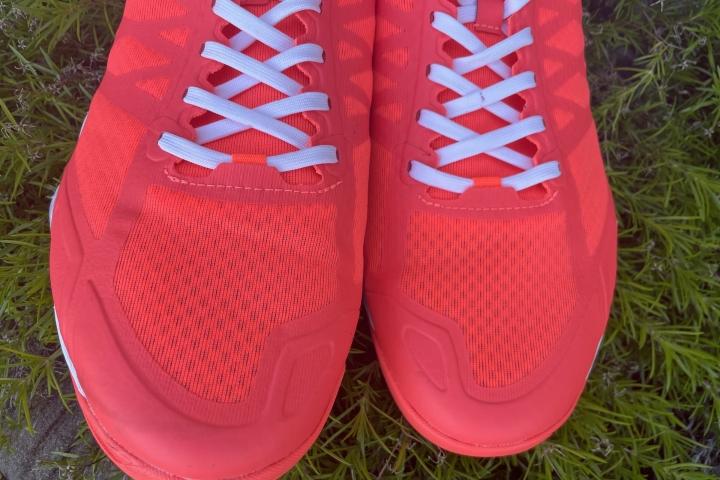 Stiff at first
It might just be me, but I like quiet shoes. My first wear was on a quick run. At the start of the first run, these gave a pronounced click (like hard-plastic). They were very stiff for the first couple of miles and then the clicks subsided and the stiff gave way to a flex that fit my form. I have not experienced this much of a change from such a minimal shoe.
After a short while, they were no longer calling attention to themselves as my focus changed to squirrels, birds, and a cloud on the horizon. It seems after they "cool" this firmness resumes. I took them for a walk on my second outing, and noticed a very similar reaction with hard clicks and minimal flex at the start and then they seemed to soften and the transition was nice and smooth.
Great ground contact
While it has been stated several times, these are minimal. If you are accustomed to cloudy fluff, strong platforms, and rugged surrounds, these will fall very short of what you are looking for. If you are looking for something to keep you just a tad away from the elements and what lies beneath - bingo!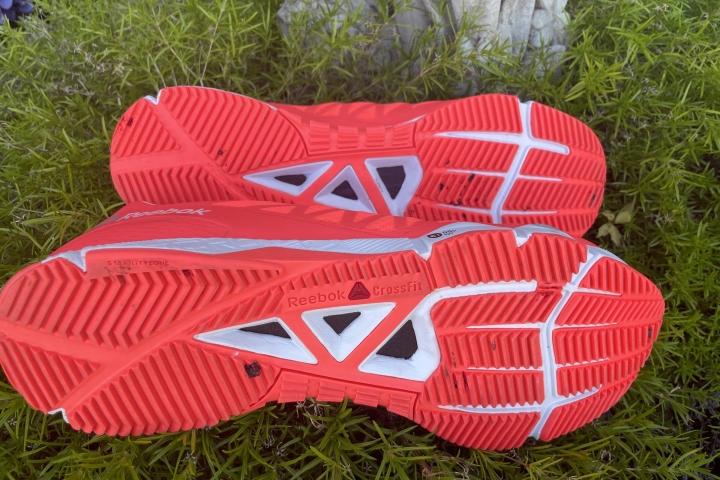 The Speed TR is quick
As noted, these kept me on the road about twice as long as expected on their first outing. I also noticed that my pace was 15-30 seconds faster after the initial break-in. New shoes tend to do that for me. But even after the new had worn off, I was still pushed to run a bit faster than normal.
The treadmill and stairs at the gym were no challenge whatsoever. The stairclimber did give more feedback due to the minimal build but no issues arose. A quick test of the jump rope had these on their toes with no issues in the needed quick response.
Walk this way
While walking is not my true sport, I do like the fresh air and getting away from the day-to-day hustle. I have walking shoes that are bulky, hot, and just meh. They do their job but are not pleasant in the least. The shoe gives just enough support that the ankles are not creaking and the knees not whining. And the lightness certainly reduced the strain in forward progression.
The Reebok Speed TR is able to endure
These have worn well in the first several outings. While minimal build shoes typically do not hold the test of time and miles, these just might tip the scales in the other direction.
There is no sign of weakening in the upper where there is stress of my wider foot. The sole is showing typical wear with no major concerns of premature shredding.
Conclusion
Where to place these in the wide spectrum that exists in the shoe world is difficult. They do well in all categories I tried. They certainly can be out-performed by shoes specifically built for a given task, but for a shoe that does well in all is a surprise.