Verdict from 21 experts and +100 user reviews
7 reasons to buy
Some users appreciate the Reebok Forever Floatride Energy's adaptability to any running speed.
According to some runners who tried the Forever Floatride Energy, the midsole gives a highly responsive energy return.
One of the topmost advantages the shoe has is its simple design.
Another famous remark from most of the runners is the excellent traction it provides during the activity.
A vast majority of buyers have positive reactions to its breathable upper.
Numerous consumers highly appreciate its affordable price.
A good number of reviewers have commented that the shoe's outsole area is durable.
3 reasons not to buy
Most of the users have criticized the short length of the laces.
One of the buyers discussed that the tongue is a bit narrow, which makes it slide a little bit. As a result, it gives a stiff feeling while running.
One of the frequent observations is the collar being comparably higher than other running shoes which may come as a bit of an issue for some buyers.
Bottom line
The Reebok Forever Floatride Energy is an everyday training and
running shoe
that is perfect for any pace. Overall, the ideal combination of a breathable upper, a responsive midsole, and a durable and tractive outsole was accepted by many. There are some minor but observable downsides to this shoe, which include the shoelaces being too short and the slightly narrow tongue. Despite these issues, others still highly recommend the Reebok Forever Floatride Energy because of its quality and excellent performance.
Tip: see the best running shoes.
Our reviews
My first (and last) pair of Reebok Running shoes I owned was the Reebok Zigtech back in 2009. That was a horrible running shoe: it was chunky, heavy, firm, and provided zero energy return. It has taken me a decade to get over the disappointment and betrayal, and I am finally ready to forgive Reebok and give them another chance.
My favourite type of running shoe is one that gets hype from word of mouth from the running community and not because of a large marketing investment from the brand, trying to convince you that its latest technology claims are true.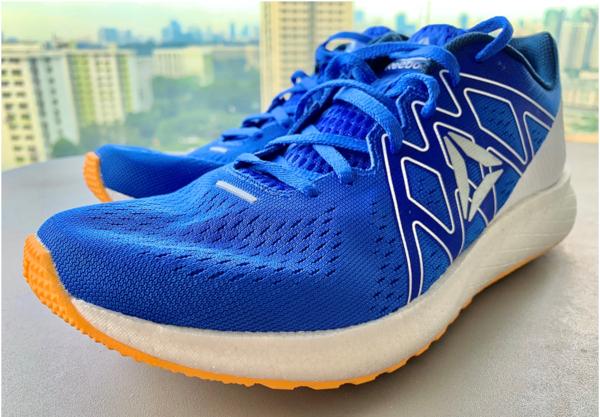 The term "sleeper hit" is used to describe something that becomes a big success despite having relatively little promotion. This term can definitely be used to describe the Floatride Energy.
Everything about the Forever Energy screams simplicity. This is the main reason why the Forever Energy has made runners worldwide take notice. Reebok gets the basics right for a very affordable price.
Upper & fit
The material used is an engineered mesh that has great breathability and support. While it gets the job done and is nothing fancy, it feels a bit scratchy, something which you'd expect from a $100 shoe.
The tongue is padded and not sleeved, so it does move around during runs, but not enough to irritate. The heel dip and collar come up higher than on most shoes and will dig into you if you wear short or hidden socks.
The high heel and collar have a vice-like grip. Make sure you wear long enough socks.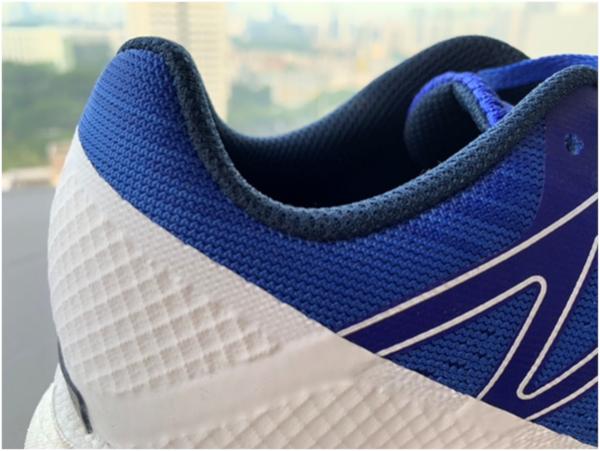 The fit can be best described as roomy. I went true to size because I hate snug-fitting shoes, so there is plenty of room for my feet to expand in the hot, humid Singapore climate.
Even though the Floatride Energy is roomy, I wouldn't recommend ordering a half size smaller, or there might not be enough depth in the toe box. I make sure that I wear thick socks to get the perfect fit.
Holes in the thin engineered mesh ensure breathability and make the shoe great for tropical climates.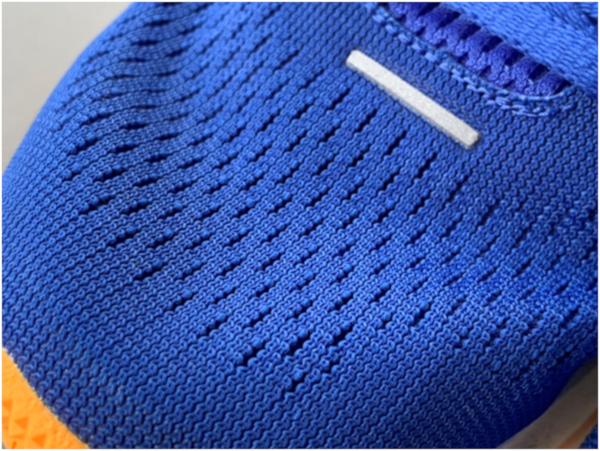 Midsole & ride
The Forever Floatride midsole is made from an expanded polyurethane material. It's similar in appearance to Boost and Everun but is lighter and shinier.
If you look closely, you can see that the pellets which are fused together to create the midsole are smaller in size than Boost and Everun.
The midsole softness is medium-soft, not as soft as Boost, not as firm as Everun. It has an excellent blend of cushioning and responsiveness while not being too heavy.
The polyurethane midsole feels lighter and fluffier than Boost and Everun.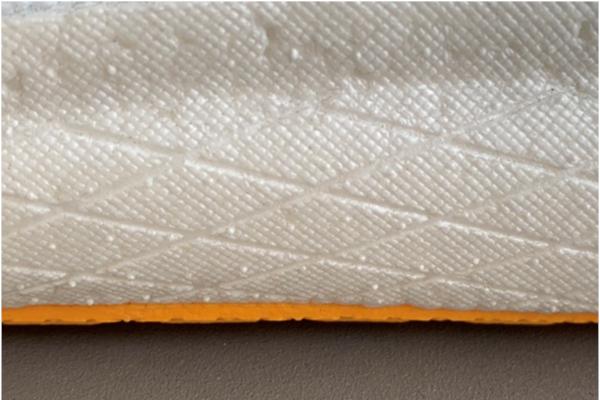 The Floatride Energy foam is what I would consider a super foam. It's extremely durable and more resistant to compression over time than other foams.
It also doesn't show creases as ZoomX does. While bearing a striking resemblance to the Pebax midsoles in the higher-priced Reebok running shoes, the Floatride Energy foam is slightly heavier but much cheaper to make.
My first run in the shoe was a 32km Saturday morning run. Up until 25 km, the shoe felt great, but from 25km onwards, I found myself rearfoot striking instead of midfoot/forefoot striking because the padding wasn't enough in the forefoot.
I now use the Floatride Energy for distances shorter than 25km. The ride is incredibly smooth and distraction-free.
Stability
The midsole, while not being overly soft, makes the Forever Energy very stable. The midsole bulges out under the forefoot and heel which increases stability.
I am flat-footed, and I pronate, but the midsole has slight under-arch support, so the Forever Energy caused me no problems.
The beveled heel edge ensures rearfoot striking and not heel striking.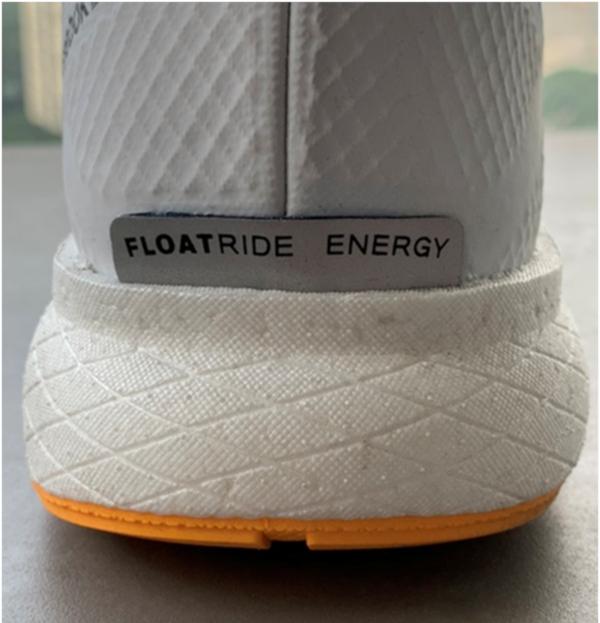 \
Flexibility
The Forever Floatride Energy is very flexible and bends at the ball of the foot. The thin outsole and the unstructured upper allow the shoe to flex naturally up in the front of the shoe.
A flexible forefoot results in a snappy-feeling midsole.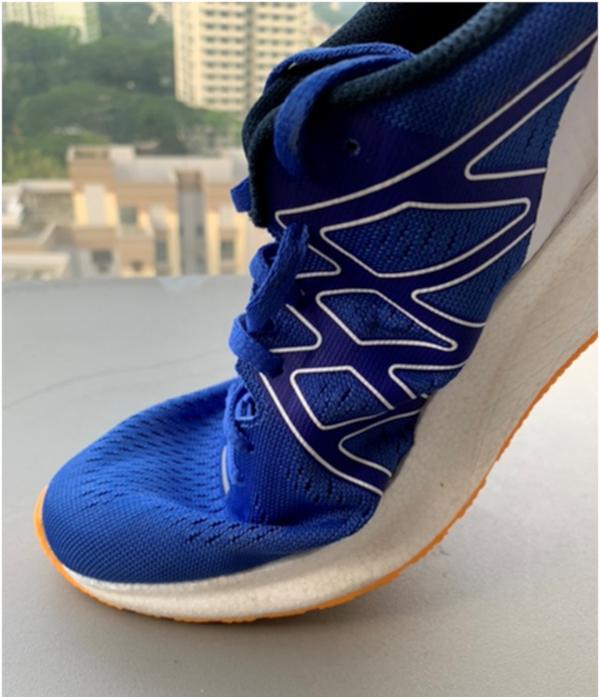 Insole
The smooth insole is glued to the bottom of the shoe. It's soft and spongy when compressed. I am not sure why Reebok glued it to the bottom: this is usually done with faster, race shoes and not with daily trainers.
You can easily remove the insole as the glue used is not very strong. There is no sink-in plushness underneath the insole, which makes the Floatride Energy suitable for short, tempo runs.
The drop doesn't feel like 10mm due to the soft heel.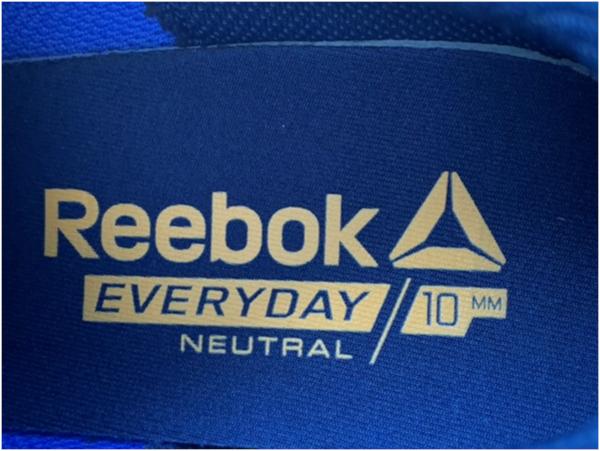 Outsole & durability
The outsole is full contact and consists of a thin layer of soft carbon rubber. It grips well on both wet and dry surfaces, and the fact that it is full contact ensures an even spread of wear. After 50 miles, I can only see slight wear on the outer heel area.
The full ground contact outsole makes the ride feel even smoother.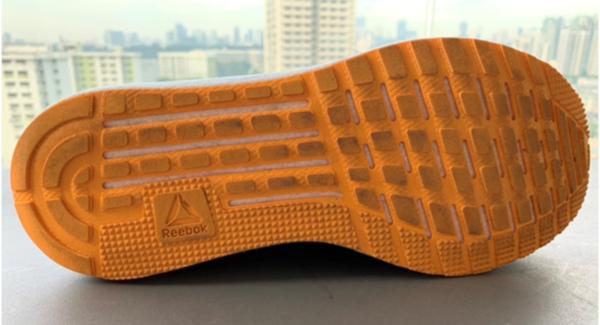 Unlike some other lightweight, cushioned trainers such as the Rincon and Beacon, the Forever Floatride Energy has no midsole exposed to the ground.
I expect it to last much longer than both the Beacon and Rincon, about 800km. I predict the upper will break first because the midsole and outsole show no signs of potential weakness.
The rubber is soft but evenly spread and durable.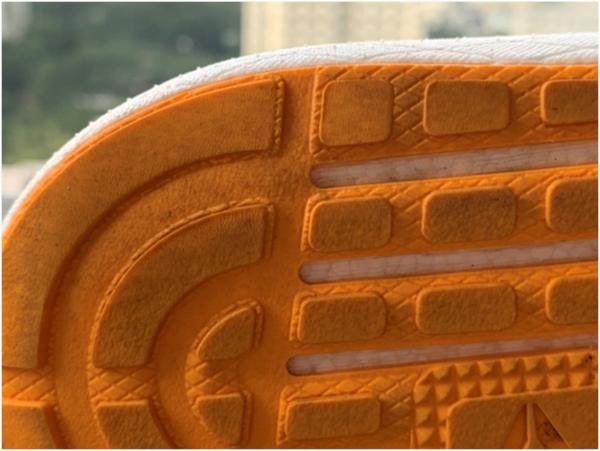 Night time visibility
The Forever Floatride Energy can be used to run safely in low light due to the "Floatride Energy" badge at the heel being reflective.
Every colourway of the Floatride Forever Energy has the reflective heel badge.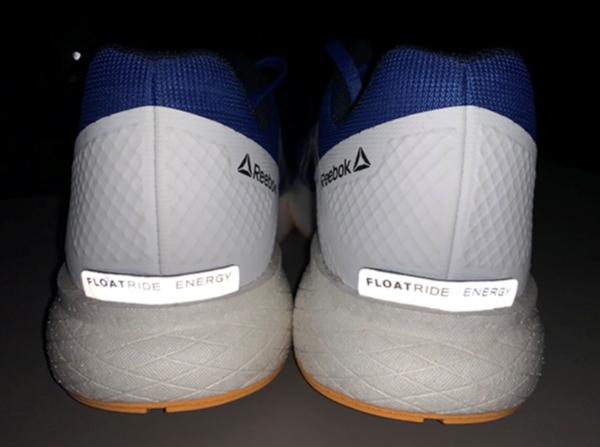 Likes
Very good value for money
Simple, uncomplicated, comfortable upper
Non-gimmicky midsole
Bouncy and smooth ride
High cushioning to weight ratio
Dislikes
Budget, cheap-feeling upper
Laces are too long when you don't use the last row of eyelets
The high Achilles dip and collar dig into you if you wear the wrong socks
Verdict
The Reebok Forever Floatride Energy is one of the most versatile shoes I have in my shoe collection. It has no major flaws and is a dependable daily trainer for all distances from 5km up to 25km.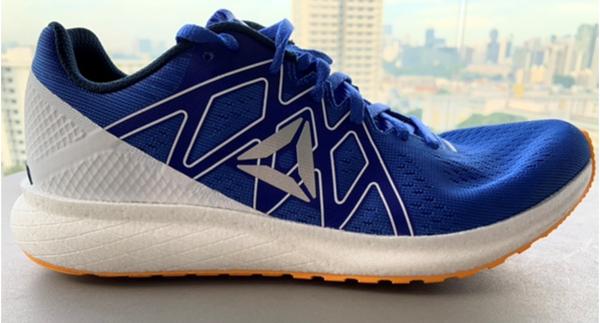 The ride is far superior to Adidas' Boost and Saucony's Everun while being lighter and more fun. Reebok has come a long, long way since 2009.
For the next version of the shoe, I would love Reebok to change the upper to a softer, more premium feeling material without raising the price and to add more cushioning in the forefoot.
At $100, the Forever Floatride Energy undercuts every other lightweight cushioned trainer on the market, making it a must-buy for 2019.
When I think of running shoes, Reebok is not the first brand that comes to mind. Not because there is anything wrong with Reebok, but I just associate them more with lifestyle sportswear rather than actual sportswear.
But, I heard some rumours about this great new running shoe from Reebok that was only $100. So, I wanted to see for myself what the fuss was all about. I even managed to get it for half the price on sale.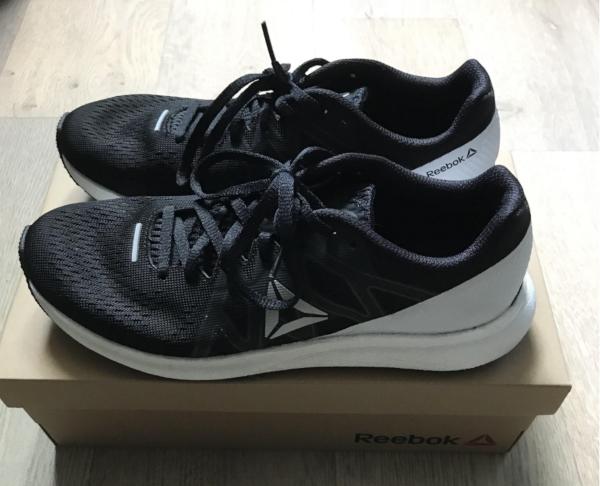 The Reebok Forever Floatride Energy is a neutral road running shoe that only weighs 202 grams. It has a forefoot stack of 19 mm and a heel stack of 29 mm, giving it a 10 mm drop.
Upper
The upper is made out of an engineered mesh, and the look of this shoe is very simple. No weird gimmicks or weird overlays, but it is made from nice breathable material.
This shoe has a detached tongue, and it even has extra eyelets, which is something that seems to have become quite rare in running shoes with knit, one-piece uppers these days.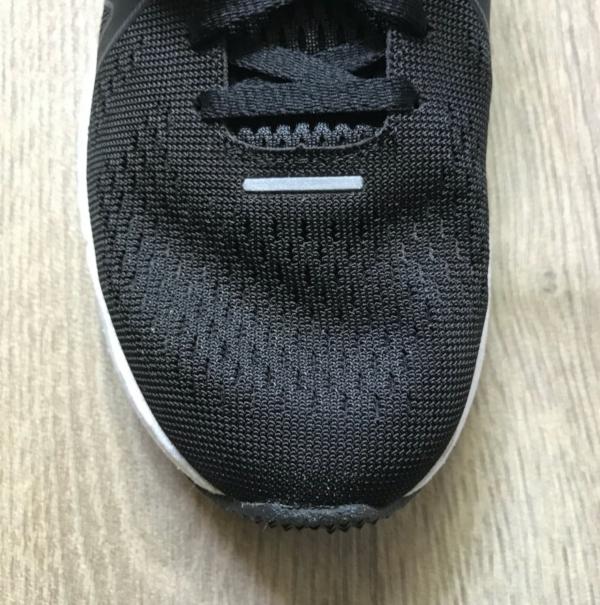 There isn't a lot of padding in the tongue or in the heel collar, but for a bit of a faster everyday running shoe, that's fine.
The Forever Floatride Energy has an internal heel counter and an external overlay that provides enough stability. Despite the upper being quite thin, I didn't have any stability issues with this shoe.
Midsole
The midsole is where this shoe really shines. The midsole is made of expanded polyurethane foam, which provides a surprising amount of energy return.
I wouldn't describe this ride as plush, but it is bouncy. It is cushioned enough while still giving you a decent amount of ground feel.
It's not the most flexible shoe out there, but it is flexible enough to provide you with a smooth heel to toe transition.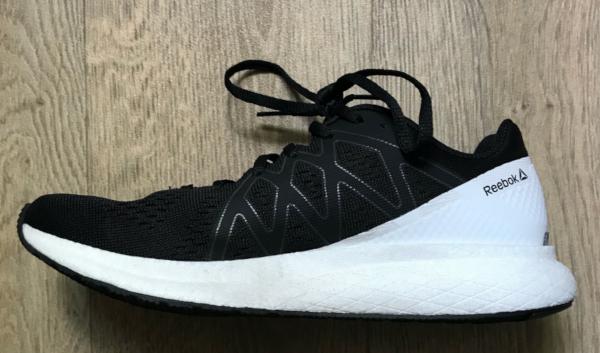 Outsole
This shoe has a full, one-piece, carbon rubber outsole that provides a good amount of traction on different surfaces. So far, I don't see any wear on the outsole, and it seems very durable.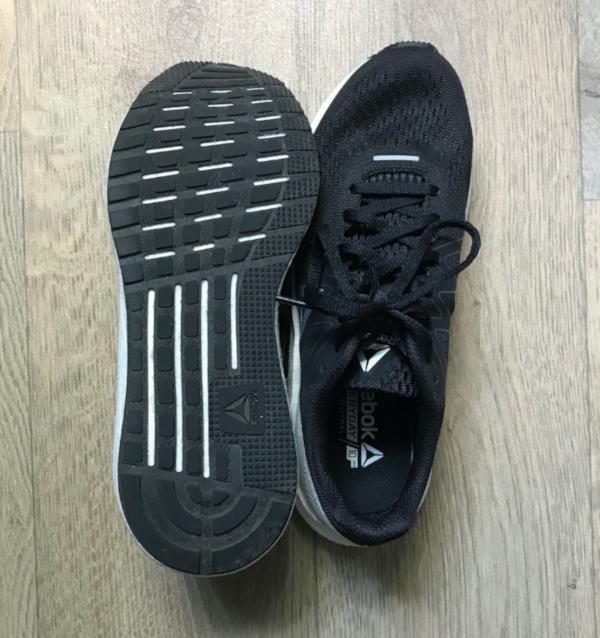 Although it's a full outsole, it is a very thin layer — less than you would see in the average running shoe, which enables this shoe to remain light.
There are slightly diagonally placed flex grooves underneath the forefoot and vertical underneath the midfoot towards the heel.
Fit
I've heard a lot of people say that the Floatride Energy runs big and that you should size down. However, I ordered my regular running size and didn't find the shoe too big.
The heel collar is higher than your average running shoe, and since there isn't a whole lot of padding in the heel, it did rub against my Achilles and created a hotspot for me.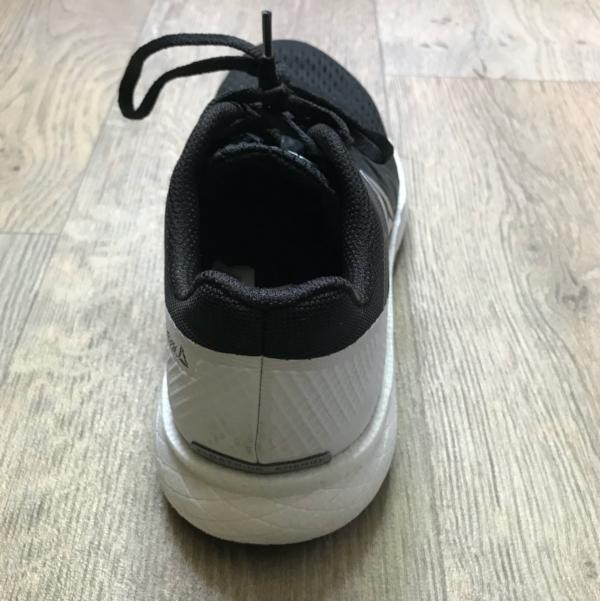 Performance
The Forever Floatride Energy has, as the name suggests, a very nice energy return. My splits are always a bit faster than average in this shoe.
But it isn't a very plush ride, and the shoe has quite a bit of ground feel. Depending on your preferences, that can be a pro or a con for this shoe.
I did notice the midsole was a bit stiffer in colder weather conditions and took a while to warm up. However, this shoe easily adapts to different running paces.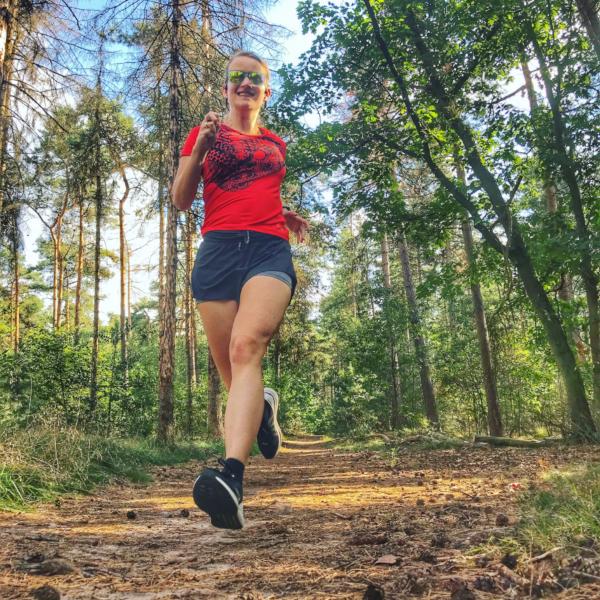 Conclusion
This shoe looks really simple, and there isn't a whole hype surrounding the materials used or a lot of marketing around some new kind of technology.
However, it is a surprisingly good shoe. There's a reason why Runner's World named the Reebok Forever Floatride Energy as the best budget shoe of 2019. They are not wrong. It's a great everyday trainer for a decent price.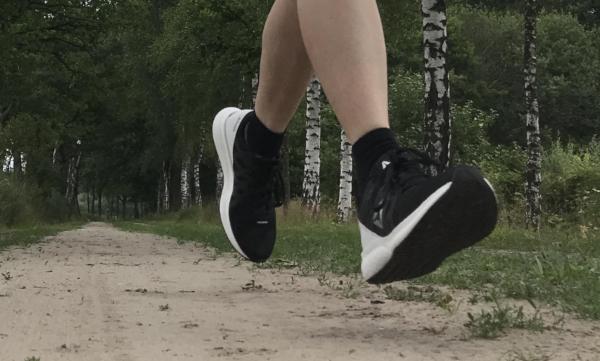 It's a simple, light, and a good shoe that provides enough stability and has great energy return. It probably won't make you break any world records, but you will notice the energy return.
This shoe might not be your next marathon shoe, but it's great for those shorter to medium runs where you want to pick up the pace a bit.
It's a great shoe to have in your rotation and a great shoe for beginners who don't want to spend a crazy amount of money on their first pair of running shoes.
The ongoing quest to find the perfect running shoe is what keeps the industry going. Whether it be something harder, softer, faster or more forgiving most of are on the lookout for the next option—the Cinderella shoe that is going to take us to the next level or solve whatever problems we may have.
Over the course of my running days, I have run in low drop minimalist pumps to highly cushioned, technologically advanced super shoes.
The unavoidable truth is that although we may have a preference for a certain shoe, which suits our style, desired use and goals, we also get out of running what we put into it. That's what I like about the sport.
With an increase in mileage last year, I elected for the Nike Pegasus 35, which I have to say I liked. I ran most of 2019 in it, and it more or less did what I wanted it to. It got me through long and short, fast and slow runs in relative comfort and with no major gripes.
Full disclosure: I'm not a huge fan of road running. I do most of my running on trails and use the road miles to bulk up my training and work on some faster running.
That being the case, I want a versatile workhorse that I can rely on and slip on without too much thought. When the Pegasus came to the end of its life, I began to look for something similar, but different, for no other reason than I wanted a change.
The Reebok Forever Floatride Energy came to my attention in a list of the 20 best running shoes of the year. As well as writing some reviews I tend to read quite a lot too, and it was touted as a versatile, roomy all-rounder, which didn't cost a bomb.
It struck me as a bit of a left-field choice as Reebok isn't really on most people's list of running shoe brands to try. But, I'm not one to go with the crowd, so I thought I'd try it out.
I ordered two pairs, one in my usual UK10 and on in a 10.5 as I wanted some extra room over the Pegasus, which I found to be a little narrow in the toebox, which was problematic on a few occasions.
Reebok Forever Floatride Energy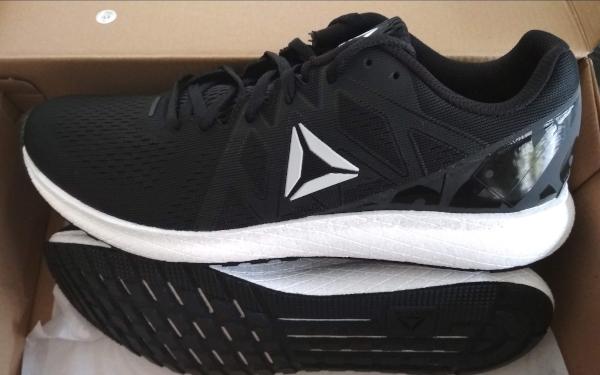 I'm a fan of simplicity in many things in life, and running shoes are no different. I'm probably never going to be a barefoot running type, but I do want things to feel quite natural and for the shoe to be an extension of my foot rather than feeling that it is strapped onto me.
The Floatride appealed as it is essentially a piece of foam with an outsole and upper attached to it. No airbags, aerodynamics, boas, or any other accoutrements that I take with a healthy dose of cynicism and a pinch of salt.
Reebok's spec list from their own website lists the details of the shoe as follows:
Engineered mesh upper for breathability and support
Designed for: Everyday running
Floatride Energy Foam provides lightweight cushioning and responsive ride
Eh, that's it. It is either refreshing simple or worryingly sparse, depending on where you stand and what you value. It's a no-nonsense, that's for sure.
First thoughts out of the box
Out of the box, the simplicity is apparent. Apart from some rubber overlays on the upper, which provide some rigidity and support, there isn't a huge amount going on. It's an unremarkable design for the most part, but there's nothing offensive about it.
The black on white I chose is a classic combination, which always looks smart, with the rubberised overlay at the heel providing some protection and durability to what is otherwise a lightweight shoe.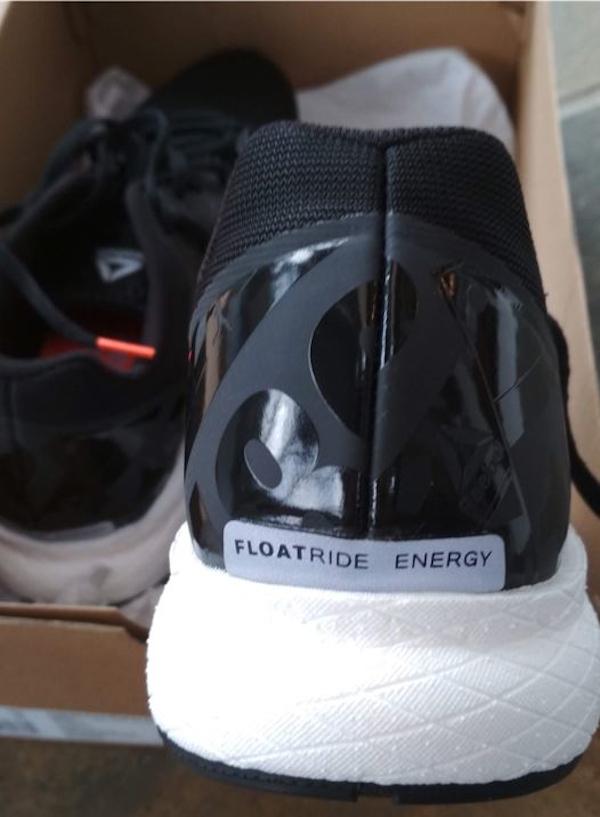 The midsole is a substantial chunk of Reebok's 'Floatride Energy Foam', which promises lightweight cushioning and a responsive ride.
Since Reebok is owned by Adidas, which has won scores of customers with their development of Boost foam, I figured that some of that R&D had to filter down into the Reebok stable.
I purposely describe the foam as a 'chunk' as it is somewhat agricultural in its composition, with a flat top where the midsole meets the upper. I don't think it would have hurt to bevel it or blend it if only for aesthetic purposes.
The midsole is shaped to taper in towards the upper and has a scored design throughout, but overall it's quite simple and definitely not premium in look.
My concern about it was that having a flat shelf all the way around might encourage dirt and moisture to gather, leading to the gradual degradation of the shoe.
The outsole extends over the foam midsole save for eight angled slits across the forefoot to provide flexibility. In addition, there are four slits running from the midfoot towards the heel, presumably to reduce the weight a little.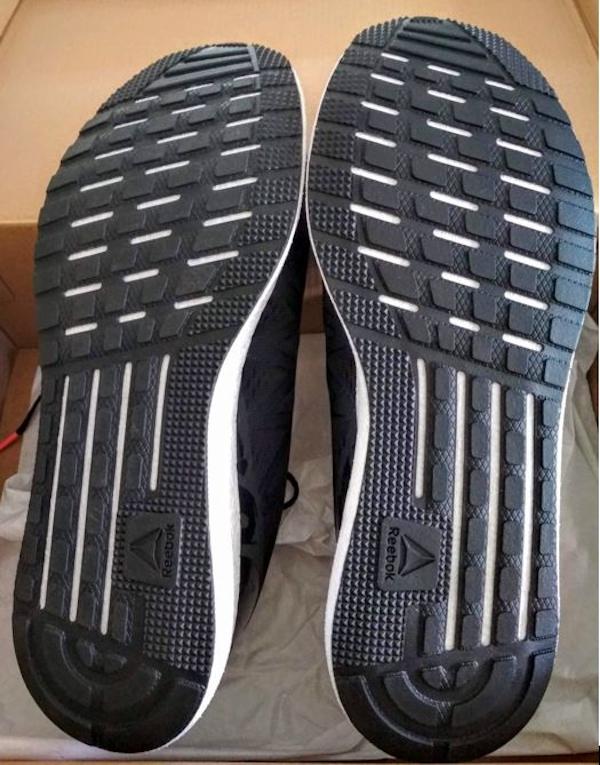 The sole is wide and provides a stable platform, which should mitigate lateral movement and encourage stability in the cushioned 10mm drop shoe.
Fit and feel
On the foot, the Floatride Energy is roomy! My UK10 (the 10.5 was quickly returned as it was huge!) is just on the cusp of being too big, but it was acceptable.
The sizing is something to note with this shoe, your standard size or maybe even a half size smaller might just suffice depending on how you like it to fit.
As it happens, my goals for the year included some longer running, so I was happy with the extra room in the toe box, especially since I have suffered a little with toe blisters in some narrower shoes.
Generous fit but neat styling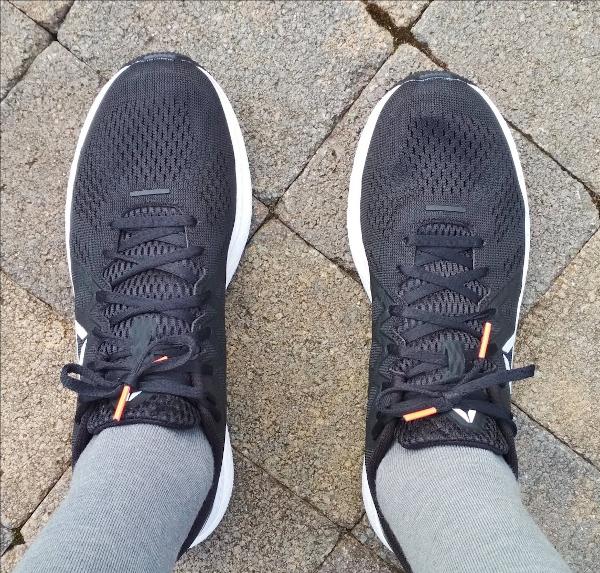 There are a quite noticeable high collar and heel counter, not obtrusive or obstructive, but you definitely feel like this is a shoe to step into. Where this pays off is the feeling of security and enclosure when you tie the laces.
If you are someone who has experienced irritation around the malleolus or Achilles, then you might want to have a good look at the shoe before purchasing.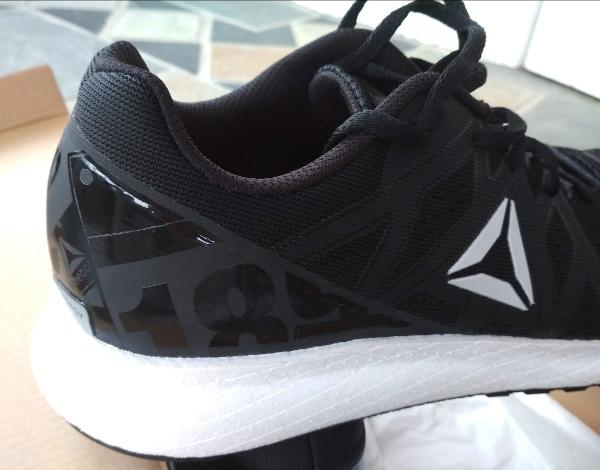 Following on from this, the Floatride Energy feels snug around the bridge of the foot, which can make them tight to get on and off when you have the lacing set the way you like it. The laces are a little short also.
I prefer to lace lock in a road shoe which requires a little more length in the lace, and there isn't a huge amount left over to work with. I have never struggled to get the job done but would definitely prefer a little more.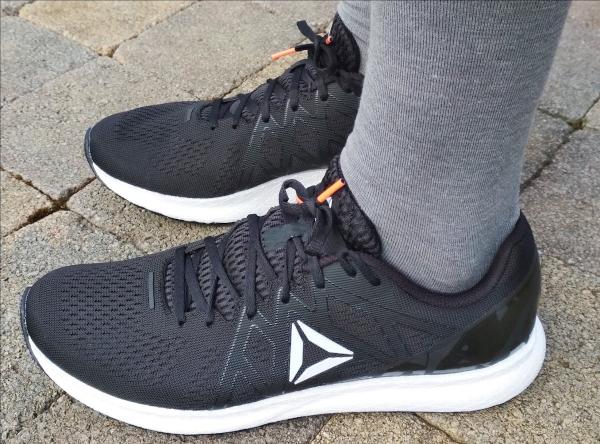 On the run
On the road, the shoe strikes a nice balance of being cushioned but responsive. The polyurethane Floatride foam is definitely firmer than Boost foam (which I personally find too soft), but it is still plush and a great blend of comfort and responsiveness.
In line with the shoe's quest for simplicity, there is little to no motion control, which I find to be a good thing. As a runner I want to be better; not just faster but more efficient, minimising my quirks and nuances.
I don't want a shoe to fix my faults—I'm happy to work on improving them myself. The simplicity of the Floatride Energy lays bare your gait and offers a platform for improvement.
The blessed runners among us will just love it for its responsive, progressive ride.
Versatile everyday road warrior
The Floatride Energy is pitched as your everyday running shoe with versatility its greatest strength. As the primary road shoe in my rotation, I have used it across every type of workout.
In the time we have been together, I have completed my longest ever run in it as well as my fastest 5 and 10km times. I have even done a few miles on well-manicured forest tracks and was surprised at just how well the Floatride Energy gripped and performed.
The outsole and foam were really effective providing excellent grip and complete comfort when I was expecting some pain from loose stones.
On long runs, I find the roominess of it to be a great boon; I can really move my toes around to stretch and improve comfort.
The foam is more than comfortable for long days although the aforementioned simplicity can be a drawback when I am fatigued and my stride becomes a bit ragged.
On slow days, the wide outsole feels a little firm and noisy, which I don't like at all, so maybe a softer compound rubber could improve things in these areas.
On speed and tempo work, the Floatride Energy performs well. The 10mm drop and lively midsole provide ample propulsion.
Although when I really up the speed for short intervals, I find myself wishing for a little less drop as the sensation of tipping forward is a little disconcerting.
The sweet spot for me with these shoes is brisk-paced running. Tempo days are a joy with the responsive foam and secure upper, and they really provide a great platform for the progressive runner.
Here, the width of the sole, combined with the excellent grip of the carbon rubber outsole inspires confidence and allows you to keep pushing on.
Lightweight, flexible, airy everyday wonder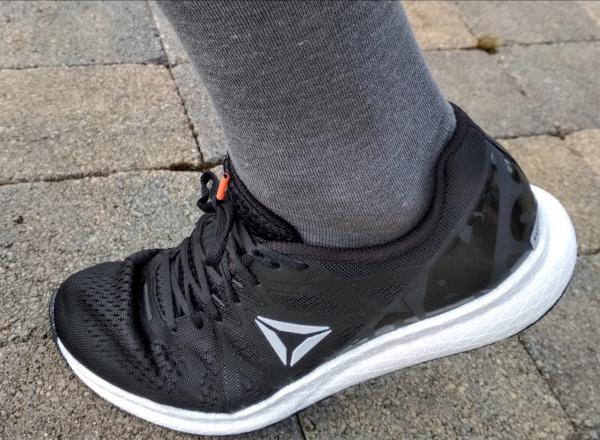 The Reebok Floatride Energy is a refreshing entry into the running shoe market. It proves that we don't need high technology and endless features in a shoe to provide an enjoyable running experience.
It is by no means perfect, but it is highly likeable and lively; I'll continue to run in it and enjoy it for the rest of its lifespan. After 200 miles, I think I am over halfway there as my pronation tends to wear the outsole quicker than most, but the upper is still in perfect condition.
It isn't a premium feeling shoe, but then the price doesn't put it in that bracket, so you can afford to try it out and enjoy it. Following my initial reservations, I am definitely a believer in the Reebok resurgence and have been recommending the Floatride Energy to anyone who will listen.
I have bought a second pair a half size smaller for a more precise feel for the few road races I do, so I think that's enough of an endorsement for anyone.
Give them a try. You won't regret it!
Good to know
- Designed to be a road running shoe, the Reebok Forever Floatride Energy offers a remarkable 10mm drop which is highly useful and advantageous for varied walking and running gait.
- Its upper area is simple yet functional with its engineered mesh. The primary focus of which is to promote ventilation and support, especially when the foot starts to expand when going for a long-distance run.
- Utilized in the Forever Floatride Energy is the internal heel counter. This feature of the shoe has the right amount of firmness and flexibility to provide support. This is essential in locking the foot into the shoe. It is also vital in anchoring the foot to the midsole during the running session.
- The midsole section is made of expanded polyurethane foam. This material is responsible for delivering a highly responsive cushion that is intended for those who have neutral foot motion.
- Its outsole is crafted using a single-sheet carbon at the bottom area. The material provides proper traction during the running activity. It also adds durability to the platform.
The Reebok Forever Floatride Energy is sure to provide a snug in-shoe experience. The upper material employs a stretchable and breathable fit to allow runners to enjoy a more comfortable ride. The shoe also features a relatively narrow midfoot-to-heel area, which gives the foot a locked-down fit.
Additionally, the Forever Floatride Energy is built for neutral pronators; therefore, a high arch height is guaranteed.
The Reebok Forever Floatride Energy offers excellent traction on the road. This is the sole responsibility single sheet carbon rubber found at the bottom of the outsole. This material is strategically designed to allow the foot to move along as the runner stride, holding up well on various types of paved surfaces.
The full carbon material is integrated into the shoe. This feature of the outsole makes the platform highly durable. With the use of this carbon material, Reebok made sure that the shoe remains lighter, leaner, and more importantly, comfortable and flexible.
The shoe features the FloatRide foam, which is described as lightweight in structure. This technology is centered on providing a softer underfoot feel. The shoe offers enough cushioning that is not too soft, making it ideal for quick runs. On the other hand, this cushioning is not too firm as well, making it a lightweight option for long-distance running. As a result, a more responsive heel-to-toe transition is encouraged.
Utilized in the Reebok Forever Floatride Energy is the EVA support rim. This component balances the foot during the toe-off phase.
The Reebok Forever Floatride Energy employs basic and straightforward but exceedingly functional engineered mesh. This material is strategically designed to deliver proper ventilation and support. As a result, a healthier and fresher foot environment is promoted. With the stretchable upper, the foot is held and comfortably wrapped inside the shoe.
Integrated into the Reebok Forever Floatride Energy is the lightweight heel counter. The primary purpose of this component of the shoe is to provide a locked-down feel during the running activity.
When compared to other Reebok models which use the Pebax foam that is more expensive, the Forever Energy uses an expanded Polyurethane material. This midsole compound is said to be similar to the Adidas Boost technology. Though it does not feel and look the same when running, the sidewalls of the footwear have a shinier surface. The midsole is crafted using smaller TPU globules that have a grid-like surface design. Because of this design, it makes the midsole easy to think that it is the Pebax based Floatride material.
When compared to the Adidas Boost, the Forever Floatride Energy is not as soft as the Adidas Pure Boost. The midsole softness of the shoe is just enough. With this feature of the Reebok Forever Floatride Energy, many runners will surely love and appreciate about this shoe.
How Forever Floatride Energy compares
Corescore: 54-57
3 shoes (0.32% of shoes)
Corescore: 58-61
6 shoes (0.64% of shoes)
Corescore: 62-65
15 shoes (2% of shoes)
Corescore: 66-69
18 shoes (2% of shoes)
Corescore: 70-73
55 shoes (6% of shoes)
Corescore: 74-76
62 shoes (7% of shoes)
Corescore: 77-80
209 shoes (22% of shoes)
Corescore: 81-84
262 shoes (28% of shoes)
Corescore: 85-88
209 shoes (22% of shoes)
Corescore: 89-93
95 shoes (10% of shoes)
Price: $40 - $70
114 shoes (12% of shoes)
Price: $71 - $101
269 shoes (29% of shoes)
Price: $102 - $132
272 shoes (29% of shoes)
Price: $133 - $163
170 shoes (18% of shoes)
Price: $164 - $194
60 shoes (6% of shoes)
Price: $195 - $225
35 shoes (4% of shoes)
Price: $226 - $256
10 shoes (1% of shoes)
Price: $257 - $287
1 shoes (0.11% of shoes)
Price: $288 - $318
2 shoes (0.21% of shoes)
Price: $319 - $350
1 shoes (0.11% of shoes)
Weight: 3.5oz - 4.6oz
6 shoes (0.77% of shoes)
Weight: 4.7oz - 5.8oz
16 shoes (2% of shoes)
Weight: 5.9oz - 7oz
41 shoes (5% of shoes)
Weight: 7.1oz - 8.2oz
113 shoes (14% of shoes)
Weight: 8.3oz - 9.4oz
191 shoes (24% of shoes)
Weight: 9.5oz - 10.5oz
195 shoes (25% of shoes)
Weight: 10.6oz - 11.7oz
152 shoes (19% of shoes)
Weight: 11.8oz - 12.9oz
49 shoes (6% of shoes)
Weight: 13oz - 14.1oz
14 shoes (2% of shoes)
Weight: 14.2oz - 15.4oz
4 shoes (0.51% of shoes)