Reebok Floatride Run Fast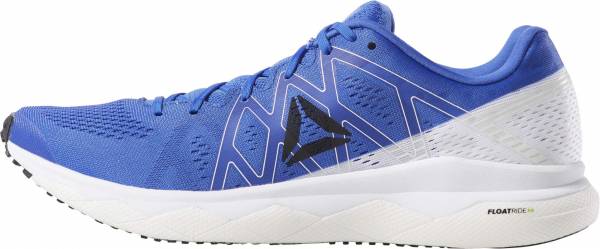 The people who have tried on the Floatride Run Fast from Reebok were generally happy with what they were able to experience. This road shoe apparently offered effective performances on the roads. The lightweight build and the soft midsole construction were also given praise by neutral pronators. On the other hand, there were gripes about the upper being unsecured and the outsole peeling off after some time.
---
Verdict from 15 experts and 100+ user reviews
5 reasons to buy
Several people reported that the Reebok Floatride Run Fast was obliging as a shoe for speed training.
The lightweight construction of this running companion was lauded by many of its testers.
The underfoot experience was soft yet responsive, some consumers stated.
A handful of runners felt that the price of this road shoe was on par with the quality of its materials; it's not too cheap, but it's not hot on the wallet.
The width and the sizing scheme were aspects of this product that were thought to adequately follow expectations.
3 reasons not to buy
A tester complained of in-shoe wobbling and unsteadiness while wearing the Reebok Floatride Run Fast.
A few people observed some wear on the outsole after only about a hundred miles of using it.
The yellow accents on the upper didn't agree well with several of its purchasers.
Bottom line
The people who have tried on the Floatride Run Fast from
Reebok
were generally happy with what they were able to experience. This road shoe apparently offered effective performances on the roads. The lightweight build and the soft midsole construction were also given praise by neutral pronators. On the other hand, there were gripes about the upper being unsecured and the outsole peeling off after some time.
Best price from 50 shops
We earn affiliate commissions at no extra cost to you when you buy through us.
78% say it's true to size.



Our reviews
I was in two minds whether to buy the Reebok Floatride Run Fast or not. I needed a fast shoe to wear for my first marathon.
VaporFly Next% is not stable enough for me, so I was going to wear the Nike Pegasus Turbo 2. But, on long runs, I found the forefoot to bottom out—I needed something more cushioned.
Racing flats have never appealed to me because of how firm and minimal they normally are. They also favour forefoot strikers of which I am certainly not.
My last racing flat was the Adidas Sub 2. I ended up using them as a casual shoe because it was really firm and beat up my feet on long-distance runs.
But recently, racing flats have changed: they are now more cushioned due to the advancement in midsole foams while becoming even lighter in weight.
Reebok positions the Floatride Run Fast as an all-rounder: a racer packing enough cushioning for a marathon.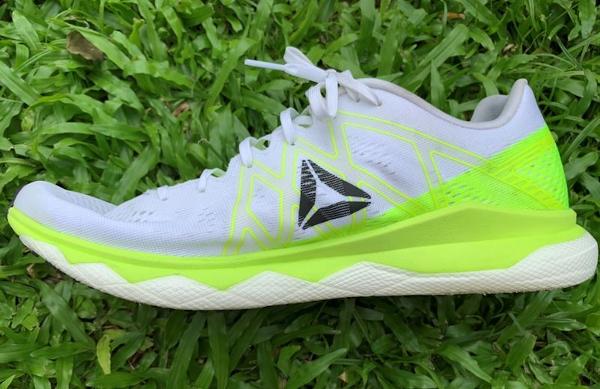 I bought the Reebok Forever Floatride Energy earlier this year and was so impressed with them that I decided to get the Run Fast with the hope that it would be light and cushioned enough for a full marathon. I was not disappointed.
Specifications
| | |
| --- | --- |
| Weight | 187g (Men's US9) |
| Drop | 8mm |
| Technology | PEBA midsole, EVA rim |
| Uses | Long-distance runs, marathons, half-marathons, 10km's, 5km's |
| Surface | Road |
| Price | 140 USD |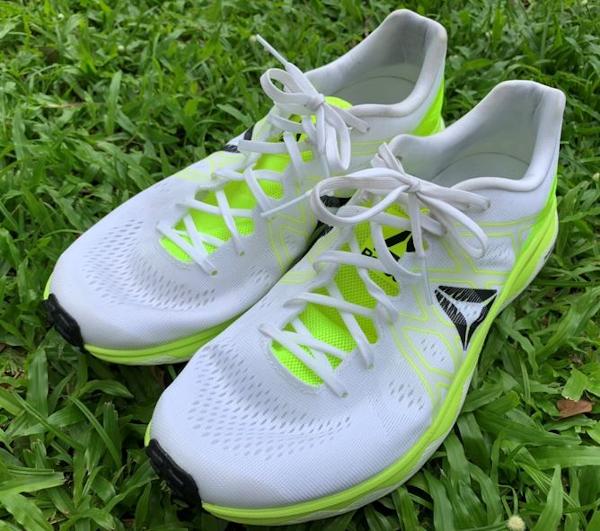 Upper and fit
The Floatride Run Fast upper is made from a lightweight, perforated mesh. The mesh is soft and conforms to your foot while also being breathable and airy.
The shoe is generally quite narrow but didn't bother me one bit. In fact, I went down a half size so that I can get a secure, snug, racing fit.
The roomy toe box allows you to go down a half size if needed.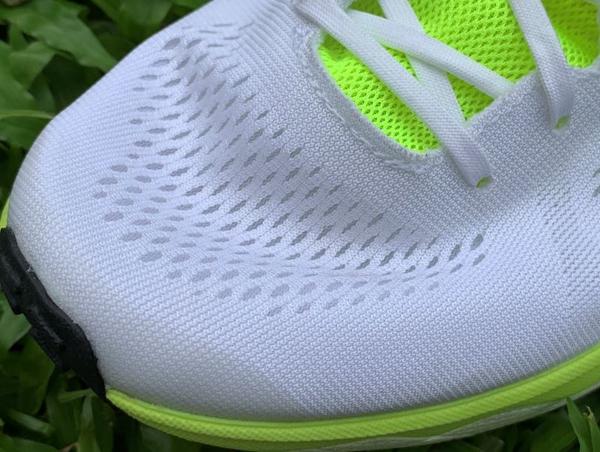 The tongue is sleeved, so it doesn't move laterally, but it does slip vertically down. A couple of times when I was training in the shoe, I had to pull the tongue back up to its original position.
The flat tongue is connected on the sides to the bottom of the shoe, underneath the insole.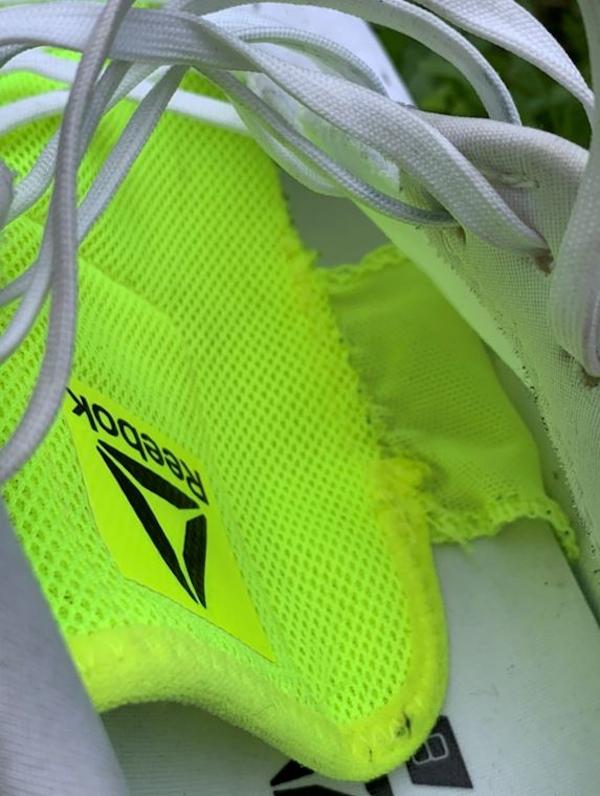 There are fused lattice urethane overlays to provide some lightweight structure to the shoe.
The heel is secure and locks down the foot without digging into your Achilles as the Forever Floatride Energy does. The upper also feels more premium than the scratchy-feeling, budget Forever Floatride Energy upper.
The shoe allows you to do a heel lock lacing system if needed, so your heel will never slip out.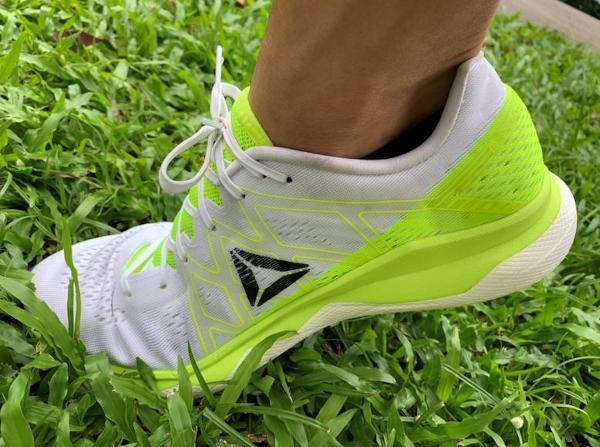 The tongue slips down during runs and can cause top lacing pressure against the foot.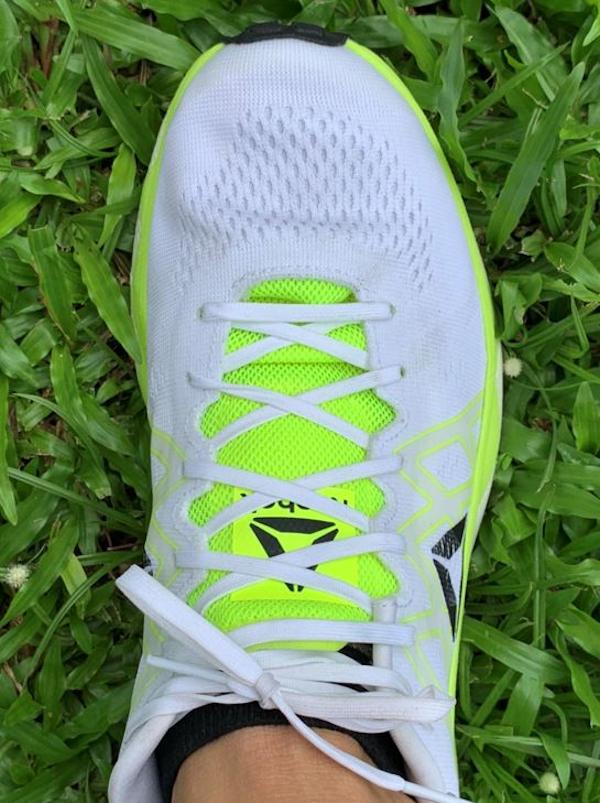 Midsole and ride
The midsole is made from a combination of PEBA (PolyEtherBlockAmides) and EVA. The EVA rim adds support while the PEBA super foam provides lightweight cushioning.
Overall, the midsole is medium soft and a joy to run in. During the marathon, I didn't ever feel that my feet were hurting or that I needed more cushioning. The ride felt smooth and efficient.
The Floatride Run Fast feels snappy, and it's very easy to increase cadence.
There is no sink in plushness, which makes the Run Fast suitable for a variety of workouts, including tempo, fartlek, and long runs.
The Floatride foam is everything you want from a foam: light, responsive and cushioned. The lime green part on top is EVA.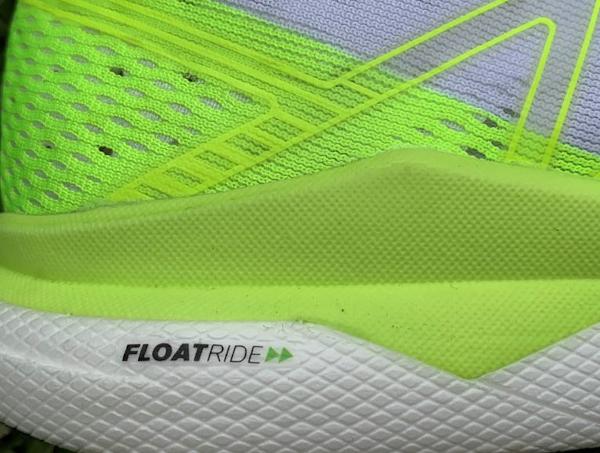 Stability
The EVA foam rim stabilises and centres the foot through the gait cycle, keeping the foot balanced. There is an extra piece where the rim drops down on the medial side to prevent excessive inward rolling of the ankle.
The EVA rim drops down on the medial side, providing support for pronators.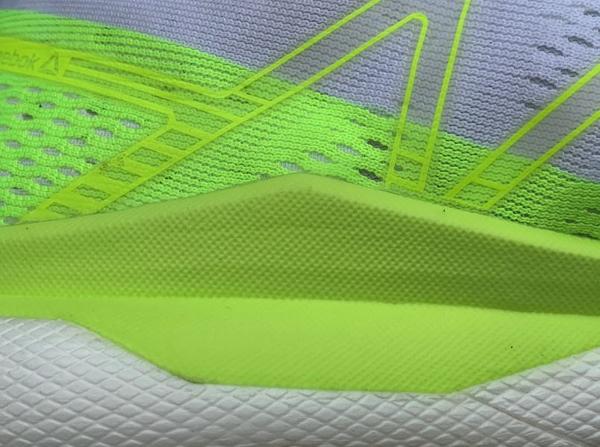 Underneath the insole, you can see the firm lime green bars through the perforated strobel lining which provide midfoot stability by preventing the shoe from bending in the middle of the shoe.
Four firm bars are placed vertically in the midfoot to provide midfoot rigidity and support.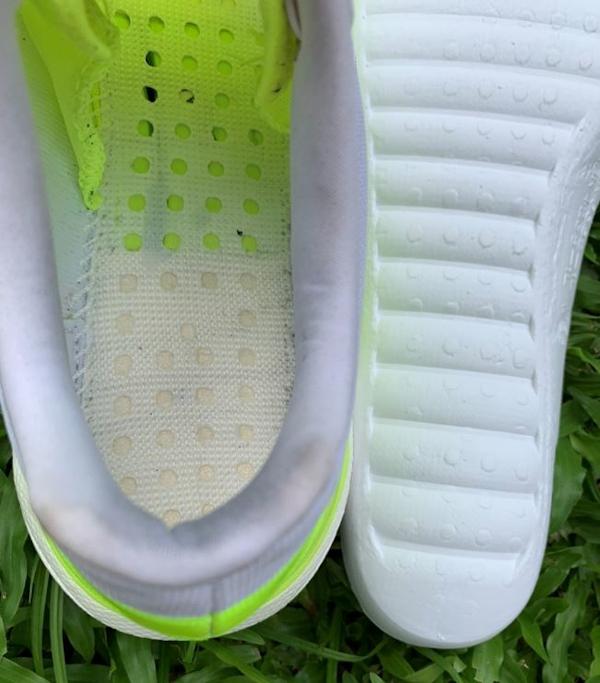 The perforated strobel lining allows the foot to feel the PEBA foam in the heel and forefoot with every footstrike.
The insole is thick, cushioned and stays in place even though it is not glued down.
Outsole
The outsole is made from a durable, hard rubber, which has an excellent grip.
The full-contact outsole has holes in the centre to save weight.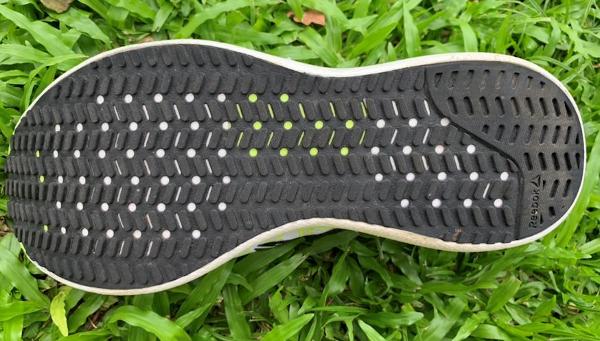 The one thing that I don't like is that the midsole foam hangs over the edge of the outsole, so it scrapes on the floor when you strike the ground on the sides of the shoe.
The soft foam on the medial side strikes the ground where the outsole ends.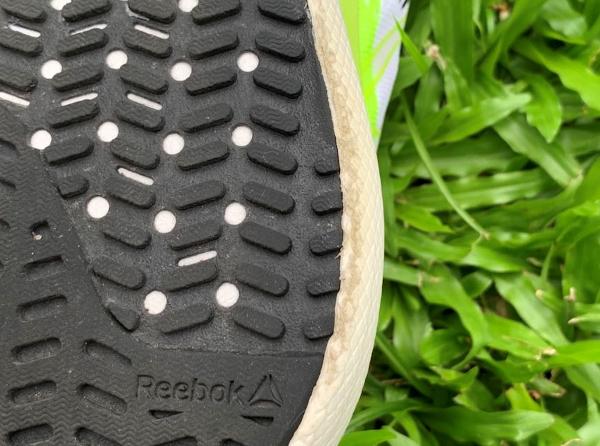 There is minimal wear showing on the actual rubber, and I expect to get over 600km of running out of them.
Likes
Great versatility
Soft and comfortable upper
Super light
Cushioned enough for marathons
Dislikes
Midsole scrapes on the sides of the outsole
Tongue slips down
Verdict
The Reebok Run Fast was an excellent purchase and a great marathon shoe choice. It helped me complete my first marathon in a time of 4.38.
The snappy and efficient midsole was cushioned enough while the upper caused me no blisters or irritation. I didn't think that it could get any better than the Forever Floatride Energy.
But, Reebok proved me wrong because the Floatride Run Fast is even lighter while being more comfortable.
For the next version, I want Reebok to modify the tongue so that it doesn't slip down and to make the outsole cover the rim edge so that the midsole doesn't scrape the ground.
I hope Reebok doesn't change too much though, because the original Floatride Run Fast will always hold a special place in my heart, being the shoe that helped me complete my first marathon.
Did I really need another pair of running shoes? In my rotation are NB 1500, Saucony Kinvara, Skechers GoRun Ride 8 Hyper, and Saucony Fastwich—that should be plenty of variety.
But, I saw this ad, I had not tried these before, and they were on sale. I mean c'mon man, you can't just close that browser window. Well, I did, and then—well, you know the rest.
So, they came in a few days ago, and I stuffed them not in my running closet but out of sight in my clothes closet. I was going to save them for the next time I needed something this specific.
Well, it turns out that that time was three days after they arrived!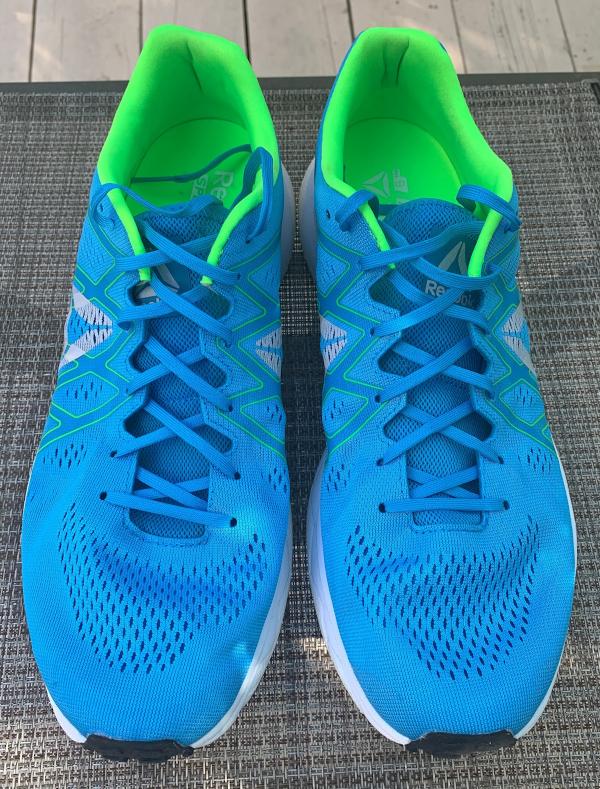 Ladies and gentlemen behold, the Reebok Floatride Run Fast. I jumped at their premium shoe a while back and quickly returned them as they were just too little, too flimsy, too stiff and too expensive.
This is the second pair of Reebok that I have owned for running, and I am glad we made the connection!
Ride
I pulled them out to do a 4-mile tempo run. These are designed to be speedsters (which I am not), but I thought this would be a good trial run.
I had tried them on when they came in but did a walk down the hall once again just to get a sense of their character before lacing them up.
How many ways can one describe a shoe? Well, this has a nice solid feel but not that hard plastic click on the surface like you can get. These actually squeaked (more on that later) on the floor.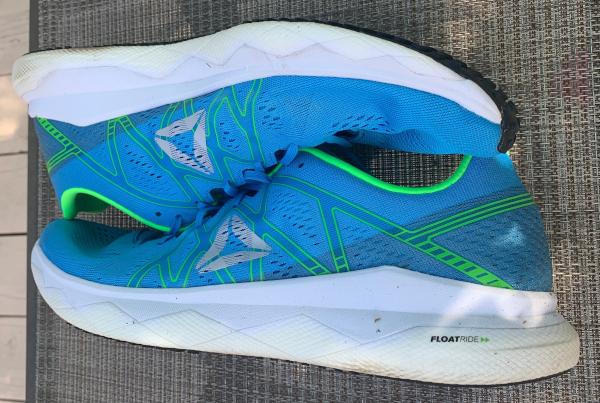 There were no predominant points like a high arch or rounded mid-foot, it felt like—well—a shoe. There was nothing really that striking.
I laced them up and out the door for 4 miles at a 6.5 to 7-minute pace. There were some hills and varied hard surfaces and a few tight turns.
This should be a good test run for some shoes noted as racers but advertised as being great for long runs. Those two typically don't go well together.
Racers are worn for—well—races. But, they typically are too minimal for every day or every other day. Hmmm… interesting.
Build
The shoes come in at just over 6.5 ounces. So, they are light. I don't wear much of anything over 9 ounces, so these did not jump out as floating on air. But, they were far, far from clunky.
Right from the start, these just felt good. That squeak I talked about earlier turned into some traction noises on the pavement. I could hear those little edges grip. I didn't really need that, but it was interesting.
I run on the midfoot as much as I can. These fit that form nicely—again, nothing over-pronounced. It was just a good roll-off to the toe. I rocked back on the heel to see how it reacted—not bad.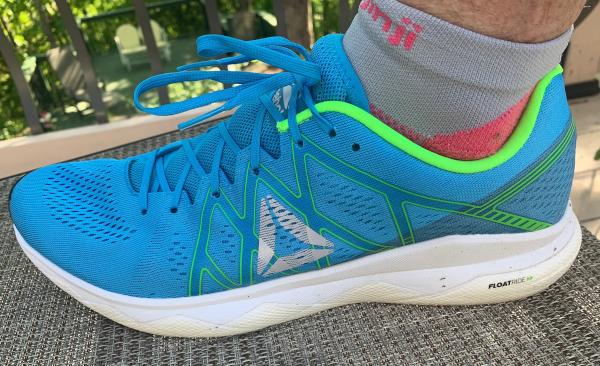 This could be a decent fit for any form or speed. They seemed light, but that didn't really catch my attention. I tagged them with a virtual half-marathon today.
I gave them the nod instead of my 1500's to see how well they stand up to the miles and how well my feet and legs adjust after fatigue sets in. No problems!
I felt a little movement (sloppy) towards the end of my run as I was pretty certain my form had tanked it at about mile 11. They finished nicely with no blisters, hot spots, or anything negative.
Me happy, happy that I brought them out of the closet!
Cushion
When it comes to cushioning, I was not expecting much as it is lighter than the NB 1500's or the Kinvara's. This does not have the squish of the Kinvaras but something more than the 1500's.
I liken it to my pillow—not A pillow—MY pillow. I have one of those somewhat hard memory foam pillows that seem really hard, and then it settles into some really good support. That is what this reminds me of.
The softness does not overcome you, but neither does the squish. I can't really feel that much give though I do get a sense of response on the toe-off.
This felt really nice. I got no sense of side-to-side movement (I call sloppy). It stayed where it needed to without a lot of coaching.
Reebok's use of the words' float" "ride" and "fast" in the name all seem to be spot on in describing this shoe!
Tread
The tread is interesting. I am concerned about longevity. Those gripping noises have to come at a price.
And, there just does not appear to be much there. You can sense a little flex across the sole of the shoe. On examination, you can see where the grip comes in as well as the flex.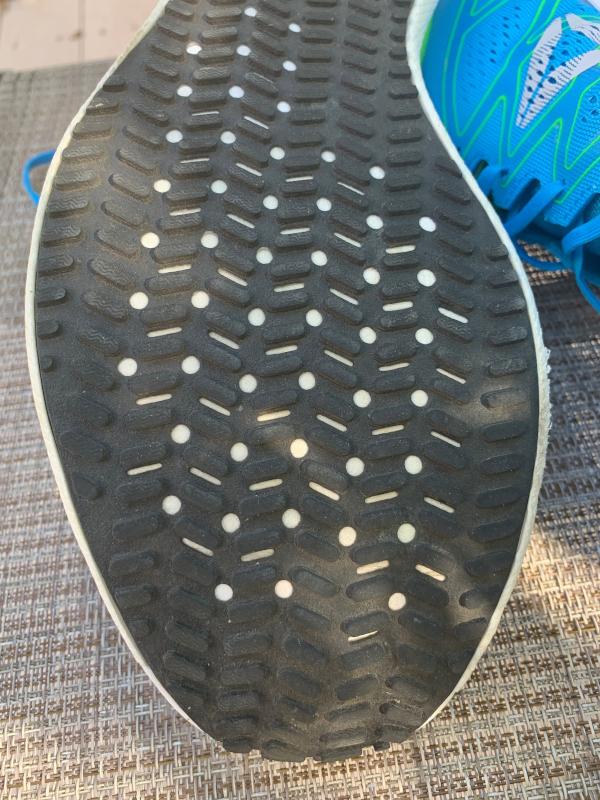 There also appears to be some potential peggle grabber holes, but I had no issues and didn't anticipate much if any. It is also the same across the sole—no disruptions with pods, or plates, or wedges.
This is noticeable as the sensation across the entire bottom of your foot is exactly the same regardless of where you run on the heel, forefoot, or middle.
Wear
With only 17 miles on them, there were no signs of wear (well there had better not be at 17 miles)! I have had some that were showing wear even at this low number. Time will tell on longevity.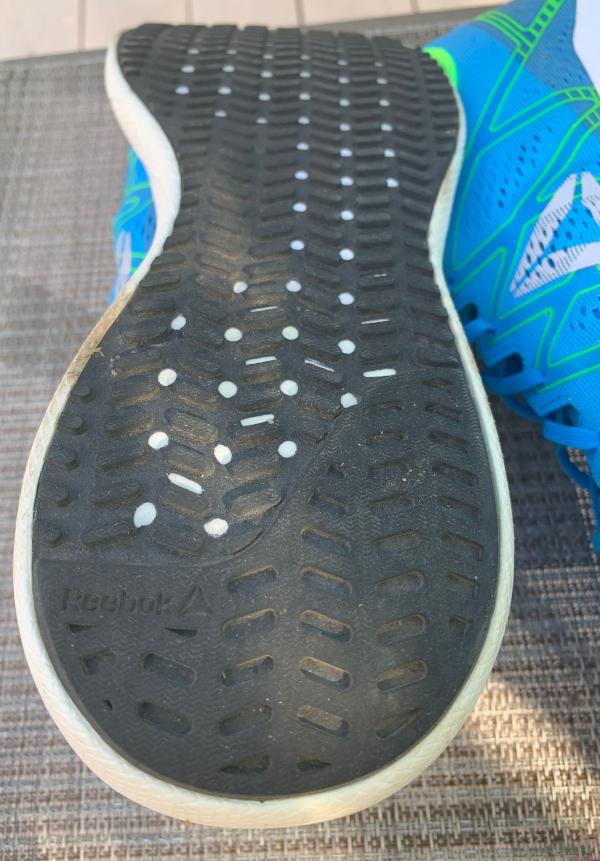 While I don't expect to get the typical 300+ miles, I would not be surprised to see them clock well over half that—that's a guess of course.
Upper
One thing that I noticed was how wide the lace area is. I have not had a shoe this wide between the laces. It was not noticeable though I suspect it does have an impact on how it fits.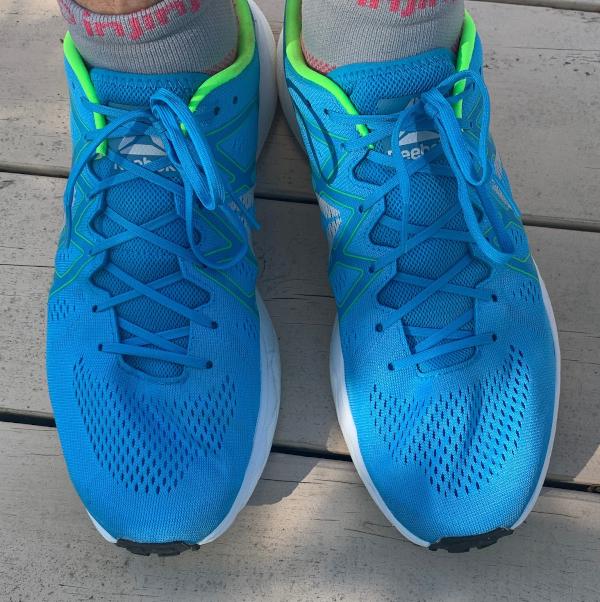 I have not read anything about this uniqueness elsewhere, but it is interesting or at least curious. Note that these are not EE or EEE. I prefer a 2E, but this is a D.
No issues at all with the width though from the pic below they look like really wide models—nope. It appears that the narrow shoe-strings could take a toll but again no issues at all.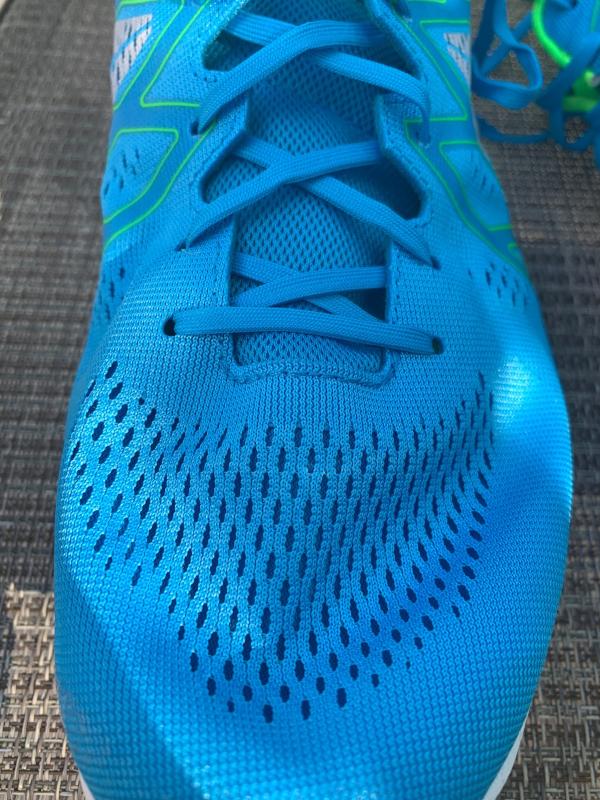 There is ample room in the toe-box for a D flavor. No issues. Also of note, they have followed the trend of really lightweight uppers with a knit design that has obvious airflow.
It was a warmer spring day (mid-80's) and no issue with overheating. A pic from the inside gives some sense of just how thin and airy these really are.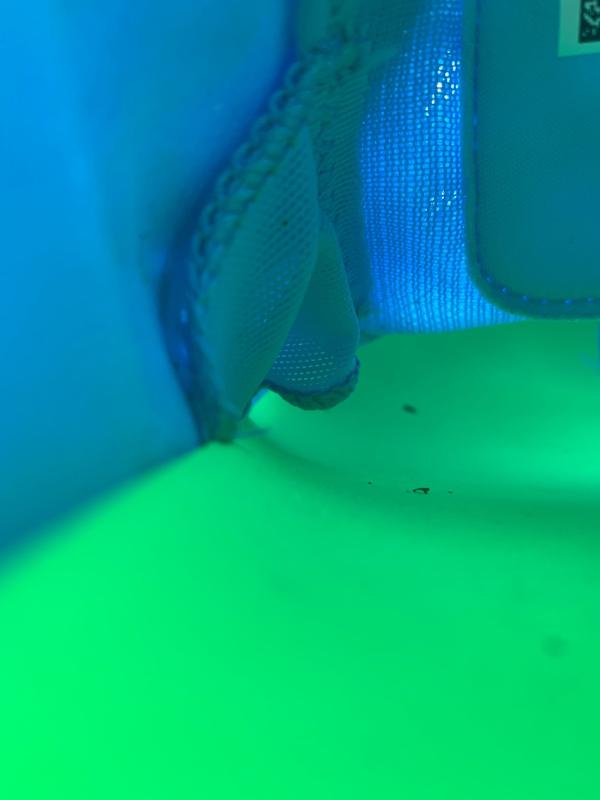 Design
There were lots of holes throughout, which cause something to catch my attention on the backend. There were some dark spots, and as it turns out, some of the "chads" had released on the heel and sides.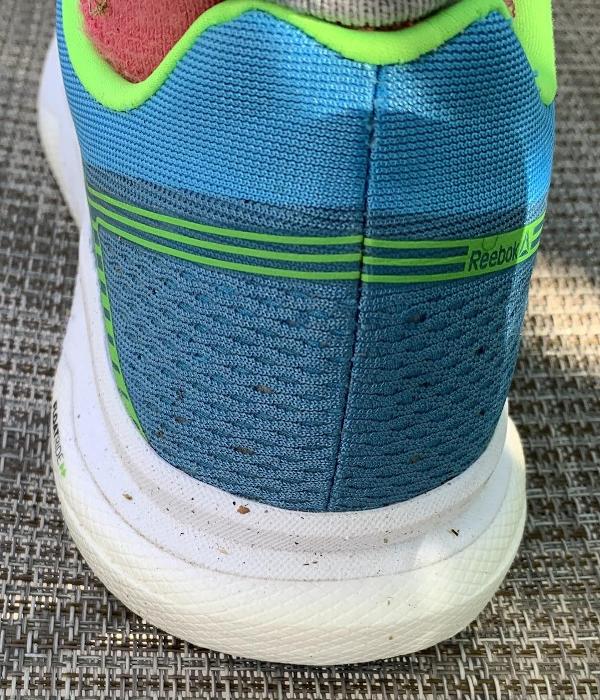 I suppose that makes them even lighter! They kept the punch-out design that is on the toe-box area throughout the shoe even where the holes give no ventilation.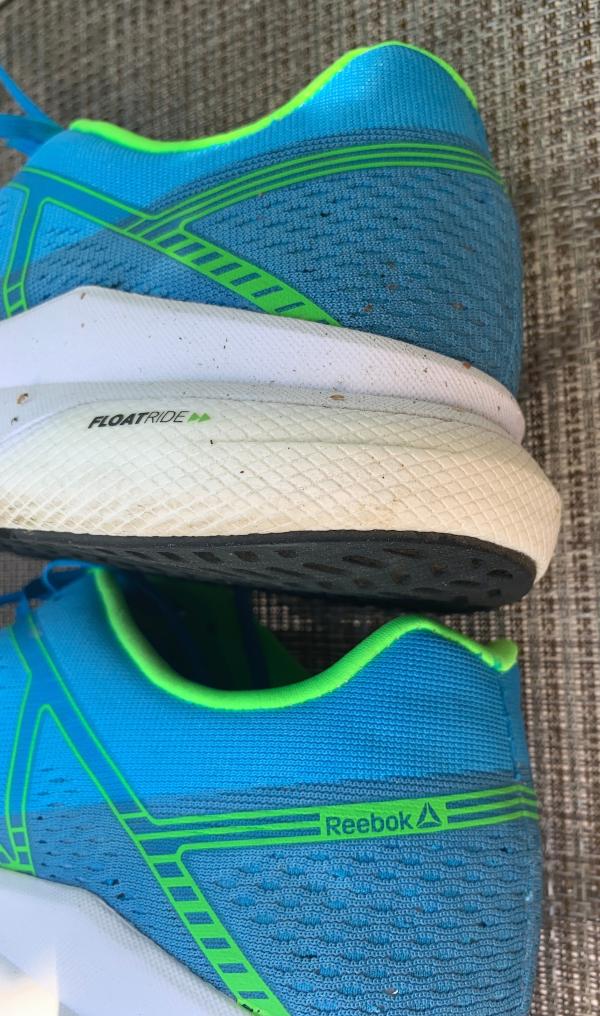 There are no surprises in design as it appears that most every effort went to put these on a weight-reduction plan. The green accents around the ankle and sides are a nice addition if you need some pop.
Takeaways
I love this shoe. It fills all of the little intricacies that I have found myself collecting since starting this running craze. They are certainly light but have just enough padding, even roll, plenty of space in the toebox, just enough style, and airflow.
I found room in my running closet to place these alongside my favorites. I will be curious to see who gets the call the most in the coming days though I suspect it just might be the Floatrides.
There simply is little room for improvement on the Floatride Run Fast from Reebok!
Updates to Reebok Floatride Run Fast
The Reebok Floatride Run Fast is a running shoe for neutral pronators who want to experience speedy sessions on the roads. It features materials that don't have a substantial weight, as well as performance-centric designs to encourage the natural motion of the foot as it goes through the gait cycle.
The midsole has been designed to keep the foot at the center of the shoe. It makes use of a responsive foam for cushioning, but it also has an EVA sidewall for steadiness. The outsole is composed of a rubber compound that has a pattern that is reminiscent of tire-treads. The job of this material is to provide surface grip.
Outsole
A rubber compound is used for the outsole unit of the Reebok Floatride Run Fast. This material covers the underside of the foam platform, protecting it from the abrasive nature of the asphalt. It is also responsible for traction.
Some textured protrusions pockmark the surface of the outsole. These non-prominent nodes have the visual makeup of vehicle tires. They are responsible for heightening surface grip and encouraging flexibility.
Midsole
The Floatride Foam is a full-length cushioning material that's designed to be lightweight. It aims to deliver a soft yet responsive underfoot experience, potentially energizing and enabling the performance of the wearer throughout the running session.
A rim or sidewall made of ethylene vinyl acetate (EVA) prevents the foot from shifting to the sides, fundamentally stabilizing the in-shoe experience without restricting freedom of movement and natural heel-to-toe transitions.
Upper
Ultraknit is a textile that resembles woven cloth. This form-fitting textile has multiple layers and a set of openly knitted sections that encourage ventilation.
Thin strands of synthetic material serving as overlays are printed onto the sides and the back of the Reebok Floatride Run Fast. These seemingly inconsequential add-ons help the lacing system when it comes to providing a secure yet customizable fit.
The padded collar acts as an extra lockdown mechanism that prevents the foot from exiting the interior chamber accidentally.
Rankings
How Reebok Floatride Run Fast ranks compared to all other shoes
Popularity
The current trend of Reebok Floatride Run Fast.