1 best Zoot running shoes
Updated August 2018
Based on 8 reviews
Loading please wait...
Zoot is a niche brand in the running industry. Despite being a small brand, it manages to establish its presence for racing and triathlon events. Its men's and women's shoe collections are targeted for speed work, so expect a lightweight and sleek concept to be incorporated in every pair. Zoot running shoes may not yet have reached star status, but more professional athletes are turning their attention to this underdog for their racing needs. In fact, Zoot has high ratings for both short distance runs and full- blown triathlons. Some of the models that are worth the look based on reviews are the Zoot Solana, Zoot Ultra Kalani, Zoot Ultra Kane and Zoot Ultra TT among others.
Zoot Running Shoes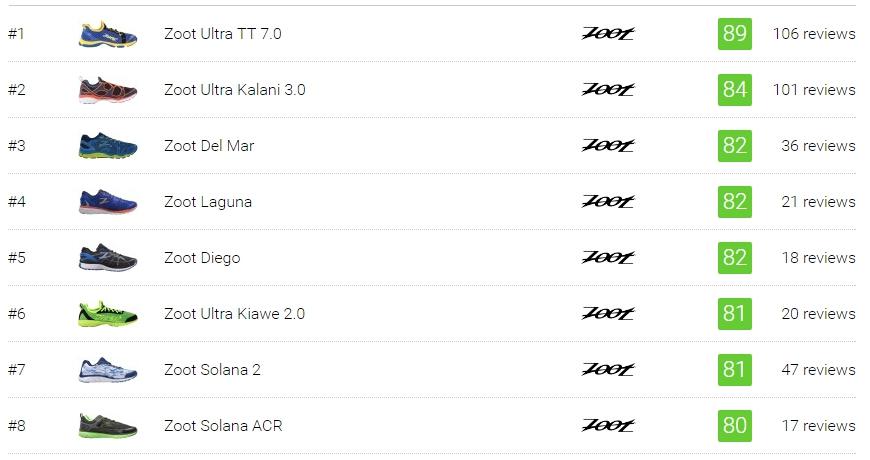 For your triathlon needs, nothing compares to the greatness of Zoot running shoes. Whether you wish to conquer miles on the track or trail, the brand ensures that each step is comfortable and stable. Not all the shoes have great reviews, but you can expect a lightweight platform that keeps runners speedy throughout the run. Comfort and flexibility are also ensured to improve the performance. Zoot running shoes are great options to include in your shoe collections, given that you are an active triathlon runner or just love speed workouts in general.
Zoot Sports is a company that prides itself as the leading provider in endurance sports. For decades, Zoot has innovated on their line of multi-sport apparel that features original and cutting-edge equipment. They have introduced the first line of Triathlon-Specific footwear. More than 100, 000 reviews around the globe support Zoot, one of the foremost endurance sports brand.
What to expect from the best Zoot shoes
The best Zoot shoes are created for the multi-sport athlete. The high-endurance materials the company use ensures the longevity and sturdiness of each shoe. You can perform well in your chosen sport without having to worry about the shoes' durability.
Zoot creates products that are universally comfortable for all types of runners and sports enthusiasts. They place great care in placing the right amount of cushioning in their shoes and they do not sacrifice their brand's quality over substance. All the materials they use for their footwear are well-researched.
The best Zoot shoes provide a substantial balance to help the athlete have a responsive ride. The shoes' frames are made from no-sew constructions so that added support will be given to each foot.
The shock support each Zoot shoe has is exceptional. These shoes are made to withstand trail and off-trail exercises. The ultra-smooth plush forefoot provides stability, thus enabling smooth landings.
This brand is always searching for new ways to make their shoes more accessible and effective for anyone who wants a pair of shoes that will endure the test of multi-use and multi-environment exposure.
What differentiates the best Zoot running shoes from the rest?
Popularity. Multisport enthusiasts are always on the lookout for new model releases from the Zoot brand. The staying and lasting power of their shoes are some of the reasons why people flock to their stores to purchase their wares. They provide apparel and support to many endurance sports marathons and their presence is always welcome to anyone who is participating in said events. Casual runners and pro athletes alike have positive things to say about these shoes on social media. The Zoot brand gives quality service for all.
Shoe Technologies. There are multiple reasons why the best Zoot shoes give great performances to athletes. BareFit internal liners provide optimal comfort and foot support. These fabrics are of no-sew construction, thus bringing out a level of support that doesn't waver after only a few uses. ZBound+ shock absorbers are positioned in their mid-soles for maximum performance and comfortable ride. ZCRs and ZBRs are installed in the heel and forefoot respectively to make sure the overall ride is not-notch.
Pricing. When it comes to the pricing of the best Zoot shoes, the numbers are quite reasonable and attainable. With materials that are easily some of the best in the business, this brand still sells their shoes for a very evenhanded rate. Depending on the type of shoe and technologies it encompasses, Zoot prices range from 70$ to 180$. Retail stores and online shops provide flexibility in these prices but you will definitely get the optimum shoe performance nevertheless.
This shoe has recently been added to RunRepeat. There are still not enough reviews for us to assign it a
Corescore
.
Corescore
A score from 1 to 100 that summarizes opinions from users and experts. The average Corescore is 78.
More...