The style of the shoe is one of the main factors that users consider when purchasing. Although there are different sub-factors, one of its significant elements is the colorway. In sneaker terms, colorway translates to the specific color combination that is used on the shoe.
Although the brightest and loudest color schemes grab the attention of most users, especially when going through the history, neutral colors still take an important place in the sneaker realm. White sneakers, no matter how straightforward it is, are perceived as trendy and timeless. Most people choose a fresh white pair because not only does it grab attention without the need for neon, but it is also versatile and exudes a no holds barred principle when it comes to styling.
The Meaning of White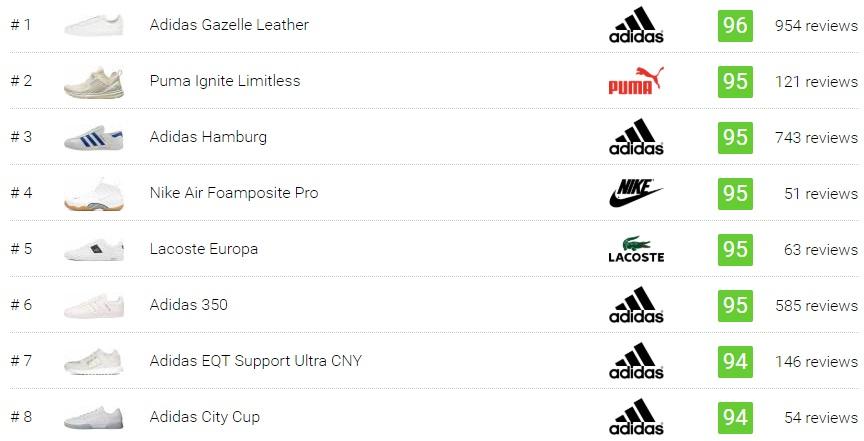 Despite being the lightest color in the whole spectrum, white is also the presence of all colors. As color associations are not necessarily universal, the color white is perceived differently by different people. Below are the various definitions of the color white:
Positive
Sense of Space – In terms of design, white is used to create an illusion of a bigger space or to add highlight to the room. White walls usually make the room more spacious, which designers take advantage of.
Purity, innocence, sanctity, and holiness – White is being used in a lot of religious passages, including baptism and weddings. Brides, traditionally wear this color to exude these emotions.
Cleanliness and sterility – This is one of the reasons why the walls hospitals, the robes of doctors, and uniforms of nurses are in the color white.
New beginnings – White connote mental clarity because it permits to empty the mind and symbolizes a fresh, new start.
Peace – Universally, a white flag is a symbol of peace and surrender. The Geneva Constitution has this statement written in clear definition and its misuse is regarded as a war crime. A white dove is also a symbol of peace.
Negative
Death and mourning – Some Asian countries like China and Korea associate white in funerals and it is the color traditionally worn in funerals.
Cowardice – In Britain and its influenced countries, white feather in fighting cocks are known to be cowards and poor fighters.
Wearing White and its Meaning
Even though colors don't define a person, wearing a particular color can exude a specific emotion and behavior, affect one's mood and have an effect on how others perceive a person. It can be taken into an advantage to exude an aura.
Using white on your outfit, like your footwear, means strength, neutrality, cleanliness, purity, safety, and completion. If you want to give that vibe of an optimistic and well-balanced personality, wearing white is the way to go. However, keep in mind that using too much on an ensemble can portray coldness and isolation.
Interesting Information about White
The presence of white in dreams depicts happiness at home. White castles have the meaning of spiritual perfection, perfectly fulfilled destiny, and achievement.
Compared to other colors, white is commercially available in more shades.
White is the most popular color for the classic American t-shirt, according to Pantone, Inc.
White is also studied to be the safest car color as it is the most visible except when snowing.
Most Remarkable White Sneakers per Brand
Because of the popularity of white sneakers, each brand indeed has come up with their version. Taking a look at these sneakers, as they are a mix of old and new, it only goes to show that white is absolutely a timeless color.
Ignite Limitless. Only released in 2017, these sneakers boast the brand's excellent cushioning and energy return technology. Paralleled with a sporty but luxurious vibe, these sneakers need not the endorsement of The Weeknd to gain attention.
Sky II Hi Nubuck. A rerelease of the classic 80s basketball shoe, these white sneakers transitioned into the streets and there to make a statement. The high-top silhouette is quite unique especially when in a white colorway. The two Velcro straps and the perforations on the leather upper create accents that make the shoe stand out.
Fierce Core. Inspired by aggressive training and dance moves, Puma Fierce Core merges street and athletic style. The lace-less feature matched with metallic elements on a mid-top silhouette exudes a futuristic but stylish vibe, enough to make a statement for everyday wear.
Other Brands
Lacoste Europa. Regarding household name brands, Lacoste may not be one of them. However, given the preppy style that the brand exudes, it is just impossible for the brand to not release a tennis-inspired silhouette. The Lacoste Europe is one of those that embody this vibe. The immaculately white upper guarantees to satisfy the snobbish tennis-exclusive style.
Superga 2750 Cotu Classic. An Italian brand that is well-known in the tennis sneaker category, the Cotu Classic has been a cult favorite among a lot. These white sneakers are favored by a lot because of its versatile style that suits most everyday outfits.
Tretorn NylitePlus. White and retro is just a foolproof combination that once perfected, can take one on different levels. The Tretorn NylitePlus is a living example of this. With a tennis heritage that was later adopted as a street style favorite, the canvas upper and low-top silhouette makes it a flexible and effortlessly stylish pair.
Vans Old Skool. It doesn't take one to be a skater to know the Vans Old Skool. Although the more popular colorway is clad in black and the famous Sidestripe being white, these sneakers also come in an all-white number which exudes a sleek aura.
Converse Chuck Taylor All Star Core Hi. It may be an exaggeration, but if you are not familiar with this sneaker, you must be living in a cave. Because it is one of the pioneers of sneakers, its silhouette has been very familiar to our eyes. Already possessing a versatile style, the white colorway even boosts this quality further.
Keds Champion. Being one of the first in the sneaker game, the Champion Original is the simplest that you can get when you think of white sneakers. Although coming in a wide array of colors and patterns nowadays, one would know that nothing beats the clean and crisp white upper.
Luxury white sneakers
Just like mass-produced brands, designers have also seen the potential of white sneakers and have created their interpretation on this ubiquitous trend.
Common Projects Original Achilles Low. At first glance, these sneakers receive quite a few frowns. The high price point for an effortless low-top silhouette does not make sense to most. However, getting down to the nitty gritty justifies the $415 price tag. Clad in premium materials and excellent Italian craftsmanship and the fact that it can be worn countless times and be paired with unlimited outfits, these sneakers are not only made for everyday wear but long-term wear as well.
Golden Goose Deluxe Brand. Even though Balenciaga seems to dominate the ugly sneaker trend, tracing it seems to point out to this brand. However, the definition of "ugly" that appears to be the brand's rendition sports an intentionally distressed, dirty-looking, and extremely scuffed white sneakers. If Common Projects defined the white sneakers as an everyday luxury, Golden Goose seemingly goes in the opposite direction and gives an offering of effortlessly styled sneakers.
Balenciaga Triple S. For so long that minimalism has been a shoe trend something emerged its opposite, which has been dubbed as the maximalist. It also goes by the name as the ugly or dad shoe trend. It was hard to imagine, but given that it's becoming adopted on the streets, more and more people appreciate its charm. The pure white sneakers mute down the intensity of the silhouette, making it a great pair to use when easing into the trend.
Gucci Ace. If there's any designer that perfectly illustrated that white sneaker serves as a good canvas, it is Gucci. This range comes in different designs, from embroidered to stitched designs. However, one thing is in common, all of which a perfectly stitched and crafted excellently on a premium white leather.
Noteworthy collaborations
Although white is the symbol of simplicity, it is fascinating how different brands and designers continue to come up with different silhouettes and designs using the color. Below are some of the most remarkable white sneakers that emerged from these partnerships.
Off-White x Nike. Designer Virgil Abloh shows that he should be taken seriously with his massive collection called "The Ten." This line features ten iconic silhouettes of Nike, Converse, and Jordan. Completed in just ten months, this partnership may have been the most ambitious and fastest partnership that Nike has completed. This collection is divided into two, REVEALING, featuring a hand-cut, open-source, and reconstructed elements, and GHOSTING, which furthers the idea of Revealing with translucent uppers. Majority of the sneakers included in the collection, albeit it also features a lot of transparent elements, also includes a lot of the color white.
Adidas x Run DMC. Every sneakerhead must know the story behind the shoe brand and the hip-hop group. Initially limiting to on-court purposes, the rap trio through their song "My Adidas," opened the shoe brand, specifically the basketball shoe Adidas Superstar to the hip-hop industry and later on as a shoe for everyday wear.
Adidas Yeezy Powerphase. Seemingly a Midas touch, the Kanye and Adidas collaboration, despite being probably the most different and most straightforward of all, is still something to watch out for. Using the silhouette of the 80s tennis sneaker called the Powerphase, Kanye put his stamp with the gold-foiled Calabasas on the quarter panel. The all-white colorway was the first released in the series followed by a re-release almost a week after.
Undefeated x Converse. One of the latest team-ups of UNDFTD and Converse is a white rendition of the famous One Star. It features a hairy suede upper which produces a charming texture to the shoe. Moreover, as the sneaker gets worn more often, more character is also embedded on the white sneakers.
The Kooples x Puma. The iconic Puma Clyde get a rock and roll twist with French fashion retailer The Kooples' collaboration. The popular low-top silhouette receives a premium leather update maintaining its minimalist style in an all-white upper.
James Harden x Adidas Y-3. Another reason to "fear the beard," James Harden proves that he is not only a star on-court but in the sneaker arena as well. Yohji Yamamoto, the person behind the Y-3 brand, captured the athlete's style and produced an avant-garde piece in all-white sneakers.
Film appearances
More than celebrity endorsements, movies are also a great platform to give media attention and appearance to an individual product subtly. These sneakers, over time, have become very iconic and significantly influenced the release of sales. Some of the most notable white sneakers that we've seen are as follows:
Air Jordan IV – Do the Right Thing
Nike Sky Force Hi – The Goonies
Nike Air Cortez – Forrest Gump
Reebok Stomper – Aliens
White Men Can't Jump – Nike Air Command Force
He Got Game – Air Jordan XIII
Adidas Zissou – The Life Aquatic
Frequently Asked Questions
When you're on the quest for finding your next pair of sneakers, it is only reasonable to have a few questions to ensure that you're getting the best value for your money. Here are some of the most commonly asked questions to help you with your next acquisition:
How do you keep your white sneakers pristine white?
If there's anything that most people don't like about white sneakers, it is the fact that it can be hard to maintain fresh and sparkly white, especially when worn for every day. However, it is not a hopeless case. Doing some of these steps on a regular basis can help in the long run to avoid the need for major cleaning sessions:
Protection is a must. It can be done when you get your fresh pair right off the box. For canvas and leather, spraying a stain and water repellant is needed. It is also important to note that spraying your sneakers regularly with this product is needed.
Spot-cleaning is the secret. Because dirt shows up easily on white, wiping stains and scuffs as soon as possible is necessary to not permeate the fabric or leather. Rubber can be treated with just a mild soap mixed with water and scrubbed with a small brush. This may seem a lot of extra work, but freshness also needs some extra effort.
The material of your white sneakers should be taken into account. For suede and canvas upper, it is crucial to remember to not scrub them too hard so as not to damage the material. Canvas sneakers should also not be placed on the washing machine as this can create the pesky yellow line in between that upper and outsole.
White sneakers should be treated like vampires. Store them indoors and away from direct sunlight.
How do you clean white casual sneakers?
One of the most horrific things that can be done on sneakers is to ruin it just because the cleaning product and process were not done correctly. Different materials need different cleaning materials. Here are some of the tips that may help you when you need to bring life back to your white sneakers:
For canvas uppers, users can enjoy doing a little bit of chemistry by mixing half part baking soda one fourth part water and one fourth part hydrogen peroxide. It will then form a paste that can be applied on a dusted off sneaker. Let the mixture sit until the solution hardens. Shake off the mixture and remove the excess with a crumpled paper towel.
For white sneakers made of leather, it is simple as brushing your teeth. White toothpaste and brush (a large one for the majority of the shoe and a toothbrush to get to the nook and crannies) can do the trick. Rinsing it with warm water can speed up the process or, for those that need extra exfoliation, adding sugar on the toothpaste will do wonders.
When cleaning your white sneakers, it is important to note that it is not all about the upper. The outsole is also an integral part, which you can clean with a Magic Eraser. The shoe laces, on the other hand, also need a soapy bath from time to time.
Should you splurge on white lifestyle shoes?
At the end of the day, it is all about one's preference and budget. Just like the flexibility of white sneakers regarding style, the price range also is the same. No name brands, or those who are not really in the sneaker industry entirely, also have vast offerings of white sneakers that are stylish and trendy. However, if budget is not much of an issue, white sneakers can be worth the splurge.
Since price doesn't always mean quality, it is still best to do your research when you're on the hunt for a fresh pair. Materials, quality, and if possible technology is some of the things that you can look at since those elements, more likely translate to comfort and durability. Obviously, style is also an integral consideration. Of course, ensuring that they can be worn with most items on your wardrobe will bring the most value out of your buck.
Are white casual kicks only a trend?
Looking through the history of sneakers, the use of white colorway is very much prevalent that it is actually hard to pinpoint and to dig deeper why it was proclaimed a trend when it could also be considered as a wardrobe staple. If the reference is the pattern of the history, then it can be safe to say that white can never be banished in the sneaker world. However, since fashion trends are unpredictable like the weather, then in the upcoming years, no one can actually know.
Can one wear white shoes on different occasions?
Of course! White sneakers are meant to be versatile, and its neutral colorway can be taken into an advantage to match different pairs of clothing. Here are different ways to style your white sneakers to match the different occasions you may need to attend to:
Casual – White sneakers serve as a great canvas when creating the outfit. Because it is meant for everyday wear, not overthinking about the whole ensemble is the best way to go. Also, if you are on the hunt for a white sneaker that can best be paired for casual wear, low-top constructions are the way to go.
Semi-formal or Business Casual – Albeit this can be a bit tricky as white sneakers really are used for casual sneakers, styling them properly can pull off the entirety of the outfit. Aside from properly hemmed trousers, a blazer can also tie everything together.
15 best white sneakers
Adidas Lacombe SPZL
Adidas Gazelle Leather
Adidas Handball Top
Lacoste Court-Master
Jordan Reveal
Supra Stacks II
Adidas Stan Smith Recon
Adidas EQT Support Ultra CNY
DC Syntax
Adidas Yung-1
Nike SB Air Max Bruin Vapor
Nike Air Force 1 UltraForce Mid
Adidas Cloudfoam Revival Mid
Puma Basket Classic Gum Deluxe
Adidas Forest Hills
This shoe has recently been added to RunRepeat. There are still not enough reviews for us to assign it a
CoreScore
.
CoreScore
A score from 1 to 100 that summarizes opinions from users and experts. The average CoreScore is 78.
More...