White Converse sneakers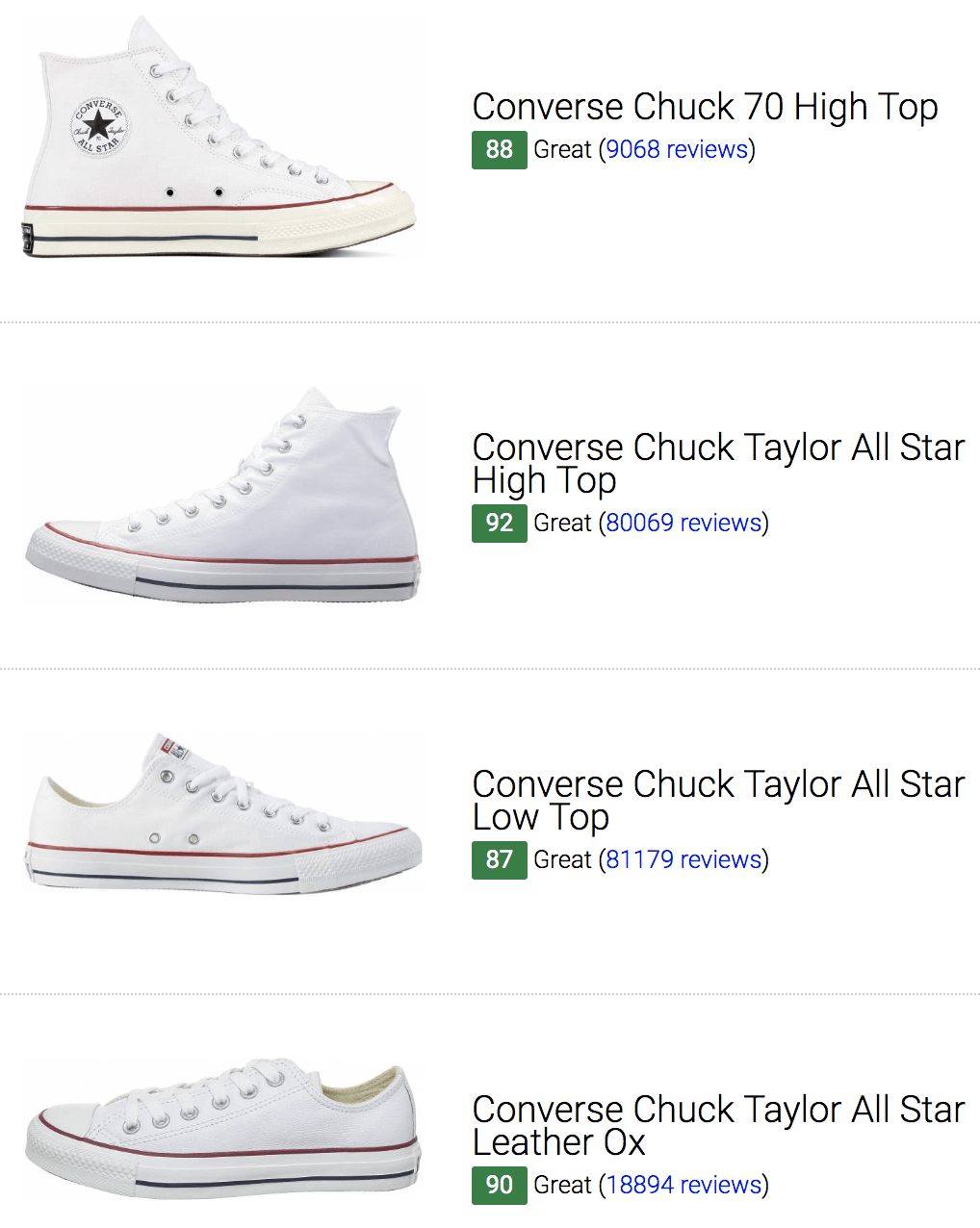 Undeniably, the Converse sneakers are among the iconic casual shoes that have survived many generations and still kicking strongly to this day. The Chuck Taylor All Star, One Star, and Jack Purcell are among the leading players under this star brand that continue to draw attention for their timeless vintage aesthetics.
The lead player among them is the Chuck Taylor All Star which was initially outfitted in natural, untreated canvas fabric. Eventually, the brand expanded into an array of styles and experimented on various upper materials such as leather, canvas, and suede using tons of different colors. These shades include white, black, cream, brown, purple, red, orange, yellow, pink, blue, green, gold, and silver.
The white Converse shoes are among the much-favored choices by sneaker fans to die-hard followers of the brand, including celebrities. The style versatility of these kicks made them easy to put on with a broad gamut of clothing from comfortable everyday wear to dressy ensembles, counting gowns and tailored-fitting suits into the pack.
Popular White Converse shoes according to material
Here's a rundown of some of the highly sought-after white Converse shoes, including their distinctive features, available sizing ranges, and corresponding price labels. This directory of white Converse kicks in low-top and high-top styles are divided according to different upper materials, specifically canvas, leather, and suede.
Canvas-made white Converse kicks
Converse Chuck Taylor All Star Core Ox
Still outlined like the classic basketball shoe, the Converse Chuck Taylor All Star Core Ox gets a fresh look with the use of hard-wearing canvas in light-toned shades like the Natural White and Optical White. Both basketball-inspired designs display the colored rubber fluting around the midsole traditionally seen in earlier versions of the low-top Chuck Taylor sneakers. This much-loved style is an ideal complement to many types of casual garb, from fitted to straight pants, from miniskirts to long dresses.
has textured toe bumper for added reinforcement
double stitching around the upper for durability
fully adjustable lace-up front with metal eyelets
canvas lining for all-day comfort
one of the lowest-priced Converse CT AS styles available at $50
Converse Chuck II Low Top
Some of the newer styles of Converse sneakers like the Chuck II Low Tops are infused with technologies crafted by Converse's parent company, Nike. The Lunarlon is one of those improvements that enhance cushioning to the customarily unlined vintage charmer. Other elements that set this revamped style apart from the standard Chuck Taylor All Stars are the addition of padding on the tongue and heel and the absence of the colored rubber strip around the midsole.
it comes with a traditional Converse gum bottom
it contains two sets of flat shoestrings in white and black
has a removable insole
has a microsuede lining for improved comfort
women's sizing is from 6 to 11 US; men's, 4 to 7.5 US
affordably priced at $70
Converse Chuck Taylor All Star Lift Canvas Low Top
Converse puts a drama to the timeless silhouette with the drop of the Converse Chuck Taylor All Star Lift Canvas Low Top. The same old Chuck is given an extra boost of height with the addition of a platform sole that weds with short skirts, skinny jeans, capris, and leggings.
the upper is made of breathable canvas
it has a fixed and lightly cushioned footbed
it comes in shades of Black/Garnet/White and White/Black/White
available at an affordable cost of $65
Converse Chuck Taylor All Star Low Top
Multipurpose and ever dependable are the core qualities of the Converse Chuck Taylor which is why it has been the sneaker of choice of people from varied walks of life, from average patrons to crazy high spenders. Though fashion evolves from time to time, the traditional unpadded canvas build of low-top Chucks with rubber toe cap merge well with any cut of jeans, pants, cargos, shorts, and casual skirts. Like the typical oxford cut, the Converse Chuck Taylor All Star Low Top partly runs large too.
the ventilation eyelets on the side allow heat to escape from inside
built to last a long time with its durable vulcanized sole
double stitching on the upper extends its lifespan
low-cut collar for enhanced foot motion
accessible in sizes 3 to 18 and 5 to 20 in men's and women's correspondingly
can be bought for a song at $50 a pair
Converse Chuck Taylor All Star Seasonal Colors Low Top
In spite of the change in trends season after season, the Converse All Star manages to slip into every period wearing the same timeless cut. Tweaked a bit with a splash of different limited-run fall colorways is the Converse Chuck Taylor All Star. From reflective covers like gold, gunmetal (silver), rose quartz (bronze), to flashy colors of hyper royal, blue hero, teal, pink, this model is outfitted with over a handful of light-toned uppers. Among the variety of soft tonal shades includes icy polar, grey, washed denim, purple, barely rose, and white which can be fused with skinny fit jeans, capris, jersey leggings, bib overalls, sweatpants, joggers, and even treggings.
has a foam sockliner for added cushioning
has a classic rubber outsole for enhanced grip
it comes with a breathable and hard-wearing canvas upper
runs quite larger than the standard size
can be grabbed in men's sizes from 3 to 15 US and 5 to 17 US in women's
obtainable at a wallet-friendly cost of $50
Converse El Distrito
The Converse El Distrito is a reformed version of the Converse One Star, an iconic skate shoe that got its street cred during the punk and grunge days. This updated cut is done with minimal styling, featuring the most recognizable Chevron logo. This low-top Converse casual shoe is durable and adored for its moderately padded tongue and collar and lightness.
reinforced by textured toe bumper
made of vulcanized sole
obtainable in men's sizes from 5 to 13 US and in medium width
its price comes dirt cheap at $55 a pair
Converse Chuck II High Top
High-top Converse Chucks haven't lost their charm to this day. Those vintage basketball shoes are redressed with sleeker styles like the Converse Chuck II High Top. This modified unisex shoe is wrapped with a chic and immaculate white poly-blend canvas. And created to keep you comfy all-day with its good mix of interior components comprising of a breathable laser-perforated suede liner, padded non-slip tongue, and cushiony Nike Lunarlon insole that can be replaced by custom orthotics.
It comes with a true-to-size fit
has a white midsole, doesn't have colored piping around the edge of the sole
air holes on the medial side provide extra ventilation
accessible in men's sizes from 3 to 11 US and women's sizes from 5 to 13 US
valued extremely inexpensive at $75
Converse Chuck Taylor All Star High Top
Undoubtedly, the Converse Chucks are the preferred go-to sneakers by millions worldwide. This canvas-made high-top retains the classic appeal of the iconic model though it has been revamped over and over applying different colors and prints. One of the variations of the revised Converse Chuck Taylor All Star High Top is an all-white cover that looks spick and span and a lot classier than the usual cream-based casing even when paired with ripped denim pants. Adding an authentic vintage vibe are the iconic logo patch on the lateral ankle and the shipshape diamond tread pattern on the flipside done in white.
uses durable canvas
unpadded but breathable upper
has a pliable vulcanized sole
sizes for men are from 7 to 15 US and for women, 5 to 18 US
downright affordable at $55 price tag
Converse Chuck Taylor All Star Core Hi
Another variation of the old-school Converse high-top is the Converse Chuck Taylor All Star Core Hi which is obtainable in Optical White and Natural White. The star logo on the ankle plus the red and blue rubber piping around the sole pop against this bright white Converse sneaker. This pair doesn't look scruffy at all even when mixed with ripped jeans. Its simple form also offers a smart casual look when tied with solid-tone pants, especially those that taper at the hem.
its collar rises above the ankle
no padding around the sidewalls
Optical White appears like snowy white
Natural White looks like pale yellow
has silver metal eyelets and flat white laces
has lightly-padded insole
sizes run from 3 to 17 US and 5 to 19 US for men's and women's
comes in a budget-friendly price point of $55
Converse Chuck Taylor All Star Floral Print High Top
Adding a burst of femininity to your usual casual wear is the Converse Chuck Taylor All Star Floral Print High-Top. The frill and fancy interpretations on the highly-celebrated canvas Chucks are Black/Pink Pop/White and White/Storm Pink/Black colorways. These ladylike motifs appear stunning when fused with plain colored bottoms like A-line minis, flared skirts, denim skirt, and leg-hugging pants.
has a roomy interior that grants sufficient space for thicker socks
has an OrthoLite sockliner that wicks moisture
can be seized in women's sizes from 5 to 11 US
obtainable at a dirt cheap price of $60
Off-White x Chuck Taylor All Star
The Chuck Taylor All Star x Virgil Abloh is a high-top Chucks that's fitting for the high street, which looks like a prototype pulled out from the design lab. With insights from Virgil Abloh, the old-school ball shoe is reconstructed into a fashionable, head-turning white Converse sneaker. This modernized kick sports a translucent upper and other unique detailing never before seen on the high-top Chucks.
has an icy blue translucent sole
red zip tie for added aesthetics
lateral side displays the "vulcanized" inscription
ankle patch is placed on the medial side
Chucks' birth details are on the medial side
reversed Converse All Star branding on the rear side
done in White/Cone-Ice Blue colorway
available in men's sizes from 3 to 18 US
slightly expensive at $140
Converse White Leather Shoes
Converse Chuck Taylor All Star Leather Ox
Converse kept the modest outline of its all-time favorite low-top classic but replaced the upper with a polished rawhide. The reinterpreted non-textile Converse Chuck Taylor All Star Leather Ox comes with a cushy inner sole and sturdy built that lasts for a practically protracted time.
This Converse leather sneaker in white offers a classy look that practically elevates any laidback jeans and shirt combo. One of the two white variants is covered in blinding white façade from the upper to the sole, while the other design has red and blue rubber piping around the midsole.
offered in monochromatic white
has silver-coated eyelets
has a brown rubber outsole with diamond tread pattern
colored piping around the midsole
downright practical at $60
sizes are from 5 to 14 US and 3 to 18 US in women's and men's respectively
Converse Chuck Taylor All Star Leather Low Top
The much-adored Converse Chuck Taylor gets a refined look with the drop of the low-top Converse Chuck Taylor All Star Leather. The use of leather on the cover gives you more reasons to love your Chucks as you can toss it with your casual garb on particular days you want to go extra stylish. These Converse leather sneakers in white are stunning even with tailored trousers and semi-formal skirts.
the leather body offers premium comfort
medial holes improve airflow
has a resilient and long-lasting vulcanized rubber sole
available in sizes 3 to 13 US for men's and 5 to 15 for women's
worth grabbing with its extremely cheap tag of $65
Converse Chuck Taylor All Star Leather High Top
The most loved old-school Converse sneaker is remastered using 100 % leather covering in all-white form. Specially appearing chicer and fab than the original profile is the Converse Chuck Taylor All Star Leather High Top complemented by a reinforced rubber toe cap and brushed metal eyelets. Its cultural legitimacy is marked by the star emblem affixed on the sides and labeling on the heel. The modified version puts a classy impression to mundane jeans and shirt combo and harmonizes well with a moto jacket.
metal rivets are attached to the air vents on the sides
retains the classic appeal of the textured toe bumper
covered in blinding white monochrome
sizes in men are from 3 to 13 US while for women are from 5 to 15 US
valued extremely inexpensive at $70
One Star Platform Patented 90s Leather Low Top
The retro Converse star gets a funky style with its reappearance in glossy leather, called the One Star Platform Patented 90s Low Top. The Vintage White variation is dressed with a colorless cover and sole. Even the labeling is done in white, save for two colored horizontal stitching on the heel. This stylish platform sneaker that's glaring and lustrous adds a refined guise when paired with slim-fitting, calf-length pants, above the knee skirts, and even sparkly shorts. You may also wed this with a long gown if you prefer to go unconventional.
the cover is made of synthetic patent leather
has a canvas-lined interior
has a fixed, and moderately cushioned footbed
has air vents on the medial sides
vulcanized rubber outsole
white Converse sneaker obtainable in women's sizes from 5 to 11 US
affordably valued at $85
Converse Suede Sneaker in White
Converse One Star Premium Suede Low Top
Converse injected the pronounced elements of skate shoes when it came up with the Converse One Star Suede Low Top. This fresh offering is wrapped in hairy suede with the distinct cut-out One Star emblem on the sides for that premium appearance and feel. Its cover isn't as buttery soft as the Converse One Star Premium Suede Ox but soft and flexible.
OrthoLite insole for plush comfort
classic diamond tread pattern offers good traction
hard-wearing cover for year-round use
the triple white variant has black piping around the sole
can be snagged in sizes from 5 to 15 US and 3 to 13 US in men's and women's respectively
a cheaply priced white Converse sneaker valued at $80
Frequently Asked Questions
1. How to get Converse canvas sneakers white again?
Unlace your sneakers and let it soak in a wash bin with a warm and soapy solution.
Using cold water, drench your soiled white canvas Converse kicks into a large container of water.
In a small basin, make a creamy paste by mixing two parts of baking soda and three parts vinegar. Another option is to combine an eco-friendly laundry detergent and water.
Gently scrub off dirt from the surface of the shoe using a brush or an old toothbrush and the homemade cleaning solution. Begin from the top part down to the sole.
Rinse, and then allow your white canvas Converse sneakers to air dry. The smell of the vinegar will fade away as you air dry your shoe.
2. Is it okay to bleach my white canvas Converse kicks?
Yes, you may turn your soiled Chucks into sparkly white sneakers using bleach as long as you dilute one part of such solution to five parts water. Gently scrub your shoes using a soft bristled brush and then rinse it off with lukewarm water.
You may also use lemon as a natural substitute to bleach. Slice it in half and rub heartily on your white Converse shoes to remove unwanted marks.
3. How do I clean my Converse white leather shoes?
Remove the shoelaces and soak into a bowl of warm water with an eco-friendly detergent.
Brush off excess dry dirt from the top part of your shoe down to the midsole.
Prepare another bowl of lukewarm water with mild detergent. Dip a soft damp cloth into the solution and gently rub on the surface of the shoe to remove stubborn dirt.
Remove suds using a soap-free damp cloth and allow it to air dry indoors at room temperature.
Avoid exposing your wet leather-made Converse white sneakers directly under the sunlight. Sunlight can damage and leave yellow marks on your white leather sneakers.
4. How to clean suede-covered white Converse shoes?
Suede is made of soft grain, and the best way to tidy up your white Converse shoes covered with this material is by using a suede brush, which you can usually purchase with a suede cleaning kit.
First off, make sure that your suede, white Converse kicks are dry. Gently brush off any top layer of dirt from the surface of your shoe using a suede brush.
Do not use water or spot clean your suede shoes to prevent discoloration and creation of water spots.
For tough stains, you may use specially formulated suede cleaners and follow the process on the product guide.
5. What are the styles of women's clothes that go fab with white Converse sneakers?
The classic Converse silhouette has a universal appeal which can be worn with casual garbs and elegant ensembles, and give you that classy look. Here's a quick style guide on what to wear with white Converse kicks.
Turn your everyday wear with a hint of refinement by pairing up your low-top white canvas-covered Converse kicks with ripped jeans and soft knitted tops. Or slip into those low-top white canvas, suede, or leather Chucks while kitted out in a boxy shirtdress, accentuated by a leather handbag.
For an added pizzazz and height, go bold with those platform Chucks by blending them with short skirts, capris, semi-sheer all-white short skirts, and leather tights. There are black and white Converse sneaker options which also offer a tasteful look. You may also throw on a lacy gown, body-skimming midi dress, or a statement jacket and get strapped with a high-top, leather-made white Converse sneakers yet still look fab during formal affairs.
6. How to style white Converse shoes with varied men's wear?
A set of denim shorts and white Converse shoes, whether in canvas or suede, are among the comfiest arrangements of everyday wear you can quickly put on with casual tees when going around the city. You can spruce up your usual casual garb by matching your white Converse shoes with printed tees, buttoned-up polo and pin-rolled pants.
For formal affairs like debuts and weddings, you can strap up a pair of all-white Converse shoes while matching them with straight pants and tailored suits. On those days you feel like going a bit preppy, you may fuse a patterned sweater over a neutral collared polo, tapered pants, and a pair of white leather Converse low-top or black and white Converse high-top sneakers.
7. Where to buy Converse white sneakers?
You may purchase Converse white sneakers through this website's partner retailers. Choose Sneaker from a variety of categories on RunRepeat's main page. Using the filters, choose the Converse brand and under the color options, select white. You may also tick on the boxes across the Converse Chuck Taylor All Star, Converse Chuck II, Converse One Star, and Converse Jack Purcell tabs under the Collection filter.
This website gives you an overview of the pros and cons of various white Converse kicks, details about the fit and sizing, and other pertinent information.
8. How do white Converse sneakers fit?
Generally, white Converse lifestyle sneakers tend to run larger than one's standard sizing. The Converse Chuck Taylor All Star variations are presented in unisex sizing. This means there are specific men's and women's sizes for each style. For the Converse CT AS, it is advisable to obtain a whole size smaller, but if you prefer a wiggle room on the toe area, you might opt for a half size smaller instead. Meanwhile, the Converse Jack Purcell styles run true to your typical shoe size.
9. What are the all-white Converse shoe variations?
Here are some of the all-white Converse shoe selections made of premium leather, mesh and suede, tumbled leather, and patent leather uppers:
Converse Chuck Taylor All Star Leather Ox, $60
Converse Jack Purcell Tumbled Leather, $70
Converse Chuck Taylor All Star Leather High Top, $70
Converse Run Star Translucent, $90
One Star Platform Patented 90s Leather Low Top Vintage, $85 (patent leather)
10. What are the black and white Converse lifestyle kicks available in the market?
Converse El Distrito, $55
Converse Chuck Taylor All Star Polka Dots Low Top (black/white/fresh yellow), $65
Converse Chuck Taylor All Star Polka Dots High Top (white/black/illusion green), $75
Converse Chuck II High Top, $75
Converse Chuck 70 Low Top (white and black), $80
Converse Chuck 70 High Top (white and black), $85
Converse Chuck Taylor All Star Lift Low Top (white/black/white), $85
11. What are the cheapest white Converse shoes I can buy?
White Converse sneakers are mostly priced affordably, below $90. Here's a lowdown of some of the most budget-friendly offerings of the brand, retailed below $60.
Converse Chuck Taylor All Star Low Top, $50
Converse Chuck Taylor All Star Seasonal Colors Low Top, $50
Converse Chuck Taylor All Star Core Ox, $50
Converse Chuck Taylor All Star Core Hi, $55
Converse Chuck Taylor All Star High Top, $55
Converse El Distrito, $55
Converse Chuck Taylor All Star Seasonal Ox, $55
12. Are there any white Converse sneaker variations printed with fresh and hip designs?
Converse x Hello Kitty Chuck Taylor All Star Canvas Low Top, $65
Comme des Garcons PLAY x Converse Chuck Taylor All Star 70s Low Top, $135
10 best white Converse sneakers
Converse Chuck Taylor All Star Leather High Top
Converse Chuck Taylor All Star Leather Low Top
Converse Chuck Taylor All Star High Top
Converse El Distrito
Converse Chuck Taylor All Star Leather Ox
Converse Chuck II High Top
Converse Chuck 70 High Top
Converse Chuck Taylor All Star Seasonal Colors Low Top
Converse Chuck Taylor All Star Low Top
Converse One Star CC Low Slip-On
This shoe has recently been added to RunRepeat. There are still not enough reviews for us to assign it a
CoreScore
.
CoreScore
A score from 1 to 100 that summarizes opinions from users and experts. The average CoreScore is 78.
More...