30 best water repellent running shoes
Updated July 2018
Based on 2,287 reviews
Loading please wait...
What's in a name?
Technically, a water resistant running shoe includes both waterproof and water repellent versions. As they both deliver water protection to a certain level, the "resistant" tag is quite apt.
However, most runners put water resistant and water repellent running shoes in the same category, while the waterproof version is a step above in keeping the foot dry.
What is a water repellent shoe?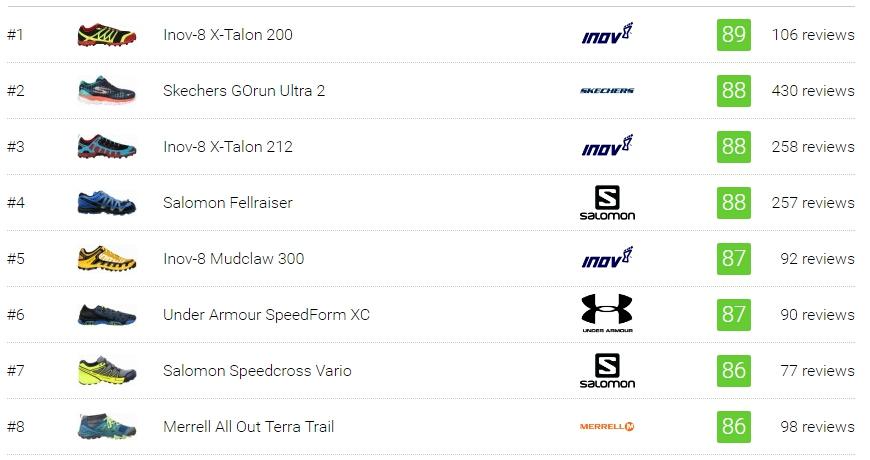 A shoe that is generally coated with a water resistant compound helps keep off the water. It is effective against light drizzle or dampness.
Unlike other types of shoes, the water repellent coating is permanent. You do not have to purchase a separate product and cover the shoe with this kind of water protection.
The coating technology, more often than not, simultaneously suffer wear and tear together with the upper.
What is the difference between a waterproof and a water repellent running shoe?
The difference is in how comprehensive the water protection is. Waterproof shoes provide more protection and water-sealing environment than the latter.
Unless the water passes through the socks during heavy rains or when the runner must navigate through a knee-deep pond, runners are kept reasonably dry in waterproof shoes.
Wintry conditions are also a strong point for the complete protection of waterproof shoes.
There are also varying methods in coming up with this difference. In a waterproof shoe, the interior or exterior is covered with a waterproofing membrane, whereas the water resistant version uses a special material to coat the shoe.
Generally, the latter is also more breathable because it is merely coated on the shoe as opposed to the glued on waterproofing membrane.
Which of the two is better?
Choosing one over the other is a matter of preference and need. It's almost like choosing coffee over tea.
If you usually run in areas where significant rain normally happens, the wiser choice would be the waterproof version. Running in slight dampness or rain is usually enough for a water repellent model.
Do they have the same price range?
There are several factors involved when it comes to price. However, generally, the coated water protection is less expensive.
The technology and design also point to a lesser cost in material for water repellent running shoes. Therefore, it is normally the more affordable of the two.
What are the benefits of a water repellent shoe?
There is almost no difference when it comes to price in a standard shoe and a shoe with water resistant features. At basically the same price, you get enhanced protection during inclement weather.
Breathability is about as good as a traditional upper despite the improved water protection. While water protection is better than a regular shoe, the foot continues to be warm and dry.
It has usually more flexibility than a waterproof shoe as there is no added material that affects the upper structure.
It is typically lighter than waterproof shoes.
As there is no total protection against rain, moderate water protection is there for the taking without the added cost or compromise in breathability, weight, or flexibility.
How to know if a running shoe has water repellent technology?
Waterproof shoes customarily carry the waterproofing technology as part of its name. Two of the most popular technologies, Gore-tex and Polartec, are commonly found in the names of shoes.
Water resistant capability is mentioned as part of the features. A quick read of the shoe's features will show this information.
A little online search or a polite inquiry from local stores would readily provide this information as well. Across all brands, this feature is prominently included in marketing campaigns.
Are they easy to find?
Although they are not as abundant as waterproof shoes, there are more than sufficient options for all types of runners. Most of the major brands offer this type of shoe.
The list of shoes found in this ranking is proof enough of the assortment of choices for everyone.
What other things to consider when buying a water repellent running shoe?
Comfort is a foremost consideration when looking for any kind of shoe. It matters little how dry the foot is if the ride is uncomfortable.
The number of options should allow you to have a water resistant feature with oodles of comfort. Almost all brands have this technology so trying on different shoes is sensible.
The terrain is another important factor. If you primarily run on the trails, a trail shoe makes sense. A good number of water resistant running shoes are built for the outdoors.
There is also logic in looking for shoes with good enough traction, considering that the intended use is for inclement weather. Whether it is for the road or the trail, the alternatives are available.
Luckily, the price of this kind of shoe is quite affordable. Looking for one that fits the budget and works as designed should be within reach.
This shoe has recently been added to RunRepeat. There are still not enough reviews for us to assign it a
Corescore
.
Corescore
A score from 1 to 100 that summarizes opinions from users and experts. The average Corescore is 78.
More...