8 best Vibram FiveFingers running shoes
Based on 2,160 reviews - Updated Sep 2018
FiveFingers has progressed as a brand under the Vibram company due to the popularity of barefoot running. The brand is globally – recognized for its minimalist shoe collections, which is not only limited to running. The men's and women's athletic footwear can also be worn for outdoor activities like camping, hiking, kayaking, sailing and canoeing among others. The brand features natural alternatives that replicate the barefoot experience, but with adequate protection and comfort to minimize shock forces and prevents injuries from debris. FiveFingers running shoes with great reviews and high ratings include Vibram FiveFingers Bikila, Vibram FiveFingers KMD Sport and Vibram FiveFingers KSO EVO.
Vibram FiveFingers Running Shoes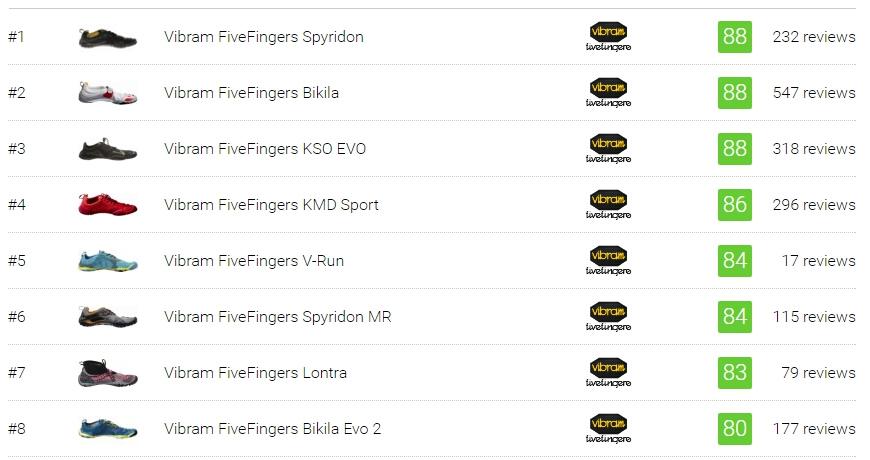 Professional athletes, as well as minimalist running enthusiasts, keep an eye on their favorite FiveFingers running shoes as they get updated with new technologies and technical features. With the help of running experts, FiveFingers was able to ensure better performance and comfort without adding too much between the foot and the ground. The basic shoe structure of every pair is designed to mimic the motion of the foot and improve its natural range dynamics. The materials, sizing and styles of FiveFingers running shoes are frequently enhanced to keep the runner on top shape on the track or trail.
With over 100, 000 reviews and top ratings, Vibram FiveFingers shoes continue to dominate the barefoot category for track and trail running. Equipped with the latest innovations for performance footwear, the brand readily takes on product challenges to enthuse the active community. Read about the reasons why advanced runners and seasoned trekkers should give a pair of Vibram FiveFingers a chance.
How can runners beat competition with the best Vibram FiveFingers shoes?
If you wish to participate in the trend of natural running, choosing a good pair of minimal and low drop platforms should be on top of your list. Vibram FiveFingers low drop shoes and Vibram FiveFingers minimalist shoes are suited for barefoot-like running, so prepare to go low and minimal with them.
Runners who are into racing should invest in race-specific shoes. Vibram FiveFingers race shoes have the right features to help runners improve their speed and performance in track or trail racing.
Neutral pronators and under pronators (supinators) will get a mix of shock attenuation, flexibility and comfort in Vibram FiveFingers neutral shoes. If you need better stability and arch structure, there are Vibram FiveFingers stability shoes and Vibram FiveFingers motion control shoes to decelerate pronation and keep you comfortable in every step.
A responsive and stable run on the road is possible with Vibram FiveFingers' best road shoes. However, if you are more into trail running, there are Vibram FiveFingers trail shoes that will suit your needs in terms of sole protection, comfort and traction on rugged terrain.
Why are Vibram FiveFingers running shoes worth the closet space?
Shoe technologies. Since Vibram is one of the most recognized shoe technology brands, there is a certain pressure for the FiveFingers team to incorporate top-notch technologies into their range of performance footwear. Runners will not be disappointed in the technical construction of each pair, which may be built with the following technologies: Tri-Layer Stretch Mesh, Vibram ICETREK compound, EVA midsole, Vibram TC-1 Dura, Micropile Fleece, Laminated Stretch Mesh, Coconut Active Carbon Fiber and TPU Toe Protection.
Pricing. Vibram is known for their range of outsole technologies that are being used by other shoe brands. But the technologies in FiveFingers models are also top-notch, so an expensive price tag is expected in every pair. Casual trail runners might want something less technical than FiveFingers shoes, especially if they do not run on trails often. A pair that costs $100-$170 might not be a great investment if it is not being used often. On the other hand, professional athletes who want to improve their trail performance without losing speed, protective and ground contact will love the best Vibram FiveFingers shoes.
Popularity. The FiveFingers brand is owned by the Vibram company, but it flourished as one of the running brands for trail running. Despite its limited footwear range, it was able to build a reputation in the active community, most especially among adventure racers and trekkers. Their best barefoot shoes are their most wanted products, but running authorities, like Outside Magazine and Runner's World, also honored them for various reasons. Some of the awards they collected include "Best Minimalist Shoes", "Product of the Year" and "Brand of the Year".
This shoe has recently been added to RunRepeat. There are still not enough reviews for us to assign it a
Corescore
.
Corescore
A score from 1 to 100 that summarizes opinions from users and experts. The average Corescore is 78.
More...