Vans Old Skool Sneakers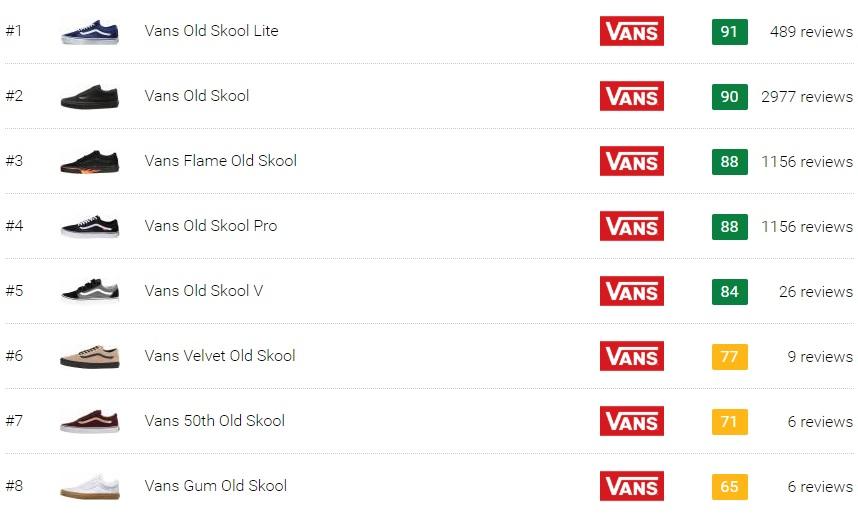 When society-movers spurt out the words "School is cool," they were probably talking about that lame-ass mandatory curriculum hindering juvenile potential. Despite its heavy connotation, the cheekiness of the word "school" was best manifested by a laid-back brand hard-patching Sidestripes along its panels which, ladies and gentlemen, turns out to be the one and only Vans Old Skool sneakers. Not that being knowledgeable isn't hip, it's just that strapping down a pair of these Old Skools are more "Instagram-worthy" nowadays.
Since it was introduced during the 70s era, the Old Skool remained relatively relevant for the utility-starved public. With the rise of retro designs in the more recent years, Vans Old Skool shoes saw a new opportunity to reign again in the lifestyle ethos, instead of getting beat down by skaters to a pulp. For the less-knowledgeable portion of the sneaker society, an in-depth discussion of what Vans Old Skool sneakers are can be found below.
Breaking down the Old Skool:
The first question penetrating the puny mind of an anti-sneaker-hyped person would be: How come the Old Skool remained a go-to silhouette throughout the years? Simple, really. And yes, the answer is that it is simple. And don't forget classy.
The long upheld skate shoe had withstood various fashion trends for its primary utilitarian function that encompasses all platforms of design from casual trousers to the more sophisticated suit and tie. The Vans Old Skool sneakers' style lays low to the ground like an everyday deck shoe which was already proven to be functional a century ago.
The archetypal sneaker
This premise of being a classic icon made Vans Old Skool sneakers somewhat appealing not only to the now aging baby boomers but also to millennials and Generation Z teens. All subsets of people from different categories developed a knack for the vulcanized masterpiece due to its easily-improvised construction. Heck, even basketball superstars like Jordan Clarkson wants a huge chunk of the Old Skool action.
Old meets new
By staying loyal to their legacy, Vans inexplicably established a lifestyle brand that is well-appreciated by many consumers who advocates a long-lived history behind every iteration. Adding to that rich background story is the Old Skool's desire to understand the younger generations needs for design. Creating the perfect concoction of classic aesthetic and modern congruity entitles Vans Old Skool shoes the right for limelight passage.
Appearing in multiple versions, the initially named Style #36 shoe can be seen in numerous color options including black, white, silver, brown, yellow, green, red, blue, taupe, grey, pink, orange, and many more.
Fit & Sizing of Vans Old Skool Shoes
One of the prime reasons why Vans Old Skool sneakers stayed in tune with the casual norm is because of its true to size fit. As with many comments and suggestions from reviewers, Vans Old Skool shoes follow the standard sizing of most human being's feet. Some of these versions are the Old Skool Lite, Primary Check Old Skool, Leopard Old Skool, Mix Old Skool, and the Gum Old Skool.
On a different note, the Pro models of Vans shoes exhibit a more compact structure as compared to their core models. The Vans Old Skool Pro should be purchased half a size higher than the generally released edition because of its skate-bound properties which add more all-around protection on foot.
The decades of Old Skool's existence also opened up to possibilities of revamping its lockdown system. Examples like the Vans Old Skool V and Vans Old Skool V Pro are enclosed by straps instead of the traditional laces.
How much does these Old Skools Cost?
For the longest time, Vans Old Skool sneakers maintained its impressive feat of staying achievable when it comes to cost. Ranging from $60-$85, Vans Old Skool sneakers, in general, have a reasonable price considering its aesthetic and functional value.
Old Skools in the form of platforms for women is also surprisingly priced in the same range even though they contain a bit more material. Coveted designs like the Mix Checker Old Skool and Leopard Old Skool fall on a comfortable figure given that they exhibit more flair than common Old Skool versions.
Nevertheless, Vans Old Skool shoes cannot escape the same contagious pandemonium infecting the sneakerhead pantheon of current years. Collaborations with Vans Old Skool sneakers add an extra monetary cherry on top resulting with higher priced silhouettes like the Vans x Wolfgang Old Skool which values around $390. Another extremist is the 1996 Supreme x Vans Old Skool partnership which costs thirty times more on the resale market than the actual retail price.
Prominent iterations of the Old Skool
Strolling physical stores for Vans Old Skool sneakers is easy as picking for dandelions. The iconic Jazz Stripe would be quick to spot from a stone's throw away giving the Old Skool a distinctive emblem. Below are some of the Vans Old Skool sneakers circulating the market.
Vans Old Skool
Being born in the 70's gifts any kind of apparel the opportunity to traverse fashion cycles if it stays relevant up to the present day. Vans Old Skool sneakers did that and are now acquiring more and more fans from all ages.
Aside from the very optimistic appeal of Vans Old Skool sneakers, people had always rooted for it because of its somewhat durable construction.
The memorable Side Stripe doubles as a protective overlay for the more adventurous skaters and hard-walking users.
For $60 a pop, no one can go wrong with a bunch of these.
It was alternatively named as the Style 36.
The original assembly of the leather toe and heel caps have been consistently revamped through the years including different materials from suede to canvas.
Fun Fact: The Side Stripe was initially coined the Jazz Stripe.
Another notable colorway of the sneaker was the Vans Suede Old Skool which is equally loved by many.
Vans Old Skool Lite
As material ingenuity continue to progress, more and more options for varying the form of Vans Old Skool sneakers are laid to the table. One of these enhancements includes a component to decrease its weight to make it more flexible and cozy.
The takeaway feature for the Old Skool Lite can be found on its sole which fuses the midsole and outsole to decrease the overall weight.
It is powered by the UltraCush™ Lite technology via the insole and outsole.
To obtain the standardized fit, Vans used an Actionfit™ last that imitates the feel of running shoes.
The sneaker was first witnessed in 2015.
Vans Metallic Old Skool
Unisex sizing was not always the case for Vans Old Skool shoes. As their community expands, it would definitely include versions for the female foot conformity. Of course, when talking about feminine things, spangling accents and glittering elements would always be involved.
Remarkably, the Metallic Old Skool is available not only for women but also for men.
This sneaker usually comes in leather uppers with differing designs ranging from Leopard to Muted Metallic.
It also came in a customizable feature where users can pick what metallic style they desire.
Other editions emblazoning the Metallic form are Metallic Snake, Metallic Sidewall, and Metallic Silver.
Vans Jersey Old Skool
Giving in to the rebel side of things is the Vans Jersey Old Skool which improves the already versatile aesthetic of the Old Skool plus enhancing durability as well. The hip and classy sneaker is indeed a testament to Vans' commitment to providing stylish designs.
This version of Vans Old Skool sneakers is embellished with tightly-patterned vertical giving dimension to the overall projection of the silhouette.
Appearing in a blue & white colorway, the sneaker resembles the look of corduroy apparel with a hint of denim hues.
It is constructed with canvas and suede uppers.
Vans Diy Old Skool
When it says D-I-Y most consumers would probably mistake the Vans Diy Old Skool with the one containing separate parts where they can assemble it themselves. The sneaker being pertained here serves as a homage to that paste-on style.
The Vans Diy Old Skool was initially released in 2017.
It comes in a facade containing doodles of "love your stripes" and other like "off the wall" with a signature checkerboard pattern drawn on the midsole.
For a $60 shoe, the Diy Old Skool seem cheap considering its radical design.
It also continues the tradition of Vans Old Skool shoes with a suede heel and toe patch.
A prequel of the D-I-Y Old Skool series contains an embroidered rose patch on which is attached by the buyers.
Vans Old Skool V
Whoever said that hook and loop enclosures are for kids only? The Vans Old Skool V tells otherwise.
Aside from the convenient hook-and-loop lockdown, the sneaker also maintains its durability along the suede heel and toe overlays.
The sneaker comes in unisex sizing which also caters kid's sizes.
Different versions of the Old Skool V have been observed through the years with varying colors of velvet, True White, orange, black, and many others.
A Pro version of the shoe was also released exhibiting more durable elements.
Vans US Open Old Skool
The now renowned board-sport that rolls on the streets were widely known to be hailing from surfing in ancient times. It is a good thing Vans takes a nod to the phenomenon that started it all by introducing silhouettes for the US Open Surfing Competition.
The US Open collection is an annual thing for Vans which includes different iterations from Slip-Ons to Vans Old Skool sneakers.
There was not much of a difference between the 2016 and the 2018 edition except that the latter contains Vans branding within checkerboard boxes.
With Navy suede toe boxes along with the heel counter, the sneaker comes in full-packed details of checkerboard panels with white Side Stripes.
Iconic Old Skool Shoes Collaborations
Mystifying the world with its all-around brilliance, Vans Old Skool sneakers keep up with the sneakerhead trend by inducting epochal names in the fashion hullabaloo. Doing these so-called partnerships enables the brands to hit two birds with one stone both on aesthetic and advertisement aspects.
Supreme
Supreme has been with us through thick and thin with the former meaning their exasperating camp-outs and whatnot which fans sarcastically love to do. But aside from its hyped up antics, Supreme never failed to deliver a prime quality product that could be adored for ages to come.
Supreme x Vans Old Skool
Partnering with Supreme in 1996 triggered a spontaneous combusting event where the other shops tend to imitate. This first iteration from an almost infinite series of collabs showcases a camo-drenched upper in a muted colorway.
Supreme x Vans Old Skool Camo
Supreme brings back the camo pattern into their 2015 merger with Vans Old Skool shoes. The upper consists of a black canvas splattered with either blue, orange, or green camouflage prints that completely reestablish the 1996 look.
Supreme x Andres Serrano x Vans Old Skool Pro "Blood and Semen II"
Controversial artist Andres Serrano becomes the artist to spark the talk-of-the-town Old Skool colorway called Blood and Semen. The sneaker takes a portion of the said painting and fixates it into it panels for an added blasphemous flair.
Supreme x Vans Old Skool (2015)
The 2015 mash-up between two longtime buddies was dubbed as the most simplistic Supreme collaboration among all Vans Old Skool sneakers. The silhouette resolves its image by going tonal with sleek criss-cross perforations on its side panels.
BILLY'S
The Japan-based retail store launches several sneaker brands including Nike, Converse, Saucony, Sperry, and their cream of the crop--Vans. Old Skool sneakers would undoubtedly hog a good portion of the attention especially one coming from an outdoor gear distributor.
BILLY'S x Vans Old Skool Asymmetry
With a strong inclination for the velvet material, BILLY's includes it again into another set of Vans Old Skool shoes along the heel and toe of the Asymmetry edition. The side panels of these Vans Old Skool sneakers display two different types of designs with one in checkerboard and the other in tonal colors.
BILLY'S x Vans Old Skool Band Slip-On
BILLY's reimagined the Old Skool's timeless construction and made into a slip-on dubbed as the Old Skool Band. For its lockdown, an elastic band on the vamp secures the foot even though the eyelets are still functional. The model honors the Sapporo store's one-year anniversary while the shoe is available in all Japanese BILLY's outlets.
Comic Icons
Ensuring its rightful place in the trending page of society includes an addendum of famous 2D icons. Each comical universe has a different cult following which when put into sneakers delivers a copious amount of revenue.
Marvel x Vans Old Skool
Giving the nod to the most awaited third installment of the Avengers franchise, the Marvel x Vans Old Skool glorifies its overall look with a hint of the four original members namely Hulk, Thor, Iron Man, and Captain America. It was launched at the same time as the Infinity War hit the box office and Vans Old Skool sneaker fans were dying to cop a pair.
Peanuts x Vans Old Skool
Peanuts have been the go-to concept of Vans Old Skool sneakers for quite some time now and would seem to have developed a knack for it. Appearing in multiple colorways, the Peanuts x Vans Old Skool comes in various Peanuts-inspired designs of yellow or black with some occurrences of white.
Concepts
From going full-on skateboarding to collaborating, Concepts grew from one humble skate store to a formidable retail giant with various partnerships lined up along those who cater globally. Nike, Adidas, and Vans were one of the few that had attracted Deon Point's creative input which continues to flourish month after month.
Concepts x Vans Old Skool "Forty Deuce"
Galvanized by the Times Square movement during the 70s, these Vans Old Skool sneakers exhibit details hailing from NYC's 42nd street hence the name. The sneaker is drenched in black cracked leather and bleached denim with a debossed Concepts logo on the heel tab.
Concepts x Vans Old Skool "Jamaica"
Subliminally dropping on April 20, these Vans Old Skool shoes in partnership with Concepts 2017 were luscious in green. The herbalific design idea comes in three colorways of orange, cream, and of course, green.
430
It seems like the land of the rising sun developed a niche for Vans Old Skool sneakers and stopping now after garnering such momentum would be pointless. By tapping lifestyle apparel stores to Japanese BMX labels like 430, Vans Old Skool sneakers keep the casual community intact.
430 x Vans Old Skool "Blue Suede Shoes"
Elvis Presley surely would be proud of Vans for bringing back his popular Blue Suede Shoes song back into the current media. These tonal Vans Old Skool sneakers come in a complementing white midsole with the whole upper tinted in blue suede including the Side Stripe.
430 x Vans Old Skool "Double Decade"
Honoring their establishment year, 430 includes Vans Old Skool sneakers to their coveted line-up of apparel drenched in black. The 430 x Vans Old Skool "Double Decade" comes in tonal forms with a little dash of checkerboard details in the tongue and at the insole. Another eye-catching feature is the "fourthirty" branding along the laces.
Vans ATCQ Old Skool
The 2018 collaboration between ATCQ x Vans keeps the hip-hop tradition alive. The collection also includes other Vans iterations like the Sk8-Hi, Slip-On, Era, Authentic, and the UltraRange.
The Vans Old Skool sneakers that come in this package showcase a printed upper inspired from A Tribe Called Quest's album art catalog.
The colorful lettering on the laces coincides with the red-green-black zebra prints on the sneaker's side panels.
The toe caps are re-enforced to withstand repeated wear.
The design concept done on these Vans Old Skool shoes were pulled out from The Anthology album artwork.
Size? x Vans Old Skool "Factory Floor"
Trying to keep up with the exclusivity trend, size? and Vans collaborates again for the third time in 2018 to release a Patchwork kind of a shoe in a platoon of details.
Fifteen different materials are utilized to assemble the sneaker which resembles scraps and off-cuts from factory floors.
These Vans Old Skool sneakers were made in a limited number of 600 pairs.
It was released on April 13, 2018, and retails around $100.
Vans MLB Old Skool
Never has been a crossover between two platforms more promising than Major league Baseball and Vans. The skate-centric streetwear takes a colossal nod to their outfield sports counterpart by donning the Vans MLB Old Skool.
As part of the Vans X MLB collection, the Vans Old Skool sneakers take the different team logos to the next level along the uppers.
The shoe was constructed with the traditional Old Skool materials of canvas and suede.
The MLB collection also includes different Vans shoes as well as different League teams from Red Sox to the Giants.
Mindseeker x Vans Old Skool
The rookie brand from 2016 destroyed the notion of being new to the apparel game by introducing controversial collections that infuses rebel concepts in lifestyle wear. Vans Old Skool sneakers became a part of its movement which indeed did not disappoint.
The mindseeker x Vans Old Skool collab was released on October 2, 2017, just in time to spook the hell out of trick-or-treaters.
The mindseeker emblem is brilliantly stitched at the heel with accompanying blue lightning bolts along the panels.
The sneaker also stayed true to the checkerboard pattern which can be seen in the midsole and laces.
To complete the jolting look, yellow accents are embellished along the interiors as well as the iconic Side Stripe.
Vans x RAINS Old Skool Lite
The rain-experts from Denmark had included Vans Old Skool sneakers to their waterproofed line-up via the Vans x RAINS Old Skool Lite.
Three models were given the RAINS concept design including the Old Skool, Slip-On, and Sk8-Hi.
The Old Skool Lite glows in olive accents on top of the suede materials with a brushed-up feel on the heel and toe caps.
The sneaker, which was inspired by Copenhagen, was released in March of 2018.
Coutie x Vans Old Skool
The German outfitter had been releasing finite amounts of these Old Skools in batches honoring a particular ideology. Vans Old Skool sneakers became the medium of conveying their message to the public.
Different phrases are etched on these custom Vans Old Skool sneakers, and each one delivers a unique scenario.
Some of these collections include the Post Mortem, Human Error, One World, Control is an Illusion, and Connect with the World.
As with the sneaker's other iterations, these Vans Old Skool shoes are also available in minimum numbers.
Self-designed stand-outs
Vans Gum Block Old Skool
Vans had conjoined two prestigious sole elements into one heck of a skate shoe via the Vans Gum Block Old Skool. Completing the look is a checkerboard panel alongside two black suede caps on the heel and toe with a white leather Side Stripe.
Vans Flame Wall Old Skool
Going full black keeps the sleek facade of Vans Old Skool sneakers on point especially when introducing "fire" elements on its sides. The Vans Flame Wall Old Skool is a sequel to the widely used flame design accents which was released in April 2018.
Vans Yacht Club Old Skool
2018 was a promising year for Vans Old Skool sneakers which includes timeless colorways to be remembered for ages to come. Emerging from this sea of marvelous Old Skool colorways is the Yacht Club which color blocks the iconic shoe in red, green, yellow, and blue pigments.
Vans Made For The Makers Old Skool UC
Revamping the Old Skool into footwear designed for the hard-working community was one of the boldest moves that Vans had in store for their tight audience. The Vans Made For The Makers Old Skool UC has a velvety texture made from black suede and canvas materials contrasted by a lugged outsole.
FAQS
How much are Vans Old Skool sneakers?
As discussed earlier, Vans Old Skool sneakers are priced around $60-$85 depending on the material and construction of the shoe. Most outlets also feature the Old Skools on sale thus decreasing the cost to $30-$50.
How do you style Vans Old Skool shoes?
Depending on the occasion and the preferred situation, Vans Old Skool sneakers can be styled accordingly with ease. One can go for a laid-back look by dressing up in a sweater, tees, and denim jeans while buttoned down collared shirts uplift the casual image. For a more thrasher-looking style, oversized shirts with distressed jeans should do the trick.
Vans Old Skool sneakers is a relaxed silhouette to partner with thus going for any style like shorts or khakis can blend in as well. Usually, plain white tees or minimalistic color-blocked plain shirts go along with caps. These Vans Old Skool sneakers can also be used to tone down formal wear.
Are Old Skools unisex?
Not only does the shoe come in a unisex style but it is also widely produced in a gender-neutral range starting from boy's 3.5 to men's 16. Women are advised to go down one and a half sizes from the boys to obtain the right fit.
How do you clean black Old Skool shoes?
First off, stroke the suede portion with a soft-bristled brush or an old toothbrush. Afterward, scrub the rest of the shoe with warm soapy water. Let the sneakers dry via air cooling because heat might decrease the color of the shoe.
What are Vans Old Skool sneakers made of?
The standard construction of Vans Old Skool sneakers consists of canvas panels with suede caps on the toe and heel. The Side Stripe is usually composed of a leather material contrasting the color of the overall shoe. Depending on the colorway, the interior can be made from textile or soft leather. Lastly, the classic waffle sole is fixated by a vulcanized midsole construction.
How do I know if my Old Skools are legit?
There are several factors to consider the authenticity of Vans Old Skool sneakers starting with the box that came with it. Vans sneakers are usually packaged in a red or black printed box with a barcode sticker identifying the serial and model number. The standard procedure in determining if the pair is legit is by looking at the tags found inside the shoe and matching them. Both of these shoes should contain the same number and features.
When did the first Vans Old Skool come out?
The original Old Skool model was released in 1977 and was formerly dubbed as the Style 36.
How to break-in Vans Old Skool sneakers?
Doubling up thick socks while moving the feet would most likely give out an adjusted interior. Blowing heated air could also do the trick but remember to focus it in a comfortable distance so that sensitive shoe components like glue and textile should not be harmed.
How long do Vans Old Skool shoes last?
Wearing them for casual use could usually last for 1-3 years on average. Skating on them is a different thing which heightens its wear and tears exponentially.
14 best Vans Old Skool sneakers
Vans Primary Check Old Skool
Vans Pop Camo Old Skool
Vans Skulls Old Skool
Vans Old Skool Lite
Vans Jersey Old Skool
Vans Old Skool V
Vans Old Skool Platform
Vans 50th Old Skool
Vans Old Skool
Vans Pig Suede Old Skool
Vans Gum Old Skool
Disney x Vans Old Skool
Vans Old Skool Pro
Vans Velvet Old Skool
This shoe has recently been added to RunRepeat. There are still not enough reviews for us to assign it a
CoreScore
.
CoreScore
A score from 1 to 100 that summarizes opinions from users and experts. The average CoreScore is 78.
More...