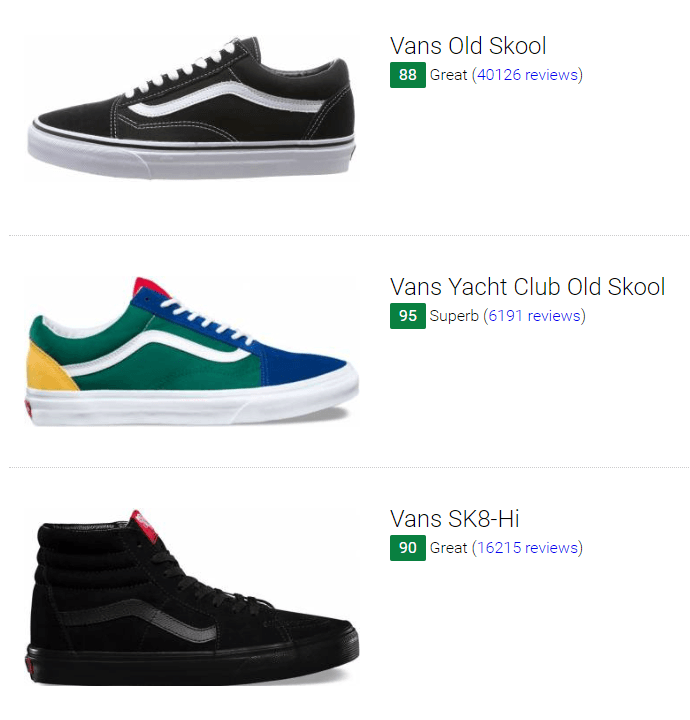 Best Vans Cheap Sneakers - August 2019
Sneakerhead or not, we can't deny the fact that casual sneakers are a must in anyone's wardrobe, whatever the lifestyle, gender, and race you're classified in. Though lifestyle shoes are overtaken by the large footwear companies like Nike and Adidas, we can't deny that it also holds a place to other brands like Vans.
What's so great about Vans?
Unlike the giants that came from a history of running and basketball, Vans' roots can be traced from an extreme sport, skateboarding. Even though this is already enough to single out the brand, our team has gathered more reasons to set the Vans apart from the others.
It's a non-iconic iconic brand.
The brand is highly-linked with skaters and the grunge scene. If both have something in common, they exude a nonchalant and easy-going air that resonates to Vans as well. You know that they do not let the company be dictated with trends. Their "Off the Wall" slogan, which translates to unconventional or eccentric, is the most fitting to what it embodies.
It houses some of the most quintessential pieces.
Almost every brand has their signature shoe. That sneaker that is uber identifiable that at first glance, you would know that it's from that brand. To paint you a clearer picture, for Adidas, they have the Stan Smith, Gazelle, and Superstar. For Nike, it is Air Force 1, Air Max 1, and Cortez. Converse, on the other hand, obviously houses the Chuck Taylor All Star and the Jack Purcell.
If you go to the Vans website, you could see that they offer five classics—Old Skool, SK8-Hi, Slip-On, Authentic, and Era. These sneakers serve as the root of different Vans sneakers.
It is offered in various designs and colorways.
Even though the company's offerings revolve around five major silhouettes, you can see that it is utilized in the best possible way. Just browsing at the website, you can see that there is a wide variety of shade ranges, patterns, and designs. Additionally, the infusion of different materials and technologies affect the design process of their product.
The brand is also aggressive with collaborations, making it refreshing to see other creative minds interpret its different sneakers. The customization feature of the brand also opens up these sneakers into endless design possibilities. It gives the users a chance to inject their twist on their favorite.
It adopts whatever your style is.
Even though the general style of the brand is highly connected with grunge and punk, we have to say that it is not limited to that. The popularity of Vans to the point that almost everyone is wearing it proved that it is not only for skaters and surfers but for the androgynous, preppy, boho, artsy, etc. The vast colorways and designs help everyone achieve express their style. Aside from that, even though you don't have a particular label for your style, the silhouettes are very versatile and flow with whatever boat.
Because of its heritage, you can be ensured that they are built for aggressive wear.
There may be other brands that are also exploring the lifestyle scene like Supra, DC, and Etnies. However, Vans probably has the most extensive selection in terms of skate-inspired sneakers.
Why go for this type? Their roots will profoundly affect their style and the way they are constructed. It means that they are built to be worn, and not just regular wear, but capabilities to endure a serious beating.
Best of all, there's a lot of affordable sneakers offered by the brand.
We all have our requirements when purchasing sneakers. Comfort and style will always be on the equation, but one of the crucial factors that will determine to cop the sneaker or not is its price. Amazingly, the offerings of the brand come in a varied spectrum. There are many cheap Vans sneakers you can choose from.
Cheap Vans Shoes
The brand built its reputation catering to specific extreme sports, but as it delved into the lifestyle, there is something for everyone, be it style or budget. If you're on the hunt for something that we can call reasonable, the choices are still innumerable. Here we run down a mix of some of their most time-tested silhouettes, those that were released along with the brand, and some that were launched in more current time. Jump below to find out more:
Vans Authentic
These sneakers will ultimately hold a sweet spot not just for the founders of the brand, but for the fans as well. If the saying that "First love never dies," then it is safe to say that the Vans Authentic is here to last forever. Being eternal is something that the founders have in mind upon conceptualizing the first shoe. According to them, they wanted a shoe that is as strong as a Sherman tank, so it has thick soles and an exceedingly durable canvas upper.
The twelve pairs sold on the first day of its launch not only is an epic story to tell now but it made a significance to serve as a marketing piece and for the legendary Waffle sole to be known. The shoe pedaled Vans into popularity as it was worn by the Zephyr Boys (more popularly known as Z-Boys), a skaters' group from California. More than becoming cheap Vans skate shoes, it went hand-in-hand in creating the reputation of the brand.
Other versions of Vans Authentic:
Vans Authentic Lo Pro - $50
Vans Authentic Slim - $45
Vans Black Sole Authentic - $50
Vans Bandana Authentic - $50
Vans Era
If Authentic is the first, Era is the second. IT doesn't mean that it is a lesser being though, it is still the first considered skateboarding shoe that is released by Vans. Even though the Authentic (then called Style #44) was already a good sneaker, there are still some features that can be bettered.
They are featuring a padded collar for the comfort and protection that skaters need. Having the Z-Boys members Stacy Peralta and Tony Alva have a say on the color combinations, and the features of the shoe popularized the shoe, especially during the era of skateboarding. What is unique about these is that it is kicked-off the "Off the Wall" slogan that eventually became synonymous to the brand. The greatest thing about these? You can cop these for only $50.
Other Versions of Vans Era:
Vans Gold Mono Era - $50
Vans Logo Mix Era - $55
Vans 2-Tone Checker Era - $50
Vans Cork Twill Era 59 - $55
Vans Retro Sport Era - $50
Vans Slip-On
Each brand has their rendition of this type of construction. Some of the most notable ones are the Adidas Superstar Slip-On, Keds Champion Slip On, New Balance 420 REVlite Slip-On, Nike Current Slip-On, and Onitsuka Tiger Mexico 66 Slip-On. It's understandable though because the slip-on, aside from being incredibly stylish, is also practical and functional.
The Slip-on from Vans represents everything about the brand—the quick on-off wear, ability to endure the abuse, and of course, follow the skater's fashion. These sneakers are admittedly one of the most favorite pairs of the son of founder Paul Van Doren, Steve. Given its $50 price point, we see entirely why.
Other versions of Vans Slip-On:
Vans Atwood
The Vans Atwood carries the same easy-breezy style that is apparent on most of the brand's sneakers. Its low-top silhouette is ideal for skaters because it gives maximum freedom on the ankles, but the popularity of this style spurted to mid-top and high-tops to give consumers varying choices. Even though it looks remarkably simple, these sneakers are still equipped with the Vans' signature waffle outsole, padded collar, and tongue for protection and comfort, and double-stitched for extra durability. For only $60, you can't complain.
Other versions of the Vans Atwood:
Vans Atwood Deluxe - $60
Vans Atwood Perf Leather - $60
Vans Old Skool
Aside from the Waffle sole, another iconic emblem that is linked to Vans is its sidestripe. This logo was taken from one of the brand's founders Paul Van Doren's doodles and from which he calls the "jazz stripes." The Vans Old Skool is also the first to be outfitted with leather which intensifies the shoe's durability.
Released in 1977, these sneakers transitioned through time. Reaching the 80's, fans explored with the versatility of its structure and played with their creativity by customizing its anatomy. Because of thee popularity of these sneakers, many are on a debate as which is the most iconic Vans shoe—the Authentic or the Old Skool.
Other versions of the Vans Old Skool:
Vans Canvas Gum Old Skool - $55
Vans Mono Canvas Old Skool - $55
Vans Vintage Old Skool - $55
Vans Woodland Camo Old Skool - $60
Vans Brigata
Not all Vans shoes are skate-inspired. The California beach also brings influence in coming up with nautical notes on some of its sneakers like the Vans Brigata. Even though it bears some similarities with the Sperry's mainly because of its style, the Brigata shows some ruggedness and takes to look like a skater would wear. Its minimalist styling would pair well with any clothing like trousers, skinny jeans and shorts. It will only take $55 to avail these versatile kicks.
Vans Canvas Style 23 V
Vans doesn't have that reputation of digging archived sneakers back in resurrection unlike other brands like Nike and Adidas. The Vans Canvas Style V begs to differ. Inspired by a vintage form, these sneakers switch the traditional eyelets to three Velcro straps as its closure. The alterations are still consistent with the playful vibe of Vans. There are always impressive features injected to it though like the updated toecap, oversized straps, and grippy outsoles.
FAQ's
Where can I score Vans shoes that are cheap?
One of the advantages of choosing Vans shoes that are offered at cheap prices is that they are widely available and not limited to skate shops. In fact, there are also other footwear shops that carry them. If you're curious if there's a physical store near your location, you can take advantage of the store locator feature at the Vans website.
Can I cop cheap Van shoes for sale online?
Absolutely. Many websites offer Vans shoes for cheap. A simple Google search would help you score some of the best deals there is. If you can't find any or apprehensive if they are reputable, might we suggest that you check out 6PM.com, Footlocker.com, and Shoes.com.
What clothes can I pair with my neutral shoes but not look boring?
Getting a basic shoe limit your style to just basic. It is easy to be flexible with this kind as you can dress them in whatever way that you want. If you're going to go a bit risqué, try pairing it with unusual pieces like a maxi dress or palazzo pants. If you want to take it a bit further, you can match your Vans with a colorful or printed outfit to make the whole look more interesting.
You can copy Gigi Hadid's look wherein she paired her Vans Old Skool with an oversized jacket, leggings, and high black socks. Justin Bieber is also known to like his Vans. During one of his off-cam outfits, he wore his Vans Checkerboard Slip-On with ripped jeans and oversized white shirt topped with a baseball jersey.
Can you suggest ways of styling Vans sneakers for men?
There are many different ways to adopt Vans into your everyday life. In fact, no matter what event you find yourself getting into, there would most likely be an excuse to pull that skater sneakers and infuse it into your wardrobe. Here are some of our tips on how to do that:
The effortless look of Vans shoes is best paralleled with a laidback vibe. To achieve this, try reaching for cargo shorts and a basic shirt for that strolling at the beach or running for errands look. If you need a quick change for dinner, exchanging the shoe with a button down would help amp the outfit up. Moreover, using a hi-cut sock would make you adopt that skater look that oozes coolness. You can also wear cheap white Vans shoes for this as those pairs are perfect for hotter months.
Do you have those times when you want to look more dressed up than your usual? There is always that occasion that calls to "wear something nice." No need to put your trusty Vans back to its storage as it can still be paired with dressier items like a button-down and dark-washed denim.
Yes, you read that right. It may be unconventional but trust us, we've seen it on (name the celebrity), and it worked. You can take cheap black Vans shoes into a million-dollar look. Just make sure that you choose a black pair, or something that is close to the hue and one that is as monochromatic as possible to achieve that close to a formal shoe with just a rugged twist.
Can you suggest ways on styling cheap women's Vans shoes?
The great news is, Vans is not exclusive for men. Aside from having ladies-exclusive designs, they also house several unisex designs that would still make your femininity shine. Need some suggestions? We run down some of the tips to use them and wear them while transitioning across seasons:
We all know that Vans was conceptualized in sunny California, so what better weather to wear them than in the summer? Achieve the look by wearing some ripped denim skirt or denim short. If you get that preppy vibe that looks cute while on the beach, you can wear your low-top Vans, along with pastel shorts and a baseball cap.
Chillier months call for extra layers of clothing. That does not mean though that you have to go out of style. Thick skinny pants and a trench coat or blazer, along with a low-top pair will make you seem straight out of a fashion magazine. You can also throw in a pop of color on your outfit by wearing colorful and printed socks.
Do celebrities like to sport Vans?
While we often think that the celebrities only wear designer sneakers like the Gucci Ace and Balenciaga Triple S. Think again. They're ordinary people like us who happen to have more money but still wear affordable sneakers.
Celebrities, though, do make excellent inspirations when it comes to styling sneakers. Whether these iconic kicks off-cam or on-cam, how these famous people style their shoes makes us take a second look and drive us to adopt that into our everyday outfits.
For guys, those we have seen wearing Vans are David Beckham, Zac Efron, Justin Bieber, and Liam Hemsworth. The ladies, on the other hand, can look at Gigi Hadid, Hailey Baldwin, Kylie Jenner, and Gwen Stefani.
Are there collaboration shoes that are affordable?
Generally speaking, collaboration sneakers are the most expensive even for other brands. Its exclusivity and expected hype usually contribute to its pricing. Vans, however, plays it differently. Albeit some pieces belong on the higher price range like the Vans x The North Face SK8-Hi 46 MTE DX and Vans x Spitfire UltraRange Pro, there is a wide array of low-priced collab sneakers. Here are some that we found:
Vans x Lazy Oaf Authentic - $65
Vans x Marvel Slip-On - $65
Vans x Peanuts Authentic - $65
Vans Chima Ferguson Pro - $65
Is the brand eco-friendly?
One of the brand's goal is always geared towards the youth. In connection with them, Vans has been making aggressive efforts in building a better future for them, which includes taking care of the environment. Other than their efforts in improving their offices, retail stores, and distribution centers, their products in itself are on the process of becoming greener.
Here are some of the steps they took:
Brand hangtags are eliminated which saves about 400 trees annually.
Eighty percent of their shoe boxes are composed of recycled paper and is printed with soy-based inks, which is drastically less use of ink than before.
Vans works with the Better Cotton Initiative (BCI) in sourcing their cotton for their canvas footwear.
The brand also partners up with the Leather Working Group (LWG) to ensure that the material used is still environmentally-friendly.
Is Vans true to size?
Not all shoes are made equal. There are some brands like Converse that generally fits big, so there's always a need to size down. Our feet are also created differently, so it is too difficult to rely on people's comments regarding what size to get.
Based on the brand's statement, Vans shoe sizes live up to the US standard which is measured through the Brannock device. However, because of the design of their sneakers, it tends to fit snug so selecting a larger size would suit most better.
Why are they so inexpensive? Does this mean that I have to sacrifice quality?
Not everything in the Vans range is considered inexpensive. Of course, those that are injected with technologies like waterproof materials, UltraCush midsole and outsole, and LuxLiner construction.
Those included in the lower price range has a different story, but it doesn't mean that everything is just slapped in there.
Many factors coincide the quality of the shoe—craftsmanship, design, and as you've mentioned, material. Vans shoes offered at low prices doesn't equate to sacrificed quality because looking at its nitty-gritty, each aspect of the sneaker is well-thought of and well-executed.
Do you have to break in the classic Vans sneakers?
Most shoes, not limited to sneakers, need some break-in time. It is probably the worst part when buying sneakers, just because of most experience blisters and pain. It is understandable as the material needs to soften up and mold on the shape of the feet.
Surprisingly, based on most people's comments, Vans doesn't need some breaking in. The upper material is already soft enough not to cause pain on the feet but over time, expect that it will be more comfortable.
15 best Vans cheap sneakers
Vans Classic Tumble Old Skool
Vans Old Skool Platform
Vans Checkerboard Slip-On Pro
Vans Authentic
Vans Chukka Low
Vans Era Pro
Vans SK8-Hi
Vans Atwood
Vans Classic Tumble Slip-On
Vans Old Skool
Vans Checkerboard Slip-On
Vans Slip-On
Vans Old Skool Pro
Vans ComfyCush Era
Vans Bold NI
This shoe has recently been added to RunRepeat. There are still not enough reviews for us to assign it a
CoreScore
.
CoreScore
A score from 1 to 100 that summarizes opinions from users and experts. The average CoreScore is 78.
More...