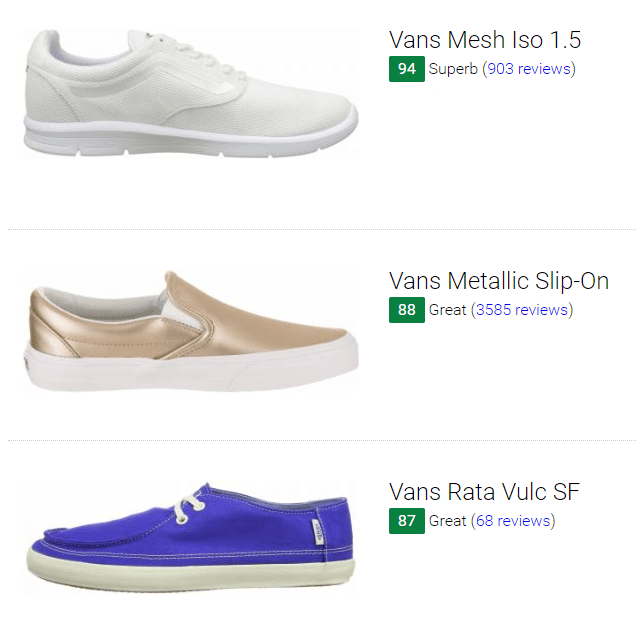 Best Vans Casual Sneakers - September 2019
Skatewear insanely took over the mainstream fashion and one brand that's immensely benefitting from it is Vans. This Southern California label currently has a large collection of skate-inspired casual shoes that continue to lovingly migrate into the footwear rotations of devoted fans and sneaker enthusiasts.
It is almost quite unlikely not to spot someone wearing a casual Vans shoe in the major cities across America and urban zones around the world. Thanks to the high-profile celebrities like Frank Ocean, Kendrick Lamar, A$AP Rocky, Kanye West, even NBA's Nick Young and Jordan Clarkson as they have been uplifting the status quo of Vans classic profiles by sporting and slipping on Vans casual sneakers.
6 Reasons why Vans casual shoes are so popular
1. Affordability
Casual Vans shoes remain as the go-to styles of dedicated brand followers and sneaker lovers due to their affordability.
2. Availability in several styles
People are drawn to the Vans casual sneaker lineup since there are several shoe profiles to choose from, such as the original classics, platforms, low-tops, mid-tops, and high-tops.
3. Accessibility in several colors
Vans casual sneakers are conveniently available in a broad spectrum of colors. Some couldn't resist snapping up not just a single pair of Vans casual sneakers but packs of it.
4. Comfortable
The simple makeup of Vans casual sneakers persists to be comfortable and breathable.
5. Sturdy composition
Since most of its styles are revivals of the skateboarding profiles, the Vans casual sneakers are structured with durable canvas uppers. These kicks are typically equipped with padded collars and hard-wearing waffle outsoles that deliver optimum grip.
6. Style versatility
The modest makeup of Vans casual sneakers makes them suitable for a wide range of casual wear. Some style-savvy users even go extreme by pairing these up with long gowns and tailored suits.
Vans Top casual sneakers
The skate-inspired original classics by Vans namely the Authentic, Old Skool, Era, SK8-Hi, and the Classic Slip-On remain to be the brand's top-selling silhouettes. These nostalgia-fueled skate models are redressed with new colors and prints to make them more on-trend and street-ready.
RunRepeat has amassed the Vans top-selling casual shoes and itemized them below based on their cut (i.e., slip on, low-, mid-, and high-top) and composition (platform and winterized).
Slip-On
1. Vans Slip-On
The timeless and sturdy canvas design of the Vans Slip-On remains to be adored by sneaker fans and devoted skaters from different generations. Its minimal composition is presented in a growing selection of colors that it is likely you'll find one that suits your preferred style. Your ankles get protection from the stuffed collar, while your entire foot can enjoy a secure and comfy fit with its elastic side gussets. The waffle-tread outsole prevents your feet from slipping off easily.
Vans Checkerboard Slip-On
From the basic cut of the Classic Slip-On, comes the Checkerboard version that is perhaps one of the highly sought-after Vans casual sneakers that resonates the 1980s era. From the black and white checker motif, that brand has become aggressive in dropping more interesting color variations that put a retro statement to an array of street-style, casual wardrobe. This unisex Vans casual shoe runs a bit large that sizing down in half is recommendable.
Other best-selling samples of the Vans Classic Slip-On are the Vans Classic Tumble Slip-On, Vans Jersey Classic Slip-On, and Vans Leather Slip-On.
Low-Top
1. Vans Old Skool
Vans continues to update its casual sneaker catalog with a myriad of colors of its 1977 Vans Old Skool skate shoe, while retaining its modest design bearing the leather sidestripe. The hard-wearing suede and canvas upper are paired to a padded collar which makes it a comfy shoe to wear every day. This Vans men's casual shoe can be seized in neutral tones, plus interesting shades of Madder Brown, creamy Birch, purplish Sea Fog, Dark Cheddar, Neptune Green, and more. A skate-specific version of this is the Vans Old Skool Pro.
2. Vans Old Skool Lite
The Old Skool Lite retains the old-school charm of the brand's flagship '70s skate model, modified with a street-ready, re-engineered lightweight composition, mainly for more improved flexibility and comfort. Plus, it has the UltraCush sockliner for cushioning. This unisex, sleek interpretation is dressed with earth-shades in canvas or suede and canvas covering, appearing with a true-to-size fit.
Other favored casual sneaker variations of the Vans Old Skool are the Vans Jersey Old Skool, Vans Suede Old Skool, Vans US Open Old Skool, and Vans Diy Old Skool.
3. Vans Atwood
The low-top Vans Atwood resembles the Vans Authentic, except that the former has a higher instep due to its thinly stuffed tongue. Like the most iconic Vans casual sneakers, this too is built with a canvas cover and a lightly padded collar makeup. It is readily available in men's and women's sizes in solid, muted colors which makes it suitable for semi-casual work wear. Some variations come with a white sole, monochromatic shade, or gum outsole structure.
4. Vans Authentic
The very first lace-up silhouette that came out from Vans with a grippy waffle tread underfoot stays relevant until today, reimagined in tons of different colors. Sneaker fans wanting an unadorned, canvas casual sneaker are easily lured to the lightweight and breathable characteristics of the Vans Authentic. It bears all the essential elements of a classic sneaker in a functional yet straightforward format. Plus, the Vans Authentic casual sneakers come very light on the budget.
5. Vans Gum Authentic
The Gum-sole version of the Authentic is a reimagined look of the original Vans Authentic that instead of having a white sole, it turns up with an entirely gum rubber from the foxing tape down to the waffle patterned outsole. You can bag up this unisex cut with your standard foot size.
6. Vans Era
The 1976 Vans Era skate model remains as a mainstay in the brand's growing sneaker lineup built with a double-stitched canvas top and the trademark cushy collar for ankle protection. This Vans casual sneaker is more straightforward in style than the skate-ready alternative, the Vans Era Pro. The latter has an additional UltraCush high-density sockliner plus other tech features while the former takes on a plain inner sole. Like most Vans classics, the Vans Era has an exact fit and available in a medium width for men and women.
Mid-Top
1. Vans Half Cab
Originally built to skate, the Vans Half Cab is refashioned into a Vans casual sneaker, retaining the classic mid-top arrangement. It displays the beefed-up look of the skateboarding silhouette as it is made up with a thickly lined collar and tongue. The entire canvas upper is reinforced with double stitches to keep it long-lasting, while on the flipside it exposes the trademark tacky waffle outsole.
2. Vans Retro Sport SK8-Hi Mid Reissue
The Vans Retro Sport SK8-Hi Mid borrows the aesthetic of the most recognizable SK8-Hi reworked with a mid-top build. This remodeled look introduces a sturdy canvas and suede upper complemented by a reinforced toecap to allow the entire top to endure repeated wear. This stylish mid-top Vans casual sneaker is available in men's and women's sizing options.
High-Top
1. Vans SK8-Hi
Born for skateboarding, the Vans SK8-Hi gets revamped with a street-style charm accessible in sturdy canvas and suede upper and supportive ankle collar. This high-top Vans casual sneaker projects a wide range of color scheme, from bold and bright uni-color ones to two- and three-toned options which put a positive vibe to your casual, laidback, relaxed daily outfits. Other iterations of this in-demand Vans casual sneaker are Vans SK8-Hi Lite, Vans SK8-Hi Slim, and Vans SK8-Hi Core Classics.
Platform
1. Vans Authentic Platform 2.0
The old-school charmer is freshened up with a fashion-forward spirit. As its new labeling suggests, the Vans Authentic Platform 2.0 comes with a partly elevated sole that offers an extra boost in height. Like the core classic, this reinvented canvas form still comes with an unlined interior and tongue that grants breathability. According to a considerable number of Vans casual sneaker reviews, the fit and sizing of this platform kick is somewhat small that some recommended taking a half size larger.
Other well-liked platform-made Vans casual sneakers are the Vans Gum SK8-Hi Platform 2.0, Vans Suede Outsole Slip-On Platform, Vans Checkerboard Authentic Platform 2.0, Vans Checkerboard Old Skool Platform, and Vans Old Skool Platform.
Weatherized
1. Vans Suede SK8-Hi Platform MTE
All set for the external elements, the Vans Suede SK8-Hi Platform MTE wraps the feet with a premium weather-resistant suede upper, comfy linings, and a heat retention layer between the sockliner and outsole that allows the feet to stay warm and dry. The front part features a reinforced toe cap that helps in shielding the feet from repeated blows. It also comes with an elevated sole and a vulcanized lug outsole that grants optimum traction, as well as a stuffed collar for support. This unisex sneaker relatively comes with an accurate fit.
Fit and sizing of Vans casual sneakers
Based on a significant number of Vans casual sneaker reviews, a considerable sum of the shoes are said to be true to size and in medium width. This means that the length is neither larger nor smaller than the standard shoe size. Majority of the brand's lifestyle kicks have unisex styles which goes to say that women shoppers are not restricted from picking Vans casual shoes in men's sizing.
It is vital to note that men's sizes are one and a half larger than women's. For instance, if you're a female buyer with an 8.5 size, you would have to order a size 7 in men's to enjoy the shoe's full benefits.
Price Range of Vans casual shoes
The Vans casual sneakers are considered the most affordable in the market given its ability to keep the feet amply supported and secured.
$45 to $55
This price range is the lowest among other Vans casual sneakers which consist of mostly remakes of the Vans Authentic, Vans Era, and Vans Slip-On profiles.
$60 to $95
Several renditions of the Vans SK8-Hi and Vans Old Skool are reasonably-priced at mid-range. Few of the examples are the Vans UltraRange casual sneakers, Vans SK8-Hi MTE, Vans C&L Era.
$100 to $115
Vans casual sneakers within this range are built with added tech features, which are commonly seen in skate pro models such as the UltraCush insole. Some are equipped with enhanced features such as an All-Weather MTE with heat-retention layer under the sockliner. Some of the samples are the Vans x The North Face SK8-Hi 46 MTE DX and Vans Concrete UltraRange Hi Dx.
Frequently Asked Questions
1. Are all Vans skate shoes?
Not all Vans sneakers are classified as skate shoes. The brand also offers lifestyle sneakers fitted for everyday use. The skate-specific styles with tech-laden features belong to the skateboarding department called the Vans Skate Pro that offers tech-laden sneakers.
2. How do I break in my Vans casual sneaker?
Most of the Vans casual sneakers are typically comfortable straight from the box. But there are some with a high-top build that would need a little patience from you before you can enjoy their comfy benefits. To break in your shoe, you need to wear thick socks, lace up, and walk around the house several times until your feet adjust to the mold.
3. Do Vans casual shoes in slip-on style stretch out?
Some Vans slip-on sneakers may feel a bit tight right out of the box, but since these are made mainly of canvas upper, it will stretch out through repeated use.
4. I am planning to purchase a pair of low-top Vans casual sneaker. How do I prevent having foot blisters?
Generally, blisters tend to occur if in the first place you bought an ill-fitting shoe. The properly-fitted footwear most likely has about half-inch gap between your longest toe and the edge of your shoe. Below are some tips to help you prevent getting foot blisters:
Ideally, it's best to try new shoes before buying them.
Purchase the shoe style that gives you the right fit from the start; even if it's a bit larger or smaller than your usual foot length.
Before wearing your shoe for a prolonged time outdoors, it would be ideal to try them on a couple of times at home to have a better feel of it. This process will help your feet conform to the shape of the shoe.
If you are inclined to developing blisters in particular spots around your feet, apply a small amount of lubricant before wearing your socks.
Here at RunRepeat, the Fit and Sizing section of every featured sneaker contain information on the general feel of the shoe.
5. Are all Vans casual sneakers vegan-made?
Not all Vans casual shoes are vegan-made since certain silhouettes are crafted with leather detailing. However, there are certain Van casual sneakers which are identified by the brand as 100% vegan since the materials are free of any type of animal by-products, including adhesives. Some of the vegan-made Vans casual sneakers are the Vans Retro Sport Era and Vans Authentic Platform 2.0.
6. What are the famous Vans casual sneaker collaborations?
Vans x Marvel SK8-Hi
Vans x Marvel Authentic
Vans x Peanuts Authentic
Disney x Vans Old Skool
7. What are the popular designs of Vans casual shoes?
The simple designs of the brand's original classics are either splashed with new colors or kitted out with patterns and motifs that offer an on-trend, casually cool vibe to one's daily wear. Below are some of the designs commonly associated with Vans casual shoes:
Checkerboard
Vans casual sneakers that carry the nostalgic 80s fashion are:
Vans Checkerboard Slip-On
Vans Checkerboard Atwood
Vans Checker Flame Old Skool.
Flame
Throwbacks of the popular 1990s flame-emblazoned graphic:
Vans Flame Old Skool
Vans Flame SK-Hi Reissue
Vans Flame Slip-On
Vans Flame Wall Authentic
Vans Flame Wall Old Skool
Camo
Military-inspired Vans casual shoes that go well with cargo pants and navy jeans:
Vans Pop Camo Authentic
Vans Pop Camo Old Skool
Vans Woodland Camo Old Skool
Floral
Vans casual kicks with summer-inspired blooms:
Vans Vintage Floral Old Skool
Vans Hawaiian Floral Old Skool
Vans Lux Floral SK8-Hi
Vans Moody Floral Authentic
8. When was Vans established?
The year was 1966. Initially known as the Vans Doren Rubber Company, Vans made it big in skate scene since the 1970s when it gradually introduced shoes that would later become iconic styles of the street sport. This was long before other heritage labels like Airwalk, Etnies, DC Shoes got their share of the spotlight.
9. Where do Vans manufacture their shoes?
Since the beginning, Vans has been employing its own concocted formulas in creating tacky gum soles. The original Vans outsoles are crafted in California, USA from the mixing of rubber compounds to creating waffle design details. However, not the entire shoe is assembled in the US. The company has contracted factories in Asia, mainly in China and Vietnam, to create vulcanized shoes for the brand.
10. Where can I order genuine Vans casual shoes if I prefer doing online shopping?
RunRepeat has a broad selection of featured Vans casual shoes. You can find the entire catalog by clicking on the sneakers menu on the filter tab and ticking the boxes across the particular brand and shoe profile that you desire. You may also run through a list of shoes from a specific collection or collaboration as there are boxes you can choose from to narrow down your options.
Each sneaker featured on the site gives you a quick overview of how they look, fit, and cost. The pages also contain details on the shoes' significant features and a summary on how wearers and experts scored them.
RunRepeat also directs you to a host of retailers that offer the particular shoe you're interested in and provide you with comparable prices, available sizes, and colorways.
1 best Vans casual sneakers
Vans Bold NI
This shoe has recently been added to RunRepeat. There are still not enough reviews for us to assign it a
CoreScore
.
CoreScore
A score from 1 to 100 that summarizes opinions from users and experts. The average CoreScore is 78.
More...