When it comes to football boots, Under Armour is reasonably new to the market compared to its competitors. Nevertheless, that did not stop the company from making a name for themselves in the industry. In fact, footwear is the company's fastest-growing product line taking 31% of their sales as of 2012.
Brief history of Under Armour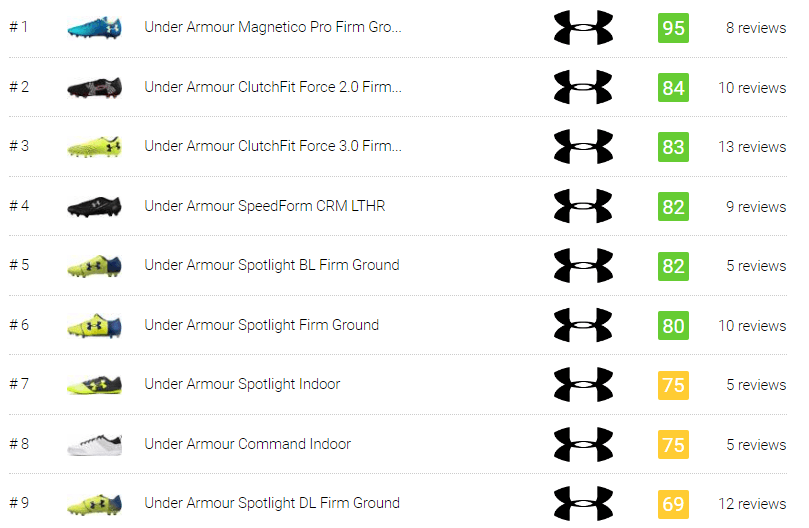 In 1996, 23-year-old Kevin Plank started Under Armour Athletic Apparel. What is now a global brand for athletic apparel and footwear started in a humble basement in Georgetown, Washington DC. It began when Plank noticed that after playing football, his compression shorts were dryer than his cotton shirts. He then set out to design revolutionary microfiber T-shirts out of women's undergarment fabrics. These moisture-wicking apparels keep players dry during games and workouts. His apparel quickly became famous as it was lightweight and comfortable to wear.
The following year, The North American sportswear and casual apparel supplier launched their performance-specific lines, namely the ColdGear, AllseasonGear, StreetGear, and TurfGear.
Fast forward to a decade after Under Armour was born, they launched their first football shoe line through the Click-Clack campaign.
By 2014, Under Armour has become the second-largest sportswear brand in the USA. Over the years, the company gained a considerable following in Canada, Europe, Japan, and Latin America through on-field partnerships with professional athletes and teams.
Today, Under Armour has expanded their business into making everyday T-shirts and jackets as well as cold-weather gears. They are always innovating to deliver high-quality, lightweight, and comfortable shirts, pants, and shoes.
Under Armour football boot categories
Manufacturers designed their football boots based on the types of fields the boots will be used on. Below is a list of the different types of Under Armour football boots based on ground types.
Firm Ground (FG) football cleats - These shoes are made with specifically for firm, natural surfaces with short grass. They have non-removable conical or bladed studs. Some of the popular Under Armour soccer shoes for firm grounds are the Under Armour Spotlight 2.0 FG and Under Armour Clutchfit Force 3.0 FG.
Soft Ground (SG) football boots - These shoes are designed to provide adequate traction and acceleration on wet and muddy fields. They have six removable studs that are made of either plastic or metal and come in varying lengths. Players can adjust their studs depending on how soggy the ground is. The Under Armour Spotlight Hybrid SG is a good example of an SG shoe.
Turf Field (TF) football shoes - These shoes offer sufficient comfort and traction on an otherwise unforgiving surface. Turf fields are made of water- or sand-based carpets laid on concrete grounds. Thus, TF soccer shoes should have durable rubber outsoles and cushioned midsoles. Under Armour has a list of high-quality TF soccer shoes including the Under Armour Force 3.0 TF and Under Armour Spotlight TF.
Indoor (IN) football shoes - These shoes are built for flat and hard surfaces that use varnished wood and linoleum. The outsoles of IN shoes are flat with non-aggressive traction grooves. The Under Armour Spotlight Flash 2.0 IN is a good-quality IN soccer shoe from UA.
Under Armour football boot technologies
The company focuses on creating innovations for its products. As such, here is a list of notable innovations found in some of the best Under Armour football shoes.
ClutchFit - It is made up of two separate layers fused together to form a sheath that has individual hourglass-shaped cells. The ClutchFit is designed to provide a second-skin sensation when worn. It is primarily built to flex when stretched and flatten when force is applied. In a nutshell, it contracts and expands to follow the movement of your foot.
Charged Cushioning - It is an extra layer on top of the shoe's sole. This technology is designed to absorb energy when you step on the shoe, bend your knees, or change directions. The energy is converted to effective responsiveness.It is best for players who like to make quick changes of direction.
3D Printing - This is found in the midsole of some of the best Under Armour football shoes. The material is 3D printed using polymers and elastomers. The result of which is a football shoe that is durable, lightweight, and flexible.
Speedform - It is a molded heel cup that took inspiration from a bra design. The purpose of the Speedform technology is to mold to the shape of the foot as close as possible. Thus, the shoe provides unmatched comfort and fit.
Micro G - It is a 4D foam footbed that is 30% thinner than a standard cushioning system. This technology is also lighter, stronger, and bouncier than its counterpart. The result of which is that the player can change directions faster. The Under Armour ClutchFit Force FG is one of the UA shoes with the Micro G technology
H2Oi Water Intelligence - This exclusive water-shedding K-leather upper technology keeps the shoe bone-dry to the touch. As a result, the shoe maintains its light weight and control on the ball. One of the best examples of UA football cleats with the H2Oi Water Intelligence technology is the Under Armour Hydrastrike Pro II.
Factors in choosing the best football boots from Under Armour
Make sure that the football boot suits your playing field.
Like any other brand, Under Armour categorize their football cleats based on the playing field, namely FG, SG, TF, and IN. Buying the right type of football shoe will significantly affect how you play your game. The stud patterns are specifically designed to provide optimum traction based on a particular playing surface.
Know your playing style.
Under Armour also creates football boots based on playing style.
Control Cleats - These football shoes are designed to provide stable control of the ball. A good example of this football cleat is the Under Armour Speed.
Speed Boots - These football cleats are lightweight with very few designs. The Under Armour Speedform is a good football shoe that is built for the player who needs speed.
Power Boots - These are football shoes that are incorporated with power elements in the synthetic upper's strike zones. The ClutchFit Force is an amazing Under Armour football shoe that is built for power.
Hybrid Cleats - These are the shoes that you cannot put a label on. They can provide speed, control, and power all in one shoe. The Under Armour Spotlight is one of the best hybrid football shoes from UA.
Choose the right upper for your foot width.
Leather - If you have wide foot, a leather upper is a good choice because it stretches with continued use. The material molds to the shape of the foot and therefore provides just the right amount of comfort and fit for wide-footed players.
Synthetic - Synthetic uppers have less room for stretch. Thus, they are best suited for players with normal to narrow feet. These materials are often waterproof and thinner than genuine leather.
Determine your budget.
As in most cases, budget has always been a determining factor in choosing a football cleat. Under Armour has a wide variety of football shoes in all price ranges. However, you have to remember that not because a shoe is expensive, it means that they are the best in the market. There are a lot of underrated football shoes out there. One classic example based on reviews is the Under Armour ClutchFit 3.0.
Under Armour vs Other brands
Everybody knows that Adidas, Puma, and Nike have been in the football boot market far longer than Under Armour. But that does not discount the fact that Under Armour footbal boots can go head-to-head against these shoe manufacturing giants.
Based on several reviews, the Under Armour Clutchfit Force 3.0 is probably one of the best football boots of 2017. It features the Clutchfit technology on the upper. It is made up of an elastic microfiber material merges close to each other when you tighten the laces.
The fit and feel of the Under Armour Clutchfit Force 3.0 can be compared to the Adidas Nemeziz 17+. It stretches and shrinks depending on your preference. Thus, the Clutchfit technology gives this amazing football boot a universal fit - one that can fit both narrow and wide feet.
The Under Armour Clutchfit Force 3.0 provides the same level of comfort as the Puma evoPOWER Vigor 1. It is comfortable and molds to the shape of the foot right out of the box.
When it comes to performance, the Under Armour Clutchfit 3.0 has a very grippy feel on the ball. It similar to that of the Nike Hypervenom III Trivela upper, which by the way is a lot pricier than the Under Armour Clutchfit 3.0.
The stud pattern of the Under Armour Clutchfit Force 3.0 is also somewhat similar to a Nike Tiempo layout. It works well on firm grounds providing just the right amount of traction whenever needed.
Frequently asked questions
Who are Under Armour's official football boot endorses?
Some of the best football players who endorse Under Armour football boots are Jermaine Jones (USA), Cruz Azul (Mexico), Omiya Ardija (Japan), and Memphis Depay (Netherlands).
What are the most unique Under Armour football boots in the market? Why?
Probably the most unique Under Armour football boots in the market include the Under Armour Spotlight 2.0 and the Under Armour Clutchfit Force 3.0. The first Under Armour football boot incorporates a high-quality zipper that covers the lacing system. The second Under Armour football boot boasts of the Clutchfit technology which provides multi-directional stretch.
This shoe has recently been added to RunRepeat. There are still not enough reviews for us to assign it a
Corescore
.
Corescore
A score from 1 to 100 that summarizes opinions from users and experts. The average Corescore is 78.
More...