Overall ranking lists
Under Armour ranking lists
Under Armour casual sneakers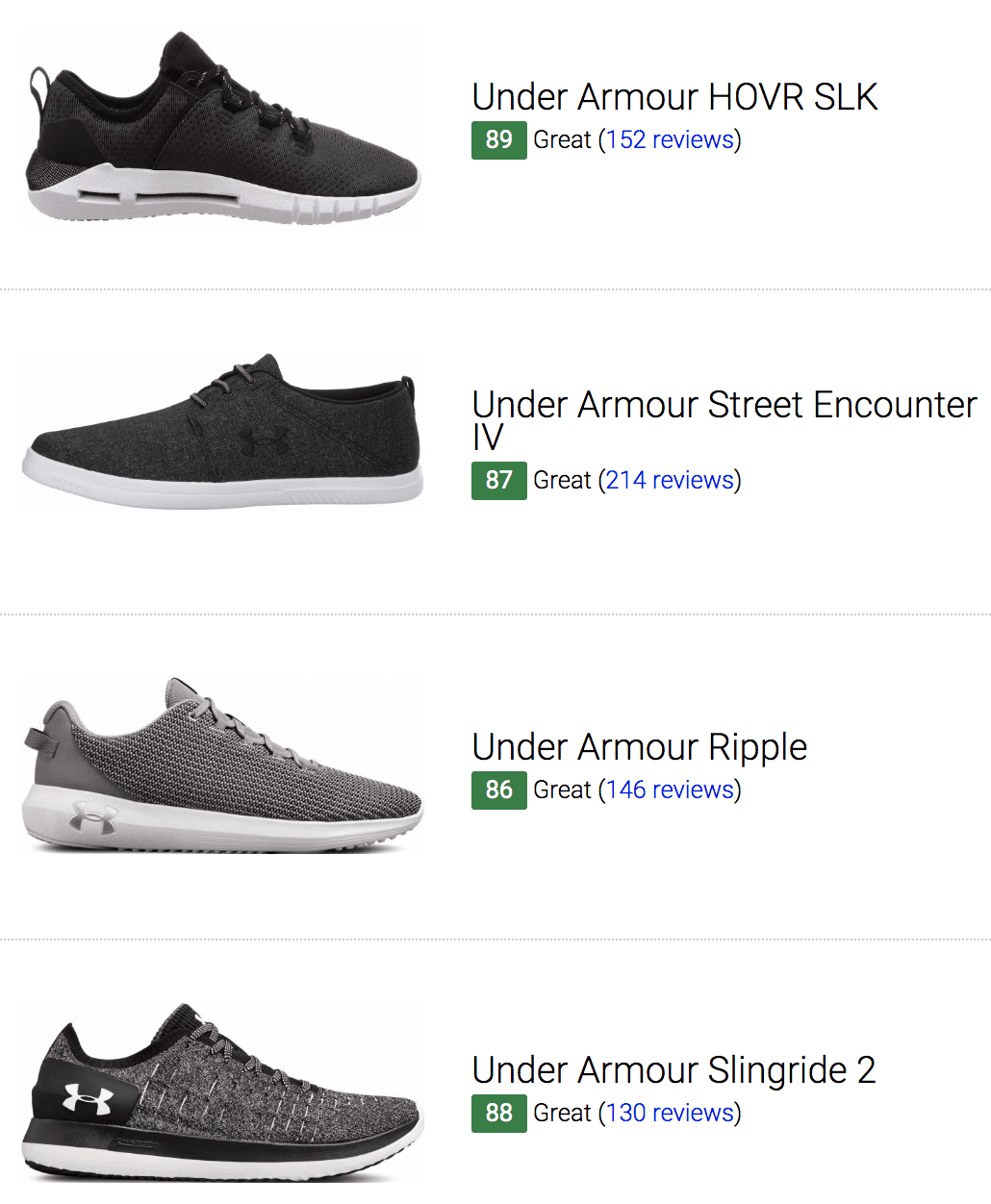 Under Armour is widely recognized as one of the top three athletic brands in the world. Its rise has been nothing but meteoric despite the tough competition. Other brands had its start by making shoes and then branched to other products. For UA, it isn't the case. Kevin Plank, the founder, got it started by creating a "sweat-resistant" undershirt. The company had a humble start, as Plank was selling the shirts at the trunk of his vehicle on different sports stadiums. Slowly, the moisture-wicking apparel gained traction with athletes. After its initial success, Plank decided to take a step further by expanding UA's product lines.
At some point, Under Armour decided to enter the sneaker game. It started by making football cleats for NFL, then branched out to other sports, and eventually to lifestyle category. A couple of years ago, UA was labeled as the second-ranked athletic brand, knocking off Adidas to third. Famous endorsers, such as A-list athletes Steph Curry and Tom Brady further catapulted the brand to mainstream success.
Despite all of UA's milestones, there is still a missing attribute on its resume. A lack of a signature shoe, especially in lifestyle fashion, is a void that needs to be filled out sooner rather than later, according to some brand reviewers. They added that if UA wants to compete for the top, it needs to have that household name shoe. Nike has a lot of it, from Air Force One to Tanjun, Adidas has the Gazelle and Superstar, and Puma boasts its Suede collection. Having that in perspective, we compiled a list of Under Armour casual sneakers that gained acclaim from its wearers and other relative topics. It is possible that any of these shoes will become a classic in the years to come.
Notable Under Amour casual shoes by collection
This section features UA casual sneakers that are categorized by its respective sneaker line. Several of these shoes have an athleisure or sports-inspired design. Please be advised that all these are in US sizing. Size range and regular price may not be accurate at all times.
Outstanding UA Street Encounter shoes
The Street Encounter series features a minimal design that gained favorable remarks from its women wearers. Below are a few examples of this relatively new sneaker line.
1. Under Armour Street Encounter II
Regular Price: $60
Size Range: Men's – 4 to 14
Colorway/s: Black High / Yellow Graphite, Sandstorm White / Carolina Blue, Steel / Black, Midnight Navy, and Cardinal
Similar to other Street Encounter models, the UA Street Encounter II has a stretch canvas upper and stretch bungee lacing enclosure. Its EVA midsole gives a stable fit as it embraces the foot properly. Its modest design enables it to be worn during casual workdays, weekend adventures, or while on holiday strolls.
2. Under Armour Street Encounter III
Regular Price: $50
Size Range: Men's – 7 to 16
Colorway/s: Steel / Black, Black / Steel, Black Carolina / Blue Graphite, Steel / Pewter, White, and Camo
The third edition of the Street Encounter has a design that is very consistent with its predecessors. Still, it has some aspects such as the horizontal stripe on its midsole that makes it unique among others. For cushioning, the EVA on its footbed and outsole ensures cushioning. The UA Street Encounter III also has a leather upper variant.
3. Under Armour Street Encounter III Baltiflage
Regular Price: $65
Size Range: Men's – 4 to 14
Colorway/s: Black / Gray
The Encounter III got an update after a few months of its original release, the UA Encounter III Baltiflage. Similar to the base model, it has the canvas material as its upper, but with a Baltiflage pattern. This pattern is primarily used in lacrosse-inspired products of the brand. Many lacrosse players commended the shoe as it is lightweight and comfortable enough to be used as a recovery footwear.
4. Under Armour Street Encounter III Color Pack
Regular Price: $65
Size Range: Men's – 7 to 16
Colorway/s: White
This reiteration of the Street Encounter III features an all-white exterior, but its insole is anything but. Its interior showcases a floral pattern splashed in vivid colors, which adds distinction and style. The materials, shape, and features of the UA Street Encounter III Color Pack is similar to almost every model under its respective sneaker line.
5. Under Armour Street Encounter IV
Regular Price: $60
Size Range: Men's – 7 to 14
Colorway/s: City Khaki / White, Black / Graphite, Tourmaline Teal / Steel, Pierce / White, White / White, Downtown Green / Stone, Zinc Gray / White, Academy / Steel, and Black / Steel
UA markets the Street Encounter IV sneaker as the pinnacle of combining the elements of shoes and sandals. It provides protection like a shoe while featuring an easy slip-on and off like a sandal. It showcases a pristine vibe, which also could be identified as laidback and unassuming. Embroidered branding is located on the lateral side and the tongue. This low-top also has an elastic bar lacing enclosure that secures the foot in place comfortably. Also, the heel pull tab along ensures that wearers will not experience any hassle whether putting on or removing the Street Encounter IV.
6. Under Armour Street Encounter IV Mid
Regular Price: $70
Size Range: Men's 7 to 14
Colorway/s: Zinc Gray / Graphite, Black / Graphite, Black / Black, and Sandstorm / City Khaki
Few aspects of this model are different in comparison to its base model. Aside from the mid-cut construction, the upper of the mid-top Street Encounter IV is a mix of suede and canvas. It also features the regular lacing system, contrary to the usual bungee enclosure. Additional updates include the cushioned tongue and collar and soft textile linings.
Excellent UA Charged 24/7 Sneakers
The Charged line is originally meant for running but later branched on to lifestyle due to great feedback from wearers. UA added the 24/7 as to symbolize its commitment to style and support all the time. Below are a few of the models under it.
1. Under Armour Charged 24/7 2.0 TXTL
Regular Price: $80
Size Range: Men's – 7 to 15
Colorway/s: Anthracite / Ghost Gray
The Charged 24/7 2.0 TXTL features a moderately styled silhouette with neutral color options that looks great with denim shorts or skinny jeans. Its elastic midfoot straps and die-cut EVA sockliner delivers comfort and support. Superb support and cushioning are possible for the low-top UA Charged 24/7 2.0 TXT due to its trademark tech Charged Cushioning.
2. Under Armour Charged 24/7 Low
Regular Price: $110
Size Range: Men's – 7 to 15
Colorway/s: Overcast Gray / White, Dark Blue / Black, Midnight Navy / Black, and Black / Amalgam Gray
The Charged 24/7 Low has a synthetic and textile upper that matches well with a plethora of casual clothing. Its modest color options make it hassle-free to pair with almost every attire combination. This pair appeals to people who are always on the go. The UA Charged 24/7 Low has reflective accents on its ankle logo, heel loops, and lace loops, which could be beneficial when experiencing low visibility. Also, the heel pull tab ensures an easy on-and-off wear.
3. Under Armour Charged 24/7 Low Explosive
Regular Price: $85
Size Range: Men's – 7 to 15 / Women's – 6 to 12
Colorway/s: Black / Graphite / Black
This model showcases a two-toned mesh material on its upper with leather overlays and semi-luminous details. In the midsole, it has the Charged Cushioning which gives a degree of shock-absorption and also a responsive burst. As per some users, this sneaker has a lightweight feel. However, there also a few who found that the UA Charged 24/7 Low Explosive's arch support of is slightly insufficient.
4. Under Armour Charged 24/7 Mid
Regular Price: $90
Size Range: Men's – 7 to 15 / Women's – 5 to 12
Colorway/s: True Ink / White, Overcast Gray, Black / White / Black, and Sandstorm Stone
This mid-cut version of the UA 24/7 Charged was released in 2016 and has earned good remarks from its men and women wearers. They generally liked its comfort and lightweight feel. The upper of the UA Charged 24/Mid is consists of textile and suede material. It features a pristine and sharp appearance while also delivering breathability. Also, it has a removable footbed that is convenient for those users that prefer to use orthotics.
Remarkable UA Street Precision shoes
To celebrate UA's 20th anniversary, the brand released a series of lifestyle sneakers, including the Street Precision. The majority of these shoes have a modest silhouette, similar to the Street Encounter. Below are some of the recent releases of this new sneaker line.
1. Under Armour Street Precision Low Speckle
Regular Price: $85
Size Range: Women's – 5 to 12
Colorway/s: Black / Speckled White (unofficial)
In 2017, UA released a stylish update of the Street Precision Low. As its name implies, the low-top features a speckled midsole with a mesh upper that allows breathability. The Micro G sockliner on its interior provides an enhanced cushioning system for the best possible underfoot comfort. Additionally, the UA Street Precision Low Speckle exhibits a two-toned webbing style at the interior that keeps the foot secure.
2. Under Armour Street Precision Mid
Regular Price: $90
Size Range: Women's – 5 to 12
Colorway/s: Stealth Gray, Purple Rave, and Black
Released in 2016, the sporty silhouette of the UA Street Precision Mid gives a nod to the athleisure trend. It could be utilized for working out and also for casual activities, much to the convenience of its wearers. This shoe has a molded 4D Foam footbed that adapts to the shape of the foot. Its low and lightweight midsole provides comfort and stability even after extended hours of wear. Some commented that it is a great gift for female loved ones.
3. Under Armour Street Precision Sport Low Metallic
Regular Price: $80
Size Range: Women's – 5 to 12
Colorway/s: Black / White / Metallic Gold
It is a reiteration of the Street Precision Sport Low, with an upper made of textile material and a leather heel cap. Workout in style as this model matches well with various gym outfits such as yoga pants, shorts, leggings, and joggers. Lightweight as it needs to be, the UA Street Precision Sport Low Metallic only weighs around 5 oz per shoe. Wearers praised the optimal cushioning due to the die-cut Micro-G sockliner at the midsole.
Exceptional miscellaneous Under Armour sneakers
This compilation features some of the highly-rated UA casual kicks. A few of the shoes mentioned here may have its own collection.
1. Under Armour Slingride 2
Regular Price: $85
Size Range: Men's – 7 to 15 / Women's – 5 to 12
Colorway/s: Black / Black, White / Black, Artillery Green / Artillery Green, Techno Teal / Techno Teal, City Khaki / City Khaki, and Radio Red / Radio Red
This second version of the UA Slingride is released in 2018, and so far, has earned mostly positive remarks from reviewers. It features an upper knit construction that allows optimal breathability and lightweight feel. While it might be built for function more than style, its design versatile enough to be paired with a plethora of lifestyle dresses.
2. Under Armour DJ Suede
Regular Price: $95
Size Range: Women's – 5 to 12
Colorway/s: Imperial Purple / White and Steel / White
The UA DJ Suede is a women's exclusive footwear that offers an easy wear because of its slip-on construction. It exhibits a modest and a slim profile which makes up for a laidback vibe. Due to its minimal design, the low-top could be utilized during semi-formal occasions. The sides of the tongue have an elastic gore that minimizes foot slippage. There are also various patterns on its white midsole. Additionally, embossed branding is situated in the heel area.
3. Under Armour Elite Encounter IV
Regular Price: $70
Size Range: Men's – 6 to 16 / Women's 4 to 12
Colorway/s: Black / Zinc Gray
Released in 2017, the UA Elite Encounter IV is designed to be a lifestyle sneaker, but also is a viable recovery footwear. It features a bungee lacing enclosure on top of a blend of textile and suede upper. The die-cut and full-length EVA sockliner on its interior gives moisture-wicking qualities which gives the feet a light and dry feel all day. Its most outstanding feature is the redesigned EVA outsole that delivers extra traction and mobility.
4. Under Armour HOVR SLK
Regular Price: $100
Size Range: Men's – 7 to 15 / Women's – 5 to 12
Colorway/s: White / Back, Black / White, Charcoal / Basel Blue, and Ghost Gray / Washed Blue
As one of the latest and highly-marketed athleisure kicks the brand has to offer, the UA HOVR SLK is designed to sustain the wearer's active movements all day long. All the essentials, comfortable, lightweight, and supportive is combined with a silhouette that has a modern aesthetic. The HOVR is UA's latest cushioning tech, which the company describes it as giving wearers a "zero gravity feel." It offers very minimal impact with every step. Buyers who prefer to utilize orthotics will have no issues with this shoe as its insole is removable.
5. Under Armour Jungle Rat
Regular Price: $135
Size Range: Men's – 8 to 14
Colorway/s: Black / Black, Desert Sand / Desert Sand, Coyote Brown / Coyote Brown, and Sage / Sage
The Jungle Rat from Under Armour is regarded by its purchasers as a performance boot that could withstand harsh environments. Its nylon and leather upper showcases a degree of water resistance which will protect the feet from wet or dampened surfaces. However, its most impressive element is the grippy rubber lug that has a shark-tooth pattern that delivers prime traction for different kinds of landscape. Also, the Ortholite sockliner on its interior minimizes natural odor.
6. Under Armour Modern Court Mid
Regular Price: $75
Size Range: Women's – 5 to 12
Colorway/s: Black / Graphite
The UA Modern Court Mid has a distinctively modest design which is the standard that many women buyers are looking for. Its upper is consists of asymmetrical breathable fabric with a slip-on construction. Because of the slip-on design and heel pull tab, putting the shoes on and off will never be a hassle. Its interior has the Charged Cushioning tech that offers cushioning and comfort. Due to its unassuming exterior, this pair can be used for various occasions as it blends great with casual dresses.
7. Under Armour RailFit
Regular Price: $100
Size Range: Men's – 7 to 13 / Women's – 5 to 11
Colorway/s: Black / Black, Black / White, Clay Green / Anthracite, Neon Coral / Sultry, Tile Blue / Graphite, Overcast Gray / Aluminium, and Anthracite / Steel
The silhouette of the UA RailFit can be described as modern or even futuristic. Most of this description is due to the Rail fit lacing enclosure, which features flexible lace loops that move back and forth in a rail. The heel strap that is also attached to the rail secures the foot accordingly. Comfort and breathability are guaranteed because of its upper, a blend of dual-layer mesh and soft foam. The slip-on construction makes it a great choice for people who are always on the go.
8. Under Armour Slingwrap Phase
Regular Price: $100
Size Range: Women's 5 to 12
Colorway/s: City Khaki / Elemental and Tin / Elemental
The UA Slingwrap Phase features a light high-grade knit upper that gives a sock-like and comfortable fit. One noticeable element of this model is the presence of "laces," despite the slip-on entry. Its Charged Cushioning midsole provides a relaxing feel even after standing or walking for a long time. This tech also gives impact protection. Also, the isolated rubber pods are strategically positioned on the outsole gives durability and traction.
Frequently Asked Questions
Where to buy UA sneakers?
While famous retailers such as Amazon and Zappos offer UA products, it is recommended to check out the brand's official site first as it provides the latest releases most of the time.
Are there Under Armour casual shoes that are considered vegan?
There is no definitive list of UA sneakers that are labeled as animal-friendly. But, if the shoe has a knit, canvas, or nylon upper, then it can be assumed that it is free of animal products.
Are UA lifestyle kicks budget friendly?
The sneaker line Street Precision offers shoes that generally cost $60. Considering UA is a household name shoe brand, it is a pleasant surprise that many of its casual sneakers have an affordable price tag.
Does UA have sneakers that are made specifically for women?
Shoes such as the UA Modern Court Mid and several Street Precision models are made exclusively for women. They are also considered affordable.
Which casual Under Armour shoes are recommended to be used during workouts?
There is a lot of UA lifestyle shoes that could be utilized while doing workouts, but one of the latest releases might be the most recommended. The Under Armour HOVR SLK is the street edition of the UA HOVR, which is a series of running shoes.
How to clean Under Armour men's casual shoes?
Remove dirt and debris by using a dry and soft brush.
Create a solution using warm water and a mild detergent.
Start scrubbing the shoe gently with a towel or sponge.
Dry the shoe via room temperature only.
When cleaning, do not soak your shoes in water.
Do UA sneakers run small?
On average, Under Armour shoes runs smaller than the regular sizing. Adding a half or full size should be enough to avoid the issues with the brand's measurement. Please keep in mind that some shoes have earned remarks that its sizing is accurate. It is recommended to be aware of the return policy, just to be on the safe side.
Are Under Armour casual shoes durable?
It all depends on how the wearer utilizes the UA lifestyle sneakers. Generally, it is durable enough to last a long time, thanks to the quality and technologies applied to its outsole.
When did UA start making shoes?
UA got its start in the sneaker game when it released its first football cleats in 2006. In the same year, the brand became the official footwear provider of the NFL.
Where do UA casual sneakers being made?
It is possible to determine the country of origin by reading the tag on the back of the tongue.
8 best Under Armour casual sneakers
Under Armour HOVR SLK
Under Armour Slingwrap Phase
Under Armour Slingride 2
Under Armour Charged Covert Knit
Under Armour Ripple
Under Armour Threadborne Shift
Under Armour Ripple Elevated
Under Armour Charged All-Day
This shoe has recently been added to RunRepeat. There are still not enough reviews for us to assign it a
CoreScore
.
CoreScore
A score from 1 to 100 that summarizes opinions from users and experts. The average CoreScore is 78.
More...