Overall ranking lists
Similar ranking lists
Every football player wants to improve their game and be the best one on the pitch. Becoming a great football player starts with having the right equipment - shoe included. A lot of people may say, "It's not about the boot, it's about the player." While it is true to some extent, having the right pair of football boots can definitely help improve the way you play.
With a plethora of good football cleats on the market, it can be difficult to decide. Choosing the right pair of football shoes depends on a variety of factors. You should decide based on your needs and not because a pro player performs really well while wearing a specific shoe design. RunRepeat has gathered information and reviews of turf football boots from all over the internet to help you make the right choice.
Turf boot definition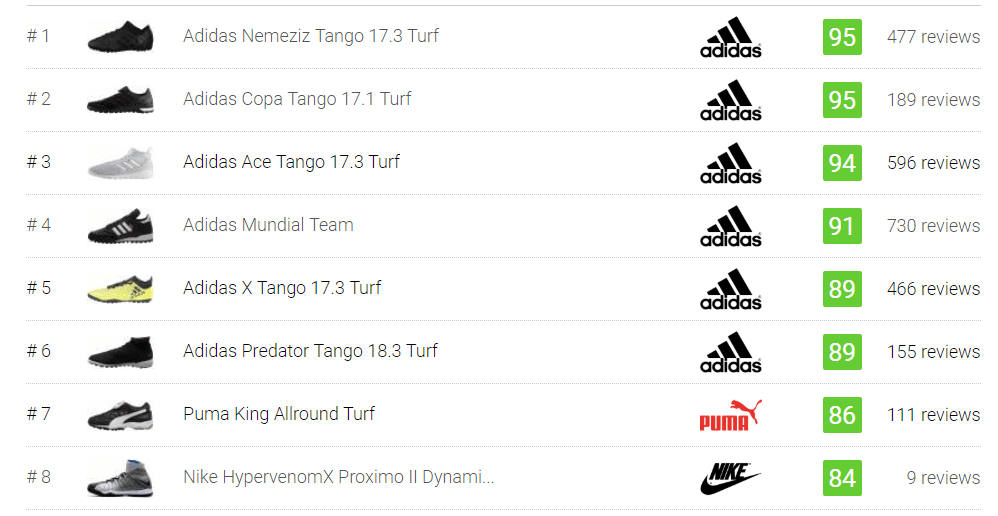 A turf (TF) shoe has an extremely durable rubber outsole. It is designed for harsh field conditions and older, more traditional synthetic turf surfaces. It has short, rubber studs that are evenly distributed across the entire outsole. Thus, it results in uniform interaction between the shoe and the grass. The studs work best on surfaces where cleats do not need to dig in.
The raised patterns are shorter than the usual FG studs and are not designed to permeate the mat surface. Rather, they provide the right amount of grip on synthetic grass producing effective traction and comfort when making quick turns.
Turf shoes can also be used as secondary shoes for short, outdoor grass and hard surfaces. They are useful for training purposes as well.
What is an artificial turf?
Let us define what an artificial turf is. Artificial turf fields are synthetic surfaces that are made to look like natural grass. It has two main parts - the artificial grass blades and the rubber mat to which they are attached to. It also has sand underneath to provide traction. Because the artificial grass blades are rougher than natural grass and the mat is not permeable, using firm ground studs on turf fields will result in poor traction. Firm ground studs also wear down the artificial turf surface quickly.
Although an artificial turf looks very similar to natural grass, playing on it is a different matter. The shorter blades and the consistent playing surface allow the ball to move easily along the field. Thus, games played on artificial turf are more fast-paced.
More athletic fields have switched to artificial turf from natural grass for various reasons. Some of which include:
Less maintenance and upkeep
Games can push through regardless of weather conditions
Increased playing hours without compromising the pitch quality
Even playing surface that is free from bumps and ruts
Longevity and durability of the surface
As turf pitches are getting more popular these days, it is best to invest in both firm ground (FG) football boots and turf shoes.
Difference between firm ground football boots and turf boots
A football boot is composed of three main components - upper, midsole, and outsole. The only significant difference between football shoe types is the outsole. Shoe manufacturers design each category depending on specific surface conditions. The sole of a turf shoe is more flexible compared to that of a firm ground football boot. The studs are designed to improve mobility and lessen the incidence of slippage on turf surfaces.
Using firm ground football cleats on turf fields can put more pressure on the ankles and knees. The longer blades of the firm ground football shoe can grip the artificial grass surfaces too much making it difficult for the foot to move. This results in anterior cruciate ligament (ACL) tears and injuries. Using the proper turf shoes ensures optimum traction and acceleration on artificial grass surfaces.
Difference between artificial ground and turf football boots
There are two kinds of stud patterns for artificial turf fields, namely the artificial grounds (AG) and turf fields (TF). The artificial ground stud pattern is designed specifically for plastic grass blades with rubber pellets. On the other hand, the turf field stud pattern is intended for the more traditional turf fields with shorter plastic grass.
The studs of an artificial grass football shoe are longer than the studs of a turf shoe. They are hollow to cope with the rubber pellets. They also prevent the boot from getting stuck on the pitch, thereby, reducing the incidence of injuries.
How to choose the best football boot for turf fields?
With so many kinds of turf shoes available in the market, it can be difficult to pick the perfect one. Listed below are some of the important factors to consider in choosing the best turf shoes for you.
Fit
For a better touch on the ball, a turf shoe should have a more snug fit compared to a regular sneaker. Make sure, though, that there is enough room for your toes to wiggle inside and should not press against the upper of the shoe. The space between your toe and the front of the shoe should be enough to fit a baby's finger or ⅛ to ¼ inch.
Choosing the turf shoe that fits just right also prevents the foot from sliding around when running. Excessive foot movements inside the shoe can result in blisters and soreness.
When trying on a football turf shoe, wear your usual socks and shin guards. If possible, you can also try dribbling a ball for a couple of minutes to have an idea how it would feel like during a game. Ill-fitting shoes will take its toll on your foot over time.
Material
Shoe companies use a variety of materials to make a football cleat. Some players opt for the snug fit and feel that natural leather gives. While there are some who go after the performance-based synthetics. When deciding which material to choose, you have to remember that comfort always precedes performance. You can play your best when you are comfortable with the shoes you are wearing.
Leather - Soccer cleats with leather upper are more comfortable than those that use synthetic materials. Because of the stretchable property of leather, cleats with leather upper mold to the shape of the foot. Leather also offers a thick layer of protection. The downside of using leather is that it is not waterproof. There are three types of leather materials used for the upper.
Kangaroo leather - It is the most expensive among all the leather materials. It offers excellent comfort and feel. However, it is not the most durable. It is also known as k-leather.
Calfskin leather - It offers a similar touch, durability, and flexibility as k-leather, but it weighs more.
Full Grain leather - It is the thickest and heaviest of all the leather materials. It also provides the same touch and feel as k-leather and calfskin leather.
Synthetic - Synthetic materials are significantly lighter than leather. Some turf shoes that use synthetic materials are waterproof and highly breathable. However, synthetic materials are not meant to last more than one or two seasons.
Insole
Look for a turf shoe that has a supportive insole to minimize foot problems such as plantar fasciitis. Removable insoles are also good if you have existing foot problems. They allow you to replace the regular insole with those that are specially designed for players with foot conditions.
Outsole
The traditional sand-based turf fields are usually rougher and more unyielding than natural grass. Therefore, football shoes with flat, rubber outsoles are best for this kind of playing surface.
Traction is essential when it comes to turf shoes. Choose a turf shoe that has a uniform stud pattern. Not only does it allow consistent grip, but it also provides stable support on turf surfaces.
Budget
When it comes to pricing, not all expensive shoes are durable. However, you also have to remember that cheaper shoes are made of lower quality materials. It is best to know how often you are going to use the shoe and how much you are comfortable to spend. Once you have narrowed down your options, get the best pair that you can afford.
Playing Position
You should also consider your playing position when choosing the right turf shoe.
Forward - This player performs explosive movements. He/She will greatly benefit from a soccer boot that is both lightweight and has a clean strike zone.
Midfielder - This player runs up and down the pitch for most of the 90-minute game. Thus, he/she needs a turf shoe that offers comfort all over the foot.
Goalkeeper - This player needs a football cleat with a good strike zone. The turf cleat should provide excellent traction on turf fields. He/She also performs side-to-side moves often so, a low top football shoe is recommended.
Winger - This player is in need of a lightweight football boot. The turf shoe should also allow the player to accelerate and make quick changes of direction.
Reviews
Check out some reviews from credible websites so that you will have a better idea of how well a shoe performs. Make sure that the reviews are unbiased and that they do not endorse a particular shoe brand.
Popular turf shoes
Adidas Ace Tango 17+ Purecontrol Turf - One of the best turf shoes is the Adidas Ace Tango 17+ Purecontrol Turf. It is created with some of the most advanced technologies from Adidas to withstand the rough surface of turf fields.
The upper of this turf shoe uses an elastic layer of TechFit material covered in Non Stop Grip (NSG) for optimal comfort and ball control. Its sole features the Boost technology on the heel area. An EVA strip runs above it to allow excellent stability while on the pitch.
Adidas Mundial Team - This is the turf variation of the Adidas Classic, the Copa Mundial. The genuine kangaroo leather used in the upper makes this turf shoe very comfortable right out of the box. The aggressive soleplate of this shoe provides excellent grip on turf surfaces.
The premium materials used coupled with the suede toe covering stitched directly on the soleplate makes the Adidas Mundial Team one of the most durable turf shoes in the market for years.
Nike MercurialX Proximo II Turf - This turf shoe is designed to ensure that the agile player maintains his speed on the pitch. It uses a variety of scientific innovations including a Flyknit upper with Flywire cables that provide amazing foot support where it is needed.
The Tri-star outsole offers excellent traction on turf fields. Nike also built this turf shoe to withstand the abrasiveness of the surface by way of stitchings in the toe box area.
Nike MercurialX Finale II Turf - The flexibility and comfort that the Nike MercurialX Finale II TF makes it one of the most popular turf shoes nowadays. It features the Nikeskin technology for that barefoot touch and feel on the ball.
Another important feature of this turf shoe is its concealed vents. They keep the foot cool because turf surfaces tend to heat up faster than the others. The non-marking rubber outsole with the flex grooves provide excellent flexibility and a great grip on urf surfaces.
Turf boot care
A football shoe is one of the main essentials of a game. Investing in your turf shoe also means taking care of them when they are not in use. Here are a few useful tips on how you can care for your turf football shoe and extend its lifespan.
Lightly knock any excess dirt from your shoes immediately after playing a game.
Wash your shoe with warm, soapy water.
Stuff them with newspaper to keep them dry.
Apply conditioner to treat shoes with natural leather upper.
Store them in a breathable shoe bag. Avoid using plastic bags.
Place your shoes in a cool, dry place away from direct sunlight.
Do not wear your turf shoes on surfaces other than turf.
Modern shoes are now more specialized than their predecessors. They are designed with specific sole plates to provide the optimum traction in a particular playing condition. Keep in mind that the perfect turf shoe does not exist. Getting the right pair can help bring out your best potential, but it will not make you a pro player instantly. At the end of the day, it will still depend on how well you trained and prepared for the game.
Frequently asked questions
What is a turf field?
In a nutshell, turf fields are made of sand or water-based plastic carpet with short-bladed artificial grass.
What type of football shoe should be worn when playing on turf fields?
Football shoes for this type of ground have many bladed studs or a combination of both bladed and conical studs. The outsole and studs are made of rubber because it can withstand the abrasiveness of the artificial grass blades.
Can I wear turf shoes on natural grass fields?
Turf shoes can be used on short, outdoor grass fields that are not wet or muddy. However, it can be difficult to play using TF football shoes on natural surfaces with exposed dirt. The dirt tends to get stuck in between the TF wedges, which may increase the shoe's weight and decrease its traction.
Can I wear firm ground soccer cleats on turf fields?
No, you cannot use firm ground soccer cleats on carpet-based turf fields. The studs on firm ground football boots are made primarily to dig into the ground surface for optimal traction. Since turf surfaces do not allow stud penetration, using firm ground soccer cleats will only put more pressure on your joints. Also, the molded studs tend to wear out turf surfaces faster.
Can I use turf shoes on indoor courts?
Indoor courts require a different kind of traction and tension from turf fields. Wearing turf shoes when playing on indoor courts and gyms will run the risk of slippage and injuries.
What are the best football boots for turf surfaces based on performance?
Adidas Performance Mundial Team Turf - When it comes to football, the brand Adidas always comes to mind. The upper of this classic turf shoe is made of genuine kangaroo leather. It features the TRIAXON outsole that provides excellent grip even on hard winter grounds. The design of this football shoe is inspired by the best-selling Adidas Copa Mundial.
Puma Men's EvoPower 4.3 TT - The Puma EvoPower 4.3 TT is a sleek and lightweight turf shoe has a very soft synthetic material for the upper. It also has protruding pods that are placed in denser areas for increased precision and power when kicking. This football turf shoe is recommended for beginners who are still learning how to do soccer tricks.
Nike Magista Onda II Turf - One of Nike's best football boots based on performance is the Magista Onda II Turf. This lightweight has a synthetic leather upper to offer excellent control of the ball. It is available for both men and women's versions.
This shoe has recently been added to RunRepeat. There are still not enough reviews for us to assign it a
Corescore
.
Corescore
A score from 1 to 100 that summarizes opinions from users and experts. The average Corescore is 78.
More...