Stefan Janoski sneakers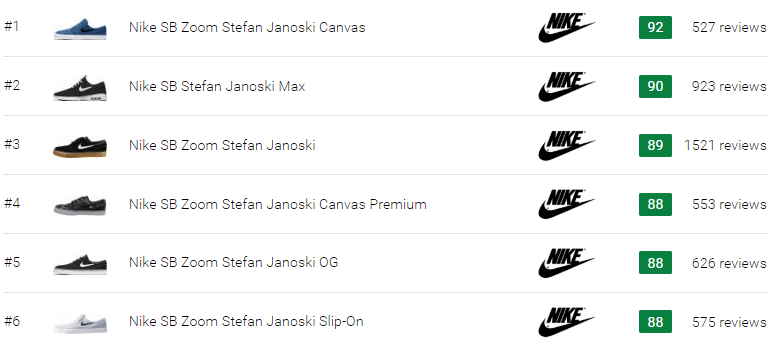 Nike SB and Stefan Janoski
The affair of Nike and this extreme sport unintentionally happened in 1972 with the Blazer. Albeit constructed as a basketball shoe, it fulfilled the qualities that skaters look for which are protection, ankle support, and board-feel. Approximately ten years after, a resurrection of this love affair ignited as legendary skateboarders were seen wearing the Nike Jordan 1 in the skateboarding video "Search for Animal Chin." Because of this, the Jordan 1 became the classic shoe for skaters.
Although Nike had some few accidents that immersed them into the culture, finally plunging into the skateboarding business wasn't an instant success. Just like in the performance footwear, the skating community poses demands on their shoe, if not even higher because of how extreme the movements require.
In terms of marketing strategies, we all have a gist on how Nike operates. If Jordan was a successful move, doing the same for its new sub-brand was just understandable. Paul Rodriguez was its first pro-skateboarder to be granted a line. Next to him was Stefan Janoski, Foo Fighters' David Grohl look-a-like, who made his name as an American professional skateboarder.
Nike, being one of the top brands in the footwear industry, does not grant collaborations to anyone, even more for a sub-brand. Janoski only proved that he is able to dominate not just the skating community but the footwear industry as well because right off the bat, he already knows what he wants. With designs that are highly inspired by Sperry Top-Siders, most of the shoes in Stefan Janoski's line are versatile and suitable for everyday wear. It is quite obvious that he meshed his skateboarding roots much on the designs, but not a lot know his knack for the arts. Unlike P-Rod, this SB line is much lax which provides a more diverse selection to the Nike sub-brand. Here we dissect some of his great works:
Most Popular Stefan Janoski Shoes and its Colorways
Nike SB Zoom Stefan Janoski
If there is a model that started it all, it is the SB Zoom Stefan Janoski. Janoski admits that it took time for its release, mainly because he was hands-on with the design process. Its low-top design exhibits a clean and relaxed look, which highly reflects the pro-skateboarder's style. This pair has a removable Nike Zoom Air insole which provides additional cushioning for comfort. For superior grip, durability, and multi-directional traction, a herringbone pattern is sported on its outsole. Some of the most recent colorways released are:
Elemental Pink
Skate Mental
Camo
Be True
A worth-mentioning collection is this one. Released together with the Nike Free 5.0 and Nike Free OG is this Stefan Janoski reiteration which is inspired by the LGBTQ community. The sneaker features the handwriting of the athlete himself in a "BE TRUE" text. It is decorated all-over the shoe in rainbow colors which also illustrates the diversity within sports. According to Janoski, the #BETRUE has been the most personal piece for him since it has his own touch on the shoe itself.
Nike SB Stefan Janoski Max
One of the perks of being under the Nike umbrella is that technologies can be shared across different brand lines. It is the case for the Max version of the Stefan Janoski silhouette, which evidently displays the Janoski work on the upper, but borrows a Tinker Hatfield technology, the Air Max for the sole. Currently, these Stefan Janoski skating shoes have more than 15 colorways available. Some of the most recent colorway releases include:
Multicolor
Swarm
Gamma Blue
Nike SB Zoom Stefan Janoski Slip-On
Pushing convenience a step further is the slip-on version of this men's Stefan Janoski shoes. Released in 2016, the Janoski Slip-On seems like it took style notes from Vans sneakers because of its vulcanized rubber outsole. It does have its own identity, given that it also sports the Zoom Air technology for a responsive cushioning system. Noted colorways from this collection include:
Nike SB Zoom Stefan Janoski Elite
Going on another route than his laid-back reputation, an Elite version of the Nike SB Stefan Janoski shoes was released in 2016. Even though it retains the minimalist design, the materials used for this is premium, a mix of leather and suede, which brings it up a notch and a more dressed up version of the usual Janoski shoe that the public is used to seeing. Some of the colorways of the Nike SB Zoom Stefan Janoski Elite are:
Nike SB Zoom Stefan Janoski Canvas Premium
Much like most SB Zoom Stefan Janoski sneakers, these are low-profile and has a design that is straightforward. What makes this version stand out from the others is its distinct graphic designs and premium materials used on the upper. The Canvas Premium Janoski has a unique shape and prints which make it instantly stand out from the sea of skateboarding shoes. Some of the most notable colorways include:
Floral
Dynamic Pink
Beach
Nike SB Zoom Stefan Janoski AC
You may have that certain silhouette that comes in mind when it comes to Stefan Janoski skate shoes. It would most probably be a low-top profile that exudes a skateboarding style but still laid-back enough to be worn on the streets. That may be true, but in the case of the AC, Janoski added some twist to it. According to the pro, the shoe already has a distinct look, which is why putting premium materials and features on the sneaker would take it a level higher.
The SB Zoom Stefan Janoski AC comes in a premium leather upper, Velcro straps, and an embossed Swoosh on the side. These sneakers are available in neutral colorways namely:
Nike SB Stefan Janoski Hyperfeel XT
Looking at each model will give you the distinct look of Stefan Janoski sneakers. No matter what the colorway is, most of his designs are straightforward and uncomplicated. This design is also evident for the Hyperfeel XT Janoski model, a tougher version of its predecessor, thus translating to Xtra Tough. It is attributed to the toe cap which is supposed to handle pressure on aggressive rides. It also sports more padding to provide additional comfort and protection. The colorways for this version include:
Stefan Janoski collaborations
Geoff McFetridge
After an extraordinarily successful run for his Nike Dunk release which is also in partnership with the Los Angeles Museum of Contemporary Arts, it seems that it isn't the end for Geoff McFetrdige. If you didn't get your hands on the Paper Dunks, the Stefan Janoski Nike shoes would be easier to covet. Two colorways are available for this release, the White/Black and Royal Blue/White. Both of which uses the classic Janoski low-top construction, clad in human silhouettes graphic design.
Levi's
Popular in both their fields, teaming up to produce a shoe is something worth waiting for. Levi's which basically is synonymous to jeans has dipped into sneaker collaborations as well and most of the silhouettes used for this were Jordan's. This time, they used low-top number, using Stefan Janoski sneakers. These come in an indigo upper, contrasted with a white midsole, and accented with a red outsole and trim around the shoe.
Poler
Both having Oregon roots, Janoski teamed up with outdoor brand Poler. This sneaker was highly influenced with the saying "business in the back, party in the front." The overall look of the sneaker remains to look polished with just a little bit of pizzazz because of the Poler graphic on the heel. The pink insole with speckles of paint give color creates an exciting accent to the shoe.
Thomas Campbell
Thomas Campbell is no stranger to Nike collaborations. Because of the success of his previous work with the Nike SB Dunk High, releasing another version that is clad with the same quilted artwork made the most of it. The other silhouette turned out to be the SB Zoom Stefan Janoski, another skateboard-inspired shoe. Unlike the different version, this version is subtler, as the artwork sits atop a cream upper.
Frequently Asked Questions:
Where can I avail of Stefan Janoski sneakers?
One of the perks of being under Nike is the fact that it is widely available. Retail skate shops will most likely carry the Stefan Janoski Nike shoes mainly because it is one of its classic products that wouldn't go out of style. Those who don't want to experience the inconvenience of going to a particular store can still get their hands on a pair through their laptops. Different online stores like Nike, Eastbay, Amazon, and Footlocker offer Stefan Janoski sneakers at reasonable prices.
Can I personalize my SB shoes?
Absolutely. Now that Nike has opened an iD for the Stefan Janoski Nike skateboarding shoes, it opened endless possibilities for its silhouettes to be interpreted in millions of ways. If you're not familiar with Nike's customization process, it is rather extensive as you can tweak almost every part of the shoe. It includes the upper, the quarter, the style of the tongue (cushioned or classic), Swoosh, toe cap, outsole, and so much more. You can even put a personal iD on it.
Are there Nike Stefan Janoski skating shoes available for women?
What is excellent about Stefan Janoski skateboarding shoes is that it is not versatile that it can seamlessly pair with different outfits, but it also possesses a unisex style. There isn't a wide variety of women-specific Janoski shoes but going 1.5 sizes down, as Nike recommends, is ideal to get the ideal size.
How to tie Stefan Janoski shoes?
We're not treating you like a five year old and teaching you the bunny ears. Lacing is an important part, especially for skate shoes because it keeps the wearer from encountering accidents, makes them look good, and keeps their laces from wearing out quickly.
RunRepeat delves deeper on this subject and shoes various lacing techniques and knots that you can try. Those who want to use their Stefan Janoski sneakers can look into this to also know about the advantages and how each knot works.
Whatever your choice of tying the shoe, it is best to make the last laces face downwards and hide it with the tongue. Not having the bow exposed is a safer way of lacing the shoe and make your ride accident-free.
I hate cleaning my shoes! Is there a simple and easy way of doing it?
Although the dirty sneaker trend is already becoming a thing now, keeping it clean is one of the solutions of prolonging the life of your kicks. Skates usually are worn aggressively, which is why if you want to hold on to your pair of Janoski's, these steps should be inevitable:
Brush them after every wear. It may sound tedious, but this is like brushing the hair, and the primary purpose of this is to get rid of dirt that you've acquired throughout the day. It will also keep you from doing the deep clean more frequently. Simply run your shoe brush on your kicks. An old toothbrush will also do.
If you need to clean it a bit further, make a solution composed of water and a bit of laundry detergent.
Take of your laces and dip it in the mixture.
Using the same solution, wash the upper using a cloth or brush and the midsole and outsole using a brush.
Using a dry microfiber towel, pat the sneakers dry and let the towel soak all the moisture it could.
Air dry it after.
How to stop Stefan Janoski shoes from hurting feet?
Some of the feedbacks for Stefan Janoski sneakers is that it hurts at first wear. It doesn't make the brand any less comfortable, but this situation is quite normal for all shoes. Almost all materials of the shoe, whether it is made of leather, canvas, or suede, need to soften up and conform to the feet. Giving it time, breaking it in, and letting your feet hurt for a short time usually are the solution for most. But there's also a shortcut to it. Here we spill the beans:
Put on the thickest socks that you own.
Using a hairdryer, blast off the shoes to soften up the material and to help it loosen up. A minute or two is all it takes for each shoe.
Wear your Stefan Janoski sneakers.
Walk around your house until the shoes are cooled down. The longer you wear them, the better.
How much are the Stefan Janoski Nike Air SB skateboarding shoes?
The Stefan Janoski line is reasonably priced. Believe it or not, its sneakers fall within the range of $75-$135. Those that fall on the above $100 mark are those that are infused with technologies like the Nike SB Stefan Janoski Max Mid Premium and collaboration pieces.
What can you wear with Stefan Janoski white shoes?
White shoes are probably the most versatile footwear. Albeit some get the idea that it is similar to a nurse's footwear, it can still match almost anything without offending the fashion gods. White shoes can be worn with literally anything, but here we run down some ways where you can make the most out of your clean and crisp kicks.
With minimalism becoming more than just a lifestyle and transcending to the fashion scene, pairing your white sneakers with a shirt and jeans will get you ready in only 4 minutes but still make you fashionable.
Taking it a step further by switching your tee with a button-down will make you dressed up for dinner or ready for work.
Look extra sharp by pairing your white pair of Stefan Janoski sneakers with a blazer and dark-washed jeans.
Is the Nike SB Zoom Stefan Janoski good for skateboarding?
For a pro athlete who confessed that he was 100% hands-on with the design process, expect that most of the features of these are geared towards the sports. During an interview regarding his first release, Janoski mentioned that function and protection was his intent. However, with Nike also having a say, they made it a point that both qualities are met.
The SB Zoom Stefan Janoski is an excellent skateboarding shoe because it sports the Zoom technology, a cushioning system that is designed for agility and speed. Initially constructed for basketball and running, skateboarders can appreciate the off-the-charts responsiveness, increased and more controlled board feel. Some versions are also inserted to protect the feet better and to endure all aggressive skateboard wear.
Why should I buy Stefan Janoski sneakers?
There are many reasons why one buys a sneaker. In fact, many of us are guilty to even find such a solid reason for each of our purchases. However, if you want a good justification, we've got loads of it.
Its design is versatile, and it can literally be worn everywhere with everything.
The line is composed of neutral and quirky colorways, so there's something for anyone.
It's durable and will last you for years.
For that matter, it is worth your buck and won't hurt your wallet.
If you're going for the minimalist trend, you can easily achieve that with these.
6 best Stefan Janoski sneakers
Nike SB Zoom Stefan Janoski Canvas
Nike SB Zoom Stefan Janoski
Nike SB Stefan Janoski Max
Nike SB Zoom Stefan Janoski Canvas Premium
Nike SB Zoom Stefan Janoski OG
Nike SB Zoom Stefan Janoski Slip-On
This shoe has recently been added to RunRepeat. There are still not enough reviews for us to assign it a
CoreScore
.
CoreScore
A score from 1 to 100 that summarizes opinions from users and experts. The average CoreScore is 78.
More...